Anatomy of a Shooting Range Bag
Creating the perfect shooting range bag is part art and part science, especially when constructing them by hand in the USA. Regardless of the type of bag, we begin with the same question for each and every range bag we create — how do we create a durable, lasting product our customers will reach for over and over again?
Every part of a Lynx Defense range bag is filtered through this question — from the fabric used to protect your gear to the threads that hold it together. Today, we're going to run you through the anatomy of creating our range bags.
This process is an ongoing assessment and is never meant to be static or fixed. Things change, so should your gear manufacturers.
Let's get started.
Shooting Range Bags Overview
Shooting range bags are sometimes an afterthought when purchasing your first handgun. But shooting and being proficient with your new purchase is vital to using and carrying it.
So you need to have the range, take some classes, and become extremely comfortable with your new firearm. If you've never been to a shooting range read over our beginner's guide to shooting ranges.
Shooting ranges are a blast! But only if you have all the things you need while you are there. Nothing will put the breaks on a great range day more than forgotten something you absolutely need!
Pistol Range Bag Interior
Beginning with the interior is a no-brainer, here's why. The first thing you need to consider when creating a shooting gear bag is what it's actually supposed to do.
The pistol range bag is rather self-defined in that it will hold pistols and it's meant to carry them to-and-from the shooting range.
Once you have explicitly stated the purpose of the bag it's time to design it. This is what we took into consideration when designing our pistol range bag.
Pistol Retention
The most important item you'll put in your range bag is your pistol. It's also typically the most expensive item in it. Therefore it should be the centerpiece and it's vital to consider the safety of your firearm.
Whether you're transporting your safe queen pistol or your everyday carry (EDC) pistol with the finish worn off, you don't want it banging around the rest of your gear in your range bag.
We created inserts that make the pistol the centerpiece. It keeps the pistol upright and easy to access once you get to the range.
Safety is another important consideration since some people like to keep their pistol loaded no matter what the situation. Protecting the trigger from being snagged and pulled is of the utmost importance. Guns don't fire themselves (unless it's a Remington 700 *facepalm*).
Space
Having enough room for your essentials is non-negotiable for your range trip. You are setting out on a mission to either train, have some fun shooting, or both. You want to be able to carry all the ammo you need, hearing protection, cleaning supplies, gloves, or batteries so you don't have to make multiple trips to your car.
We kept this in mind with our shooting range bag. We made sure the dimensions of the bag were small enough to be convenient to carry but large enough to hold all of your gear.
Since the gun inserts hold the pistols upright in the bag, the rest of the bag can be put to use to store ammo boxes, extra magazines, and whatever gear you want to carry with you.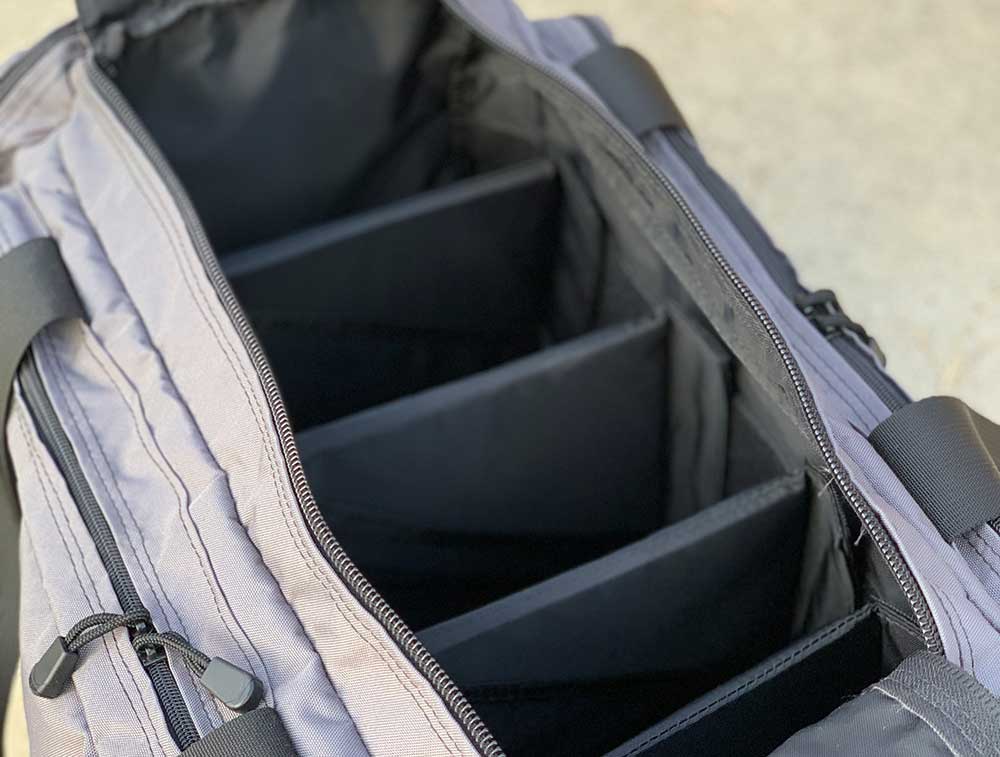 Customization
Customization and modularity aren't just talking points to us. Your range bag setup should be controlled by you and we believe that to our core. At the same time, our bags need to be somewhat of a one size fits all solution.
So we did that, starting with the shell of the bag, which has mass appeal. We wanted you to adjust the interior to fit how you needed it and wanted to carry it to the range.
So we set out and made the inside of the bag modular. And we are constantly designing new inserts to make our bag more effective and better suited to your individual needs.
Hard Bottom
This is a feature of our bag that is often overlooked and for good reason. We offer the option to remove the hardbottom instead of sewing it into the bag base.
This hard bottom acts as a barrier for the gear in the bag and the surface where you place the bag.
We have rarely found a good reason to take the hard bottom out, but as you've read, we leave the power of choice in the customer's hands.
Pistol Range Bag Exterior
While a lot of people think the exterior is designed first, that generally isn't the case for Lynx Defense.
However, the exterior of the shooting range bag isn't an afterthought either! We put a lot of work and thought into how our bags look.
With our range bags, we don't want to be overly tactical but we don't want them to draw unwanted attention either.
Straps
Let's start with the strap and work our way down. Our strap was built with structural integrity in mind.
We overbuilt the shoulder strap by using 2″ webbing and attaching it to D-rings that are sewn directly into the seam of the bag.
All of our seams are double stitched, which adds strength and durability to the design.
We wanted to ensure that you can trust the strap to hold the weight of whatever you put in the bag.
At publishing, we have not had a single strap failure.
We are incredibly proud of that record and want to continue it, so extensive quality checks and product testing are included in each part of the production process.
Carrying Handle
The carrying handle is an afterthought for most bag manufacturers, but we knew that a large percentage of our customers may only ever carry their pistol bag by the carrying handle. I never shoulder carry my pistol bag unless I have my hands full, and likely, you do the same.
That's why we added all of the padding. We wanted to make carrying a heavy pistol range bag easy on your hands. After all, save the wear and tear and callus creation on your hands for your pistol!
The padded carrying handle is sewn into the webbing, and the webbing is pinched and sewn to make it easy to grab for even the smallest of hands.
Exterior Pockets
The ever needed exterior pocket is the quintessential feature of any bag, especially a quality range bag.
Our exterior pockets, while not double-lined like the main compartment, provide ample storage as they run from top to bottom and edge to edge of the bag.
The exterior pockets aren't meant to provide the same level of organization the main compartment does because it serves the very important role of the "catch-all" pocket.
Cleaning Mat
The detachable cleaning mat is our most controversial feature. You either love the cleaning mat or you hate it.
If you read our reviews, we have customers who think the cleaning mat is the best thing since sliced bread. But on the flip side, you have the customers who think it's wasted space since it does take up some room on the side of the pistol range bag.
Since we believe in customization, we have given our customers the power to remove the gun mat if they want to save space or keep it and use it at the range to place their guns and gear on. Either way, you win.
So there you have it. That's everything we're currently taking into consideration as we build and improve our original pistol range bag and the multiple pistol range bag. If you have a product recommendation or have a question we didn't cover, shoot us a line at sales@lynxdefense.com. We always welcome your feedback.