Ballistic Advantage Review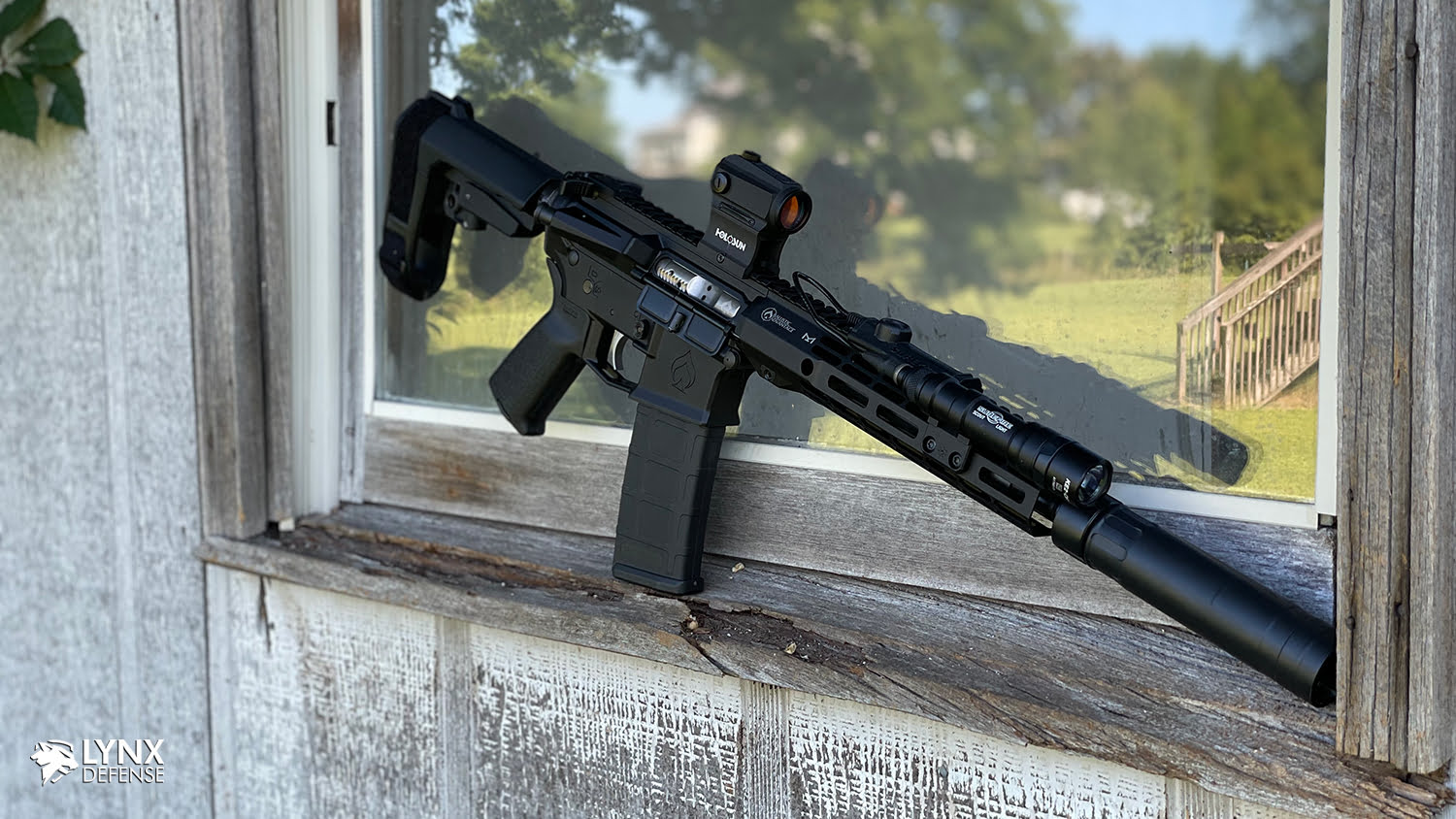 Ballistic Advantage is a manufacturer of AR-15 barrels, parts, and accessories. They are most known for their AR-15 barrels and make matching uppers and lowers to build a stylish and durable AR-15.
They have one hell of a marketing team, and their signature spade logo has to be one of my favorite logos in the firearms industry, aside from the Lynx Defense logo of course.
Let's take a look at my Ballistic Advantage AR-15 build. It features a factory-assembled BA Enhanced Upper and matching Enhanced Lower that I built out myself. It also features Ballistic's 10.3″ 5.56 Hanson Carbine Length Barrel with a 9″ ATLAS R-One M-LOK Handguard with Ballistic Advantage engravings topped with a Holosun HS403B.
Let's get started!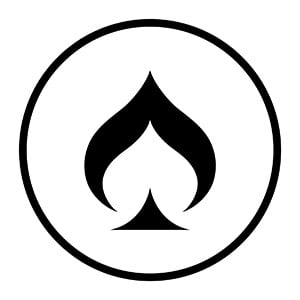 History of Ballistic Advantage
Ballistic Advantage was started in 2008 in Altamonte Springs, FL in Adam Wainio's garage. Adam later purchased a Mazak CNC lathe and moved out of his garage.
Ballistic Advantage saw increased growth and in 2014 saw a large capital investment from Aero Precision. This investment helped Ballistic grow and they became the sole provider of barrels to Aero Precision.
This partnership with Aero Precision has allowed Ballistic to release it's own branded AR-15 upper and lower.
With the 2020 gun rush, Ballistic has seen exponential growth and its future as a company looks bright!
Ballistic Advantage & Aero Precision
In 2014 Aero Precision purchased a majority share of Ballistic Advantage.
The obvious positives for Aero were acquiring a solid barrel manufacturer with a solid reputation to be their primary source for barrels.
There is no sense in Ballistic Advantage trying to reinvent the wheel, making barrels in-house when they could acquire a portion of Ballistic.
This partnership is now 5 years in and seems to be going extremely well for both brands. Both companies' products sell out extremely quickly when stock is added to the website.
BA and VG6
While Ballistic Advantage and VG6 Precision don't intersect directly, they are married via Aero Precision.
Aero bought VG6 in 2015 along with part of Ballistic Advantage. Both brands have since been operating somewhat independently.
VG6 has probably seen the least amount of change and innovation, but it is just a muzzle device.
It was worth noting this because you will often see Ballistic Advantage barrels paired with VG6 muzzle devices.
Ballistic Advantage Barrels
Ballistic Advantage barrels have a number of different profiles.
The current barrel profiles Ballistic Advantage offers are:
Within each barrel profile, they offer a number of calibers including:
Most of these calibers are extremely common and well-known. Their most popular calibers are 5.56, .300BLK, and .308.
They offer 19 different barrels in 5.56 alone with lots of different lengths and profiles. This makes Ballistic Advantage an extremely versatile option, especially when choosing between 223 Wylde vs 5.56 Barrels.
Their premium barrel is the Hanson series barrel was developed by Clint Hanson.
Choosing a barrel can sometimes be difficult but figuring out the mission for your firearm is key to starting the AR-15 building process.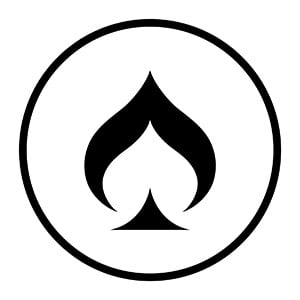 BA AR-15 Enhanced Upper Receiver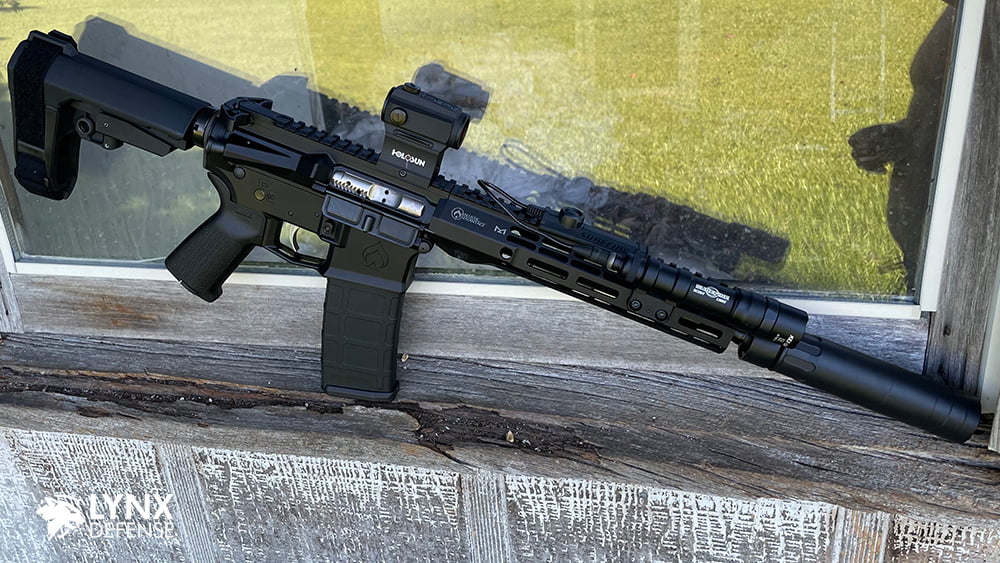 The Ballistic Advantage upper is really a thing of beauty. The design of the upper has really clean, defined, and strong edges.
The factory upper comes with a metal dust cover as well as a forward assist. The way the upper molds into the handguard and lower makes for an extremely ascetically pleasing rifle.
The fit and finish on the BA upper are second to none.
Ballistic Advantage Handguard
The BA handguard is the Aero Precision Atlas handguard. I'm a big fan of the Atlas because it's a lower profile, slim handguard.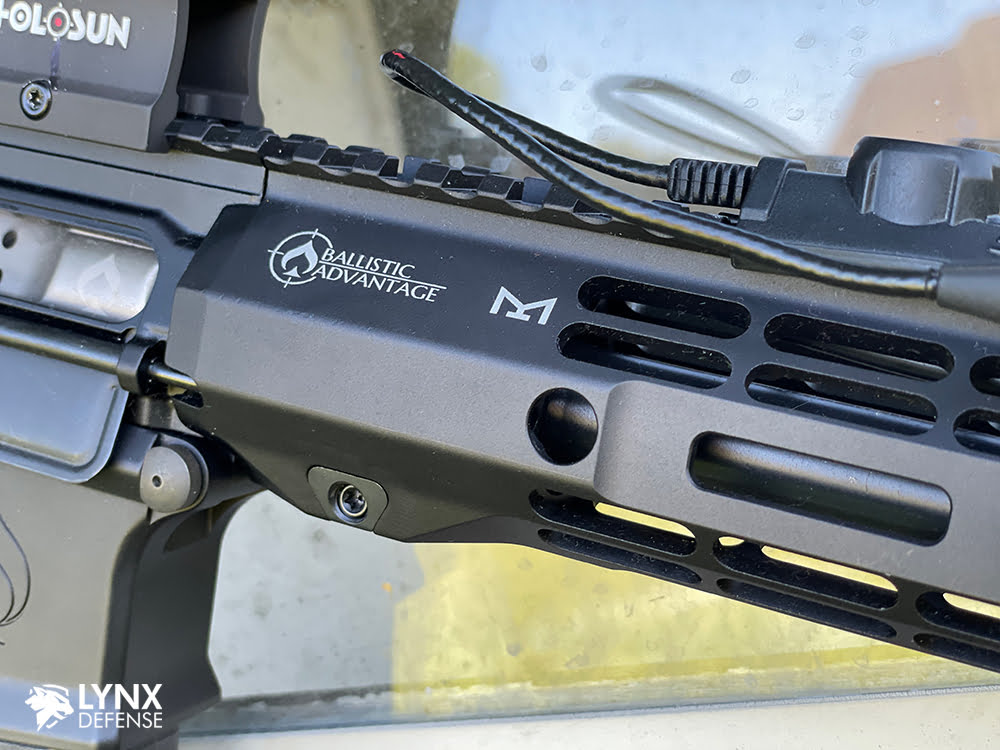 The logo and writing are etched into the handguard, where it meets the upper. It's subtle but done in a very tasteful way.
The handguard has one bolt on the bottom that attaches it to the barrel nut.
The handguard also features three QD mounts built-in at the 3, 6, and 9 o'clock positions.
BA AR-15 Enhanced Lower
The BA-15 Enhanced Lower is a real thing of beauty. The clean lines, solid 7075 aluminum, and excellent finish make it extremely attractive.
You really can't go wrong with the BA-15 enhanced lower received for your AR build.
The BA AR-15 lower is the Aero Precision M4E1 lower with the Ballistic Advantage Roll mark.
Magazine Well
The Ballistic Advantage spade is engraved on the right side of the magazine well.
The magazine well itself is extremely flared and makes it very easy to funnel magazines into the gun.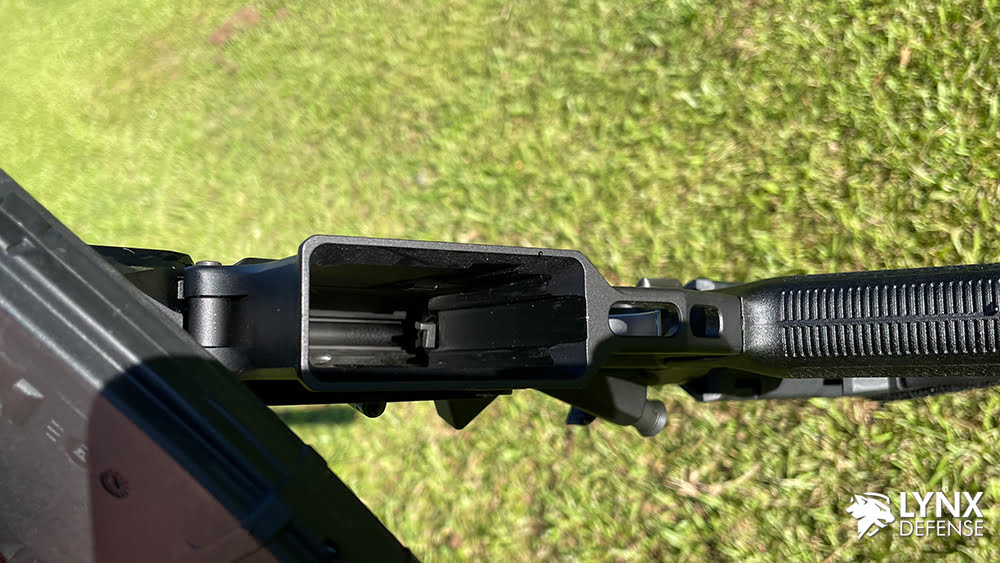 The left side of the magazine well has very small and modest text that is required by the ATF to mark the lower.
Trigger Guard
The trigger guard is a billet-style trigger guard, so it's built directly into the lower receiver. It has been milled out on the bottom, which is great for lowering the weight of the lower.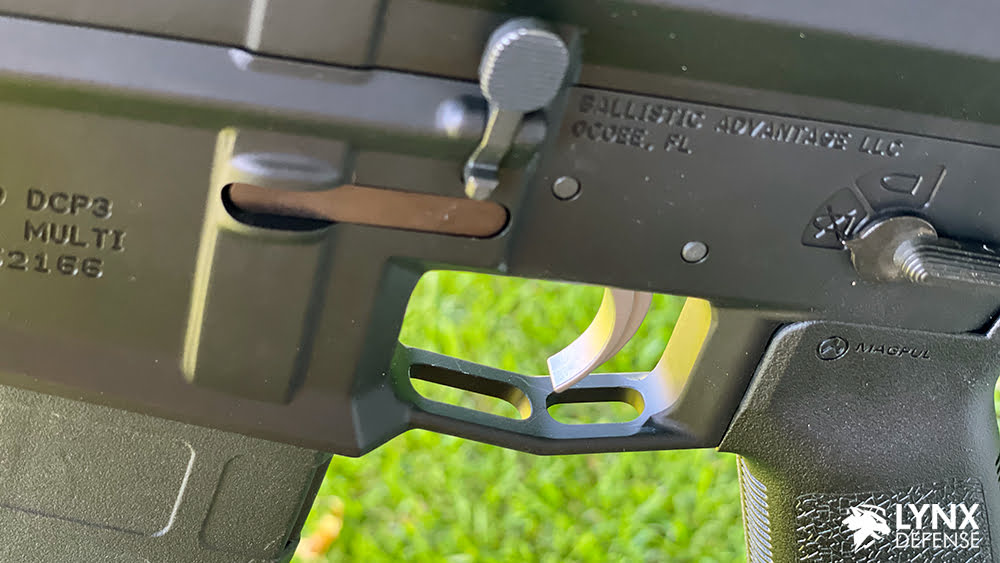 The trigger well has some nice chamfer cuts all around the trigger guard that allow your finger to settle into the trigger well nicely.
Screws
Screws?! On an AR lower? Yes. It needs its own section because it's just that nice and a game-changer.
First, I'll talk about the threaded bolt catch pin. If you've ever built your own AR-15, you know you have to have certain tools to build your AR-15, and one of them is to make putting in the bolt catch pin.
The bolt catch pin is always tricky because you don't want to scratch your finish by just putting in a silly little pin.
Like the M4E1 lower, the Ballistic Advantage lower includes a threaded pin, so you can easily put that pin in with an Allen key. This makes putting the lower together so much easier and removes one of the few headaches of building your AR-15.
Second, the nylon-tipped tensioning set screw is a great way to ensure your upper and lower are tight and secure. The screw is located where the pistol grip meets the gun, so be sure to tension your upper and lower before putting on your pistol grip.
This feature is becoming a standard in AR-15 lowers, but it's still not in every lower, so this is still a nice feature to mention.
Ballistic Advantage Bolt Carrier Group
In my BA-15, I run the Ballistic Advantage 5.56 Nickel Boron bolt carrier group. I'm not sure who makes BA's bolt carriers for them, but this BCG has held up well so far.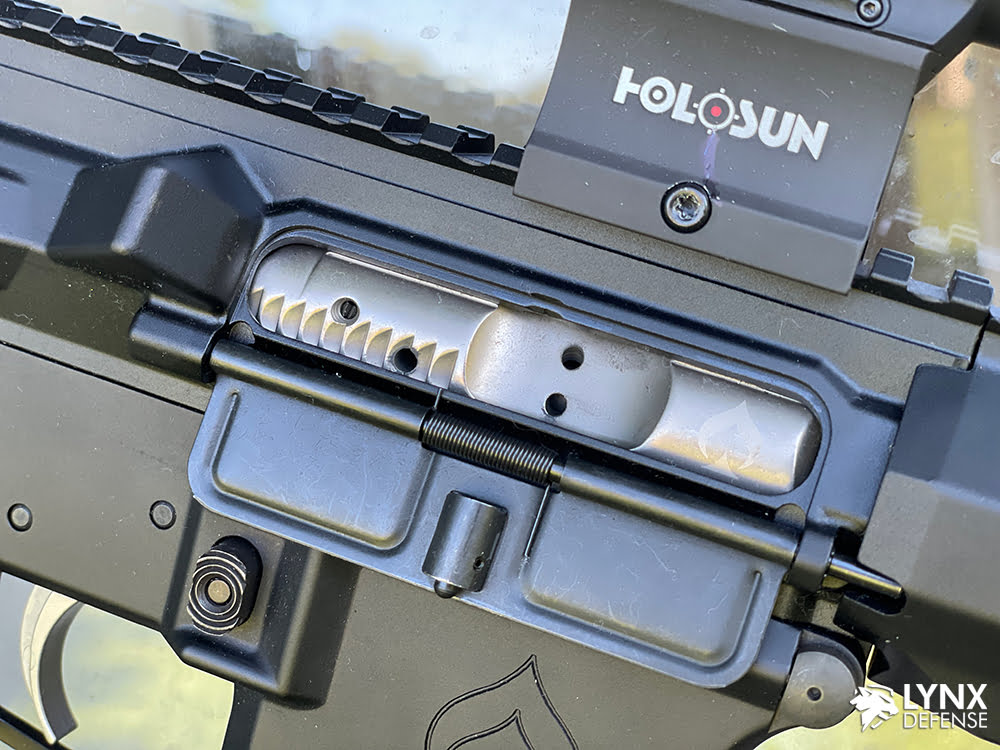 The really nice attention to detail on this BCG is what sets it apart and why I would tell you to pick one up if you are building a Ballistic Advantage AR-15.
The iconic BA spade logo is etched into the bolt carrier group and adds that touch of high-end to the bolt carrier.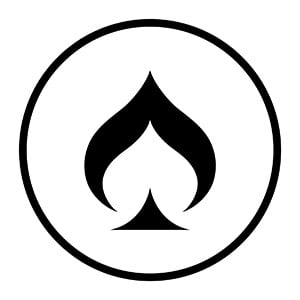 BA Charging Handle
If you have read any of my other articles, you'll know that my favorite charging handle is the Gisselle Super BA charging handle.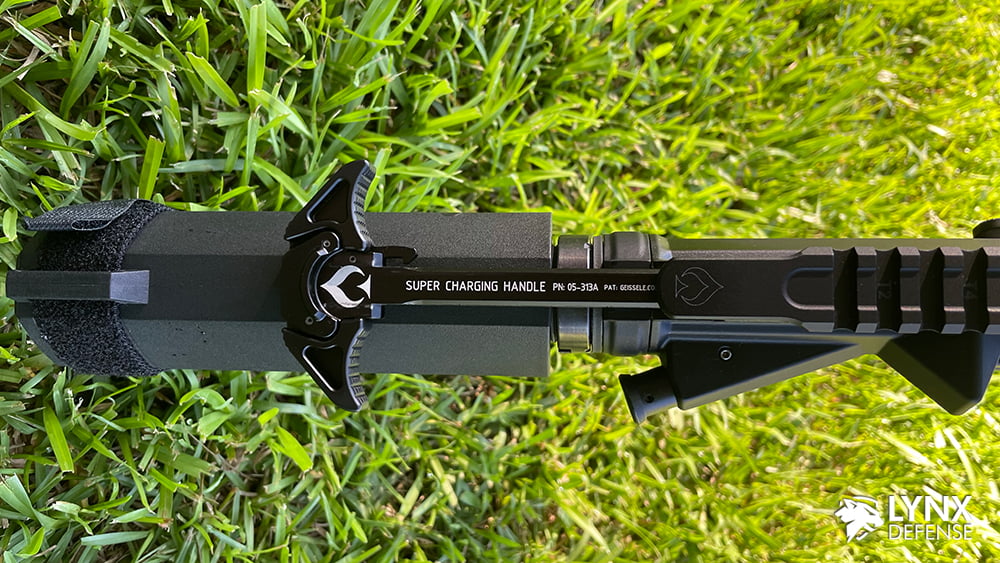 So the fact that the Ballistic Advantage uppers have the option of selecting the Super BA charging handles from the factory makes them top-notch in my book!
It doesn't hurt that they have their logo on the charging handle as well so if you're a stickler for matching parts and want to make your build 100% BA (yea, that's short for badass) this charging handle gives you that option!
An option I highly recommend!
Shooting the Ballistic Advantage BA-15
I took the BA-15 out to the range to get it sighted in. It didn't take long with my Holosun HS403B.
I also slapped on a Rugged Suppressors Razor762 which really made for a pleasant shooting gun.
Limited recoil and minimal muzzle rise allowed me to easily transition between targets.
Ballistic Advantage Overall
Ballistic Advantage, alongside Aero Precision, makes some very nice parts. The price points are reasonable, so they aren't dubbed a "top-tier" or "high-end" AR manufacturer.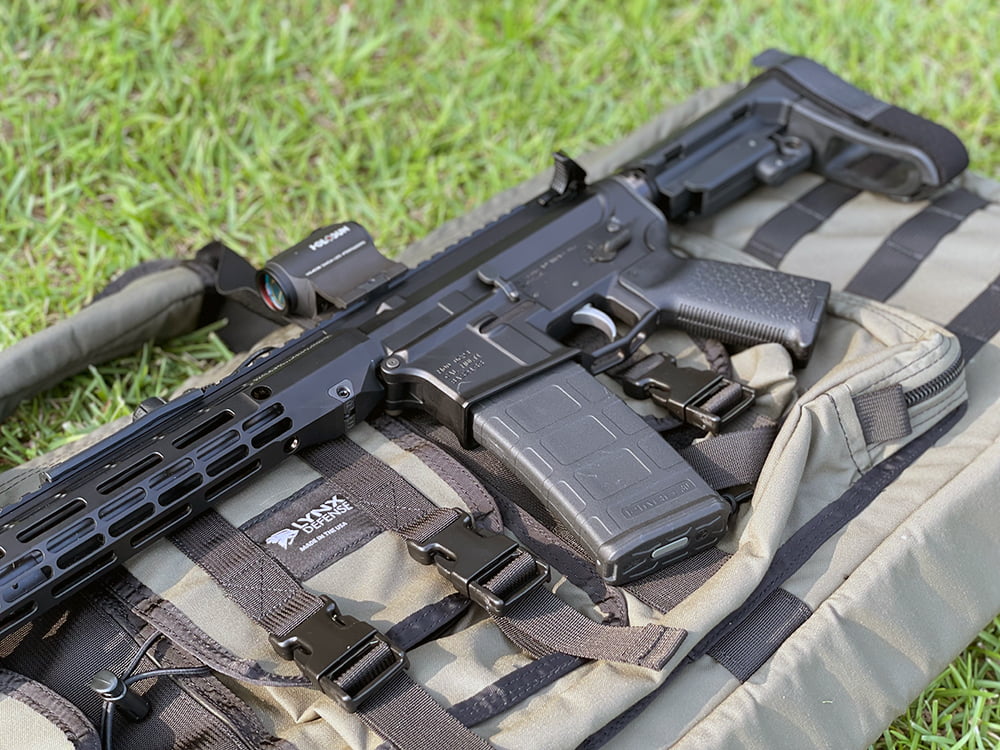 Ballistic Advantage lives in the "mid-tier" market, but that's not an insult. Their parts, fit, and finish are all exceptional. I would easily bet my life on these guns going bang on every trigger pull as well as being accurate.
Being expensive doesn't always mean being nice. In Ballistic Advantage's case, they are reasonably priced and extremely nice.
My vote is: Buy Ballistic Advantage parts and assemble your AR-15 and use our Tactical Rifle Case to carry it in. It's by far the best tactical AR-15 bag on the market!