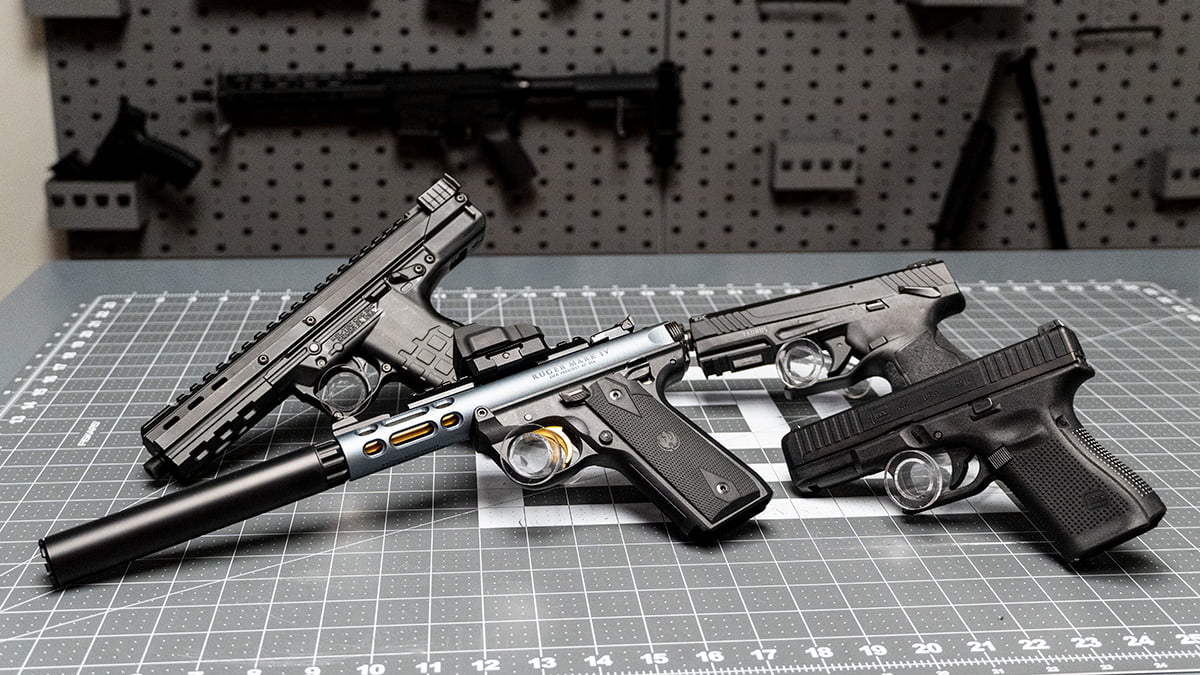 Looking for the best 22 pistol to spend some time at the range without breaking the bank while still having a ton of fun?
I grew up shooting the Colt Huntsman and when I was a kid it was the only gun I was comfortable shooting. I grew to love all guns chambered in 22 Long Rifle and now my love for guns is endless.
Why choose a 22 LR pistol?
There are a number of different reasons to choose a 22 pistol. A few are:
Ammo Price
Pistol Price
Weight
Reduced Recoil
Training
Those are just to name a few that come off the top of my head. There are so many reasons why the 22LR round is great.
These are great guns to get your kids started in firearms without introducing them to a ton of recoil.
However, if a rifle is more your speed we have a list of some of the best 22LR rifles on the market.
Best .22LR Handgun
One may never determine the true "best 22LR pistol" because it is largely a matter of opinion.
However, I have made it my personal mission to scoop up every 22LR pistol I can get my hands on to test and shoot because quite simply: I enjoy them.
For many of the handguns on this list, I have done a full written review and for those, I will summarize my thoughts and provide you a link to the full review.
Ruger Mark IV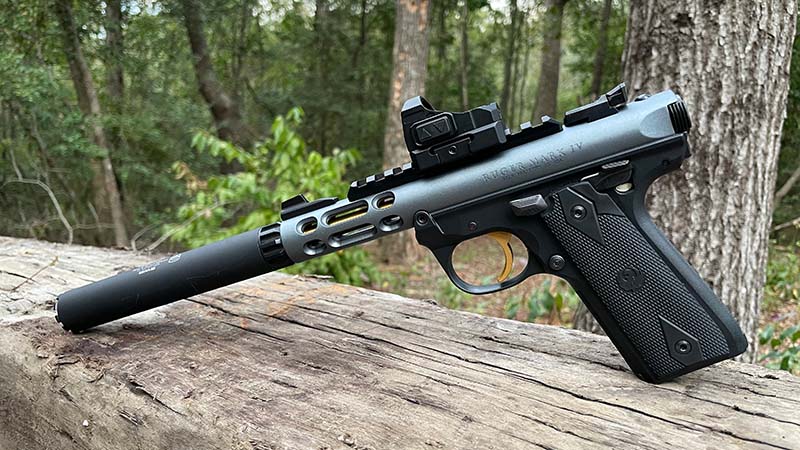 The Ruger Mark IV 22/45 Lite is one of my favorite pistols of all time, that's right, not just my favorite 22 pistol.
This gun is lite, fun, and cheap to shoot all day long. It doesn't get much more fun than the Ruger Mark IV.
The lite and tactical versions of the Mark IV come feature packed. Including a threaded barrel for a silencer and an optics-ready 1913 mounting rail on top.
The best part of the Mark IV is it's truly a gun that will stand the test of time and could be an heirloom item you pass down to your kids.
Ruger Mark IV
• Caliber: 22LR
• Barrel Length: 4.4″
• Weight: 25 oz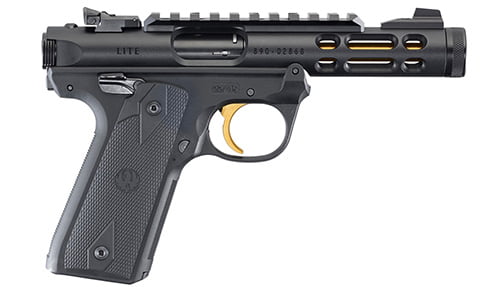 You can grab a Ruger Mark IV at these online retailers:
Brownells | Grab-A-Gun | Guns.com | Tandemkross
Browning Buck Mark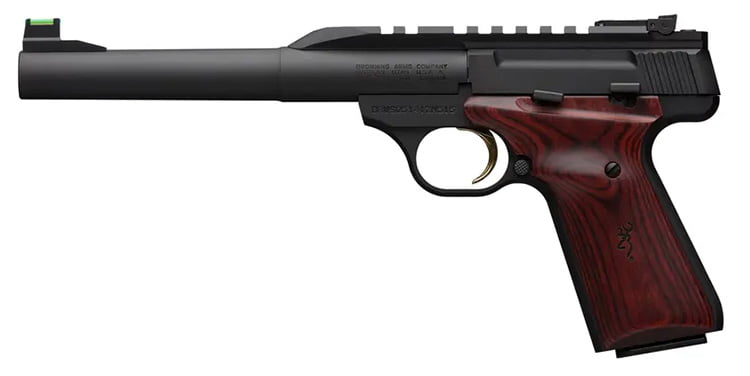 Brownings Buck Mark is one of the most well-known and cherished .22LR pistols on the market today.
2020-2021 made them hard to find but they are likely one of the best-selling 22 pistols available.
Much like the Ruger Mark IV, the Buck Mark has a ton of different versions and configuration options.
The Buck Mark has a suppressor-ready model as well as the eye-pleasing stainless steel version.
While I haven't done a full review of a Buck Mark yet, it's coming, I have shot my fair share of them.
The recoil profile is next to nothing with the fantastic heavy barrel keeping your rapid courses of fire flat and smooth.
Not to mention there are some awesome accessories for the Browning Buck Mark.
Browning Buck Mark
• Caliber: 22LR
• Barrel Length: 7 1/4″
• Weight: 2.2 lbs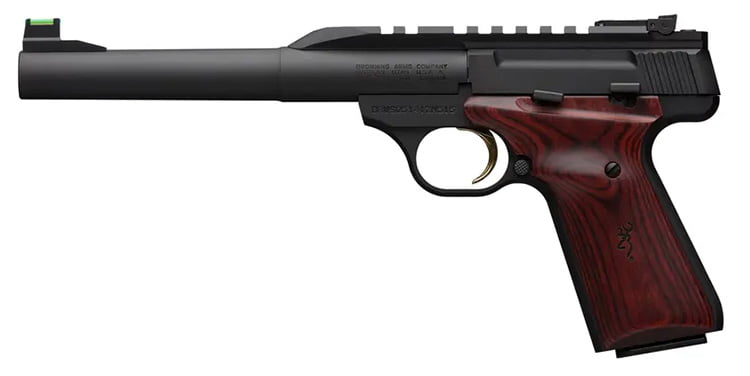 Price check the Browning Buckmark at these online retailers:
Grab-A-Gun |Guns.com | PSA | Sportsmans | Sportsman's Guide
Glock 44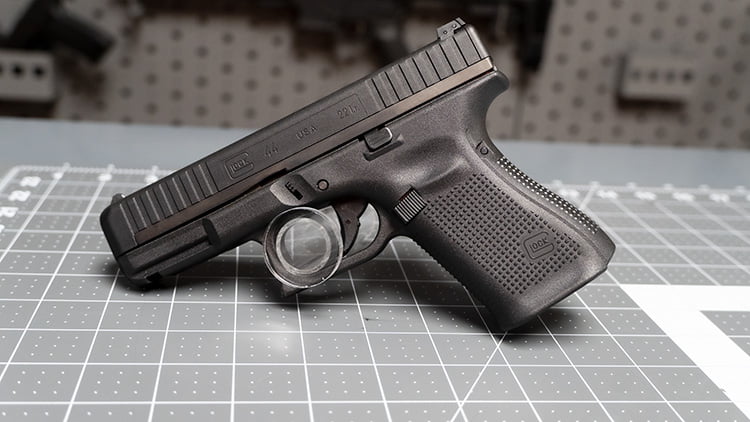 The Glock 44 is an impressive newer release from Glock and in my opinion, is one of the best 22 pistols on the market.
If you carry a Glock 19 or another compact Glock model you'll love the Glock 44. It gives you all the same Glock feeling but with an extremely low cost per round.
The threaded barrel for the Glock 44 has become hard to find but would love to mount a silencer on it, which would make it the ultimate range pistol.
As you can see from my full Glock 44 review, I think highly of this gun. I know it hasn't been without its issues but for me, it has worked great thus far.
If you are a Glock fan you can stop here and go great the Glock 44, I doubt you'll have any regrets.
Glock 44
• Caliber: 22LR
• Barrel Length: 4.02″
• Weight: 14.64 oz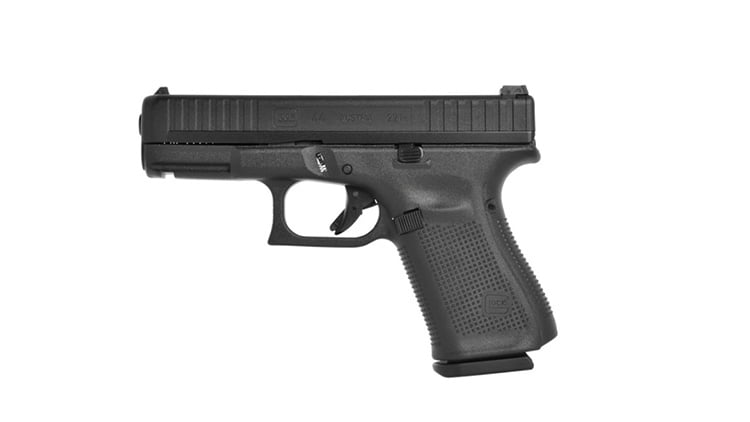 Price check the Glock 44 at these retailers:
Brownells | Grab-A-Gun |Guns.com | PSA | Primary Arms | Sportsmans
Taurus TX 22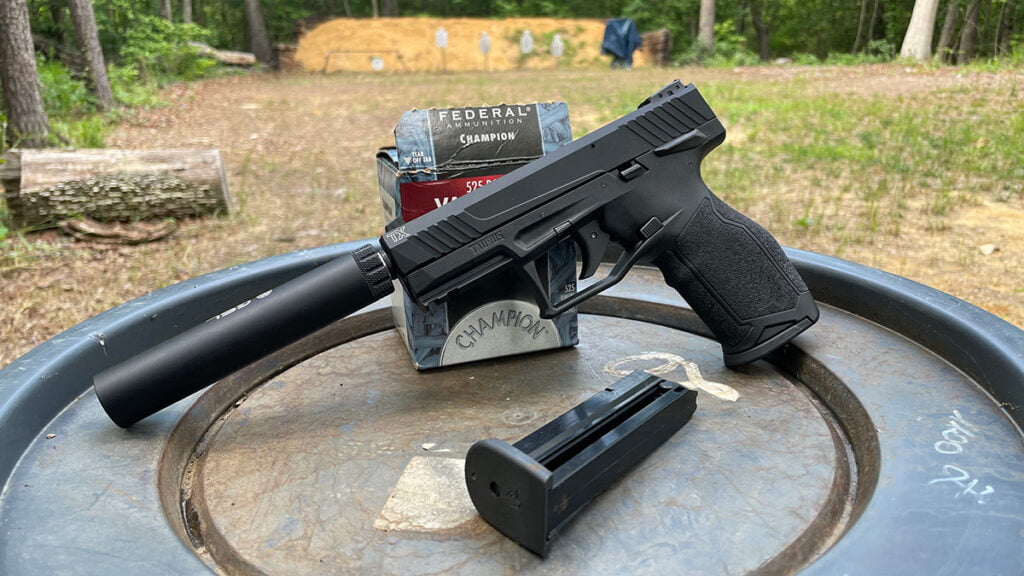 The Taurus TX 22 is another handgun that is downright fun. The TX 22 is reasonably priced and comes with a threaded barrel.
The grip on the TX 22 is what really stuck out to me, it felt like a Sig P930 mixed with the PSA Dagger. Both of them are great 9mm handguns, so the TX 22 fit right in.
One thing that shocked me was the fact that the gun had a threaded barrel included from the factory. I quick and easy barrel swap and this pistol was suppressor ready.
You can head over to my full review of the Taurus TX 22 to see the rundown of each component.
Taurus TX22
• Caliber: 22LR
• Barrel Length: 4.10″
• Weight: 17.3 oz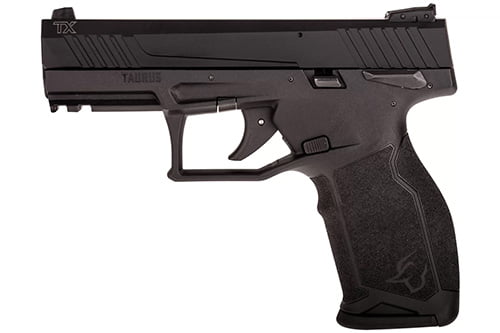 Price check the Taurus TX 22 at these other retailers:
Brownells | Grab-A-Gun |Guns.com | PSA | Primary Arms | Sportsmans
Walther P22
Walther wasn't going to take the 22 pistol competition laying down, so naturally, the Walther 22 enters the chat.
The P22 is the .22LR equivalent of the PPQ and is very close in size and functionality, a Walther PPQ 22LR if you will.
The polymer P22 rimfire pistol is fun, has a great grip, and has low recoil. The ergonomics of the P22 are fantastic especially if you're a Walther PPQ fan.
I really like the trend of companies making .22LR versions of their 9mm and other caliber pistols.
Walther P22
• Caliber: 22LR
• Barrel Length: 3.42″
• Weight: 16 oz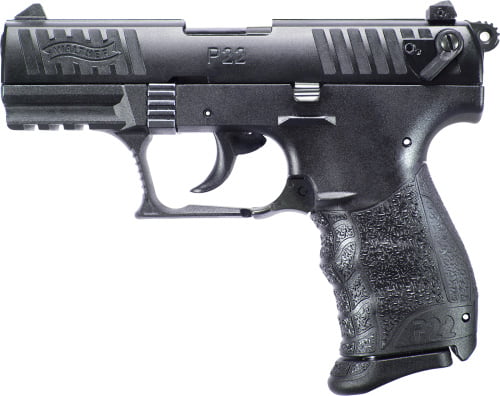 Price check the Walther P22 at these other fine retailers:
Brownells | Grab-A-Gun |Guns.com | PSA | Primary Arms | Sportsmans
Ruger SR22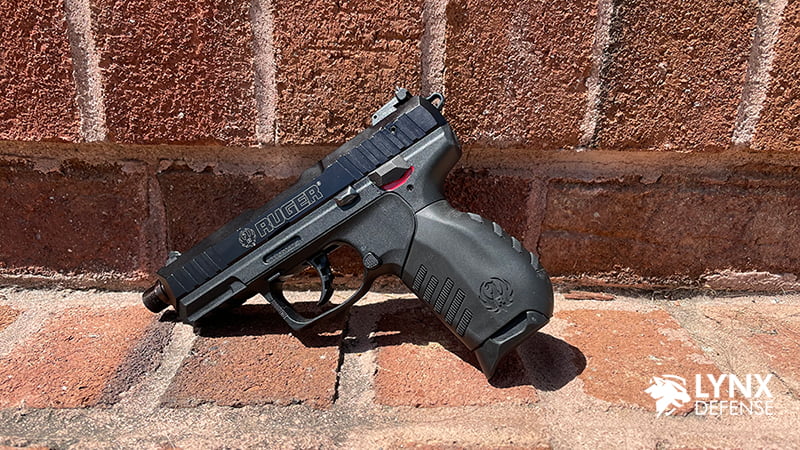 The Ruger SR22 is another one of my favorite modern rim fire pistols. I like the fact that it's a small compact pistol with a threaded barrel.
One of the best features of the SR22 is the fact that the controls are extremely familiar when you compare them to other modern semi-automatic pistols.
The aesthetics of the SR22 are a thing of beauty. The number of available color options and configurations of this pistol will ensure you can find an option that you will be happy with.
You can take a look at my full Ruger SR22 review.
Ruger SR22
• Caliber: 22LR
• Barrel Length: 3.50″
• Weight: 17.5 oz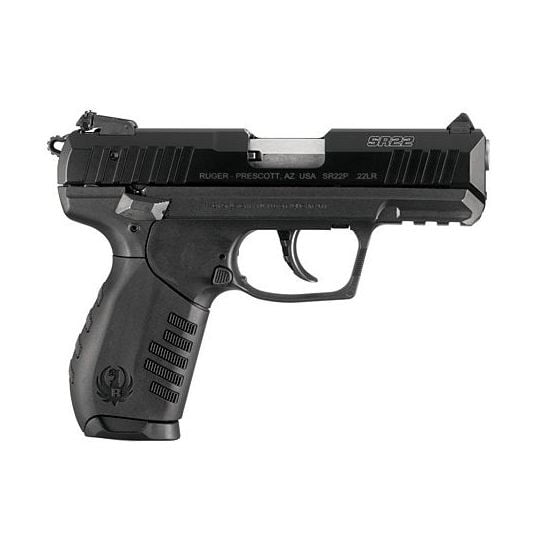 Price check the Ruger SR22 at these other fine retailers:
Brownells | Grab-A-Gun |Guns.com | PSA | Primary Arms | Sportsmans
Volquartsen Black Mamba
The Volquartsen Black Mamba is an extremely unique pistol and is the most expensive and unique pistol on this list.
Volquarsen is well known in the 22 LR community for making high-quality, extremely accurate 22 rifles and handguns.
The Black Mamba uses the polymer Mark IV frame but it's retrofitted with their accurizing kit, which is a kit that provides a crisp, clean 2.25 lb trigger pull.
The upper is Volquarsens LLV Competition Upper is what makes the Black Mamba shine.
While these guns in well over the $1,000 mark for most models you can assure you have the very top-of-the-line handgun.
Volquartsen Black Mamba
• Caliber: 22LR
• Barrel Length: 4.6″ or 6″
• Weight: 17.3 oz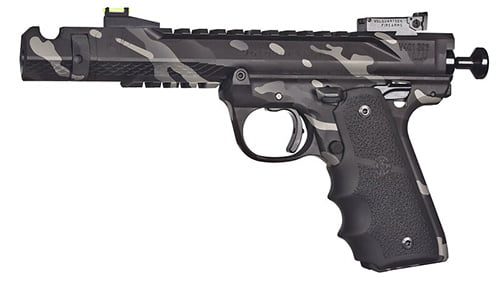 Price check the Black Mamba at these other fine retailers:
Brownells |Guns.com
Ruger Wrangler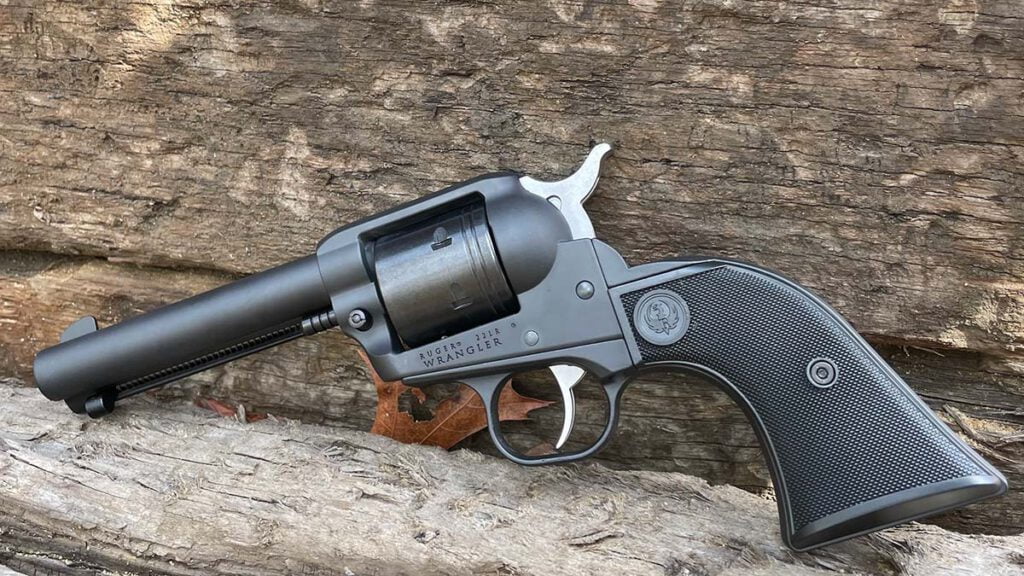 If you have been looking for a wicked awesome very inexpensive single-shot revolver then look no further than the Ruger Wrangler.
The Ruger Wrangler is a less expensive take on the famous Ruger Single Six revolver.
One of the nice things about the Wrangler is the color options that are available. There are a number of different cerakote finishes available for the Wrangler.
One nice thing about the Ruger Wrangler is it typically retails for less than $200. So not only do you get an affordable 22 pistol but you get to shoot very affordable ammo as well.
The Ruger Wrangler full review can be read here or take a look at the best revolver list.
Ruger Wrangler
• Caliber: 22LR
• Barrel Length: 4.62″
• Weight: 30 oz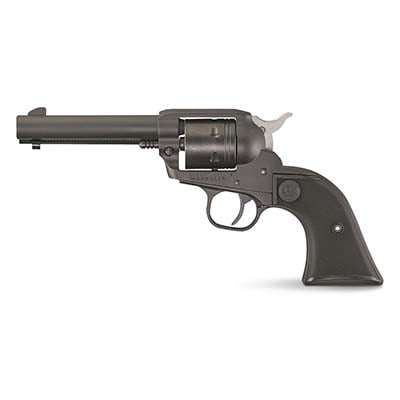 Price check the Ruger Wrangler at these other fine retailers:
Brownells | Grab-A-Gun |Guns.com | PSA | Primary Arms | Sportsmans
KelTec CP33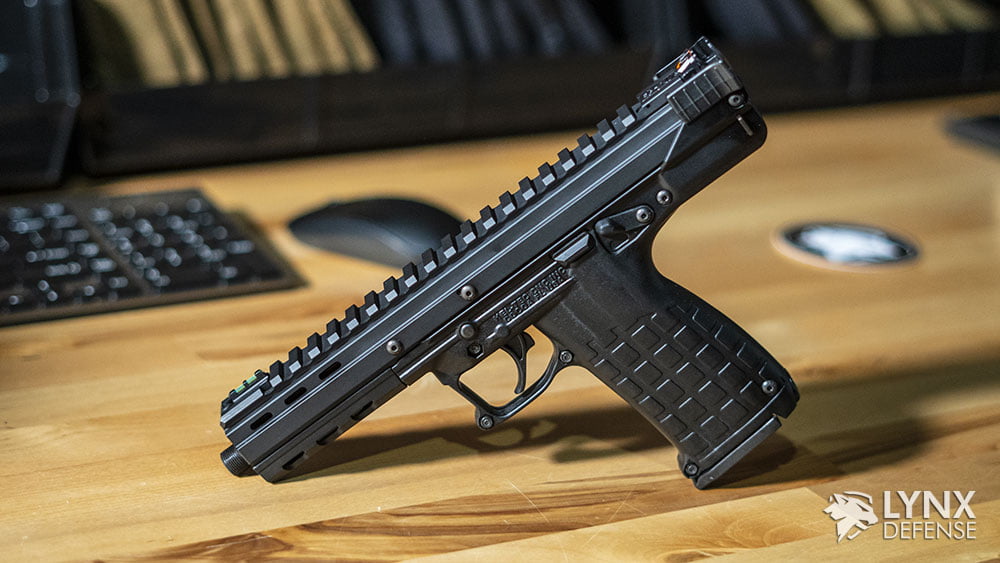 The KelTec CP33 is a high-capacity 22 pistol that is the closest thing to a bullpup-style pistol you will find.
Kel-Tec's CP33 acts as a double-stack 22LR pistol and is unique for multiple reasons.
The centered grip makes this handgun extremely balanced and with its already lightweight feel it really is a fun and feature-rich gun.
The CP33 comes with a threaded barrel and a full-length 1913 Picatinny rail on top for mounting attachments and accessories.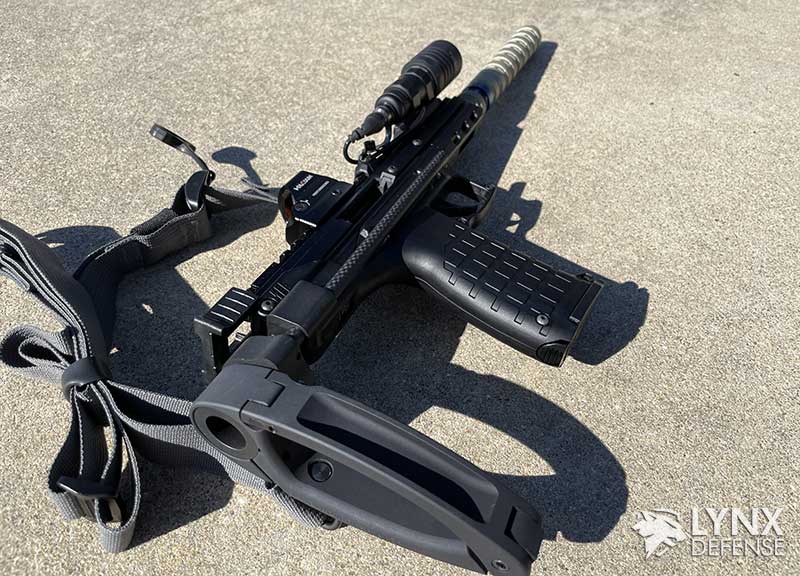 The cool thing about the CP33 is you can turn it into an HK MP7 clone that looks and works really well.
Read my full review of the Kel-Tec CP33.
CP33
• Caliber: 22LR
• Barrel Length: 5.5″
• Weight: 1.5 lbs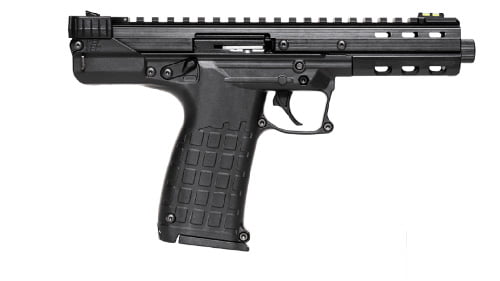 Price check the CP-33 at these other fine retailers:
Grab-A-Gun |Guns.com | PSA | Primary Arms | Sportsmans
Choosing the Best 22 Pistol
When you are looking for the best 22 pistol for your needs it makes sense to first identify how you plan to shoot the gun.
Accuracy is important in any gun you buy but fortunately, most modern guns are very accurate.
Accessories are another thing to keep an eye out for, you want to make sure that there are enough upgrades, spare parts, and most importantly extra magazines.
Value is another important aspect to look at when you are buying a new pistol. You want to get the most feature reach option for your buck.
Types of 22LR Pistols
There are a number of different handguns chambered in 22 Long Rifle and they all serve a similar but different purpose.
Here are a few types to consider and their differences and pros and cons.
Tactical
A tactical 22LR pistol is somewhat of a misnomer because tactical and .22LR don't really go hand in hand.
But, there are a number of pistols that carry the "tactical" name and they mostly feature two things:
Certain look (hello all black)
Threaded Barrel
1913 Picitanny Mounts EVERYWHERE
Breaking down these three common features of tactical 22s. First, the all-black color screams tactical. It's the go-to color for all things tactical and is kinda default to looking tactical.
Having a threaded barrel is key because when you think tactical you think quiet. In all seriousness, this is the major reason I would buy a tactical version of any handgun over any other gun.
Last but not least you have to through the maximum possible attachment options, cue Picatinny everything!
These are convenient for mounting lights, optics, and accessories so I wouldn't complain about having as many as possible, but it does add weight to the gun.
Competition
Competition pistols can start to look a little goofy but like the tactical, there are three things that generally differ on competition 22 pistols.
Barrel/Weight
Trigger
Sights
From the factory, the competition pistols focus on accuracy aka having the best barrel.
Better barrels typically lead to more weight which also helps with accuracy and having more on-target follow-up shots.
Second, a more refined and often times lightened trigger pull is a focus of many of the competition pistols.
Lastly, the sights are often upgraded to fiberoptic sights or have more adjustment options for elevation and windage.
I don't often recommend people pick up the competition handguns unless they need the features, not because they aren't good guns but your money can go further in one of the other handguns available.
Target
Target pistols and competition pistols are very similar in feature sets there are mostly two differences in target pistols, sometimes the value pistol in the lineup, and other models.
Fewer Features
Weight
Sights
While the target pistols aren't always the baseline model they often are. They don't have as many bells and whistles when to comes to features. But what they may lack in doo-dads they make up for in cost and functionality.
These are still fantastic pistols and if you are just looking for a plinking target pistol this may be your go-to.
The weight of these guns is typically reasonable to help reduce the fatigue when shooting the gun so you can shoot it for longer periods of time.
I've noticed that the target sights and the competition sights on a lot of these 22LR pistols are the same or similarly designed. To me, that makes total since both of these are made to be more precision guns and would need more granular adjustments of the sights.
Defense
I have to preface this and say I DO NOT recommend any rimfire caliber for self-defense. That is my personal stance and I do not judge or talk down to anyone who does rely on it for self-defense. Rimfire is better than nothing it's just the rimfire round can be extremely flakey at times.
While .22LR as a defense round is a whole separate discussion, that's not what this section is for.
Defense 22LR pistols focus on concealability as well as useability.
.22LR Pistol FAQ
There are tons of questions about 22 handguns here are a few of the most common questions. If you have any questions be sure to ask them in the comment section below!
We are currently taking a complete look at the Sig P322 for this list but are not quite ready to make the addition!
Is a 22 pistol better than a 9mm?
No, but better can be hard to quantify. It may be better for certain things, such as low-cost range shooting. It largely depends on the use application as to if it is "better" or not.
Is a 22 handgun worth it?
Yes, a 22 handgun is absolutely worth it. But worth is going to be relative to your needs. If you are looking for an EDC everyday handgun then a 22LR might now be worth it for your needs.
Is a 22 caliber a good self-defense gun?
No, the 22LR is not considered a good self-defense round.
What are the best 22 LR revolvers?
You can see one of my favorites in the list above. But the Ruger Wrangler and the Heritage Rough Rider are two of the most popular 22 LR revolvers on the market today.
Both revolvers are reasonably priced and don't break the bank.