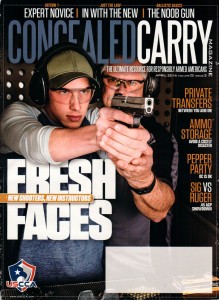 We are honored to be featured in this month's issue of Concealed Carry magazine. Our signature Pistol Range Bag is listed in the "Gear We Love" section and for good reason – this bag is designed with you in mind. With four removable Velcro straps on both sides of the bag, your rifles can be configured in the way that best fits your needs.
This bag features three expandable pockets for magazines and ammo, adjustable backpack straps for a natural carry, two large zipper compartments for cleaning kits or accessories, and two small arms storage area with a hook and loop closure.
All of our products are 100% American made and Berry Amendment compliant. Lynx Defense is located in central North Carolina, and our bags are manufactured in North Carolina. We pride ourselves on impeccable products and outstanding customer service.
Be sure to sign up for Concealed Carry magazine to get the latest in gear and concealed carry news. Also don't forget to signup for the Lynx Defense newsletter to get the latest news on our products as well as exclusive sales and product announcements.
For more details on our gun range bag, visit our shop or contact us and be sure to pick up this month's issue of Concealed Carry magazine.