The Bushnell TRS-25 is one of the most prominent AR red dots on the market today. There are so many TRS-25 reviews you couldn't read them all if you wanted to.
Many of those reviews are written simply to sell more TRS-25's. Because of their low price point, they are a go-to for budget-minded buyers.
I will give a fair and honest review of the Bushnell TRS-25, but yes, the links in this article are affiliate links, so we may receive a small commission if you use the links to purchase.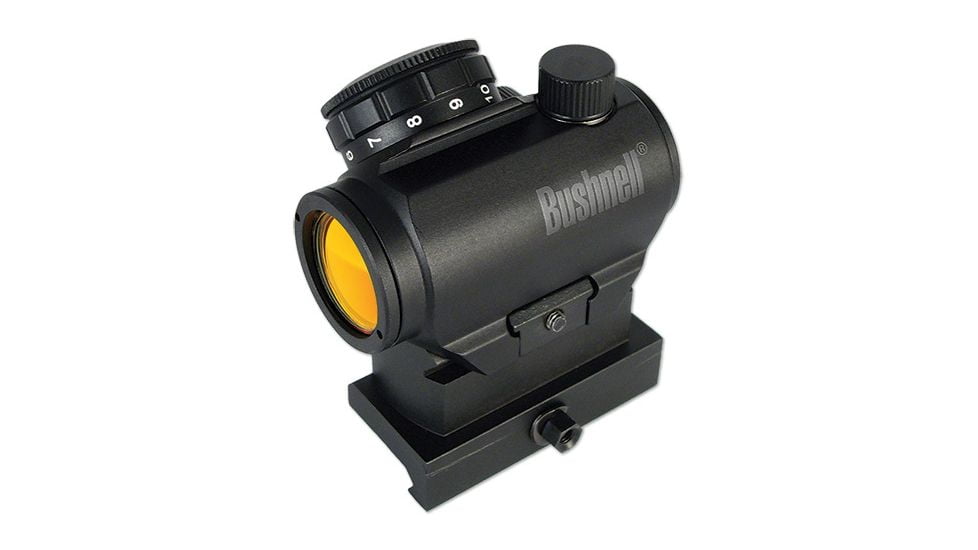 · 3 MOA Dot Reticle
· 5,000 Hours Battery Life
· 11 Brightness Setting
· Included riser block
· Unlimited Eye Relief
Bushnell TRS-25 First impression
Opening the box of the Bushnell TRS-25, you immediately are greeted with the standard paperwork, the standard small tool, and an instruction manual.
Once you remove these items and the small piece of foam, you are greeted with the optic and the included optic mount.
Upon taking the TRS-25 out of the box, its weight is the first thing you notice.
It's not too heavy, but not crazy light. If you've held any all-metal construction red dot sights, you know what this feels like. Pretty solid so far.
The front glass is a reddish-orange-pinkish tint, reflecting the light and keeping the light out of the optic.
The viewport is clear but small, but overall, a very clean design.
The large wheel on the side controls your brightness settings.
The other two turrets adjust elevation and left and right adjustments under two safety caps. Once you take off the protective caps, the standard configuration adjustment knobs are uneath.
Bushnell TRS-25 Features
The Bushnell TRS-25 features 11 brightness settings, which come in handy for low light and extreme daylight.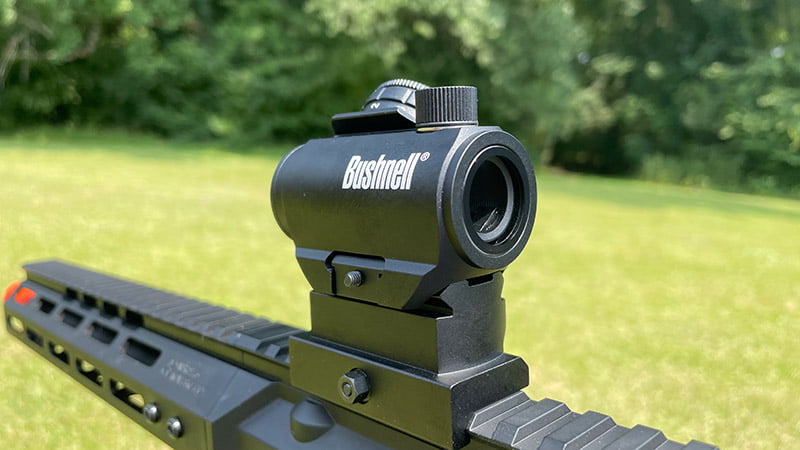 It also has an integrated weaver style mount, which allows you to mount the optic itself to a Picatinny 1913 style rail without any riser or attachment.
Bushnell claims that it has 5,000 hours of battery life on the medium setting, five or six on the brightness knob.
I'm not really sure which since there are 11 settings. This is a relatively low hour count for other red dots that feature 10,000+ hours on the mid-setting.
One CR2032 battery powers the optics, which they do include.
The optic has nitrogen purged and fog proofing with waterproof construction. As far as I can tell, all those features hold.
I've had no problems with fogging, and I haven't really put it in the water yet, so I'm not sure if it's truly waterproof. But it seems like it will hold up.
Bushnell's specifications state it has unlimited eye relief and only comes in red for the dot color.
It is a one MOA click value when making adjustments. A nice touch is the TRS-25 comes with an included Picatinny mount riser.
The one gripe I do have is there's no auto-shutoff feature with a very low battery hour life.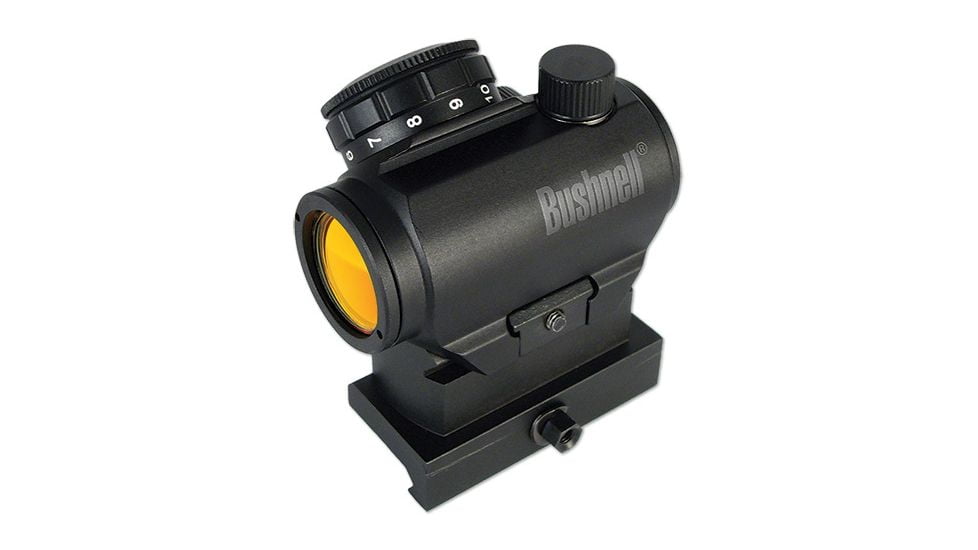 · 3 MOA Dot Reticle
· 5,000 Hours Battery Life
· 11 Brightness Setting
· Included riser block
· Unlimited Eye Relief
Weight
The Bushnell TRS-25 comes in at 3.6 ounces, which is fairly lightweight for a red dot sight.
TRS-25 is not extraordinarily light, but you're really not going to find any qualms with the weight considering this is a sub $100 red dot sight.
It's not going to break any lightweight records.
Frankly, 3.6 ounces is pretty light.
Reticle
The TRS-25 has a 3 MOA dot reticle in this optic and it's fairly nice.
Moving it to the 1 position indoors, you don't really see much of the dot. It's very faint and not very crisp.
Once you get to about three or four indoors, you're really starting to see it. Indoors, medium light, middle of the day windows open, it's going to work pretty well for you.
Moving up to setting 6, 7, or 8 indoors, it's very noticeable. Some people might prefer to have their reticle in this setting, but keep in mind the larger it gets, the more sight picture the dot takes up.
If you take it all the way to 11 indoors, middle of the day, there's no red glowing ring like I've seen on some of the other optics, namely the Holosun that I have. If you max out the setting on the Holosun and you're in somewhat low light, you'll see a red ring, and it'll really distort the sight of your sight picture and your ability to focus on your target.
The 11 inside really doesn't bother me. Keep in mind, it's pretty bright and it does have some fragmentation of the dot at that level.
One nice thing to note is that you can turn left or right with the reticle adjustment brightness wheel. You can go either straight to one from zero or from zero straight to 11.
Either way, you want to turn the knob, you can. So you can go to the brightest or the dimmest setting directly from the off-setting.
Dot Adjustment
The dot adjustment has a standard, red dot sight turret style adjustment.
The turrets are located on the top and on the right of the red dot.
On the right, you have your horizontal adjustment, and on the top, you have your vertical adjustment.
So if you need to move your reticle up, you would turn it counterclockwise on the top turret.
The adjustment turrets can adjust these with a small screwdriver, or even something like a penny or a dime would easily allow you to adjust these.
The caps come off really easily just by the turn of your fingers. You don't get special tools, and there are also O-rings on the turrets themselves.
So when you screw the caps back on, you will have a waterproof enclosure as long as they seal correctly.
The one nice thing I just noticed was that the caps actually have one MOA click, letting you know that one click equals one MOA and what's written on the inside of both caps.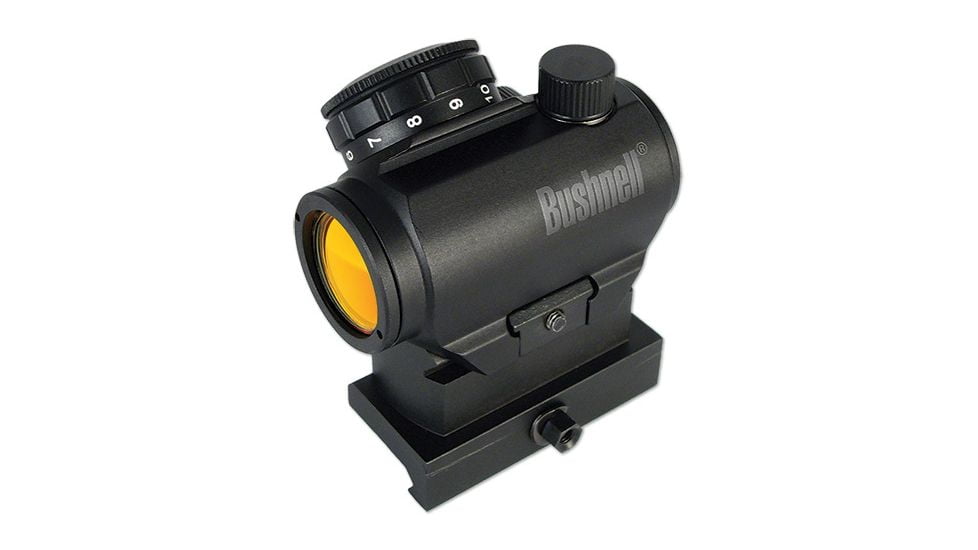 · 3 MOA Dot Reticle
· 5,000 Hours Battery Life
· 11 Brightness Setting
· Included riser block
· Unlimited Eye Relief
Power source
The power source is a CR2032 battery.
That battery lives just underneath the brightness adjustment dial.
There is a slit in the lid of the brightness adjustment dial that you can twist off. And once you get the cap off, you can see the battery compartment, and then you can switch out the battery and screw the cap back on.
A lot of that can be done by hand, but it's going to be a heck of a lot easier if you take a small screwdriver, a penny, or a dime and use it to take that lid off. That design doesn't bother me, and it works pretty well.
No issues with that.
Durability
Durability Disclaimer: Until I come up with a standard set of durability tests for each optic, I will only summarize what the durability claims are by the company and what they appear to be at the time of this writing based on my use of the optic.
Once again, I haven't put this optic through the wringer.
So I don't really know how truly durable it is.
Now. I have read some other reviews on it, and some people have done some drop testing, and some people have dropped it on a rock and damaged the turret, and it had an effect on the point of impact.
However, if you didn't drop it on anything, other than a rock or from to high, it may hold up.
Now I have seen where some durability testing cracks the glass and issues like that.
But keep in mind this is not an EOTech holographic sight where a cracked class or things in the viewport could potentially block your reticle or your dot.
So keep that in mind.
I don't think you can expect this thing to be bulletproof at a sub $100 price point.
I don't think that's a reasonable expectation to have.
Now, if you drop it lightly, or you bobble it, or you hit it with something, you might get a nick, but overall I think the optic will hold up, and keep in mind it's still an all-metal construction.
There's not a whole lot of plastic on here. So again, I do think it's going to hold up relatively well, especially for most people that are just shooting at the range, that isn't in the fog of war or out here on the street, throwing it on the ground and run it into doorframes and things like that.
This optic will hold up just fine for most people.
Bushnell TRS-25 Sight Picture
The sight picture is one of the cons I have for this.
I've shot red dots from all spectrums of the cost perspective and all kinds of different brand optics.
You name it, I've probably shot it or held it or looked through it.
So I'm going to just give you my opinion of the sight picture on the TRS-25.
My biggest qualm is the viewport is tiny. Its diameter is really, really, really small.
I would have liked for it to have been bigger. I know this isn't a large optic, but it just feels like there's so much crowding this viewport.
If you look at the picture, you'll notice there are so many rings and layers going on here that I just would like to see more of my target or downrange.
If there's going to be so much in the viewport, I wish the sides of the TRS-25 were thinner.
Also, there's a small box on the bottom right-hand side of the viewport.
It is the light source for the dot. If you turn around and look through the front viewport, you can see it once it's turned on.
The fact that the dot source is in the way of your view is aggravating, but again, we're talking about a sub-hundred dollar optic, and at any given time, this could be $60.
Right now, it's $59 on Amazon. So it's still a bang for your buck. That's just one of the biggest cons for me, for the Bushnell TRS-25.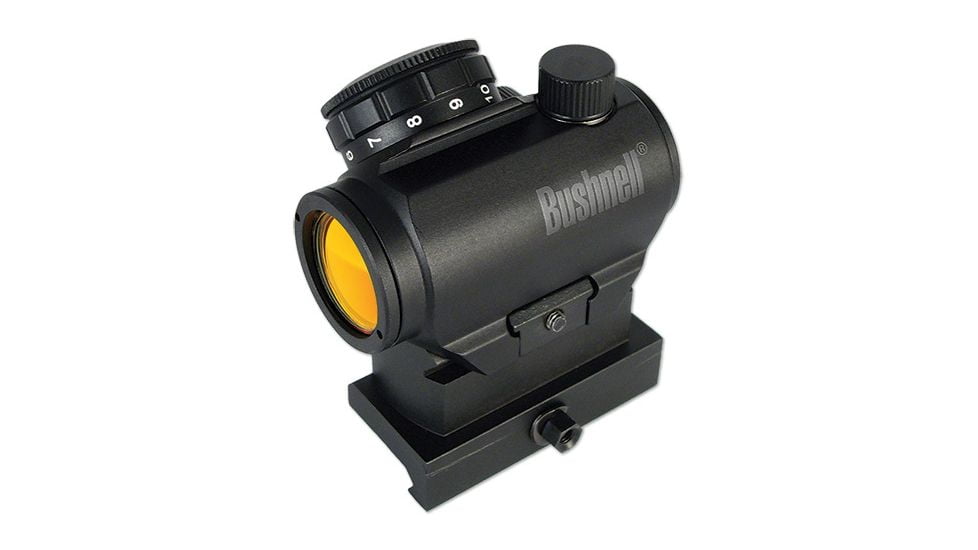 · 3 MOA Dot Reticle
· 5,000 Hours Battery Life
· 11 Brightness Setting
· Included riser block
· Unlimited Eye Relief
Mounts and Mounting Options
The Bushnell TRS-25 comes with a 1/3 co-witness mount and an absolute mount built into the TRS-25.
You can actually take this optic out of the box and mount it right to a 1913 Picatinny rail without any kind of adapters, or mounts, and with just an Allen wrench and you're good to go.
It also comes with a decent mount. It's rather heavy, but again, it's included for free.
You didn't have to pay anything more for it, and you're not going to really pay much less if it didn't come with it. Bushnell giving you that option is great.
I really think that you're probably not going to go aftermarket for mounting the Bushnell TRS-25.
It'll work on many different platforms, anything that takes a 1913 Picatinny rail, but do you really want to spend even more on an optic that pretty much meets your price point and doesn't break the bank already?
So why do you want to spend more on a mount for a budget item anyway? But that means that I've had no problems with it on a 1913 rail. And I do use the riser.
TRS-25 Conclusion
In conclusion, the Bushnell TRS-25 budget red dot optic is just that. It's a budget red dot optic, and it really is decent for the price.
So decent in fact we included it in our best red dot sight guide.
Again, my favorite saying, this optic is not something you're going to write home about.
But it's something that if you're in a pinch and you don't have the funds for something higher quality, this will get the job done.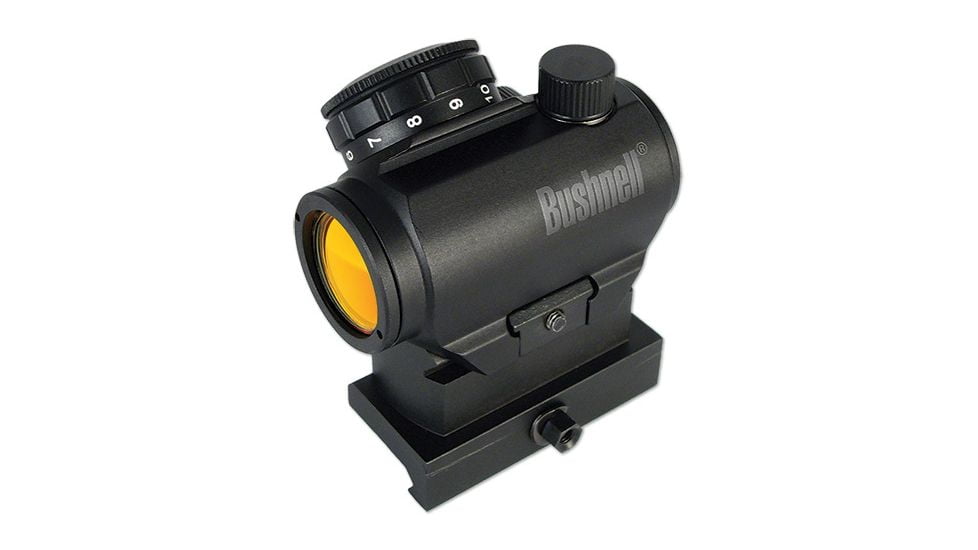 · 3 MOA Dot Reticle
· 5,000 Hours Battery Life
· 11 Brightness Setting
· Included riser block
· Unlimited Eye Relief
If anybody criticizes you for having this, and this is all you can afford, then to hell with them because this is a great little optic.
Now I will go ahead and preface this and say right now, and my Bushnell TRS-25 lives on my son's airsoft gun. That's not a slight at this optic at all.
But when you own a firearms-related company and buy many items for marketing, A.K.A. optics, Bushnell doesn't really give a lot of love.
So that being said, it goes on the airsoft rifle, and it works really well for that purpose, and he absolutely loves it.
When this first went on his gun, he was over the moon. He didn't care what the price was. He had a red dot, it held zero, and it worked pretty well. So he had a lot of fun with it.
So if this is going on your AR, there's absolutely nothing wrong with that.
I think that's perfectly fine. It'll work just great for you.
If you are using your gun daily, go ahead and spend a little bit more money. Spend an extra hundred bucks. Buy a Sig Romeo 5, Holosun HS403B, Primary Arms SLx MD-25, or any of the Holosun's these days are really good.
They have some more features than this red dot does, like the shake awake and some cool features that you're going to want in something that you're using in and out daily.
That means don't hesitate to buy the Bushnell TRS-25 if it's all you can afford. I can't stress that enough.
Buy it. Don't look back. Even if you upgrade it later, it'll be a good backup sight you can throw in your range bag. So that's pretty much how I feel about the TRS-25.
Does the Bushnell TRS scope turn off automatically?
The Bushnell TRS 25 does not have an auto-turn-off feature. However, the Bushnell TRS-26 has a user-selectable auto-off timer that can be set.
If auto turn off is a function you need I suggest purchasing the TRS-26 red dot.
Do you need a riser for a Bushnell TRS-25?
The TRS-25 comes with a riser but if that is too tall or you want to direct mount it to the rail those are both options.
Does Bushnell TRS-25 magnify?
The Bushnell TRS-25 has 1x magnification like most red dot sights but does not have adjustable magnification.
Bushnell TRS-25 Review | Cheapest AR Red Dot Optic any good?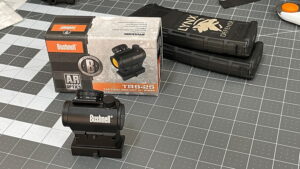 The Bushnell TRS-25 is known to be one of the cheapest AR-15 red dot optics but is it worth the money even at less than $100?
Product SKU: 731303
Product Brand: Bushnell
Product Currency: USD
Product Price: 70.70
Product In-Stock: InStock