The Holosun AEMS (Advanced Enclosed Micro Sight) is one of Holosun's newest additions to their red dot sight lineup. We will go through this optic with a fine-tooth comb in our Holosun AEMS review.
Holosun has been developing sights like the AEMS for some time this is the first time they have really made a micro sight. The closest thing to the Holosun AEMS right now is likely their Holosun HS512C, which is a much larger option.
This little enclosed sight is really a looker but does it perform? Time to dive in and find out!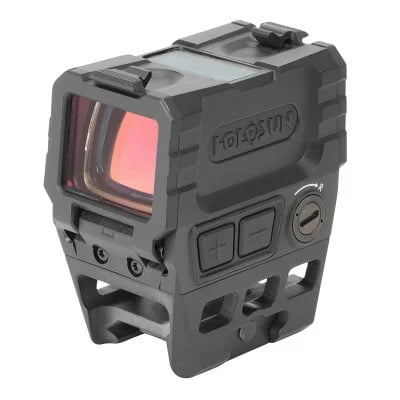 First Impression
My first thought of the Holosun AEMS after taking it out of the box was that it's very small.
I don't know what I expected, but it's small in a surprisingly good way. It's very compact and with its feature set it has surprised me.
Everything is extremely streamlined on this red dot. I really like nearly everything about it right out of the box.
The box is a standard Holosun set up neatly packaged, of course, it has a good amount of foam to protect the product.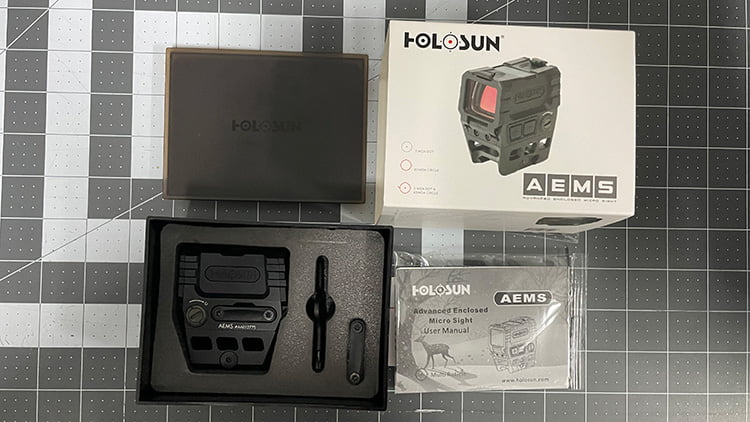 In the foam is the optic, there are a small set of instructions, a couple of tools, and you're off to the races.
The AEMS comes with a mount built-in and is attached when you get it.
Overall, my first impression of the AEMS is it seems really solid, with metal construction, the finish feels good, aesthetics looks great.
Let's talk a little bit about the materials.
Materials
The materials on the AEMS are your standard aluminum, 70-75 aluminum that is anodized black.
The entire red dot is metal everything except for your lenses and your lens covers.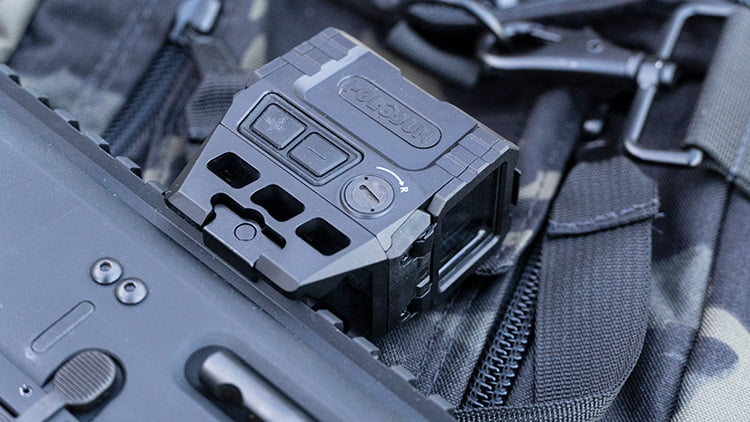 The membrane pads are rubber and are on the left-hand side of the optic, both of those work pretty flawlessly.
There is a solar panel top, which I also assume the solar panel is where the auto adjustment happens for your reticle. We'll talk a little bit more about the reticle later.
Moving on to the weight.
Weight
The Holosun AEMS is a little on the heavier side if you're comparing it to some smaller optics, this clock's in at 3.9 ounces, which really isn't all that bad.
It really depends on what you're putting it on and of course, 3.9 ounces on a several-pound gun is really not going to make much difference.
This red dot is significantly lighter than an EOTech XP2 which is 9oz and lighter than the Holosun 512C which comes in at nearly 9 ounces as well.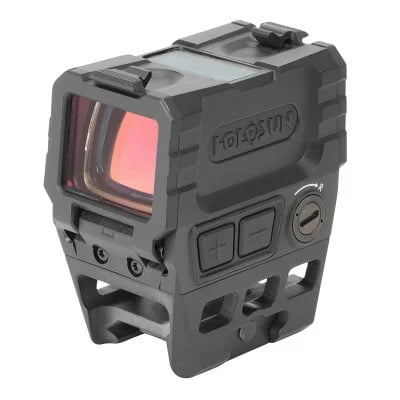 Reticle
So the reticle is really where the AEMS shines.
The shape of the optic overall is really cool. It's got a boxy EOTech-ish look, but the reticle is what makes it so awesome.
Let me just say up front that the Holosun AEMS is awesome.
If other red dot manufacturers could make this style optic and the multi-reticle selection that Holosun has done it would change the gamer.
I like the features of the AEMS so much they should be an industry standard, I feel like at this point, but nonetheless, let's talk about it, and let's show it to you.
You have three different options for reticles. You have your single dot which is a standard 2 MOA red dot.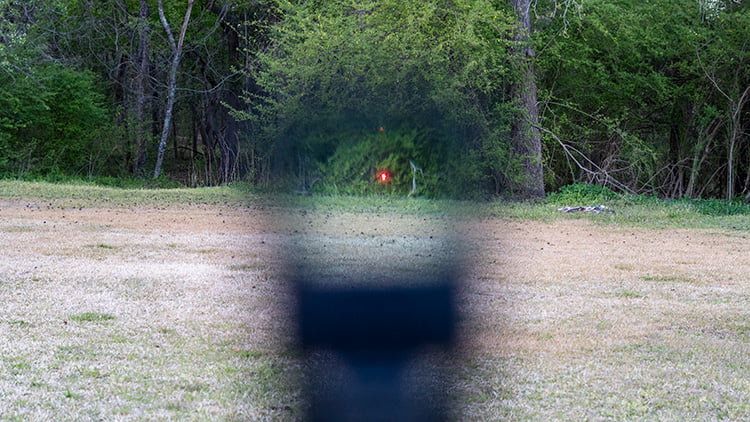 Next up you have your dot with your 65 MOA circle surrounding it. The best way to describe what this reticle is and what most people are going to understand the best is it's an EOTech reticle and that EOTech style reticle is perfect in the AEMS. I absolutely love it. It works fantastic.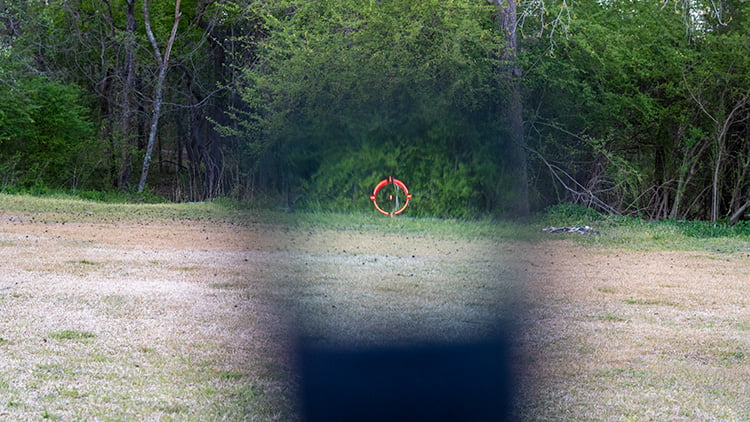 Keep in mind that the AEMS is not a holographic weapon sight.
We'll talk more about that in our holographic weapon site article, but for now, just know that this is a red dot sight. It's not holographic, but it does have the reticle of the EOTech and it looks great.
The last reticle option is the 65 MOA circle with no center dot. I don't foresee me ever using this option, but the fact that it's an option is really cool.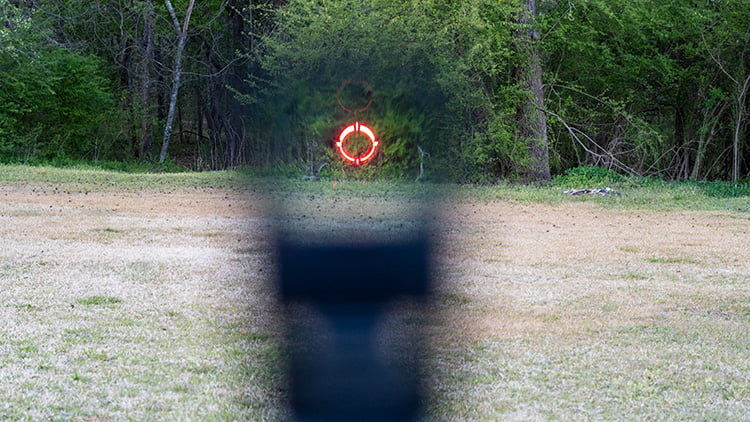 The one downside and I completely understand why is there is only a solo color for the AEMS per optic.
What I mean by that is you have to pick between red or green and can't have both (can't have your cake and eat it too, I guess).
I personally have the red, it's the only one that was really available when I bought this, but I do love green. I love green lasers and I love green reticles. So I would've probably gone for the green, had I had the option, but nonetheless, it works really great.
Last but not least, let's talk about the brightness settings of the AEMS.
There are eight daylight brightness settings for this and four night vision settings.
I feel like it's worth mentioning in nearly every optic article I do because some people don't know and that's no shame. It's just, that you don't know until you know, but the night vision settings are for people wearing night vision.
Night vision settings do not mean that this red dot gives you some night vision mode or night vision capability. Those four settings are for people that are wearing night vision.
So keep that in mind when you see those details on the brightness settings.
Dot Adjustment
With any red dot sight, you're going to need to adjust it and the Holosun AEMS is no different.
Once you get it mounted you'll need to hit the range and adjust your windage and your elevation.
You're going to need to zero it and get the optic ready to go. The adjustment knobs are done really well on the AEMS and it's definitely an interesting and smart design.
Usually, you'll see a top and a bottom turret for adjustment. The top turret usually controls your windage and your side usually controls your elevation.
Well, on the AEMS, the top has nothing but a solar panel and your lens cap devices. I'll come up with a better word for that later.
The windage and elevation adjustments are on the left and right of the AEMS.
On the left side of the AEMS, you have your windage adjustment. This is where you would adjust your zero left or right.
On the right, you have the elevation adjustment which controls the up and down of the optics zero.
With that being said, it does have that small tool that Holosun includes to adjust your dot. You can use a small screwdriver. I recommend the tool that they send, it just makes it easier. It fits perfectly and it just makes the actual adjustment much smoother.
It is a very clear adjustment and once you have it set, there's almost virtually no way you can accidentally move these. There are no exposed turrets. These are flat against the sides.
There are no additional caps. There's no stripping out threads. It's just a really great design overall for dot adjustment.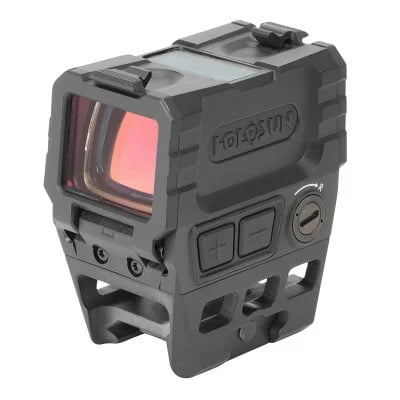 Power Source
Now on to the power source which is a standard CR2032 battery and the AEMS does have solar functionality.
How much that solar really does? I don't know, won't comment on that.
What I will say about the power source, it is very easy to get to the battery compartment. It's located on the right side of the optic and uses Holosun's typical shelf battery compartment.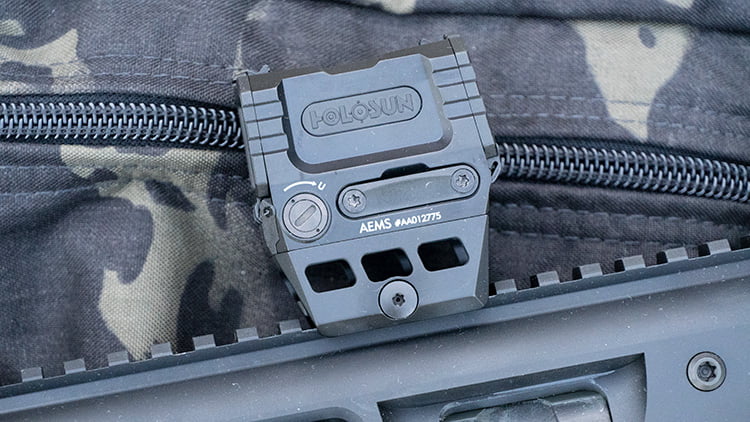 It has two star-bit screws that hold the shelf in unscrewing the screws, you pop the shelf out and back in and you screw it back in.
That's done really well. It's very easy. It's not cumbersome. So as far as the power source is concerned, it's great. It is a little different than what you are used to because of the design and the boxy nature of this.
It does make it somewhat easier for me to get to and charge the battery.
With that being said you shouldn't have to change your battery often with battery life on this optic being 50,000 hours.
Add to the 50,000 hours the fact that it has Shake Awake and uses super LEDs, which means that it's extremely battery friendly.
So the motion on actually is great because when you pick it up and your Shake Awake activates, it's going to turn on to the last setting that you had it on. that functionality works really great.
Durability
The durability of the Holosun AEMS is one thing that I really haven't tested.
I haven't slammed it around. I haven't thrown it around.
But the one thing I can say about the durability is that I don't understand the lens caps.
I personally have never really even seen somebody flip them down. I just don't see the need. It doesn't hurt your sight picture. It doesn't get in the way and it doesn't cause any glare.
In fact, if anything, it reduces glare and artifacts.
So overall, the construction is great. The materials are great. I don't have any good way of testing the durability of this without purposely damaging it.
I'm just not going to do yet that for this brand new optic. I'd like to get a little more life out of it before I really start testing the AEMS durability.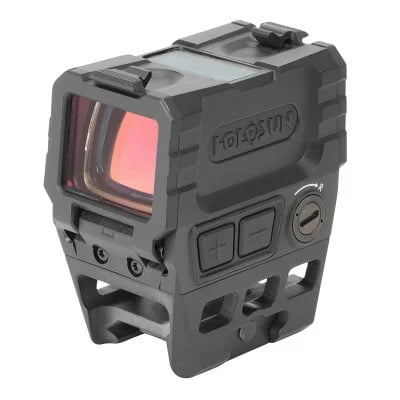 Sight Picture
The sight picture's interesting because it's a square and it's different than what you're used to on a typical circular red dot sight because most people will be used to a red dot sight being circular.
Now, if you're an EOTech user, you will likely be used to the more squared body that the AEMS has.
But the great thing about the square is that the walls are really thin compared to a lot of other red dots.
The AEM's square body design is really great for the sight picture.
There's not a lot in the way. There's not a lot to distract you and you really can get on target.
It can talk some getting used to while holding both eyes open with this smaller window, an EOTech obviously has a much larger window. But the Holosun AEMS sight picture is no slouch.
So A+ in the sight picture column.
Operation of the Holosun AEMS
Now I didn't read the manual before I picked up the AEMS and started playing with it, I went straight to trying to turn it on.
So I had to learn on the fly and quite frankly, it took me about three minutes to figure out how this entire thing worked.
Both membrane buttons will turn the optic on from a total power-off state. So either the + or – button will activate the red dot.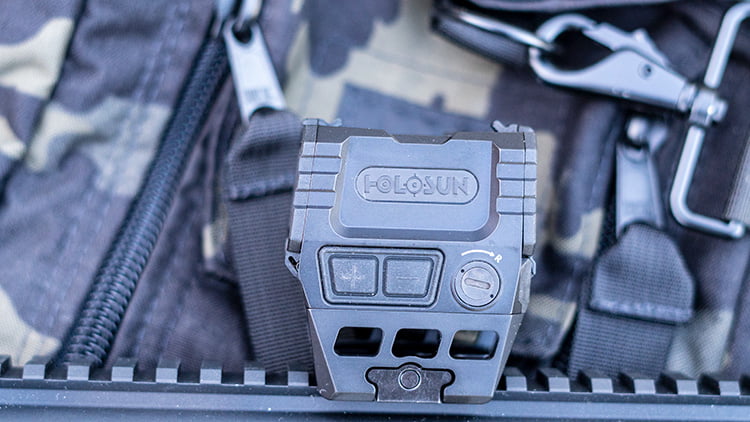 Then you can adjust which brightness setting you would like by using the plus or minus. All of that is very standard.
Now what you're going to want to know is how this thing really works. So if you wanted to turn your dot off, you would push and hold both the + and – at the same time and that'll turn your dot off.
Changing Reticle Mode
Now, if you're looking to change your dot, you're going to want to hold the minus button. The minus button will change your reticle.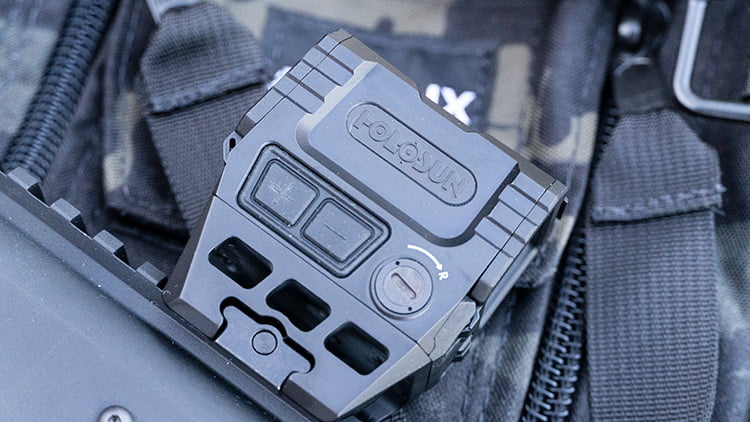 So press and hold the minus button for about five to 10 seconds, and you'll get the next reticle in line.
As I said, you have three options, so you can cycle through those three options.
But if you hold down the plus, it's going to change you from daylight mode to night vision mode.
So a single tap of the plus button will increase the brightness, a tap and hold will change your mode altogether.
A single tap and release of the minus button will lower your brightness setting, a tap and hold for five to 10 seconds is going to change your reticle.
Overall, the operation is very simple. I figured it out relatively quickly and once it's on, you don't have to worry about it, because it has Shake Awake, and it's going to power itself down once it notices no movement for a certain amount of time.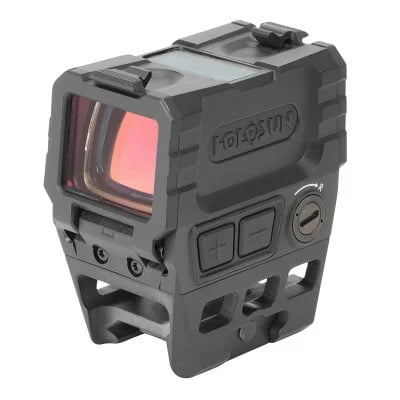 AEMS vs EOTech
The AEMS vs EOTech debate is bound to come up. On the reticle alone this vs questions has merit.
The reticle is nearly the exact same with the exception of the EOTech being a truly holograph site. This has its advantages and those should be noted when making this comparison.
However in terms of size the AEMS wins out and is the much smaller and compact optic.
The sight picture, in my opinion, is slightly better on the EOTech because of the large view window of the EOTech and extremely thin walls.
Overall, these are two great optics that have pros and cons for each. I think if you're looking for a full feature optic the EOTech may be the way to go but if you're looking for a compact red dot that has the EOTech reticle and a great portability the Holosun AEMS is the way to go.
Final Thoughts on the Holosun AEMS
AEMS is quite frankly, probably my new favorite red dot sight.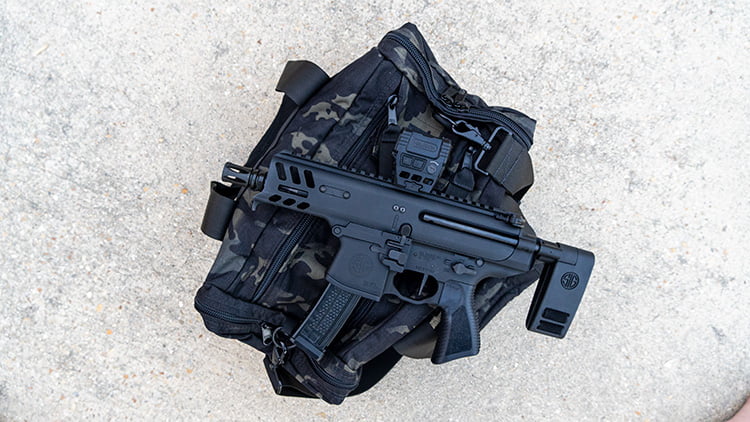 I've got a few more that I'm really excited about, namely the HE-509 ACSS, which is also in the Holosun family, but it has the primary arms ACSS Vulcan reticle.
I'm a really big fan of the primary arms reticles. I really like the chevron and what Primary is doing over there with all their optics.
The AEMS really changes the game in my opinion for red dots, because it adds functionality that has long been missed and that very few companies have nailed.
In my opinion, they've nailed it and it might be sad to say that I really wish an American company would've nailed a red dot in this way, but unfortunately they haven't yet.
If I had to put my money on somebody nailing a red dot like this, it's going to be Primary Arms. So keep an eye out for a lot of their new stuff is really cool.
But overall, this is a great optic. For the price point, you're really getting a bang for your buck.
Yes, it's a little bit more expensive, but the modes, the reticle, the construction durability, and materials all make this thing worth the current price point.
So if you're in the market for one, definitely pick one up.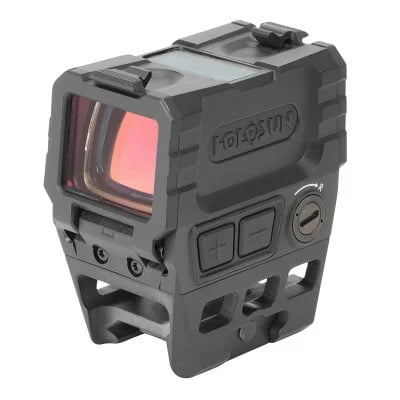 What is Holosun AEMS?
The Holosun AEMS, or Advanced Enclosed Micro Sight, is a small full enclosed red dot optic. It is made by Holosun and, while small, packs a large feature set.
Is the Holosun AEMS good?
Yes, the Holosun AEMS has proven to be a fantastic optic choice for anyone looking for a small red dot sight with a reticle that allows you to quickly get on target.
How good are Holosun optics?
Holosun optics have proven themselves over time and have quickly become a favorite in the gun community. Many of Holosuns pistol optics have been through tens of thousands of rounds of fire without issue.
Is Holosun 510C a good sight?
While the AEMS is currently one of the latest and greatest red dots the older 510C is a fantastic Holosun sight as well.
I will likely do a comparison of the two in the feature.