Recently I've taken a pretty deep dive into Holosun optics. The Holosun AEMS was my most recent red dot sight review and keeping with the EOTech style reticle I figured I jump right to the AEM's big brother the Holosun HS512C, sometimes known as simply the Holosun 512.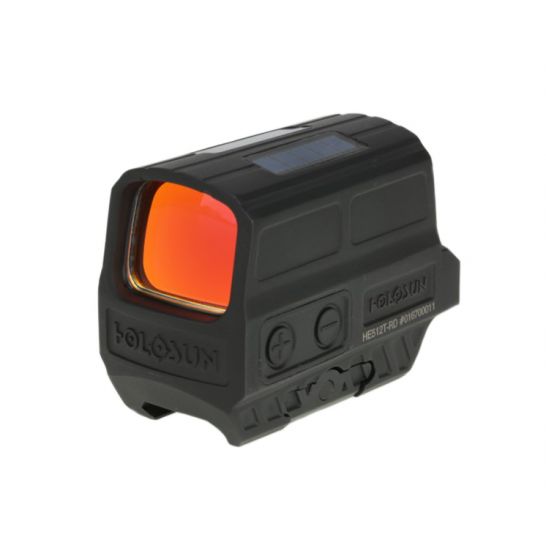 • Reticle: 2 MOA Dot & 65 MOA Circle
• Battery: CR2032
• Battery Life: 50,000 hrs
• Weight: 8.1 oz
Holosun 512 First impression
The first impression of the Holosun 512C, upon first taking it out of the box, was that it was much larger than most of the Holosuns that I was used to.
Aesthetically, it had a very interesting look. It's much longer than the Holosun AEMS and overall, it's a bigger package and feels stout.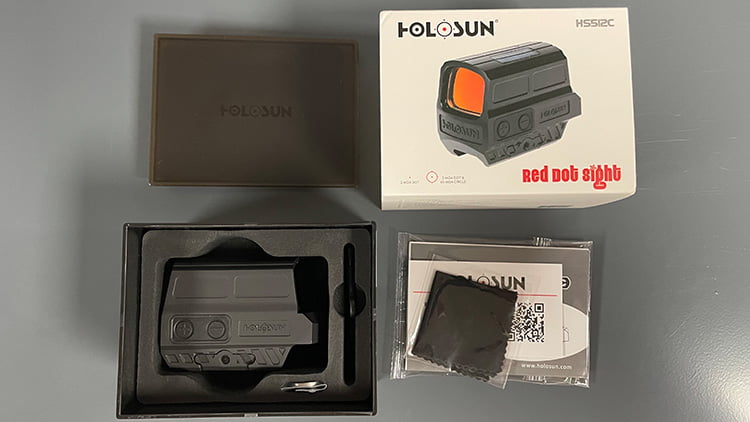 The weight wasn't overbearing, but it was more substantial than something like the AEMS.
This does come in right at 8.1 ounces so it's not incredibly heavy, especially if you put it on a longer gun.
Personally, I put it on my LWRC M6IC and had virtually no issues with it on that gun.
In fact, my first impression of it on the LWRC was it was the perfect fit for it. This is a 16-inch gun so it fits right in, and doesn't add an extreme amount of weight.
Overall, the feel of it is solid. It does have an all-metal construction so, so far so good.
Materials
The Holosun HS512 is an all-aluminum construction.
Once again, Holosun is a little different in that they don't necessarily tell what aluminum the 512 is made from.
Likely, this is 7075 aluminum, but they don't really dive into that. Overall, I think the materials of it are perfectly fine and when it comes to Holosun I've never had an issue with their optics metals (the included tools are basically pot metal though).
Weight
Like I said in the initial impression, the weight clocks in right at 8.1 ounces.
That's a decent weight but not earth-shatteringly lite.
While it's not extremely light it's not like you're throwing pounds on top of your gun either.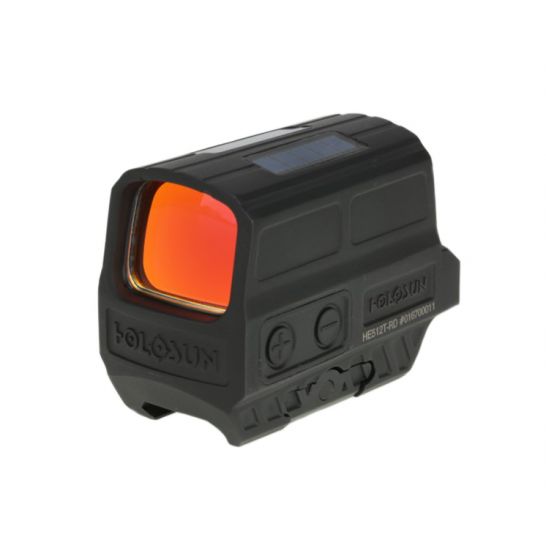 • Reticle: 2 MOA Dot & 65 MOA Circle
• Battery: CR2032
• Battery Life: 50,000 hrs
• Weight: 8.1 oz
Reticle
Like the Holosun AEMS, this reticle features the EOTech style of reticle.
I know it feels kind of cheap to call it the EOTech-style reticle, but let's face it, EOTech HWS made this type of reticle popular.
The Holosun 512C does have a 2 MOA dot in the center and a 65 MOA Dot Circle with the cross-hairs hash.
The HS512C reticle has two different color options.
There is a red dot model and you also have a gold dot model.
The gold is relatively interesting, and with the gold dot version, the model number changes from HS512C to HE512C-GD.
The one complaint I have about Holosun is its naming conventions. Good Lord, it's hard to keep these things straight.
You almost have to study for a month to pass the test of what Holosun does what. But nonetheless, it's their naming convention, they can pick if they want to.
The only difference I can tell between the two model options is the reticle color.
You still get the same reticle design. One is just red and one is, quite literally, gold. I've never seen gold.
I've seen green so the gold's kind of a strange deviation from that. If you know why they went with gold, please leave a comment below.
I would love to get some insight into that and you can contribute to this article. So diving into the dot adjustment.
Dot Adjustment
One thing I think is interesting about some of these EOTech-style reticle red dot sights, like the Holosun AEMS and, of course, this HS512C is the dot adjustment is very nonchalant.
There's no adjustment turret sticking out, no excessive caps, and nothing really crazy that makes these hard to deal with or hard to work with.
There's nothing impeding your sight picture. It's just I really like how they've done these.
Holosun built the dot adjustment into the actual red dot sight frame itself.
Right in front of the lens on the 512C, you have your elevation adjustment. You would take the tool that is included with this or a small screwdriver, and you would just adjust it like you would anything else, except there's no turret.
There's no cap to remove to get to it the adjustment knobs are just recessed. They're flat so you're not going to accidentally adjust your red dot sight after you get it zeroed.
On the right-hand side of the back of the red dot, you have our windage or left-right adjustment. That is done the exact same way, you turn it counterclockwise to move it right. You turn it clockwise to move it left. Very simple.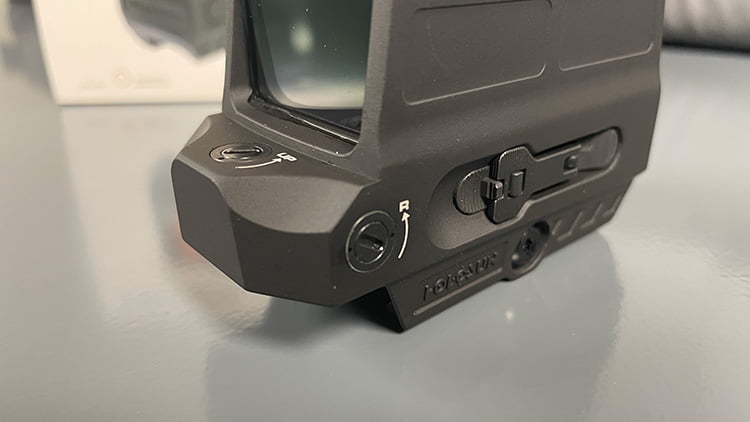 Same thing. Use the tool or a small screwdriver, and you can make your adjustments extremely, extremely easily.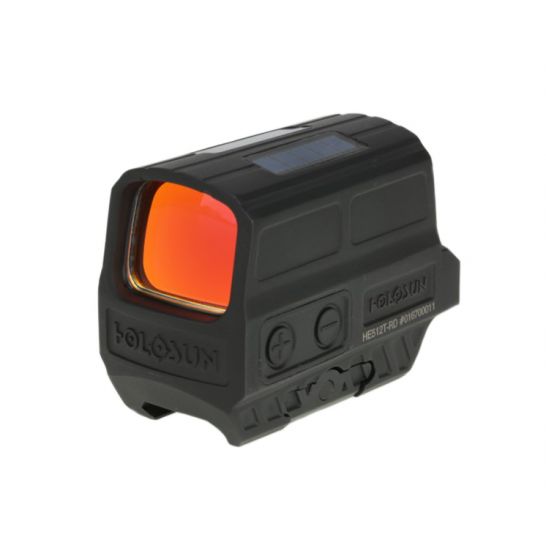 • Reticle: 2 MOA Dot & 65 MOA Circle
• Battery: CR2032
• Battery Life: 50,000 hrs
• Weight: 8.1 oz
Dot Brightness
This is something that I have addressed several times before.
There are 10 daylight settings and two-night vision compatible settings.
As usual, quick disclaimer, the night vision settings are for people who are wearing night vision. It does not give you night vision on this optic.
The brightness settings are extremely fluid.
In fact, I haven't touched them since I initially turned it on and just played with them because when I'm using the 512C it automatically adjusts to the appropriate brightness.
If I'm in extremely low light, it'll lower it and so far I haven't had to fight it at all. I think it's nailed pretty much every time that I go to aim the weapon, the reticle is the perfect brightness for me.
One thing that is worth noting is that on setting six, which is literally right in the middle of your brightness settings, you can get up to 50,000 hours of battery life out of this thing.
That's really incredible battery life. Some red dot sights have abysmal battery life, but this one has really fantastic battery life so really no complaints there.
Power source
Moving on to the power source, this one is a bit different.
You don't see this style of battery compartment often. Holosun definitely went out on a limb on this.
I don't hate it, but at the same time, I don't love it.
I don't know where to tell you exactly I fall with this, but nonetheless, let's talk about it, not just how much I like it or dislike it.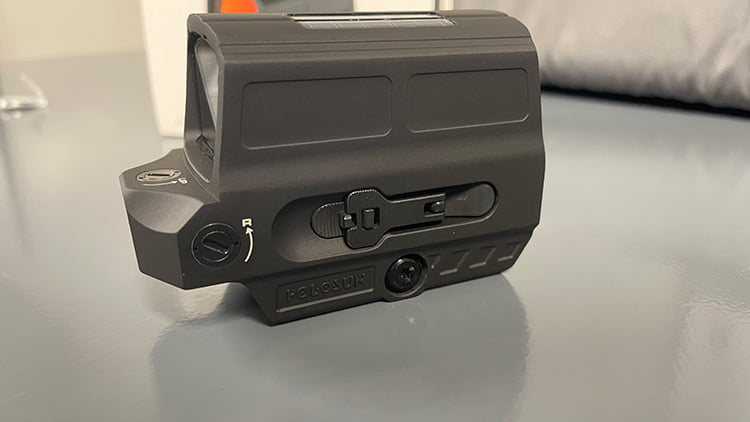 Getting to the battery is somewhat cumbersome on the Holosun 512C.
On the side of the 512C, there's a lever system that locks into place. To get the lever open to twist it to remove the battery, you have to get the lever to release, which I personally had to use the tool.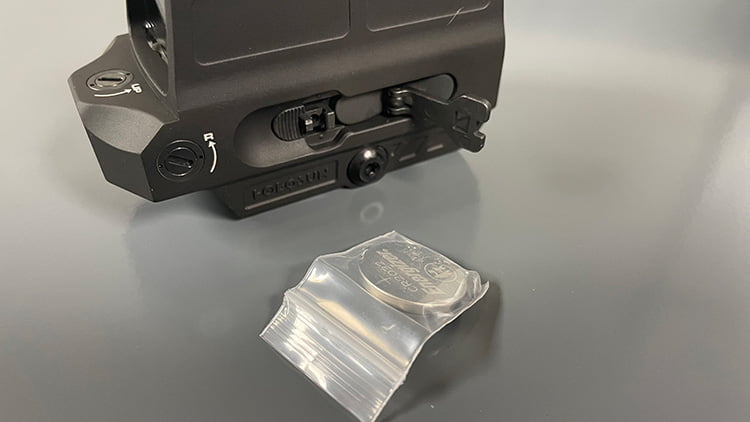 I couldn't do it with my fingers or fingernails and actually get the lever to unlock.
Once you do that, it's pretty fluid.
You pull the lever out, you rotate it about 180 degrees. It releases the tray, and then you pull the tray out.
It's a bit cumbersome. It's not something I was able to do on the fly, but if you're able to push in and get this lever to release with your fingernails or your fingers, you're going to be set.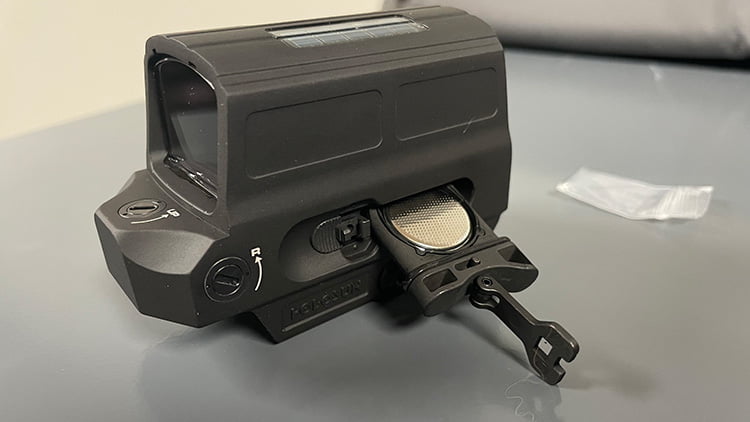 Otherwise, you're going to need either a small screwdriver or the included tool to pull down on it, release the lever, and then everything else can be done by hand.
Pushing it back in was really easy.
The one thing that is a little different is the battery does need to go in with the positive side down.
That's a bit different, but you just turn your CR2032 upside down, put it in the tray, slide it in and you're golden…. or red.
No big issues with the battery compartment, I just think it's a little cumbersome to get to the battery.
You're going to have to install the battery when you first get the 512C so you'll get the experience if you end up buying the HS512C.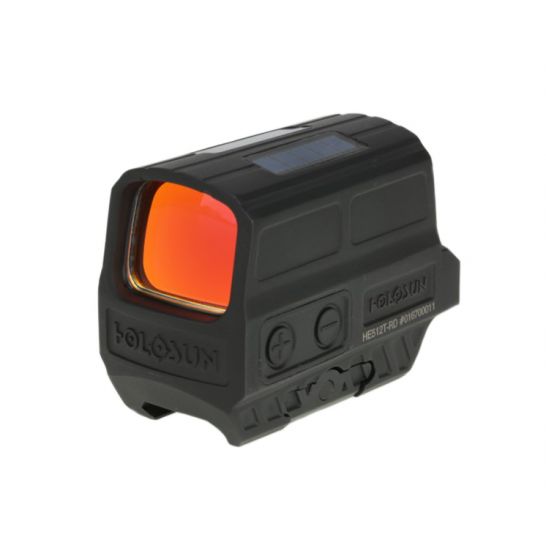 • Reticle: 2 MOA Dot & 65 MOA Circle
• Battery: CR2032
• Battery Life: 50,000 hrs
• Weight: 8.1 oz
Durability
Once again, we still don't have a durability test, and, again, I don't know that I'd put some of these red dots through a durability test because granted, you could likely break them if you really wanted to.
A lot of these are my personal optics that I bought and I don't want to tear them up.
A lot of them would stand up to the wear and tear that I would put them through and the HS512C appears to be pretty solid.
However, I do want to mention the weak points.
Of course, as always, your front and rear glass could be broken. There's nothing to say these are any better or worse than any other optics out there.
The one issue that I do see, and that does concern me a little bit on the durability side, is there are two solar panels on top of the HS512C.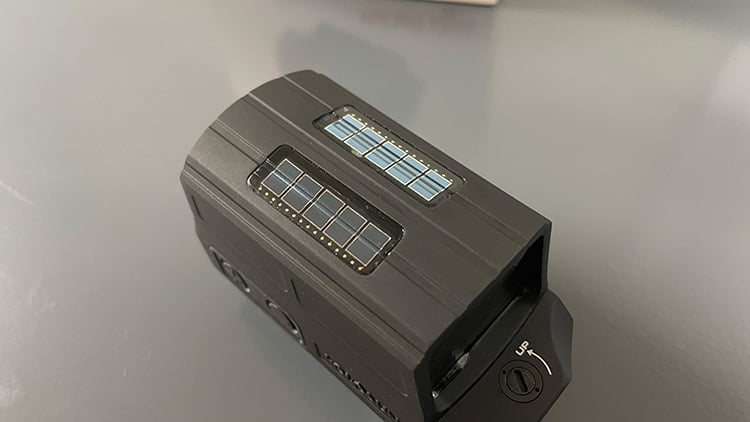 The solar panels charge your battery and adjust the reticle brightness.
These two solar panels are what is used to adjust the reticle brightness based on the overall light in the area.
So if you're in full daylight, it automatically adjusts to the brightness setting that you'll likely be able to see.
Now, what I will say is that Holosun does a fantastic job with auto brightness adjustment and as long as those panels are seeing the correct light of the room or outside area you're in, you're going to get the right brightness of the reticle.
Sight picture
The sight picture is actually something I really like on the HS512C.
In fact, I like the sight picture better on the HS512C than the Holosun AEMS, and here's why.
The walls of the HS512C, while they are fully enclosed, are very, very thin.
This actually reminds me more of the EOTech than the AEMS does because of the fact you have a wide viewing angle and you have very thin walls.
So they don't distract you or take away from your sight picture, target acquisition is very smooth and, overall, I think this is probably one of the best Holosuns you can buy right now.
The AEMS is great if you need a small profile and you're on a subcompact gun, but this bad boy is awesome.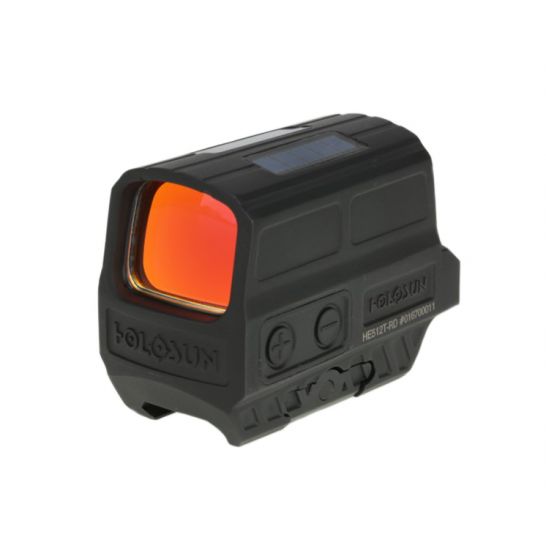 • Reticle: 2 MOA Dot & 65 MOA Circle
• Battery: CR2032
• Battery Life: 50,000 hrs
• Weight: 8.1 oz
Mounts and Mounting Options
Now, one of the biggest drawbacks that I think a lot of people will find, and it's the same drawback that something like an EOTech would have, is this has a built-in mount so you're not going to be able to really do much with that unless you get a Picatinny riser.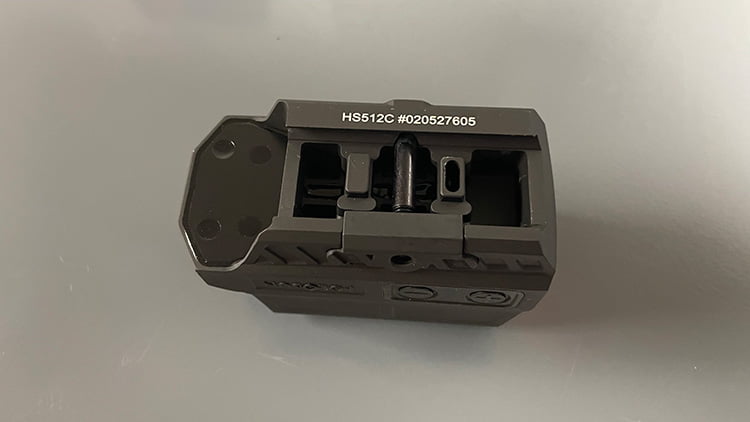 There are some out there.
I can't remember exactly who is making them, I'll likely find a link and include it below.
But this is an absolute co-witness mount and there's not much you can do about it, otherwise, without adding a riser mount of your own.
Overall, I don't have a problem with this mount because I really like where it sits on this particular rifle.
I'm not running any irons or any backup sights.
I will run a flashlight on this AR-15 rifle but that won't have much effect on the red dot itself, maybe the brightness auto-adjust feature.
But that is something to keep in mind that you will be stuck with an absolute co-witness mount unless you invest in a riser.
That is also another drawback of the Holosun AEMS but they just recently released a low-rise mount from the factory and the AEMS has its own footprint, whereas the HS512C has just a Pic mount built-in.
Holosun HS512C Conclusion
Final conclusion of the HS512C is… I'll just jump right to it.
Quite frankly, this may be the best value in red dot sights on the market today.
It was not cheap and they aren't the cheapest option on the market today, but for what you get, the features you get, the battery life, the durability, and the reticle, not to mention the mount that's included, you're really getting a solid package.
Holosun has really, really shined here in recent years and I think they've proven that they are a top-tier red dot sight manufacturer and I think that going forward, they're going to continue to be.
The next Holosun I'll be reviewing is the HE509-RD-ACSS-R.
That is the Primary Arms Vulcan reticle optic and I'm really excited about that one.
It's a nice small package. So it'll be interesting to see how it stacks up against other options on the market.
I really think the HS512C is, by far and above, the best Holosun red dot sight for a rifle on the market today.
How much does the Holosun 512C weigh?
The Holosun 512C weighs 8.1 ounces, which is a fantastic weight considering the feature set of this red dot sight.
Is the HS512C a holographic sight?
No, the HS512C is not a holographic sight. It can be confused with the EOTech holographic sight because they have the same style of reticle.
However, the technology that powers the Holosun 512C is not holographic technology.
Is Holosun better than Eotech?
This is hard to answer with a yes or no. Is a Holosun an EOTech? No.
Both optics have their pros and cons and most people will tell you that EOTech is better. I would argue that "better" is a relative term and your purpose for the optic needs to be clearly defined before determining which is better.
If you do not need holographic capabilities then the Holosun might be the better option.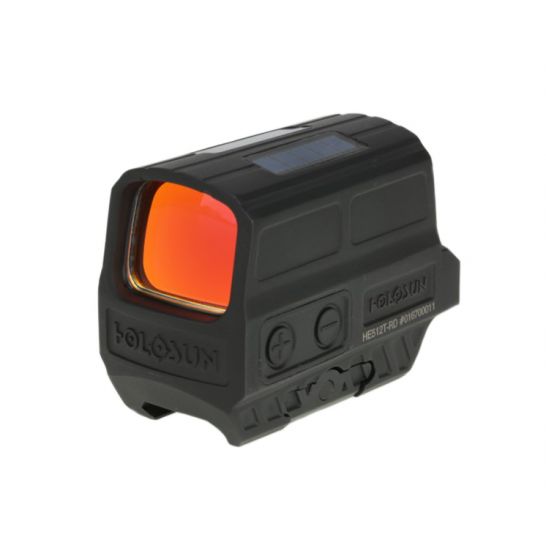 • Reticle: 2 MOA Dot & 65 MOA Circle
• Battery: CR2032
• Battery Life: 50,000 hrs
• Weight: 8.1 oz