Another Primary Arms Optic Review?! Of course! The Primary Arms 3x Micro Prism has been at the top of my wants list for optics, and I finally got my hands on one.
The Primary Arms 1x Micro Prism is one of my favorite red dot sights, but the only thing missing was a bit more magnification. That's where this 3x Micro Prism comes in, and "rumor" has it Primary Arms is working on a 5x version as well!
Let us dive into our Primary Arms 3x Micro Prism review!
What's New
There's really only one thing that's new in this optic and that is the magnification to 3x.
While that doesn't jump out for most people and have them reaching for their wallets, I'm still interested to see how it compares to the 1x and if it's a solid optic improvement for mid-range rifles over the 1x Prism.
First Impression
Like any Primary Arms optics, the packing is A+ and each item is individually wrapped in plastic and hand-checked by someone on their US team in Texas.
When I got everything unwrapped, I had the same thought I usually do when it comes to PA and that's "they have done it again"! I honestly never get tired of the next thing Primary Arms releases.
What's in the Box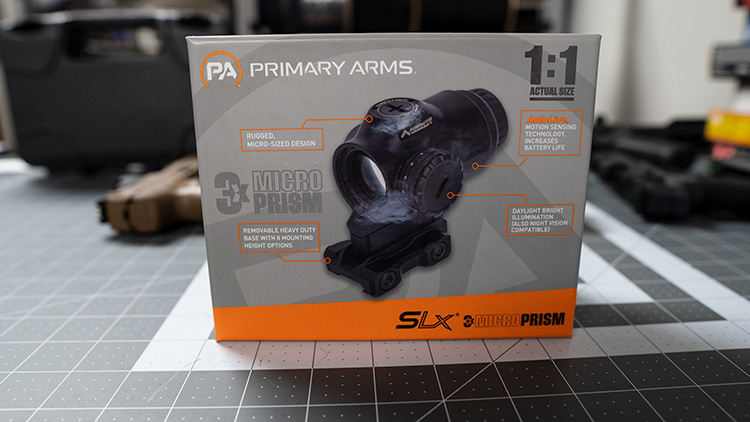 Time to dive into the box and get to the good stuff! Here is the short list of the contents:
Prism 3x Optic and Mount
3 Additional Mounts
Mount Screws
Hex Key for Mount Screws
Allen Wrench for Optic Mount Screws
Two Manuals
Vibra-TITE
Microfiber Cloth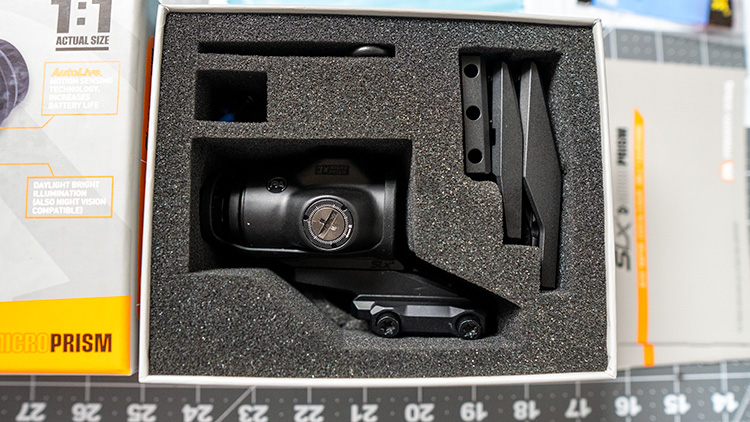 Most of the metal pieces come individually wrapped in plastic and once you get them out, you can rock and roll!
But what you are really here for is the prism, aka the red dot sight.
The Red Dot Sight
The red dot sight itself is fantastic. Very similar to the 1x Micro Prism in terms of shape, size, and design.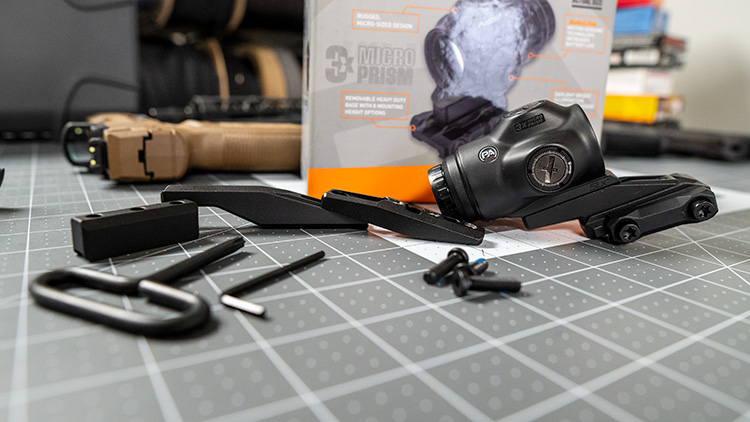 Construction seems to be on par with the Prism scopes from Primary Arms and when holding it up to your eye, you can tell there is magnification because you have to move it to get the eye relief just right!
This won't be a problem once you adjust it and mount it where eye relief is very fulid.
Primary Arms 3x Micro Prism Features
Primary Arms 3x Micro Prim packs a punch when it comes to features. The materials down to the reticle are simply impressive.
Materials
The materials of the Micro Prism optics are all aluminum and while Primary Arms doesn't specifically say what kind of aluminum it is likely either 6065 or 7075 aluminum.
The overall feel is excellent and extremely solid and the badging is exceptionally well done.
Weight
The weight of the optic comes in right at 8 ounces which is almost 3 ounces heavier than the 1x version of this optic.
But when you compare it to adding a whole other piece of equipment to get this level of magnification, it's a highly reasonable increase in weight.
Most magnifiers are going to add a lot more than 3 ounces to your overall rifle/optic weight setup.
Reticle
The ACSS Raptor Reticle is one of my favorites I like the chevron and the mil-dot setup of the reticle.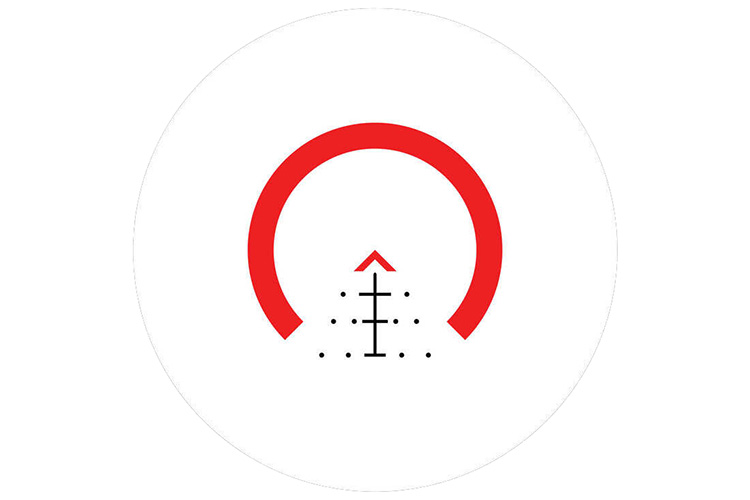 While the Raptor isn't a classic reticle just yet, a modern take on the classic chevron that the Trijicon ACOG uses is a really nice take.
Dot Adjustment
To adjust the dot, you simply need a coin or even a spend rifle case will work. The top exposed turret caps sit flush with the optic and allow you to make adjustments quickly and easily.
The 1 MOA click value will get you on target quickly and easily the top turret continues your elevation and the right turret controls your windage.
You might be worried about having exposed turrets, but I can assure you that they are recessed enough not to be easily bumped or changed on accident.
Power source
The power source is about what you'd expect from a red dot sight. A single CR2032 3V Lithium Coin will power this optic for some time.
The nice thing about prism scopes is with the etched reticle, even if your battery dies, you can still use the optic because you don't lose your reticle entirely.
Mounts and Mounting Options
One of the first things I started was changing the mount that the 3x Prism came on. I was so used to the 1x Micro Prism that I thought, I'm going to change this ridiculous mount.
Well… pro-tip, before changing the mount, you should mount it to your gun and check your eye relief.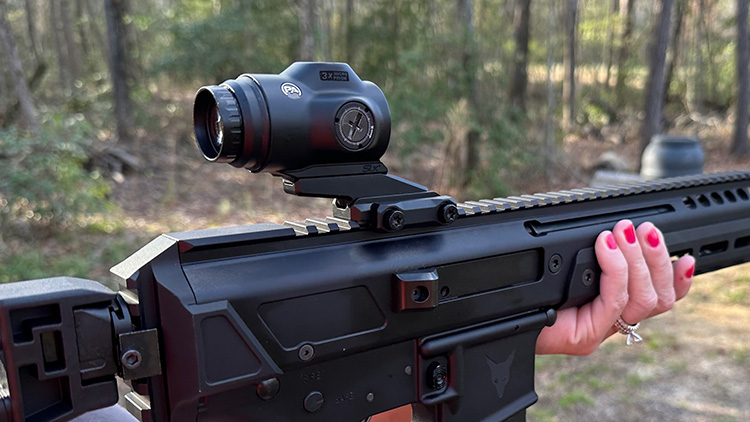 One thing I forget to consider is the magnification on this optic. So I needed to mount it more like a magnifier and less like an optic.
So, in this case, you want the entire optic to be mounted like the Sig Juliet 3 Magnifier and less like the Sig MSR optic.
The magnification changes the game entirely on the Prism optics. If you don't mount this closer to your face, your eye relief will be terrible, and you won't have a good experience with the 3x Micro Prism.
Primary Arms 3x Micro Prism Sight Picture
The sight picture is probably what you're most interested in and that's completely understandable.
The sight picture and eye relief are two things that really go hand-in-hand and I'll address them both here.
The sight picture on the Primary Arms 3x Micro Prism is much different than that on the 1x. With the magnification you have to focus more on the optic and making sure your eye relief is correct which in turn causes you to lose some of your peripheral vision.
Primary Arms 3x Micro Prism Conclusion
The 3x Micro Prism was definitely at the top of my list of optics to acquire and I'm glad I finally got my hands on it.
For what it is, it is fantastic. It's the combination of both a red dot sight and a magnifier in one.
It does that really well and what I have my eye on next is the optional mini reflex offset mount. It's the perfect little combo of fast and magnified target acquisition.
The Primary Arms 3x Micro Prism price is reasonable if you consider the feature set it brings to the table. The magnification alone saves you from adding both the cost and weight of a magnifier.