The Primary Arms SLx RS-10 is really an interesting pistol red dot sight. The Primary Arms RS-10 is a brand new offering from your guessed it, Primary Arms.
What I really like about the RS-10 is that it can be a handgun sight, so I can put it on my Glock, or I can throw it on a PCC or other rifle or short barrel rifle. It's really a cool little optic that can go on nearly any gun you choose.
While the RS-10 is clearly Primary Arms's stab at the pistol optic market, the small red dot is so versatile it can work on any gun. Personally, I will be trying it on both a pistol caliber carbine, as well as a Glock MOS pistol, to give it a true, good rundown.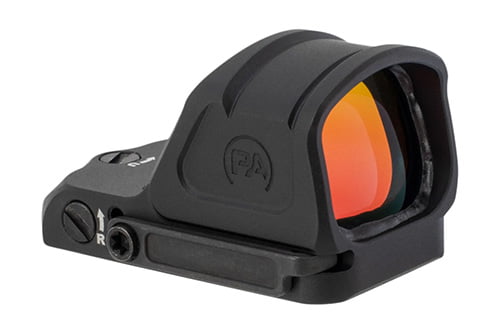 Primary Arms SLx RS-10 In The Box
Now, first and foremost, what's included in the box:
Primary Arms SLx RS-10 Sight
Sight Cover
Sight Adjustment Tool
Manual
Glock MOS Adapter Plate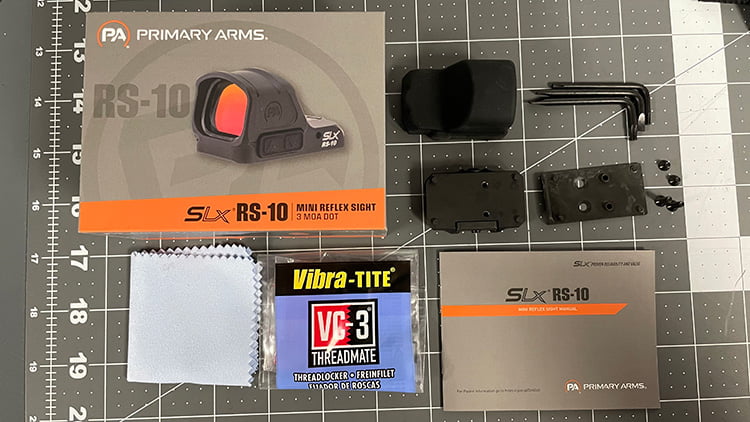 While this comes with a Glock MOS adapter plate I tried my luck and played with it a little bit and tried to mount it to a Walther PDP. It did not go quite as planned. I couldn't get it to mount on a Walther PDP or an IWI Masada with the included plate and/or the guns' respective plates, no biggie, it was a longshot anyway.
So I kind of gave up on that and moved more towards what it was geared for from the factory. So, first and foremost, let's dive into the actual optic itself and talk about my first impression: the materials, the weight, the reticle adjustments, the power source, etc., and then we'll get into how it performs, shooting.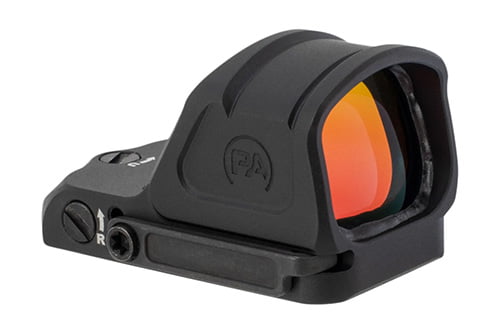 First impression
First and foremost, out of the box, it is a tiny little red dot. Now, that being said, it's on par in size with other red dot sights, like a Trijicon RMR or even the Holosun 407.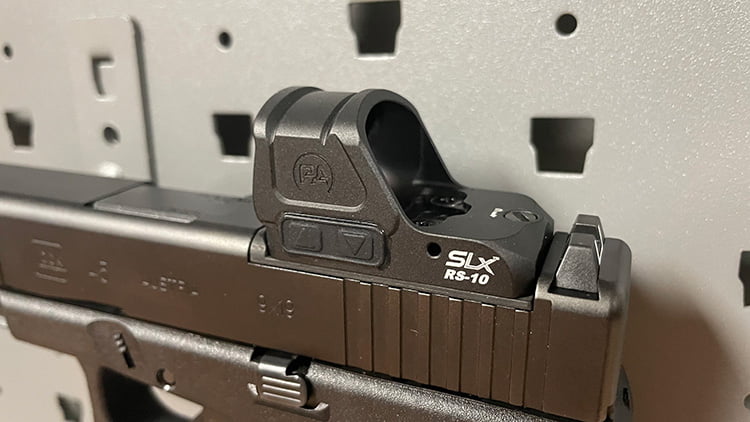 In my opinion, it's probably slightly smaller than the Holosun series, which is actually kind of a compliment, so don't take that as not a good thing.
It's very small, very compact, and very nice right out of the box. Aesthetically, it's a nice and clean optic.
Overall, my first impression of it is very good, feels solid in the hand, and I have high expectations already. So let's dive in a little more.
Materials
One of the nice things about the Primary Arms RS-10 is the fact that it's made out of 7075 aluminum.
Like most of their other optics in the SLX series, the RS-10 is 100% 7075 aluminum.
The all-aluminum construction makes it feel very rugged out of the box. Every bit of it is aluminum with the exception of the membrane pads for on/off and dot brightness adjustment.
Overall, I believe you're going to get really solid durability out of this pistol red dot, given the fact that Primary Arms machines it out completely out of aluminum. It feels very good in your hand and is extremely well done.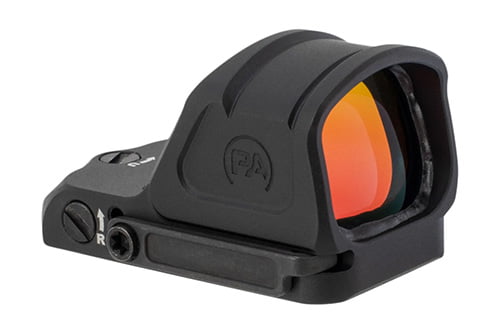 Weight
The weight of the RS-10 is really what grabs your attention: 1.07 ounces, that's insane.
I don't know anybody else that's really killing the weight game like Primary Arms is, but I will tell you that this thing is incredibly light.
It adds almost no weight to your gun. I mean, one ounce; who's going to notice that?
So it's really an incredible feat that Primary Arms has accomplished.
It's lighter than the Trijicon RMR, the RMR comes in at 1.17 ounces, and below it out of the water when it comes to battery life (more on that later).
I know we're talking about a very minuscule amount of weight, 0.10 ounces, but the fact that they're able to get an impeccable battery life and a number of other features that we're going to talk about, it's just … It's incredible.
Major props to Primary Arms for continuing to push the envelope, especially in the optics market, which is extremely crowded. I've got to say the weight really impresses me.
Reticle
Moving on to the reticle which is probably the most important feature, I'm going to talk about a couple of other features of the reticle in this section.
First and foremost, this is a three MOA dot. At the time of this writing, there are no other options.
You get a three MOA dot and that's it. Also, it is as its name states, a red dot.
There are no green dots yet. I'm sure they will come, but this is a brand-new optic, so give Primary Arms some time.
So the three MOA dot is great. It is a solid crisp red dot and while I do love a green dot, I'm not holding that against the RS-10. This thing is fantastic.
It's very crisp and clean. Now, I believe, it hasn't been confirmed, I have slight astigmatism, but I don't have a problem seeing this dot.
There are not a lot of artifacts in it and it provides an extremely clear sight picture around the dot.
One of the other major features of this dot it also has what Primary Arms calls "auto live" which is simply motion activation.
The RS-10 will automatically shut off to save battery life, and it will automatically turn on when it senses motion.
That is becoming somewhat of a standard feature in the optics world, but, because it is a feature, I do want to mention, that the RS-10 does have Auto Live. It works very similar to Holosun Shake Awake and the SIG Motac feature.
The reticle is pretty good, if you like 3 MOA red dot this may be the optic you're looking for. Let's talk about adjusting it.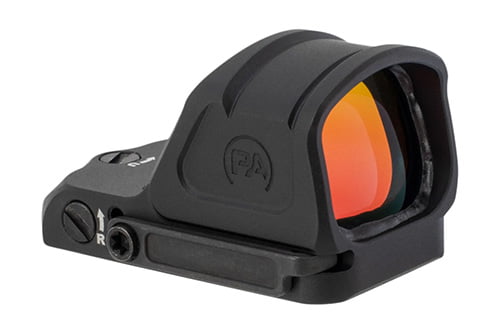 Dot Adjustment
The red dot adjustment is pretty much what you'd expect on a pistol red dot sight.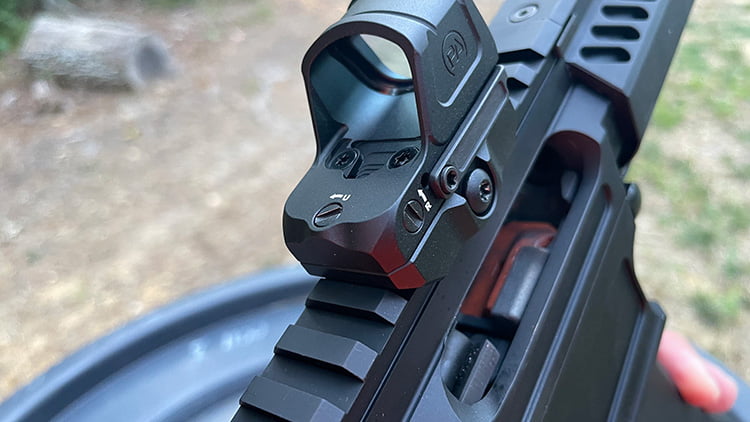 On top of the sight, you have your elevation adjustment (up/down). On the right-hand side, you have your windage (right/left).
Adjustment of the dot is very easy. It comes with a tool to do it, which is a small screwdriver.
However, any small screwdriver will be more than sufficient to make these adjustments.
Adjusting this dot is very easy when you're zeroing in and sighting your optic.
Dot Brightness
The dot features 11 brightness settings, so you're guaranteed to find the right brightness, no matter what time of day it is.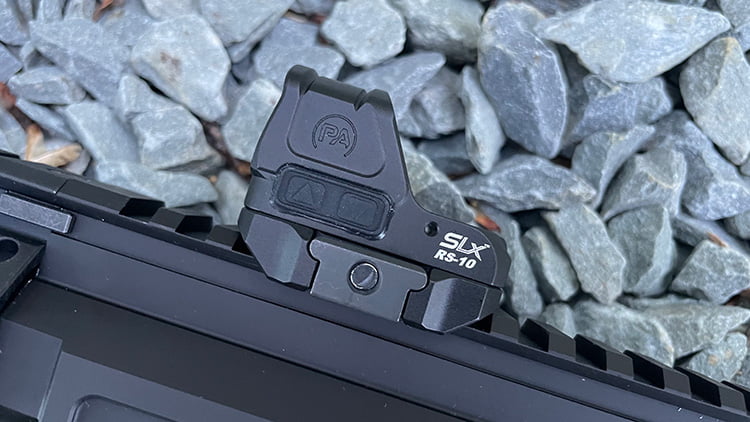 So feel confident in the fact that you're going to find a setting that works for you.
Now, the only thing that the RS-10 does not feature is any kind of auto adjustment for the brightness.
You will have to manually adjust the brightness when your lighting situation changes.
I personally don't have a problem with that. If you run it in the middle, most of the time unless it's just an extremely bright day or an extremely dark night you can run it right in the middle of the 11 settings.
You can easily adjust the brightness on the side with the simple up and down membrane pad.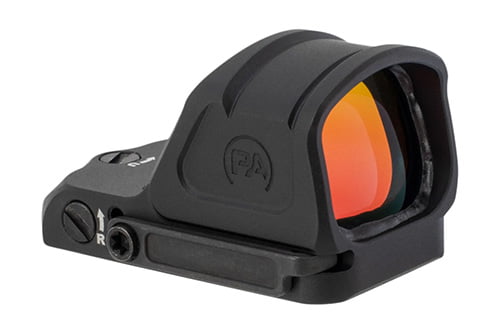 Power source
The power source on the Primary Arms RS-10 is a CR-2032 battery. It's loaded on the right-hand side of the optic and uses a really interesting compartment design. The side opens up, and it swings out.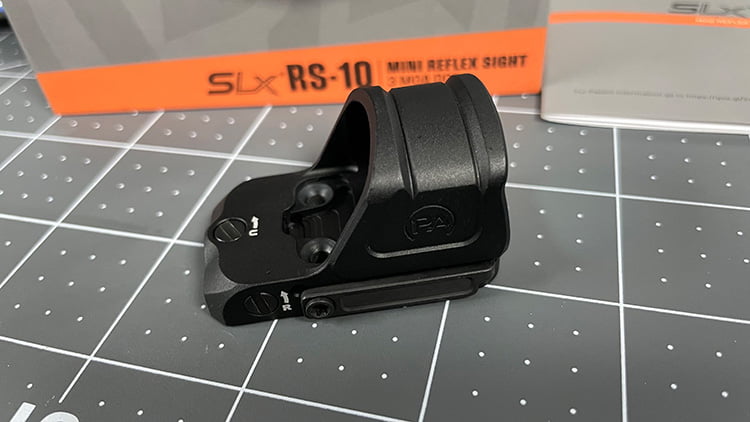 However, the door that swings out doesn't pull the battery out with it, and if there's any con that I've found so far, it is going to be the battery compartment.
I don't have a problem with the door or the battery they choose for the optic. What I have a problem with is it's kind of hard to get the battery out.
It's somewhat difficult, given the fact that the battery seems to be just shoved in the body of the red dot.
To get it out, you kind of have to pry at it. It's not a big con considering the battery life on this thing is 40,000 hours.
That's pretty fantastic, but it's still a con nonetheless, because, at some point, you will have to change this battery.
You won't have to change it a lot, so I wouldn't get caught up on it, but it's still something to consider.
Speaking of battery life 40,000 hours is pretty incredible. For comparison, the Trijicon RMR has a 16.5-hour battery lifespan if you leave it in its manual mode.
The RS-10 has 40,000 hours because it has the Auto Live feature, so that feature is able to deliver a fantastic lifespan of your battery, this thing is fantastic. It smokes the competition.
Durability
Like all of our optic reviews, I will preface this: I don't do much durability testing.
The only thing I can comment on is the materials and the feel of the build at the time and using it.
The durability of it is probably going to be good or at least as good as anything else available today.
The reason I say that with a good deal of confidence that is Primary Arms uses 7075 aluminum for the entire red dot sight.
It is 100% aluminum. The lenses are recessed and are actually hard to get to, so, if you drop it shouldn't affect the lens under most circumstances.
The membrane pads seem really high quality. I don't think you'll have any issues with them and, overall, the RS-10 feels extremely rugged.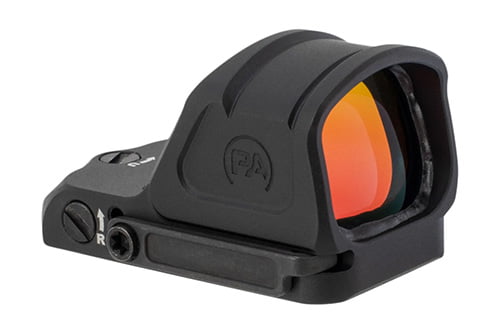 Sight picture
The sight picture on any optic is essential to a good experience with target acquisition as well as shooting overall.
Picatinny Mounted
So the sight picture on this is decent on an AR pistol platform.
For now, I have it on a Palmetto State Armory AR-V, and that's what I'm going to run it on for now.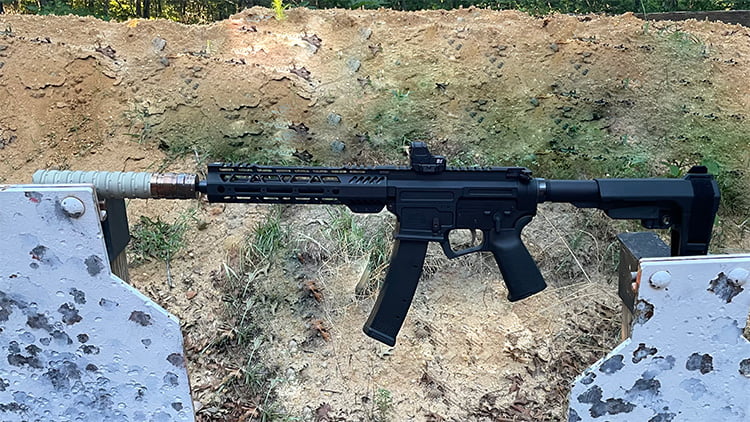 The RS-10 comes with an included Picatinny mount which is a great feature. I think this would go great on an offset mount on an LVPO setup for any AR-style rifle.
It does work on top of a standard rifle rail but it doesn't sit up very high and, I can see my finger in the sight picture.
So if that will bother or distract you, you might think it doesn't have a great sight picture on an AR platform.
But let us be honest this sight was really created to be a pistol sight, a true handgun pistol in the sense of the term pistol.
So I am going to mount it to my Glock 45 MOS and comparable to an RMR.
Pistol Mounted
This gun mounts great to any Glock MOS model! I currently have it on a Glock 45 and love it. The site picture is great and the fact it adds almost no weight to the slide is fantastic.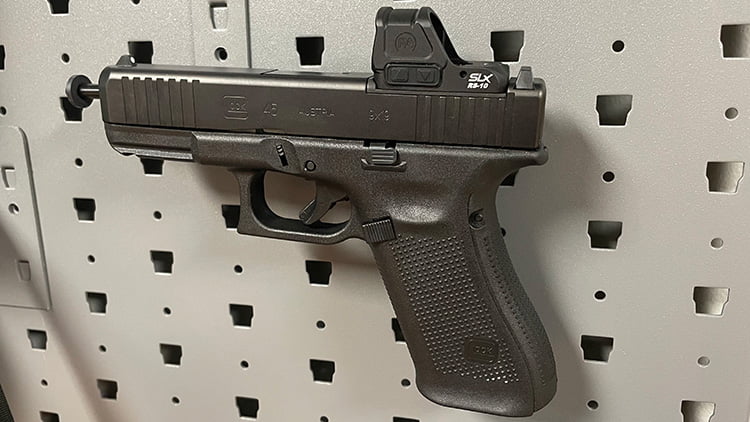 The mounting process was extremely simple very similar to most over optics. Primary Arms include a mounting plate with the gun so you're set right out of the box.
Mounts and Mounting Options
The Primary Arms RS-10 comes with two mounting options.
One, it has an included Picatinny attachment, which is really cool because you can add it to nearly any gun in existence.
Now, the only downside is that the mount does not sit up very high, so you're not going to get an incredible amount of riser if you're running on the AR platform, which you may want.
Two, it also includes a Glock MOS adapter plate, which works just fine on any Glock MOS model. This works great and the plate is actually thinner than the included Glock MOS plates, mounting it was extremely simple.
Conclusion
Overall, this is a crazy good deal for $200. I don't know where you're going to go and find something this caliber for $200 bucks.
It's all aluminum, and it comes with two mounting options, right out of the box.
Primary Arms, quite frankly, nailed the RS-10. I don't have a ton of rounds underneath it, probably 500-600 rounds.
Overall, this pistol red dot sight is a fantastic pistol red dot sight. Go check it out. Primary arms and grab one. You won't regret it.
I haven't, and I really like it on any platform that I've chosen to put it on whether that's an AR-9 or a Glock 45.