If you are new to firearms you might not have heard of the FN Five-Seven which is probably the most popular gun chambered in 5.7×28 well this is Ruger's strikingly similar entry to the 5.7×28 market with the Ruger 5.7.
Ruger 5.7 Features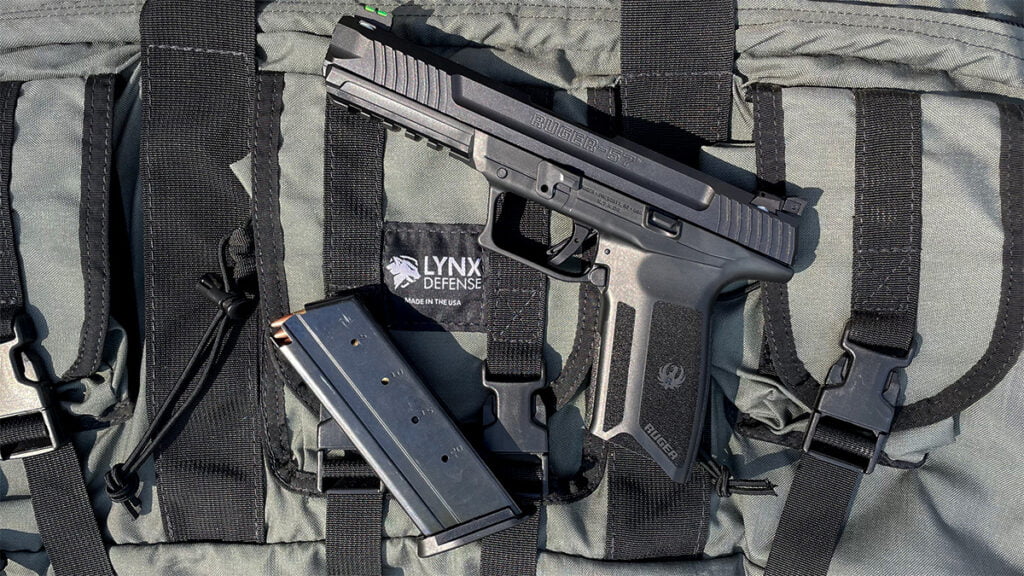 The Ruger 5.7 is an interesting gun, and you can say that about a lot of guns, but the 5.7 is just more, and the best way to explain it is it takes what FN did with a thousand dollar pistol and puts it into a sub $700 price point.
Now, I will say that I am a 5.7×28 novice. I didn't have any experience with the 5.7 round prior to this Ruger.
So, I'm coming at it from that perspective, but I am going to go ahead and jump into the actual features of the gun, and we will talk about shooting it later in this review.
Grip/Ergonomics
I'm going to say this once, but I'll probably say it again. This gun feels very similar to the Security 9 series of guns from Ruger.
Now, that is not necessarily a compliment because the Ruger Security 9 full size is probably the worst gun I've ever shot in my life. I've done a full write-up on it.
I'm sorry, Ruger. I love you, but you missed the mark on that gun.
Moving on to the 5.7, let's talk about the grip and ergonomics.
When I first picked up the Ruger 5.7, the Security-9 came crashing back into my mind.
Granted, this gun is much longer. It's definitely a little bit more front-heavy than the Security 9, but overall, I liked it.
The grip angle is good, and the overall functions of it and the texturing are decent. The Ruger 5.7 is a little front-heavy because it's so much longer than most pistol calibers like the nine-millimeter.
The 5.7 has to be longer to not only accommodate the round but also so that barrel length is long enough to get velocities that make sense.
You have to keep in mind that you're nearly shooting a rifle caliber in a pistol. Simply put his is truly a handgun, not an AR pistol, and you're literally shooting rifle-caliber ammunition out of it.
Let's talk about the grips.
Grips
The grips on this gun do have that classic Ruger texture, very similar to the Security 9.
It's somewhat abrasive. It's not overly grippy. It's not overly abrasive.
The grips have the Ruger logo on them with Ruger on the grip as well.
It's not exceptional. I like the width of the grip.
I have smaller hands, so the width of this is much better than a Double Stack 1911, like the Sig Tacops, or even the Staccato.
Both guns are great, just a little thicker. That's all I'm saying.
Sights
The sights on the gun are interesting to say the least.
It takes a little page from the Ruger SR22 in the rear and the front, I don't really have a good comparison for that, but it is a fiber-optic sight.
The rear sight is nice and I like the fact that there are no rear dots.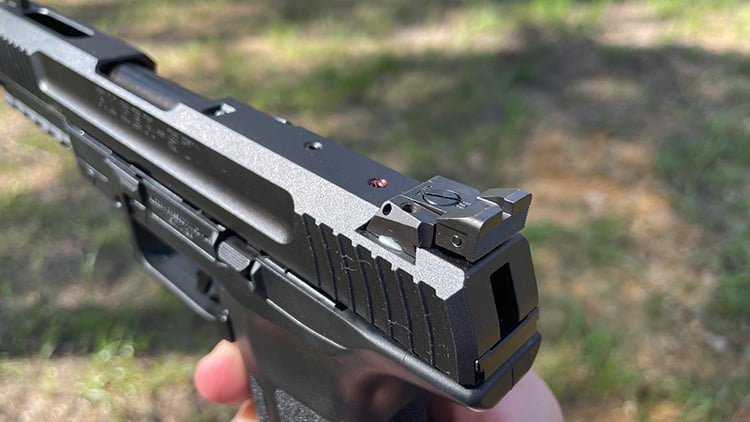 To me, the rear sight dots are just a distraction and in this case, it doesn't distract you from the front fiber optic sight.
Some people may not like that. I personally do.
Now, what I don't like about the rear sight is it has a little spring mechanism that allows you to adjust your elevation.
It's not the elevation adjustment that I mind. I just don't like the fact that there is a spring in my rear sight that eventually could wear out, which would then put this gun literally out of commission until that was fixed.
I don't like that but it's not a deal-breaker. I do love Glocks and the way their sights work, even if I don't like their factory stock sights.
The front sight of the Ruger 5.7 works well.
It is green fiber-optic front sight and I was really able to be accurate with this thing at range with this fiber-optic sight setup.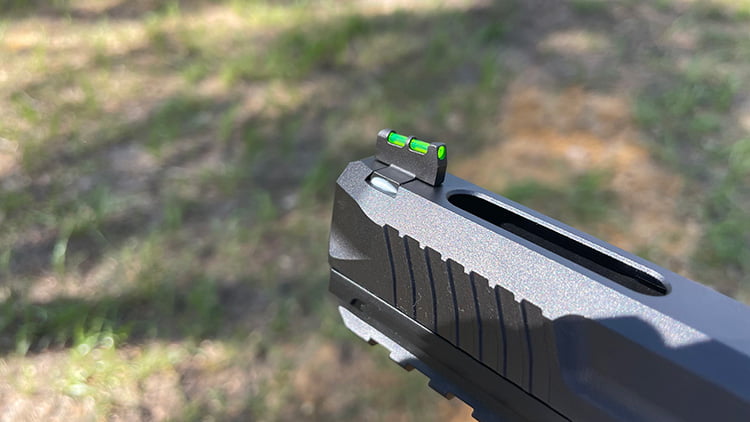 I was at 50, almost 60 yards, and I was hitting steel no problem, and I am no expert marksman, so that does say a lot.
Let's jump down to the controls now.
Controls
So, first and foremost, this gun features a standard set of handgun controls on.
There's nothing crazy different. This is a standard modern pistol. It's going to have your magazine release, your slide release/catch, takedown lever, and trigger.
Some of the Ruger 5.7 models have a safety, the Pro does not have a safety and I won't be commenting or covering the Ruger 5.7 with the thumb safety.
Magazine Release
The magazine release on this gun, while small is in the right place, it works, but it's not oversized.
The magazine does go in the gun with ease, it functions well.
As far as the magazine release button you're not going to accidentally hit it, but you will likely have to reach around the gun to press it.
I personally am not going to carry a 5.7 as any kind of protection gun. So fast reloads aren't a concern for me with this gun.
This is a great gun for the range, and also for home defense minus possible over-penetration.
If you live by yourself, maybe consider it.
But this is a great pistol for reaching long ranges in a compact platform.
If you have a farm or anything like that, this would be a good truck gun for you. But I digress.
If you have smaller/medium-sized hands you do have to get around the gun to get to the magazine release.
I don't have any problems with the actual function of the magazine release, it releases the magazine well, the spring immediately ejects it, and you're off to the races.
Slide Stop
Let's talk about the slide stop.
It's relatively small, but it's not too small. It is a bit stiff from the factory. That could break in with time.
But as far as locking the slide to the rear with slide-lock with no magazine in, it works phenomenally.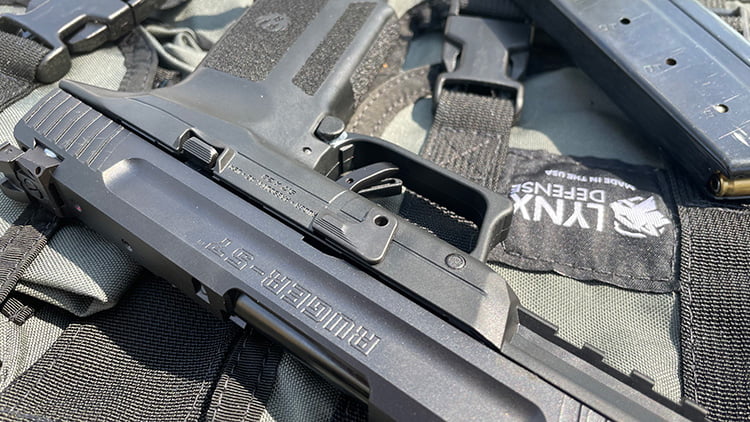 This slide stop is the type that is going to catch a small cutout in the slide. You can see it when it's activated and when it's not, you can see the small cutout in the slide to catch the slide with the slide catch/release.
The slide release is not ambidextrous which is not a dealbreaker for me, nothing on this gun is ambidextrous.
But I don't think that this gun is a true contender for EDC or concealed carry.
Could you? Sure.
You could also conceal carry a Mossberg Shockwave or TAC-14, but that's just silly.
I feel the same way about concealing this gun.
The gun has a takedown lever right in the middle of the gun forward the slide stop.
I haven't taken it apart yet, so I don't know how that functions. I probably will come back and update this review with that, but for now, let's move on to the trigger.
Trigger
There's one thing on this pistol that Ruger really dropped the ball on, the trigger.
Unless you really go to the bottom of this trigger, it does have some slight activation issues.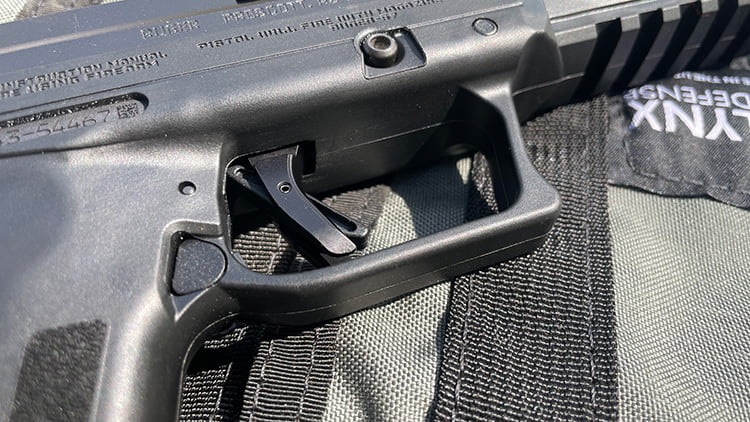 They took a page from the Glock safe action trigger and somehow did worse.
I did find that when I was trying to squeeze the trigger at times, I didn't quite get onto the trigger safety, quite like it wanted me to, but I still was completely on the trigger.
To fix this issue you have to move your finger down to the bottom to depress that trigger safety a little bit, and then you will be able to fire.
Mind you, I was just on the range, I wasn't in a high-stress environment, but I could quickly see how if your heart rate was elevated and your fine motor skills were lacking, you're trying to squeeze this trigger, and it's not firing. You're not going to have the wherewithal to move it down and pull the trigger.
I don't see the Ruger 5.7 as an EDC pistol.
This gun is crazy fun. Just don't see it as EDC.
The trigger definitely lacks when it comes to usability. Now, it is a long pull, it's smooth all the way back.
There's not a lot of herky jerkiness in the trigger. The reset is all the way back out and you have to take up.
There's really no defined wall for this. It's squishy in the end. The take ups not bad, but the wall is literally at the very back of this.
There are definitely no signs of a two-stage trigger really in this, but overall, it does shoot good.
Just the trigger could use some love, Ruger if you're listening.
Range Bag
This would not be a Lynx Defense review if we didn't throw in our pistol range bag promo and the Concord which is sold out right now because it's just that popular.
I really think you should go check out our pistol range bag. If you're in the market, we have some really cool pistol range bags, including the splatter. So, if you're from the eighties, you're going to love the splatter.
If you're not, you're probably still going to love the splatter. Otherwise, we have black multi-cam, we have some multi-cam tropic in stock, so go check it out if you're in the market for a new range bag.
Best of all, it's 100% Made in the USA. You're supporting good American families and communities by shopping with Lynx Defense.
Aesthetics
Moving on to the aesthetics of the Ruger 5.7. The Ruger Five-Seven is actually a really good-looking gun.
This is the pro model and the only differences you get on the pro are the slide cutout and no thumb safety.
So, you might get a little bit of recall mitigation from the pro model and a little less weight. But you definitely get cool aesthetics from the barrel cutout.
I don't know for sure if the sights are different. That's a pretty popular pro differential in the firearms world.
Overall, nothing else changes. There are not even any different markings for the pro model, but this gun looks really good.
The first impression does remind me of the Security 9, which again, I don't hate the looks of, I just hate the function of, and it did steal some of the Security 9's bad qualities, but the looks are really good.
I like the 5.7. I like what it does. I like the ammo it shoots and it looks really good doing it.
Accessories for the Ruger 5.7
For such a new gun there are quite a few Ruger 5.7 accessories already on the market.
Threaded Barrel
One of the main accessories I want for the Ruger 5.7 is the threaded barrel. The only downside to this gun's threaded barrel is the fact the barrel retails for nearly half the cost of the gun ($235 as of this writing).
Optics and Optic Mounts
If you don't have or don't want a pistol red dot you're living in the past! Time to catch up and Ruger 5.7 isn't leaving you in the past.
You will need an optic mounting plate for your 5.7 which you can get at a number of online retailers including Grab-A-Gun and Primary Arms.
The red dots that are currently mountable to the Ruger 5.7 are the ones with the Burris/Vortex mounting footprint.
Flashlights
The nice thing about the five-seven is it has a Picatinny accessory rail built right into the frame of the gun like some of the most popular handguns such as Glock and the Sig P320 series.
Shooting the Ruger 5.7
I've kind of littered the shooting experience of the Ruger 5.7 throughout this entire review.
Now, I think I have to talk about it a little more in-depth because shooting this gun changed my opinion of not only the gun itself but the 5.7×28 round.
I went in thinking that this was going to be a hand cannon. I thought this might be like a Taurus Judge or something shot a 45 long Colt, and it was just an absolute hand cannon because, oh gosh, it's a rifle round in a pistol size.
Even my wife was like, I don't want to shoot that because that's not going to be fun at all.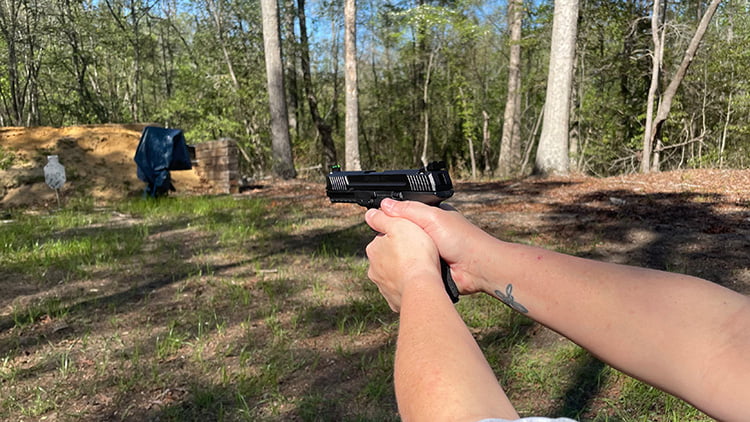 Well, turns out we were both wrong because one, she realized that this thing didn't have a lot of recoil and it wasn't bad to shoot at all.
I found out that same thing, basically, this is not a hand canon. This thing has almost less recoil than the equivalent gun in 9mm. I would say the Security 9 had more recoil than the 5.7.
This thing realistically was an absolute tack driver. I was able to get back on target really easily. My five-shot group on paper, while it wasn't great, I did put two in the same hole.
So, I guess that's pretty good, but I still say it was about two half dollars was my group for five shots.
Now, with that being said, this was the first time I ever shot the gun, so I'll chalk that up as a win.
Keeping it on target, I guess, I really was expecting more recoil. I was expecting this to not be that fun of a gun to shoot. The fact that you get a 20 round magazine is awesome.
You can shoot for long courses of fire, have a lot of fun, and not break your wrist, and not feel like it's a chore or a job to shoot.
Overall, shooting experience-wise. I highly recommend it. If you've never shot a 5.7×28 before but even if it's not the Ruger 5.7, go grab the FN.
I can't imagine the FN is any less fun to shoot than this is.
Final Thoughts
So, the Ruger 5.7 is a gun that I bought with the intention of probably shooting it, trying it out, playing with it for a few months, and then selling it.
Now, I'm having a hard time parting ways with the Ruger 5.7.
I think the 5.7 is likely going to remain with me because it's just such a fun gun.
It's definitely one of those guns that when you're going to the range, you want your friends to experience. I know the next time I go I'm gonna say "Hey man, I'm going to take this. You've got to try this thing. It's a lot of fun".
The threaded barrel that you can buy for the Ruger 5.7, I think, would change my whole world with the 5.7 because it is a little firecracker. It's a bit loud, but of course, hearing protection's a thing, so don't even worry about that.
It's a little pricey for a threaded barrel, but if I could get a threaded barrel and a suppressor for this, I might even write a whole new article. No, I'm just kidding. I'll just update this one.
But overall, if you want a sweet range gun that you can break out, that's a lot of fun, the Ruger 5.7 is a gun that I have to highly recommend.
The 5.7 ammo is not the cheapest ammo in the world ($1 /round as of this writing), so it's not something you're likely to shoot all day.
But honestly, I could see this being a really good varmint gun if you have a farm or any kind of property, having problems with vicious bunny rabbits, or coyotes.
Whatever's terrorizing your neck of the woods these days, the 5.7 could definitely give them a run for their money.
Once again, this is the Ruger 5.7, and I have to give it a thumbs up. I can't think of any reason to steer you clear of this. I had no malfunctions and had a lot of fun with it.
If you like plinking you could always save money by shooting 22LR with a Ruger 10/22 or if you want a pistol the Ruger Mark IV.
Ruger 5.7 FAQs
Is the Ruger 5.7 a good gun?
So far the Ruger 5.7 has been a good gun. It functions great and the overall construction of the gun is solid.
I have had no malfunctions and the accuracy has been fantastic even has range.
Is the Ruger 5.7 good for self-defense?
It could be. The only issue I see with the Ruger 5.7 for self-defense is carrying it on the person.
The gun is rather long for a concealed carry gun so I wouldn't recommend it for that but it is definitely a gun that has a round capable and reliable for personal protection.
What pistol shoots a 5.7×28?
The Ruger 5.7, FN 5.7, and the PSA Rock are the three handguns that shot the 5.7×28 round. There is also the PS90, the Kel Tec P50 and the CMMG MK47 that shoot the 5.7×28 round.
Is the Ruger 57 powerful?
Yes, the Ruger 5.7 is a powerful round. But it also depends on what it's being compared to. The 5.7 round is fantastic for what it is but it does have its limitations.