The Sig P320 Compact is an exciting gun. Of course, we all know that P320 M17 won the US Army military contract for their new carry pistol to replace the Beretta M9. The Sig P320 Compact is the baby version of the Military adopted pistol.
So, let's dive in and talk a bit about the P320 Compact. The Compact is a slightly shorter version of the regular P320.
The only confusing thing I will say about P320 Compact is there are no markings on it to let you know that you're dealing with the P320 Compact, other than the fact that you have to see the size.
Let's dive into some of the features.
Sig P320 Compact Features
The P320 Compact is a standard P320, just smaller, but I'll dive into the features a little more.
Grip and Ergonomics
The grip and ergonomics of this gun are excellent. It does balance in your hand okay but not quite as good as something like the P320 X5 Legion.
That thing balances like a champ, but there's a lot more going on there than there is here.
This is a full polymer frame and the beavertail is quite nice. There are slight cuts in the grip, where your thumb can rest, just above the magazine release.
This thumb cutout is on both sides, so your trigger finger can fall down into the trigger well, and it funnels it in.
That's really nice, I like that a lot. The trigger guard on the P320 is pretty elongated. I do like that about the P320 series.
If you're wearing gloves, you can easily get your finger in and out and the trigger still feels nice with gloves. This feature is really important for cold times of the year, or if you're duty carrying or something of that nature.
Of course, it has the Picatinny rail built into the frame on the front for your flashlight, laser, et cetera.
The grip texture is actually really nice. It's very abrasive. I don't have any issues with it at all.
In fact, my hand fits really well in the Sig P320 Compact frame and that says a lot because I am unashamedly a Glock fanboy and don't really get out much, in terms of handguns.
So this frame really impressed me.
Sights
The sights, on the other hand, I'm not crazy about. So I typically carry a Glock 19, and I am not crazy about Glock stock sights either.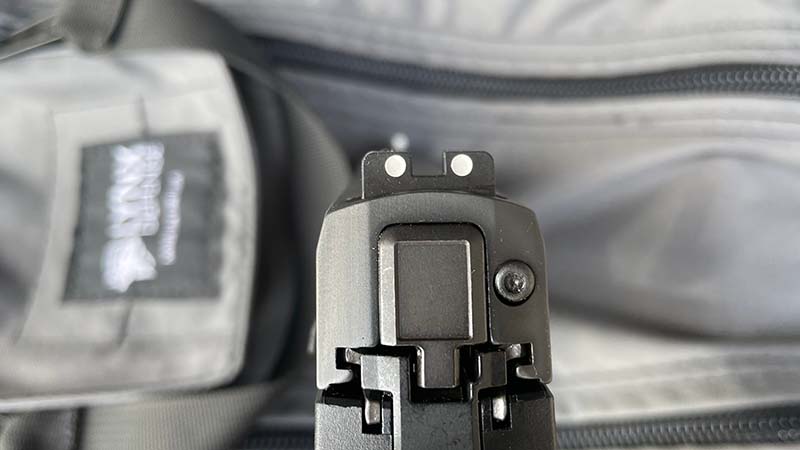 So can't really knock them too hard. They work. They're the three dots system.
The sights have two rear dots, one front dot. The sight picture on them is pretty good.
If you like this kind of sight setup, you'll like it. I prefer the rear sight not to have any markings at all, so I can focus on my front sight.
It doesn't really take away from the front sight, and I can acquire my target quickly, I tend to shoot a little better with no rear dots on my pistol sight setup.
So that's me. That's a personal preference. If there's nothing wrong with these sights, I'm just not crazy about them.
If you upgrade a little and get the Sig P320 X-Carry Compact, you should definitely run the Holosun HE407c. I do and I absolutely love it!
Sig P320 Compact Controls
The controls on any gun are important but a handgun really makes or breaks the usability of the pistol.
In my reviews I always evaluate the major controls on the gun: safety, magazine release, slide stop/release, and trigger.
Safety
Many people will complain about the lack of a safety on these guns but for as long as polymer guns have been around people should be used to no manual safety.
I for one feel more uncomfortable having to fumble with a safety rather than knowing my gun is ready to shoot at all times. There's no thumb safety or trigger safety on the P320 Compact.
There is a drop safety and but not external manual or trigger safety.
As always, If you don't want to shoot, keep your finger off the trigger.
Magazine Release
Magazine release is a triangle shape release. It sticks out fairly decent which makes it so you can hit it with your thumb relatively easily.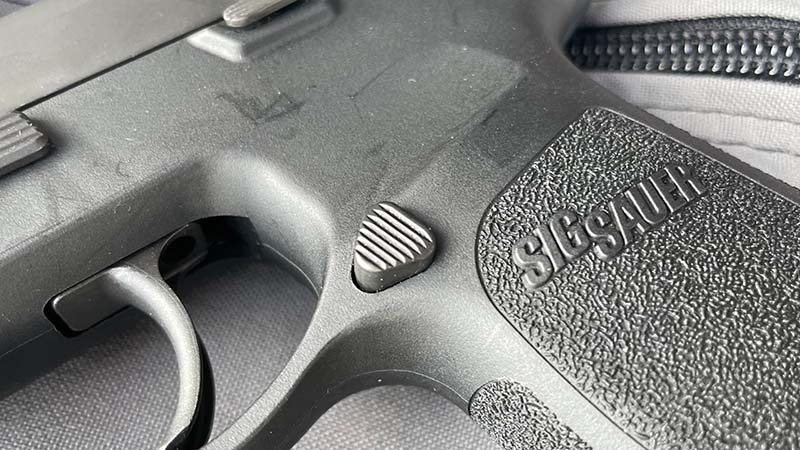 You just move it out of the finger, hit it and your magazine pops free. I do like the Sig magazines.
They have a metal body, a plastic base plate, and sit very flush and really nice in the magazine.
However, I don't like the price of Sig magazines. They come in at nearly $50 MSRP, so keep that in mind when purchasing any of the P320 series. The magazines are nice but they aren't cheap.
Slide Stop
The slide stop/slide release is something I really like about Sig's design for this, it's ambidextrous like it is on a Glock Gen5s.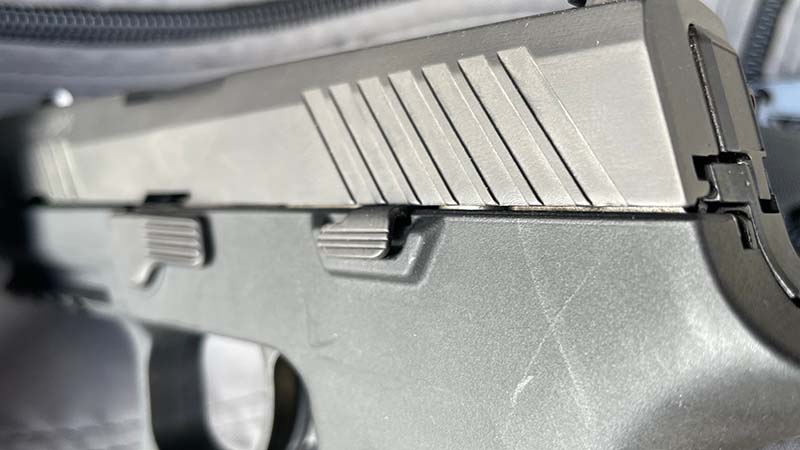 So you can pull down on both sides to release your slide, or you can push up from both sides. I know you're "not supposed to do that", but I like having the option.
The slide stop works great even with a magazine in the gun, it's easy to pull down and release the slide.
Trigger
The trigger on the P320 Compact is a polymer trigger. Sig has many different models of triggers and the standard P320 has a larger overall size than the other options.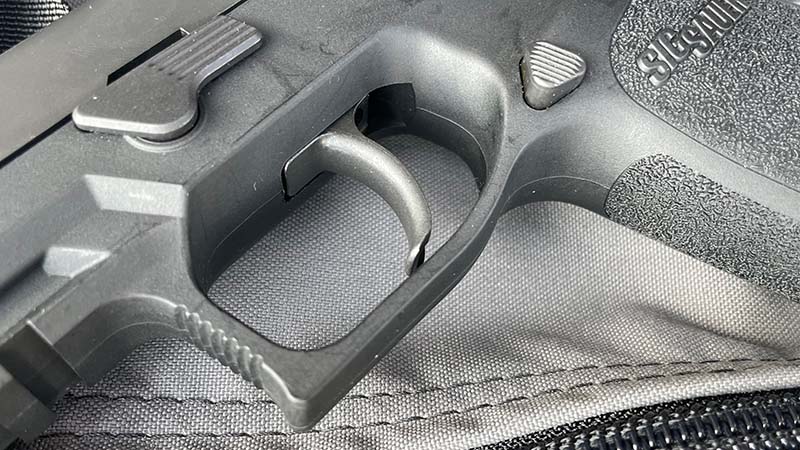 The function of the Sig P320 Compact trigger has very little takeup. You hit a very firm wall, but the break is soft. Not a bad break at all.
Now, going back to the wall. It's a little gritty. But the reset isn't all the way back out, you just go to the wall.
But this stock trigger has a lot of grit compared to something like the Sig P320 X5 Legion or the Apex trigger.
The trigger on this gun overall isn't bad. Could use a little work, but overall decent.
Sig P320 Compact Range Bag
Naturally, this wouldn't be a Lynx Defense Review without talking about our pistol range bags.
P320 Compact is the perfect companion for our pistol range bag. It will fit in any of our insert configurations, and any size of the range bag.
Sig P320 Compact Accessories
The next thing about the Sig Sauer P320 Compact is that there are so many accessories and upgrades you can make to it due to its modular design.
Here are a couple of the most popular aftermarket accessories for the P320 Compact.
Barrels
While I have no issue with the stock P320 barrel, you may want to customize your gun to your likely. The good news is there are plenty of Sig P320 Barrels on the market.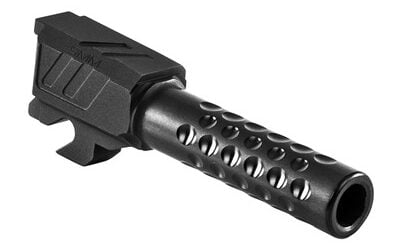 Zav makes a DLC coated custom barrel for the Sig P320, adding an extremely unique look and feel to an otherwise plain-jane barrel.
Grips
One of the cool things about the P320 Compact is that you can change out the grip module and since the serial number is on the fire control group you can have a nearly endless amount of guns all in one.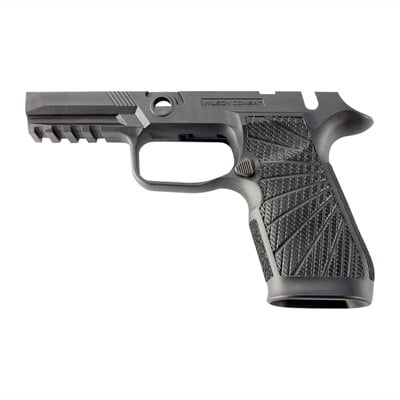 One of the coolest aftermarket grips is the Wilson Combat P320 Grip. It has Wilson's classic starburst texture design that comes on the Wilson Combat EDCX9.
You can also get the X-Series grip modules for your P320 Compact. The X-Series groups are my personal favorite.
Slides
Sig has done a fantastic job of introducing new models to the P320 lineup. But aftermarket companies are also putting their spin on the P320 Compact slide.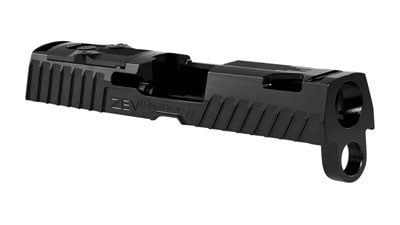 One of those companies is Zev with their Octane Slide with RMR cut, which is an extremely sharp setup.
Sig P320 Compact Aesthetics
The look of the P320 is identical to the Sig P320 full size.
It was hard for me to tell the difference between the two. The only real way to tell the two apart is by looking closely at them.
But without having one side by side, it's gonna be hard, if you have them side by side, you can count the rails on the bottom 1913 rail.
Overall the aesthetics are good. I like the clean lines cut into the slide. Looking from the top down is a very blocky type design.
But from the side, with the chamfers and things like that cut in, it's really a stout-looking pistol.
One thing I do have to note is the polymer frame does get kind of marred up. So if you're really picky about your guns, even though they're just tools. That might bug you.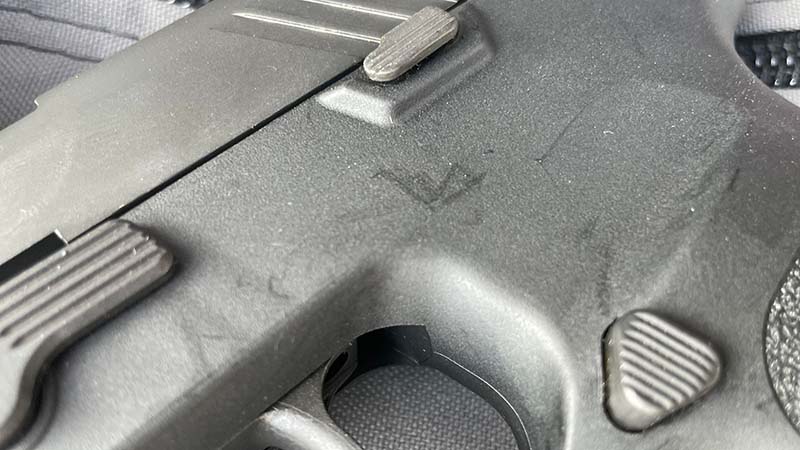 It doesn't bother me, but you don't see this kind of marring or wear on the Glock frames or other polymer guns and it's likely due to how Sig finishes this polymer.
But overall, aesthetically, this gun is solid. It's a very nice-looking gun from Sig.
Shooting the P320 Compact
Shooting the Sig P320 Compact is a really enjoyable experience. Like most compact guns it does have a little bite.
But of course, it's a Compact 9mm. So you'll get a little bit more recoil than a full-size gun with more weight to mitigate recoil.
It's hard for me to judge it fairly when I'm shooting it beside the P320 X5 Legion. Because that thing just has all the recoil mitigation in the world.
So it's really not fair. Putting this up against like a Glock 19 would probably be more the realm of the pistol you'd want to compare this two.
I did enjoy shooting it. I wasn't as accurate with it, but I believe that was due to the sights, again I'm really not a big fan of this sight configuration. So that was probably on me.
Sig P320 Ammo
I've put a number of different grain weights and brands of ammo through the Sig P320. I think it will eat just about any round you throw its way.
Be sure to get job-specific rounds if you plan to carry it concealed for defense.
Take a look at some of the current in stock 9mm ammo available.
Overall, this is a good gun, and here are my final thoughts.
Final Thoughts on the Sig P320 Compact
If you're a Sig fan, you will like this gun. I like this gun and I'm a Glock fanboy.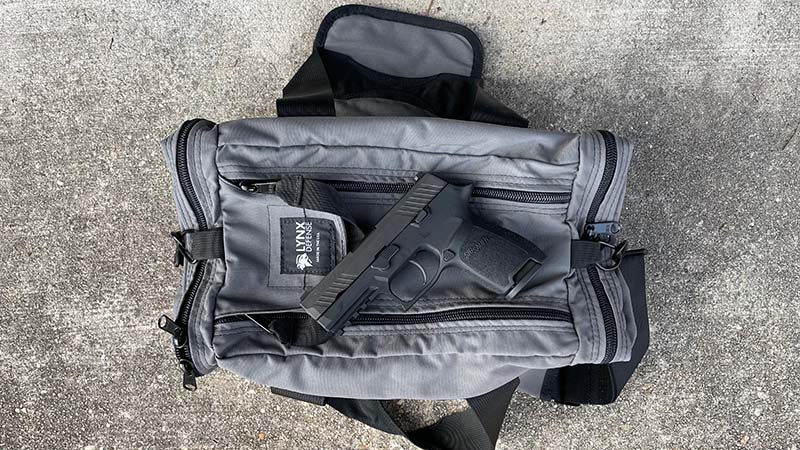 I think there are better options for me. Again, Glock fanboy.
I would pick a 19 over this. Now I'm also going to look into the P320 X-Carry because I think it fits me better and the trigger in that thing looks great.
If you are looking for a carry gun you may want to go even smaller and get the Sig P365XL.
But let's stick to the topic, the P320 Compact. I'm just not crazy about it stock.
I think it's a great gun. I think it's a quality gun and it's made by a quality company.
Overall, it's just not my cup of tea, but that doesn't mean it's not a good gun, it's a fantastic gun. So if you're in the market for one, grab it, I don't think you're going to be disappointed. I wouldn't be disappointed owning this but I likely wouldn't carry it daily only to the range.