How I came upon my Sig Tread 716I was rather a happenstance than a purposeful purchase. I actually found this in a local gun store and while I was in the market for an AR-10 the Sig TREAD 716I had not been on my radar. Once I picked it up and figured out the price I had to have it.
So here is my Sig 716i review and if I miss something or you have further questions please feel free to comment below and I'll do my best to answer.
Features
Like any AR-10 or 308-AR, the features are what set them apart from other rifles. There are a number of new AR-10 rifles that have come to the market lately, but the SIG 716i is a rifle that has been out there for a little while and is actually a relatively decent price point, considering it's an AR-10.
The 716i has a number of features that make it worth picking up, one important one being the price, but let me dive into this Sig 716i Review.
Grip/Ergonomics
The grip and ergonomics of this gun are almost identical to any mil-spec AR-15.
The biggest difference you'll notice when you pick up the gun is it is a heavier gun coming in at almost 10 pounds.
That's before you put any glass on it or accessories on the rail so it's not and extremely light Rifle.
The good thing is the grip ergonomics does make up for the weight and make it extremely manageable.
Gripping this gun definitely gives you a Sig Sauer feel. It doesn't have the same grip design as something like the SIG Sauer Copperhead, but it does have that SIG texture on the grip itself.
The grip is more plastic feeling than the polymer grip frames of the P365XL and the other guns in the P365 series, but it has the same overall texture and it probably is the same as a lot of their other grips.
The rear of the grip has a panel with some cuts in it seemingly to allow some grip texture.
The bottom of the grip has a storage system so you could store batteries and other things in the compartment inside of the grip frame.
Getting it open is easy and very functional if you want to change the grip out you could use any mil-spec grip.
Safety
A nice touch on the SIG 716i is the ambidextrous safety selector.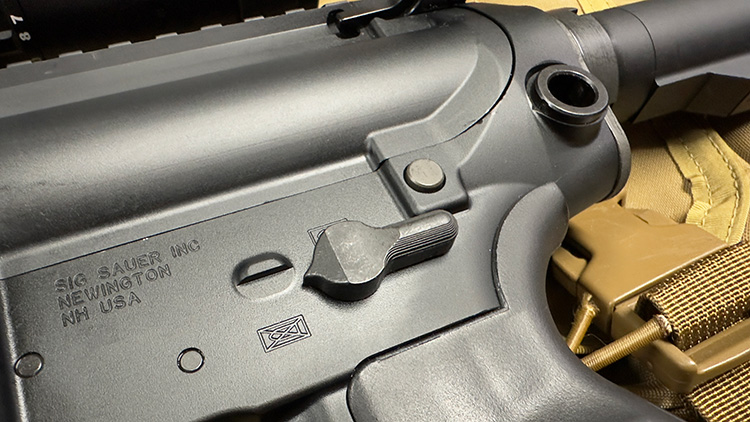 It features a longer throw on the left side and a shorter throw on the right side.
I really like this because the shorter throw allows you to ride your finger down the side of the gun more easily and comfortably and when it's in the fire position, it doesn't get in your way and rub your finger while your finger's on the trigger.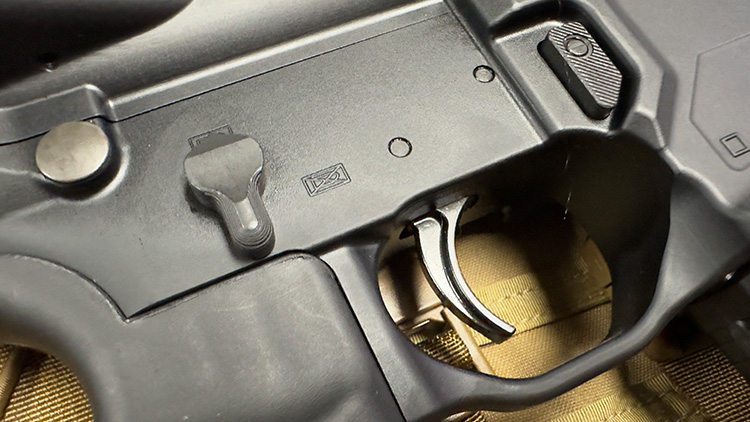 So overall, I like how Sig did the safety. I like that they put a little bit more thought into it than just throwing an ambi safety on here. So props to SIG.
Magazine Release
The magazine release is one of the unique features on the SIG TREAD 716i. You have your standard right side release, but it's an elongated button that points down into almost a triangle.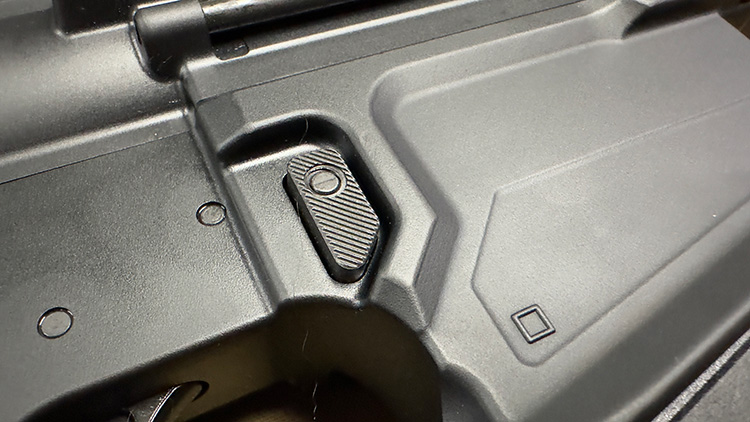 It allows you to hit the magazine release easier by giving you a more surface area to hit.
On the right side, you actually have a release button that very much reminds me of the LWRC rifle.
So you can drop your magazine from either side of this gun very easily and very fluidly.
Slide Stop
One disappointing thing about the controls is that the slide stop/slide release on this gun is not ambidextrous.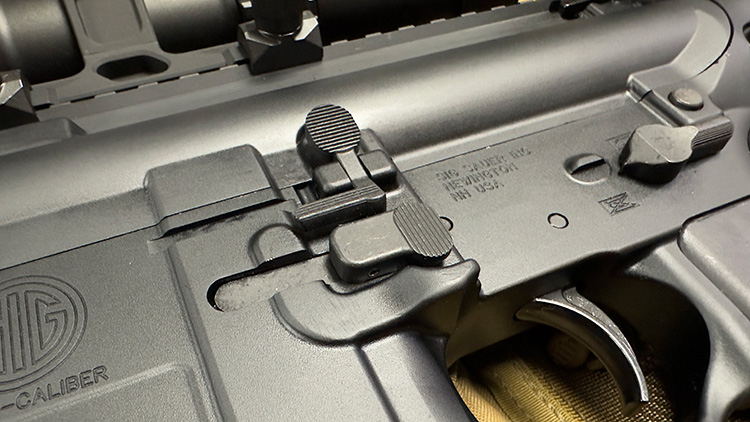 However, they did create a nice solid rocking mechanism. They give you a big long bar on the bottom to lock it back. If you pull the bolt to the rear you can press down, lock it back.
I do like the design and they took this page from Forward Controls Design. It's not just a standard push and release.
So good job on the SIG for that one. I do like the controls overall so far.
Charging Handle
The charging handle is where SIG kind of seemingly threw in the towel and said, "Give me mill spec."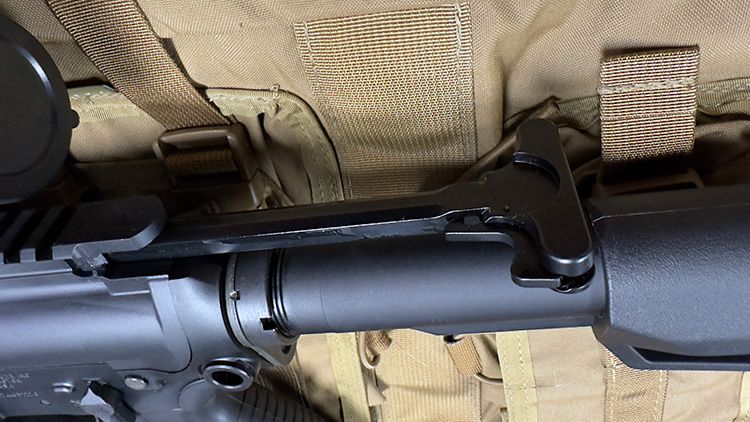 One of the few things on this gun that is mill spec is the charging handle, which is sad because a mill spec charging handle is just out of date.
There's so many better options including Geissele, the Raptors from Radian, just so many different options available for charging handles.
There's no reason they should have stuck with mill spec, and given that SIG is in bed with a lot of other companies, surely they could have private labeled a Raptor or a Geissele charging handle.
That would be the first thing I would change out. Maybe even the only thing I would change out on the SIG TREAD 716i.
Trigger
So the trigger is, well, it's a trigger. They didn't put a lot of time and effort into making sure there's a nice trigger in this gun.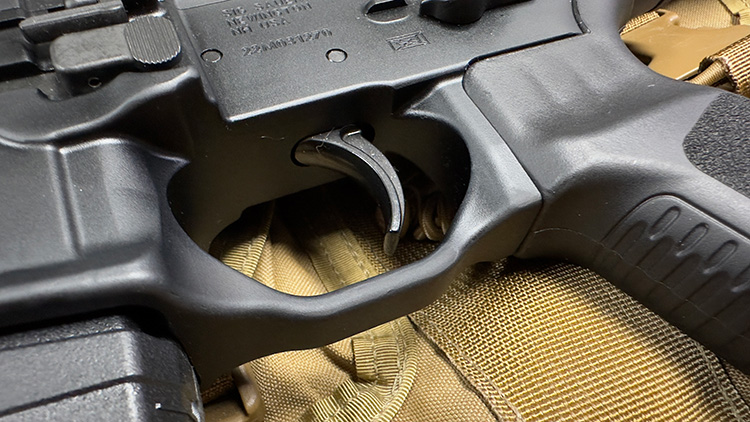 There's no take-up whatsoever. The release is just back to the wall and well, it works.
It's not a bad trigger, there's not a lot of grit. Not sure how there could be, there's no take-up.
But overall, it's a working trigger. You could easily switch this out for something else if you prefer a different feeling trigger.
But the mill spec stock, whatever you want to call it, trigger that the tread comes with is sufficient.
Barrel
the barrel on the SIG tread is a little interesting. Of course, this is a 308 caliber rifle.
SIG laser etched "SIG 716i" into the barrel on the left hand side and they actually print 7.62 NATO, 1/10 twist on the very end of the barrel.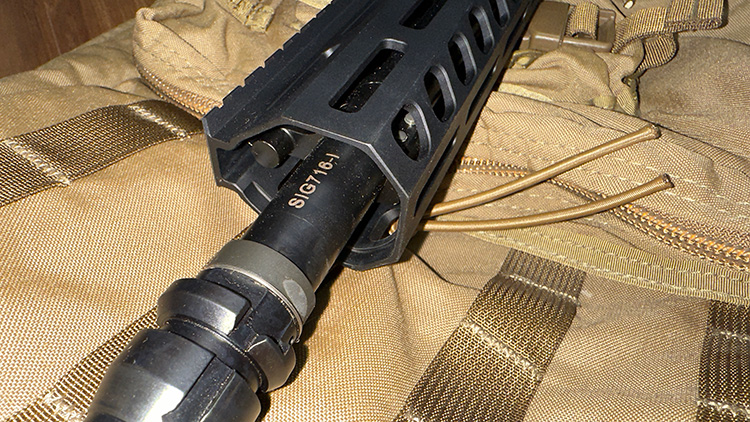 Typically, that's etched or stamped under the hand guard. But on this, SIG wanted to make sure you knew what this barrel was from the get-go.
There is a non-adjustable direct impingement, low-profile gas block on tucked just under the front of the handguard.
I would've liked to see SIG do something in the adjustable realm simply because that is of their caliber. They've done piston guns, they've done all kinds of guns.
I just feel like they could have made the gas block adjustable and since I will suppress the 308, it would've been nice, but nonetheless, they have not.
Handguard
The handguard is a unique design but that's not much of a surprise.
Even the lowest-tiered AR will have a customized handguard to their liking. This hand guard meets the upper flush.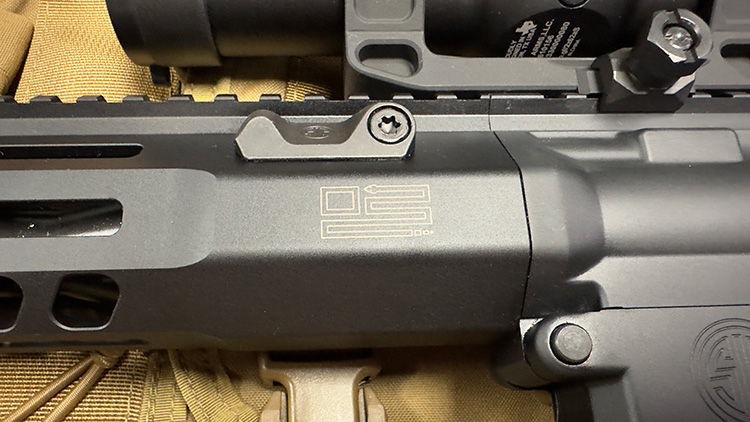 It has some really good lines to it. They do have this little SIG Snake TREAD design and then of course, they use the crossbar locking mechanism.
Very similar to BCM, but this is adapted for SIG's own use and I haven't taken it apart, but it just looks like the BCM.
Then comes the standard M-lok at the 1,3,6,9 and 11 o'clock positions.
All those seem to be sufficient and it's topped off with the standard 1913 pick rail on top.
Rifle Bag
If you are looking for a solid rifle bag for the Sig 716i look no further than the Bronx and the Gigabyte. Both of these cases are great options for carrying your rifle to and from the range or hunting trip.
Accessories
The number of accessory options for this rifle is nearly endless. With the M-Lok rail system, the world is your oyster when it comes to accessories.
Optics/Scope
The obvious requirement for this gun is some kind of optic or scope. My recommendation for any AR-10 platform is a traditional rifle scope or a LPVO. We have done an entire write-up on some of the best LPVO's on the market today.
I'm currently running the Primary Arms SLx 1-10×28 and so far it is a fantastic option for this rifle.
Rail Attachments
I personally won't be adding many rail attachments to the Sig 716I but I will be adding one to the rail.
The weight of this gun justifies adding a bi-pod to the rail to help with precision shooting. I haven't decided which one I will go with yet but I will update this post with my choice. It will defiantly come from the best bi-pod list we put together.
Aesthetics
Aesthetically, the SIG TREAD is fantastic looking. In fact, the whole reason I have the SIG TREAD 716i is I was in my local gun store and I saw on the wall and I said, "Hey, there's a SIG TREAD. I haven't seen one of those in a while. Let me hold it."
I hadn't done a lot of research on it, didn't know much about the SIG TREAD at the time, but once he told me the price, I just thought, "No way, I'm going to jump on that", because it was an incredible price.
You're talking about a 308-AR well under $2,000 and it's a SIG, kind of shocking. But overall, the aesthetics look good.
The lower is a little bit more than a mill spec lower, it's nothing special, nothing crazy.
The upper does go right into the hand guard. It was obviously forged for this gun specifically.
Looks good. Of course, being an AR-10, the tolerances and the gun itself overall needs to be just a hair bigger. And it is. And this isn't going to win any lightweight gun competitions, but it's not overly heavy either.
But all in all, the looks on this gun are fantastic.
Sig Tread 716I Ammo
So far I have had no issues with any 308 ammo I feed the SIG tread. If you need to grab some here are some solid options.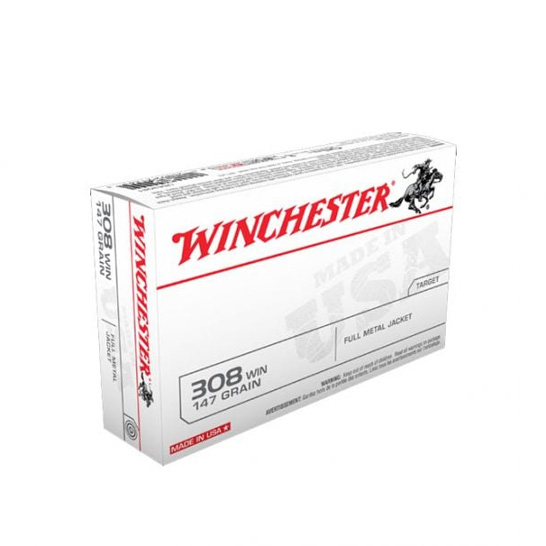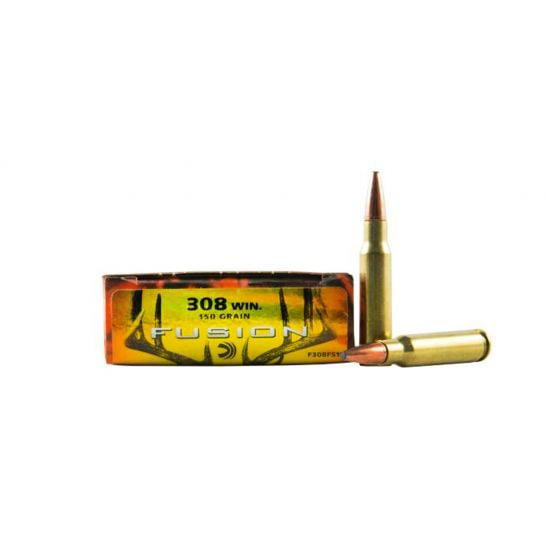 Final Thoughts
My final thoughts on the 716i are this, if you're in the market for an AR-10, SIG TREAD should definitely be considered, and here's why.
This gun you can get for cheaper than you can probably build an Aero Precision AR-10 on your own, building it piece by piece.
This gun comes in right about in the $1,500 mark and most decent medium-tier rifles like the Daniel Defense rifle or even the LWRC rifle comes in at that for just a 556-AR, much less the 308 versions.
So the fact that Sig brought this in at that price point and also didn't leave out a ton of features, is impressive and very un-Sig-like.
With this rifle you get a Magpul butt stock, a 20 round Magpul magazine, and ambidextrous controls.
Overall, it's hard to beat for that price. I'm really satisfied overall with everything that the 716i has to offer. The price point is just out of this world. So if you're in the market, go grab one it's one of the best AR-10 rifles on the market.
FAQs
Is SIG 716i a good rifle?
Yes, the 716i is a fantastic AR-10 at a great price. I have yet to find a reason not to recommend this gun to anyone looking for a semi-auto .308 / AR-10.
What is the difference between SIG Sauer 716 and 716i?
The Sig 716 rifle was a piston gas system while the 716I was a direct impingement. All of the Tread series rifles are DI or direct impingement.
Can you shoot 308 in a Sig 716i?
The Sig 716I is a .308 Caliber rifle the Sig Tread M400 is a 5.56 rifle.
Is the SIG716 discontinued?
No, the SIG716 is still in production but may be hard to find at times given the reasonable price of the 716 models. The Sig 516 has been discontinued.