Ever wanted to expand your AR-15's capabilities and add a weapon-mounted laser to your gun? Well, it's probably time you take a look at the Viridian HS1, which is exactly what I'm going to do in this review of the Viridian HS1 laser hand stop.
The Viridian HS1is an interesting laser that's built to directly attach to your rail and is extremely light and compact.
In a Nutshell
You're busy so if you don't have time to read this full review here is the gist:
The Viridian HS1 is a fantastic laser light and comes in at just $170. That price is hard to beat for the amount of usability you get from this weapon-mounted laser. The green MLok laser is great and even provides clearance for suppressors but does have a small amount of splash onto the muzzle and/or suppressor. Its lightweight but durable construction and price makes this laser a no-brainer addition to a rifle.
Viridian HS1
• Color: Black & FDE
• Battery: 1/3n Battery
• Battery Life: 1.5 hours continuous
• Laser Color: Red, Green, IR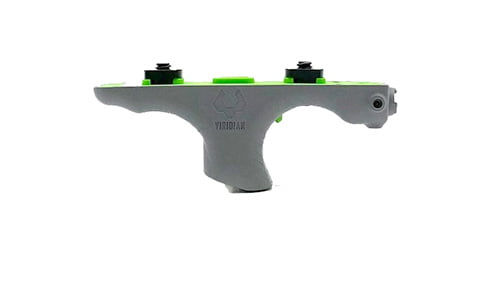 First Impression
When I first got the box for the Viridian HS1 I was shocked at how small the box was. I knew this was a small compact laser but still was taken back by how small and compact the packaging was.
The featured all your standard information about the product and to my pleasant surprise, this product is Designed & Built in the USA.
Taking the HS1 out of the box you are greeted with the laser, allen wrench, and instructions.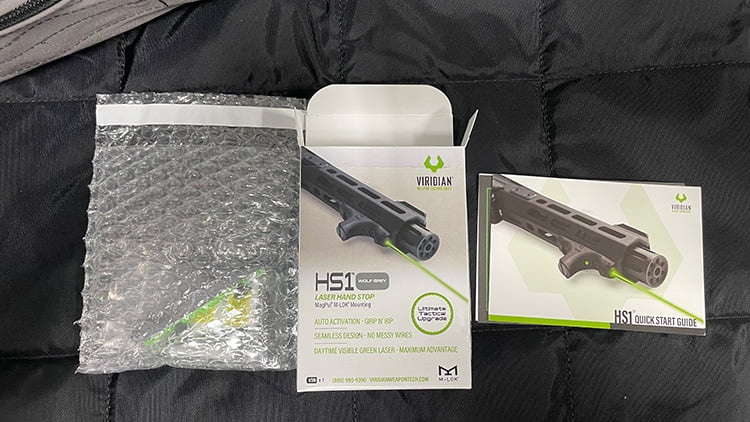 Build Quality
Taking the HS1 out of the plastic and holding it in your hand the first thing you'll notice is the weight.
This laser is insanely light and the overall feel of it is solid. Once again I was taken back by the size and how small this laser really was.
That got me thinking about how little weight this will add to the front of the gun while adding laser functionality to my AR-15.
Durability
Durability is somewhat subjective here because I haven't really bashed it around so I can't comment too much on the durability only to say that it is on par with nearly any other polymer product available for your weapon.
Viridian HS1
• Color: Black & FDE
• Battery: 1/3n Battery
• Battery Life: 1.5 hours continuous
• Laser Color: Red, Green, IR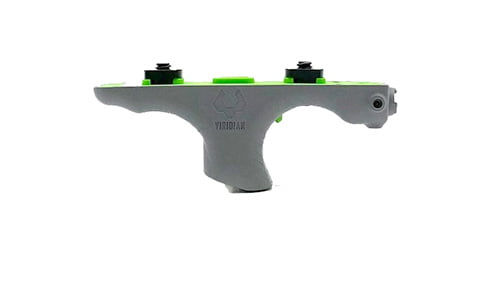 Material
Like most AR-15 accessories in this price range, this is made from polymer. It feels extremely high quality but the exact type and strength of this material is unknown as of this writing.
While I think most people will likely not break this I haven't put it through any torture tests yet.
The polymer feels like nearly any polymer framed handguns on the market today without the stippling or texture.
Mounting
Mounting the HS1 was extremely easy and I didn't have to do much to get it mounted.
One of the best parts of installing the Viridian laser is the fact that it comes with all the tools you need to install, namely a small hex key.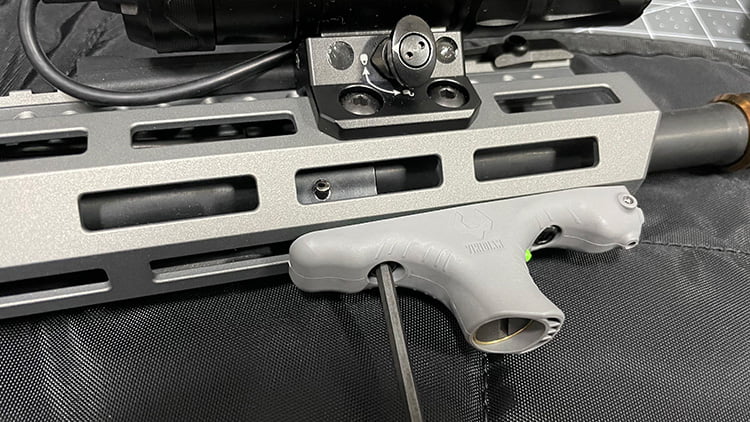 I was able to get this installed in under 2 minutes and I was off to the races.
Mounting Options
The Viridian HS1 has a couple of different models and the largest difference in the models is the laser color, the color of the HS1, and the attachment system.
The two types of attachment systems are:
So if you wanted a direct mount keymod you're out of luck. You'll need to attach a 1913 rail mount to your keymod rail to mount this particular laser to it.
This really takes away from the nice compact design of the HS1.
Viridian HS1
• Color: Black & FDE
• Battery: 1/3n Battery
• Battery Life: 1.5 hours continuous
• Laser Color: Red, Green, IR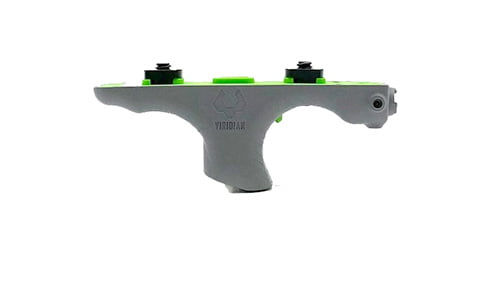 Activation
Activating the HS1 is done by just using the hand stop as a hand stop. I know, my blowing!
It's really that simple you don't have to try hard to make the laser work. I found that using the laser was seamless. There's no learning curve and there's really no fuss.
It just works.
This is really what you want out of your laser system and since I've been using hand stops of a number of my AR-15's this just fit right in.
Usage
Now, how does it perform? Doesn't matter how nice the package is if the laser is worthless, right?
My particular model is the HS1 in Wolf Grey with a green laser. The green laser is fantastic for both daytime and nighttime applications.
The laser is bright and emits a solid beam. The size makes this extremely practical on SBR's and short barrel rifles that make rail space a premium.
Day/Night
The range on the green laser is 100 yards during daylight use and 2 miles during nighttime use.
I've found in my testing those numbers to be fairly accurate. While I only tested the laser out to 70 yards in the daylight I can't imagine it not going another 30.
I can't see a laser dot at 2 miles so I'll just have to believe Viridian on that one.
The night is my favorite time to use this laser and it works well even with a high lumen flashlight.
Use with Suppressors
I use this laser on a 300 blackout pistol with a Q Trash panda suppressor. The laser was able to clear the suppressor with ease.
The only issue I saw was that the laser is so close to the can there is some light spill onto the suppressor which would show your location worse than if you just had a muzzle device.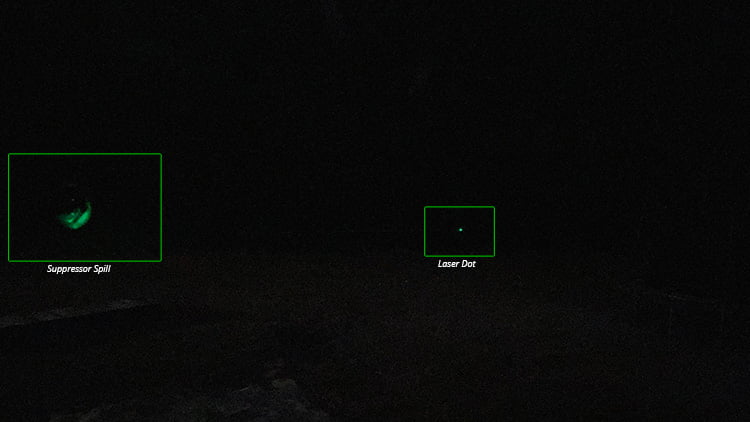 However, you're shooting a laser beam that leads directly back to you in the dark of night so take that small observation with a grain of salt.
Adjustment
While this laser is attached directly under the barrel it still might need some adjustment to get a solid zero
Adjustment is easy and can be done with the included tools. The HS1 has both windage and elevation adjustments.
Just like any scope or red dot sight you want to make sure this is zeroed prior to relying on it for personal protection or even range shooting.
Viridian HS1
• Color: Black & FDE
• Battery: 1/3n Battery
• Battery Life: 1.5 hours continuous
• Laser Color: Red, Green, IR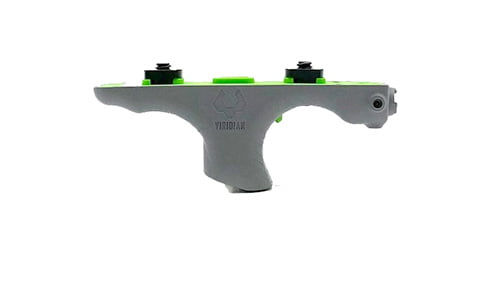 Conclusion
Let us wrap this review up by saying this laser is solid. It's a great value for the price and so far as working great. It's not a powerhouse when it comes to battery life and that's probably my biggest gripe about the laser overall.
The output of the laser and ease of use is really where the laser shines, ha see what I did there.
This is one of those great products that you can pick up and start using without a ton of training and be proficient with it in just a few range sessions.
Personally, if you are in the market for an AR-15 laser I'd add the HS1 to your shortlist.
FAQ's
Let me run down a few of the most common weapon-mounted laser questions.
Are weapon lasers practical?
Yes and no. It depends on what you have your weapon setup to do. I think weapon lasers are most practical in close-quarter applications.
Lasers allow for easy and quick target acquisition but do spotlight your location to a T.
So with the pros, there are cons and you will need to make the overall decision that makes the most sense for you.
Red vs Green Lasers
Green lasers are 50 times brighter than red lasers. This is one of the reasons you can see nearly the entire beam of light at night with a green laser.
In daylight, green lasers are more visible and work better in direct sunlight than red lasers. Green lasers also travel longer distances.