Description
The Perfect Size
Your range bag needs to be the best size for you.
Made in the USA
Berry Amendment Compliant
Modular Interior
Craft the interior to fit your range bag setup needs.
Genuine Cordura®
Made in the USA Genuine Cordura fabric.
We use official Cordura brand fabric in our pistol range bag and it's made to the highest quality and specification in the United States. Lynx Defense primarily uses 500 Denier Cordura due to it's proven durability. We source every thread, zipper, piece of velcro, and fabric from American companies making their products in the USA.
Low-quality zippers can really ruin a range bag, so we use IDEAL brand metal zippers in all of our pistol range bags. While the zipper chain is plastic all of our zipper pulls are metal and offer an exceptional feel with great reliability.
Each Pistol Range Bag comes with two pistol and magazine holder inserts that securely hold your pistol and magazine upright. We also offer multiple insert designs to customize your range bag setup. Each holder is made from a sturdy fluted polypropylene plastic material wrapped in foam and packcloth interior fabric.
The Lynx Defense Range Bag features a built-in detachable range mat. The range mat is great for safe placement of your firearms while at the range. The mat can also be great for cleaning your firearms, with an easy to clean fabric it makes clean-up of your gun cleaning a breeze.
The range bag is developed so that you can make it your own. The included hard bottom protects your pistols and shooting gear when using your range bag. It also helps the bag hold a sturdy figure.
Built in Gun Mat
Cleaning your gun has never been easier.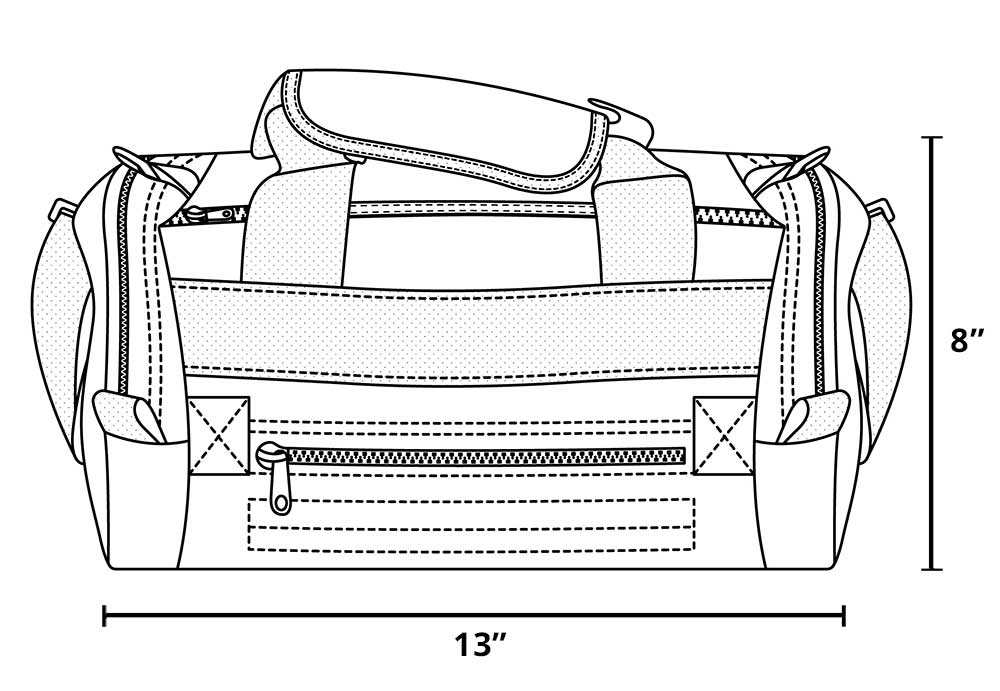 PISTOL RANGE BAG FEATURES
100% Made in the USA – Fabric, Zippers, Thread, and Sewn in America
Exterior Dimensions: Length: 13in Width: 10in Height: 8in
Includes two gun/magazine inserts (More add-ons are available for purchase)
Inserts fit most guns (feature gun and magazine holders)
Recommended maximum of four inserts
500D Cordura Fabric Exterior
Built-in Detachable Rollout Cleaning/Range Mat
Removable Hard Bottom Provides Increased Durability
MADE IN THE USA
Our range bags are 100% American made and also Berry Amendment compliant. We are extremely proud to say our bags are manufactured in Selma, North Carolina. American-made range bags are not always easy to come by so we created our pistol range bags with a focus on innovation and American manufacturing.
QUALITY MATERIALS
We use high-quality American made 500D Cordura fabric in all of our range bags. Cordura is a durable proven fabric for the needs of the shooting sports, military, and tactical industries. We source every single thread, zipper, piece of velcro, and fabric from US companies making their products in the USA.
THE PERFECT SIZE PISTOL RANGE BAG
Size is important, no matter what your first girlfriend told you, that's why we made the pistol range bag the perfect size. With its small footprint, you may think it won't hold all your range gear but our customers have told us time-and-time again that it's the perfect size range bag.
CONFIGURABLE PISTOL INSERTS
Each Range bag comes with two inserts that feature a gun holder as well as magazine holders. Each holder is made from sturdy corrugated plastic sheets.
BUILT-IN RANGE MAT FOR PISTOLS & CLEANING
The Lynx Defense Pistol Range Bag features a built-in detachable range mat. The range mat is great for the safe placement of your firearms while at the range. The mat is also great for cleaning your firearms, with an easy to clean packcloth fabric it makes cleaning your gun and your cleaning surface a breeze.
History of the Pistol Range Bag
The Lynx Defense pistol range bag was created in 2013 to fill a gap in the handgun range case market that we identified. The pistol range bag allowed range goers the ability to keep their handguns, ammo, and range gear organized in a compact and discreet bag. Creating a multiple pistol range bag was the core of what started Lynx Defense and to this day remains our most popular product offering.
The core purpose of a pistol gun case is to carry your pistol to and from the range. So we took the core concept of the pistol range bag and made it the centerpiece of our design. Lynx Defense knew that the pistol was the most important item going into the case so identified the best want to secure it which was standing it up and insured access to your pistol was quick and effortless.
Once we determined the concept of the range bag we set out to make it the best pistol range bag on the market. Since its inception in 2013, our pistol range bag concept has been copied by other brands but our customer reviews show that we have clearly executed it the best (plus we make it in these great United States of America).
The pistol range bag features a large main compartment and two large end pockets. The main compartment is built to take our proprietary pistol range bag inserts and can be interchanged and added to, to make the bag work best for you. We are constantly working to create more inserts that complement our pistol handgun case lineup.
Order the Lynx Defense Pistol Range Bag with confidence because it's backed by a lifetime manufacturer's warranty and we have industry-leading customer service. Don't take our word for it, check out our verified customer reviews.
We Guarantee this is the Best Pistol Range Bag of 2020.
So if you are looking for an all American made pistol range bag from an all American company, look no further. If you have any questions please send us an email or even pick up the phone and give us a call (919) 701-9411.