Description
The Best EDC IFAK
The Ankle Medical Kit is the perfect EDC IFAK. Having it on your ankle makes it easy to conceal and easy to carry. After putting on your ankle kit in just a few minutes you'll forget it's there until you need it.
Many people are skeptical about carrying their medical gear on their ankle but check out the review that PrepMedic did on carrying the ankle medical kit. It really is a relief knowing that in the event of trauma your living saving medical supplies are just a legs length away.
You can also check out our Lynx on the Prowl series that took a first-hand look at our customers using our products in the field.
We use high quality US made 500D Cordura fabric in all of our range bags. Cordura is a durable proven fabric for the needs of the shooting sports, military, and tactical industries. We source every single thread, zipper, piece of velcro, and fabric from US companies making their products in the USA.
The four compression pockets on the ankle med kit will keep your medical supplies in place until you need to deploy them. The two open pockets are for quick access to supplies while the two lid pockets provide extra retention for your items.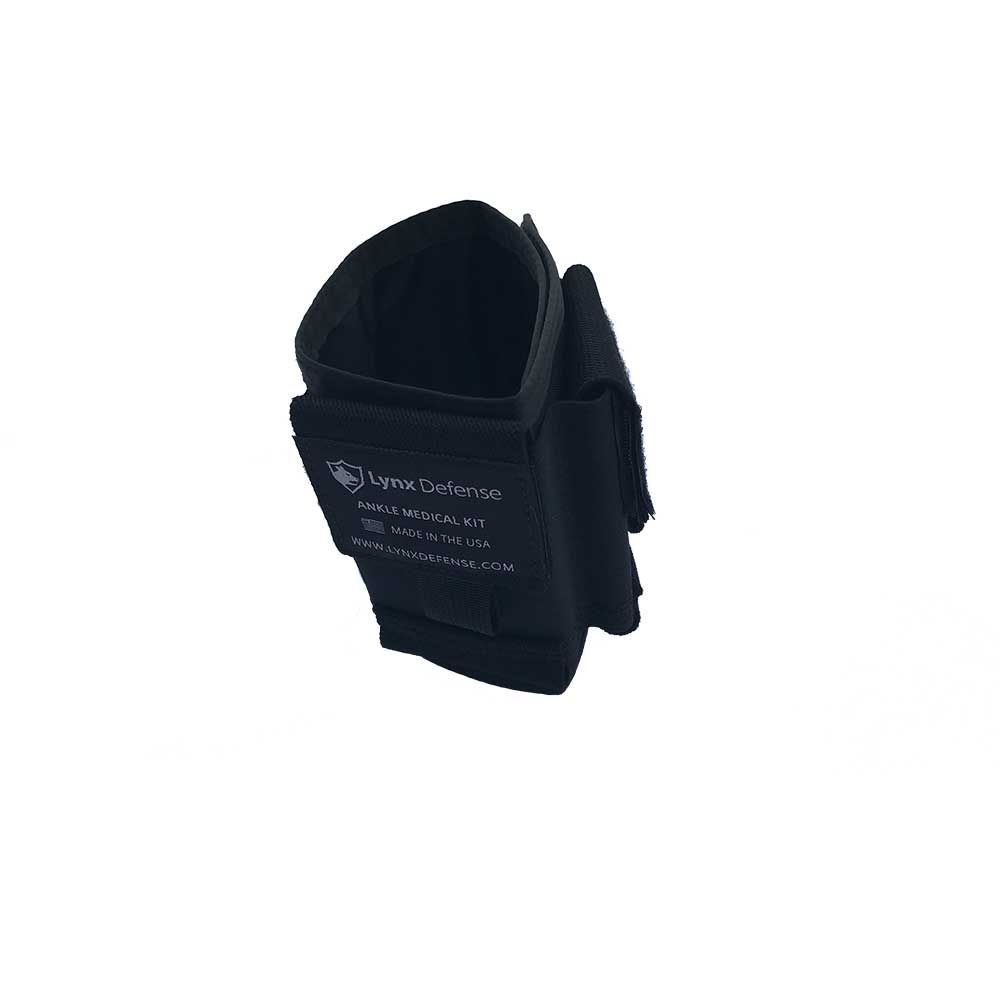 The ankle medical kit was designed to hug your ankle, stay concealed under pants, and stand up to every day use. With its unique design and high quality materials, the ankle medical kit can be utilized in any setting for nearly all applications.
With a large 3 inch x 2 inch velcro lid, you can add a number of your favorite velcro backed patches. This will allow you to put any patch you see fit on your kit, including a patch designating your blood type.
FEATURES
100% Made in the USA (Berry Amendment compliant (USC, Title 10, Section 2533a))
Dimensions: Length: 18.5″ Height: 5.5″
4 x Compression Pockets
2 x Lid Covered Pockets
Velcro Lid Flap
Durable 500D Cordura fabric
When faced with violent trauma, it is critical to have trauma supplies immediately at hand. The Lynx Defense Ankle Kit provides the perfect solution to discretely carry trauma supplies everywhere you go. The ankle wrap is very comfortable to wear with shoes or laced boots. The kit hides easily beneath your pants leg and stays in place even when running, exercising, or working.
Our kits are made to hold the following medical supplies but they are not included (however you may customize it as you see fit): (Links are to Amazon Product Pages)