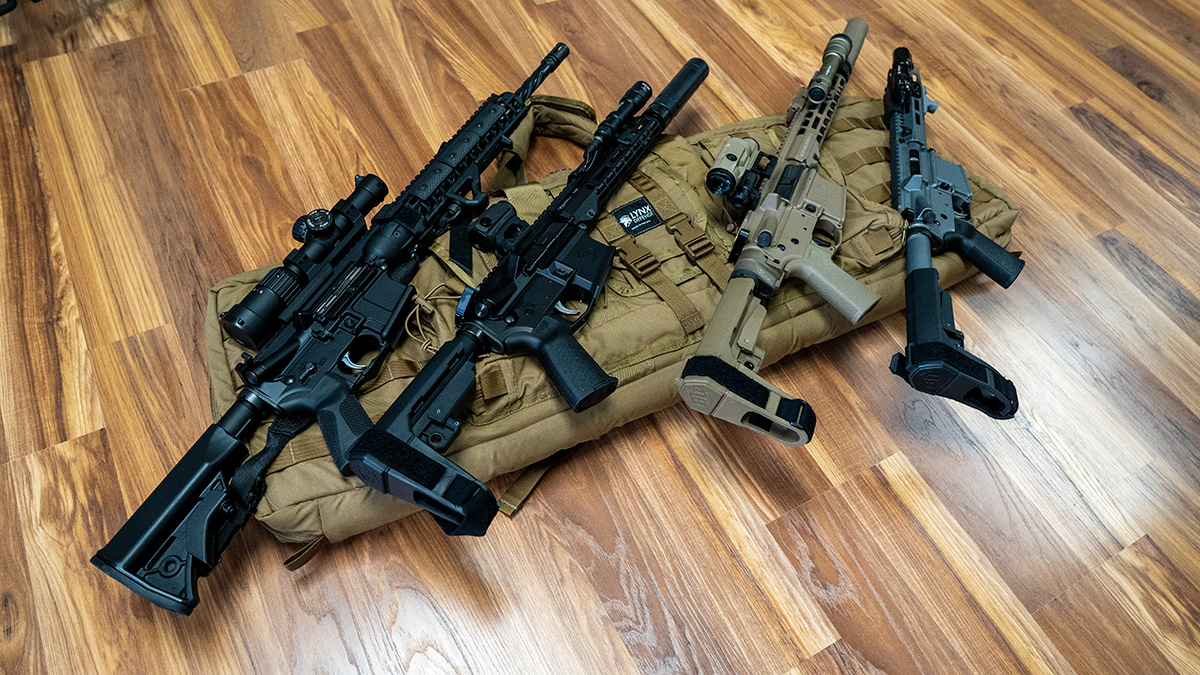 Are you looking for the best AR-15s for the money in 2023? You're in luck! In this article, we'll be discussing 13 of the best AR-15s that are currently on the market.
We'll also be providing a buyer's guide to help you make an informed decision when purchasing your next AR-15.
So, without further ado, let's get started!
What is the AR-15?
The AR-15 is a modular, customizable tactical and sporting rifle developed in 1956 by Eugene Stoner and manufactured by ArmaLite.
It can be used for various purposes and is considered one of the most popular weapons in the world.
It is a direct impingement gun, meaning that the expanding gasses from the fired rounds are fed, via a gas block and gas tube, back towards the bolt, which cycles the bolt and feeds another round.
It typically has a 16-inch barrel, and a stock, and is capable of firing rounds in 5.56mm NATO.
It is commonly used for long-range precision, short-range competitive and tactical shooting, and even backyard plinking.
The AR-15 can be semi-automatic, made to fire bursts, or fully automatic.
14 Best AR-15s for the Money
Here is our list and breakdown of the best AR-15s for the money.
Daniel Defense M4A1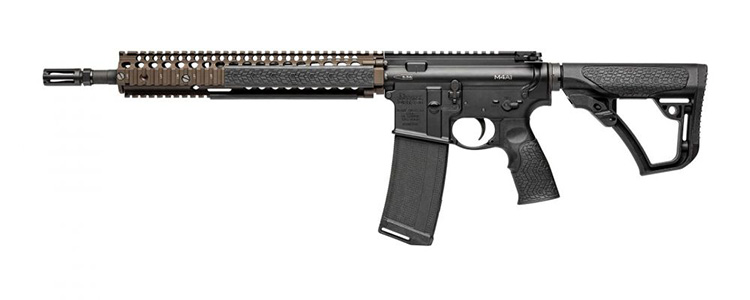 The Daniel Defense M4A1 AR-15 will be an excellent choice for anyone looking for a reliable and customizable AR-15.
The carbine-length 16-inch barrel is cold hammer-forged and comes with a flash hider threaded onto the end.
It also features a mid-length gas system for superior reliability and an uninterrupted M1913-style Picatinny rail along all four sides of the handguard.
The gun also comes installed with Daniel Defense's trademark pistol grip and stock, making it incredibly easy to use.
It also comes with a chrome-lined MPI barrel and a salt bath nitride finish to the gas system.
The full-auto-rated bolt carrier group has been shot-peened and both Mil-Spec MPI and HPI-tested.
Finally, the DDM4 is available in a variety of different finishes including "Tornado" and "Mil Spec + Cerakote" so you can customize the look of your AR-15.
All of these features make the Daniel Defense M4A1 AR-15 a great choice and one of the best AR 15 options.
The Daniel Defense M4A1 RIII is another M4 from Daniel Defense that you can consider as well.
PSA Sabre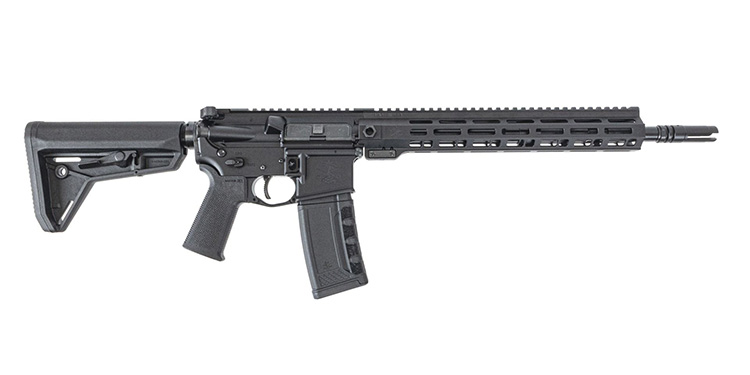 Palmetto State Armory Sabre is one of the latest offerings from PSA. The Sabre offers billet and forged options, which are a bit fancier in design and perceived as higher quality.
I've had several chances to handle the entire line of Sabre rifles and I've been extremely impressed with them.
If you want to get a value but also get a great-looking rifle pick up one of the PSA Sabre rifles.
Palmetto State Armory PA-15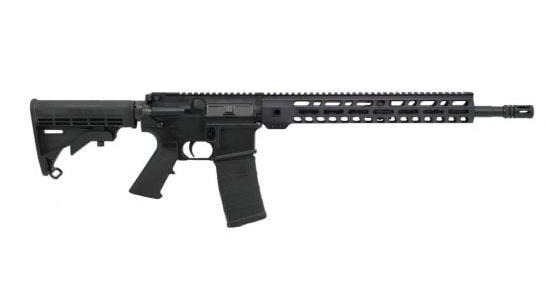 What makes the Palmetto State Armory PA-15 one of the best budget AR-15s for the money?
The PA-15 offers a serious bang for the buck, with solid availability and lots of PSA products to choose from.
It also has a classic look and feel with an A2 birdcage, nitride-coated chrome moly vanadium barrel, and a 1/7 twist rate.
The modern M-Lok rail will bring you into 2023 in terms of attachment functionality.
While it doesn't pack a ton of features what it does bring is the affordability of this stripped-down build.
All-in-all, the PSA PA-15 is a quality workhorse AR and a great value for the money.
Aero Precision M4E1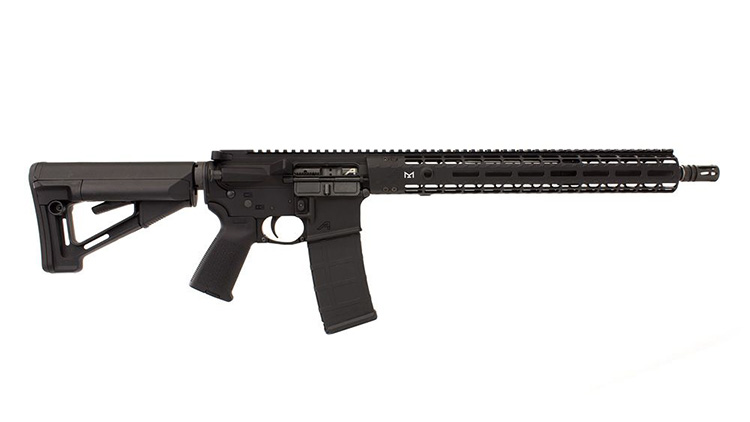 The Aero Precision M4E1 is an excellent AR-15 for the money due to its combination of high-quality components, reliable performance, and great value.
The Enhanced Series Upper Receiver provides a lightweight and rigid platform that is ideal for accuracy, while the Gen 2 Lower Receiver features a flared magazine well and tension screw to ensure a secure fit and function.
The included Magpul STR Stock offers a comfortable comb angle and battery storage, while the low-profile gas block and mid-length gas system help ensure smooth operation.
Additionally, the M4E1 can be chambered in .223 Wylde, giving you the option of shooting either 5.56 NATO or .223 Remington.
Aero Precision also allows you to buy the parts for your rifle and build it. We have covered all the Aero Precision parts in depth in our Aero Precision guide.
Wilson Combat AR-15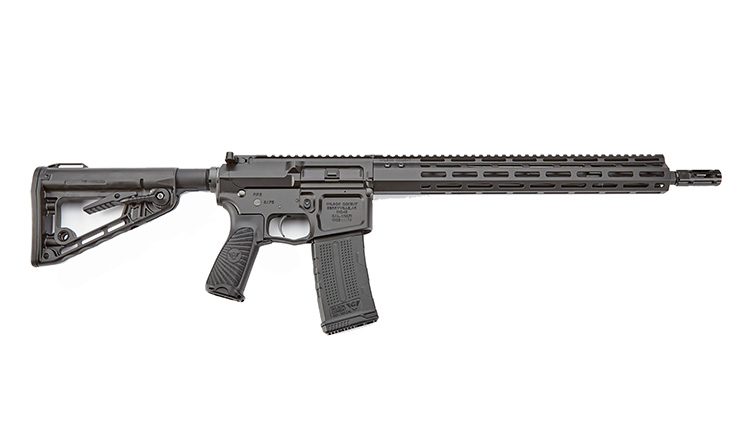 The Wilson Combat AR-15 is an excellent choice for those looking for an accurate and reliable firearm.
Not only is it match-grade and precision-rifled, but it also has a Q-Comp muzzle device that reduces recoil and the amount of blast that is sent back to the shooter upon firing.
The 2-stage tactical trigger provides a crisp and modular design for easy takedown and the mid-length gas system aids reliability.
Other features include a BCM pistol grip, high-quality aluminum tactical trigger guard, low profile gas block, M-Lok compatible handguard, and QD sling mounts.
The combination of these features makes the Wilson Combat AR-15 expensive but an ideal choice for those looking for a reliable, accurate, and high-end AR-15.
Daniel Defense DDM4 V7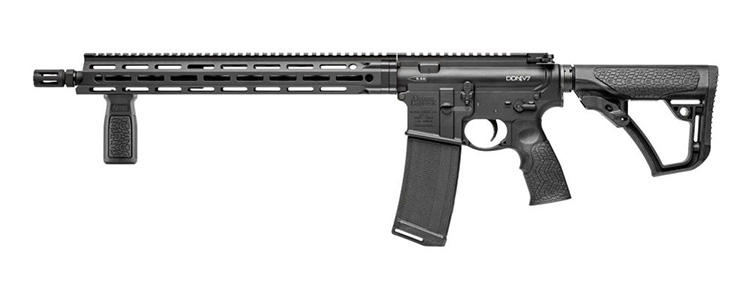 What makes the Daniel Defense DDM4 V7 a great AR-15 for the money?
The DDM4 V7 is an incredibly rugged and reliable rifle, boasting its industry-setting standard cold-hammer-forged 16-inch barrel with a built-in flash hider, mid-length gas system, and seven M-LOK attachment points.
The standard model also comes with the Daniel Defense pistol grip and stock for ease of use, making it extremely maneuverable, and an ideal choice for home defense.
Moreover, all of its parts, including the Bolt Carrier Group, the upper and lower receivers, the trigger, and others, are made to meet or exceed military specifications, ensuring a premium quality AR-15.
The barrel is also HP/ MPI tested for maximum accuracy, and the handguard is Daniel Defense's MFR 15-inch rail, adding to the durability and customizability of the rifle.
Ultimately, the DDM4 V7 provides an excellent balance between reliability and performance, making it a great bang for your buck.
Smith & Wesson M&P15 Sport II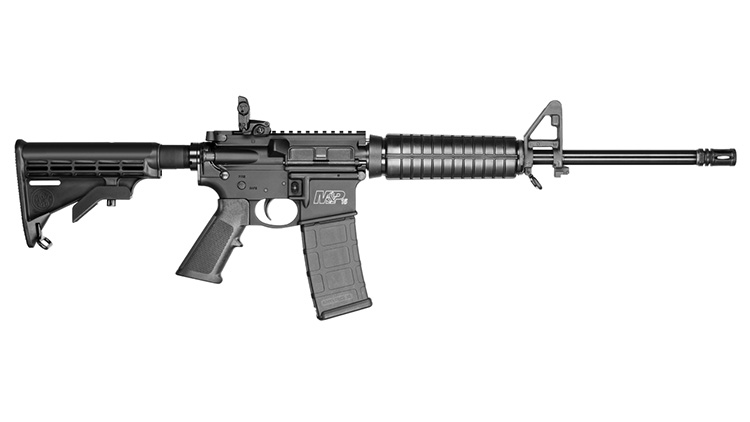 The Smith & Wesson M&P15 Sport II is a well-known AR-15 due to the Smith & Wesson name and its incredible affordability, decent finishes on the barrel and bolt carrier group, and its included sights.
The S&W Sport has a MOE M-LOK carbine length handguard and a sixteen-inch carbine length barrel with a 1:9 twist rate, and a chromed firing pin.
Included with the gun is a dust cover, a forward assist, and a thirty-round Magpul PMAG.
My experience with a lot of M&P15 rifles has been positive, with the only hesitancy being a few reported issues with the gas system.
However, these rifles sell well, and only a few come back with any issues, making the Smith & Wesson M&P15 Sport II a great budget AR-15.
Stag Arms Stag-15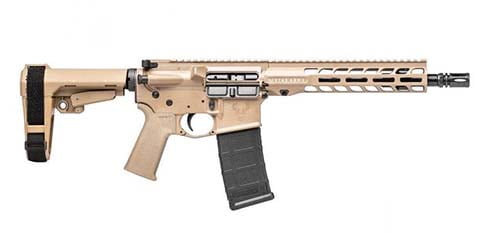 The Stag Arms Stag-15 AR-15 is a great option for those looking for a reliable, accurate and affordable rifle in 2023.
It is made to Mil-Spec standards, with a 1/7 twist rate chrome-lined barrel, a lightweight M-LOK rail, and an enhanced trigger guard.
This top-tier product is a great value for the money, as it is built to last and will not break the bank.
The lightweight design makes it comfortable to shoot, while the chrome-lined barrel ensures that it is easy to clean and will have a long life.
The M-LOK rail system allows for flexible mounting options for a variety of accessories.
Overall, the Stag Arms Stag-15 AR-15 is an excellent choice for those seeking an affordable rifle that delivers on performance.
Lead Star Grunt
The Lead Star Grunt AR-15 is another great option when it comes to AR-15s.
This rifle is priced around $1000, making it an affordable option while still providing superior performance with its 1 MOA accuracy.
It also comes with a nice muzzle brake, charging handle, trigger, and furniture, so there is no need for any upgrades.
This rifle is incredibly lightweight considering its length, with its full-length 17-inch handguard and over-molded Grunt Combat Grip, making it a great choice for home defense, duty, and range shooting.
The trigger on the Grunt AR-15 is incredibly snappy, with a zero uptake and six-pound weight, providing a great shooting experience.
All in all, the Lead Star Grunt AR-15 is a great choice for anyone looking for an AR-15.
FN America FN15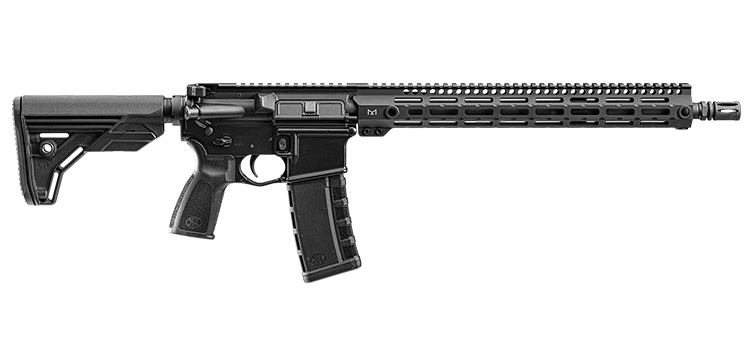 The FN 15 is an excellent AR-15 for the money in 2023 due to its high-quality components, battle-proven design, and affordability.
The FN 15 is a civilian version of the military M16A4, so its parts are military grade and tested to very high tolerances.
Its features include a flat top rail, Knights Armament rails, and sights, as well as a rifle-length gas system, making it well suited for long-range shooting.
This rifle is manufactured by a trusted name in the AR world and is offered at a reasonable price. For these reasons, the FN 15 is a great AR-15 for the money in 2023.
Ruger AR-556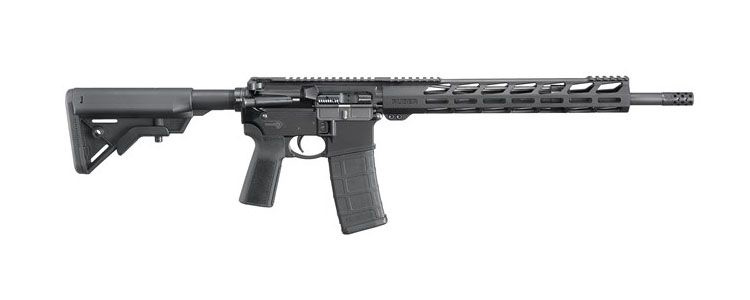 The Ruger AR-556 is a great AR-15 made by one of the most well-known firearms manufacturers in the world.
The AR-556 offers excellent features that are normally found on more expensive rifles.
The AR-556 comes with a 16.1″ cold hammer forged ultra-precise rifling barrel, coated in a matte black oxide finish for rust and corrosion resistance.
The handguard offers loads of M-LOK slots and is topped with a full-length Picatinny rail, making it easy to add BUIS and your favorite red dot optic.
The rifle includes an adjustable buttstock, forward assist, dust cover, and a Ruger flip-up rear sight.
Not only that, but the AR-556 also includes a very high-grade bolt carrier group and a 2-stage trigger group, which is impressive for its price point.
To top it off, the rifle ships with a B5 Systems furniture and a 30-round Magpul PMAG.
All of these features make the Ruger AR-556 an impressive package for the money.
Springfield Saint Victor

The Springfield Saint Victor is a combination of quality, performance, and convenience.
This rifle features a corrosion-resistant finish, a 15-inch M-LOK free-float handguard, spring-loaded sights, and a nickel boron-coated flat trigger for increased accuracy and a grit-free trigger pull.
Additionally, it is lightweight at just under seven pounds, has a Melonite finish that is rust and corrosion-resistant, a muzzle brake to reduce recoil and muzzle rise, and a bolt carrier group built out of 9310 steel.
The upper and lower receivers are made from aircraft-grade aluminum, giving the gun a solid, durable build.
This combination of features makes the Springfield Saint Victor an ideal choice for anyone looking for a reliable and affordable AR-15.
BCM RECCE-16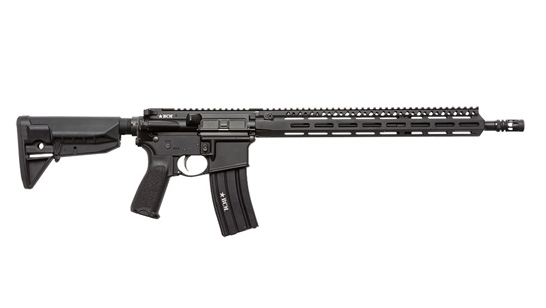 The BCM Recce-16 is an excellent AR-15 for multiple reasons.
Firstly, it is made by Bravo Company Manufacturing, a respected and reliable brand in the AR industry, and all of the components of the rifle are manufactured by them.
BCM has high standards, which ensures that the rifle is of good quality and can stand up to hard use.
Secondly, it has a 16-inch 11595E Certified Steel barrel with a 1-7″ twist that is phosphate finished.
This provides the accuracy you would want in a rifle.
Thirdly, the KMR handguard is lightweight and narrow, making it great for a c-clamp grip, and the mid-length gas system is a great choice for the 16-inch barrel.
Finally, the price of the rifle is relatively low compared to other rifles, making it an excellent value.
All of these factors combined make the BCM Recce-16 a great AR-15.
HK MR556A1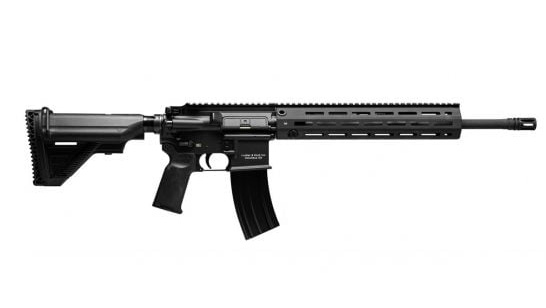 The HK MR556A1 is a truly excellent AR-15 for the money, even at the high price point.
It is built with the same level of quality and craftsmanship as H&K's other world-renowned battle rifles, ensuring reliability and accuracy.
The rifle is equipped with an innovative and proprietary operating system that replaces the traditional gas tube with a solid operating pushrod, making it cleaner and more efficient than direct impingement AR-15s.
Furthermore, the barrel is made from cold hammer-forged cannon-grade steel and is outfitted with a 5.56mm NATO chamber with C.I.P. dimensions, making it extremely durable and precise.
The MR556A1 also features a free-float rail system, as well as an elevation-adjustable fixed front sight and flip-up rear sight.
All this combined makes it an outstanding value at its price point.
AR-15 Buying Guide
Here is a list of top considerations when shopping for your first or next AR-15.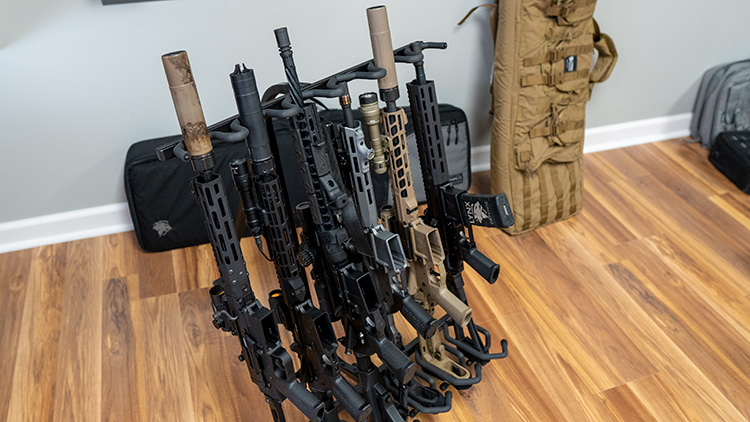 Price
Some equate price to quality and in the AR-15 market, there can be truths to price leading to a better product.
Some brands command a premium price point while bringing more features to the table but also a name for quality and uniqueness.
Q and Noveske are two niche brands that command extremely high price points.
More common brands such as Palmetto State Armory, Ruger, Sig Sauer, and Stag Arms have middle-of-the-road price points.
There are a ton of good companies making AR-15s and there is a rifle for every pricepoint (except $0). So what you will pay depends on your budget.
Quality
Quality is an important factor to consider when buying an AR-15.
Quality refers to the level of craftsmanship, durability, and performance of a product.
It can also refer to the level of customer service an individual receives when purchasing a product.
An AR-15 that has high quality is typically more reliable, ergonomic, and has an outstanding design.
It may also be more expensive but often comes with great warranties and is easy to find.
On the other hand, a lower-quality AR-15 may be far from fancy and super affordable, but it is likely to have more issues.
Having a low-grade product may end up costing more in the long run due to the need for frequent repairs and replacements.
It is therefore essential to check the quality of an AR-15 before making a purchase in order to ensure that you get the best value for your money.
Features
When buying an AR-15, there are a number of features you should consider, such as reliable construction, ergonomic design, outstanding design, expense, great warranty, ease of finding, affordability, and flashiness.
Additionally, make sure that you are well-versed in gun knowledge, gun laws, news, reviews, and statistics before making a decision.
Caliber selection
There are a variety of different caliber options for an AR-15 depending on the intended use of the rifle and the desired ballistic performance.
The list of calibers seems to grow by the day but the most common calibers used in AR-15s are .223/5.56, 300 Blackout, 6.8 SPC, 6.5 Grendel, .350 Legend, .22 LR, 6mm ARC, .50 Beowulf, and .450 Bushmaster.
Choosing which caliber you want to use is essential when shopping for your next rifle. The caliber should be chosen based on your desired use of the gun. The 5.56 NATO round has become the favorite for the AR-15 platform.
Barrel twist
The barrel twist of an AR-15 is an important factor to consider when purchasing one.
The twist rate is denoted as 1x number (1×9), which means "one twist per 9 inches" (you will most commonly see it expressed as 1:9).
The twist rate of the rifling affects the stability and accuracy of the projectile, since the longer the projectile, the faster the twist rate is needed.
A common standard for the AR-15 is 1:9 since 55gr is the most common commercially available round, whereas the mil-spec twist is usually 1:7 to accommodate the heavier tracer rounds.
A faster twist rate, like 1:7, can better stabilize heavier rounds, while a slower twist rate, like 1:9, works better for lighter rounds.
It is important to match ammo weight to the twist rate of the barrel to get the best performance out of the rifle.
Muzzle device
When choosing a muzzle device for an AR-15, there are several factors to consider.
Muzzle brakes reduce felt recoil and produce a lot of muzzle blast to the sides, while compensators vent the muzzle blast upward to keep the rifle level during rapid fire, and flash hiders reduce the muzzle flash.
Depending on the desired outcome, flash hiders provide better flash suppression, while compensators have more recoil control.
Muzzle brakes are more effective at reducing recoil, while compensators are better at keeping the rifle level when shooting.
The weight and length of the rifle, the caliber, and the desired accessories (scopes, optics, etc.) should all be taken into consideration when choosing a muzzle device.
Ultimately, the choice of muzzle device depends on the intended use.
Rail Type and Attachment System
There are several types of rail systems and attachment systems for AR-15s that are available to choose from according to your needs.
The most common are the built-in mount and the monolithic rail platform. The built-in mount is an integrated clamp that can be used with MIL-STD-1913 rails and can be attached to any top rail or 1913 side rail without the need for any tools.
The monolithic rail platform, on the other hand, is milled from a single forging of aerospace aluminum. It is known as the only true monolithic rail platform available and is extremely reliable.
The ProTac HL-X has a Picatinny 1913 rail attachment built-in, which can be removed if needed. The scout mount is also a popular attachment system that is used with scout rifles.
Finally, there is the free float handguard, which mounts directly to the barrel nut and does not contact the barrel.
This is the most popular option on the market and is great for those looking for maximum accuracy and stability. These rails often come in two options Picatinny 1913 and M-Lok.
Trigger
When evaluating an AR-15's trigger, two main types should be taken into consideration: mil-spec and drop-in triggers.
Mil-spec triggers are designed for maximum reliability but tend to have a heavier and grittier trigger press.
Alternatively, drop-in triggers come as a self-contained unit that slides into the lower receiver, usually offering a better trigger press than mil-spec triggers.
Ultimately, the best upgrade that can be made is to choose the AR-15 trigger that suits the shooter's personal preferences and needs while still providing the desired reliability.
Stock
When it comes to stocks for an AR-15, there are two main types to choose from: adjustable stocks and fixed stocks.
Adjustable stocks are by far the most common type. They allow the user to customize the length of pull for their size, and they can be extended or collapsed on demand.
This is especially useful when wearing tactical gear such as body armor, as the collapsing nature allows one to compensate for its thickness.
Fixed stocks, on the other hand, are not adjustable and are designed to remain at a fixed length.
While they may offer a more aesthetically pleasing look, they are often found to be less comfortable and do not offer the same level of versatility as an adjustable stock.
All in all, when choosing a stock for a rifle, adjustable stocks provide the most utility and convenience, while fixed stocks are often more aesthetically pleasing.
Barrel length
When it comes to buying an AR-15, barrel length is an important factor to consider.
The minimum barrel length to still be considered a long rifle, according to US Federal law, is sixteen inches, but many states and municipalities have their own laws governing firearms and their accessories.
As such, it is important to familiarize yourself with the rules and regulations in your area before buying.
For beginners, we recommend getting at least a sixteen-inch barrel so that they can swap out muzzle devices at will.
This will also ensure you are compliant with Federal requirements.
Shorter, thicker barrels tend to have less "barrel whip" (ie, the barrel moves less up and down as you shoot) and can provide better accuracy.
On the other hand, longer barrels can provide higher velocities as there is more space for the powder to burn and more room for the bullet to accelerate.
In addition, barrel length can affect ballistic performance and will also affect portability—shorter barrels are easier to move and weigh less.
Thus, it is important to consider the trade-offs between shorter and longer barrels when choosing the right AR-15 for you.
Bolt Carrier Group (BCG)
Firstly, you'll want to consider the material type and coating of the BCG.
The most common material and coating types are phosphate, nickel boron, ion-bonded, and titanium nitride.
Phosphate is the industry standard and the mil-spec option, while nickel boron is extremely corrosion-resistant and smooth.
Ion-bonded finishes combine the positive qualities of both phosphate and nickel boron, offering extreme durability, heat and corrosion resistance.
Titanium nitride-coated BCGs can also be considered if you have the money to spend.
Secondly, you'll want to consider the weight of the BCG.
Lightweight BCGs are designed to trim weight from your overall build and reduce recoil.
Aluminum BCGs are very light but are less durable due to their reduced mass.
Titanium BCGs are much stronger and remain lightweight, but can be very expensive.
Finally, you'll want to compare different brands and models to find the best one for your needs.
Some of the most popular BCG brands include Bravo Company (BCM), Daniel Defense, Colt, Knight Armament, LWRC, Larue, Rainier Arms, Lewis Machine & Tool (LMT), Noveske, Yankee Hill Machine, and SIG Sauer.
Weight and Balance
The weight and balance considerations for buying an AR-15 are important factors to consider when making the decision.
Generally speaking, lighter rifles are easier to maneuver and handle. The AR-15 comes in a range of weights, from 5.8 pounds to 7.27 pounds.
The balance of the rifle also needs to be taken into account, as the overall length, barrel length, and caliber can all affect the feel of the rifle.
Gas System
When buying an AR-15, it is important to consider the gas system.
The gas system is an integral component of the AR-15 and determines the amount of gas pressure that is redirected into the action of the rifle, thus driving the bolt carrier.
The gas system length affects the reliability, recoil impulse, and gas blowback of the rifle.
A shorter gas system, like the carbine length, will push a lot of pressure into the action of the rifle, making it very reliable but with a sharper recoil impulse.
A mid-length gas system is the most commonly used and offers good reliability with a slightly softer recoil.
Rifle-length gas systems are best suited for barrels 16 inches or longer, as they provide the softest recoil of all the gas systems.
It is also important to consider gas piston systems which can reduce carbon fouling and maintenance requirements while providing a great option for use on suppressed rifles.
Therefore, it is important to consider the gas system when buying an AR-15, as it will have a major impact on the performance of the rifle.
Grip
When choosing a firearm grip for an AR-15, there are several important factors to consider.
First, it is important to choose a grip that is comfortable and ergonomic, as this will greatly improve your shooting experience.
Additionally, you should consider the size of the grip and its angle. Choose a grip that fits your hand best and has an angle that allows for a comfortable and stable shooting stance.
It is also important to consider the material the grip is made from. Many grips are made from polymer or aluminum, both of which have their own advantages and disadvantages.
Iron Sights and Optics
When it comes to iron sights and optics for an AR-15, you have a few different options to choose from.
If you're just getting started, it's best to get used to your iron sights, stock muzzle device, and standard furniture before jumping into upgrades.
However, if you're looking for an optics upgrade, there are a few great options to consider.
You can go the simple and effective red dot sight route. They provide easy and fast on-target accuracy but often do not give you any magnification.
The Vortex Strike Eagle 1-6×24 is a great all-around choice, as it can be used for close, medium, and even long-range shooting. It features a true 1x on the low end, with a magnification ring that includes a thread-in throw lever, and an illuminated BDC3 reticle.
If you're looking for something a bit nicer, the Vortex Viper PST Gen II 1-6×24 is another great option. It offers slightly better glass and a daylight-bright reticle.
Finally, if you're looking for the best of the best, the Vortex Razor HD Gen II-E 1-6×24 is the way to go. It's primarily used for 3-gunning and rifle competitions, as it has exceptional glass, a wide field of view, a large eye box, and a daylight bright reticle.
FAQ
What is the best AR-15 for the money in 2023?
In 2023, choosing the best AR-15 for the money can be a daunting task. With so many options on the market, it can be difficult to figure out which is the best choice for your particular needs and budget.
To help you decide on the best AR-15 for you in 2023, we've outlined a comparison with evaluations of some of the top models available on the market today.
For budget shoppers, the Ruger AR-556 is an affordable yet reliable option. It's lightweight and accurate, as well as being ergonomic and fun to shoot.
For those looking for a higher-quality AR-15, the Bravo Company Mod 0, Mod 2, and Recce 14/16 are all great choices. These models offer superior accuracy, reliability, and ergonomics, and the Recce 14/16 is the perfect option for 3-gun competitions.
The Larue PredatAR 5.56 is another great option for those looking for a top-of-the-line AR-15.
It's lightweight, accurate, and offers a great balance of performance and cost. The Rock River Arms LAR-15 Entry Tactical is also a great choice, offering superior reliability and accuracy at a great price.
Finally, the Springfield Armory Saint Victor and Sig Sauer M400 are both excellent choices for those looking for an AR-15 that is reliable and affordable.
The Smith & Wesson M&P15 Sport II is also a great option, offering superior performance and accuracy at an affordable price.
Ultimately, the best AR-15 for the money in 2023 will depend on your individual needs and budget.
No matter which model you choose, you can be sure it will offer performance and reliability that will last for years to come.
What are the key specs to look for when buying an AR-15?
When buying an AR-15, there are a few key specs you should look for.
The barrel length should be up to your needs with a barrel twist rate of 1 in 7 or 1 in 8.
You should make sure the gas system is mid-length, the bolt carrier group is phosphate or black nitride, and MPI tested or MPI and HPT tested.
For the handguard, you should look for a free-float or drop-in style, and for the trigger, a mil-spec one is always a good option.
You should make sure the rifle is made from quality materials and components and is built for durability and accuracy.
If you want to take your AR-15 to the next level, you can also look for an optics-ready model, with a two-stage trigger, and an 18″ barrel for precision shooting.
What is the difference between a carbine and a pistol AR-15?
The main difference between a carbine and a pistol AR-15 is their barrel length.
A carbine AR-15 has a shorter barrel than the traditional rifle version, typically ranging from 14.5 to 16 inches in length, and the gas system is designed to optimize the shorter barrel length.
n the other hand, an AR-15 pistol has a barrel shorter than 16 inches and lacks a stock. This is due to US gun laws.
The carbine AR-15 is the civilian semi-automatic version of the select fire M4, which was originally developed during the Vietnam War.
It has a flat top receiver with an upper Weaver rail, allowing a wide variety of sighting options.
The chamber on this rifle makes use of elongated M-4 style feed ramps for a more reliable feed function, and all the metal surfaces are phosphate coated to mil-spec standards.
It has a front sight tower and retains all the standard AR-15 controls on both the left and right sides of the weapon.
In contrast, the AR-15 pistol is not as reliable as the carbine version due to the shorter barrel and lack of a stock. It is best used as a range toy and is not as practical or versatile as the carbine AR-15. It is lighter and more maneuverable than the carbine, but it is not as accurate.
What is the difference between a DI gas system and a piston gas system?
The main difference between a Direct Impingement (DI) and a Piston gas system for the AR-15 is their structure and operation.
DI is the original design used for the AR-15, and it works by directing hot gas from the last round fired into the gas tube, which then uses the gas to move the bolt carrier back and eject the spent casing. This then strips a new cartridge into the chamber.
Piston gas systems, on the other hand, place a piston where the gas block would be. The last round fired propels the piston rearwards, which then makes contact with the bolt carrier and sends it backward, ejecting the round before meeting the buffer and reloading the rifle's chamber.
In terms of performance, DI systems are generally more reliable, affordable, accurate, and well-proven, while Piston systems are more costly but run cleaner and cooler.
Piston systems also tend to be harder to find proprietary parts from manufacturers, and they are typically heavier with more weight in front.
How is the accuracy of an AR-15?
The accuracy of an AR-15 is excellent. With the right barrel, optics, and trigger, you can have a precision shooter capable of sub-MOA accuracy.
Accuracy is further enhanced by the AR-15's ergonomic design, which allows for comfortable shooting from multiple positions.
The operation of the AR-15 is simple enough that anyone can become proficient with it in a matter of weeks.
With the wide variety of aftermarket components available, it is possible to customize your AR-15 to any situation and shooting style.
In terms of reliability, the AR-15 is incredibly dependable, even under the most adverse conditions, such as extreme heat, cold, dust, or mud.
All of these factors combined make the AR-15 an excellent choice for both accuracy and reliability.
What type of barrel twist should I look for in an AR-15?
It is important to consider the type of bullet weight you are using and the distance you plan to shoot.
The most common AR-15 twist rate is 1:9, as it is best suited for shooting 55-grain bullets.
If you regularly shoot further than 300 yards, then a longer barrel with a 1:7 twist rate is recommended to better stabilize heavier rounds.
For precision AR-15 builds, a heavier contoured 18-20 inch barrel with a 1:8 or 1:7 twist rate is ideal.
Carbon steel and stainless steel barrels can both last for thousands of rounds, but stainless steel barrels tend to have a shorter lifespan.
Ultimately, the right barrel twist will depend on your shooting needs and preferences and what weight ammo you plan to shoot primarily.
What kind of muzzle device works best on an AR-15?
When it comes to selecting a muzzle device for an AR-15, there are a few options to consider.
While all muzzle devices will influence how a rifle recoils, each type has its own characteristics that might make it more suitable for a particular situation.
For instance, a muzzle brake is ideal for reducing felt recoil and keeping the rifle level during rapid fire, but it comes with the downside of producing a lot of muzzle blast.
On the other hand, a flash hider reduces muzzle flash, and some even have some compensation built-in, but it typically won't reduce felt recoil.
Compensators are meant to vent the muzzle blast upward, but they typically don't reduce felt recoil either. So it all depends on what you're looking for in a muzzle device.
If you're looking for a device that will reduce felt recoil and flash, then a flash hider is probably your best bet.
What kind of accessories should I consider with an AR-15?
When purchasing or building an AR-15, there are a variety of accessories you should consider. These include a quality barrel, bolt carrier group (BCG), and trigger.
For additional features, you can consider forged upper and lower receivers, retractable or fixed stocks, free-float or traditional handguards, rail covers, sling attachment points, angled backup iron sights (BUIS), and the list goes on.
When you're ready to customize your AR-15, there are numerous third-party parts available with which to do so.
You can choose from different sights, scopes, red dot sights, vertical or angled forward grips, lights, lasers, iron sights or optics, and muzzle brakes/compensators or flash hiders.
As a shooter, it's best to get comfortable with iron sights, stock muzzle devices, and standard furniture before upgrading.
To help you make a decision, we've put together a comparison chart of the top AR-15 flashlights on the market. This includes the Cloud Defensive REIN, Surefire X-300, Surefire M600 Scout, Modlite, Streamlight Pro Tac Rail Mount HL-X, Olight Odin, and Inforce WMLx. When compared, these lights have features such as construction, stats, mounting, and light type.
In conclusion, the AR-15 is a highly customizable platform, with a variety of accessories to choose from.
Consider the features that are important to you, as well as your budget and intended purpose, to ensure you get the best gun for your needs.