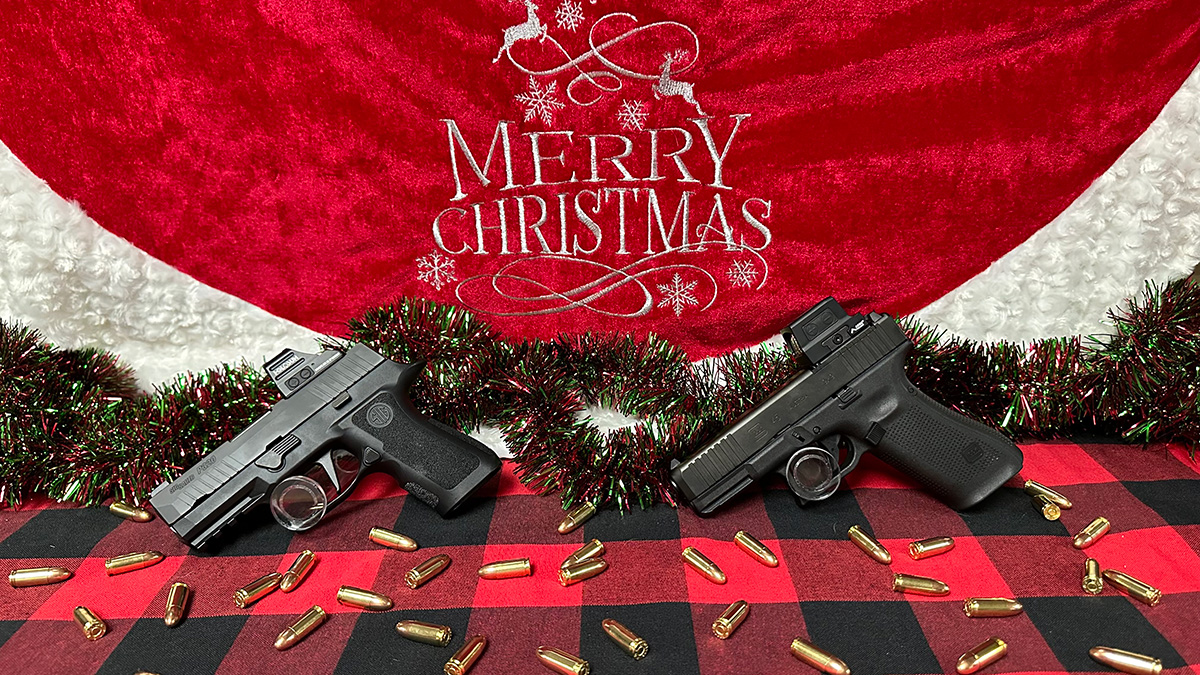 Are you looking for a gift for the gun lover in your life? With Christmas rapidly approaching we wanted to put together a really solid list of gift ideas.
This list will be a little different than most lists we won't be putting many trinkets or nicknacks. All of these gifts are something we would want as true gun lovers. So if you are looking for bullet-themed gifts or bullet gifts for him this might not be your guide!
When you don't know what your significant other has we will even give you easy ways to draw out information without giving away your gift intentions.
We will break down a few sections but here is an easy table of contents for you to jump to the section that applies to you.
Gifts for Rifle Shooters
In this section, we will cover some great gift options for the rifle lover in your life. No matter if he is a bolt action rifle or an AR-15 rifle guy we have you covered.
Rifle Scope
So you want to get a scope but don't want to learn all the scope lingo and want to make sure you get something solid?
I'm going to break down a few common scope terms and what to look for and help you make the best decision.
I'll say this early on and it might get repeated a lot but if you are unsure a gift card is always a solid option and NO it doesn't mean you didn't put any thought into the gift.
Bushnell
Bushnell makes some fantastic scopes for the money. It's important though to find out what the scope will be used on and if lots of magnification is really necessary.
It's often better to have a scope with lower magnification and better sight picture and eye relief.
Our recommendation for a great-priced rifle scope is the Bushnell Banner 3-9x40mm.
Primary Arms
To give you some reasonable options the first two on our list of options are more budget-minded. The last two will be for the gift giver that likes to get the best of the best.
Primary Arms makes a fantastic optic for the money is why we have reviewed so many of their available optics.
The Primary Arms Classic Series 3-9x44mm packs a lot of scope for a small price. This sub $100 optic is fantastic for tons of rifles.
Leupold
Leupold is another well-known brand of scopes and if the person you are shopping for has been on the hunt for a new optic the Leupold has definitely crossed their mind.
The Leupold VX H3D series is a fantastic mid-line rifle scope for nearly any rifle. With a 4.5-14 magnification range, it's the perfect scope for 200-400 yard shots.
Vortex Razor
If you really like the person you are giving this present to you can get them a Vortex Razor. This tops out as the highest price point gift in this section.
This optic isn't just expensive it is extremely high-end. This optic is extremely clear and features great eye relief as well as good magnification.
Many retailers carry them so be sure to shop around to get the best price this gift-giving season.
Red Dot Sights
Does your giftee like AR-15-style rifles? Then they might want something more in the red dot sight department.
The good thing about red dot sights is they are affordable and very effective. These make great gifts and can even be a big step up from anything they have.
Sig Sauer Romeo 5
The Sig Sauer Romeo 5 is one of my favorite red dot sights. I did a complete Sig Sauer Romeo 5 and needless to say the bang for the buck is fantastic.
At just over $100 it won't break the bank and will be a really nice addition to your rifle.
Primary Arms Micro Prism
Another great red dot sight gift option is the Primary Arms Micro Prism. These are great, relatively inexpensive, sights that have the capability to run with or without an illuminated reticle.
If you know your giftee has astigmatism then this is absolutely the sight for them!
Trijicon MRO
Moving up the lineup of possible red dot sight options for gifts. The Trijicon MRO is a much more expensive option but it is a favorite among military and heavy-use users.
EOTech
The EOTech Holographic Weapon Sight is not technically a "red dot sight" since it's a holographic sight. But if you get this sight as a gift you will absolutely win the gift-giving battle for the year.
The most expensive on our list and most unique the EOTech is known worldwide as being an extremely innovative weapon sight system and another go-to favorite of special operations worldwide.
The price is not for the faint of heart but this is the perfect sight for an AR-15-style rifle of nearly any configuration.
Gifts for Handgun/Pistol Shooters
Handgun enthusiasts are a bit different to shop for they don't have nearly as many gadgets and accessories to throw on their guns but there are some very important other products they would want for the range.
Shot Timer
A good gift for the pistol lover in your life is a shot timer. These are great tools to practice with and increase the speed of your draw time and accuracy.
If they aren't already obsessing about holster draw times and being quick draw McCall then they definitely will after you gift them a shot timer.
The two major shot timer Manufacturers are PACT and Competition Electronics.
The most popular one by far is the PACT timer. Not on is it less expensive but it has a slightly better build quality.
Don't think that will be your giftee's cup of tea? Time to look at some more options!
Targets
There are two types of targets: paper and steel
The best targets are steel they are fun and give you instant feedback of a hit with a "ding".
One of my favorite targets is the Shoot Steel Targets.
If the person you are buying for shoots mostly cardboard or paper targets you can still buy them a great stand that will allow them to easily put up paper or cardboard targets to shoot.
Ammo
Ammo is always a solid choice. There are two kinds to focus defense ammo and target ammo. Typically defense is a hollow point and the target ammo is the round nose or "RN".
Gifts for Shotgun Shooters
Have a shotgun shooter in your life that needs a Christmas present or a birthday gift? Here are a few ideas for you to bounce around when considering a gift for the shotgun owner in your life.
Shells
Shotgun shells are always a good gift you need ammo to shoot it and they come in three main flavors:
I'm lumping steel and lead rounds into birdshot this is a pretty generic shotgun shell but upland, clay shooting, and steel/tungsten are used in different applications.
Knowing your person's preference for shooting their shotgun will make a huge difference in your gift decision.
If they enjoy waterfowl hunting you will want to stick with a steel casing this ammo is usually advertised with ducks on the boxes.
If they are a deer hunter they will want buckshot or slug and you can easily just ask them in a general conversation what they use to hunt with. It is important to know which one of these they use because slugs require shotguns with rifled barrels.
Tactical shotguns are also becoming popular and these will likely accept any of the rounds available but you'll want to make sure you get the right length: 2-3/4″, 3″, 3.5″.
Bag/Carrying Case
A bag or carrying case is one of the best gifts for gun owners you can possibly buy. They are like purses for men and we can never have enough of them. So a gun case might be one of the best gun gifts for man.
One of the best cases you can buy for a shotgun is the Gigabyte but if they are more into hunting then you can buy one of these great hunting shotgun bags.
Gifts for Concealed Carry Enthusitants
Does the gun owner in your life carry everywhere? Well, have no fear we have a few suggestions for you that won't break the bank and will be a memorable gift that will last.
Holster
Holsters can be tricky you will have to figure out what model gun they carry and if they already have a holster that they like. But with a few questions, you might be able to land them a perfect holster for them.
If you aren't sure it might be better to grab a gift card.
One of my favorite concealed holsters is the Harry's Holster's Singleton.
Carry Ammo
There are two normal kinds of ammo range and carry. These two are different but the carry ammo is far more expensive and usually has a hollow point tip for maximum expansion.
You will want to verify the caliber of the gun they have but one of the most popular personal protection calibers is the 9mm round.