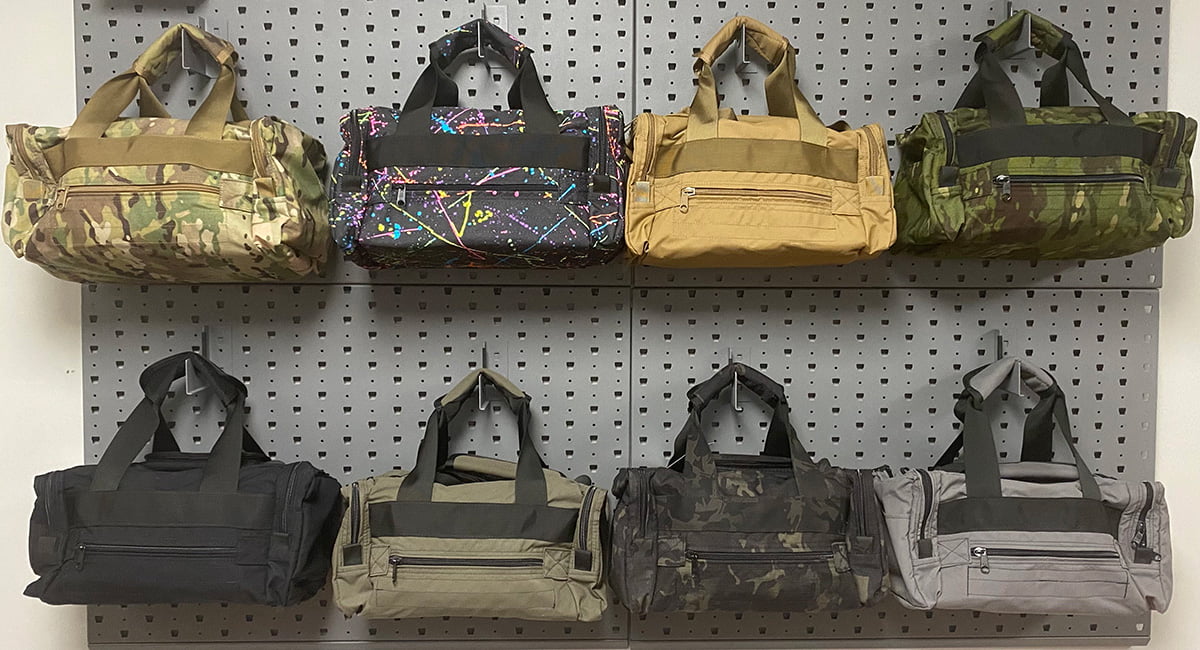 Choosing the best range bag for you isn't as easy as it should be so as a range bag manufacturer we want to give a clear and comprehensive article on what's the best one for you.
You might be wondering how would a company that makes the product offers an unbiased opinion, after all, wouldn't they just recommend theirs?
Of course.
But we know one size doesn't fit all while you will see our bags on this list you'll also see us praise other great range bag products on this list.
Best Small Range Bag
Not everyone needs to haul 300 pounds of gear to the range so a small, compact, efficient range bag is all you might need.
Well look no further we have three great options for you to choose from. Here are the best range bag reviews.
Lynx Defense Pistol Range Bag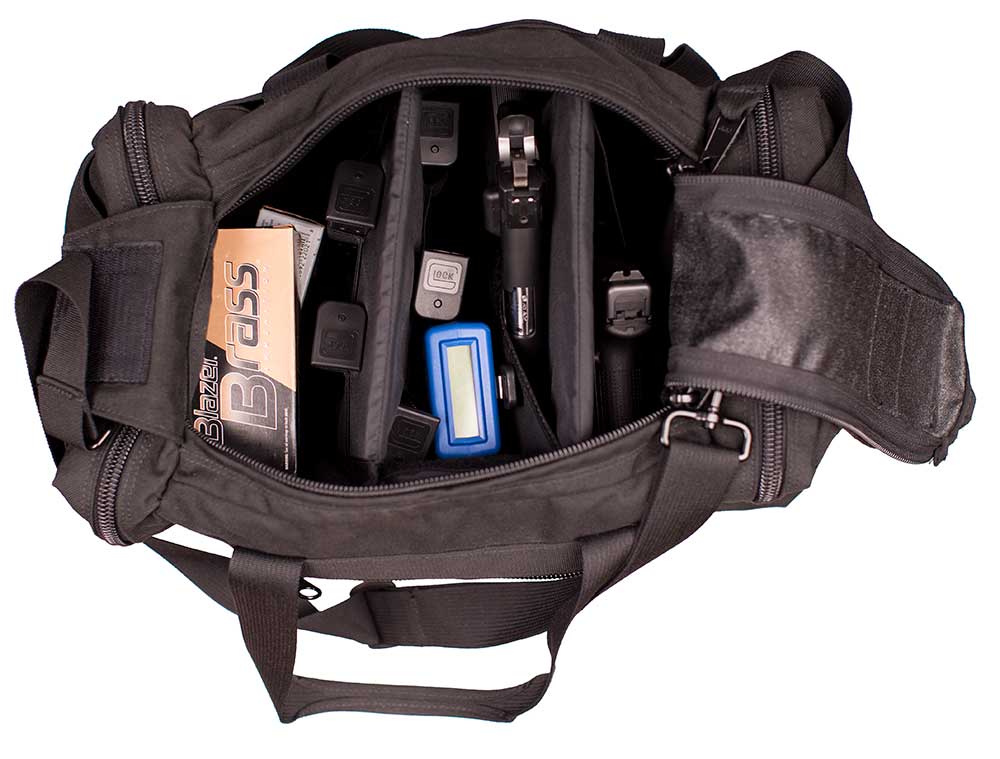 The Lynx Defense Pistol Range Bag is our first and flagship product. This range bag is compact and is extremely well made and is 100% Made in the USA.
The Lynx Defense Pistol Range bag is the perfect fit for your needs and also holds the title of the best women's range bag.
It features 500D Cordura construction and IDEAL brand zippers which are rock solid zippers.
Pistol Range Bag
• Material: 500D Genuine Cordura
• Colors: Black, Gray, Green, Tan
• Country of Origin: USA
Osage River Range Bag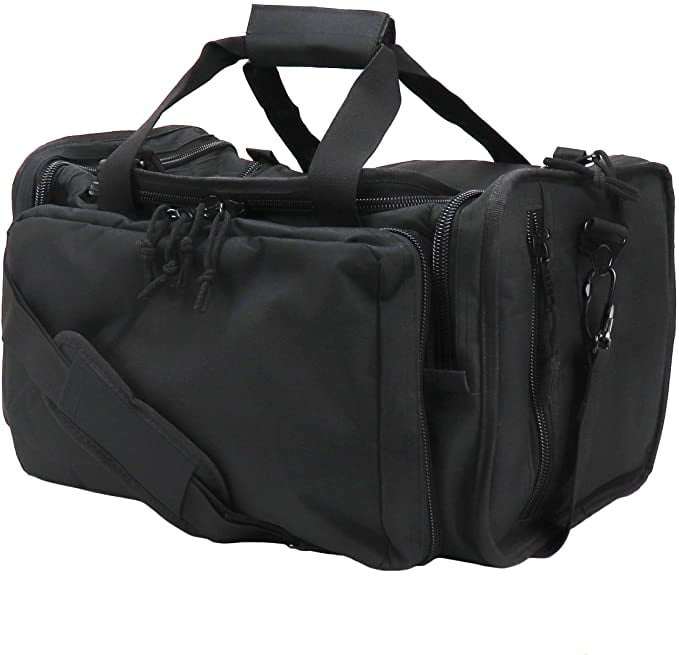 Osage has been around the range bag market for some time now and are probably considered one of the best range bags available.
While the osage river range bag is more of a tactical range bag it fits the bill well and does a really solid job of carrying your range gear and guns to and from the range.
With their extremely affordable price point, they are an attractive option for a shooter on a budget.
Osage River Range Bag
• Material: 600D Ballistic Nylon
• Colors: Black, Gray, Green, Tan
• Country of Origin: Imported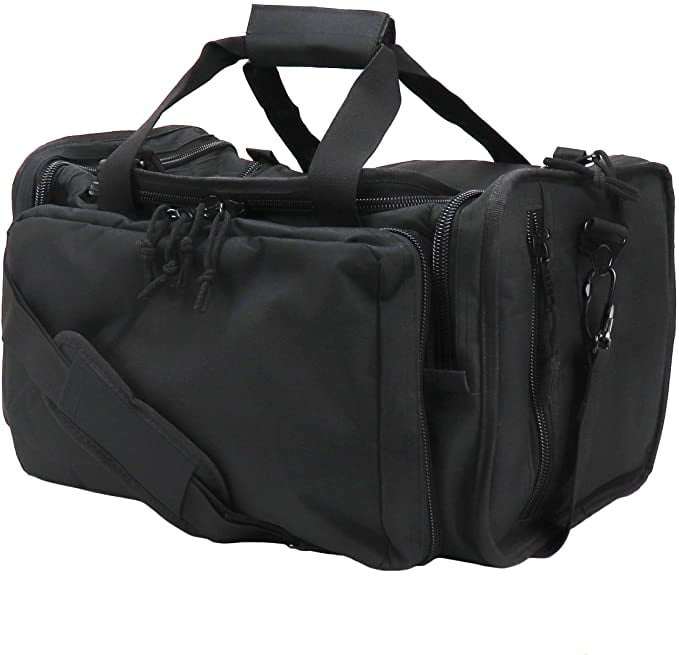 Vertx COF Range Bag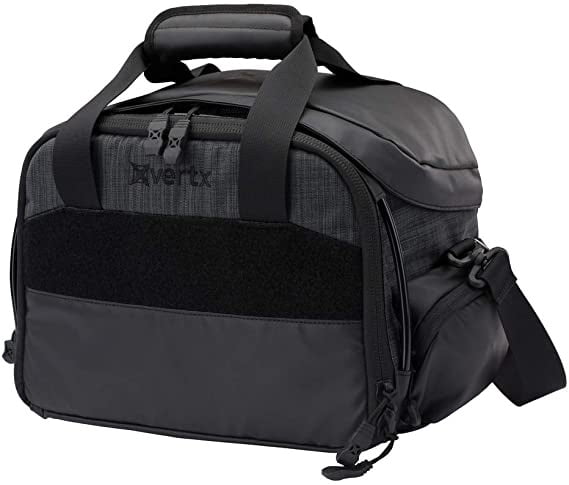 Vertx has been around for a number of years now and has made a splash in the tactical range bag market.
Their bags are extremely well made and command a higher price point than most imported bags.
While it would be nice to see a company like Vertx (that has the backing of Warren Buffett) make their gear in the United States it still is far cheaper to import.
This unique design has pull-out ammo trays as well as fantastic compartment options.
I must say this range bag is truly a work of art.
Vertx COF Range Bag
• Material: Blend
• Colors: Black or Gray
• Country of Origin: Vietnam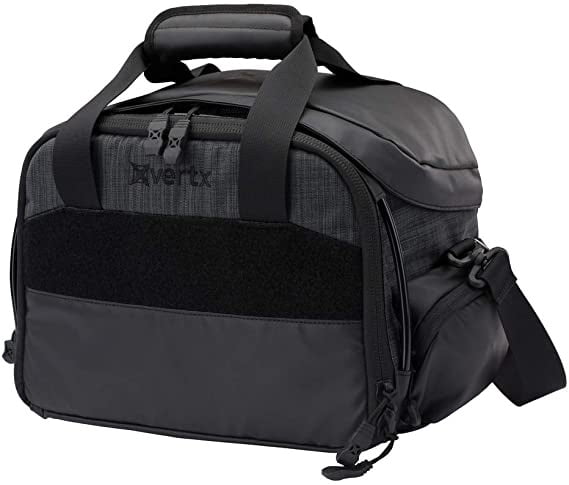 Best Large Range Bag
So you have 5+ guns, ammo, magazines, hearing protection, and your kitchen sink you want to take to the range?
We have you covered!
With our selection of large best range bags, you'll find something that will get you to the range with all your gear in tow.
The Concord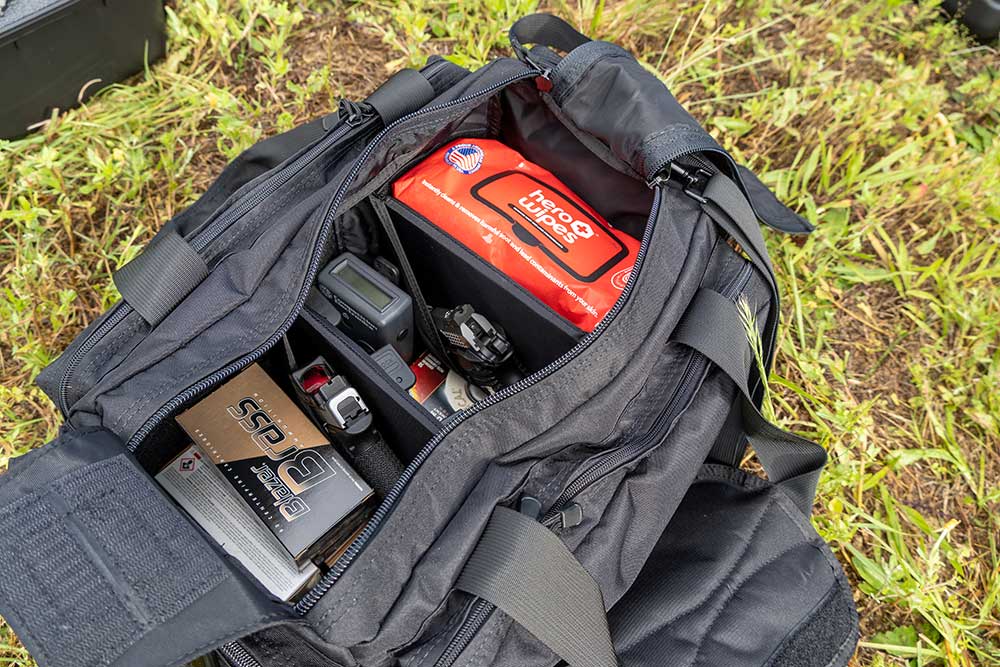 First and foremost the Lynx Defense Concord is a massive range bag that features interchangeable inserts. It has four large exterior pockets and is great for carrying any and all of your gear to the range.
If the Concord won't fit it then you'll likely need to upgrade to an army duffle bag!
The Concord
• Material: 1000D Cordura
• Colors: Black or Gray
• Country of Origin: USA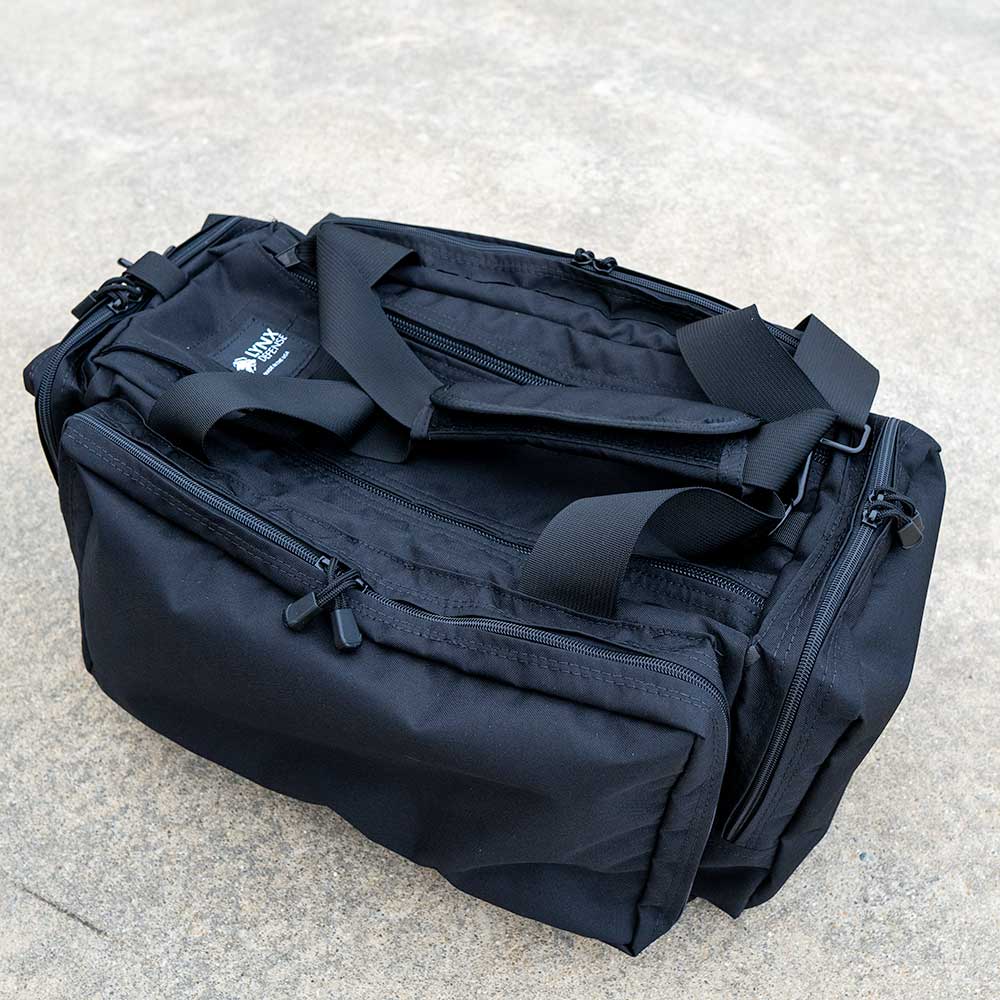 5.11 Tactical Range Master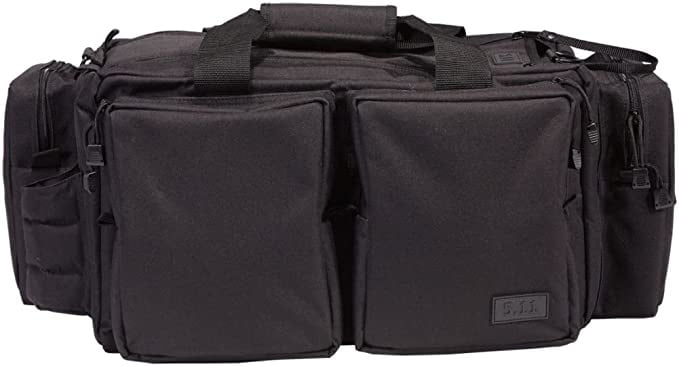 The 5.11 Tactical Range Master is a large bag with a removable interior compartment.
It also comes with a dump pouch where you can store ammo or even hearing protection.
The amount of storage space in the Tactical Range master rivals that of The Concord.
5.11 Range Master Bag
• Material: Polyester
• Colors: Black or Gray
• Country of Origin: Imported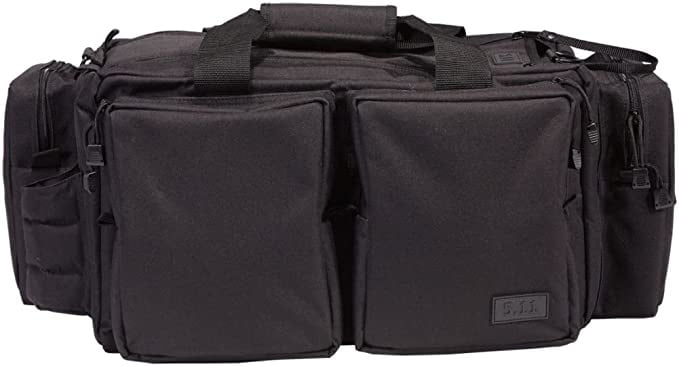 Best Backpack Range Bag
Lynx Defense doesn't make a true backpack style range bag and so for this section, you won't see ours as a suggestion. Rather some of the better ones on the market as of this writing.
Savior Equipment S.E.M.A. Backpack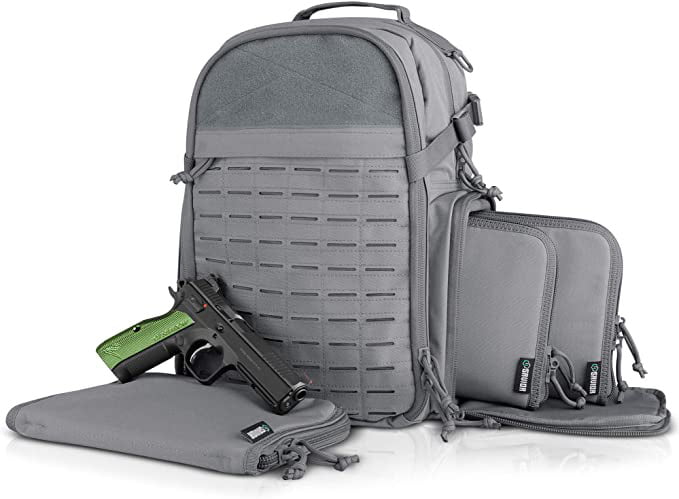 While I still think Lynx Defense makes the best products I have to give credit where credit is due. The SEMA range backpack from Savior Equipment is top-notch.
While we have other recommendations on this list you could stop looking and buy the SEMA range backpack now because it is the best on the list.
The fit and finish of the SEMA backpack are fantastic and the full laser molle front panel makes this bag extremely modular and one of the best range bag backpacks.
Savior Equipment Range Backpack
• Material: 600D PVC
• Colors: Gray, FDE, OD Green
• Country of Origin: Myanmar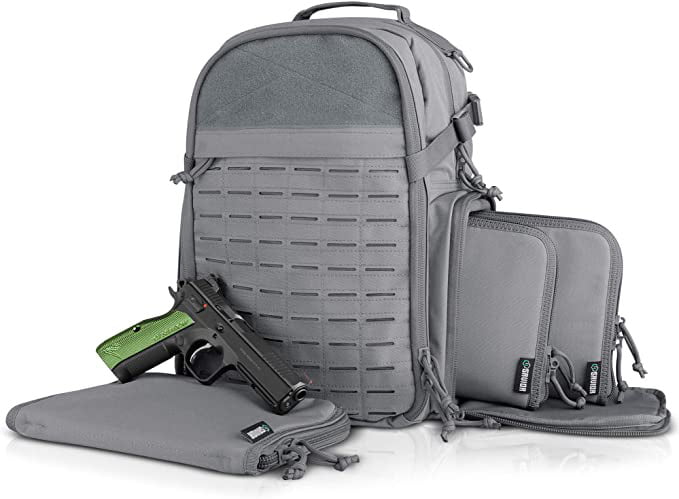 TIDEWE Tactical Range Backpack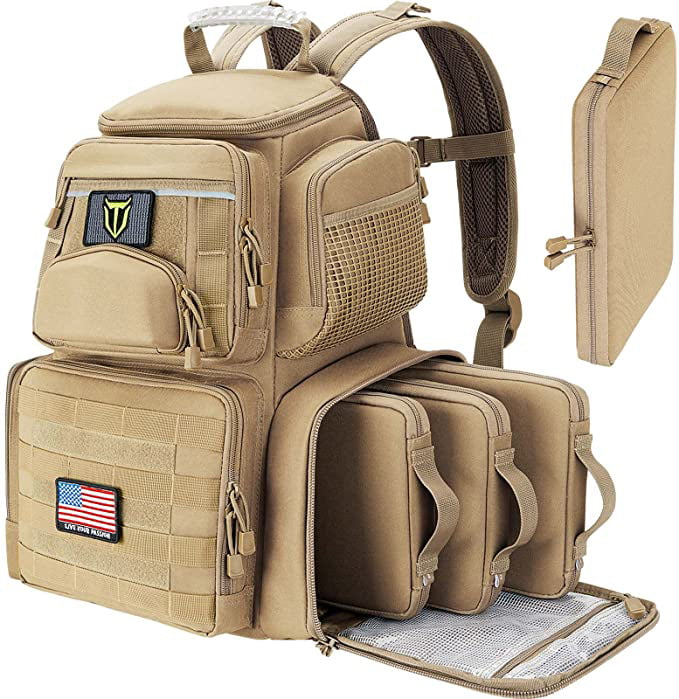 The names on these Amazon brand bags tend to be… interesting to say the least. But that doesn't mean they aren't quality products.
The TIDEWE is another solid range backpack. This bag features a side-loading compartment with individual sleeves for your guns.
The range bag also has a number of molle panels for attachments and 4 exterior pockets.
NiceAndGreat Range Backpack
• Material: Polyester
• Colors: Black or Green
• Country of Origin: China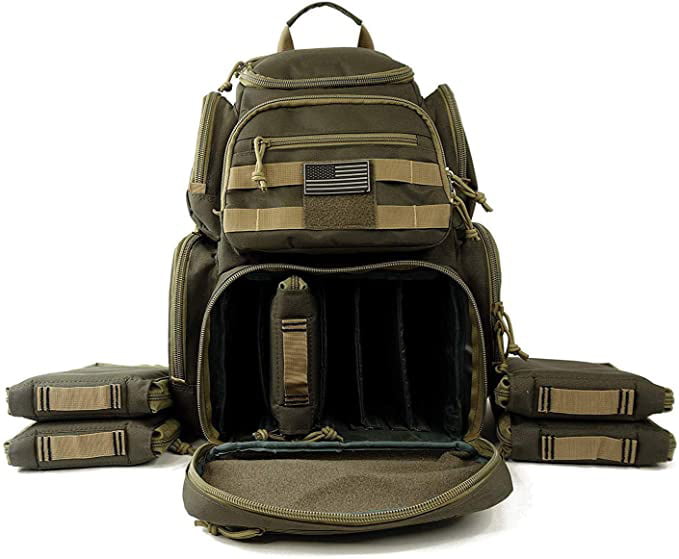 NiceAndGreat Range Backpack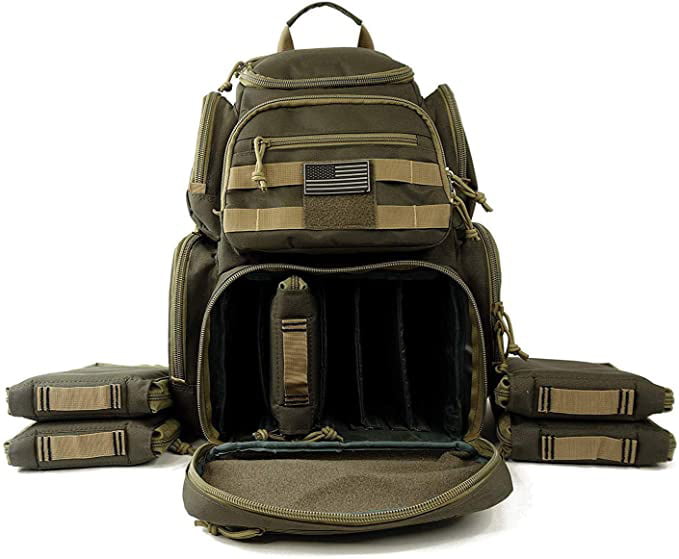 While not a great name the Nice and Great Range Backpack is a really solid design with a ton of positive feedback.
The front compartment allows for individual pistol storage which is an extremely nice feature.
There are four side pockets for magazines and other range needs like cleaning kits.
NiceAndGreat Range Backpack
• Material: Polyester
• Colors: Black or Green
• Country of Origin: China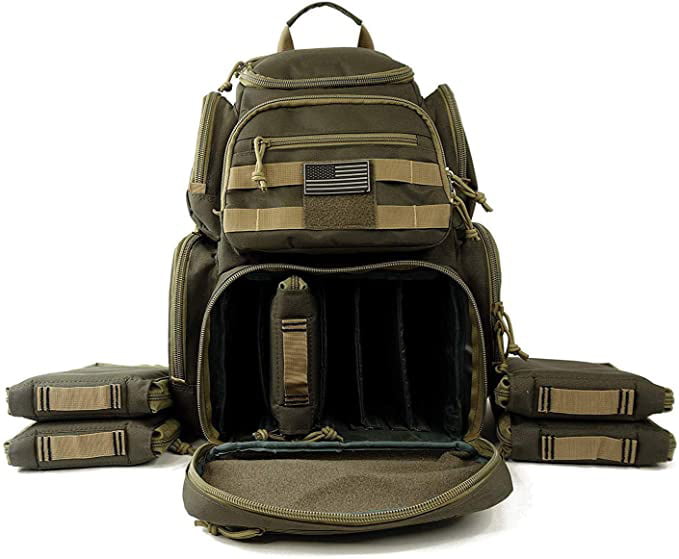 What range bag do I need for the range?
Getting the most out of your range day starts with planning out what to carry to the range. But what range bag fits your needs the best?
Ensuring you have the right bag or case ensures you have all the guns, ammo, hearing protection, and other items you may need.
Once you can determine what you plan to take to the range, selecting a range bag is much easier. When you choose, you'll want to make sure you have the best gun range bag you want to consider your future needs but more on that shortly.
Let's break down the things to consider when selecting your bag.
How many guns?
Most of us have more guns than we typically take to the range each time. You may decide to focus on your shooting skills with just your Glock 19 or only take your EDC gun and as much ammo and as many magazines as you can.
If you want to take one or two guns, our standard pistol range bag is the perfect bag to carry.
The pistol range bag packs a large amount of storage in a small compartment. Many of our customers have reported carrying 500+ rounds of ammo, 10 magazines, and two guns. So don't sleep on the pistol range bag for a lot of storage.
If you are carrying more than three pistols, it's probably time to upgrade to The Concord. Our latest handgun range bag comes in almost 2x the size of the pistol range bag.
This bad boy can hold a sizeable gun collection to haul to the range. Pack the Concord if you want to take the maximum number of handguns, magazines, and ammo.
What kind and how much range gear?
Knowing the kind of gear you will take to the range sounds like a no-brainer. But it's not that simple. We put together a list of the top 3 things to consider when buying a range bag.
Not everyone relies on the same gear setup, but that goes without saying. Many people enjoy the sweet, sweet sounds of a silencer. Others may want to bring their .50 Desert Eagle along for the ride.
Range days are not the same for everyone. But identify your range gear and make your decision based on the best gun range bag for you on the gear you plan to take.
I personally take 2-3 pairs of over-the-head hearing protection because someone always forgets theirs, so it's best to have extra.
Holsters can also take up a good bit of room. If you plan to carry multiple pistols, make sure you take your concealed carry holster for each gun to train as you carry.
Women may have a whole different set of needs for their range gear. Lynx Defense Pistol Range bag is still the best range bag for women, here's why!
Type of Shooting Range
You would think the type of range you planned to go to wouldn't matter much when it came to your bag. But, it does, and if it's your first time going to the range be sure to take a look at our Beginner's Guide to Shooting Ranges.
Let's dive into the topic of picking the best shooting range bag depending on the type of range, a bit more.
Outdoor Range
Planning to go to an outdoor range? Then you'll want to make sure your range bag provides adequate protection for your handguns and gear.
The roll-out mat on the pistol range bag is the perfect range mat to set all your gear on so it's easy to grab and locate. It also keeps your guns and gear off of dirty surfaces.
I don't think I expect your gun to be clean or a safe queen, but if you can keep it dirt-free, you can ensure you won't have any issues shooting!
Indoor Range
If you are going to an indoor range, it may be more important to have a compact, simple setup rather than a large rolled-out mat and multiple bags.
The pistol range bag provides a small enough footprint and ample storage to make your indoor range trip easier and more organized.
So what is the Best Range Bag?
Hopefully, this article helps you identify what size gun range bag will best work for you. It's important to consider how many guns you plan to take, what type of range you are going to, and how much gear you plan to take.
If you have any comments, questions, or concerns, please comment below. We are always looking for valuable input from our readers and customers!
3 Considerations for the Best Range Bag
Typically, many people do not put a lot of thought into picking a gun case and even ask do I need a handgun case? They often think and say, any old bag will do — which is somewhat true.
However, for those who like to look at all of our options and consider the possibilities, we have come up with three things to consider.
These three things are arguably the most important when considering what pistol bag to purchase:
1. Miscellaneous Items
What do you carry? What do you use at the range? This will vary from person to person, but here are a few items to consider when purchasing a handgun case.
Staplers
Markers/Pens
Eye Protection
Hearing Protection
Range Passes
All of these items play a part in picking the best pistol bag for you. After using our pistol range bag for a long period of time, I've noticed that these particular items tend to take up more room than I originally realized.
2. Gun(s)
It sounds silly, but it matters what gun(s) you plan to carry in your handgun case. If you're shooting a full-size 1911, it will take up a more considerable amount of room in your gun bag than a compact Glock.
So you may want to consider purchasing or taking a large pistol bag with you to accommodate the larger gun and additional gear.
Also, the number of magazines you plan to carry to the range is considered. The more magazines you plan to carry, the more room you will need. If you are like me and don't mind just throwing your magazines in a pocket, this isn't as big of a deal.
But if you are like my pal, Ron, and must be organized, you'll need to use the magazine holders and consider that when purchasing your range bag.
3. Ammo
Pretty obvious, but you wouldn't believe how many people forget how much space a box of ammo takes up. If you're running multiple handgun calibers, then the amount of ammo you will be carrying will increase.
I have often used an entire bag to carry just my ammo to the range, so consider how much ammo you typically carry to the range and how many calibers.
How you plan to carry your ammo may determine what range bag you need to purchase. Without ammo, the range is going to be a very dull place.
Where is my range bag made?
As a business, we are devoted to boosting the U.S. economy and manufacturing 100% U.S.-made gun bags. Unfortunately, many bag manufacturers do not share the same ideals. We often see bag manufacturers outsourcing their manufacturing to foreign countries due to lower manufacturing costs.
U.S. Made vs Foreign Made
We have almost perfected the ability to recognize foreign-made bags based on the design alone. Oftentimes foreign bags are made with features that do not make any sense and are built with style, not user efficiency, in mind.
We would like to explain our litmus test on how to identify a foreign-made bag, especially if the 'Made in China' sticker has been conveniently removed. This way, if buying and supporting American companies is important to you, you will know how to identify non-American-made bags.
Features
One of the telltale signs we see with foreign-made bags is unexplained features that are not usable or do not make sense.
One of the best examples of this was on a Chinese-made rifle bag I once had.
This bag has two pockets on the front, one on each side of the center pocket, that you could not fit your hand in.
You could barely put a magazine in the pocket, but you would have to get a small child to reach in and get it out because it was so small your hand would not fit in it.
I actually still have this Chinese-made bag so that I can show people the difference between our bags and their foreign counterparts.
The next offender, and it's my biggest pet peeve, is unnecessary molle attachments. We've all seen it.
Molle attachments on the bottom, sides, front, and back. You know, just in case you need to mount your IFAK kit on the back of your backpack so that it's jabbing in your back.
After all, options are key, am I right?!
This is a pet peeve for me because aside from increasing the fabric cost, molle attachments are pure labor.
This does not mean anything to companies paying their workers pennies an hour, but for American companies paying at least minimum wage, it adds a lot of costs and unnecessary labor.
Price
Whoa. Too rich for my blood. Expensive. The main words we hear once people look at our products, fall in love, then go for the purchase. For the same reasons mentioned above, American made bags are going to cost more.
Everyone asks why it cost so much more for American companies to make textile goods and that's largely due to labor costs.
American companies pay employees at least minimum wage (as of this writing is $7.25 an hour) whereas the average hourly wage in China is $0.5 to $3. As you can see that makes a huge difference if a single bag takes just one or even several hours to make.
Chinese Manufactured Cost Breakdown
Bag Cost – $9-19 per bag
Shipping – $20-25 per bag
Total – $29-44
Quality vs Quantity
Lastly the most obvious of offenders with foreign-made bags is quality. Weak zippers, strange coating on the fabric, and bad thread management are all examples of how low quality affects the usability of the bag. These offenses are pretty easy to spot and if you notice any, run for the hills! I often explain to people that you can buy our bag that will last you a lifetime or buy numerous Chinese bags that will last you maybe a couple of visits to the range.
If you are interested in purchasing high-quality American-made rifle bags or pistol bags check out our selection.
The Ins and Outs of Choosing your Pistol Range Bag
Of the huge number of different accessories available for your handgun, pistol range bags are an essential one, and, for some reason, they are often overlooked.
There is a world of difference between the good and the bad ones, and it's worth doing your research properly, so you pick the right one for your unique circumstances.
This is especially true for new shooters who are shopping for shooting gear for the first time. It can feel intimidating at first trying to figure out exactly what you need to bring to the range – but much of this anxiety can be quelled by making sure you've got the right range bag to start with. Range bags keep everything organized and in its place – letting you focus solely on the job at hand.
When you inevitably find yourself hauling your gear back and forth from the range, you'll regret it if you didn't pick the right bag to do it with. Trust us on this one.
So let us run through some of the key considerations you should consider when considering your purchase of a pistol range bag.
Pockets and Compartments
If you've got multiple handguns that you're taking to the range, it's worth investing in a bag with plenty of pockets so that you can keep everything organized and easy to access. It makes the whole process seamless and means that you'll never find yourself leaving gear at home.
But even if you've only got one handgun, being able to separate ammunition and your other accessories will make everything easier. In our opinion, the more pockets, the better organized your range day will be!
Like ours, many range bags are also designed to have several customizable compartments that can be adjusted according to your needs. These are often adjustable dividers that allow you to break up the internal space in an infinite number of ways. It's worth doing a thorough assessment of your storage needs before looking at bags so that you know exactly what sort of space you are looking for.
Spend some time going through all your gear and identifying what your ideal load-out consists of, then tailor your search accordingly. Find the configuration that works for you! We offer a large range bag and a smaller range bag, making sure you get the one that fits your needs.
Durability
You get what you pay for.
Everyone knows that saying. The material from which your bag is made is an important thing to consider because you want it to be durable and protective for the bag's life (which, if you buy one of our range bags, is a very long time).
Skimping on quality could come back to bite you, especially if you're lugging the bag around in less-than-ideal environments.
If you want the best range bag it would be best to look for a rugged-built bag that doesn't mind being tossed around. You also want to be sure that it's well-made in key stress points, which are likely to wear more easily, which all of our pistol bags are.
Padding is also vital. You've spent a lot of money on your gear, and you want to make sure they've got a comfortable home that can withstand the bumps and range trips that occur while you're moving about. So, look for bags with generous amounts of padding to hold your handguns, ammunition, and any other range gear tightly and securely without bouncing around.
The last point here is to get something that is water-resistant if at all possible. Cordura typically does a good job of being water-resistant but is not "waterproof." You never quite know what conditions you'll be hauling your gear through, so getting something water-resistant gives you an extra insurance policy for your pistols and gear against the unknown.
Make sure your range bag is Made in the USA. American-made goods are often high quality with better quality checks.
Handle and Zippers
It seems obvious that the handle will get a lot of use, but for some reason – there are a lot of range bags that have poorly constructed or assembled handles that don't last that long, not ours.
You want to make sure that your handle is padded appropriately and that it's stitched to the bag in a way that won't tear the first time you put some stress on it. For larger bags, you might even consider a shoulder strap – that will take the pressure off the bag itself and, let's be honest, your back as well.
When it comes to zippers, you want to make sure they are well made. We use ideal zippers, which are metal with a plastic zipper chain. We've all been in that position where the zipper breaks a couple of days in and completely taints the whole buying experience.
They are one of the most common failure points in range bag purchases, so always opt for high-quality zippers that do the job time and time again. Don't compromise and settle for low-quality zippers.
Security
Firearms are always a target for thieves, so you want to ensure that you are doing all that you can to secure your gear while you're not directly using it.
Consider getting a bag that can be locked up using a traditional zipper lock, combination lock, or even more sophisticated mounts that can be attached to your vehicle.
It's something simple that will give you that extra peace of mind knowing that your firearms won't fall into the wrong hands.
Budget
Of course, a lot of your choices will be constrained by what you're willing to spend. As with most things, you get what you pay for, and if you consider this a longer-term investment, then spend some more money to get a higher quality bag – you'll probably be better off in the long run. It's worth the couple extra dollars to extend your price range to get the type of bag we offer.
You'll find that there's a huge spectrum here from very cheap to expensive, and ultimately, you'll need to make a call based on how much you're going to be using your bag and how important some of the factors above are to you. Don't just buy the first thing you see – do your research.
So, these are the main factors to consider when purchasing your very own pistol range bag. By heeding the recommendations above, you'll learn from many others' mistakes without having to live them yourself.
A good range bag is seriously underrated and will be a significant contributor to your entire range experience. Spend your money wisely by knowing exactly what you're looking for, and you'll be glad you did.
At Lynx Defense, we don't just sell range bags. We sell the best American-made pistol bags around because we believe in quality over making a quick buck.
Here are four reasons why we think our pistol bags are better than anything else you can find on the market today.
Better Than One-Size-Fits-All
Pistol bags can be designed to do a lot of things. But can it do a lot of things well?
That's why we went all-in on creating a pistol range bag that you can set up the way you want without wasting space or money on extras you don't need.
You can configure the Lynx Defense pistol bags configured exactly how you like them with the modular bag system.
It comes standard with two inserts that feature a gun holder on one side and magazine holders on the other that you can position anywhere inside your bag for secure transport of your firearms.
To give the bag its sturdy feel the inserts are made of corrugated plastic.
Additional accessories, like ammo pouches and double gun holders, are available to help you create the bag that will best serve you.
Pistol Bag Built To Last
Delivering high-quality products is a driving force behind everything we do at Lynx Defense.
That's why we spent time researching and testing our products so we could sell you bags constructed from the highest quality materials made in America, including the durable Cordura fabric that makes up our pistol range bags.
Cordura fabric ensures water resistance and anti-tear technology while providing built-in strength to withstand whatever you throw at it.
Our standard fabric is 500D Cordura to deliver a cost-effective bag to our customers. Still, we often do bulk runs of bags made of 1000D Cordura for military and law enforcement agencies.
If you want a beefed-up 1000D Cordura bag, drop us a line, and we can set one aside for you in our next run.
Invest Once, Use for a Lifetime
If you, our customer, aren't satisfied, we aren't either.
That's why we back every Lynx Defense pistol range bag with a 30-day money-back guarantee and a limited lifetime manufacturer warranty. If your product fails due to a manufacturing defect, we will repair it without charge or replace it.
Our warranty does not cover damage caused by accident, improper care, or negligence. We do offer competitive rates for range bag repair work.
Pistol Bag Made in the USA
We're dedicated to bringing you high-quality gun bags — and boosting the U.S. economy — by manufacturing American-made gear.
Each of our bags is hand-sewn in Selma, North Carolina.
You get an expertly crafted bag designed by a team that uses these products day in and day out.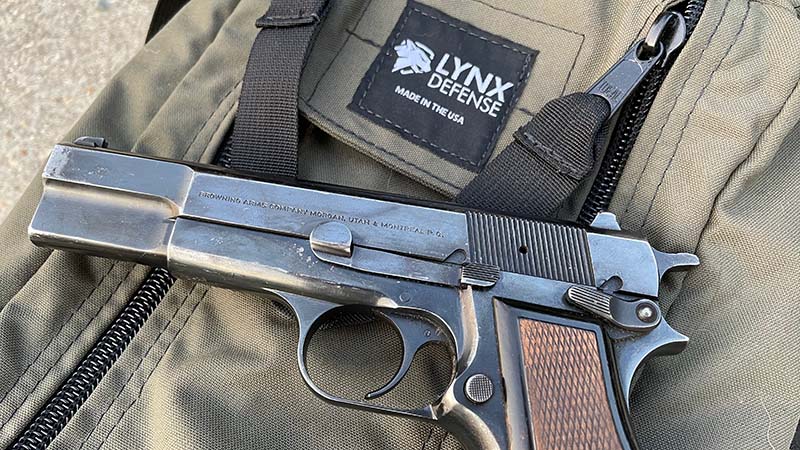 Go ahead and compare us to the other guys. We'll see you when you get back.
Creating the best shooting bag is part art and part science, especially when constructing them by hand in the USA. Regardless of the type of bag, we begin with the same question for each and every range bag we create — how do we create a durable, lasting product our customers will reach for over and over again?
Every part of a Lynx Defense shooting bag is filtered through this question — from the fabric used to protect your gear to the threads that hold it together. Today, we're going to run you through the anatomy of creating our range bags.
This process is an ongoing assessment and is never meant to be static or fixed. Things change, and so should your gear manufacturers.
Let's get started.
Best Shooting Bag Overview
Shooting bags are sometimes an afterthought when purchasing your first handgun. But shooting and being proficient with your new purchase is vital to using and carrying it.
So you need to have the range, take some classes, and become extremely comfortable with your new firearm. If you've never been to a shooting range read over our beginner's guide to shooting ranges.
Shooting ranges are a blast! But only if you have all the things you need while you are there. Nothing will put the breaks on a great range day more than forgetting something you absolutely need!
Shooting Bag Interior
Beginning with the interior is a no-brainer, here's why. The first thing you need to consider when creating the best shooting bag for your gear is what the bag is actually supposed to do.
The pistol range bag is rather self-defined in that it will hold pistols and it's meant to carry them to-and-from the shooting range.
Once you have explicitly stated the purpose of the bag it's time to design it. This is what we took into consideration when designing our pistol range bag.
Pistol Retention
The most important item you'll put in your range bag is your pistol. It's also typically the most expensive item in it. Therefore it should be the centerpiece and it's vital to consider the safety of your firearm.
Whether you're transporting your safe queen pistol or your everyday carry (EDC) pistol with the finish worn off, you don't want it banging around the rest of your gear in your range bag.
We created inserts that make the pistol the centerpiece. It keeps the pistol upright and easy to access once you get to the range.
Safety is another important consideration since some people like to keep their pistols loaded no matter what the situation. Protecting the trigger from being snagged and pulled is of the utmost importance. Guns don't fire themselves (unless it's a Remington 700 *facepalm*).
Space
Having enough room for your essentials is non-negotiable for your range trip. You are setting out on a mission to either train, have some fun shooting, or both. You want to be able to carry all the ammo you need, hearing protection, cleaning supplies, gloves, or batteries so you don't have to make multiple trips to your car.
We kept this in mind with our shooting range bag. We made sure the dimensions of the bag were small enough to be convenient to carry but large enough to hold all of your gear.
Since the gun inserts hold the pistols upright in the bag, the rest of the bag can be put to use to store ammo boxes, extra magazines, and whatever gear you want to carry with you.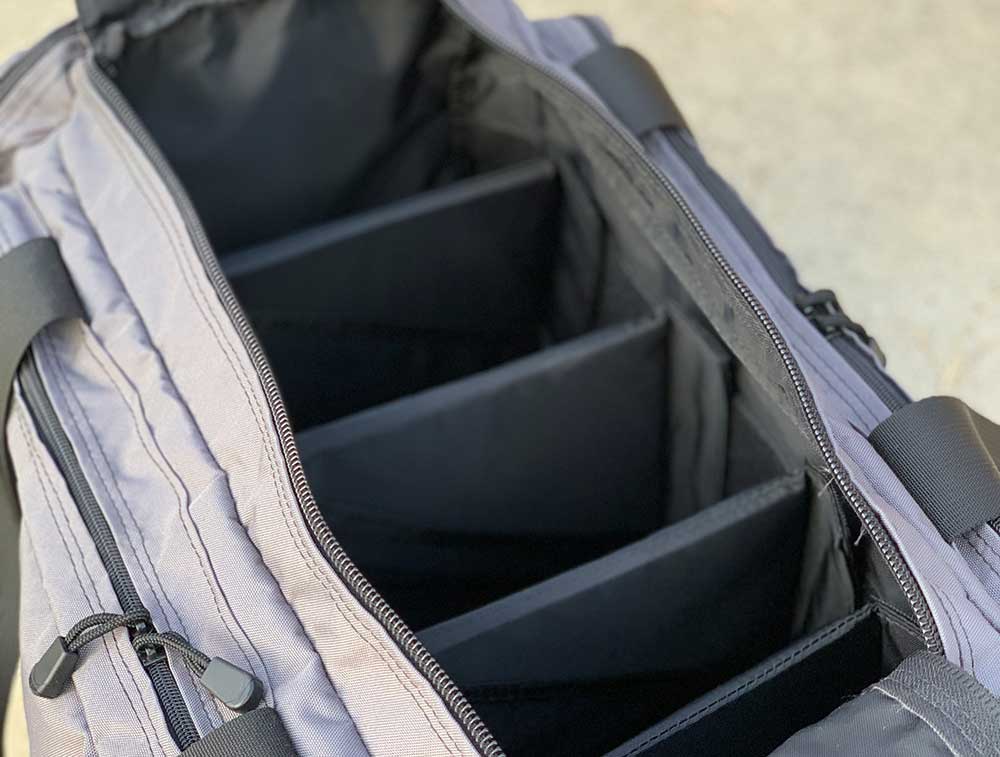 Customization
Customization and modularity aren't just talking points to us. Your range bag setup should be controlled by you and we believe that to our core. At the same time, our bags need to be somewhat of a one size fits all solution.
So we did that, starting with the shell of the bag, which has mass appeal. We wanted you to adjust the interior to fit how you needed it and wanted to carry it to the range.
So we set out and made the inside of the bag modular. And we are constantly designing new inserts to make our bag more effective and better suited to your individual needs.
Hard Bottom
This is a feature of our bag that is often overlooked and for good reason. We offer the option to remove the hardbottom instead of sewing it into the bag base.
This hard bottom acts as a barrier for the gear in the bag and the surface where you place the bag.
We have rarely found a good reason to take the hard bottom out, but as you've read, we leave the power of choice in the customer's hands.
Shooting Bag Exterior
While a lot of people think the exterior is designed first, that generally isn't the case for Lynx Defense.
However, the exterior of the shooting range bag isn't an afterthought either! We put a lot of work and thought into how our bags look.
With our range bags, we don't want to be overly tactical but we don't want them to draw unwanted attention either.
Straps
Let's start with the strap and work our way down. Our strap was built with structural integrity in mind.
We overbuilt the shoulder strap by using 2″ webbing and attaching it to D-rings that are sewn directly into the seam of the bag.
All of our seams are double stitched, which adds strength and durability to the design.
We wanted to ensure that you can trust the strap to hold the weight of whatever you put in the bag.
At publishing, we have not had a single strap failure.
We are incredibly proud of that record and want to continue it, so extensive quality checks and product testing are included in each part of the production process.
Carrying Handle
The carrying handle is an afterthought for most bag manufacturers, but we knew that a large percentage of our customers may only ever carry their pistol bag by the carrying handle. I never shoulder carry my pistol bag unless I have my hands full, and likely, you do the same.
That's why we added all of the padding. We wanted to make carrying a heavy pistol range bag easy on your hands. After all, save the wear and tear and callus creation on your hands for your pistol!
The padded carrying handle is sewn into the webbing, and the webbing is pinched and sewn to make it easy to grab for even the smallest of hands.
Exterior Pockets
The ever-needed exterior pocket is the quintessential feature of any bag, especially a quality range bag.
Our exterior pockets, while not double-lined like the main compartment, provide ample storage as they run from top to bottom and edge to edge of the bag.
The exterior pockets aren't meant to provide the same level of organization the main compartment does because it serves the very important role of the "catch-all" pocket.
Cleaning Mat
The detachable cleaning mat is our most controversial feature. You either love the cleaning mat or you hate it.
If you read our reviews, we have customers who think the cleaning mat is the best thing since sliced bread. But on the flip side, you have the customers who think it's wasted space since it does take up some room on the side of the pistol range bag.
Since we believe in customization, we have given our customers the power to remove the gun mat if they want to save space or keep it and use it at the range to place their guns and gear on. Either way, you win.
So there you have it. That's everything we're currently taking into consideration to make the best shooting bag as we build and improve our original pistol range bag and the multiple pistol range bag.
Now it's time to get the best range bag!
I hope we've made selecting the right range bag or rifle case for you a little easier. This isn't an exhaustive list and we will continue to update this list as we get more feedback from our customers and readers.
But for starters, try considering the above three items the next time you are in the market for a handgun case. If you need to learn more about handgun bags and cases, read our guide.
If you have a product recommendation or have a question we didn't cover, shoot us a line at [email protected]
We always welcome your feedback.