Best Holster for Concealed Carry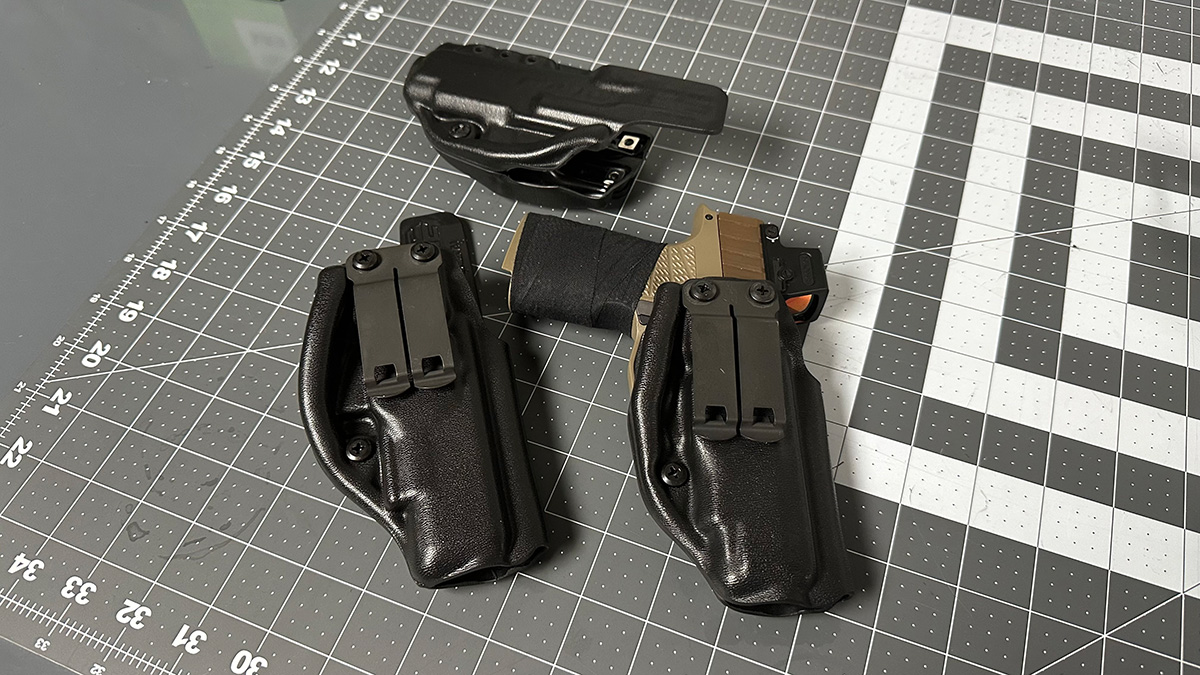 The world of concealed carry is a vast and expansive one. There are so many decisions to be made it can become quite overwhelming if you are just starting out and don't know where to start looking for the best holster for concealed carry.
If you aren't careful, you will likely spend hundreds of dollars on several less-than-ideal choices regarding holsters. Those less-than-informed decisions all wind up finding a way to an old cardboard box in the garage or attic or maybe even in the bottom of a drawer to never see use and collect dust.
In this post, we hope to help you become more informed about some brands that you may or may not have heard of in the past.
Kydex Inside The Waistband
Inside the waistband or IWB holsters has become quite possibly the most popular way to conceal carry.
Inside-the-waistband carry has several advantages when compared to outside the waistband or OWB carry. Inside the waistband allows for the subject to keep the firearm closer to their body, and therefore have more control over the firearm.
IWB also allows for deeper concealment. This has obvious advantages for someone who doesn't want to draw attention that they are in fact packing heat. Keeping the firearm close to the body allows for greater control. In the event that someone does notice you have a gun on you, the more layers they have to get through the harder it's going to be.
Harry's Holsters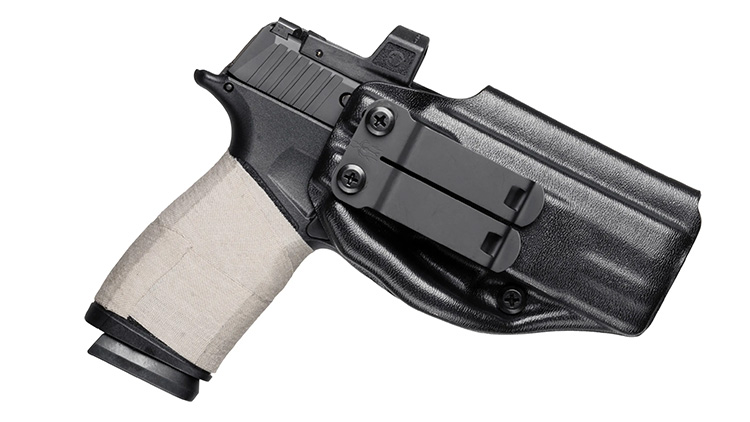 Our friends at Harry's Holsters offer only top of the line options for in the waistband concealed carry. It is one of my go-to holsters for the Glock 19 and Glock 43.
One of the most popular holsters sold at Harry's is the Infiltrator.
The infiltrator is a really good option for deep concealment of a firearm and can be used with or without a belt.
Another feature of the Infiltrator is the holster is molded with curves and does not have any sharp edges or lines. This helps the holster blend into whatever garments you may have over top.
Harry's Holsters uses advanced modeling techniques to bring to you the most comfortable, most modern designs possible paired with the best materials.
No matter your body shape, the Infiltrator will always blend right in.
Another top option at Harry's is the Dirk. The design of the Dirk is for smaller semi-auto handguns and it truly takes concealability to the max.
Some other holster manufacturers have a one size fits all approach when it comes to design and that is just not the case at Harry's Holsters.
There's no reason to pack around extra material if it isn't needed. A small gun deserves a small holster to maximize comfort and convenience.
One of my personal favorite selections at Harry's Holsters is the new Icon 2.0.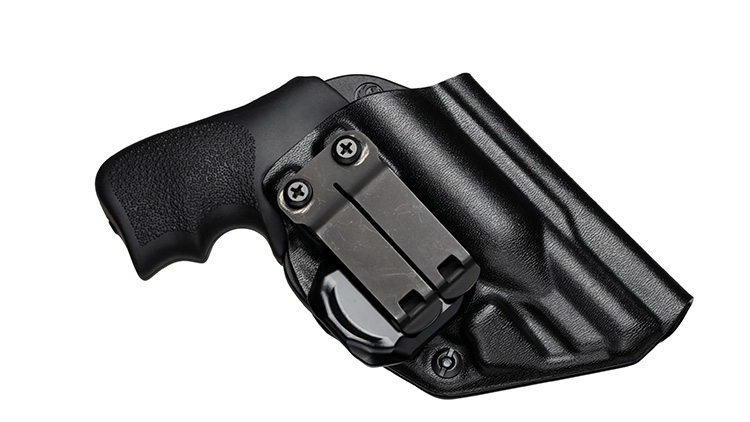 Wheel guns are a classic statement and having a modern way to carry your wheel gun is pretty cool. Enter the Icon 2.0. This deep concealment option also uses the same design cues from the other options at Harry's to include adjustability and rounded corners to assist in comfort.
What was once old is new again, which rings true in the firearms world.
You could even tuck the Icon 2.0 into a boot and make your revolver a nifty bootgun.
You'd be hard-pressed to find another option as good as the Icon 2.0 for your steel wheel gun.
Vedder Holsters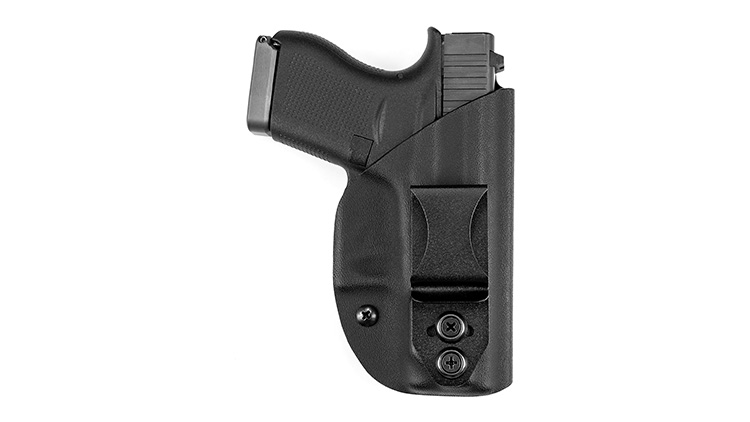 Vedder holsters have been around since 2012. They are based out of Florida.
Vedder has cornered a solid market share with their no-nonsense simple holsters such as the Vedder Lighttuck.
The Lighttuck uses a simple Kydex design and pairs it with a spring steel clip for solid retention.
Vedder has recently expanded their IWB holster selections to include the Protuck and Side Tuck holsters.
The Protuck uses two spring steel clips to fasten the holster more securely to your belt, one at each end of the holster.
The Side Tuck integrates a magazine holder into the holster design and attaches a clip on both the magazine and pistol holster. The two are attached in the middle by a piece of rubber that allows for the holster combo to conform to the shape of the body.
We The People IWB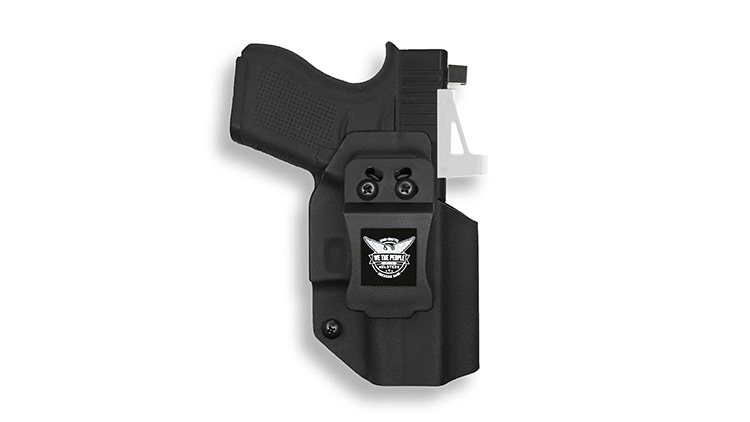 The folks at We The People Holsters make American made holsters designed for daily carry.
They have holsters for just about every popular carry option and even some for more obscure choices.
They have 29 different main selections for their popular IWB holsters that you can then further customize with weapon-mounted light selections and or red dot choices.
The prices that We The People Holsters sell for are an attractive price point for folks who may have several concealed carry guns that they like to rotate through instead of sinking more money into one holster/pistol combo.
We The People Holsters keep materials and designs simple, which in turn helps to keep the cost of the product overall lower.
We The People Holsters have also recently released their Freedom Holster Platform. This new approach offers more than 2,500 carry options in one holster.
This requires the user to purchase different pieces and attachments to customize the holster to their liking.
Rounded Gear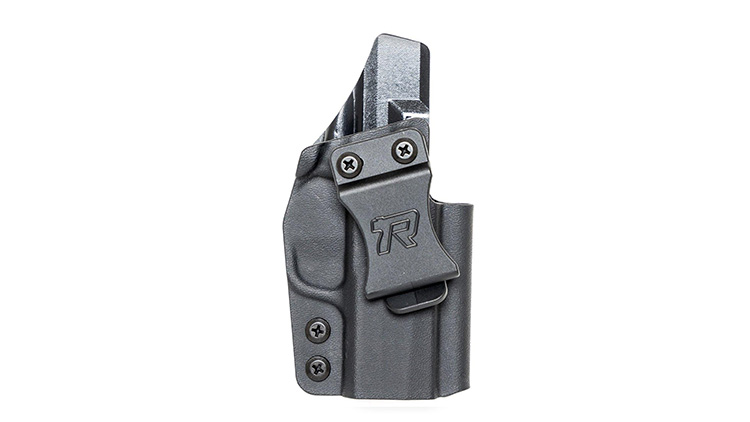 Rounded Gear is probably not on the top of your radar when someone mentions holsters.
Although they are not super popular yet, Rounded Gear has a lot to bring to the table when it comes to holster options.
Rounded Gear's classic IWB Kydex holster looks somewhat familiar when stacked next to some of their closest competitors, but then again, there are only so many ways to fold a piece of Kydex.
Fortunately this only applies to their most basic design.
One step up is their tuckable Kydex IWB. These holsters incorporate a tuckable clip that allows for a shirt to be tucked in between the top part of the clip and the body of the holster.
This design feature allows for the wearer to be able to dress up a little by tucking in their shirt to the pants without having to worry about their shirt bunching up at the top of the holster.
Next in Rounded Gear's line up is the Druid Holster. The Druid is customizable to be an in the waistband or outside the waistband holster.
This party trick is very useful if you have one gun and don't want a bunch of different holsters to change the style of carry.
WIth a few turns of a screwdriver you can swap the essential pieces out to have this Druid shapeshift into a OWB holster.
Rounded Gear also offers select light bearing holsters in a unique way.
Rounded Gear has made holsters that just cover the trigger guard and light attached to your pistol.
This is certainly a minimalist design and is definitely unique.
Leather/Hybrid Inside The Waistband
One of my very first holsters was a leather-backed Kydex shell from a company named Comp-Tac.
I want to take credit and say that purchase was well informed as it was an awesome holster that offered huge versatility at the time by allowing the user to swap the Kydex shells out so different firearms could be used, but in actuality I just happened to get really lucky.
For people who like comfort it's hard to beat a leather backed holster.
Obviously a piece of supple cowhide is more comfortable that hard Kydex or plastic.
If you are going to be caring for a long period of time this holster design also has huge benefits to that of a simple Kydex holster.
Although there are several advantages to this design, there are also some drawbacks, chief of which in my mind being leather can become saturated with sweat.
Alien Gear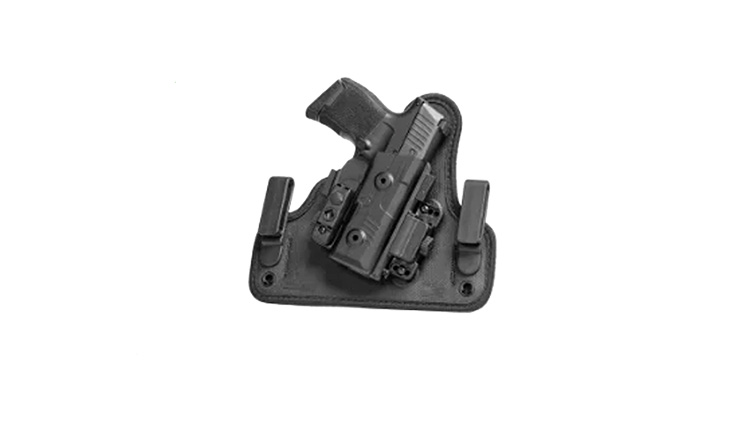 The folks at Alien Gear helped to bring to the forefront the leather/kydex hybrid holster.
Alien Gear Holsters are known for some out of this world designs. The quality of their finished products are hard to beat.
All the materials that are used by Alien Gear are top notch and scream quality.
One of the holsters that stand out at Alien Gear is the Shape Shift 4.0.
Just like the name suggests, the Shape Shift 4.0 can literally shapeshift from a IWB rig into an appendix carry set up and even to a OWB holster with just a few moments of time.
Unlike some of the other selections in this category, the Shape Shift 4.0 is made of a blend of synthetic materials that don't require a break in period like leather does.
The Shape Shift 4.0 also has a steel insert that helps retain the shape of the holster and aids in retention of the shell to the backer.
Another out of this world option from the folks at Alien Gear is the Cloak Tuck 3.5.
The Cloak Tuck 3.5 shares a lot of design cues with the Shape Shift 4.0 but is not as versatile in the fact that it can not shape shift.
For some people, less is more and it would be hard to argue against either of these extraterrestrial options.
CrossBreed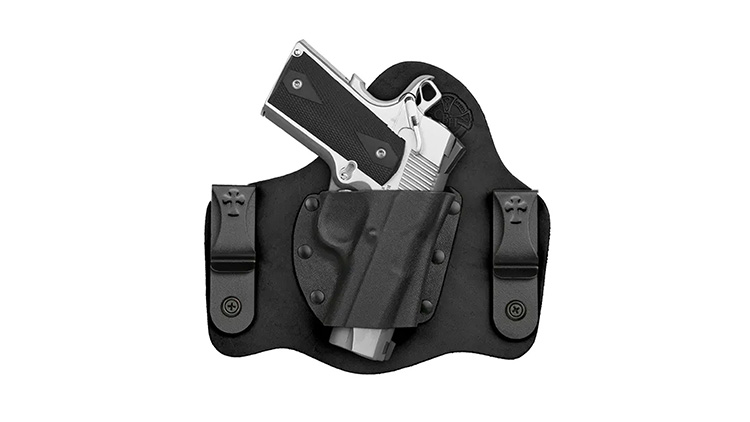 If you've been around for a while, you've probably heard of CrossBreed Holsters.
CrossBreed Holsters have made no-nonsense simple holsters for over a decade.
Don't mistake simple design for lack of quality. The SuperTuck by CrossBreed stands out in this category.
As stated before, the SuperTuck is a simple, no fuss holster that incorporates a leather back and a Kydex shell. The SuperTuck can be outfitted to accommodate pistol mounted lights and red dots.
The Reckoning is a newer holster option featured by CrossBreed.
The Reckoning cuts the extra material found on the SuperTuck and moves the clips in to be right next to the gun on the holster.
This simplifies the design even more, but it also cuts out the ability to have a weapon mounted light.
Galco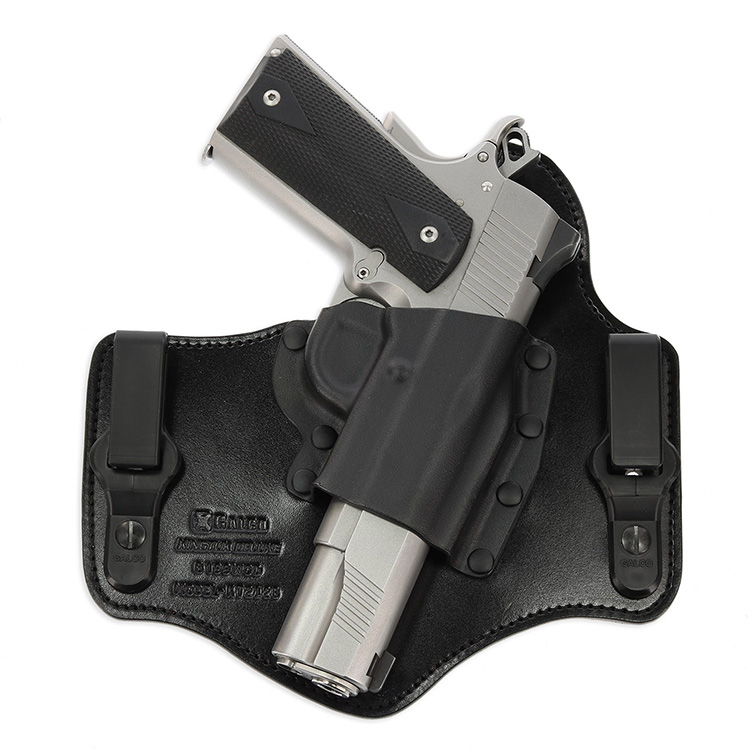 Galco is widely known for its all-leather options when it comes to holsters. They do, however offer the KingTuk Deluxe.
Galco utilizes the same high quality leather that they do on their other selections on the KingTuk.
Galco uses premium center-cut steer hide leather.
While the Galco KingTuk does not allow for lights or red dots to be mounted to your firearm, they are still a solid choice for a inside the waistband holster.
Versacarry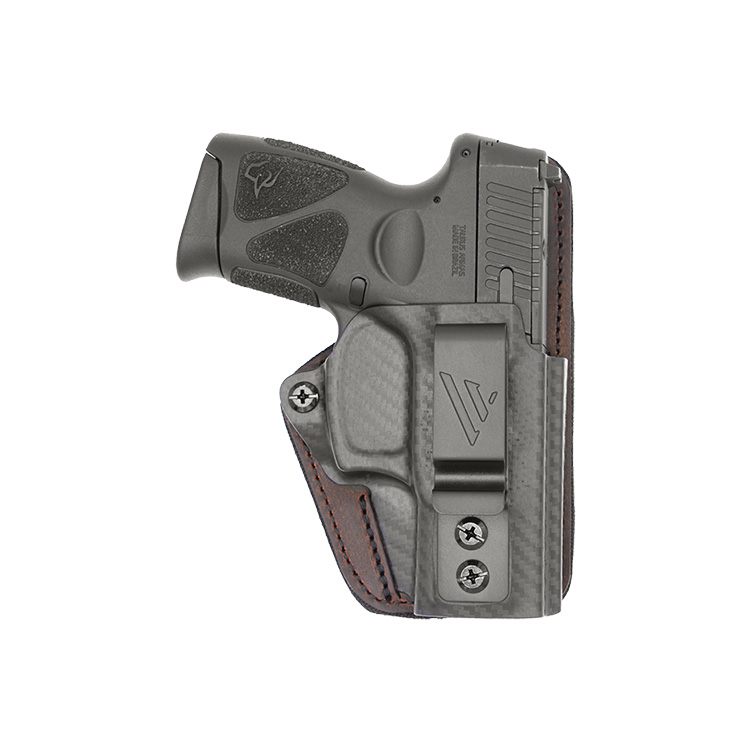 Versacarry rounds out our selections for hybrid construction inside the waistband concealed carry holsters.
The holsters that are available from Versacarry are a little unique.
The Comfort Flex Custom IWB is Versacarry's entry into this section of the market.
Versacarry offers a quality stitched water buffalo leather backing and a thermal-formed polymer shell.
The Comfort Flex is compatible with optic equipped pistols.
Versacarry's Comfort Flex utilizes a comfort foam padding to make it quite possibly the most comfortable holster you've ever worn.
Kydex Outside The Waistband
The other main way to carry a gun is outside the waistband. Hundreds of thousands of people all across the nation carry in this manner every day. Virtually all Law Enforcement Officers carry their duty gun on their hip, outside of their waistband.
This is simple enough when you can do so and not have to worry about concealing the firearm, but when you add in the requirement to be covert and conceal the fact that you are armed it immensely complicates things.
In this section we will cover some options for you to consider if you choose to go armed, but don't like sticking your gun in your pants.
Harry's Holsters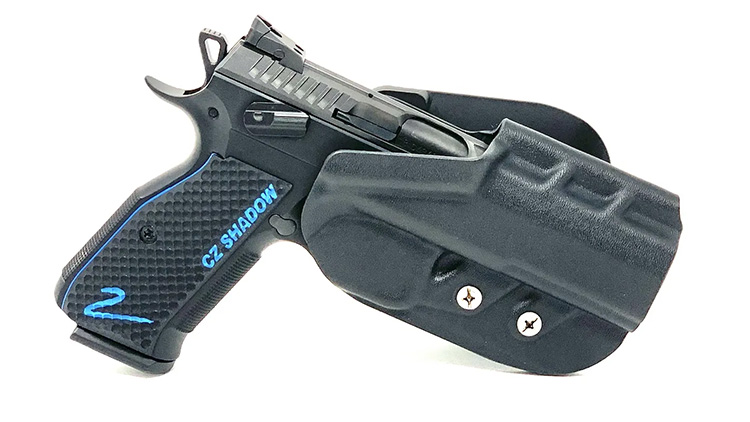 As we come back to Harry's Holsters we see that he also has two selections for outside the waistband carry.
The first choice is the Contender. Just like all the other options at Harry's, the Contender is CNC cut and designed using a computer aided drafting program.
The Contender is used primarily for a competition holster, as it was designed to be compliant with USPSA and IDPA regulations.
This doesn't mean that the Contender shouldn't be contending for a spot in your concealed carry rotation!
The second OWB option offered by Harry's is the Big Iron. While this name makes us sing along with Marty Robbins to his hit Big Iron, this holster is no laughing matter. It's a serious contender for best OWB holster for concealed carry.
While the Big Iron does not have as many options of host firearms as the Contender, the ones it covers are heavy hitters, as the name Big Iron would suggest.
Phlster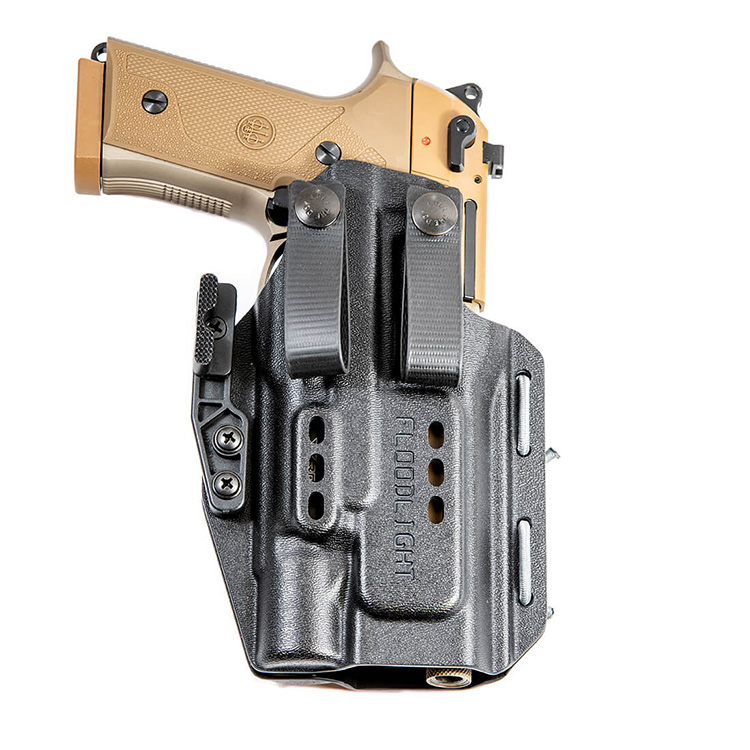 The Phlster Floodlight is one of those holsters that can be configured to your liking, but we stuck it here in the OWB category because we think it fills this role nicely.
This holster allows for a wide range of pistol accessories and modifications.
The Floodlight, obviously by name, is compatible with a pistol mounted light. Having the option for a weapon mounted light is not as common as you might think throughout the holster world. While we were researching and compiling this list we were somewhat surprised at the number of companies that do not offer any selection, or only a limited few choices of CCW holsters with lights.
The Phlster Floodlight also allows for pistol mounted red dot sights along with suppressor height sights.
Another add on that a lot of other holster manufacturers overlook is muzzle devices. The Philster Floodlight allows for both threaded and comped barrels.
Vedder
The Vedder Light Draw is a classic OWB holster from a classic holster company.
The Light Draw consists of two pieces of Kydex fixed together.
Vedder uses the same Kydex for their Light Draw that they used for the Light Tuck.
Because of the two piece construction, you can choose a different color for the back of the holster. This can lead to some pretty cool Kydex holster combinations.
Depending on firearm selection, you can choose to have red dots, and weapon mounted lights as added options as well.
Leather/Hybrid Outside The Waistband
Versacarry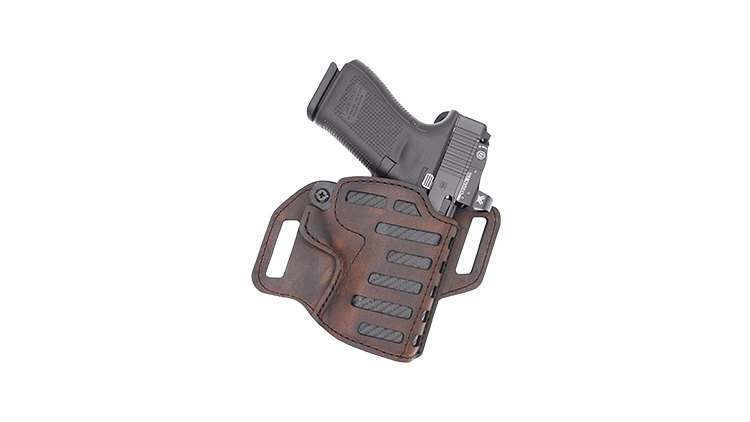 If you've been remotely involved with the gun community for very long I'm sure you've seen their ads run on youtube. You know the ones about having a premium leather holster but with the security of Kydex? Yeah that's the one.
The Versacarry Compound is a truly unique hybrid design as the Kydex shell is located inside a leather wrapped outer cover.
It is an attractive alternative to the cold hard look of most Kydex or hybrid holster models.
For some people, looks of a holster rank pretty low on the scale of important things, but to others it can be pretty high.
That's the beauty of America, you can have your choice as to what is important to you.
No matter how you look at it, having the security and retention that Kydex brings in a holster that looks nice is a good thing in my opinion.
Versacarry also makes another hybrid style holster, V-Slide.
The V-Slide takes its design cues closer to that of other hybrid holsters as the leather is located on the backer and the front of the holster is Kydex.
This affords less material overall which means weight and thickness savings as well as a cheaper product brought to market.
Black Arch Holsters
The Protos M OWB from Black Arch Holsters uses a patented ¾ Hybrid system and states that you get consistent, adjustable retention not seen on traditional holsters.
The leather backer is custom designed for each individual holster so that there is no extra material anywhere.
This helps to keep the size down and also weight.
The Protos M also allows for a threaded muzzle device.
This feature allows for one to be able to attach their favorite suppressor to their pistol after it is removed from the holster.
Other Holster for Concealed Carry
We will slightly shift gears here, but I feel its worthwhile to cover some more obscure methods of carry.
Afterall, not everyone wants to tote a gun on their hip or inside their pants.
Philster Enigma
The Philster Enigma is just that, and Enigma. This mysterious holster approaches a common complaint that a lot of people have when carrying concealed. Wardrobe.
What if you don't wear a belt? What if you don't even wear pants? Many folks dont know, but the fastest growing segment in this industry is women who want to take their safety and protection into their own hands, and I'm all for it!
The Philster Enigma allows for carry under a shirt around the midsection of the torso.
You could also slide the Enigma down around your waist if that suits you.
Because the Enigma is independent from your wardrobe you can always dress to the occasion but never have to compromise your ability to defend yourself or your family's safety.
Galco Fastrax PAC
Galco steps outside of their comfort zone for this one.
The Fastrax PAC from Galco is a fanny pack or cross body type bag that contains a hidden holster.
Unlike virtually every other offering from Galco, the Fastrax PAC is made of nylon. Crazy, right?
The Fastrax PAC will blend right into just about any relaxed setting.
Galco Purses
Galco keeps surprising with all the different options they have when it comes to holsters.
There are several different purses and handbags that Galco now offers for their customers. Most are made of the same style leather that we've become accustomed to from Galco.
While this mode of carry may not be applicable to 98% of our readers, if that 2% gets some helpful info or is able to connect to a bag to help them begin to take control of their safety and security then it will totally be worth it.
Elite Survival Systems Hip Gunner
Are fanny packs making a comeback?
They never went out of style, depending on who you ask. These hip fashion statements make for a popular solution for carrying a gun.
For folks that are super active or feel the need to carry while working out or wearing clothes that make it hard to conceal, a good fanny pack or crossbody concealment solution just makes too much sense.
The Hip Gunner Concealed Carry Fanny Pack makes that an affordable possibility.