OUT OF STOCK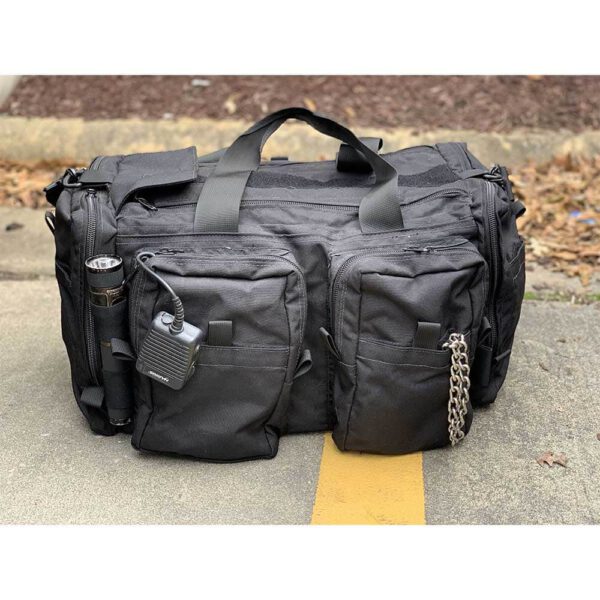 The Archangel Duty Bag
$199.99
100% American Made. The Lynx Defense Archangel Duty Bag is designed specifically for Law Enforcement. The Archangel is constructed of 500D Cordura fabric, has configurable internal sections, numerous exterior pockets, and offers a limited lifetime manufactures warranty.
Out of stock
Notify me when item is back in stock.
Description
FEATURES
100% Made in the USA (Berry Amendment compliant (USC, Title 10, Section 2533a))
Outside Dimensions: Length: 21″ Width: 12″ Height: 12″
Interior Dimensions: Length: 19″ Width: 8″ Height: 12″
Comes with two full length inserts with elastic band to hold laptops or binders
Patch Velcro on bag top
2 x 1″ Flashlight holders
4 x Exterior pouches
2 x Large End Pockets
2 x Small Front Pockets (Great for handcuffs)
Interior plastic zipper pocket
Full bag length quick access paper/file holder
Durable 500D Cordura fabric
WHO & WHY
This bag was specially made for Law Enforcement Officers that need an all-in-one way to carry their gear. This bag is large and spacious enough to hold all modern laptop computers, ticket books, binders, and file folders. With several outside pockets and a sleek back pocket, you will never misplace papers again.
The LE Duty bag is designed to ride shotgun. It was designed for the officer who needs organization in the front seat of their patrol car but also needs to be able to move it around so the seat can be utilized.
The LE Duty bag comes with an interior pen holder that
MADE IN THE USA
Our range bags are 100% American-made and also Berry Amendment compliant. We are extremely proud to say our bags are manufactured in Sanford, North Carolina. American-made range bags are not always easy to come by so we created our pistol range bags with a focus on innovation and American manufacturing.
QUALITY MATERIALS
Every single thread, zipper, piece of velcro, and fabric from US companies making their products in the USA.
500D Cordura Fabric
We use high-quality American-made 500D Cordura fabric in all of our range bags. Cordura is a durable proven fabric for the needs of the shooting sports, military, and tactical industries.
CONFIGURABLE
Each Range bag comes with two inserts that have elastic bands on one side. These bands can be used to secure laptops, binders, or other items you see fit. The inserts also give the bag a sturdy upright frame that Lynx Defense bags are known for.
FLASHLIGHT HOLDERS
With two front-facing flashlight holders, there is no reason you shouldn't be within arms reach of a flashlight. Working all hours of the day flashlights, and easy access to them, are an essential tool in law enforcement.
QUICK ACCESS TO ESSENTIALS
Getting to what you need quickly is an essential need in Law Enforcement. The Archangel was built with just that in mind allowing quick open and access to clipboards, pens, ticket books, and other stored items.
RIDING SHOTGUN
The Archangel law enforcement duty bag was designed so that it could ride in the front seat and allow you to keep everything you need within arms reach.
So if you are looking for a purpose-built duty bag from an all-American company, look no further.