Handgun Range Bags
Lynx Defense builds range bags that allow you to take the most gear possible to the range. We kept in mind all of our customers, from the EDC enthusiasts to the once or twice a year range goers.
Custom Range Bags
Our pistol range bag and our multiple handgun bag, The Concord, can hold everything from hearing protection to ammo boxes to the more important item(s), your guns.
As we call them here at Lynx Defense, Pistol Range Bags, handgun range bags are part of anyone's essential range gear. The bag is an essential part of hitting the range because it brings all the range gear you need together.
We make the best firearm range bags on the market today. We don't say that with arrogance. We are repeating what all our customer reviews say. But making the best pistol range bags isn't easy. We work hard to ensure our product is of the highest quality available, and we make it right here in the United States of America!
Our range bags have several interior pockets that allow for the organization of your range gear and exterior pockets that allow you to store your eye protection, hearing protection, and more. We make the best range bags that feature modular designs, which, simply put, means that you can customize them to your liking with minimal effort.
We often sell fundamental, stripped-down bags, so our customers can purchase their own accessories and are not buying unneeded products. This saves our customers money and ensures maximum satisfaction with their product purchases.
We sell additional accessories for the bags, so you can truly make them your own.
---
The Ins and Outs of Choosing your Pistol Range Bag
Of the huge number of different accessories available for your handgun, pistol range bags are an essential one, and, for some reason, they are often overlooked.
There is a world of difference between the good and the bad ones, and it's worth doing your research properly, so you pick the right one for your unique circumstances.
This is especially true for new shooters who are shopping for shooting gear for the first time. It can feel intimidating at first trying to figure out exactly what you need to bring to the range – but much of this anxiety can be quelled by making sure you've got the right range bag to start with. Range bags keep everything organized and in its place – letting you focus solely on the job at hand.
When you inevitably find yourself hauling your gear back and forth from the range, you'll regret it if you didn't pick the right bag to do it with. Trust us on this one.
So let us run through some of the key considerations you should consider when considering your purchase of a pistol range bag.
Pockets and Compartments
If you've got multiple handguns that you're taking to the range, it's worth investing in a bag with plenty of pockets so that you can keep everything organized and easy to access. It makes the whole process seamless and means that you'll never find yourself leaving gear at home.
But even if you've only got one handgun, being able to separate ammunition and your other accessories will make everything easier. In our opinion, the more pockets, the better organized your range day will be!
Like ours, many range bags are also designed to have several customizable compartments that can be adjusted according to your needs. These are often adjustable dividers that allow you to break up the internal space in an infinite number of ways. It's worth doing a thorough assessment of your storage needs before looking at bags so that you know exactly what sort of space you are looking for.
Spend some time going through all your gear and identifying what your ideal load-out consists of, then tailor your search accordingly. Find the configuration that works for you! We offer a large range bag and a smaller range bag, making sure you get the one that fits your needs.
Durability
You get what you pay for.
Everyone knows that saying. The material from which your bag is made is an important thing to consider because you want it to be durable and protective for the bag's life (which, if you buy one of our range bags, is a very long time).
Skimping on quality could come back to bite you, especially if you're lugging the bag around in less-than-ideal environments. It would be best to look for a rugged-built bag that doesn't mind being tossed around. You also want to be sure that it's well-made in key stress points, which are likely to wear more easily, which all of our pistol bags are.
Padding is also vital. You've spent a lot of money on your gear, and you want to make sure they've got a comfortable home that can withstand the bumps and range trips that occur while you're moving about. So, look for bags with generous amounts of padding to hold your handguns, ammunition, and any other range gear tightly and securely without bouncing around.
The last point here is to get something that is water-resistant if at all possible. Cordura typically does a good job of being water-resistant but is not "waterproof." You never quite know what conditions you'll be hauling your gear through, so getting something water-resistant gives you an extra insurance policy for your pistols and gear against the unknown.
Make sure your range bag is Made in the USA. American-made goods are often high quality with better quality checks.
Handle and Zippers
It seems obvious that the handle will get a lot of use, but for some reason – there are a lot of range bags that have poorly constructed or assembled handles that don't last that long, not ours.
You want to make sure that your handle is padded appropriately and that it's stitched to the bag in a way that won't tear the first time you put some stress on it. For larger bags, you might even consider a shoulder strap – that will take the pressure off the bag itself and, let's be honest, your back as well.
When it comes to zippers, you want to make sure they are well made. We use ideal zippers, which are metal with a plastic zipper chain. We've all been in that position where the zipper breaks a couple of days in and completely taints the whole buying experience. They are one of the most common failure points in range bag purchases, so always opt for high-quality zippers that do the job time and time again. Don't compromise on high-quality zippers.
Security
Firearms are always a target for thieves, so you want to ensure that you are doing all that you can to secure your gear while you're not directly using it. Consider getting a bag that can be locked up using a traditional zipper lock, combination lock, or even more sophisticated mounts that can be attached to your vehicle. It's something simple that will give you that extra peace of mind knowing that your firearms won't fall into the wrong hands.
Budget
Of course, a lot of your choices will be constrained by what you're willing to spend. As with most things, you get what you pay for, and if you consider this a longer-term investment, then spend some more money to get a higher quality bag – you'll probably be better off in the long run. It's worth the couple extra dollars to extend your price range to get the type of bag we offer.
You'll find that there's a huge spectrum here from very cheap to expensive, and ultimately, you'll need to make a call based on how much you're going to be using your bag and how important some of the factors above are to you. Don't just buy the first thing you see – do your research.
So, these are the main factors to consider when purchasing your very own pistol range bag. By heeding the recommendations above, you'll learn from many others' mistakes without having to live them yourself. A good range bag is seriously underrated and will be a significant contributor to your entire range experience. Spend your money wisely by knowing exactly what you're looking for, and you'll be glad you did.
At Lynx Defense, we don't just sell range bags. We sell the best American-made pistol bags around because we believe in quality over making a quick buck.
Here are four reasons why we think our pistol bags are better than anything else you can find on the market today.
Better Than One-Size-Fits-All
Pistol bags can be designed to do a lot of things. But can it do a lot of things well?
That's why we went all-in on creating a pistol range bag that you can set up the way you want without wasting space or money on extras you don't need.
You can configure the Lynx Defense pistol bags configured exactly how you like them with the modular bag system.
It comes standard with two inserts that feature a gun holder on one side and magazine holders on the other that you can position anywhere inside your bag for secure transport of your firearms.
To give the bag its sturdy feel the inserts are made of corrugated plastic.
Additional accessories, like ammo pouches and double gun holders, are available to help you create the bag that will best serve you.
Pistol Bag Built To Last
Delivering high-quality products is a driving force behind everything we do at Lynx Defense.
That's why we spent time researching and testing our products so we could sell you bags constructed from the highest quality materials made in America, including the durable Cordura fabric that makes up our pistol range bags.
Cordura fabric ensures water resistance and anti-tear technology while providing built-in strength to withstand whatever you throw at it.
Our standard fabric is 500D Cordura to deliver a cost-effective bag to our customers. Still, we often do bulk runs of bags made of 1000D Cordura for military and law enforcement agencies.
If you want a beefed-up 1000D Cordura bag, drop us a line, and we can set one aside for you in our next run.
Invest Once, Use for a Lifetime
If you, our customer, aren't satisfied, we aren't either.
That's why we back every Lynx Defense pistol range bag with a 30-day money-back guarantee and a limited lifetime manufacturer warranty. If your product fails due to a manufacturing defect, we will repair it without charge or replace it.
Our warranty does not cover damage caused by accident, improper care, or negligence. We do offer competitive rates for range bag repair work.
Pistol Bag Made in the USA
We're dedicated to bringing you high-quality gun bags — and boosting the U.S. economy — by manufacturing American-made gear.
Each of our bags is hand-sewn in Selma, North Carolina.
You get an expertly crafted bag designed by a team that uses these products day in and day out.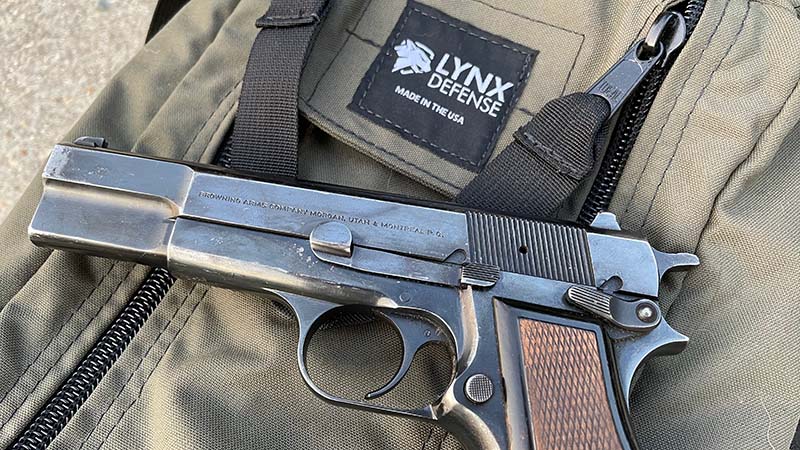 Go ahead and compare us to the other guys. We'll see you when you get back.