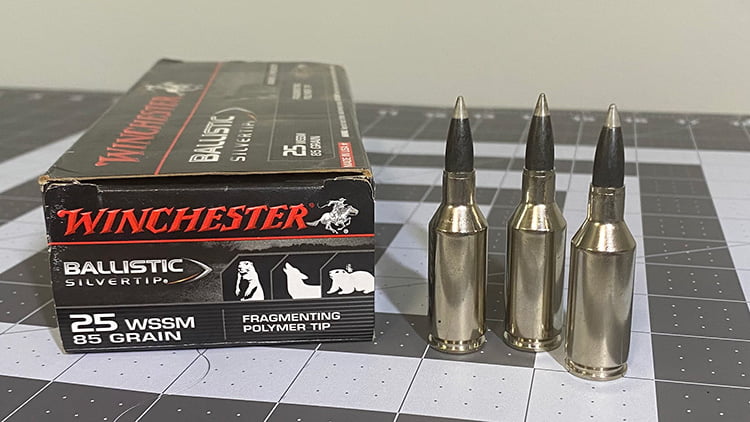 25 Winchester Super Short Magnum, referred to as simply 25 WSSM, was created in 2004 by Winchester and Browning.
History of the 25 WSSM
The 25 WSSM was released in 2004 and is a collaboration round between Browning and Winchester.
The .25 Winchester Super Short Magnum is the largest round in the WSSM line.
There's not a ton of history about the 25 WSSM round because it's only been around since 2004, and it's not been widely adopted or used outside of sport shooting and hunting.
Purpose of the 25 WSSM
The major purpose of the 25 WSSM is to create an extremely efficient round. The .25 WSSM is very similar to other WSSM cases; the .25 is short and fat, which is designed to be more efficient.
Performance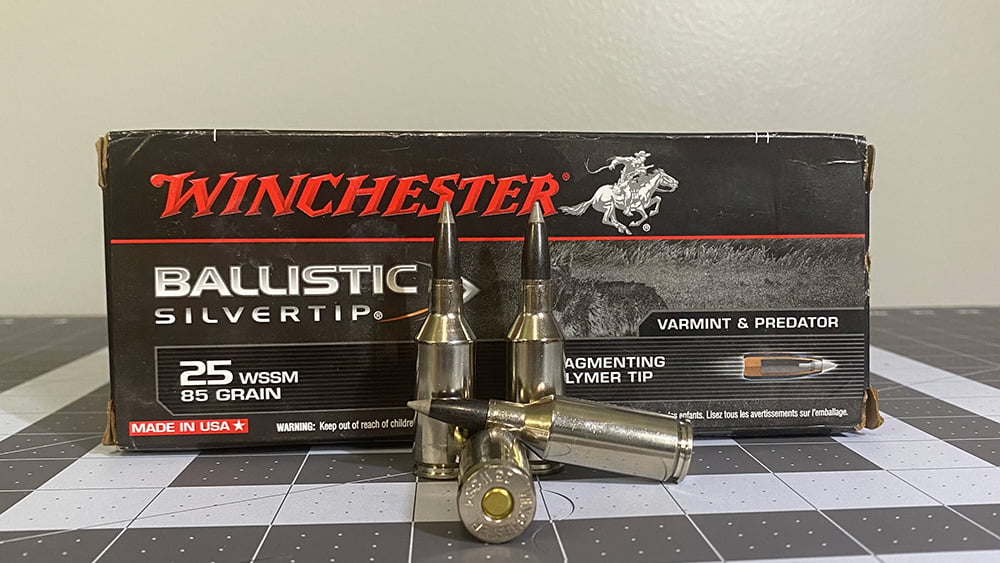 The caliber development is typically always about increasing performance and getting rounds to go further and do more damage on the target.
The grain weight of the 25 WSSM can vary wildly because the WSSM is made in 75, 85, 100, 115, and 120 grains.
The light 75 gr round travels at 3,775 feet per second and has 2,374 foot lbs on target.
The heavier 120 gr round travels at 2,985 feet per second and has 2,375 foot lbs on target, which is impressive considering grain weight and speed difference.
The nice thing about the 25 WSSM is the foot lbs on target doesn't vary much however, the speed of the round does vary a decent amount.
25 WSSM vs 25-06
25-06 is probably the most similar round to the 25 Winchester Super Short Magnum.
The 25-06 round clocks in an extra 80-100 feet per second faster than the 25 WSSM.
But to achieve the faster speeds it has to be chambered in a long action rifle vs 25 WSSM's short action capability.
Faster rounds can be important in some hunting scenarios but it largely depends on your goals and which round will serve you better.
The 25 WSSM short action will be much better suited for young hunters over the .25-06 long action and 24″ barrel.
The .25 WSSM can handle medium game extremely well out to 300 yards and even slightly beyond.
Guns that Shoot 25 WSSM
While the ammo for the .25 WSSM is hard to find, the guns are even more of a rarity. Here are a few of the more popular models chambered in 25 WSSM.
Browning A-Bolt

While the browning A-Bolt is no longer in production, it was once one of Browning's more popular models. The A-Bolt is a high-end rifle with several features, namely the Browning A-Bolt.
The A-Bolt comes in multiple options, including wood stock and synthetic stock. The issue with the A-Bolt is finding it in stock, and if you do, it will likely be used since they are no longer in active production.
25 WSSM Ammo
Finding .25 WSSM Ammo might not be the easiest thing to do in 2022, but it can be found if you search hard enough.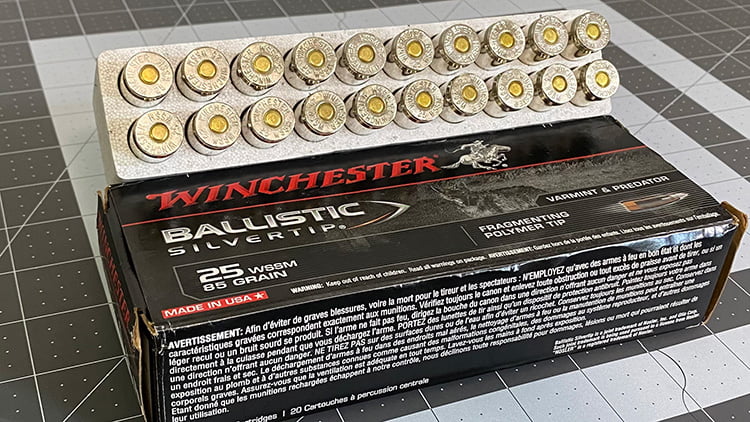 Price
The price for a box of WSSM comes in right around $60 for a box of 20 rounds. The per-round cost sits at $3 /per round. While this ammo is not only expensive, it is extremely hard to find factory ammo, and you will likely have to find someone who reloads the 25 WSSM.
Availability
Finding in-stock ammo is hard no matter what round you want but finding ammo that not many shooters use, such as 25 Winchester Super Short Magnum, is even harder.
I have been able to find it at Sportsman's Warehouse occasionally, and if you are a reloader, you can find cases at Bereli.
FAQ 25 WSSM
What does WSSM mean in ammo?
WSSM stands for Winchester Super Short Magnum and is a series of calibers made by Winchester that are short and magnum rounds.
How many WSM calibers are there?
There are currently 4 WSM calibers and 3 WSSM calibers as of this writing.
If you are looking to do more digging on interesting Winchester calibers take a look at the .17 Winchester Super Mag.