If you are on the hunt for a solid red dot, or in this case a green dot sight, then don't overlook the Holosun HE407C it is a quality red dot pistol sight at an extremely affordable price.
The Holosun is the first of many pistol red dot sights we plan to review so stay tuned if you like this comprehensive overview of the HE407C.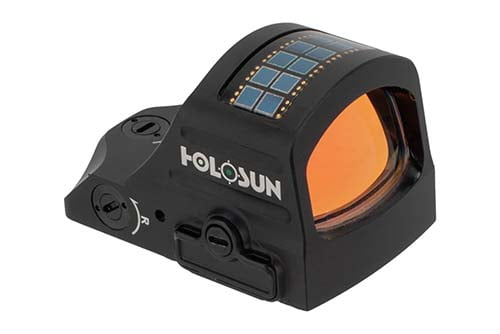 • 7075 T6 Aluminum
• Battery Life: 50,000 hrs
• Battery Type: CR1632 
• Runtime 1.5 hours
First impression
The Holosun HE407C comes in a relatively minimal style box with very little flash and flair to it. But the packaging isn't what you are buying the optic for anyway.
The box is very simple and comes with an adjustment tool, a small microfiber cloth, screws, and the user manual.
It's a small package so if you want to hold on to it in case you want to resell it at a later time it's not going to take up much space for you.
Materials
The Holosun HE407C is an all-aluminum construction body.
The top of the right dot sight has a solar panel that has a plastic covering over it to let the light through.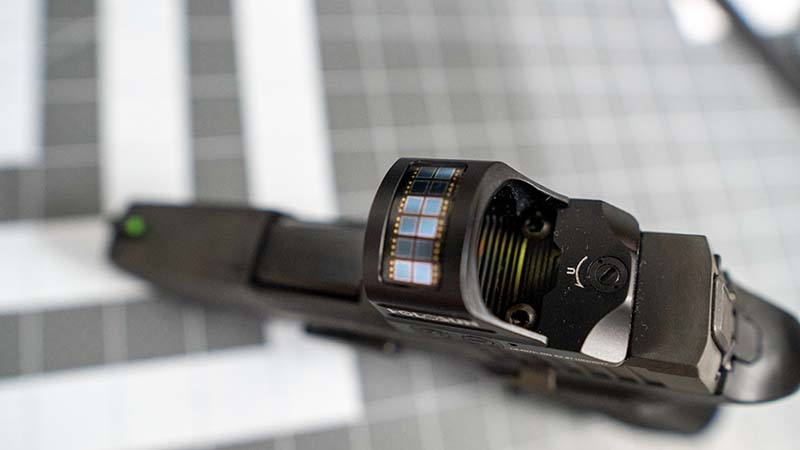 The optic lens itself is your standard tempered glass. Everything with the exception of the membranes for the brightness control is metal.
Weight
Weight doesn't matter a whole heck of a lot for pistol red dot sites.
But if your extra weight conscious on your pistols the 407C comes in at 1.5 ounces.
So it's extremely light and you're not going to notice any additional weight on your gun from the pistol red dot sight.
So when it comes to weight of the HE407C it's extremely lightweight.
So far, very satisfied with the weight and the all-aluminum construction.
Reticle
The Holosun HE407C comes in both a green and a red reticle model. You can tell which model by what comes after the dash on the model number. For example, the green dot model is the HE407C-GR and the red dot model is just HE407C.
Either model you go with is going to have a 2 MOA dot. The red dot sight is parallax free and has unlimited eye relief.
The magnification is small but not need and comes with 1X magnification, which is common for red dot optics.
I prefer the green model because it's easier for me to see. I have a little bit of red-green deficiency and thus the green is a go-to for me.
Overall, the 2 MOA dot doesn't cover up too much of the target and it allows you to be slightly more accurate than a pistol red dot with the 6 MOA dot.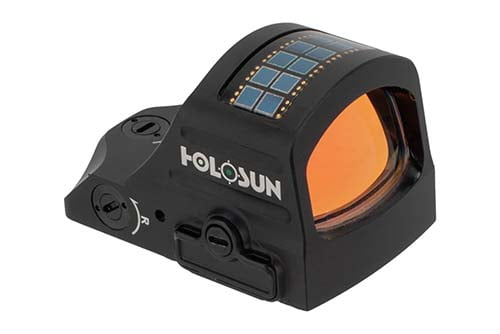 • 7075 T6 Aluminum
• Battery Life: 50,000 hrs
• Battery Type: CR1632 
• Runtime 1.5 hours
Dot Adjustment
The dot adjustment on this is easy to do, but you're not going to want to misplace your tool that comes in the box. That makes it much easier.
It's a very odd screw for the windage and elevation as well as the battery compartment.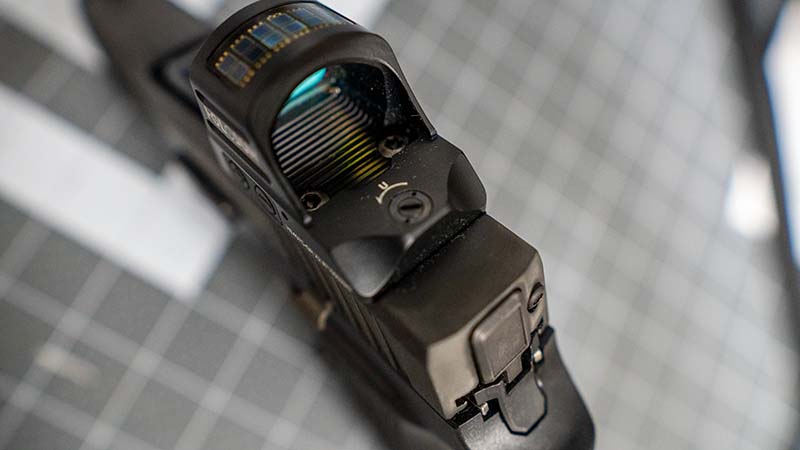 The tool that comes in the box makes it a hundred times easier. I did try a small screwdriver and it'll work, but just the way the screws are designed, they're wider than your standard, small flathead screwdriver. If you do have a small screwdriver there's going to be a lot of play when turning the screws,
So you're just better off using the tool that it came with. So just hold on to that. Keep that maybe in your gun box that is going to keep this gun.
I have the HE407C on my Sig Sauer P320 X-Carry Compact and like it a lot. To adjust it, it would work much like any red dot.
You have just on a smaller scale to go up. You have your up dial on the top of the optic and it turns counterclockwise to move the reticle up.
Your windage, you're going to turn it counterclockwise to move the reticle to the right.
Very simple process. But the tool that it comes with makes it a hundred times easier. I would recommend using the small tool over trying to use any other tool you may already have.
Power Source
The power source is a CR1632 battery. That's a little different than what you're used to.
Now, the nice thing about the power source for this red dot sight is the fact that it's on the side.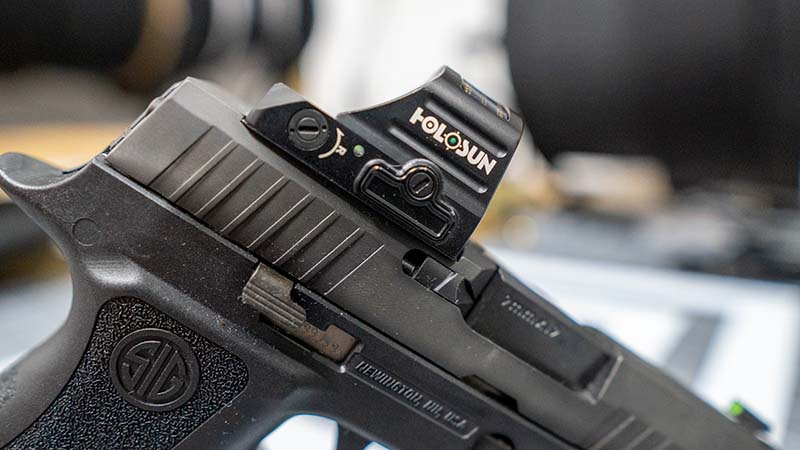 You don't have to take the optic off to change your battery and that's a pretty big deal, because every time you take the optic off, you really should sight it back in.
So if you needed to just change your battery out, you could do that without totally losing your settings on the gun that you have it on.
Especially if you're doing it one night and you just want to swap your battery out. You don't have to be on the hook to head to the range next day, to make sure your carry gun is still accurate.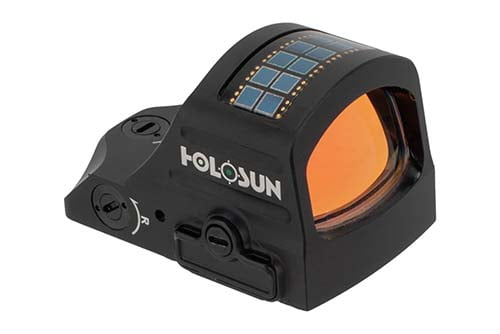 • 7075 T6 Aluminum
• Battery Life: 50,000 hrs
• Battery Type: CR1632 
• Runtime 1.5 hours
Durability
I still have yet to develop a true, scientific, good way to test durability on optics.
Now, one thing I will say, it does have an all-aluminum construction and I've been racking my slide with the dot ever since I installed it.
Probably not the best idea, but I have been doing it since I put it on. I've had no issues, no dot shift problems whatsoever with it.
So far, I very highly recommended it on the durability side, even though haven't done any drop or torture test with it.
Sight Picture
The sight picture is actually extremely good. It's very easy to find the dot, along with your target down range.
Everything down range is viewable with a two MOA dot. You're not getting an excessive target coverup.
So all in all, the sight picture's great. The side walls are not extremely protruded. They don't take up a lot of your visual space, which is nice and nothing on the optic distracts from shooting.
Operation of the Holosun HE407C
There are only two buttons on the optic itself an up and down button on the membrane pad.
This sits on the left side of the optic and allows you to control the brightness and/or turn it off.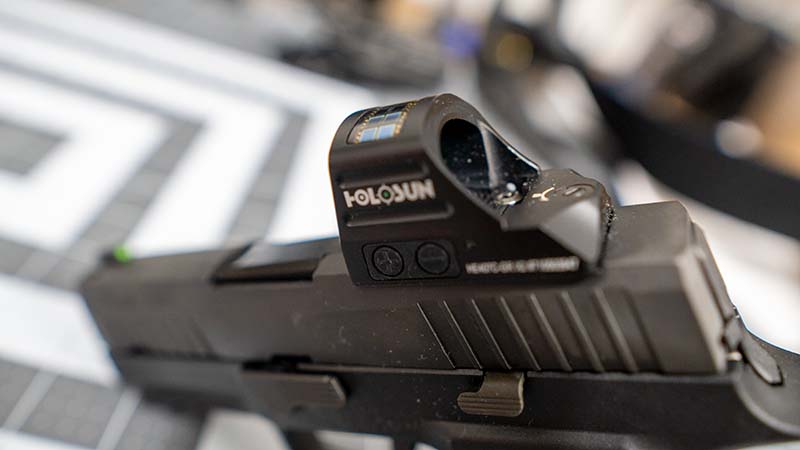 Personally, I don't turn it off. It will auto-adjust for brightness, so there's no sense in me turning it off or make tons of adjustments.
It has Holosun's shake-awake feature so there's no sense in actually turning it off completely because it will turn off and on when needed.
The optic has 10 daylight brightness settings and two night vision settings. I, personally, just kind of leave it on a mid setting and I've had no issues with it during any lighting situation.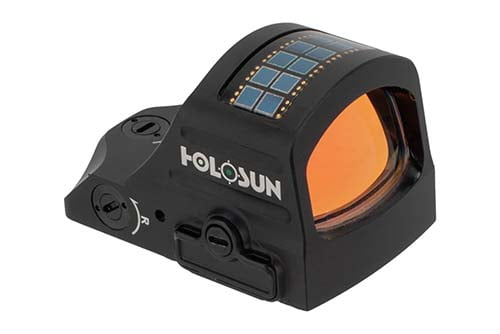 • 7075 T6 Aluminum
• Battery Life: 50,000 hrs
• Battery Type: CR1632 
• Runtime 1.5 hours
Mounts and Mounting Options
Like most pistol optics you're going to need to find a plate to put this on to mount it to your gun.
This mounting pattern is the same as an RMR and I am using the C&H Precision Weapons plate.
There's several good options out there but it will depend largely on what you you're putting it on. You can buy plate kits but just make sure you research what you need before you buy.
Holosun HE407C Final Thoughts
So my final thoughts on the HE407C are, this is a fantastic optic.
I also have the Trijicon RMR the only reason I would pick the RMR over the Holosun is potentially the durability.
I know through other people's testing that the RMR has an incredible amount of durability.
But with that being said, I don't think that the 407C is a slouch and not going to stand up to the wear and tear of everyday use and carry.
I know everybody says, "If you can't afford the RMR get the Holosun." Well, I'm considerably impressed considering this optic is the budget end of the Holosun pistol red dots. The next step up is the HE507C, which is also a great option, which we plan to explore in the future.
But I will say, I've been carrying this day in and day out on my P320 X-Carry. And I really like it. And overall, fantastic optic, and I'd highly recommend it to anyone, specifically anyone on a budget.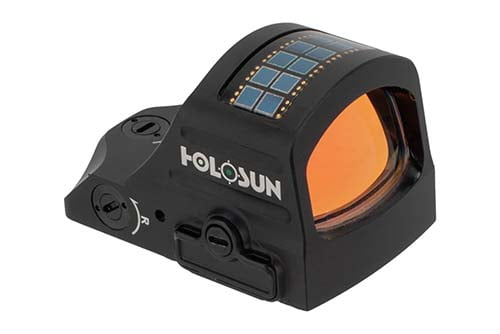 • 7075 T6 Aluminum
• Battery Life: 50,000 hrs
• Battery Type: CR1632 
• Runtime 1.5 hours