The Kimber K6s revolver is a fine example of craftsmanship and functionality, blending modern design with a classic shooting experience. I recently had the opportunity to spend some time with this revolver, and here's my comprehensive review of the Kimber K6s.
Purpose
The Kimber K6s is a compact, lightweight, and high-quality revolver designed primarily for concealed carry and self defense purposes.
This gun would be a decent EDC, might be a little on the heavy side, but reliability wouldn't be a question at all.
I could easily see this being my home defense gun if I was going to go the revolver route.
Grip
My favorite thing on the Kimber K6s at first glance are the grips on this gun.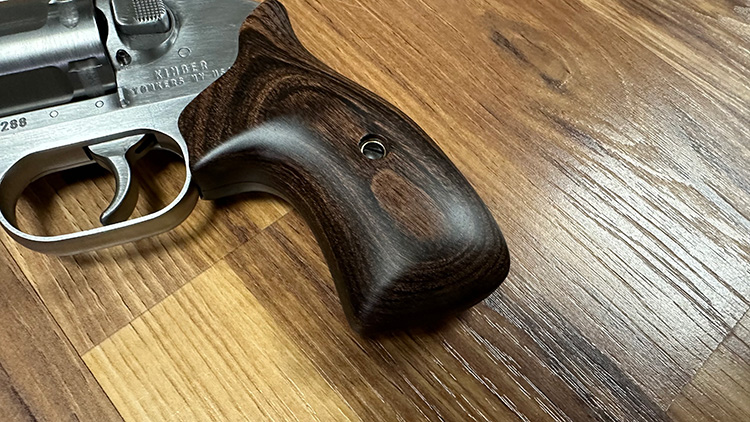 The dark wooden grips provide a fantastic aesthetics for this timeless classic gun.
The grips were the first thing I noticed when I picked this gun up they are smooth and feel good in the hand.
They don't provide much in terms of abrasion to better hold during the guns recoil while shooting.
Trigger
Crafted with precision and attention to detail, the K6s trigger boasts a smooth, crisp pull that enhances accuracy and control, making it a favored choice among firearms enthusiasts and concealed carry practitioners.
Its double-action design allows for consistent, reliable firing, while its manageable trigger weight strikes an ideal balance between ease of use and safety.
Whether at the range or in a self-defense scenario, the Kimber K6s trigger offers shooters the confidence and precision they need to excel, earning its reputation as one of the finest triggers in the industry.
Sights
The sights on the K6s are unique because they look very similar to what you'd expect on a polymer framed pistol.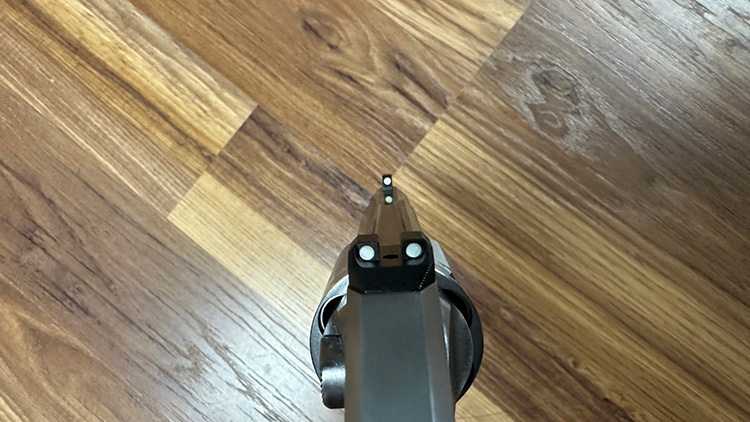 While they aren't adjustable like you'd get on a polymer gun they do have a nice raised 3 dot configuration.
I like that Kimber didn't cut the rear sights out of the frame, I hate when revolver manufactures do that.
Weight
If you are looking for an extremely light carry gun the Kimber K6s isn't it.
Clocking in at 25.1 ounces unloaded it's just not an extremely light gun. However, it does fell good in the hand and it's "heavy" by any definition.
This just might not be your go to gun for concealed carry.
Caliber
The K6s is chambered in 357 Magnum which is an extremely capable and proven round.
One of the great things about the 357 Magnum chamber is that it can shoot 38 Special as well as 357 Magnum.
The 38 Special is a lower pressure round that is the same diameter as the 357 mag which is why you can shoot both in this revolver.
Capacity
The Kimber K6s is a six shooter, so the cylinder will hold 6 rounds. This is a decent number of rounds for a self defense gun but if you are one that must have a more ammo a speed loader is an option.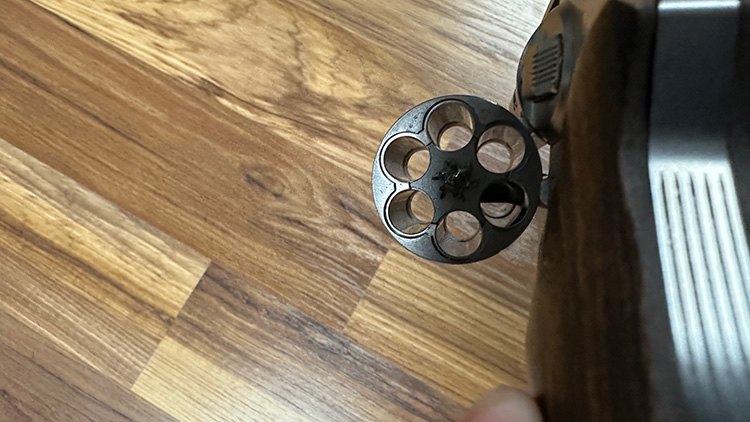 Holster Options
One of the primary purposes of the Kimber K6s is concealed carry, and it excels in this regard. The compact size, lightweight design, and snag-free profile make it easy to carry discreetly. Whether in an inside-the-waistband holster or pocket carry, the K6s doesn't print and remains comfortable throughout the day.
Aesthetics
The overall look and feel of this revolver is fantastic. The lines and markings all make this guns look next level.
I was shocked when I pulled this gun out of the box because I expected something different the the lines and milling on this gun are much different than many other revolvers and I like what Kimber has done to this gun a lot.
Final Thoughts
The Kimber K6s revolver is a testament to Kimber's commitment to quality and craftsmanship.
Its stunning design, excellent performance, and reliability make it a top choice for concealed carry enthusiasts.
While the six-round capacity may be a drawback for some, it's a trade-off for the power and accuracy this revolver delivers.
If you're in the market for a concealed carry revolver that combines elegance and performance, the Kimber K6s is a strong contender that won't disappoint.
If you are in the market for a revolver this is likely one of the best revolvers on the market.
FAQ
Is the Kimber K6s reliable?
Kimber has a reputation for producing high-quality firearms, and the K6s is no exception. During my testing, I experienced no malfunctions or misfires. The revolver fed and ejected rounds flawlessly, even with various types of ammunition. This reliability is crucial for a concealed carry firearm where your life may depend on it.
What is the difference between Kimber K6s and K6s DCR?
The DCR is a slighty higher-end K6s and features nicer grips, trigger upgrades, and smooth satin finish.
Can you shoot 38 special in a Kimber K6s?
Yes, the .357 Magnum Kimber K6s will also shoot 38 Special.