On the prow for a new rifle? One of most favorite rifles for a number of years to recommend to people is the LWRC M6IC and for good reason, it's a feature-packed rifle for an extremely reasonable price.
About LWRC
Most people probably have heard of LWRC but I doubt many know what it stands for. LWRC stands for, Land Warfare Resources Corporation, but is not known as LWRC International, LLC which is funny if you know anything about business structure the name corporation being in an LLC makes me laugh.
LWRC was founded in 1999 it focuses on making quality small arms for military and civilians.
LWRC is located in the Peoples' Republic of Maryland, USA in the town of Cambridge.
LWRC IC DI
Caliber: .223 Wylde
Weight: 6.6lbs
Barrel Length: 16.1″
Overall Length: 23-35.25″
Check out the in-stock LWRC rifles at these retailers:
Brownells | GrabAGun |Guns.com | Primary Arms | PSA
Features
One of the reasons the LWRC M6IC is such a value for the price is all the features the rifle has.
Some of the features are simply a nice touch some of them greatly enhance the functionality of the weapon.
Grip/Ergonomics
Like many rifle manufacturers, LWRC had long used Magpul grips and you'll need a number of photos around the internet with LWRC rifles and Magpul grips.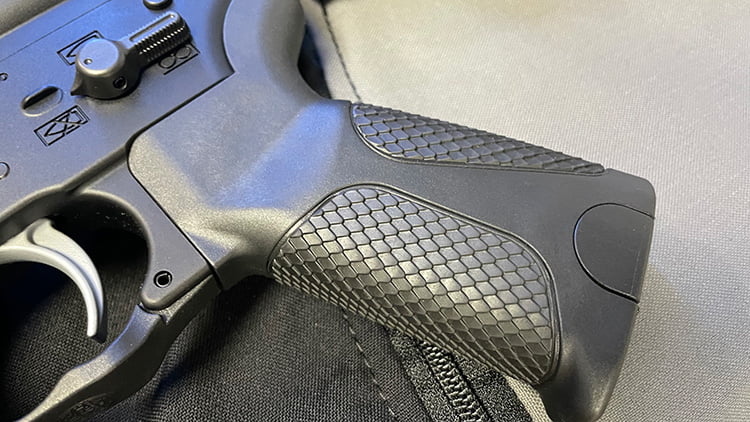 If you have a newer LWRC M6IC you'll be fortunate enough to have their custom grip.
The custom grip reminds me of the Magpul K grip as the LWRC grip has a slightly tacky texture. The grip has a unique pattern as well as a unique feel overall.
I like the texturing on the front and back of the grip as it proves plenty of grip.
Safety
One of the many features of the M6IC is all of the ambidextrous controls, safety switch included.
The safety throw lever is the same length on both sides of the gun and sits up reasonably high.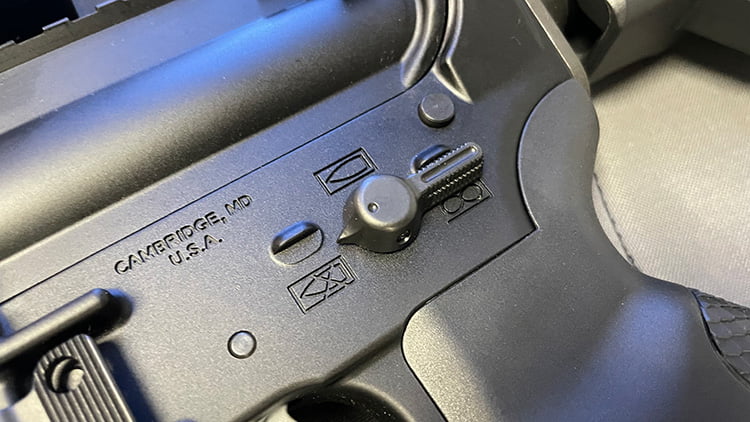 It makes for a nice ledge to rest your finger so you can easily put the gun on fire or safe.
It also has nice milling with a hollowed-out center of the selector. This is most just aesthetically pleasing rather than serving any type of useful functionality.
All in all the safety on the LWRC M6IC is smooth, functional, and aesthetically pleasing.
LWRC IC DI
Caliber: .223 Wylde
Weight: 6.6lbs
Barrel Length: 16.1″
Overall Length: 23-35.25″
Check out the in-stock LWRC rifles at these retailers:
Brownells | GrabAGun |Guns.com | Primary Arms | PSA
Magazine Release
The ambidextrous functions of this gun really shine when you start looking at the next two controls.
The magazine release on most AR-15 style rifle is normally only on the right side of the firearm.
With the M6IC the option to release the magazine is on both sides of the gun. On the right side of the gun, you have a standard button press release for the magazine.
There is nothing particularly unique about how the magazine release button functions on the right side of the gun, so you'll find that extremely familiar.
The left side of the gun has an additional paddle that pivots the magazine release bar and allows the magazine to drop free.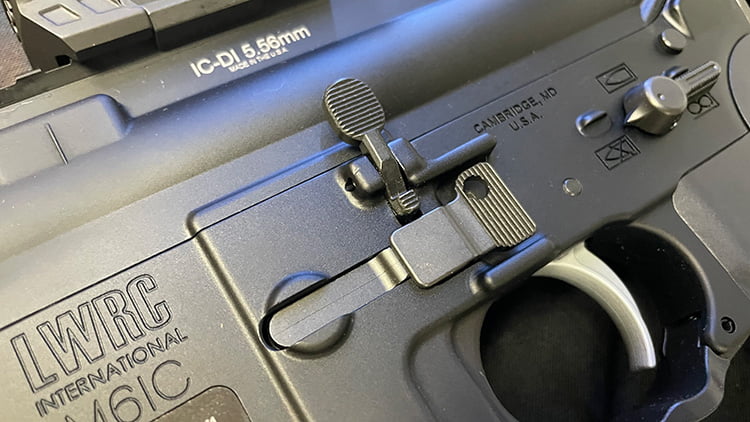 Ambidextrous magazine releases aren't something wildly new but I really like having the option to release your magazine from either side of the gun if you need to.
Plus, it's a massive benefit to wrong-handed people or if you need to shoot left handed.
Slide Stop
The slide stop/slide release, whichever you would like to call it, is another control that is ambidextrous and extremely easy to use on both sides of the rifle.
If you have experience with an AR-style rifle you know that the slide stop is normally located on the left side of the gun usually just above and forward of the trigger.
Typically you would use your left thumb to press the button to release the bolt if you just put a fresh magazine into the gun or if you need to lock the bolt to the release you can press it while pulling back on the charging handle with your right hand.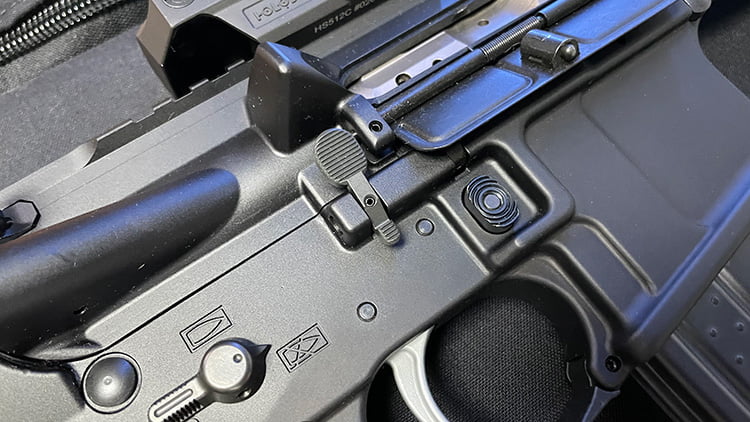 With the LWRC M6IC, you can use your trigger finger to press the same style of release button to release the bolt once you put in a loaded magazine.
This is nice because you'll be able to train to keep your gun up and on target while replacing your mag and in theory with very little movement of the rifle itself.
Charging Handle
The charging handle on the LWRC DI has two large pull tabs on both sides of the charging handle.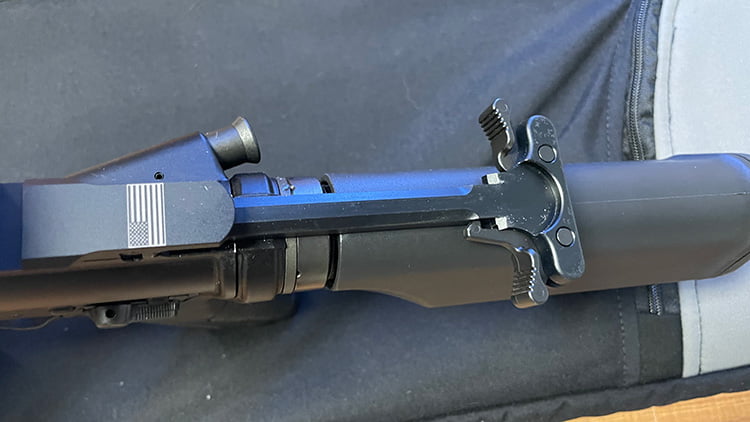 It reminds me of a Radian Raptor charging handle and works flawlessly. This adds to one of the many nice things about this gun, you don't have to replace this part to get a high quality functioning charging handle.
LWRC IC DI
Caliber: .223 Wylde
Weight: 6.6lbs
Barrel Length: 16.1″
Overall Length: 23-35.25″
Check out the in-stock LWRC rifles at these retailers:
Brownells | GrabAGun |Guns.com | Primary Arms | PSA
Trigger
The trigger on the LWRC is a nickel boron trigger and provides excellent contrast on this gun.
While the trigger is nothing extremely special for a factory mil-spec trigger it is nice and gets the job done.
The one major difference with this trigger is the lack of tack up. The break is extremely clean. I like this trigger the only thing I would change is that it was a flat trigger.
Serial Numbers and QR/Barcodes
One of the unique things about the LWRC rifle is the QR looking code on the side of the gun.
The code is actually called a Item Unique Identification Code, or IUID, and is used by the US military for inventory scanning and tracking.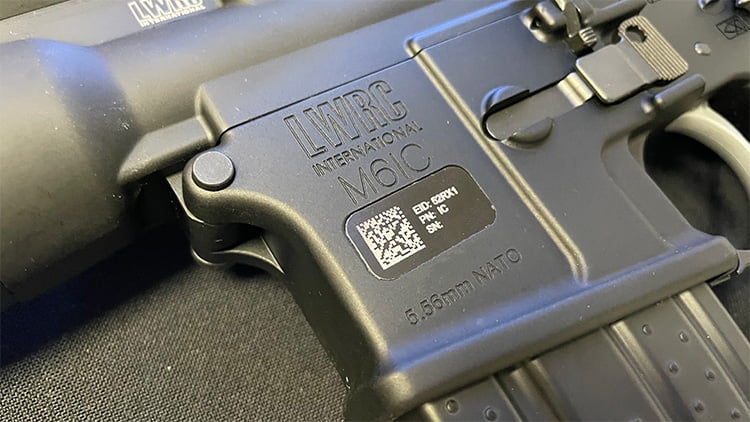 While this barcode doesn't do much for the average person it is a unique and cool feature of the gun that if nothing else is a cool conversation piece.
Barrel
The barrel is a head turner and I mean that because you can't miss an LWRC barrel. They have a spiral flute on their barrel that is hard to miss.
The flute goes from nearly the tip of the barrel to the barrel nut. This flute looks great and also helps reduce weight on the front of the gun.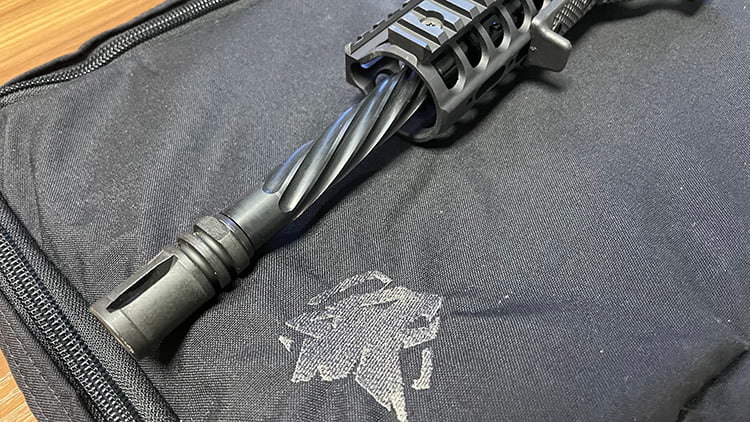 I have the 16″ LWRC M6IC but this barrel profile is featured on nearly all their guns. I don't see any cons to this design and I really like how mine performs so far!
LWRC IC DI
Caliber: .223 Wylde
Weight: 6.6lbs
Barrel Length: 16.1″
Overall Length: 23-35.25″
Check out the in-stock LWRC rifles at these retailers:
Brownells | GrabAGun |Guns.com | Primary Arms | PSA
Handguard
The handguard is one of the few cons of this gun but let me dive into this some more before you rush to judgment.
One main reason I dislike the handguard is it has an extremely proprietary handguard and I mean that in two ways.
The way that the handguard attaches to the upper is proprietary as well as the mounting system.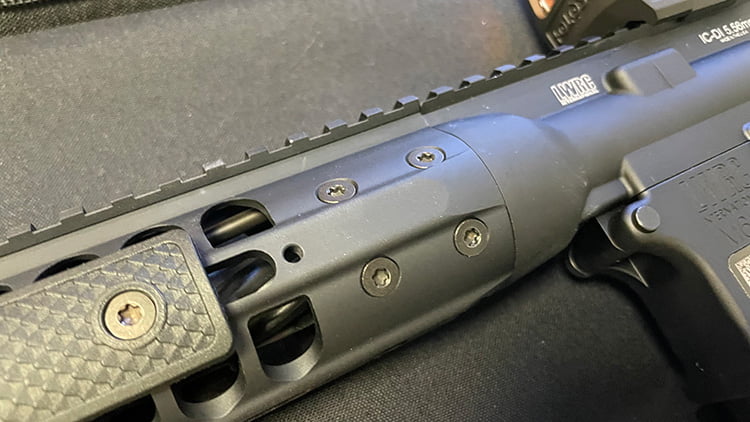 On most AR-15 rifles you have one of three mounting systems on your handguard:
Keymod (Outdated)
Picatinny
M-Lok (Most Current)
Unfortunately, the LWRC has its own proprietary mounting system. It resembles M-Lok but has rounded corners. The one nice thing is it comes stock with rail panels and a hand stop.
But that does limit you on attaching accessories, but we will discuss that further in the accessories section.
Overall the handguard feels great in your hands and is extremely well built. The handguard is a one-piece free float rail and only attaches to LWRC's proprietary upper receiver.
Rifle Bag
If you are lacking an extremely solid rifle bag you need to check out our tactical rifle case as well as our Bronx concealed rifle case.
If these aren't in your budget take a look at our best range bags. Be sure to find you a solid range carry option so you can get to and from the range with ease.
Accessories
Accessories are the expensive part of owning a gun if you ask me! Because you can never just buy a gun you have to trick it out or it just feels incomplete!
Let us start by talking about your optic options.
Optics
Optics are really personal preferences and largely depend on what you're setting your rifle up for.
If you want an SPR or a DMR style rifle where you add a scope or an LPVO to the rifle so you can shoot at a longer range this gun will easily accept a scope or LPVO and would work well for that application.
Naturally, if you're running this gun for a sub-100 yard shot you might consider a red dot sight, and the options for AR-15 red dot sights are endless.
LWRC IC DI
Caliber: .223 Wylde
Weight: 6.6lbs
Barrel Length: 16.1″
Overall Length: 23-35.25″
Check out the in-stock LWRC rifles at these retailers:
Brownells | GrabAGun |Guns.com | Primary Arms | PSA
Rail Attachments
The rail is proprietary so you will have to use special attachments made specifically for LWRC rifles.
The good news these are popular rifles so companies like Arisaka Defense make attachments for the rails.
You can easily mount your flashlights and other attachments using their LWRC specific attachments.
The gun does come with a number of rail covers a picitanny rail and a handstop.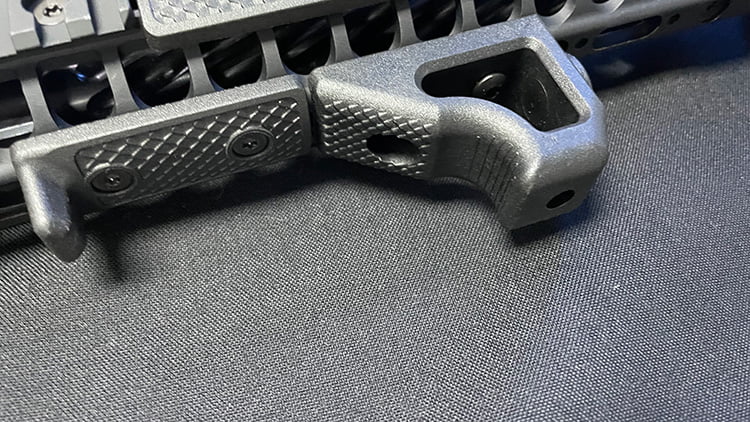 The rail covers are on both sides of the rail and make gripping the rail a great experience it also helps shield your hand from heat from the barrel under rapid and extended courses of fire.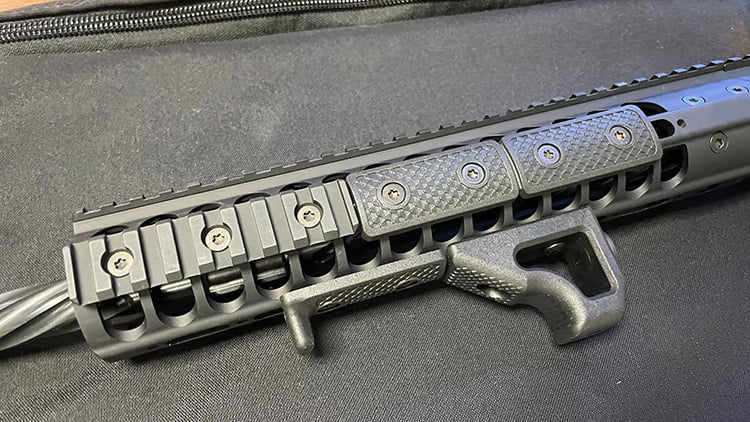 Aesthetics
The official model name for this gun is the LWRC IC DI Standard 5.56. But as you can see from the pictures above the lower is marked M6IC and the upper is marked IC-DI.
The overall look over the gun is well done and comes together extremely well. While the gun does look like a standard AR-15 at first glance but when you look closely you will see the very close attention to details.
LWRC M6IC Ammo
The 5.56 NATO/.223 round is what the M6IC uses are so far it has shot everything I've fed it.
Here are some of the latest deals on ammo for your LWRC M6IC.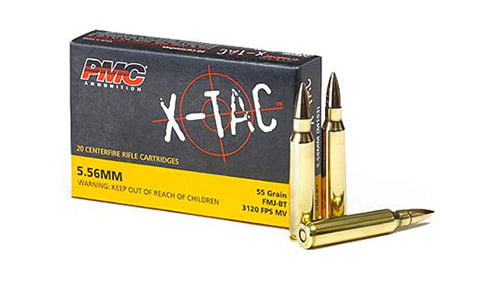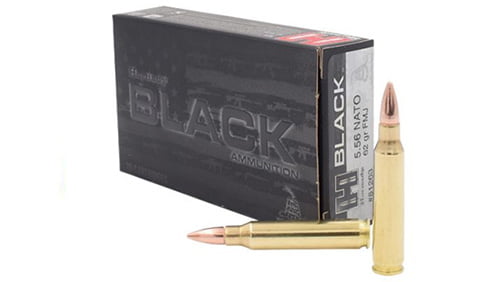 Final Thoughts
My final thoughts on this LWRC rifle are: it's fantastic. If you are looking for a quality gun that brings a ton to the table look no further than this LWRC DI rifle.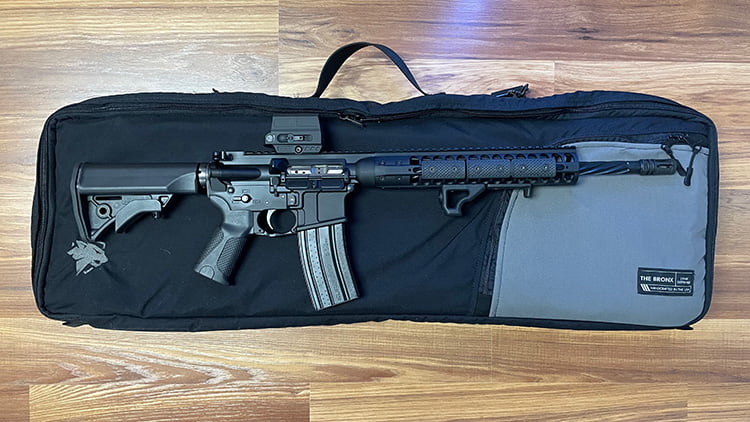 If you are looking for a gun that accepts nearly all the attachments known to man this might not be your gun.
While the LWRC rifle does have options and picitanny mount attachments for the rail it's not as versatile as the M-Lok system.
I still would not pass on an LWRC rifle, even with it's long list of proprietary parts and functions, the rifle itself is high quality and is a fantastic AR-15.
The rifle comes with so many upgraded parts you almost don't have to buy any aftermarket parts to get this gun "right".
FAQs
Since LWRC is a high-end brand it is not typically the first AR brand people learn about. So here are some of the most commonly asked questions about LWRC.
What is LWRC M6IC?
The LWRC M6IC is an AR-15 direct impingement rifle made by LWRC and was created for the US Military. LWRC also makes a short-stroke self-regulating gas pistol model which is the LWRC IC-SPR
Is LWRC a good AR brand?
Yes, LWRC makes extremely high-quality rifles and is known to perform at high levels through numerous stress tests.
What does LWRC stand for?
LWRC stands for Land Warfare Resources Corporation.
Is LWRC used in the military?
Yes, LWRC rifles are used by various groups in the US military as well as other militaries worldwide.
LWRC IC DI
Caliber: .223 Wylde
Weight: 6.6lbs
Barrel Length: 16.1″
Overall Length: 23-35.25″
Check out the in-stock LWRC rifles at these retailers:
Brownells | GrabAGun |Guns.com | Primary Arms | PSA