What is Mantis X? Mantis X is a system that uses data provided to you in real-time by a small sensor that is attached to your firearm, whether it be a pistol, rifle, or shotgun to give you feedback and tips to help you better improve your shooting ability.
Disclaimer
I am in no way a tech guy. When Michael first asked me to test these products out I instantly wrote them off as a gimmick. While there is still nothing that can replace actual time spent on the range, after testing these products for a while I can confidently say that I now view Mantis X and Blackbeard as useful items in my proverbial shooting toolbag.
Physical Product
Mantis X10 Elite is a small, blocky attachment that uses a railed interface to connect to your firearm.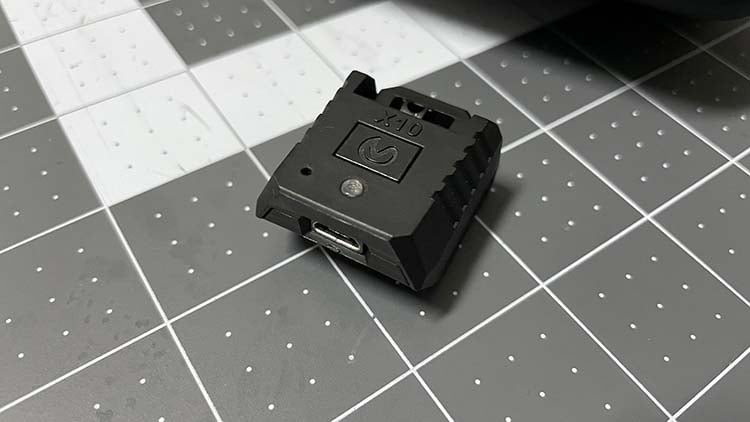 It comes packaged in a nice box and a quality zippered nylon holder. Inside the holder is the Mantis X sensor, a charging cable, and simple instructions.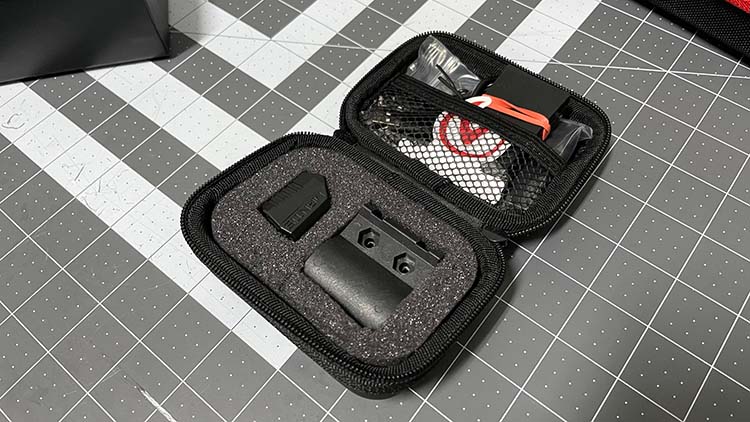 Inside this plastic attachment are sensors that pick up on the positioning and movement that your firearm undergoes while you shoot it.
It connects to an application by the same name that can be found on the Apple Store or Android market. This Connection is achieved through Bluetooth.
Once you have downloaded the application and entered in clarifying information to include firearm type, sensor location & orientation, dryfire, Blackbeard (more on that later) or live fire you're ready to get going.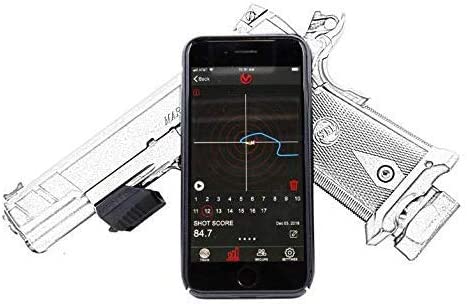 • Effective Training Tool
• Mantis X10 Elite sensor
• USB charging cable
• Train on the Go
Uses
Practical real-time feedback and shot data are given on EVERY shot taken.
This product could be used by first-time shooters to help mold their skills and avoid bad habits that would lead to poor performance if left unchecked.
Mantis X can also be used by novice shooters to hone in their skills and create good training habits while dry firing.
This product can also be used for experienced shooters who want to focus on certain aspects of their craft, such as compressed surprise breaks, reload, or hostage rescue drills.
Ease of Use
If you can flip a light switch, you can attach the Mantis X to your firearm. It's really that simple. Just flip the locking lever down, slide the unit onto the rail, and release the lever locking the unit onto the rail.
After that just open the app and you're on the way!
Takeaways
A simple design for a powerful training aid. There is a minimal add-on to use Mantis X. No weight to speak of and barely noticeable depending on where you have the unit placed.
One caveat is if using a pistol, you will need to use a holster that is molded for a light or laser as the unit will probably not fit in your normal holster. If you already have a light or laser on your handgun, it's not a big deal, but if you don't then you will need to acquire one to properly do some of the drills.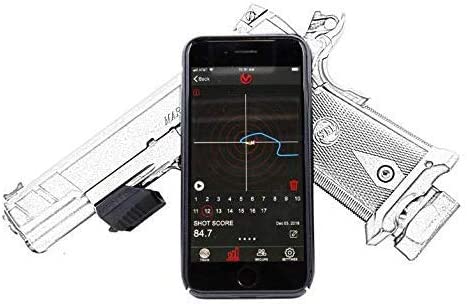 • Effective Training Tool
• Mantis X10 Elite sensor
• USB charging cable
• Train on the Go
Overall the Mantis X is compact and light enough to minimize any additional weight or space constraints that may exist. It seems tough enough to handle the recoil and any normal wear and tear that may happen at the range.
Phone Application
Since I use an iPhone, once I had the Mantis X in hand I went to the Apple App Store and downloaded the Mantis X application. This was as easy as searching Mantis X and clicking the download button.
Once downloaded on my phone, I opened the app and poked around a little to see what it was all about.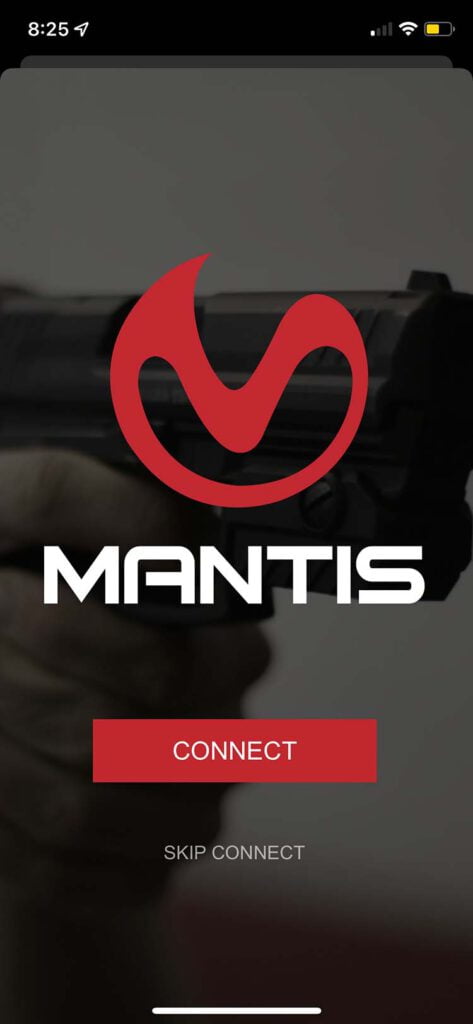 While exploring I saw the setup menu and clicked through it. Once in the setup, I entered the necessary information to create an account.
I then added a few pistols and rifles that I knew I would be using with this product.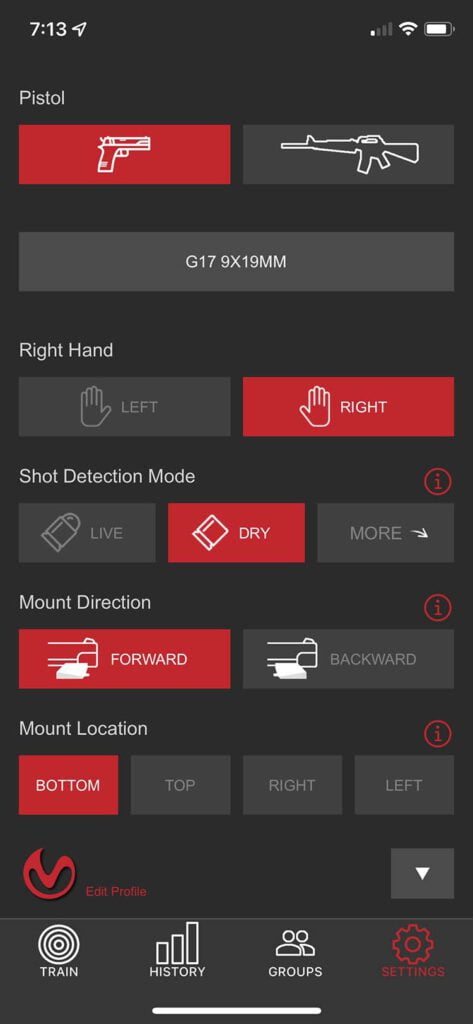 Features
The Mantis X app is broken down into a few sections. Once you have everything set up it will automatically take you back to the last page you were on when entering the app from that point forward.
After start-up, you will choose which weapon you will be using. This selection will drive you to the appropriate page for drills. I noticed there are more drills dedicated to pistol use and manipulation than rifle.
The drills that are available for pistol training are open training, shot timer, Mantis X Benchmark, timed benchmark, compressed surprise break, primary hand only, support hand only, reload and hostage rescue drills, and cadence drills.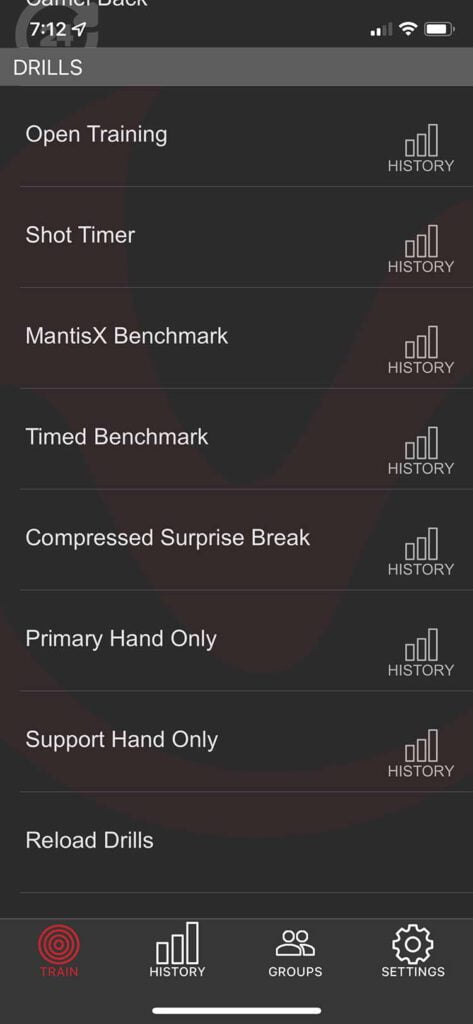 In the pistol section, there are also some courses that you can take that will guide you through several drills to earn a patch when successfully completed.
The available courses are Mantis X introduction, Basic Combat, Advanced Combat, Basic Marksmanship, Advanced Marksmanship, and Elite Marksmanship.
I have successfully completed Basic Combat and am currently working through the Basic Marksmanship for pistol.
When you successfully complete a course, you get a badge that will display at the top of the OS in the App to mark your success. You can also have a patch sent to your home to display as well. This goes for the pistol and rifle sections.
On the other side for rifles, for drills you have open training, shot timer, Mantis X Benchmark, timed benchmark, compressed surprise break, secondary as primary, kneeling, reload, and hostage drills along with cadence drills and the USMC Qualification.
As for courses that are available for the rifle you just have Mantis X Introduction and Basic Rifleman.
When looking at the data that is given after each use of the supplied drills or courses you can interact with the graphs and get pointers for what might have gone wrong when you were performing the drills. This is especially helpful if you are using this app as a training aid.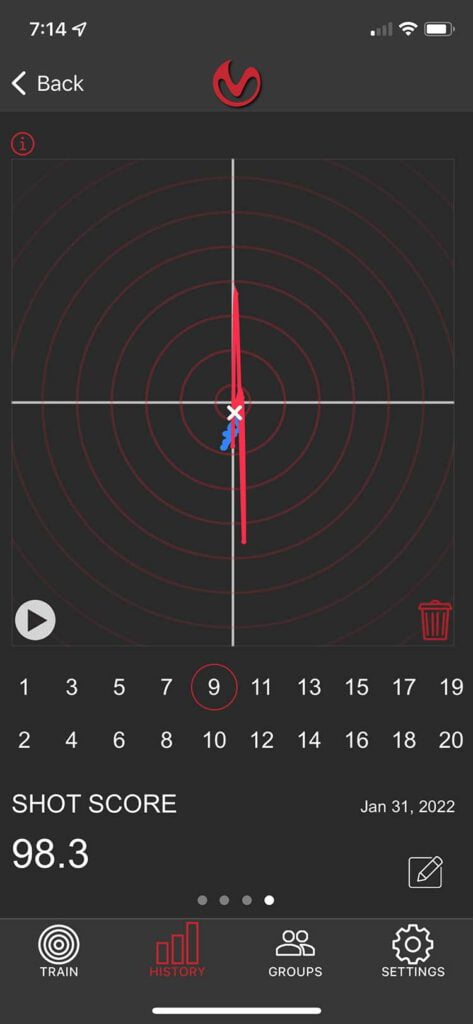 There are short videos and pictures that help guide and explain what to do and what not to do.
I found it nice that you aren't forced to have to view these tips and can do so at your own will.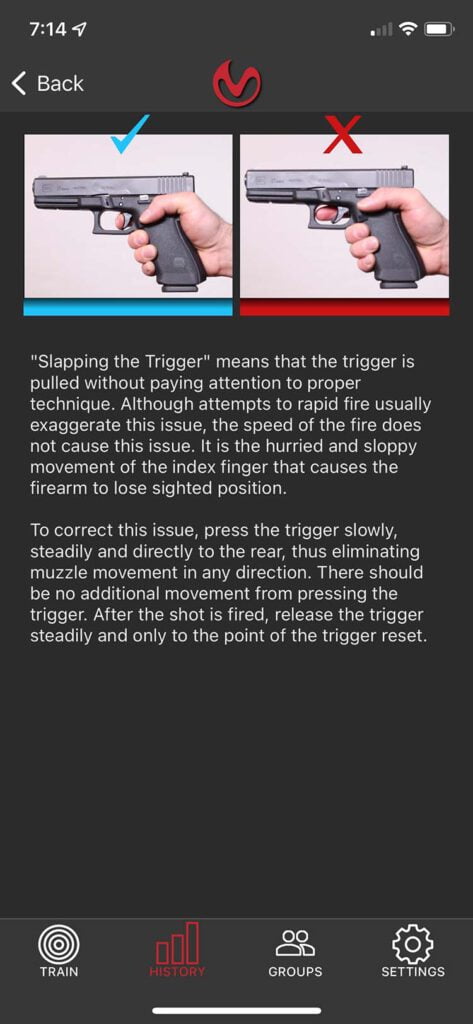 Interface/Ease of Use
The overall interface for the app is smooth and well thought out. I haven't experienced any major glitches or issues thus far. The experience is professional and logical.
Navigation is easy and is achieved by clicking on the major tabs found at the bottom of the App.
Takeaways
I honestly can't say I'd change much about the App interface itself.
I would like to see the rifle section expanded to equal offerings for pistol use and manipulation. I feel that there is an equal need for training with both a pistol and rifle.
When performing the single-handed drills, both strong hand and support hand, the natural cant of the weapon sometimes would be too much and not allow Mantis X to register the shot.
This I assume is due to the positional tracker in the unit. I feel it needs a little more give in this area, as no one holds a pistol completely vertical when shooting one-handed.
A safety concern I found was when performing all of the reload drills the written instructions state to insert a loaded mag (no mention of dummy rounds or snap caps) back into the handgun when doing the dry fire drills.
The video that you can watch to demonstrate the skills does state to use dummy rounds. However, I would like to see the written instructions include this verbiage as well.
But at the end of the day, safety is the user's responsibility and gun safety rules always apply when handling firearms.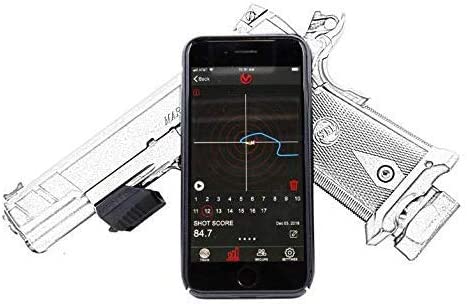 • Effective Training Tool
• Mantis X10 Elite sensor
• USB charging cable
• Train on the Go
One other slightly bothersome quirk I found was when practicing proper trigger control the reset of the trigger on my Glock 17 would trip another "shot" to be recorded.
Once this occurred there was no apparent way to go back and correct the error without starting a new session and losing the data collected to that point.
Mantis Blackbeard
Blackbeard is an interesting name for this device. I could not find any mention of why this name was chosen, but the only thing I can think about is Blackbeard the pirate hauling an AR-15 equipped with this product around instead of his blunderbuss.
Admittedly that would make for a pretty cool story, and those annoying privateers would have been given a run for their money.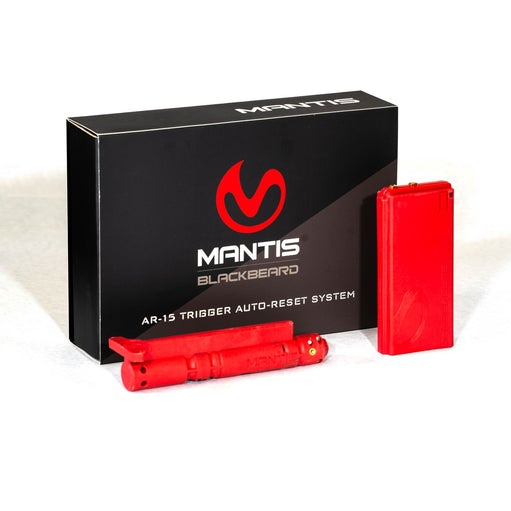 Product
The Blackbeard system consists of two separate parts that work together to achieve a few things.
The first part is a bolt and charging handle replacement. This works to reset the trigger up to ten times a second as is claimed on their website.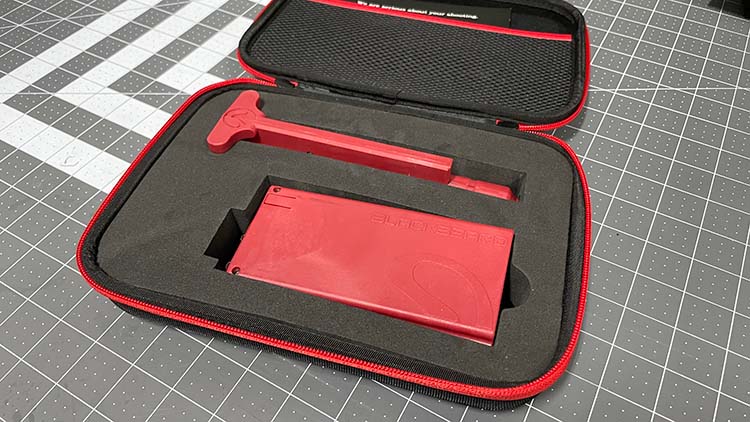 The second part is a magazine replacement that is the battery that provides the power to actuate the trigger reset.
The combination of a removable battery allows for reloading drills and is quite clever in design. The two connect where the top of the battery and the bottom of the BCG interface naturally. This simplicity is genius.
You don't have to use a special trigger pack or make any permanent changes to your rifle. Just remove the BCG, charging handle, and magazine from your rifle, drop in the Blackbeard system and you're off to the races.
There is a laser integrated into the Blackbeard device for use with Mantis X's laser training academy, but I was not provided the details to use that software.
Uses
I found the Blackbeard system to be very useful when practicing drills with the AR. It saves a lot of time that would be used manipulating the controls of the rifle after each shot instead of spending the time focused on trigger control and trigger reset.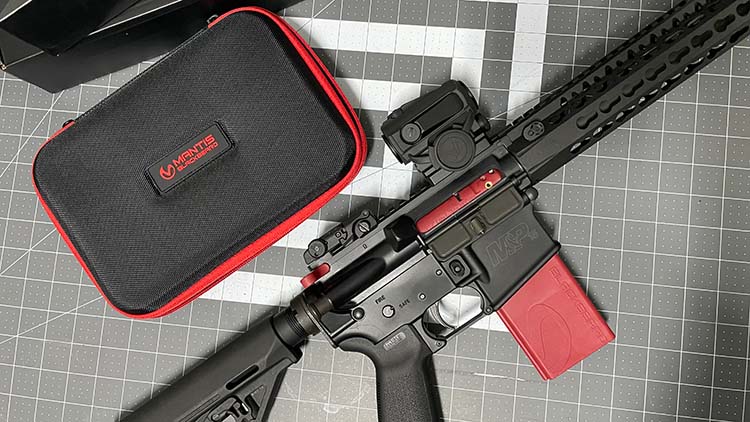 I did use the Mantis X without the Blackbeard device and it was a pain in the ass to get any quality use from without it.
Ease of Use
How hard can it be to field strip your rifle and drop in the training components? After they are installed, simply close the rifle back up and pull the trigger until your heart's content.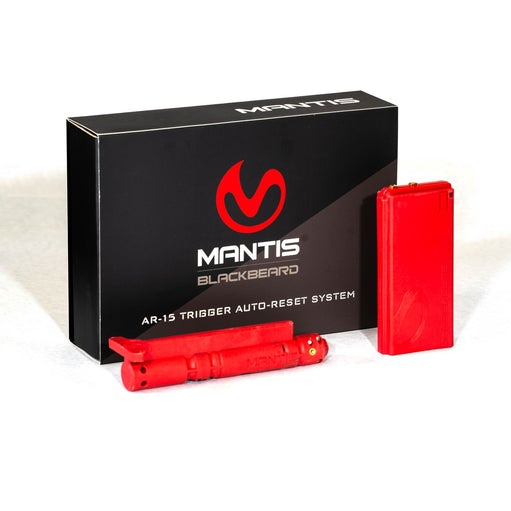 Takeaways
This product made reps easy and saved me a lot of time and hassle not having to manually reset the rifle after each trigger pull.
The built-in laser is a very nice touch and I really like how natural and real the Mantis Blackbeard makes training.
Products Acting in Concert
Mantis X and Blackbeard are best used to complement each other. Can each be used separately to varying degrees of success, yes. To achieve the fullest experience though you need to have both.
Connectivity/Ease of Use
The only complaint I have when using Blackbeard in conjunction with Mantis X was the App was not able to register the trigger pulls at the speed at which I felt comfortable making shots.
This is a minor complaint and is solved by simply slowing down the cadence of the trigger pull.
Other than that one complaint, the Mantis X software and Blackbeard hardware worked nearly seamlessly together.
Conclusions of the Mantis X System
Even though when I first laid hands on these products I had prejudged them to be a gimmick, after spending time using each I now see them as valuable tools to keep in my proverbial arsenal.
In no way will software with an analog supplement ever replace good time spent on the range sending bullets and brass flying, but I have a feeling that the people over at Mantis X never intended this product to act as such.
I plan to keep using Mantis X and Blackbeard to further my experience and get dry fire reps under my belt to further my mastery of this craft.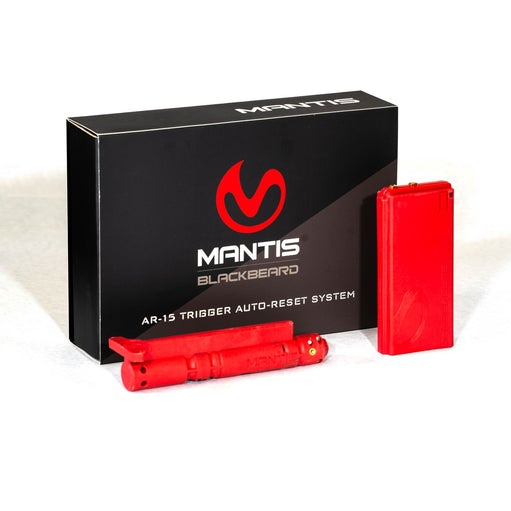 The badges patches and scores kept are a nice tangible window and motivation to continue to better myself continually.
Check out Lynx Defense's line of pistol range bags and rifle cases.