If you are looking for the perfect small footprint red dot sight for your slim frame pistol, Primary Arms finally has an offering for you with the Primary Arms Mini Reflex Sight.
The red dot attaches directly to the Glock 48 MOS and is priced extremely well. Time to dive into this brand new optic and see how it performs!
First Impressions
One of my first impressions of the mini reflex site was the fact that it's incredibly small, hence the name mini.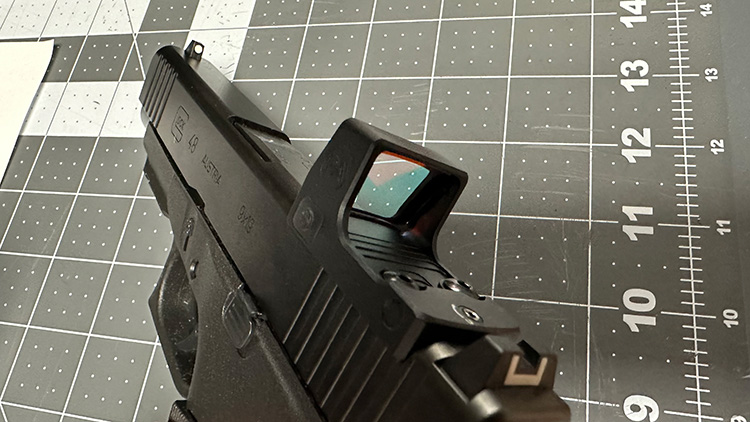 But still, I was shocked at how small the optic actually was. It's very compact and it's very sleek but what caught me off guard was the quality of the overall build.
For $150, I was really shocked at how much I liked it from the get-go and the reason I say that is I wasn't expecting a whole lot out of $150 red dot sight.
Especially from previous interactions with pistol dots and how much they cost. One thing this optic really does is start to force pistol red dot manufacturers into making more reasonably priced optics.
Overall, my first impression of the mini reflex site is fantastic. I've had a few bumps here and there with some screw compatibility issues on some other pistol optics, including Holosun.
So, I wasn't a hundred percent sold, but just picking it up, holding it, looking at it, touching the membrane pads and seeing the overall design, I was pretty excited about it.
Materials
The materials are the same as the Primary Arm's Micro Reflex Sight, which is made more for a Glock 19 or similar compact pistol.
So diving into this a little bit more on the material side, it uses the same material that the Micro Reflex sight does. It's the aluminum 6061 T6, here is a little more on the 6061-T6
The numbering of aluminum alloys identifies the primary alloying agents and the other active chemical elements in aluminum.
primary arms classic micro top

The 6061 aluminum is often referred to as the "The Workhorse Aluminum" due to its corrosion resistance and its high heat welding properties.

The "-T6" is the thermal and heat-treated tempers measurement and the T6 means that it has been solution heat-treated and artificially aged.

Primary Arms Micro Reflex Sight Materials
I dove into that a little more on the other review, but just to reiterate, the 6061 T6 is a coding classification and essentially a tolerance and metal rating.
Weight
The weight is incredible. This thing's tiny. It clocks in, right at 0.97 ounces. It's not even a full ounce.
You're never going to notice the weight once you throw it on your Glock 48 or your 43X.
But with the lightweight design I was worried that the optic wasn't going to be durable enough, but so far, so good.
You can rack your slide with it. I probably wouldn't make a habit of racking the slide with your red dot, even on the Trijicons.
I don't make a habit of it just because I don't think it's the best option for racking your slide.
Reticle
The reticle on this Primary dot is a 3 MOA dot.
I don't know if it's just me, but comparing this dot to the micro-reflex sight dot, this one seems a little smaller.
It could be something to do with how much smaller the optic itself is and how much smaller the gun is in relation to the sight picture and everything around it that makes the dot seem smaller.
The dot itself is very crisp and it works great. I had no problems with the dot and the sight picture.
It sits in a stock Glock 48 MOS just above the stock sights.
Now, if you wanted to get some suppressor height sights for it, the dot's going to probably align with the front post. So, I don't think I would worry about changing the sights on this once you have your dot mounted.
Adjustment
Adjustment of the optic is pretty standard. The top screw will adjust your elevation, turning it clockwise will take the dot upwards.
On the right side, you have a small screw that turning it clockwise will move it right, and that will adjust your windage.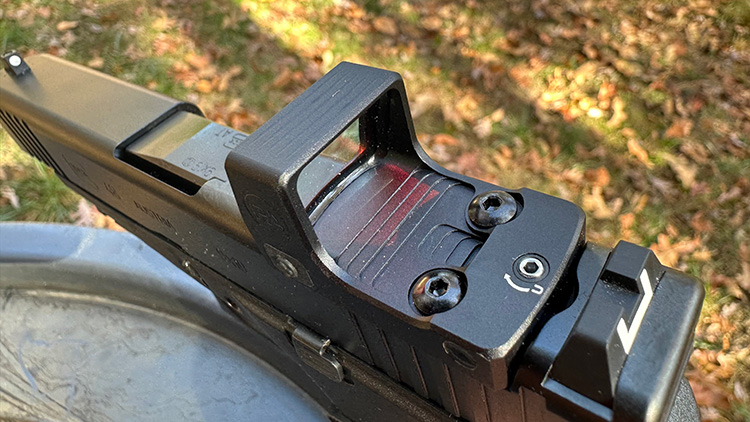 Some people are reporting that the right screw is hitting the plunger in the Glock which could cause a malfunction. The screw would just be too long and should be a hair shorter. You can grind the screw or contact Primary Arms and they will take care of it.
Battery
Battery life on the Mini reflex is actually almost identical to the micro, according to primary arms.
I haven't tested this long term, but I will say that the Mini red dot gives a range for the battery life, whereas the micro, they're pretty dead set on 40,000 hours for medium setting.
The range on the mini reflex sight is set at 25,000 hours to 50,000 hours and depending on what setting you have it on that will give you a certain number of runtime hours.
Anything over the five or six setting would probably net you the 25,000 hours, which is still an incredible amount of time, but that's just something to keep in mind. Also, know that this is only $149 optic, which is incredibly affordable.
Durability
As always, I don't have a true durability test. I did not destroy one of the optics to test it, but it is an all-aluminum housing with rubber touch membrane pads.
Much like many others on the market, it feels as solid as any Holosun or Trijicon optic out of the box.
Now, will it hold up like those? I'm not a hundred percent sure because I haven't put it through the testing those have been. If I get another one, I may go ahead and try that for the purposes of science.
Sight Picture
The sight picture on this is really good. It has really thin walls which are one thing I really like about Primary Arms' classic series of pistol optics.
Having really thing walls on the optic allow you to focus on your target and not focus on the sight.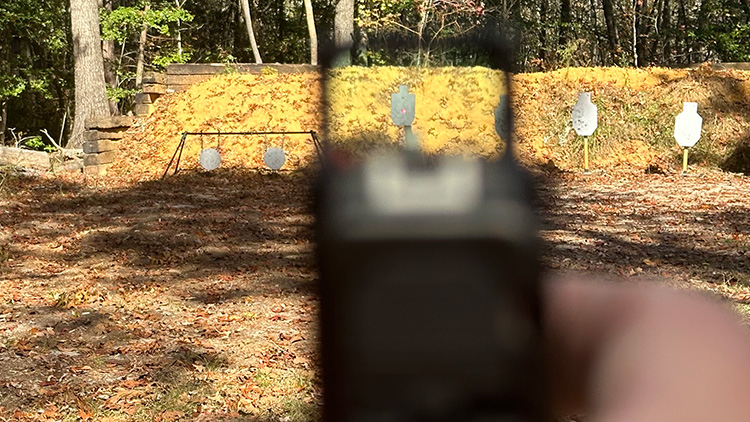 You don't need to be focused on the dot. You need to be focused on your target and the thinness of the optic walls really helps not distract you and not get in the way of looking at and seeing your target.
I can't speak highly enough about how much I like the sight picture on the mini reflex sight. I think it's a great option for a Glock 48.
Operation
The operation is dead simple. You have two buttons on the whole thing.
You have a plus on the left side, you have a minus on the right. That took a little getting used to, I don't know why, but in my mind, the plus should have been on the right.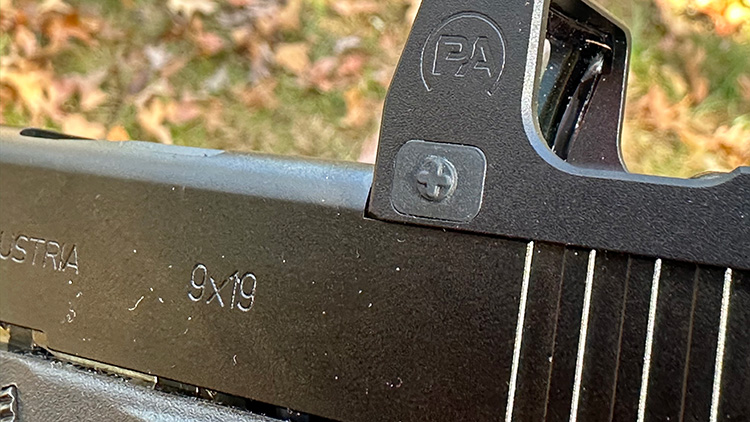 I tried to turn it up to adjust the brightness on a sunny day when I was shooting, and I was like, "Did I just turn it off?" And I did.
I turned it all the way down. You just have to know where your adjustments are.
If this is your carry gun and you shoot it a lot you're going to memorize it and you'll not have to worry about it and be silly like I did.
But I have used a ton of different pistol optics from doing all these reviews and so I assumed it was on the right and it wasn't, but no biggie. It works great. Adjustment's super easy and had no problems getting it sighted in and adjusting the brightness.
Mounting
I've had trouble with mounting in the past, including with the Primary Arms Micro sight.
Most of that came down to the screws, and I was very iffy about how this was going to go.
So, when I started to mount this on the Glock 48, I thought, surely I'll need some kind of plate or adapter.
Well, fortunately, they used the same footprint as the Holosun and the Trijicon RMR for this gun, and it literally mounts directly to the slide, and sits right in the slide.
I wish every gun you could mount directly to, I wish there was one standard for mounting. For pistols, there's not, but the Primary Arms mini reflex sight will mount directly to the Glock 48 out of the box.
So to reiterate, you don't need any adapter plates. It goes straight on and it's a wonderful $150 price point and it mounts right to the gun. That's insane.
Now, let's talk about my final thoughts, Primary Arms Mini Reflex sight final thoughts.
Primary Arms Mini Reflex Sight Final Thoughts
My final thoughts on the mini reflex sight are simply this, you cannot beat this red dot sight for the money.
I say that having owned a Trijicon RMRs, Holosun 407Cs, Primary Arms, you name it, Delta Point Pro. I mean, you name the optic, I've probably either owned it or used it a fair amount.
I'm not one to consider myself an extremely budget-minded shopper for guns and accessories.
I have one hobby, and that's guns. I don't really care about cars, etc. Computers and guns are really my forte. That's what I spend my money on.
So, when I got this optic, I didn't think I'd fall in love with it because I have a lot of extremely, extremely high-end options available to me because this is my hobby.
I was really shocked at how much I liked this red dot. I'm not saying I wouldn't go to a Trijicon over this if money was not an object.
But, if I had to equip five different pistols that all needed this smaller optic footprint, I would definitely not hesitate to go to the Primary Arms mini reflex sight. This thing's going to do what it needs to do.
The only thing that concerns me is it's not stood the test of time just yet, but neither have a lot of the Holosuns or a lot of these other new pistol dots.
I do trust Primary Arms' testing process. I think they would not have released this if they were able to find a major issue through a significant amount of testing.
Overall, I would not hesitate to buy this. It's a $150 investment. It's not going to break the bank, and they have an incredible warranty and an awesome support staff. For this price, it's really, really hard to beat.