Description
Made in the USA
Berry Amendment Compliant
Our 42″ rifle cases are made with Cordura fabric, which is a rugged and durable performance fabric for a variety of end uses. Cordura offers enhanced tear and abrasion resistance, and long-lasting durability.
Criss-Cross Buttstock & Barrel Security
Much like hard cases you don't want your rifle to bounce around in your soft case. We have gone the extra mile and created Criss-Cross security for your barrel and buttstock. So you get to pick how secure you want your rifle while carrying.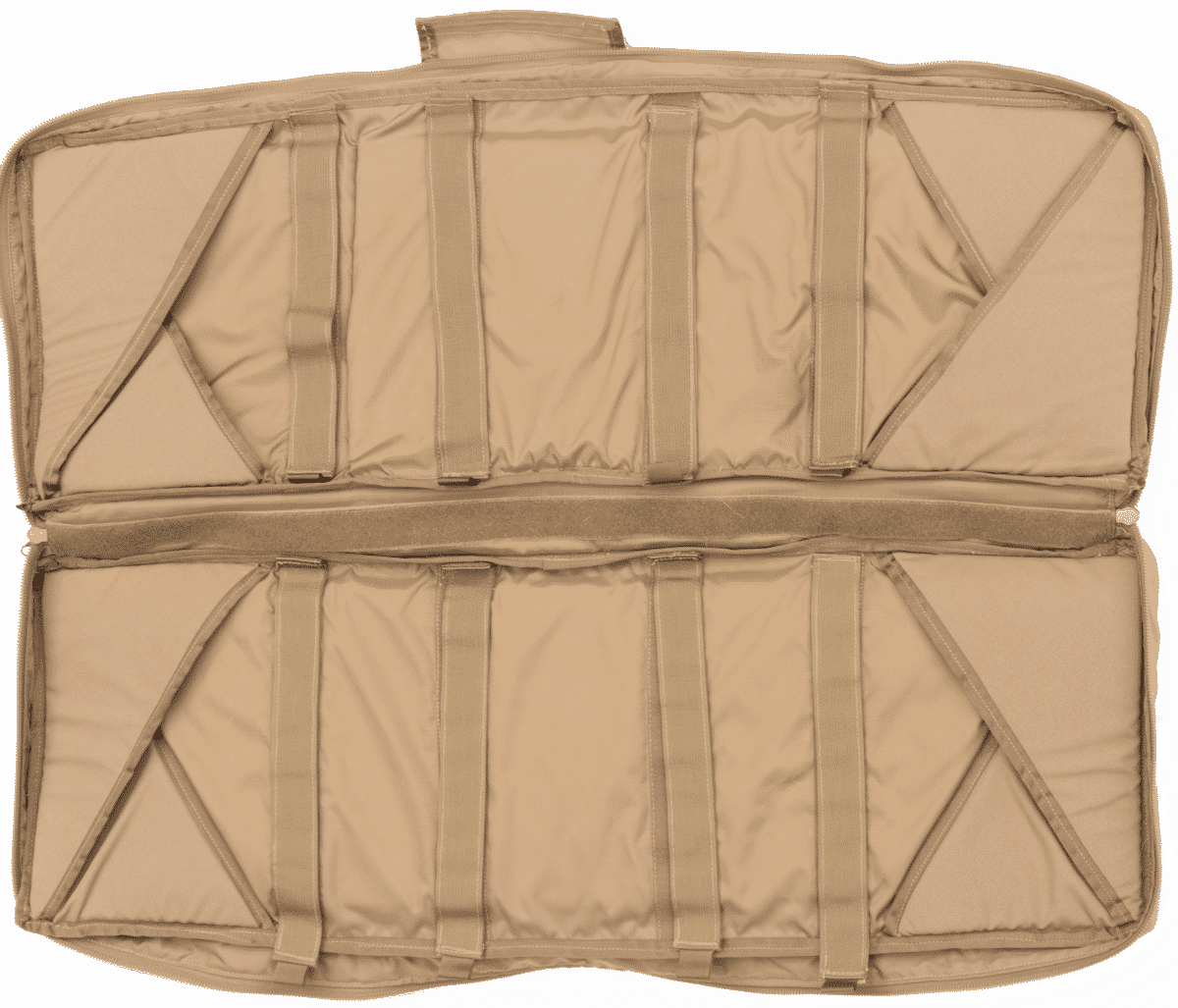 Features are important so we did not hold anything back with our rifle bag. This bag provides a removable shooting/cleaning mat that is the width of the bag. When not being used as a shooting mat it is attached by hook & loop in the center of the bag and keeps the guns from hitting each other.
4 x Configurable Security Straps
We have solved the age old problem of your bag interior straps not being in the right place to secure you firearm. With our four interior straps, not only can you ensure a secure firearm, but you can pick and choose how many or few you'd like to use.
Backpack Carry or Handle Carry

The choice is yours.

FEATURES
100% Made in the USA two gun rifle case(Berry Amendment compliant (USC, Title 10, Section 2533a))
Dimensions: Length: 42inWidth: 4in Height: 12in (42in Model)
Three expandable pockets for magazines and ammo
Adjustable backpack style straps that contour to create a more natural carry
Two small arms storage areas with hook and loop closure
Two large zipper compartments for cleaning kits and accessories
Case will fit most 16in rifles with a collapsible buttstock
Built in gun divider detaches and can serve as a gun mat
Durable 500D Cordura fabric
Made in the U.S.A.
Our rifle cases are 100% American made and also Berry Amendment compliant. We are extremely proud to say our bags are manufactured in North Carolina.
Configurable
Both sides of the rifle case come with 4 completely removable Velcro straps. This allows you to configure your rifles in a way that you feel fits best. With our dual triangle barrel end and butt stock retention your rifle will not bounce around or move inside your rifle case no matter what the conditions are.
Built in Range Mat
Our rifle case features a built in range mat that also serves as the divider for your case. The range mat is great for safe placement of your firearms while at the range. The mat is also great for cleaning your firearms, with an easy to clean fabric it makes clean-up of your gun cleaning a breeze.
Will my rifle fit in this case?
We have covered what size rifle case to get more in depth over on our blog.
This case is ideal for rifles with 18″-21″ barrel lengths and firearms with an overall length of 40″ or less. While longer firearms may fit in the case we cannot guarantee a comfortable or snug fit. It is always recommended to collapse your stock all the way when measuring the overall length of your firearm for case and carrying purposes.
About our Manufacturing Process
Our bags are handmade in Selma, North Carolina where we cut, sew, and quality check the bags prior to shipment. Our process allows for total control of the manufacturing process. Since we handle everything in house, when an order of an out of stock item is received it goes into production immediately and we keep you updated via email during the manufacturing process.