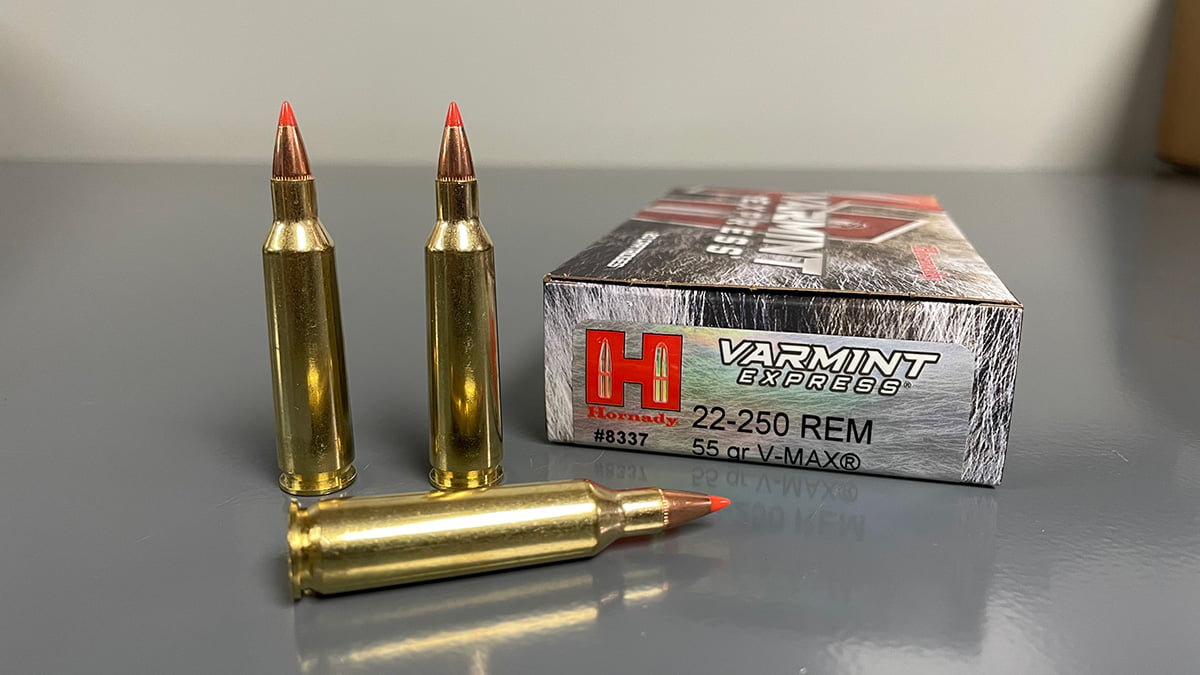 When it comes to high-velocity small arms rounds the 22-250 Remington comes to mind almost immediately. With its extremely high velocities, it is an extremely popular round for varmint and small game hunting.
History of the 22-250 Remington
The 22-250 Remington is a rimless bottleneck cartridge that was designed in 1937 and has been in production since 1965
Like a lot of cartridges, the 22-250 started out as a wildcat cartridge.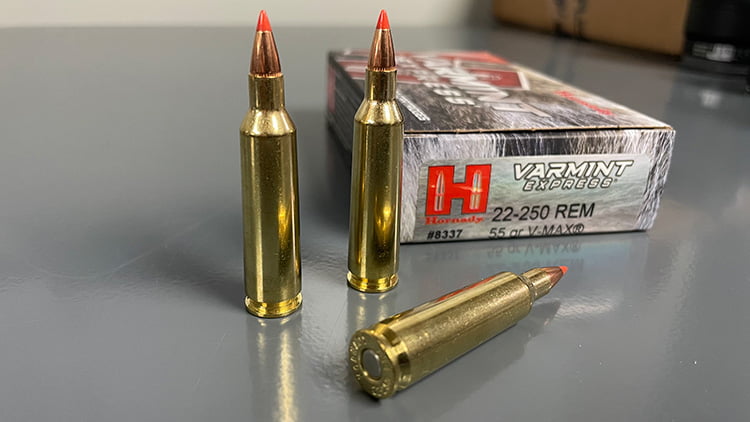 If you don't know what a wildcat cartridge is it's simply an ammunition cartridge that is not widely produced or one that doesn't have wide commercial acceptance.
The 22-250 was born from the .250-3000 Savage case that was necked down for the .224 caliber bullet.
The .224 caliber bullet is one of the most common in the world due to being used in the 5.56 NATO / .223 Remington round.
The .22-250 is very similar to the .220 Swift cartridge but was outperformed by the larger 220 SWIFT.
Purpose of the 22-250 Remington
The main purpose of this round is for hunting small game and varmints.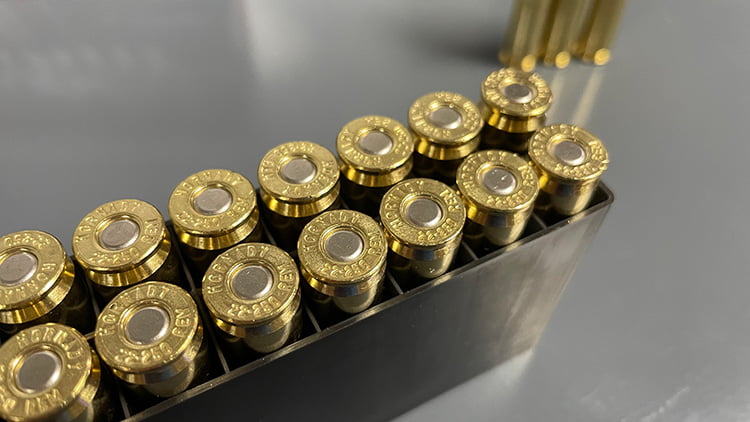 For example, I've been eyeing a Lynx hunting trip for obvious reasons and I've been trying to figure out the best caliber for hunting medium game.
The big thing I have to take into consideration is I don't want to mess up the fur as I plan to have a full-body mount done.
So while digging deeper into the right caliber for the hunt the 22-250 came up in a lot of my research.
The 22-250 is great for smaller game as it has the penetration and flat trajectory while still maintaining its ability to effectively take your target.
Performance
The performance of the 22-250 round is what makes it so impressive. It carries a very similar grain weight and the exact same bullet diameter as a 5.56 round.
The .22-250 Remington in 55-grain muzzle velocity is 3,786 feet per second with 1,751-foot-pounds of force on target.
Comparing that to the 55 grain 5.56 NATO round with a muzzle velocity of 3,260 feet per second and 1,294 feet pounds of force on target.
The higher velocity and power of the 22-250 provide for excellent knock-down power and penetration while minimizing the mushroom of the round tip. This helps minimize the damage to the animal when the round passes through it.
Guns that Shoot 22-250 Remington
There is no shortage of guns that are chambered to fire the .22-250 Remington cartridge. Most of these guns are going to be bolt action rifles due to the round's favorability with small game hunters.
Ruger American Predator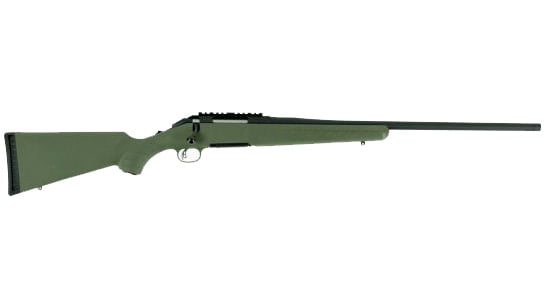 The Ruger American line of rifles might go down as the rifle line with the widest selection of calibers available.
The American Predator is a fantastic rifle and can be purchased in .22-250 Remington.
The Ruger American Predator is extremely affordable and comes in at $449.99 so it has a solid price point and is a great budget option if you want to get a rifle in this caliber.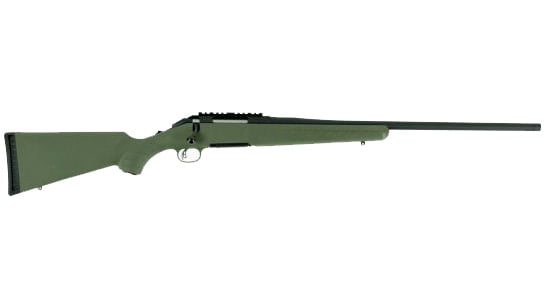 Weight: 6.60 lbs
Overall Length: 42″
Capacity: 4+1
Savage Axis

Savage is known for making quality firearms at an extremely fair price. The Savage Axis series has gone through a number of versions and models and this Axis II is available in this Remington round.
I own a Savage Axis and will vouch that while they are nice guns for the money they are not "high-end" rifles but definitely do the job just fine.

Weight: 6.3 lbs
Overall Length: 42.5″
Capacity: 4+1
Winchester 70

The Winchester 70 might be a hard rifle to come by right now but it is an option in the higher-tier price range.
The Winchester 70 can be bought as a package that includes the scope if you aren't picky about your optic.
Remington 700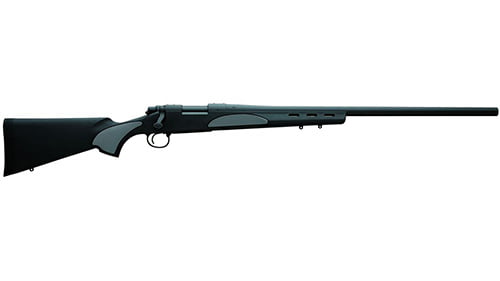 The tried and true Remington 700 rifle comes chambered in nearly any caliber under the sun so it's no shock that there is a Remington 700 .22-250 Rem rifle.
It helps that the .22-250 was developed by Remington so it would raise eyebrows if they didn't chamber their flagship rifle in a round that they, themselves, created.
The Remington 700 has thousands of accessories available for it including chassis and attachments, which make it an extremely attractive option to buy.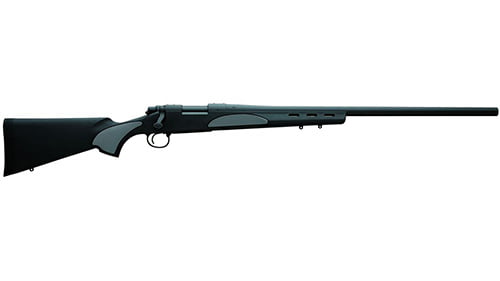 Weight: 6.3 lbs
Overall Length: 42.5″
Capacity: 5+1
Bergara B-14 HMR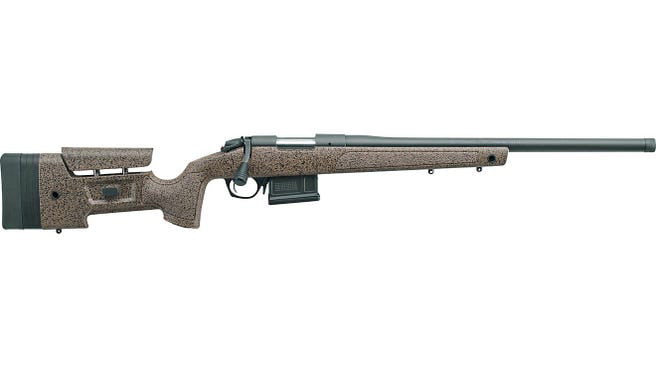 The Bergara B-14 HMR is on the higher end of the price points for rifles on this list.
But the B-14 HMR is a fantastic gun that comes chambered in .22-250 Rem.
It boasts features like a 5 round detachable magazine and a threaded barrel so you can immediately add your suppressor.
Like most solid bolt action rifles the B-14 has a free-floated barrel.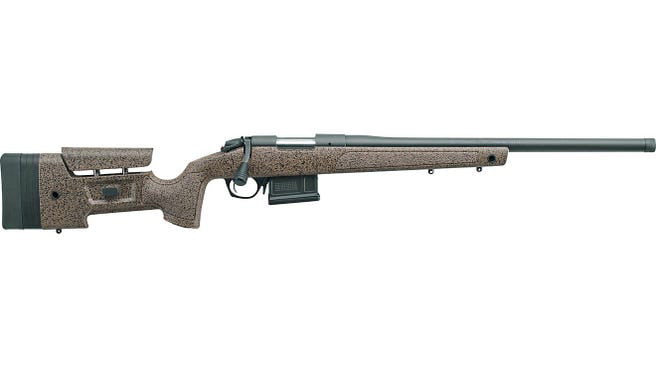 Weight: 6.3 lbs
Overall Length: 42.5″
Capacity: 5+1
22-250 Ammo
I was able to get my hands on 22-250 at my local gun store but unless you have a store with a wide array of ammo you might have to purchase your 22-250 ammo online.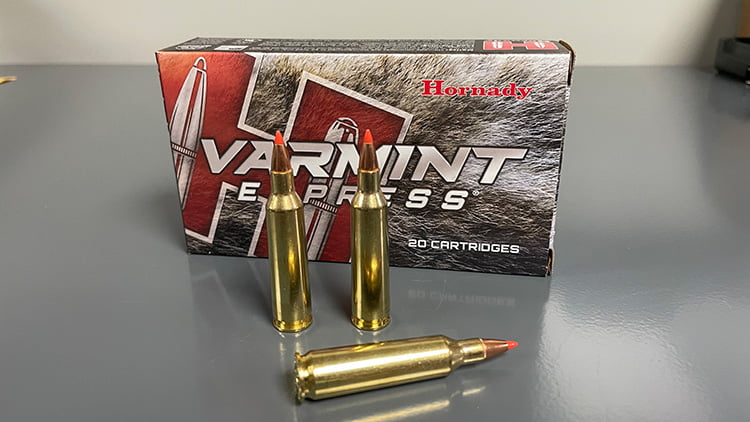 Price
The price of 22-250 ammo is in flux with the rest of the world right now but can be found for right around $2 /round. This puts boxes of 20 rounds between $38-$40 before shipping.
Your best price on this ammo is likely to be found at your local gun store or at big box ammo sells like Cabelas.
Availability
22-250 is fairly common in the wild world of in-stock ammo. Your local gun store may or may not have it, that would likely depend on the amount of small game hunting done in your area.
Online retailers like Sportsman's Warehouse, Cabelas, and Optics Planet will typically have some in stock.
Optics Planet often has a wide selection of ammo but finding what you want in stock can be iffy at times.
Palmetto State Armory offers tons of ammo and while they might be out of this particular Remington ammo you can always sign up to be notified when it's back in stock.
Brownells can be a great go-to when it comes to rifle ammo so take a peek at their in-stock selection.
Natchez isn't as well known in the gun world but they have a massive selection of ammo available.
Sportsman's Guide member pricing is fantastic on Sportsman's Guide and is my go-to if they have ammo in stock.
Ammo Squared is a fantastic ammo option for getting ammo on a regular basis.
22-250 Remington FAQ
Is a 223 or 22-250 more powerful?
Both cartridges are very similar in muzzle velocity as well as foot pounds on target.
However, the .22-250 edges out the .223/5.56 NATO round for every grain weight that they share.
Is a 22-250 a good deer gun?
The .22-250 Remington round is okay for deer. It will depend on your overall distance from the deer as well as your shot placement on the deer as to the effectiveness of the round.
Is the 22-250 a good round?
Yes, ballistically the 22-250 Remington is a fantastic round serves are a very specific niche in the ammo market for taking small game with a high-velocity low damage round.
Do they make a 22-250 Semi-Auto?
Yes, a handful of companies make a .22-250 Remington in Semi-Auto. They typically use the AR-15 platform for these guns as it doesn't require new bolts or magazines only different barrels.