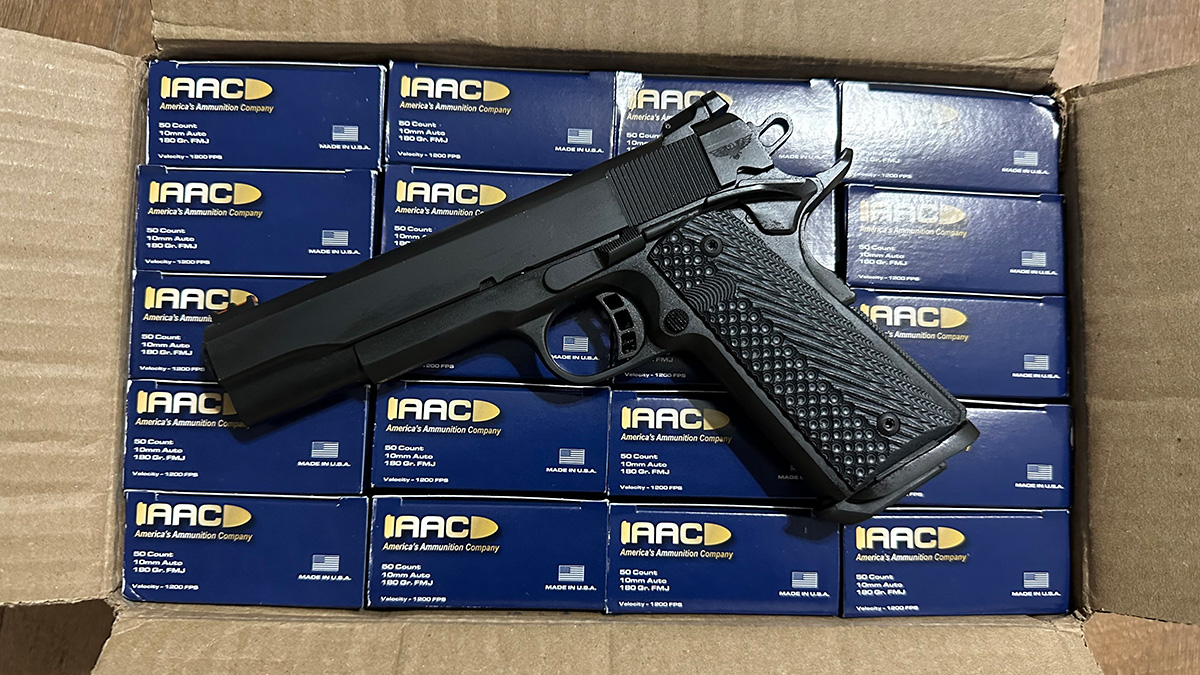 To date, 10MM Auto is one of the largest handgun calibers available. When you hear people engage in the 9mm vs 45 ACP debate, you always have the 10MM Auto guy laughing in the background. Here is our rundown of the best 10MM handguns on the market.
About 10MM Auto
The 10MM Auto, typically just known as 10MM, was created in 1983 by Jeff Copper a US Marine it didn't get much initial traction.
In 1989 the FBI originally selected the 10MM for service before later creating the .40 S&W round. The FBI didn't like the round because they felt the recoil was excessive for most of their agents and for the agents with smaller hands it was hard to control.
The 10MM has developed an extremely loyal following over the years and it's very popular in its circles.
10MM shooters are incredibly loyal to the round and swear by it for all purposes. 10MM Auto has its place in the market and it is a highly viable hunting round.
Best 10MM Handguns
Which 10MM pistol is best is subjective and the best 10MM handgun for one is not always the best for all.
Time to dive into some great 10MM handgun options!
Glock 20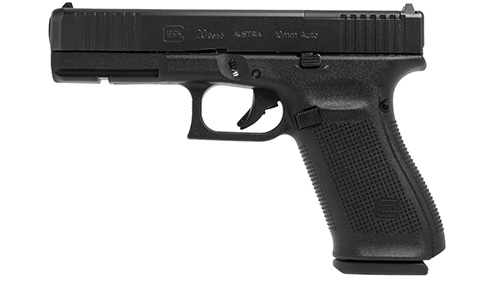 The Glock 20 might be the most popular of all the 10mm handguns on the market today.
The G20, no not the summit, is iconic in its size and the fact it's been one of the longest-running 10mm pistols on the market.
While a Glock is a Glock is a Glock, the Glock 20 is the full-size version and offers the maximum amount of hand real estate. The G20 does come in an "SF" version, which has a shorter frame.
Undoubtedly, the Glock 20 stands as one of the best 10mm handguns. You do not often find high caliber and high control so congruently fused into one, yet the Glock 20 Gen 4 does precisely that.
Let me explain why.
As a professional with years of experience managing firearms, I can affirm the superiority of the Glock 20 in the realm of 10mm handguns.
Far removed from the bulky steel 1911s, the Glock 20's construction hinges on using innovative hi-tech polymers.
This strategic use of materials keeps its weight down to a reasonable 39.5 ounces, boosting its wielder's control and overall handling.
Now, let's delve a little deeper into its tactical features.
The G20 comes with an integrated accessory rail positioned forward of the trigger guard, allowing for the attachment of tactical lights, laser aimers, and other accessories.
The high-capacity magazines hold 15+1 rounds, a generous capacity that makes them ideal for both home defense and hunting.
Moreover, the Glock 20 maintains the perennial Glock reputation for durability and accuracy.
In essence, it's a Glock – 'nuff said.
Interestingly, even with the formidable power of the 10mm cartridge, the Glock 20 feels similar to its 9mm counterpart, the G17, in your hands.
Its design is indeed slightly bulkier, and the grips are marginally wider, but the difference is hardly detectable during handling.
Plus, you can opt for the G20 Short Frame (SF) version if you desire a sleeker version.
From personal experience and the collective nod of the global shooting community, the Glock 20 showcases a mastery of handgun engineering that makes it a standout choice for anyone looking to invest in a 10mm handgun.
Sig Sauer P320-XTEN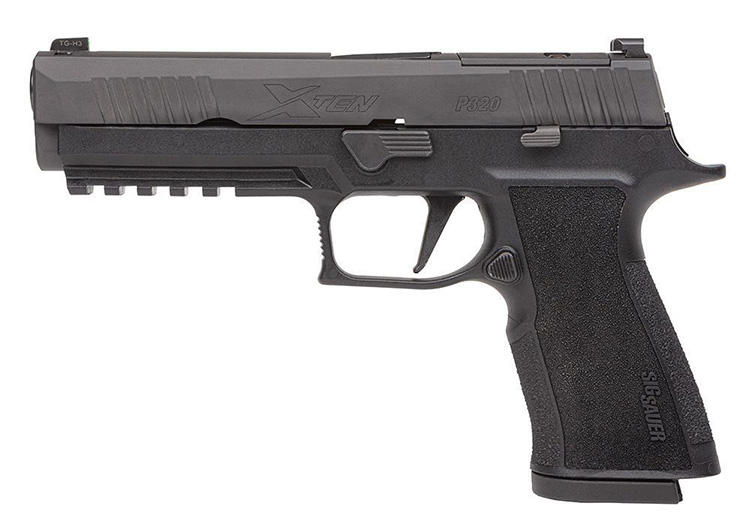 I can confidently affirm that the Sig Sauer P320-XTEN has been a welcome to the 10mm handgun market.
Although it may be the latest addition to the Sig Sauer line-up, having been on the market since 2022, it has already established a noteworthy presence amongst striker-fired handguns.
This robust handgun provides a novel shooting experience, and its advanced features tailor to expert and novice shooters alike, truly underscoring why it is one of the best 10mm handguns.
The P320-XTEN's captivating design is a testament to Sig Sauer's commitment to showcasing state-of-the-art handguns.
It is a full-sized, polymer-frame striker-fired pistol that is slightly larger than most, at 8.5 inches in length, 5.6 inches in height, and weighing 33 ounces.
Boasting a 5-inch bull barrel and a generous capacity of 15 rounds, this competent handgun might be hefty for concealed carry, yet its shooting performance is undeniable.
The strength of 10mm cartridges may be daunting, but Sig Sauer has taken considerable steps to ensure a more pleasant shooting experience with the P320-XTEN.
The handgun comes with a thinner, more ergonomic grip module, splendidly textured for improved traction in hand—even when the recoil kicks in.
Impressively, the P320-XTEN doesn't limit its prowess to close-range shooting.
This handgun is ideal for all, including home defenders seeking a robust, reliable, and capable firearm, with a 5-inch barrel allowing for sufficient velocity.
Optimized for red dot attachments, the P320-XTEN imparts a significant advantage for shooting at range.
But let's not overlook a unique feature that steals the spotlight: the optics-ready slide. This model is compatible with ROMEO2 and Trijicon RMR.
What's perhaps most interesting about the P320-XTEN is the flat-faced trigger that breaks around the 4-pound mark, a feature that not only provides a smooth and precise trigger press but also contributes to the impressive accuracy of this firearm, rated 7 out of 10.
Despite its commanding presence, the P320-XTEN doesn't compromise on user comfort.
Equipped with a generous beavertail and an ambidextrous setup, this model guarantees a comfortable and versatile experience for both right-handed and left-handed users.
Admittedly, the size of the P320-XTEN might deter some who wish for a smaller, everyday-carry firearm.
But for those seeking a robust weapon, perhaps for home defense or backwoods adventures, this pride of Sig Sauer offers a rewarding experience.
Understand that the P320-XTEN is not just a 10mm handgun; it's a capable, innovative, and reliable firearm that will serve you efficiently in various scenarios.
Glock 29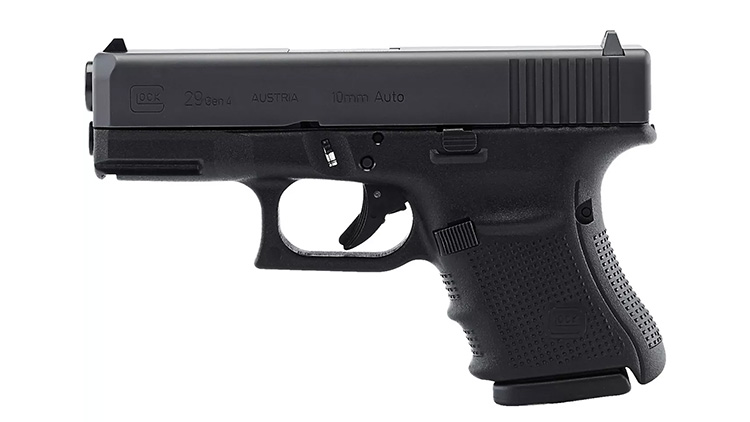 If you want to be serious about 10mm then you'll want to carry it and Glock brings that option to the concealed carry table.
The Glock 29 is a subcompact 10mm Auto pistol that you can carry. The Glock 29 is nearly the same size as the Glock 30, which is the .45 Auto equivalent to this gun.
Considering these features, we highly recommend the Glock 29 for professional gun users who need a lightweight yet powerful handgun they can rely on.
I can confidently assert that the Glock 29 is among the best 10mm handguns.
Let me delve into the reasons behind this statement which arise from the standout features of this model and its suitability in varying use cases.
To begin with, the uniqueness of the Glock 29 lies in its subcompact design. There aren't many firearms available in market that combine the robust power of a 10mm with the convenience of a subcompact.
Despite its reasonably larger size compared to an average subcompact, it remarkably maintains a low profile, seamlessly transitioning into a concealed carry.
It is compact enough to easily find a place in waistbands, yet, it doesn't compromise on its firepower.
The Glock 29 excels in its capacity, offering 10 rounds of 10mm which can be extended to 15 rounds using a magazine from Glock 20.
It is well suited for both a backup weapon for hunting scenarios and self defense.
The firearm is highly appreciated for its comfortable firing characteristics and grip ergonomics.
It is available in a fourth-generation format and incorporates a small rail feature that enables users to add lights or lasers as per necessary.
Speaking of control, the Glock 29 does have room for enhancements in this aspect.
The grip could use a bit more length for better control. An addition of attachments like the Pearce grip extensions could maximize control for users. Thus, ensuring an even firm grip on the firearm.
Some might find the Glock 29 resembling the Glock 20 in many ways, but it's important to note, the former is more than an inch shorter in length and height, making it a more feasible option for concealed carry.
It's also a half-pound lighter when fully loaded, which can make a substantial difference, particularly if you have to carry it all day.
Despite these seemingly minor adjustments, the Glock 29 maintains the same level of performance and endurance as larger Glock models. It's undeniably reliable, and built to handle a wide range of 10mm loads.
Undeniably, it has a higher recoil due to its lightweight nature, which makes it more suitable for shooters who have experience in managing firearms with strong recoils.
Wrapping up these points, the Glock 29 proves to be an excellent 10mm handgun. It's a subcompact marvel packing the power of its larger contemporaries while bearing the convenience of compact size.
S&W M&P 2.0 10mm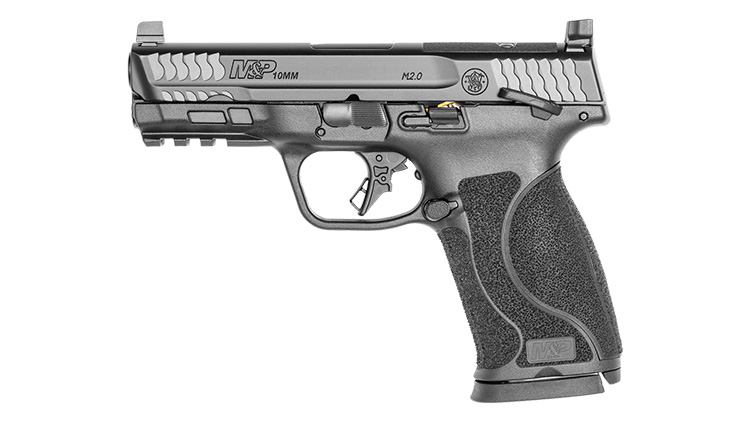 If you're searching for a top-tier 10mm handgun look no further than the Smith & Wesson M&P series.
This lineup, warmly received since its 10mm addition in 2021, pairs the loved M&P traits with impressive versatility.
In the world of 10mm handguns, the Smith & Wesson M&P 2.0 arguably stands out as one of the best options available.
Five different models are in the 10mm Smith & Wesson M&P 2.0 range, varying in barrel length and safety features.
Two of these models have a 4-inch barrel, distinguished by one sporting a manual safety while the other does not.
Another pair in the family sport a 4.6-inch barrel, also differentiated by the presence or absence of a safety.
A fifth model, the newest in the roster and a proud member of the Performance Center variant, boasts a 5-inch ported barrel and slide with additional Performance Center enhancements.
Regardless of the selected model, all these handguns have optics-ready slides, which is a welcome feature for shooters that value precision.
Considering the 10mm's powerful recoil, this feature is a game-changer for those seeking to maintain control and accuracy.
The distinctive pistols from Smith & Wesson are loved by many, for their consistently high-quality build and usability.
While their last foray into 10mm pistols was in the 80s with the S&W 1000 series, their resurgence with the M&P M2.0 handgun line was a notable improvement.
Moreover, the Smith & Wesson M&P 2.0 10mm has an impressive 15+1 capacity, placing it above many competitors such as the Gen 4 Glock 20 and G29s. Not to mention, it comes in a very affordable price range starting at $659, making it accessible to a broad spectrum of shooters.
What sets the M&P 2.0 10mm apart from its competitors is not just its powerful performance but also its perfect size.
If you, like me, have always been in the quest for a Glock 19-sized 10mm, this handgun is truly a dream fulfilled.
Its full-sized grip, packed with 15 rounds, offers exceptional hold, even when dealing with full-powered 10mm loads.
It's robust yet manageable, providing a secure and comfortable grip which I find particularly necessary due to the sturdy recoil of the 10mm.
In the end, the M&P 2.0 10mm stands out for its impeccable balance between size, power, and functionality.
Dan Wesson RZ-10
The Dan Wesson RZ-10 is undeniably one of the frontrunners when it comes to top-quality 10mm handguns.
Hailed for its unique blend of functionality, aesthetics, and impressive build, this piece manifests precision and power.
The reason it stands out among other 10mm guns lies in its comprehensive features.
The Dan Wesson RZ-10, priced at $1999, boasts a visually stunning aesthetic and fantastic OEM sights which have earned it considerable admiration among gun enthusiasts.
It flourishes in a comfortable and smooth grip that can make an immediate difference in the user's experience. Its remarkable trigger guard contributes to its ergonomic design, not to mention the quality steel components and finish that assure durability.
In summary, the Dan Wesson RZ-10 brims with features that elevate it as one of the best 10mm handguns from its fantastic sights to its flexible ammunition use.
Its truly impressive blend of functionality, aesthetics, and safety make it a fitting choice for both shooting enthusiasts and serious competitors.
Sig Sauer P220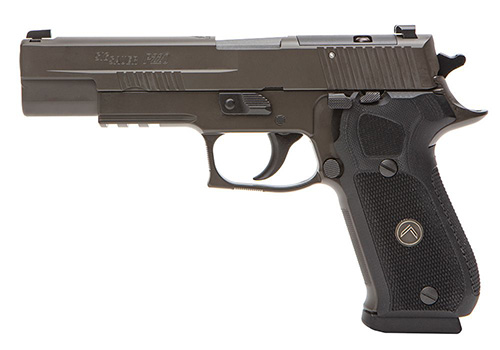 The Sig Sauer P220 Legion Full-Size earned top marks for its stunning blend of durability, firepower, top-tier engineering, and aesthetics.
The 5″ match-grade barrel improves accuracy over a longer range, truly accentuating the power of the 10mm cartridge.
The stainless steel slide and frame further underscore its robustness by giving it high resistance to wear and tear, intensifying this firearm's lifespan.
Known for its cutting-edge sight system – X-RAY3 Day/Night sights – the P220 Legion has an adjustable rear sight and a tritium fiber optic front sight to ensure clear vision, even in low-light settings; a crucial feature in both hunting and self-defense scenarios.
The strong grip texture, carefully designed and crafted, provides a firm grip while improving the user's control over the recoil.
Arguably, its most notable feature is the ambidextrous safety system.
Simplicity is elegance in this instance, and the P220 Legion delivers that with an intuitive safety system that feels natural and effortless to operate under high-pressure circumstances.
In terms of usage, the firearm follows a double-action/single-action trigger system, which allows for rapid follow-up shots.
Though, it has a bit of a kick due to the power of the 10mm round, so it's crucial to practice good recoil management techniques.
Because the trigger is DA/SA, the first trigger pull is long and heavy (double action), while subsequent pulls will be lighter and shorter (single action). This can take some getting used to, but the more you practice, the more it becomes second nature.
And let's not forget about the aesthetics; the P220 Legion looks as impressive as it performs. Sporting a stainless steel finish that exudes an aura of sophistication and power, it's a firearm that commands attention and respect.
A weapon like this not only adds value to any collection but also serves as a standout piece.
Ruger SR1911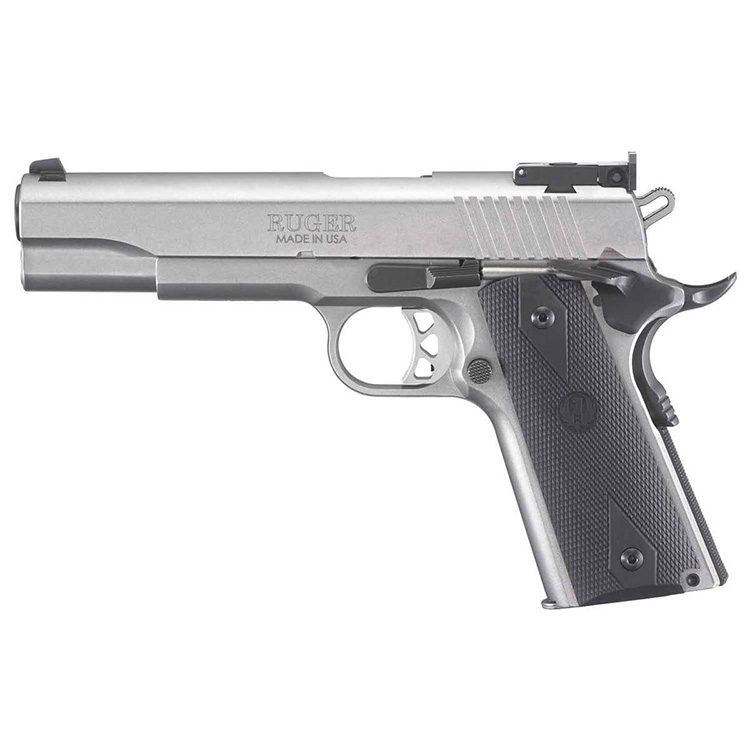 The first thing that places the Ruger SR1911 at the top of the list is its numerous outstanding features.
A striking feature not to be overlooked is the stainless steel finish, which is not only aesthetically pleasing but also robust, providing an excellent balance between design and durability.
At 2.5 pounds, the Ruger SR1911 is a fairly heavy handgun requiring a good understanding of handling guns of this weight but isn't unmanageable.
Outfitted with a 5-inch barrel, this handgun scores high on balance and is designed to withstand countless rounds on the firing range.
Now, let's delve into who the Ruger SR1911 would perfectly serve. Owing to its weight, balance, and efficient handling characteristics, this gun is ideal for experienced handgun users who require a reliable and sturdy self-defence weapon or hunters.
Its smooth shooting experience and consistent reliability are a huge consideration when shopping.
While beginners might find the weight daunting initially, a little practice can ease you into handling its mass with finesse.
The trigger could improve a little in its solidity, but that does not, in any way, prove to be a hindrance in its overall performance, making it a solid investment for any handgun enthusiast.
While the weight can make it a bit cumbersome to carry, it also helps reduce the recoil considerably. This makes the SR1911 conducive for rapid, consistent, and accurate firing on the range or in real-life self-defense scenarios.
Kimber Eclipse Custom II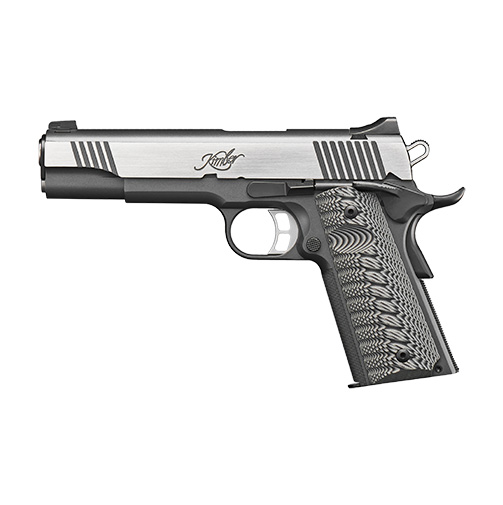 Manufactured by Kimber Manufacturing, a well-recognized leader due to their high end pistols, the Kimber Eclipse Custom II is a 1911 model that embodies precision, quality, and aesthetic appeal in a compact form.
With a blend of qualities from the renowned Eclipse and Custom models of Kimber Manufacturing, the Eclipse Custom II is an impressive 10mm which stands out in this competitive market.
The dimensions of this gun, being just 5.25 inches tall and 8.7 inches long, lends to its compact design, making it more agile and convenient to handle.
The gun's weight, 38 ounces with an unloaded magazine, resonates with the preference of many seasoned users who vouch for a balance between compactness and weight for optimum recoil control.
The 5-inch stainless steel barrel ensures stable accuracy while the 8-round magazine lends it to favorably compete against a wide range of 10mm pistols in terms of capacity.
Now, while all the technical aspects are indeed remarkable, what strikes me most about the Eclipse Custom II is its aesthetics.
The striking appearance, featuring a brushed-polished finish, a stainless-steel slide, and a charcoal grey frame, infuses a sense of style and premium feel.
For anyone who enjoys a degree of customization in their shooting equipment, Kimber also offers a range of aftermarket grips in different design themes.
Personal experiences aside, the market response to the Kimber Eclipse Custom II speaks volumes about its appeal.
In conclusion, the Kimber Eclipse Custom II, blending quality engineering with striking designing, stands tall among 10mm handguns for its reliability, high-end features and premium appeal.
From its remarkable aesthetics to its commendable functionality, the Eclipse Custom II is hard to overlook when considering the best 10mm handguns of 2023 at the top end of the market.
Colt Delta Elite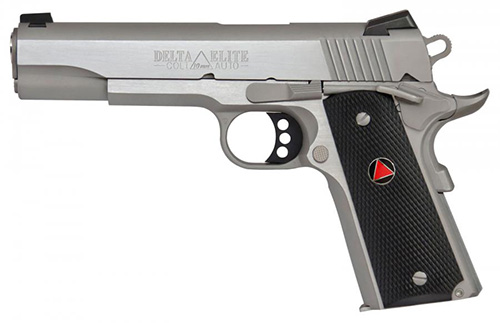 In the world of 10mm handguns, the Colt Delta Elite stands out as a top contender in 2023, offering an exquisite blend of power, build quality, and historic legacy.
Essentially an enhanced version of the classic 1911, the Delta Elite embodies the traditional aesthetics of its predecessor, paired with a more potent punch and a more modern design.
The Colt Delta Elite owes its power to a 10mm chamber, providing a powerful edge over the classic .45ACP.
This extra power does not compromise the pistol's user-friendliness. Thanks to the double-recoil spring system, the impact of the 10mm recoil is significantly reduced.
This engineering design decision helps make the gun more manageable and comfortable to shoot.
While the Delta Elite lacks a rail system, it compensates with other advantageous features.
The sights contribute to a reliable and accurate shooting experience, which, along with its power, solidifies the Delta Elite as a versatile weapon suitable for medium-size game hunting and close-quarters combat, amongst others.
As for the capacity and specifications, the Delta Elite proudly carries an 8+1 round capacity.
Coupled with its sturdy weight of 2.4 pounds, and measures of 5.7 inches in height, 8.3 inches in length and 1.26 inches in width, the Delta Elite balances convenience and firepower.
What sets the Delta Elite apart is its historical lineage as one of the first produced 10mm guns.
The build quality and performance of the Delta Elite are legendary, thus making it a worthy addition to any gun enthusiast's collection.
To review, the Colt Delta Elite is a powerful, reliable, and durable 10mm handgun that has stood the test of time.
Pros and Cons of 10mm Handguns
Here are some of the pros and cons of using a 10mm pistol.
Large Caliber Round
We recommend this absolute beast to enthusiasts seeking superior firepower, hunters, and professional shooters. Get ready to experience the 10mm caliber's unforgettable impact!
The debate regarding the stopping power of different calibers is unending; however, I believe that the 10mm round's larger caliber offers unique advantages in terms of high penetration, making it one of the best options for self-defense and hunting.
To begin with, the 10mm round was created by Norma, in consultation with Jeff Cooper, a renowned firearms expert.
It's essentially a .40 caliber bullet fitted onto a cut and modified 30 Remington case. The original round comprised a 170-grain projectile with a velocity of 1,300 feet per second.
With time, various load options emerged, ranging from 135-grain rounds at 1600 feet per second to 230-grain hardcast lead loads at 1,150 feet per second.
The 10mm round has tremendous force and subsequently, when it hits a target, this force is transferred, ultimately resulting in higher penetration and immense stopping power.
Interestingly, despite its larger caliber, the 10mm round exhibits better penetrating ability, surpassing even the .45 ACP.
One can quantify muzzle energy, and the 10mm offers a significant increase in muzzle energy compared to .45ACP. For instance, .45ACP loads range around 350-500ft lbs while 10mm rounds range approximately 450-700ft lbs.
Thus, the top end of the .45ACP load is just the low end of the 10mm spectrum, establishing 10mm as the preferred choice when firepower is considered paramount.
Wide Range of Ammunition Options
One of the standout advantages of 10mm handguns is the extensive variety of compatible ammunition options available.
This flexibility in ammunition choice is a significant pro as it enables you to tune the handgun's performance to your specific needs.
Whether you need ammunition for self-defense, hunting, or target practice, you can easily find a 10mm round that rises to the occasion.
For self-defense, I recommend the Hornady 175 grain Critical Duty. Both have proven reliable, offering the necessary stopping power without over-penetration.
Economical choices like the American Eagle 10MM Auto 180GR are ideal for day-to-day target practice or range shooting. They afford good ballistic performance at an accessible price point.
If hunting is on your agenda, then selections like Barnes Bullets: The VOR-TX with its 155-grain all-copper XPB Bullet is perfectly suited for tackling game like whitetail deer or hogs.
The Federal Premium's Vital-Shok Trophy Bonded, armed with a 180-grain JHP bullet, is another hard-hitter, ideal for hunting.
Navigating the broad selection of 10mm ammo does require some basic understanding of bullet types and grains.
However, thanks to the diversity, novice and experienced shooters will find something suited to their needs.
This broad selection of ammunition for 10mm handguns offers exciting potential for tailoring your shooting sessions by various game sizes, target distances, and personal handling preferences.
One cardinal rule you should always remember – tailored ammunition can convert a good shooting experience into a great one.
Consider factors such as the type of game you're hunting, the environment you'll be in, and how comfortable you are with the recoil, among others. There might be just one perfect 10mm round for you or maybe a different one for each application.
The key is in knowing your gun, understanding your needs, and not being afraid to experiment with the myriad ammunition options available.
Pistol Availablity
These high-caliber firearms are perfect for those who seek quality, performance, and durability.
They are a worthwhile investment, promising a blend of comfort, reliability, and great value.
As a firearms enthusiast, I value the exceptional quality of 10mm handguns on the market today.
Premium features are another factor that elevates a 10mm handgun from simply 'good' to 'high quality.' Some models offer reduced recoil and an impressive balance—an essential characteristic that contributes towards precision shooting.
One should also note the weight and size of these firearms.
Yes, they are sizeable and significantly heavier than their counterparts. However, their hefty weight helps mitigate the recoil.
This gives the handguns a softer recoil feel and makes them more comfortable for the shooter.
You might find Glock's models an impressive fit if you are budget-savvy. They are recognized for their reliability and stellar balance and offer affordability without skimping on quality.
For those less price-conscious, reaching for more time-honored and sophisticated models like Colts may appease your desire for legendary weaponry.
Now, let's get into a few expert tips. Whether you are a seasoned shooter or a beginner, getting to know your handgun is crucial.
Every feature—from the trigger's comfort and the gun's ergonomics to its balance and recoil—plays a part in how well you will handle the firearm.
Remember, you want a firearm that suits your needs and style.
Self-Defense and Hunting
Ideal for seasoned hunters and tactically minded individuals, these handguns are powerful yet manageable.
Note, they are not the best choice for beginners or purely for self-defense due to their robust power.
In my professional opinion, 10mm handguns stand out as notably versatile weapons applicable for both self-defense and hunting.
They are characterized by their formidable power; sufficient enough to make them ideal for hunting.
When taking down game or medium-sized animals, the hot 10mm pistol does an exceptional job, with the added advantage of more follow-up shots compared with a revolver due to its large capacity.
Often commended for their lightweight frame and low recoil, the handling of 10mm handguns is uncomplicated and user-friendly.
Hence, it is simple to control, further enhancing its potential for self-defense. Additionally, the ambidextrous controls incorporated in the designs of many 10mm handguns appeals to various hunting styles, proving the versatility of these firearms.
When we consider specific examples of 10mm pistols such as the Colt Delta Elite, the Glock 20, and the Springfield Armory's XD-M Elite, their prowess for hunting cannot be understated.
Though powerful, I would argue that 10mm handguns are not necessarily the best option for beginner hunters.
To summarize, whether it's the exceptional power, the ease of control, the ability to accessorize, or the user-friendly design properties, 10mm handguns stand exceptionally as versatile weapons adaptable for different necessities.
Accurate and Easy to Shoot
Shooters looking for reliable accuracy, novice users seeking control, or hunters scouting for a powerful firearm will significantly benefit from a 10mm handgun.
These handguns blend power with ease of use like no other!
While 10mm handguns initially built a reputation for being a strong choice for hunting due to their powerful cartridges and effective range, their characteristics actually make them suitable for a wider range of users.
Even with these top-tier features, 10mm handguns still remain inexpensive.
Reliability and Power
The 10mm ammunition for handguns is a potent powerhouse that has earned its own unique fanbase in the firearms community for good reason.
Why is this the case? Simply put, they offer the formidable force of a magnum round in an automatic pistol—an arrangement that's hard to outmatch.
Importantly, 10mm works amazingly well where large power has to be carried in a relatively small package.
The dynamics of the 10mm outclass a lot of competitors in the field, delivering superior muzzle velocity and penetration power.
Although it supports a higher recoil than a 9mm, it's not by a large margin once compared to a .45 ACP.
While the cost of 10mm may be a bit higher than other popular rounds such as the 9mm, the range of options available both online and in stores and its performance justifies the price.
From home defense to a day on the range, the 10mm is a worthy addition to any arsenal.
Its reliability, potency, and overall performance are indeed a testimonial to the saying—happiness is best measured not by the inch, but indeed by the centimeter—10mm precisely.
Conclusion
In conclusion, consider a 10mm handgun not an alternate but a promisingly surefire, versatile, and reliable option that can effortlessly cater to varied shooting needs.
Whether hunting, home defense, or range shooting, the 10mm rounds deliver power, performance, and reliability that can handle different scenarios with commendable efficiency.