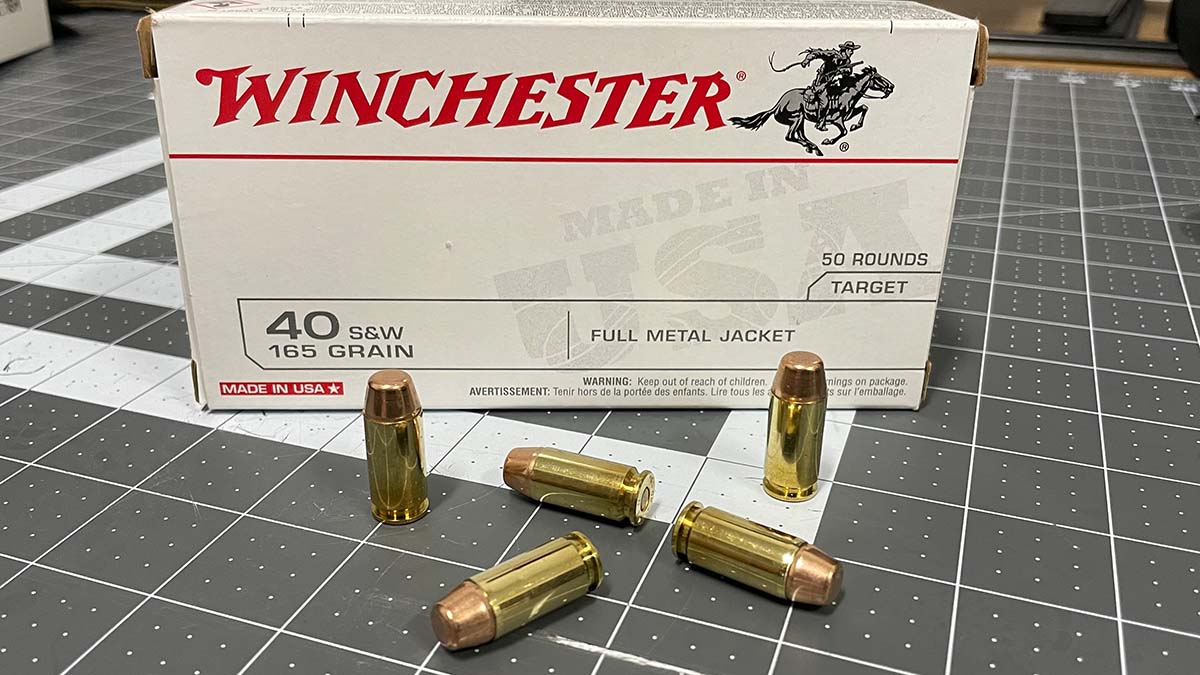 The .40 S&W is a caliber that has seemed to lose its steam in the last few years due to the majority of Law Enforcement and 3-letter Federal agencies switching back over to 9mm caliber pistols.
But .40 S&W is still a relevant caliber and shouldn't just be pushed to the wayside as many enthusiasts still love the round and carry it daily.
.40 Caliber Overview
The .40 S&W is a rimless straight pistol cartridge that uses small pistol primers.
The .40 S&W began its development after the 1986 Miami shootout involving the FBI where two agents were killed and another five wounded.
The agents at the time were carrying their service revolvers (chambered in .357), pistols (chambered in 9mm), and shotguns.
The aftermath of this incident caused the FBI to begin looking for a new caliber to take the place of its service revolvers.
This new round needed to offer increased capacity and had to deliver performance greater than or equal to that of the load currently carried by agents.
After extensive testing, S&W joined with Winchester to give birth to this new caliber.
Thus, the .40 S&W was born.
.40 Caliber Purpose
The .40 S&W was developed in order to be retrofitted for medium-frame handguns while replicating the performance of the 10mm Auto cartridge.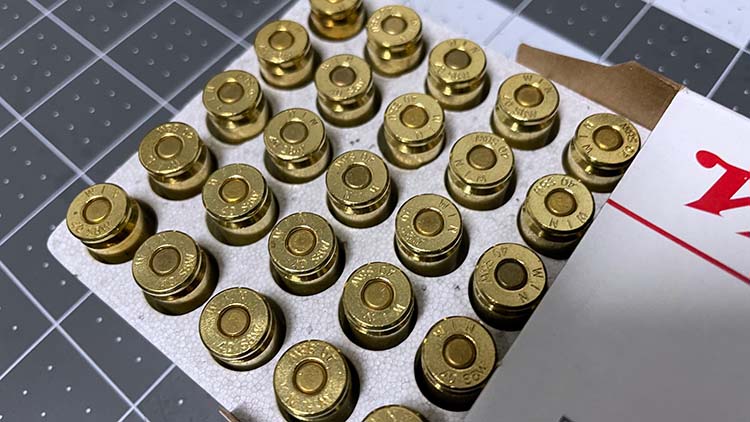 By streamlining the 10mm Auto, Smith & Wesson found they could remove the airspace in the case and decrease the 10mm case enough to fit an average 9mm semi-auto pistol frame.
This also allowed them to produce an 18- grain projectile that produced near-identical velocity to that of the FBI's standards.
.40 Caliber Performance
The .40 S&W is an ideal round for everyday carry (EDC) or home protection.
There is a wide variety of loads for your .40 S&W with most being between 155-180 grain. I'll touch on a few of these below.
A 155 grain Federal HST cartridge produces approximately 1,160 ft/s at the muzzle and 463-foot lbs of energy on target. Compare that to the 115 grain 9mm which comes in at 1,180 feet per second and 355-foot lbs on target.
The 165 grain Winchester FMJ (as pictured) has a muzzle velocity of 1,060 ft/s and 413-foot lbs on target.
A 180-grain bullet will typically get a muzzle velocity of about 990fps with 392 ft-lbs of energy on target. This equates to about 904 fps at 100 yds all the while retaining 84 percent of its initial energy
Guns that Shoot .40 Caliber Ammo
You shouldn't have an issue finding a pistol chambered in .40 S&W. Even though its popularity has waned in the last few years there is still a large market of available firearms from all of the major manufacturers.
Glock 22
The Glock 22 was introduced in early 1990 and was one of Glock's first pistols chambered in .40 S&W.
According to Glock's own website, it is "the most popular police service pistol in the United States." However, I believe that statement might be a bit dated since even the FBI was turned back to 9mm.
This pistol chambered in .40 S&W packs in 15+1 rounds, a barrel length of 4.49-inch and width of just 1.26-inch.
Shooting
If you're shooting a Glock 22 for the first time and are used to shooting the full-size Glock 17 (9mm), you may be surprised at the similarities.
While you will notice the recoil of the 40 cal to be a bit more, your ability to get back on target will not be affected by much.
Accessories
Being that the G22 has been around for more than 30 years, accessories are not hard to find.
If you have a Gen3 or newer any major manufacturer that produces weapon lights will have something for you. Such as the Surefire X300U.
Holsters
When you're looking for a holster for your G22, unless you are a giant of a human being you probably will not be looking for an IWB type holster (but options are available if you want to go this route).
Holster options are pretty vast when it comes to carrying your G22. You can take a look at the selection on We The People holsters.
Glock 23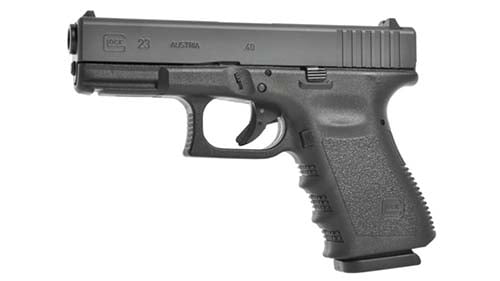 Like its bigger brother the Glock 22, the Glock 23 was introduced in early 1990. With a shorter barrel length of 4.02-in and a magazine capacity of 13+1, the G23 maintains an overall width of 1.26-inch.
Shooting
When comparing shooting between the G22 and G23 you will have a somewhat noticeable change in recoil.
This compact pistol allows you to use magazines from the G22 for an even greater capacity and in my opinion is one of the best guns to shoot (more on that below in the FAQ).
Concealment
Personal preference will determine how you conceal your G23 and your choice of apparel for the day.
You can conceal this pistol in any of the most popular ways like the appendix or the 3'oclock position.
You'll just have to take a sensible approach depending on where you'll be carrying that day.
Accessories
Just like for the G22 you have a wide variety of accessories at your disposal. From lights and lasers to mount on the rail, different aftermarket grip options, and magazine extensions to add more grip when you're running your full-size magazines.
Holsters
The options available for your G23 when it comes to holsters are almost limitless.
Whether it be OWB or IWB you should not have a problem finding a holster that can fit your needs.
My personal favorite IWB holster is Harry's Holsters Singleton holster.
Glock 27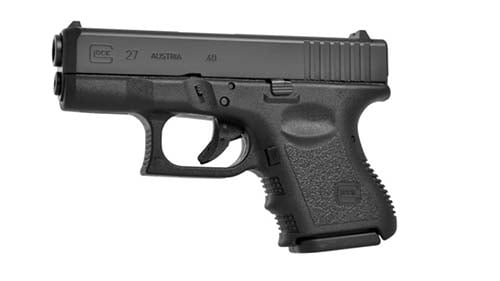 For shooters looking for a sub-compact carry pistol, Glock has an answer for that as well in their Glock 27.
Coming standard with a 9-round capacity and 3.43-inch barrel you have an easily concealable option chambered in .40S&W.
Another added benefit along with the Glock 23 is that all of the higher-capacity magazines are compatible.
Therefore, you could easily take your Glock 27 and have a 13 or 15 round capacity with a simple magazine change.
Smith and Wesson M&P 2.0
Smith and Wesson's most popular pistol chambered in .40S&W is their M&P line.
Although according to their website the full size and compact M&P models are now being made in the 2.0 versions, you can find these pistols in factory new condition and still backed up by S&W's lifetime service policy.
Currently, S&W has transitioned their .40 cal production over to their M&P Shield line.
With a 1-inch profile for easy concealment and a 3.1-inch barrel, the S&W M&P Shield .40 offers single stack magazines in either 6 or 7 round capacity.
Springfield XD
Springfield Armory also has a range of pistols to choose from in .40 S&W.
Their XD line of pistols offers a tactical model with a 5-inch barrel, a compact model with a 4-inch barrel, and a sub-compact in a 3-inch barrel.
Although I haven't been able to find any documentation on it, by looking at Springfield's site it appears they are only offering the XD .40 nowadays in state-compliant models.
This means that the above-mentioned models new on their site only come with 10 rounds magazines. You can still find older models of the XD with higher capacities from multiple other sites or order larger capacity magazines.
.40 Caliber Ammo Price and Availability
Like most ammunition over the past few years at one point .40 was hard to find but nowadays it seems that just about every online retailer and the gun store has .40 back in stock.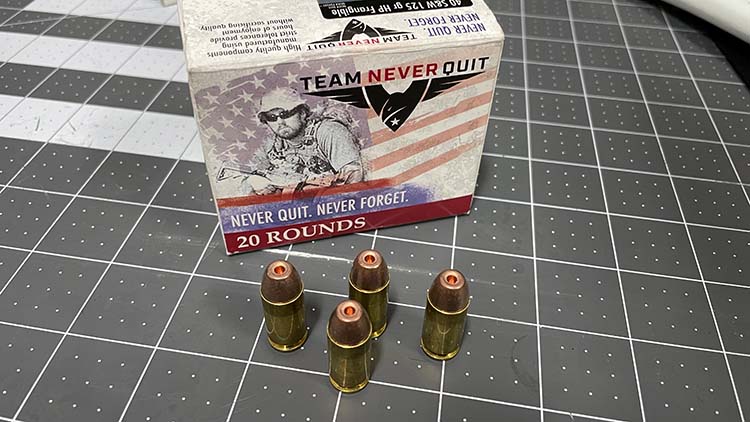 If you're looking for in stock .40 ammo be sure to check out Brownells, Lucky Gunner, Palmetto State Armory, and Optics Planet.
On average a 50 round box of FMJ will run you between $25-$35 which brings each round a little North of 0.50 cents per round.
I am sure you can find deals that bring this price point down a little depending on the grain you are looking for and most of the time buying 40 S&W by the case will save you some money.
Is 40 cal more powerful than 9mm?
This debate has been going on for years, probably ever since the .40S&W came to be back in 1990.
But when you look at data and even with new technology that has been developed that makes the 9mm better the 40 cal still edges it out.
40 cal produces more energy and delivers more thermal energy on target to produce more lethal and larger wound channels on your intended target.
What's the best 40 caliber handgun?
After receiving my CCW, the very first pistol I purchased for EDC was a Smith and Wesson M&P compact in .40 cal along with a Harry's Holsters IWB holster.
Back then I didn't know nearly what I do now about firearms but went with S&W because it happened to be at the gun store I was shopping at and was reasonably priced for a concealed carry pistol for a college student.
With that being said, I liked the interchangeable grip sizes that came with the M&P and the ease of concealment it offered.
For whatever reason, I have always been drawn to sidearms chambered in .40 S&W.
Not long after the M&P purchase, I picked up a used Glock 22, and my love for Glock products began. I owned the M&P compact until I got out of college when I decided I wanted something a little bigger while still being able to conceal it relatively easily.
That is when I picked up my Glock 23 and haven't looked back. In my opinion, the Glock 23 (Again from previous articles, you know I'm a Glock fanboy) is the best .40 caliber handgun on the market.
The Glock 23 is perfect for EDC while having a moderate magazine capacity.
The accessories available for the Glock 23 are seemingly endless. With newer models being available in Glock MOS models you can easily mount an optic giving you greater accuracy downrange.
Now I know there is always going to be the debate about switching to 9mm over the .40 but I have shot thousands of rounds of .40 compared to 9mm.
It is a comfort factor to me, I feel like as a shooter I can manage the recoil that comes with the heavier weight of a .40 caliber round comparable to that of the 9mm.
The size of the pistol gives me many different carry options whether I want to carry an appendix carry, have it in the small of my back, or a paddle style holster.
Other than some of the family firearms in my collection that have been passed down from my grandfather and father, my Glock 23 is one that will always be a part of my collection and one that I will always feel comfortable with when it comes to the protection of my family and myself.
Is 40 caliber and 9mm the same?
While there are many similarities between 9mm and .40 S&W there are also differences between both that make each respected in their own right.
The 9mm was released in 1901 and has stood the test of time. Coming standard in around 115-147 grains, 9mm offers the shooter accomplishable recoil and a decent amount of power.
As I have mentioned previously the .40 S&W has been around since 1990 and was developed specifically for Law Enforcement.
.40 S&W by and large comes in between 88 and 205 grains and was created to not limit the load capacity but also increase the stopping power of the FBI's carry round.
The heavy bullets that .40 S&W offers have terrific stopping power and lethality on target.
Why 40 caliber is the best?
This decision is one I cannot make.
This comes down to what you are comfortable with and if you are willing to practice and accept the recoil that comes with a .40 caliber pistol then this may be the round for you.
You have many options to choose from when it comes to weapons, loads, and accessories available for .40 cal.
If owning a .40 caliber pistol is what you want to go with, you will get a round that is tried and tested and one that is more than capable of protecting you and your family no matter what the scenario.
Be sure to read more of our ammo articles and if you want one specifically made by Smith & Wesson like the 40 caliber take a look at the 460 S&W.