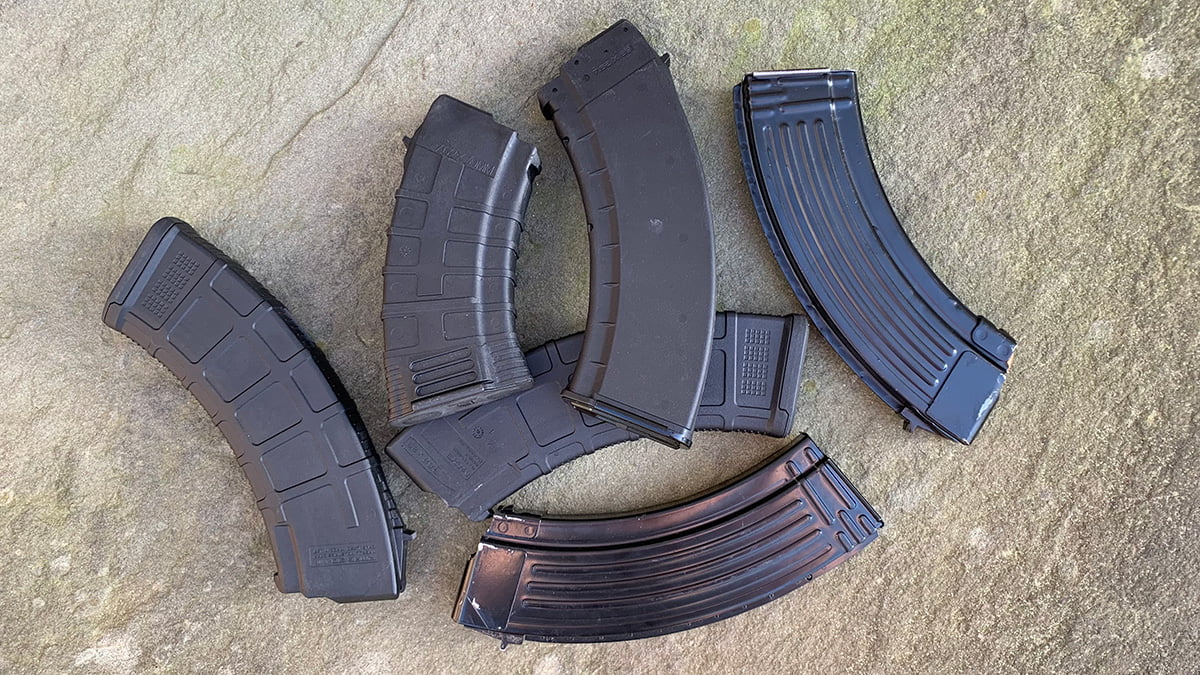 So you got yourself an AK-47 or some derivative of it. No matter, you will need to feed that angry, 7.62x39mm beast, and to do so you will need magazines. So you're probably asking yourself what are the best AK-47 magazines?
We are looking out for you, and have compiled a list of the best/available magazines at the current moment. We recognize that some of these magazines may not be available at the time of publishing, but check back often as stock comes and goes at these retailers.
Metal
First, we will take a look at metal magazines.
Metal magazines are generally viewed as tougher, and stronger than other types. These qualities come with a price, however.
Metal mags can be both more expensive, and weigh more than their polymer counterparts.
Like most AK's it is important to note that some fitment of metal mags may be required as the platform itself is not manufactured to the exacting standards that the AR is in the USA. If you have to break out a Dremel or a metal file to get a mag to work in your AK, well that's A-OK.
Don't be afraid to make adjustments to the magazines to get them to fit. We would, however, advise against making modifications to your rifle for reasons that shouldn't need to be stated.
These Bulgarian AK-47 magazines are constructed out of blued steel.
They are a military surplus item, so you know that they are higher quality and should work in most AK-47's.
The steel has ridges going down the length of the mag to add rigidity to the body.
The Bulgarian steel mags have high tensile strength springs and precision machined feed lips to aid in feeding rounds into your AK.
These mags also come with a polymer follower which will help keep the spring from binding inside the body of the mag.
These cool mags from Zastava Arms have a neat trick. They use a modified follower to hold the AK bolt open after the last round.
This witchcraft in the AK world is almost unheard of. Even though when you remove the magazine from the magwell, the bolt will fall on an empty chamber, it does provide a unique tactile and audible feedback that you've shot the last shot in the gun.
This can aid in reload speed and general awareness. Being aware and making quicker mag changes is always a good thing.
These steel mags sport the same style ridges that the Bulgarian mags do, so they are also durable.
Note: The manufacturer states that the bolt hold open will only work with certain styles of AK rifles, so if you are looking to take advantage of this feature, make sure it is compatible with your rifle.
If not, you will still be left with a quality AK mag that just works.
Russia originated the AK-47, thus most magazines coming out of Russia are the real deal. That is the case here.
These magazines are made in the country of Russia, and they are aluminum. This may seem out of place with the steel construction of the AK itself, and the material that we've seen used in magazines so far.
The Russians started to experiment with different materials to construct their magazines. Some of these materials we will discuss a little later in another section, but here they opted to go with aluminum for its weight-saving capability.
Is that trade-off of weight to strength worth it? Hundreds of thousands of aluminum mags are used in AR's to no negative effect as long as you keep care of your gear and there is no reason that shouldn't be the truth here as well.
As with the care and upkeep of any platform, you should inspect your mags for wear and tear, and should you find anything to cause concern, simply replace them.
KCI is a Korean aftermarket manufacturer for AK-47 magazines among other things.
When you think of AK's Korea might not be the first place that pops into your head, but if you look in a history book you'd quickly find out that it should.
The Korean war was fought from 1950-1953. This was right after the mass adoption of the AK-47 and as the opponent to the USA, North Korea was backed by the then Soviet Union. This means that Soviet Russia was sending support to the North Vietnamese.
It doesn't take a genius to see the connection to the AK, so the Koreans have a long history with the AK-47 and its platform.
While not a military supplier, KCI makes a classic-style AK magazine. They have good-quality construction and are finished in a high-gloss black bluing.
While you may not want to rely on these KCI mags to go to war, they fill in the space in a range bag such as one of our Tactical Rifle Cases or maybe even The Bronx if you prefer to keep things on the down-low. Either way, these are really nice for their low cost.
These Croatian-made AK-47 magazines also have the coveted bolt hold open follower.
Unlike their Serbian counterparts, the bolt hold open should work with a wider variety of AK's on the market.
These steel magazines also feature a ribbed design adding to their strength and rigidity.
Many countries make magazines for the AK-47, and Croatia seems to know what they are doing and has added that little bit of flair to take it to the next level.
Polymer
Advancements since the '80s have led to some pretty cool and new materials to manufacture things out of. Polymer is one of those products that have changed the very fabric of our lives.
Everyday objects such as parts of your car to the coffee cup in your hand are made of modern polymers.
Even frames of guns themselves have been made of polymers since the mid 1980's, so it should be no surprise that manufacturers would turn to this substance to make magazines.
Much lighter than steel and stronger than most alloys, polymers can take a beating and keep on going.
PSA AK-103 Magazine
These PSA AK-103 magazines are reinforced steel from the front and rear of the mag and have steel feed lips and steel locking lugs.
Best of all they are affordable and made in the USA! PSA has really stepped up its AK game and these magazines are as solid as their current lineup of AK's.
Polish Radom Circle 11
These Polish FB Radom magazines are built like a tank.
Advancements in the polymer world led to the development of these magazines and FB Radom claims their mags are impact resistant.
These magazines also have dual locking lugs to help secure the magazine in the magwell.
They come with a wire spring and a polymer anti-tilt follower to keep the rounds from binding in the body of the mag.
FB Radom also provides numbered witness holes in the rear of the mag so you can keep an eye on your round count.
The name Magpul should be synonymous with American Shooters. This company has pioneered advancements in mag technology and broken through with several new products all based on their polymer designs.
Magpul first made the MOE mag for the Ak rifle, and while this magazine was quality, it had polymer locking lugs that would wear over time after being inserted and removed from the magwell.
Magpul, seeing the opportunity to advance another product, began making the M3 for the AK platform. This new mag would see the insertion of steel lugs into the once polymer locking lugs thus strengthening the design significantly.
Looking at the Magpul M3 mags you will find their distinct design mirrored from their AR line.
These mags are squared away and are good to go.
These magazines from Bulgaria are tough as nails. Bulgaria prides itself on its production of the AK and all the accessories to go with it.
As the link above suggests, these Bulgarian mags have a steel liner in them that helps strengthen the body of the magazine.
In addition to the locking lugs, there is also steel in the feed lips, helping to secure those 7.62x39mm rounds from coming out the top until they are supposed to.
Bulgaria prides itself on over half a century of AK and magazine construction and claims these are the gold standard for AK mags.
The Arsenal Circle 10 magazines are arguability the cream of the crop of polymer magazines. Arsenal is well known for building high-end AK's.
So naturally, their magazines are high quality and highly regarded. The magazine itself features a waffle pattern design for easy grip, a high tensile steel spring, and a removable floor plate.
A bit pricey but as the old adage goes you get what you pay for.
Much like Magpul, US Palm has made several accessories for firearms throughout the years.
Their line of magazines and grips is extremely popular in the American AK world.
My personal PSA AKP currently sports one of their grips, and I love it.
US Palm also makes a "range" mag that uses a total polymer construction, but also offers these mags that have the steel-reinforced upper construction.
You can find US Palm mags in a lot of different colors, and they even offer one that is painted up like a banana!
Bakelite
Bakelite is a intresting materal.
Essentially Bakelite is a hard-infused and resistant plastic that was invented back in 1907.
This material would be used to make a lot of things that would eventually be made of more modern polymers.
Bakelite furniture is highly sought after in the AK world and brings a premium price along with it. As such, it is often hard to find. If you see a listing for Bakelite magazines and you have the itch, snap it up.
Buyer beware, because of its scant availability and high demand, there are people who will take a polymer magazine and disguise it to resemble Bakelite and sell it to unsuspecting buyers. We advise you to only purchase these types of mags from reputable dealers, either online or in person.
As stated above, Bakelite is pretty cool. If you have the retro bug, this is one of the few things that can really scratch that itch.
While there are many imitations, some advertised as such and some not, it's really difficult to look past the OG Bakelite.
These mags were made in Russia during the height of the USSR and screamed old-school cool.
While not as durable as modern-day polymer, they can't be beaten for that cool factor alone. I think every AK owner should at least own one Bakelite mag.
AK-47 Drum/Hi-Cap
Just like mags in America, the AK crew has to have a few Hi-Cap selections too.
Who would say "no" to a 75 round drum mag slung under their Polish folder, or a 40 round RPK mag under their Russian Tula AK kit build?
More rounds equal more fun, but also more weight. Is the trade-off worth it? I think so.
The Russian Bakelite mags make another appearance on our list here in the Hi-cap section. This time they are from the Russian machine gun, the RPK.
These mags hold 40 rounds of 7.62x39mm awesomeness.
By being able to hold those additional ten rounds, you end up adding length to the overall magazine.
The Bakelite factor applies here, and even more so because of the added rarity of the RPK mag.
If you really want to stand out, one of these Russian Bakelite RPK mags is a must!
This solid Romanian-built AK drum holds the standard 75 rounds found in most AK drums.
The Century Arms drum is quite hefty as it is made of steel, but once you get it packed full of 7.62x39mm rounds, it's truly heavy.
Using the drum design saves on the length of the magazine, but at the expense of overall weight, and width.
If you have an underfolder, you will have to remove the magazine to open or close your stock.
This may be an annoyance, but for the trade-off of 75 rounds vs 30 I think it won't matter that much!
Another solid contender for a drum magazine is the entry from KCI. This is the same company that we listed in our metal magazine section.
The same quality can be expected in their drum mag entry as well. This Korean company has proven itself to be a quality manufacturer and produces reasonably priced products that are a good overall value to their customers.
Their drum mag also sports 75 rounds of 7.62x39mm goodness in as small a package as possibly conceivable.
The entry into Hi-Cap territory by AC Unity is a wild card.
AC Unity decided to think outside the box (or drum as it were) and bring a higher capacity to a more traditionally styled box magazine.
Through what seems like witchcraft or some sort of black magic KC Unity has packed 60 rounds into a footprint that at a distance could be mistaken for a standard 30 round detachable box magazine.
To do this, they have multiplied the stacks from a double stack configuration to a quadruple stack.
This keeps the magazine length manageable, while also staying with the traditional lines of the AK and its iconic magazine, but adds just a little width.
This added width shouldn't be much more than the width of the receiver though, so it will not look too odd or out of place.
KC Unity definitely wins the award for creativity if we were handing one out.
Best AK-47 Magazines Conclusion
While this list is large, it by no means is complete. There are lots of different options for the best AK-47 magazines out there.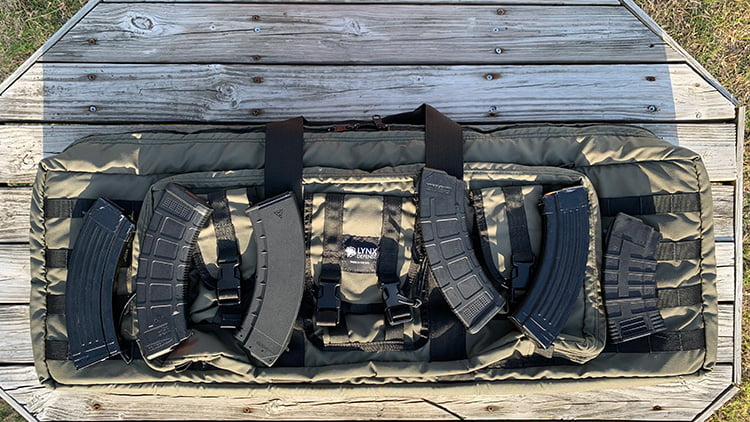 Our goal here was to compile a list of ones that were mostly available (and obtainable) in the current market.
If you think we missed a quality magazine, or you have a favorite you'd like to see added, comment below and let us know!