The classic reason many own a handgun is that when things go bump in the night, you want to have protection. But what that also means is you want quick and easy access to that handgun so you aren't fumbling around while an intruder may be barreling your way.
Introduction to Bedside Handgun Safes
Leaving a gun out in the open presents its own issues, especially for people with young families. This guide uses my experience with these safes to help you better protect your family from those bumps in the night and safely store your firearm.
Importance of a Responsible Firearm Storage
Possessing a firearm means bearing the responsibility of ensuring that it's securely stored.
Unauthorized access to firearms can result in tragic accidents or theft.
A bedside handgun safe strikes the perfect balance between accessibility and secure storage.
It keeps the weapon safe from unauthorized access while ensuring that it is within reach when needed.
Bedside Handgun Safes Technology
Bedside handgun safes have evolved significantly, both in design and technology. In the past, these safes were simple lockboxes with a basic key or combination lock.
Today, technological advancements have introduced biometric locks and smart features.
They are now customizable, with options to set different access methods, security alerts, and more.
Besides, the principles guiding their design and construction have evolved to be less bulky and more aesthetically fitting for bedroom settings.
9 Best Bedside Handgun Safes
VAULTEK VTi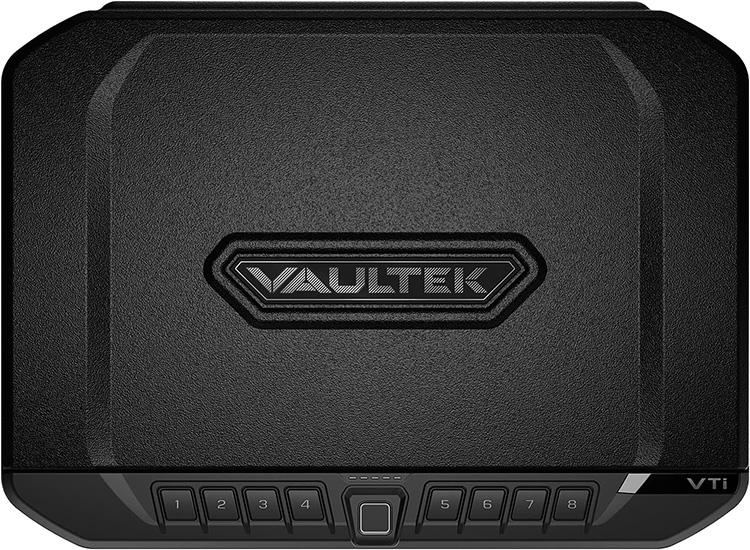 The VAULTEK VTi Handgun Safe is a cutting-edge bedside companion designed for quick access to your firearm while ensuring maximum protection.
The shining attribute of the VTi is its biometric fingerprint reader which allows for swift access when required, making the storage and retrieval of your firearm seamless.
Its solid steel construction, anti-pry bars, and scratch-resistant powder coat finish not only make it durable but also aesthetically pleasing.
Additionally, the LED lighting inside ensures visibility even in low light settings.
Equipped with a rechargeable lithium-ion battery, the VTi can hold its power for months and send a notification when a recharge is required. This safe also features pre-drilled mounting holes for easy installation.
The VAULTEK VT20i is an excellent choice for those who desire an innovative yet reliable option for their bedside handgun safe.
It thoroughly merges convenience with security while remaining resilient against any unauthorized access attempts.
Barska Biometric Safe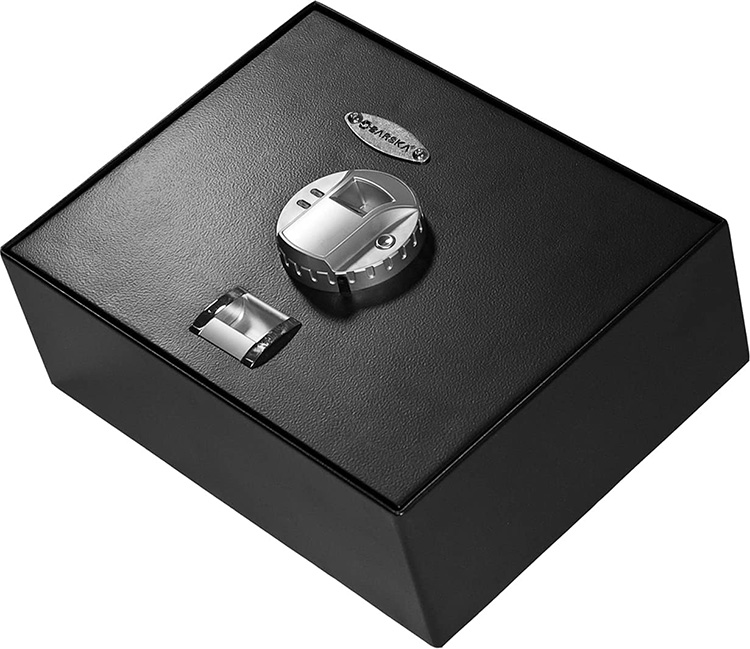 The Barska Biometric Safe stands tall among its peers due to its ability to offer high security through innovative technology. This safe features biometric fingerprint scan technology, allowing rapid access while reinforcing tight security.
Constructed from heavy-duty solid steel, the Barska Safe promises strength and durability.
Adorned with protective mats inside, it also makes sure to prevent scratches on your items. It is powered by an external source or 4 AA batteries and comes with a backup key for emergencies, demonstrating its practical planning.
This safe's standout feature is its tamper-resistant edges and two motorized steel deadbolts, ensuring optimum security.
It also comes with pre-drilled mounting holes, allowing easy installation while its DOJ-approval for firearm storage assures its verified strength.
Offering plenty of interior space for more than one handgun and admirable resistance to theft attempts, the Barska Biometric Safe makes an ideal choice for those who prioritize high security in their bedside handgun safe.
Hornady Rapid Safe Night Guard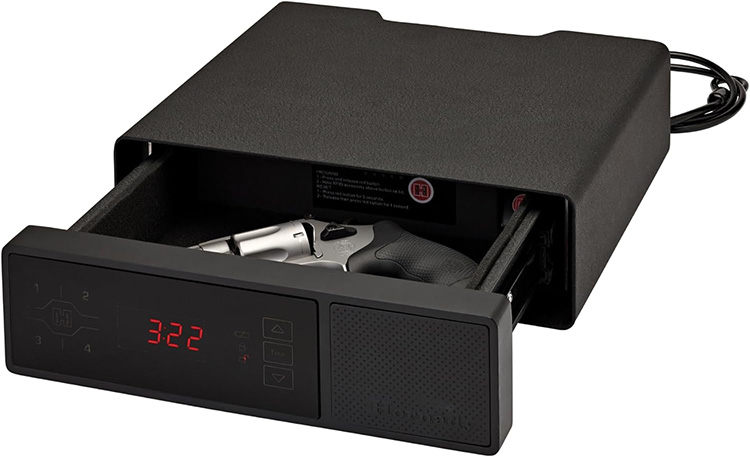 The Hornady Rapid Safe Night Guard is an ideal blend of robust protection, swift access, and elegant design.
Boasting a durable 16-gauge steel construction and an advanced state-of-the-art electronic lock system, this safe erects an iron wall between your firearm and unauthorized hands.
The key highlight of the Night Guard is its patented RFID technology, which promises quicker access than typical keypads or biometrics.
It comes with RFID-enabled accessories such as a wristband, key fob, and decal, taking accessibility to a new level.
The built-in discrete digital clock panel on a tempered glass front gives it a subtle look that seamlessly blends with your bedroom setup.
The silent spring-assist drawer pops up to reveal a padded interior that can accommodate most full-sized handguns and vital items.
With its unmatched durability and luxury of RFID technology, the Hornady Rapid Safe Night Guard brings an ideal equilibrium of accessibility and safety, making it an excellent choice for your bedside.
Fort Knox Original Pistol Box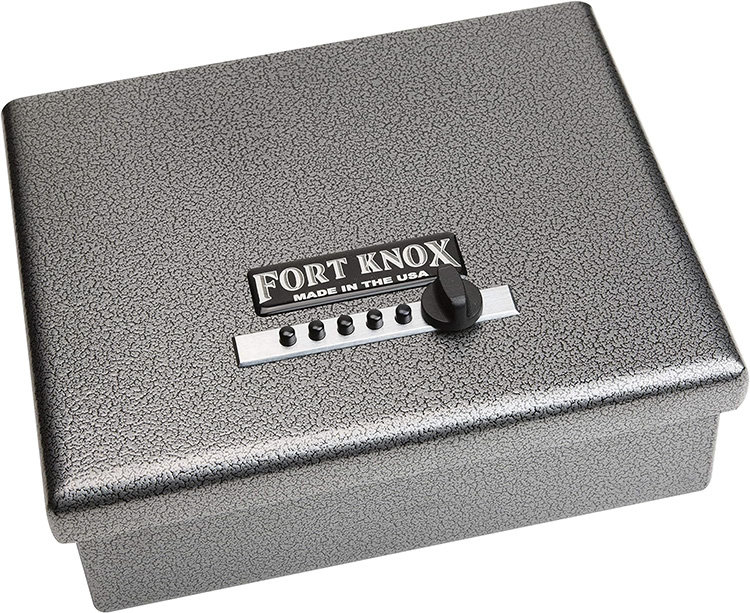 Few bedside gun safes earn more praise than the Fort Knox Original Pistol Box. Aptly nicknamed 'Fort Knox,' this safe's 10-gauge steel body and seven-gauge steel door enclose your firearms in a fortress of security.
It features a Simplex mechanical lock, known for its reliability and quick access even under stress.
To further bolster its anti-pry resistance, the box features a heavy-duty tamper-resistant hinge and a 3/16-inch wrap-around lip.
Inside, the safe is foam-padded to protect your firearm's finish. Despite its weight at 21.5 pounds, the safe includes four anchor holes to secure it to an anchor point or the floor.
If the price tag might be a concern, remember that quality doesn't come cheap. However, you get a limited lifetime warranty to ensure you are making a sound investment.
In essence, the Fort Knox Original Pistol Box seamlessly marries durability and functionality, making it an optimal choice for your bedside gun safe.
It offers top-notch security without compromising easy access to your firearm.
RPNB Mounted Gun Safe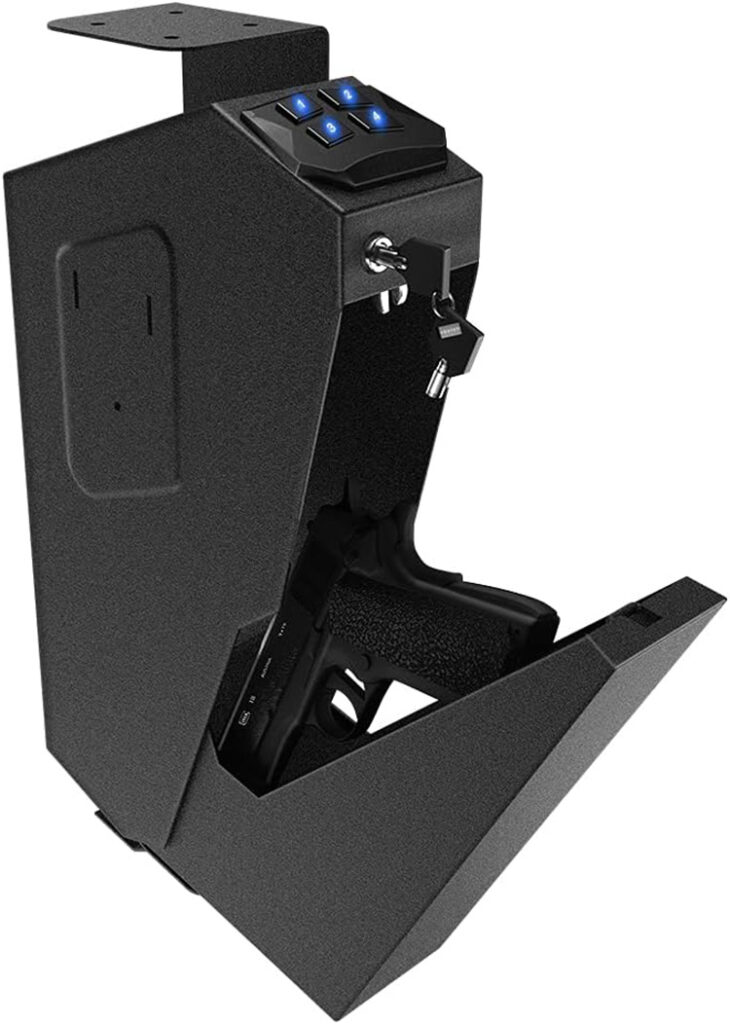 The RPNB Mounted Gun Safe is a standout for its slim vertical design, proving to be an ideal choice for those who need quick access to their firearms.
Built with a sturdy steel construction, the safe promises longevity and optimal protection.
What sets it apart is its programmable electronic keypad that allows swift access to your firearm.
The safe features a biometric fingerprint scanner that can deploy your gun within seconds, handy in case of an emergency.
With measurements of 14.76 x 7.48 x 14.76 inches and a mere weight of 7.7 lbs, this compact safe can easily be mounted almost anywhere, including your bookshelf, desk, or vehicle – courtesy of its portable design.
Powered by four AAA alkaline batteries, this safe provides around-the-clock firearm protection.
The RPNB Mounted Gun Safe is indeed a sterling choice for those looking for rapid access and versatile mounting options in their bedside handgun safe.
It incorporates a silence mode that mutes the locking and unlocking sounds for discreet gun retrieval and an automatic lock-down system following five consecutive incorrect code entries.
The fact that its biometric sensor worked flawlessly right out of the box serves as a testament to its reliability.
Vaultek Slider Series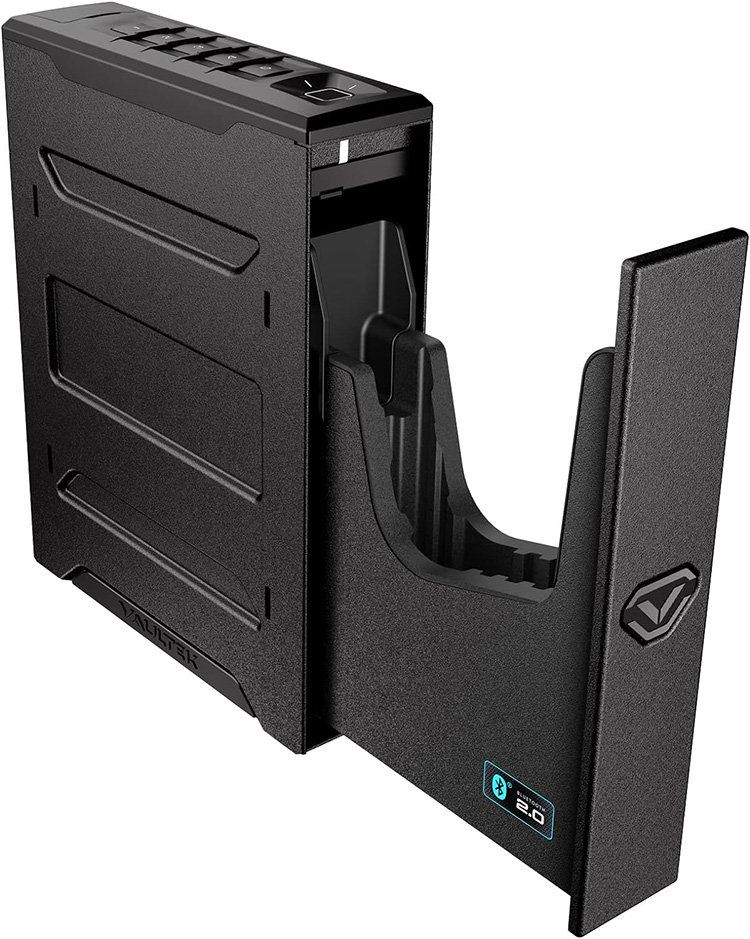 The Vaultek Slider Series ups the game with its tech-savvy security features.
It is designed to be mounted on the side of a desk, bookcase, or bedside table. It offers different access options, including biometrics, keypad, and manual keys, thus providing a balanced blend of tech and practicality.
The slider drawer smoothly slides out towards you, presenting the firearm upright unlike usual safes where the firearm lies on the side.
The safe is secure with an 18-gauge steel construction with advanced anti-theft features and requires a 4 to 8-digit PIN for access.
Among the notable tech features is a top-of-the-line Vaultek Bluetooth app to control access options and monitor the safe. It also includes an interior LED light, ensuring visibility even in dimly lit conditions.
The Vaultek Slider Series is compatible with a wide range of firearms.
This bedside handgun safe is the go-to choice for tech-savvy individuals seeking a more concealed, easy-to-access, and secure storage option.
ONNAIS Iron Plus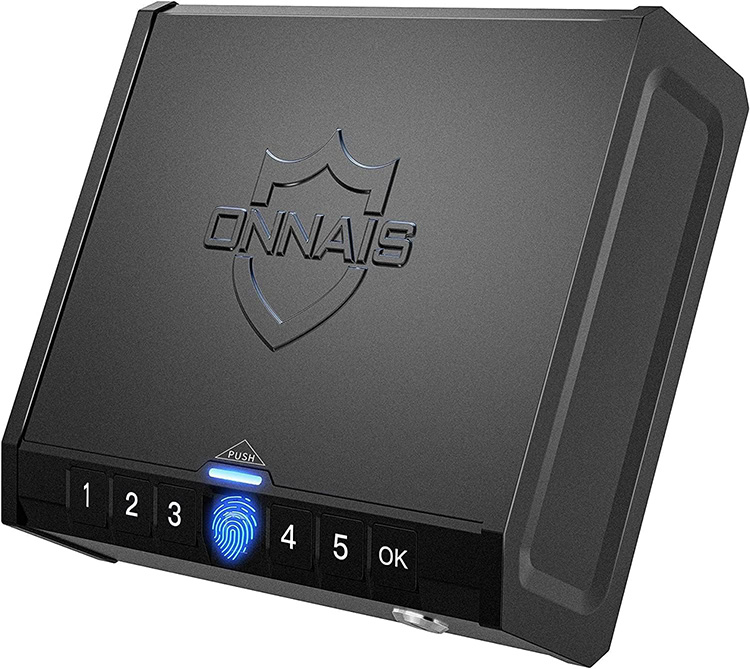 ONNAIS Iron Plus is a handy gun safe with an extremely possitive overall rating, featuring quick access through a biometric fingerprint sensor, offering an effective solution for children and unauthorized user safety concerns.
An outstanding feature is its multi-user accessibility – the fingerprint scanner allows storage of up to 30 user fingerprints!
Crafted with a solid steel construction, this safe ensures paramount firearm protection and durability. Its soft foam padded interior works flawlessly to prevent damage and scratches to your firearm when stored.
This large-capacity gun safe, audacious enough to qualify as a vault, comfortably stores two handguns and other small valuables outperforming its counterparts, Hornady Rapid Safe Night Guard and Sentry Pistol Safe.
ONNAIS Iron Plus offers three-way access – you can unlock it using keypad locks, two override keys, or a fingerprint biometric scanner.
Its portable design allows easy carry and storage around your home at just 11.49 x 9.17 x 3.07 inches and an average weight of 4.41 lbs.
The added convenience of a flexible password setup that accommodates between 5 and 15 numbers makes ONNAIS Iron Plus an excellent pick for those who crave a compact yet spacious gun safe. The high resilience for the price is a bonus!
VAULTEK LifePod 2.0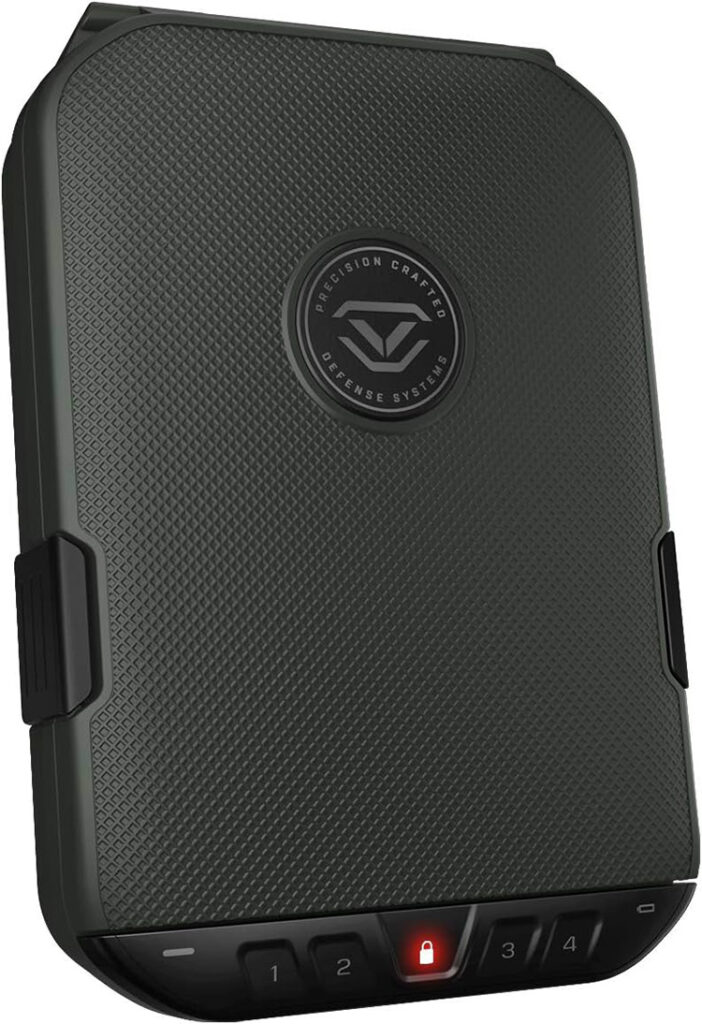 The Vaultek LifePod 2.0 showcases a unique blend of portability and convenience. It is not just a safe but a secure waterproof travel case as well. Built to be more substantial, the LifePod 2.0 has a dual gun capacity along with a dedicated slot for a spare magazine.
This safe comes with a sleek touch-activated LED lit keypad and has a distinctive latch design that adds an extra layer of security in case of unauthorized access. Moreover, the safe can also be locked with keys. Integrated with a portable slingbag, it can be tightened down and carried without drawing unnecessary attention.
This gun safe stands out for its ability to weather the elements successfully. It boasts water-resistant features, safeguarding your firearms against moisture damage.
Leveraging capacitive keypads, the Vaultek Lifepod 2.0 even works with wet fingers, adding to its convenience and quick access. The structure of the safe is robust, designed to survive falls without compromising the safety of the firearms within.
In conclusion, this safe is an exceptional pick for individuals who love traveling and need a portable, reliable, and convenient gun safe right at their bedside that is also flexible enough to be on the go as needed.
SnapSafe Keyed Lock Box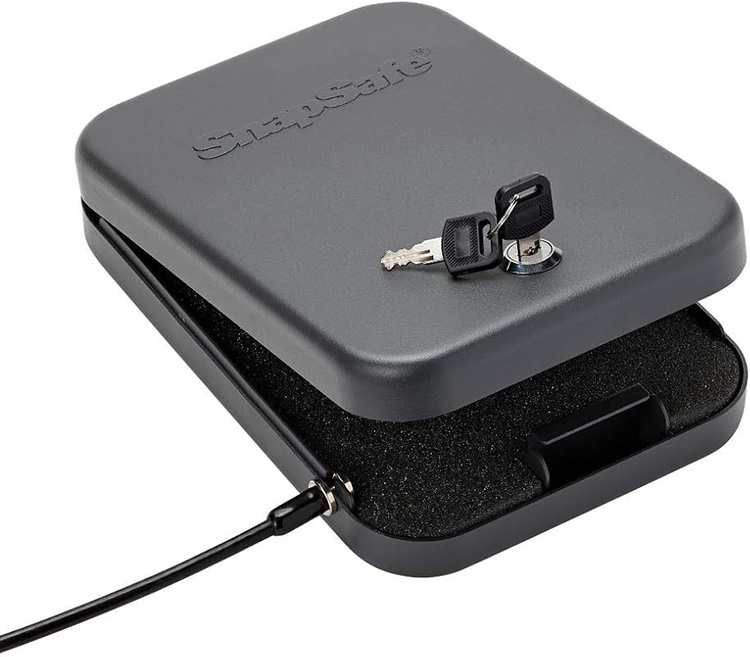 The SnapSafe Keyed Lock Box is a sure contender for your nightstand with its compact size, optimum security, and affordable price.
Constructed from 16-gauge steel, and outfitted with a keyed lock system, this sturdy box offers a safe haven for your firearm when not in use.
Its easy-to-use system lacks complex instructions that could delay quick access.
Preferring simplicity over flashy features, SnapSafe aims to provide straightforward, reliable security.
In your moments of crisis, locating and using a key may be more practical than recalling combinations or banking on biometrics.
The box is intelligently designed with an adjustable interior space feature. With this, you don't have to worry if your handgun will fit perfectly.
Moreover, it includes pre-drilled holes for those who prefer permanently mounting the safe onto a wall or other flat surfaces.
To sum it up, the SnapSafe Keyed Lock Box makes its mark with ease of use and reliable safety. This box is the proficient choice for you if you prefer a traditional, easy to use, and budget-friendly, yet secure bedside handgun safety box.
What to Look for in a Nightstand Safe
Size and Compatibility
When purchasing a bedside handgun safe, the size is a vital aspect to consider. A good gun safe should harbor your firearm and its ammunition comfortably.
If you own a larger handgun like a 10mm pistol, you'll need a large safe that can securely house it, whereas pocket pistols will require less space.
In addition to your firearm, the size of the available space where you plan to install the safe is also crucial.
Accurate measurement of the intended space and a comparison with the safe's dimensions makes all the difference.
If you have a confined bedside table, opt for a safe that can fit onto pre-drilled holes or snugly within the cabinet.
Your safe's size significantly impacts its portability, too!
A lighter safe may offer easy movement compared to a heavier unit that might provide more robust security but less portability.
Analyzing your needs and circumstances will guide you in picking a handgun safe of suitable size and compatibility.
Different Types of Locking Mechanisms
The locking mechanism of a bedside handgun safe is pivotal for safeguarding your firearm and ensuring swift access in needful times.
Understanding the different types can help you make a more informed decision.
Keyed Locks: The traditional locking system, keyed locks are simple and reliable. However, they require careful key placement for ready yet secure access.
Combination Locks: These exist as mechanical or electronic padlocks. Electronic combination locks are quicker and often have backlit numbers to facilitate nighttime access. They do require a power source, adding a maintenance factor.
Biometric Locks: Biometric locks use fingerprint scanning for swift and secure access. Keeping a bunch of different fingerprints stored and not needing a key or code are prime advantages. However, they are dependent on power and effective placement of the finger.
Recent models often combine these to ensure durability under all conditions.
Some models from Vaultek and Barska also feature Bluetooth and RFID mechanisms, providing even more ease of access.
When choosing a lock, consider access speed, memorability, and reliability.
Strength and Durability
The strength and durability of your bedside handgun safe are paramount in ensuring the secure storage of your firearm.
Safes with high-quality construction materials, like solid steel, should be preferred. These safes provide maximum protection and longevity, withstanding external pressures, burglar attempts, and potential damage from falls.
The thickness of the safe's body and door are also significant determinants of strength. Look for safes with thicker gauge ratings for superior durability.
For instance, safes like the Fort Knox Original Pistol Box have a 10-gauge steel body and seven-gauge steel door, which offer remarkable resistance to break-ins and damage.
Similarly, models like the Vaultek LifePod 2.0 even come with water-resistant properties, offering defense against moisture damage.
However, an important point to note is that strength and durability often come with added weight. It's crucial to strike an adequate balance between durability and portable convenience, according to your individual needs.
Mounting Capacity and Ease of Installation
The mounting capacity of a bedside gun safe refers to its ability to be installed in a specific location, such as the side of your bed, under a desk, or on the side of your nightstand.
The safe must be easily accessible yet not clearly visible to everyone.
Tools for mounting, such as screws or mounting plates, are usually included with the safe.
These tools, along with pre-drilled holes, allow for secure attachment to various surfaces. For example, the RPNB Mounted Gun Safe is designed to be readily installed in various locations.
Ease of installation should also be considered. The mounting process should not require complex tools or specialized skills.
Modern product designs provide easy instruction manuals to assist with the installation. You may prefer a safe that can be quickly detached and re-mounted for flexibility.
Considering these factors will ensure that your chosen safe fulfills not only its protective role but also its function as a concealed, easily accessible, consistently reliable, and quick-access storage for your firearm.
Frequently Asked Questions
Are Pistol Safes Worth it?
Yes, pistol safes are absolutely worth it.
As a responsible gun owner, the safety of your family and community should be of the utmost importance.
Gun safes help prevent accidental discharges and unauthorized access to your firearm by children or intruders.
Apart from preventing potential tragedies, they also protect you from potential legal liability.
In some states, secure firearm storage is mandated by law. A high-quality gun safe is a worthwhile investment towards peace of mind and the responsible ownership of firearms.
What Should I Do If I Lose the Combination or Key to My Safe?
If you've lost the combination or key to your safe, don't panic. Many modern safes offer alternative forms of access such as keys, biometric fingerprints, or backup digital codes.
Always store an extra set of keys or write down backup codes in a secure place.
If all options are exhausted, contact the manufacturer's customer service.
They might require proof of purchase and ownership, and in some cases, change may incur a fee.
If it's locked and you can't access it, a professional locksmith is usually your last resort. Avoid trying to force it open yourself, as it could cause damage and possibly void your warranty.
Can I Travel with my Handgun Safe?
Traveling with your handgun safe largely depends on the legislation of your locale and the mode of transportation. In general, you can travel with your handgun safe within the United States. However, you must adhere to certain laws and restrictions, including those set by the Transport Security Administration (TSA) for air travel, or the specific rules the state you're traveling to may have in place.
As per TSA rules, firearms (unloaded and locked in a hard-sided container) may only be transported as checked baggage and specific airlines may have their own additional requirements. Portable handgun safes, such as the Vaultek Lifepod 2.0 or VAULTEK VT20i, are typically designed to meet TSA airline firearm guidelines, but always check with the airline and review TSA regulations before traveling.
Traveling internationally with firearms is more complex and often prohibited, as many countries have strict regulations on firearm possession. Always research and comply with firearm transport laws when planning travel, whether domestically or internationally, to ensure the safe and legal transport of your firearm.
Conclusion
Our Top Pick
Among all the top-notch handgun safes reviewed here, our top pick is the VAULTEK VT20i. This safe brings together an abundance of innovative features, providing both high-security and quick accessibility.
The strength of its solid steel body, impeccable design accompanied by LED lit interiors, and a responsive biometric fingerprint scanner sets it apart from the rest. Alongside, its rechargeable lithium-ion battery, mobile alerts, and pre-installed mounting hardware commands a stunning amalgamation of convenience and safety.
The VAULTEK VTi is the ideal choice for its blend of quick access, secure protection, and futuristic tech-integration, making it a truly all-rounder bedside handgun safe.
Whichever You Choose, Safety Comes First
No matter which bedside handgun safe you choose from the list, always remember that proper gun storage comes first.
Each safe listed here excels in blending secure storage and quick accessibility. They all offer durability, reliability, and peace of mind – essential for every gun owner.
Whether you prioritize advanced biometric features, old-school keyed entry, or a balance of both, what matters most is that your firearm is securely stored yet readily accessible in times of need, preventing accidents and unauthorized use.
Finally, it's worth mentioning that every gun safe should be used as part of a broader security plan and not as the only preventative measure towards unauthorized access or accidents. Stay safe!