Recently we have embarked on a quest to try as many red dot sights as we can get out hands-on to determine which red dot sight is the best. So for this review, we were able to get our hands on an AT3 RD-50 Pro.
AT3 Tactical's small red dot sight is on the same playing field as the Holosun HS403B and the Sig Romeo 5.
If you haven't heard of AT3 before let's give you a little background.
AT3 RD-50 PRO
· 11 red dot brightness settings
· Parallax free design
· Crisp 2 MOA red dot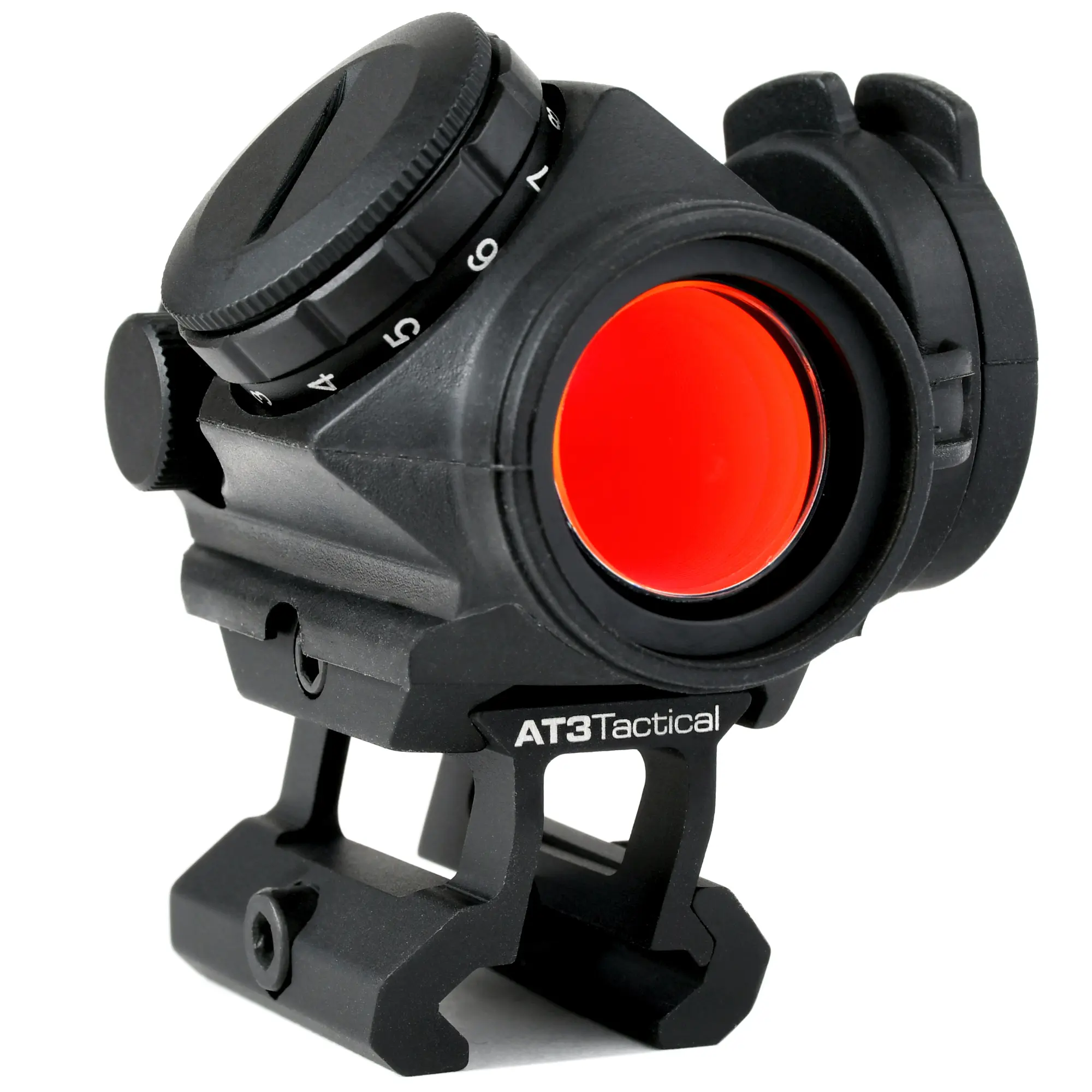 About AT3 Tactical
AT3 Tactical was founded the same year as Lynx Defense in 2013. It is based in St Michael, Minnesota. It began as a retailer of AR-15 parts and accessories.
Later it released its own brand of red dot sights and other optics, much like Primary Arms has done.
Without further ado, let us dive into the AT3 RD-50 Pro!
First Impression
My first impression of this optic was positive. After taking it out of the neatly packaged box it had a solid feel and weight but wasn't a brick.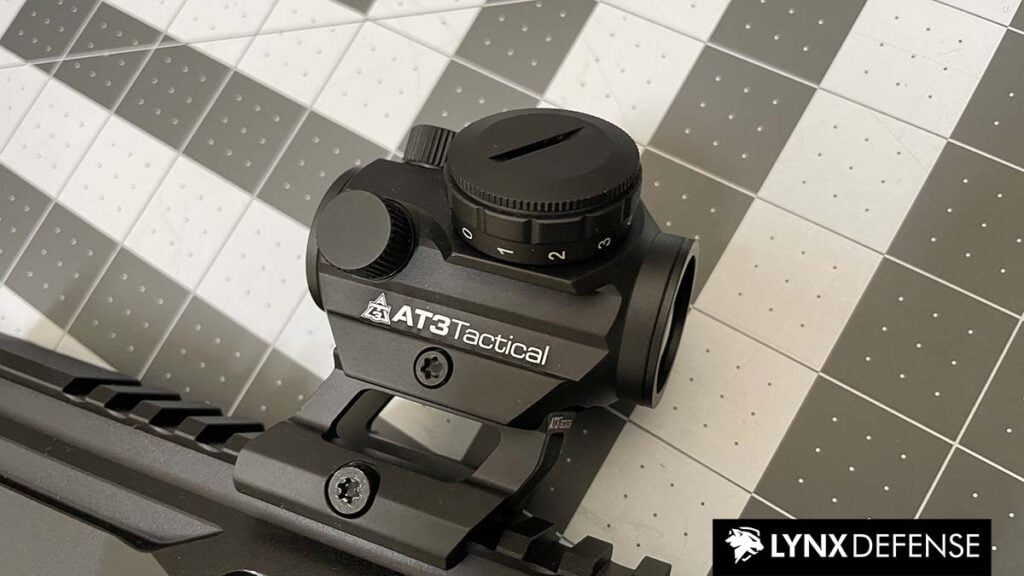 It had AT3 Tactical branding on the red dot and the mount both of which I felt were tastefully done. Sometimes branding can be tacky and overbearing, especially with new or up-and-coming brands.
The build quality seemed on point and the brightness knob was large and easy to reach. The controls were obvious and conveniently placed.
Now we will dive further into the fine details of the red dot.
AT3 RD-50 PRO
· 11 red dot brightness settings
· Parallax free design
· Crisp 2 MOA red dot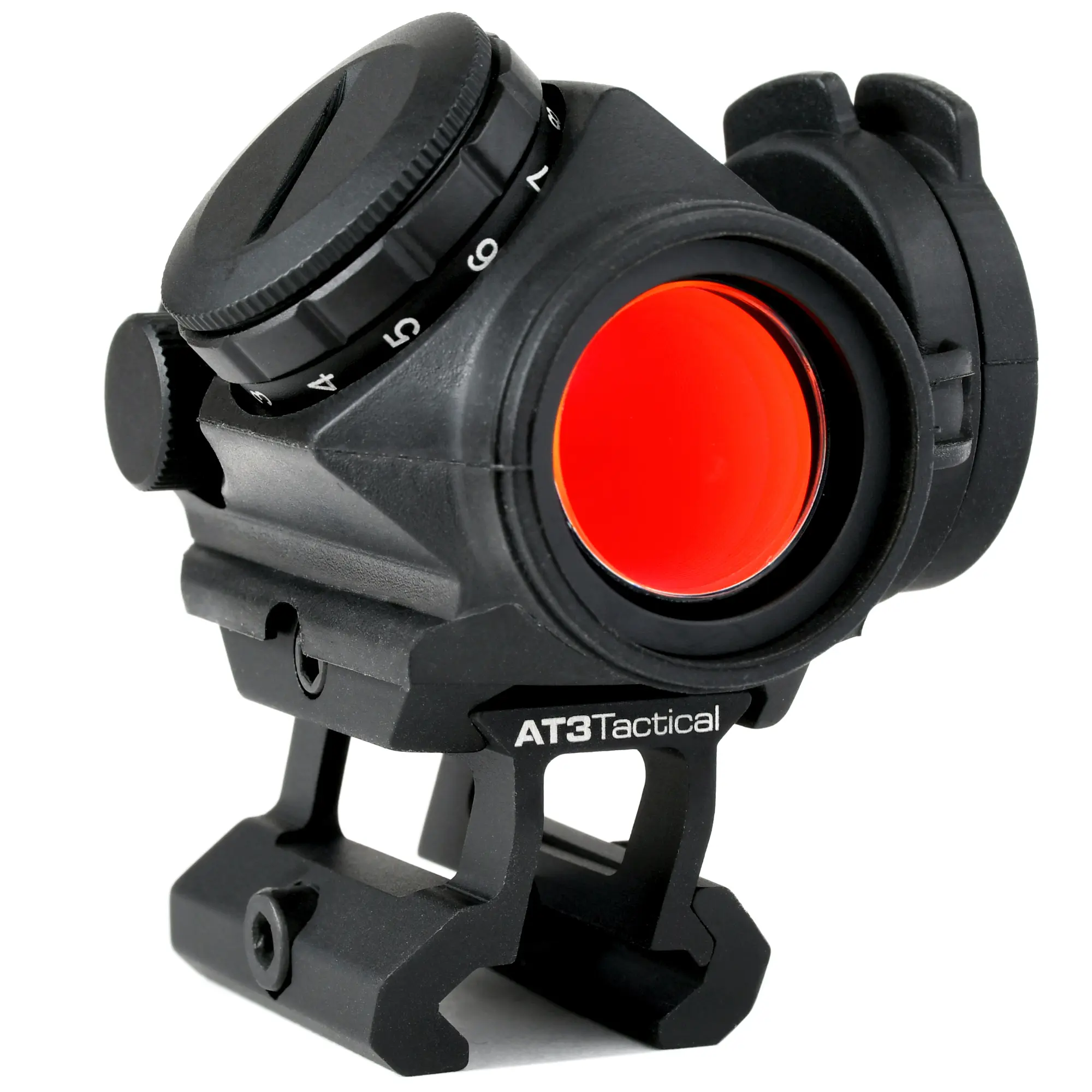 Materials
The body of the red dot sight is 6061 Aluminum and comes in a matte black anodized finish.
The overall materials on the AT3 RD-50 Pro feel solid. One nice touch that AT3 included was a rubber cover that has lens caps.
This adds extra protection for the optic and the lenses of the optic.
Weight
The weight of the AT3 RD-50 Pro comes in at 3.6 oz and is an incredibly lite package.
The mount only weighs 1.1 oz which brings the mount and optic to just 4.7 oz. This is lite is especially compared to other options on the market. The weight is decent and overall it doesn't add unnecessary weight to your setup.
Reticle
The reticle on the AT3 Tactical RD-50 Pro is clean and crisp. I find it very easy to see on any setting but the only issue I have related to the reticle is the power dial.
It's somewhat hard to turn but seems like something that once you use it for a few months it will break in well. I have only had it for a few weeks and have used it 10-15 times but it's kept its stiffness thus far.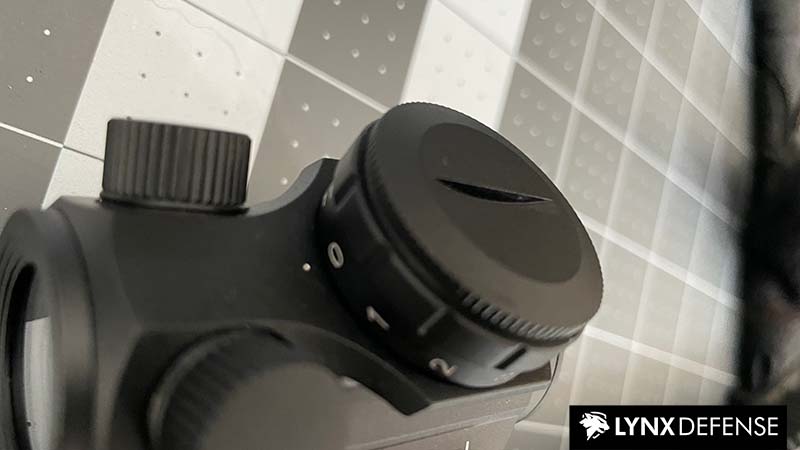 When it comes to the reticle on all settings I have no issues and nothing but praise for the red dot itself.
The brightness knob does turn in both directions so you can go from powered off to setting one or powered off to setting eleven.
Dot Adjustment
Adjusting the reticles elevation and windage adjustment is very similar to most red dot sights in the RD-50's class.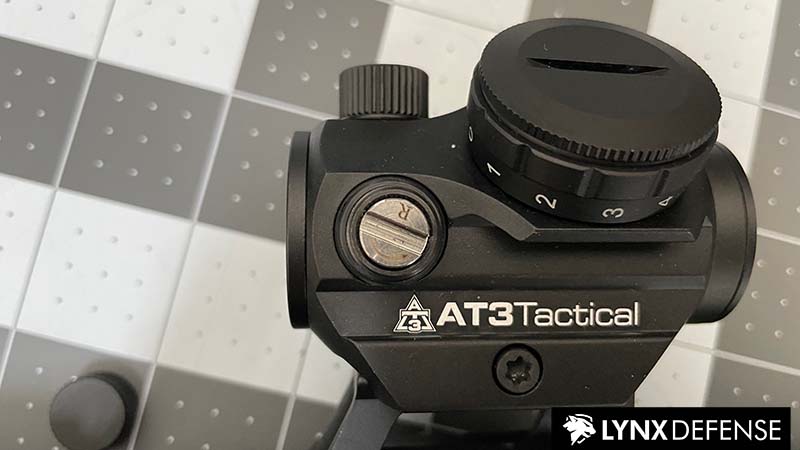 Using the adjustment knobs is easy and fluid. The knobs will require a small screwdriver or a skinny flat object, such as a coin to make your adjustments.
The windage and elevation have a 1 MOA per click adjustment.
Power source
The power source for red dot sights is probably their largest weakness. The thin peppermint-style pancake-looking batteries are no fun for anyone!
They don't provide extremely long battery life but they are small and compact which helps when you are concerned with space.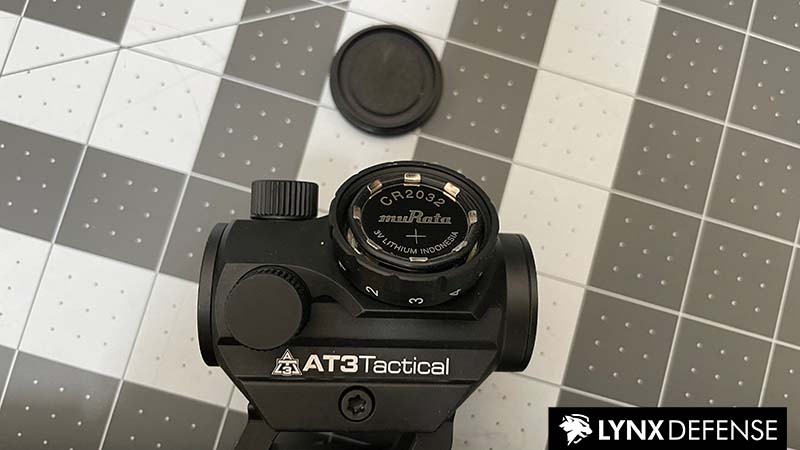 But, they work and nearly all red dot sights use them. The AT3 RD-50 Pro is powered by a single CR2032. They include a Renata CR2032, which is a brand I've never heard of it but it's going strong so far and I have no issues with it.
Nothing great or terrible to say about the power source for the RD-50.
Durability
The one really nice thing about the RD-50 Pro is that it has a rubberized cover included with the optic. This cover easily increases its durability when dropped or even stored in a safe.
AT3 RD-50 PRO
· 11 red dot brightness settings
· Parallax free design
· Crisp 2 MOA red dot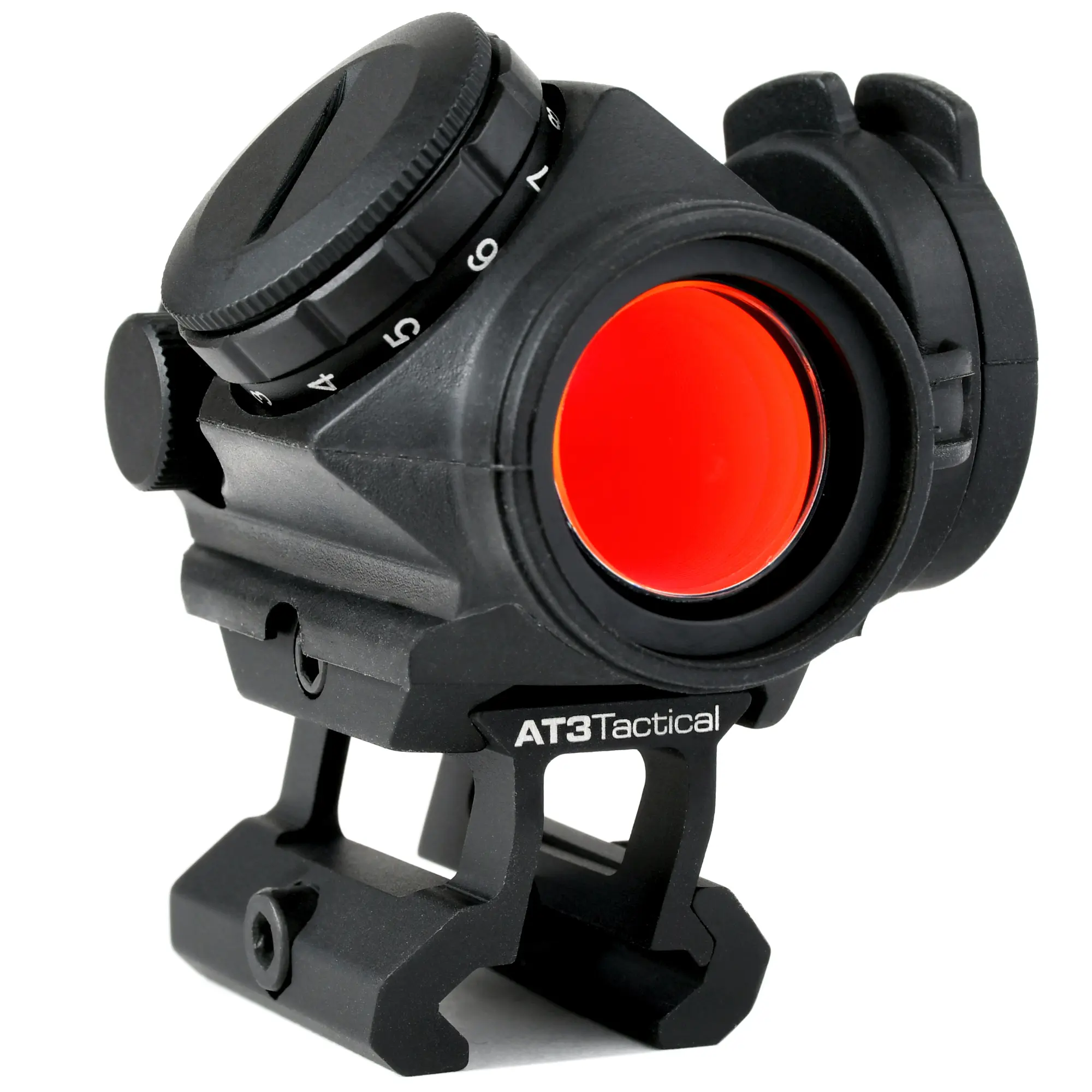 We don't do extensive durability testing, mostly because we haven't come up with a set of standard non-bias set of tests to determine fair durability scores.
Sight picture
The sight picture on the AT3 red dot is decent. The walls of the optic are a medium thickness. They don't take away from your sight picture much and are thick enough to protect the glass.
The other thing that does distract from the sight picture is the brightness and adjustment knobs.
Mounts and Mounting Options
Included mounts are becoming an increasingly popular option for red dot sights on the market today.
Usually, they seem like an afterthought and aren't very attractive aesthetically. Most are square and really lack the polish of something like the Scalarworks LEAP mount.
However, AT3 Tactical actually put in a little more thought on their RD-50 Pro mount as it comes in at just 1.1 ounces and has a really nice look.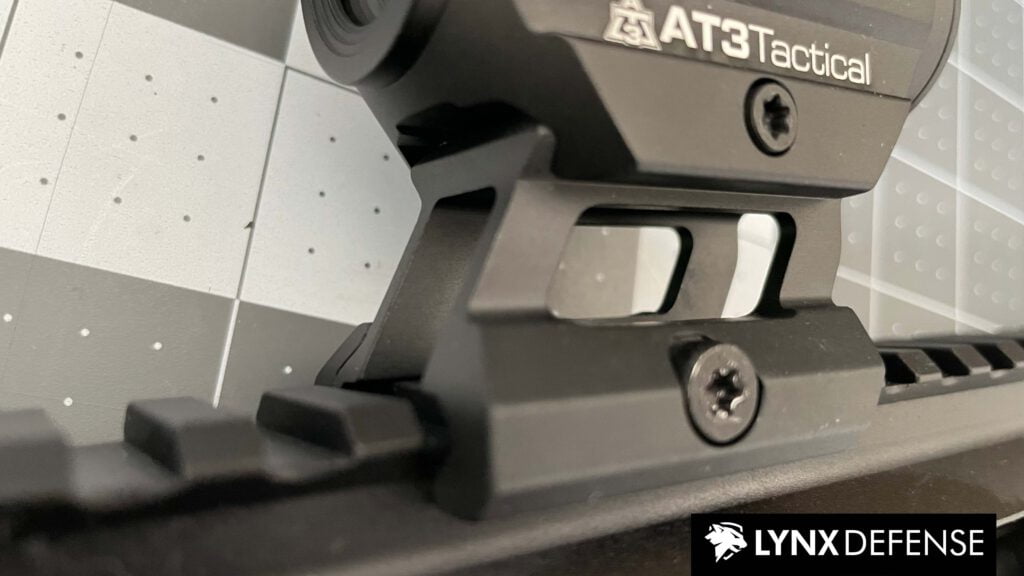 It's not a quick detach (QD) style mount but for an included mount it's fantastic!
Shooting
Shooting with the AT3 RD-50 is quite fluid. Out of the box, it was just a little low and left. This is great considering some optics are wildly off and hard to get dialed in.
I had no issues with the RD-50 Pro and once dialed in it was easy to keep on target and ring steel time and time again.
I really like the crisp dot on the RD-50 and have nothing negative to say while shooting.
If I had to say something negative it would just be the brightness dial is rather large but not extremely distracting.
AT3 RD-50 Pro Conclusion
Overall, if you are looking for a solid red dot sight the AT3 RD-50 should absolutely be on your list.
AT3 RD-50 PRO
· 11 red dot brightness settings
· Parallax free design
· Crisp 2 MOA red dot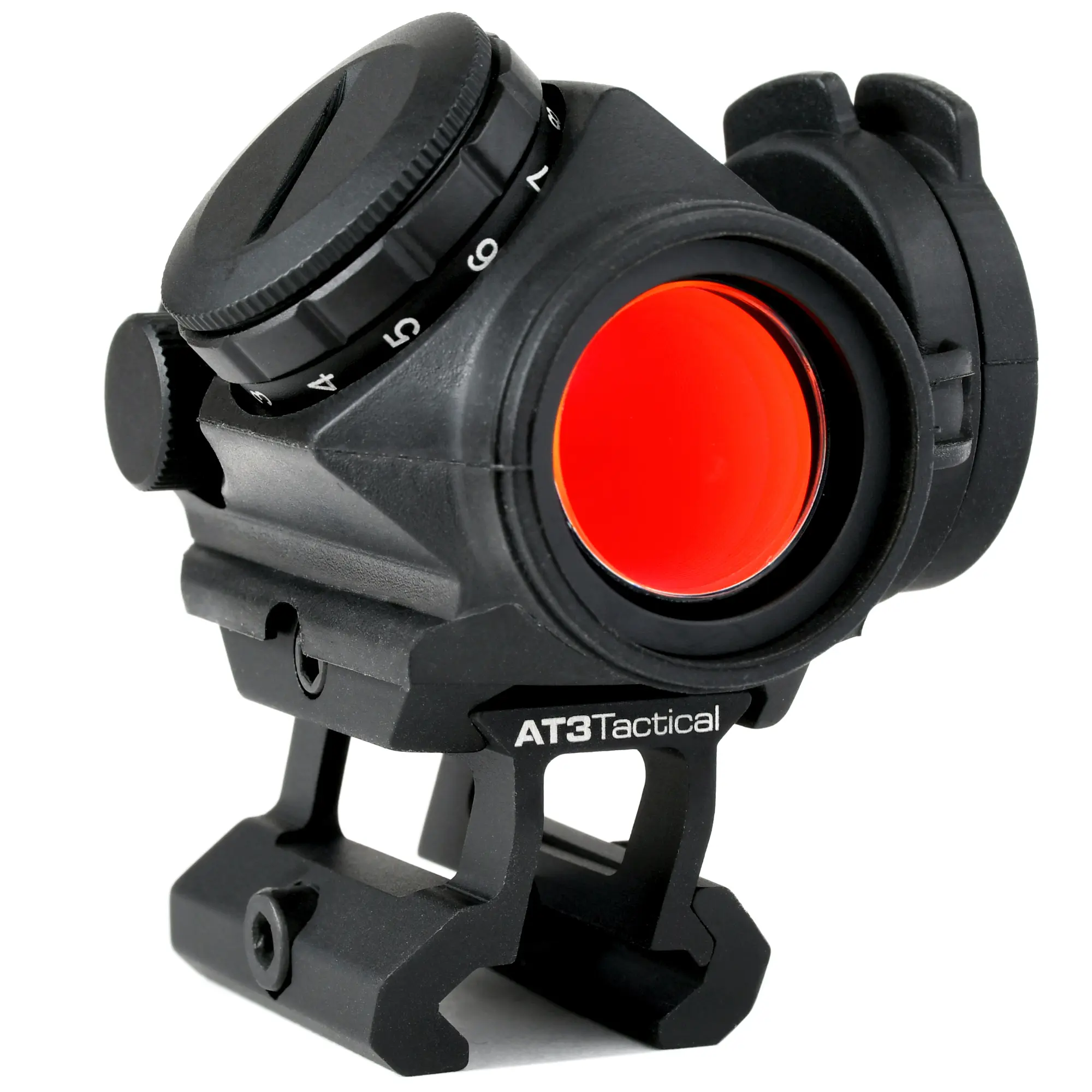 The RD-50 comes in at an affordable price and works extremely well. I really like AT3's branding, it's tastefully done and it helps their logo is nice.
Final conclusion: if this optic hits your price point and has the features you want. Buy it.