Here is my hands one take and full Bersa Thunder 380 review. You might be familiar with the Bersa Thunder line since they offer so many models like the Thunder 32, the Thunder 22, and the Thunder 9. Clearly, this family of guns offers nearly any caliber you desire, today I'll run down the .380 ACP model.
This particular Bersa Thunder model is interesting because it is used in military service, which is rather rare for a .380 ACP pistol.
The Ecuadorian Air Force uses the Bersa 380 for their pilots likely because of its size and conceal-ability.
The Bersa 380 was designed for concealed carry due to its small size and rounded trigger guard.
The Bersa 380 is mainly popular in South American countries where the 380 ACP round is the most powerful cartridge that civilians can own.
Well, without further ado, let's dive in.
Bersa Thunder 380
• Capacity: 5+2 or 7+2
• Action: S/A D/A
• Caliber: 380 ACP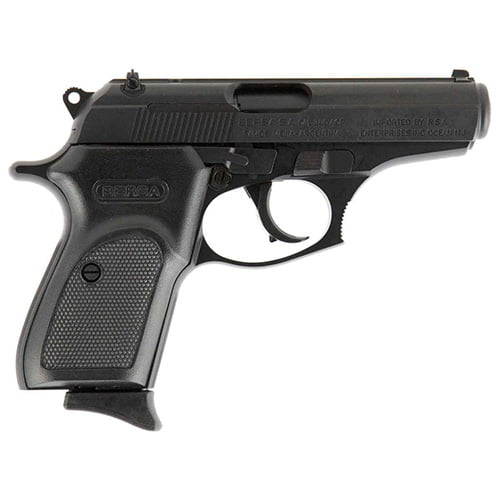 Check available inventory
Brownell's | PSA | Primary Arms | Sportsmans | Guns.com | Gun.Deals
Features
The features of any gun are what make or break it from the grips to the sights it's important to really run down the gun from top to bottom to see if the feature set meets your needs.
Grip/Ergonomics
First, let's talk about the grip and ergonomics. The initial opinion on the grip and ergonomics of the Bersa 380 is that they are decent.
It's not a pistol you're likely to grab and just fall in love with. If you do, to each their own and that's awesome!
It has a pretty decent beavertail, and the overall grip feels good.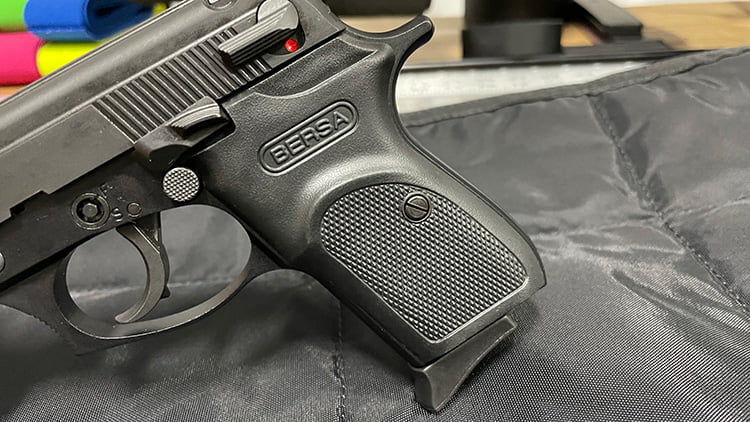 For a compact gun, it is a bit wide. If you're used to something like the SIG P365, or the Glock 43, this is going to feel a little wider than that.
But those to guns don't corner the market on ergonomics by any stretch. The Bersa does feel good in your hand if you have small to medium-sized hands.
On the right side, when you establish your master grip, you will notice that your index finger aka trigger finger interacts with some of the controls on the gun.
That doesn't bother me, but they are there and it's likely something you aren't used to feeling on the side of a compact pistol.
So keep in mind you do feel them.
Now, when you go to fire the gun, you obviously won't be touching these controls, and that's important for a number of reasons namely they move when you are shooting the gun.
Grips
There are aftermarket grips for the Bersa Thunder 380.
I personally will not be changing these, but you can change them for a grip of your choice, namely Talon grips, so it does give you the option to custom your grip panels.
Texturing
The texture of the grip is a checkerboard pattern. It only is a small portion of the lower half of the grip.
The upper half is smooth with Bersa engraved in the grips and that provides a very minimal grip surface.
Sights
The sights on the Bersa 380 are relatively small. They are changeable if you don't like them, so you can purchase aftermarket sights.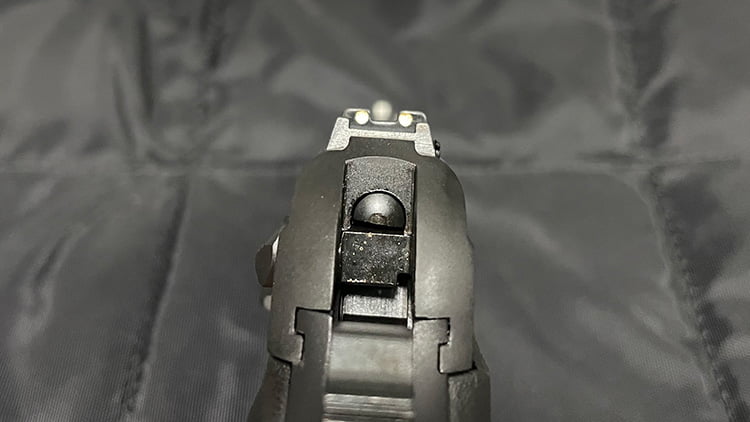 Now the standard design of these is a three-dot configuration, two in the rear, one in the front.
This pistol does not come standard with night sights, so sadly no night sights with this gun out of the box.
Overall, they are good for the slide size. They're somewhat small for my liking, but overall they work well, and the sight picture is fine.
Controls
Let's talk about the controls because for a 380 ACP pistol and a gun this small, there are quite a few of them.
Let's start with the safety.
Bersa Thunder 380
• Capacity: 5+2 or 7+2
• Action: S/A D/A
• Caliber: 380 ACP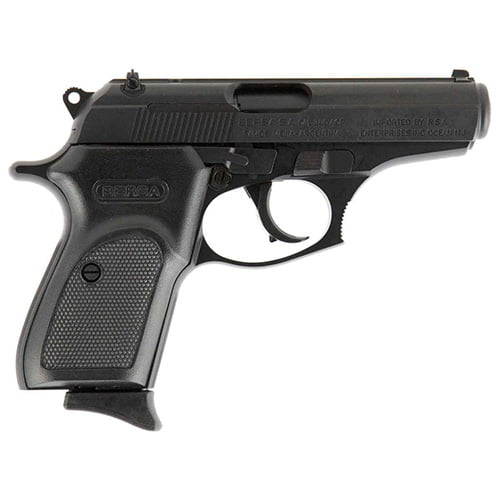 Check available inventory
Brownell's | PSA | Primary Arms | Sportsmans | Guns.com | Gun.Deals
Safety
Now I'm going to go ahead and address the elephant in the room on this gun. It has a magazine safety.
If the magazine is not in the gun, the gun will not fire under any circumstance. It's just not going to happen. In single-action, double-action doesn't matter. Not going to fire without the magazine.
Moving on to the safety itself, the physical manual safety, it is located on the slide at the very rear.
It's an interesting design. I have no problem taking it off safety.
Activating the safety is a little dicey. In my experience when you go to pull it down, it's hard to get it in the full safe.
So you might think you're on safe, but you're only a quarter or three-fourths of the way there so your gun's not truly on safe. I'm not a pistol safety guy so I wouldn't rely on that, anyway.
This is a single-action, double-action pistol so, hammer down, it can still fire with a long trigger pull.
Magazine Release
The magazine release on this gun is probably in the worst possible place on a pistol.
However, I'm not sure where else they could have put it, but typically the magazine releases will sit at the bottom of the trigger well behind the trigger.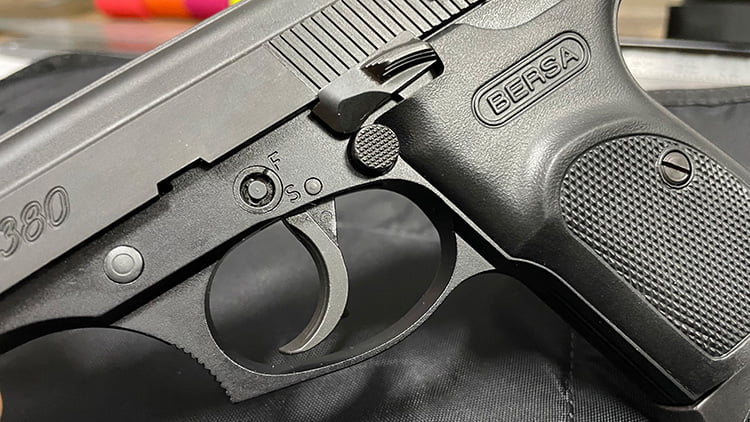 This magazine release sits at the top of the trigger well directly behind the trigger.
For me to use the magazine release, I literally have to pivot the gun around in my hand to get to the magazine release.
That might not be a big deal for most, but for me, that's kind of terrible. I have medium-sized hands so keep that in mind.
If you have large hands, this may not be an issue, but it's still not a comfortable magazine release to me.
Bersa Thunder 380
• Capacity: 5+2 or 7+2
• Action: S/A D/A
• Caliber: 380 ACP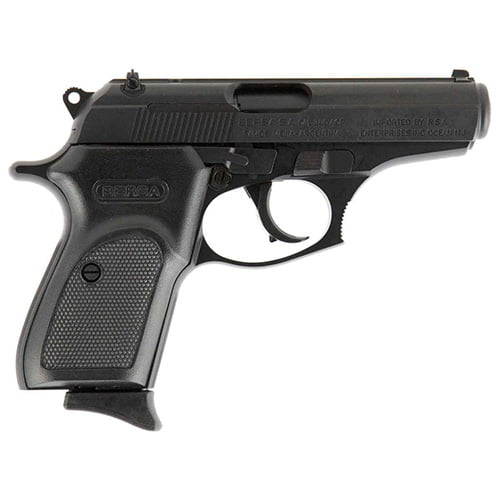 Check available inventory
Brownell's | PSA | Primary Arms | Sportsmans | Guns.com | Gun.Deals
Slide Stop
The slide stop on this gun is actually located in a good spot.
My thumb rests on it when I have my master grip established.
It's directly in the middle of the gun, right above the magazine release. That statement alone just kind of makes me cringe, but it's there.
The slide release works well, it releases easily, and I have no issues with it whatsoever.
Using the slide stop works pretty well. It's very easy to push up and there's no magazine in the chamber.
It releases very easily with no magazine in the gun. Pulling it down with a mag in also is very seamless, very easy.
Trigger
This is a double-action/single-action gun, which means if the hammer is cocked you're in single-action, which provides you a very light trigger pull.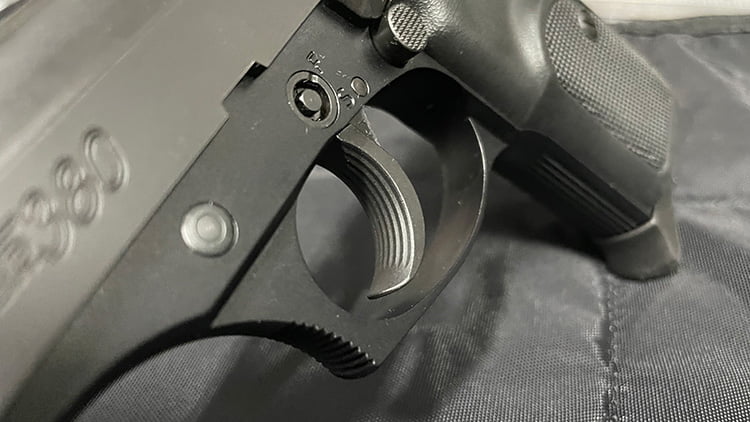 Double-action, the hammer is down and is a safer way to carry a hammered gun, but it is a much, much longer trigger pull.
Single-Action
In the single action of this gun there is a little bit of take-up and then a little bit of squish on the wall, but overall, it's a really good trigger pull.
The reset, it's past the wall so it's a full reset on the double action. Take up a little bit, overall decent trigger.
I'm not going to say it's great but pretty good. I mean, you got to consider the price point of this gun. It's typically south of $300 so overall that's a pretty good trigger.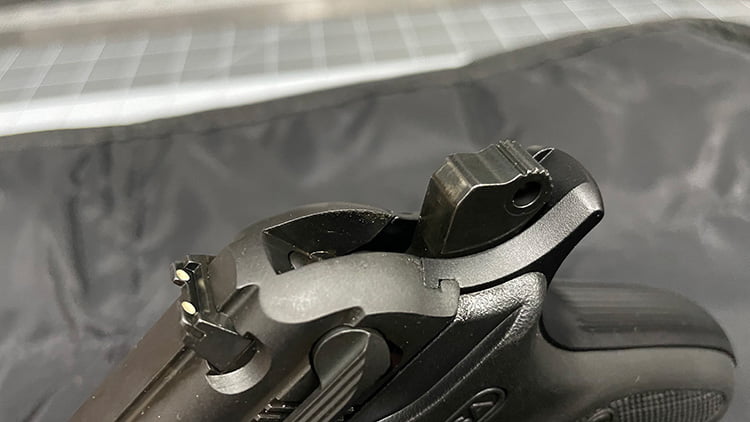 Double-Action
Let's talk about the double-action pull real quick. The single-action pull is very, very smooth, but also extremely long. I do like the curvature of this trigger. It allows your finger to rest in it really well.
The break is in the same spot but you don't hit a wall in the double-action pull.
Range Bag
This wouldn't be Lynx Defense review without mentioning our pistol range bag and our much larger pistol range bag, the Concord.
If you want one of those, go check them out. They'll fit this gun great. They can haul all your stuff to the range, your ear pro. Anything you need to take to the range, we've got you covered.
Aesthetics
Overall, the aesthetics of the gun are pretty nice. I actually like the overall look of the gun.
It definitely reminds me of the PPK, which is ironic because the PPK is chambered in 380.
So this very much looks like the PPK and the Beretta 92 had a little baby.
I think the overall design, the grips, and the milling of the slide are all very simple, and it comes together really well.
As much as I don't like the magazine release, I do like the look of the lower frame on this gun. It's quite simple, quite nice, and very clean overall.
Bersa Thunder 380
• Capacity: 5+2 or 7+2
• Action: S/A D/A
• Caliber: 380 ACP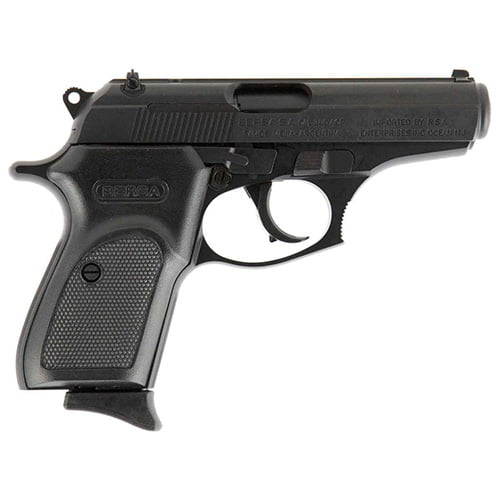 Check available inventory
Brownell's | PSA | Primary Arms | Sportsmans | Guns.com | Gun.Deals
Shooting
In shooting the Bersa 380, It's really hard not to draw comparisons to other 380 ACP handguns, and most of all to the Walther PPK/s which it is designed after.
Holding the Bersa, it immediately felt better in hand than the Walther PPK/s. All the sharp edges that Bradley noted in his review of the PPK/s are rounded off. The Bersa also extends its grip panels all the way to the edge of the handgun, unlike with the Walther, making it feel more refined.
I know that sounds a little crazy when compared to a manufacturer like Walther, but it's the honest truth.
Both the Bersa Thunder 380 and Walther are direct blowback. This means that the only thing containing the detonation of the round is the weight and inertia of the slide.
Although the 380 is a somewhat anemic cartridge when compared to other self-defense rounds, this type of action means that all the snap is sent back into your hand. It doesn't hurt but it's not fun over an extended period of time.
With the design of the slide and beavertail, it also does the felt recoil no favor. While you can certainly shoot normal pressure ammo in the Bersa comfortably, I would not want to shoot it all day long.
Load in some +P self-defense rounds and you got yourself a spicy little pistol.
The sights are also tiny, like the PPK/s but are more useful in design.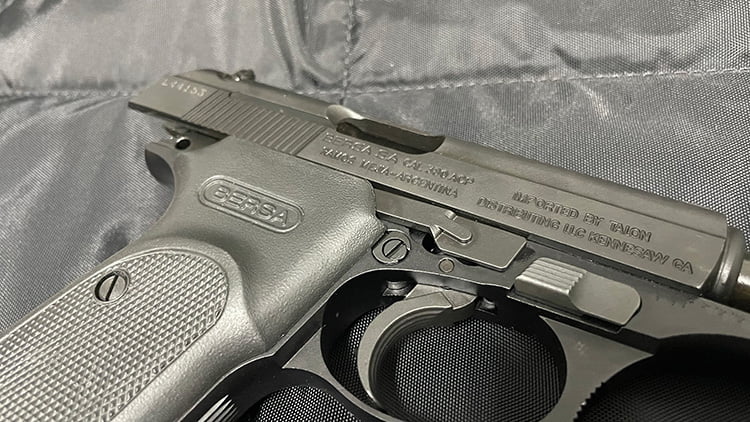 The trigger is a SA/DA which we've also covered before. The double-action is noticeably heavy and long, while the follow-up shots are short and crisp, typical for this style of action.
Overall the Bersa is a fun little 380 to take out on the range when you grow tired of the blocky everyday semi-autos that we've come accustomed to.
Final Thoughts
My final thoughts on the Bersa Thunder 380 are quite simple.
It's a decent price point gun. You can find them anywhere from $200 to about $350. It's a pretty wide range, but there are several models.
You have two-tone, you have olive drab, you have black, which is what this is.
All in all, it's a really decent-looking gun at a decent price.
Would I carry it?
No, only because I wouldn't carry a hammered gun concealed.
Should you carry it?
That's for you to decide. I don't think there are reliability issues here. I also wouldn't want to carry 380 with the number of 9MM options that are out there that are just as equally as concealable as this, if not more concealable than this.
But as for a range gun, I absolutely love this gun. This is a cool gun. It's fun. As I said, it reminds me of the Beretta 90 and the Walther PPK having a baby.
Overall, I don't think you can really go wrong with this gun, but I personally would not carry it.
If you do carry it, leave a comment below, and let us know what your experience is, not hating on it at all. Overall, I think it's a pretty good gun.
Bersa Thunder 380
• Capacity: 5+2 or 7+2
• Action: S/A D/A
• Caliber: 380 ACP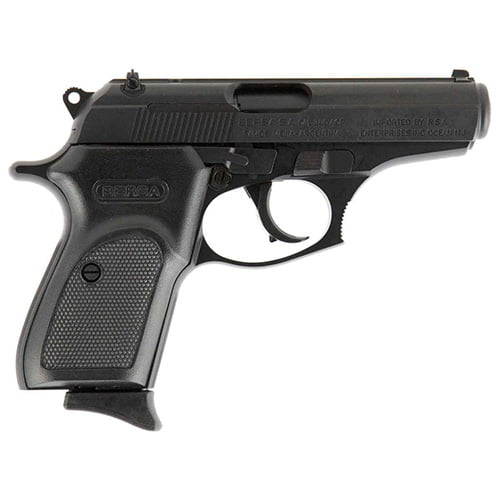 Check available inventory
Brownell's | PSA | Primary Arms | Sportsmans | Guns.com | Gun.Deals
FAQs
Is a Bersa Thunder 380 a good gun?
The Bersa Thunder 380 is a good gun. While that's wildly subjective this is a decent gun.
Every gun has its problems but overall the gun functionally works and is as accurate as any other .380 ACP pistol available.
How many bullets does a Bersa 380 hold?
The Bersa .380 ACP holds 8 bullets in the magazine and 1 in the chamber making the Bersa Thunder 380 an 8+1 round gun.
Is a 380 good for self-defense?
That's subject to much debate and while there's no 100% yes or no to this it's what you feel comfortable with carrying.
Personally, I stick to 9mm and above. But the 380 ACP round is an extremely capable round as well.
Is Bersa Thunder 380 a pocket pistol?
No, the Bersa Thunder 380 is just a little too large to be considered a true pocket pistol.
While the gun might fit in your pocket it's far too wide to not print and show the outline of the gun in your pocket.
Adding a pocket holster or trigger guard will likely only make that printing much more noticeable.