Let us talk about a legendary pistol, the Browning Hi-Power, one that you likely recognize and has really stood the test of time.
Obviously, we are talking about the one and only Browning Hi-Power. If you aren't familiar with the Browning Hi-Power, you really should be.
Recently Springfield Armory has announced the Springfield Armory SA-35 which is a remake of the iconic Browning Hi-Power.
At Shot Show 2022, FN announced they would remake this gun as the FN Highpower with some new and improved features.
History of the Browning Hi-Power
So this gun goes back to 1935, this gun was John Browning's last design of a pistol.
Browning actually died before the Hi-Power was completed.
Browning died in 1926 and the gun had not really been adopted, by any country.
The Hi-Power is also called the P35, it's referred to as the P35 because it was released in 1935.
Browning had finished the 1911, and it was going strong, but the French were looking for a new pistol and they had set the requirements they were looking for.
When FN and Browning designed this gun, Browning couldn't use a lot of the things he had come up with for the 1911, the patents hadn't run out and he had sold them to Colt.
See the difference between the 1911 vs Hi-Power.
So John Browning had to go back to the drawing board for the Hi-Power.
The Hi-Power was adopted by the Belgium military in 1935.
At one point, most of the countries that belonged to NATO used it. However, the US was still using the 1911 at that time.
I can even remember Saddam Hussein carrying one and watching footage of him shooting the Hi-Power up in the air. I believe when he was captured the Hi-Power was the gun he had on him.
The Browning High-Power is arguably one of the most widely used pistols for police and military service in all of history.
The Browning Hi-Power has been used in 50+ countries for military and law enforcement use.
There is so much to be said about the Browning Hi-Power.
It's not really a debate whether or not it's a great pistol, it is.
Many historians would say that the Browning Hi-Power revolutionized pistol design.
The Browning Hi-Power has been in tons of conflicts around the world. It's a firearm that has been tested time and time again and no one can really calm that this is not a battle-tested firearm.
This pistol was originally designed by John Browning, but later finished and improved by his protege, Dieudonné Saive.
Saive is the same guy who also designed the FAL and many other firearms.
Saive is a very famous firearm designer and while his name may not be as well known as John Browning his guns surely are.
Browning Hi-Power Features
Let us talk about why you might want this pistol that was first released in 1935. We will discuss how it handles and shoots and the pros and cons of the pistol.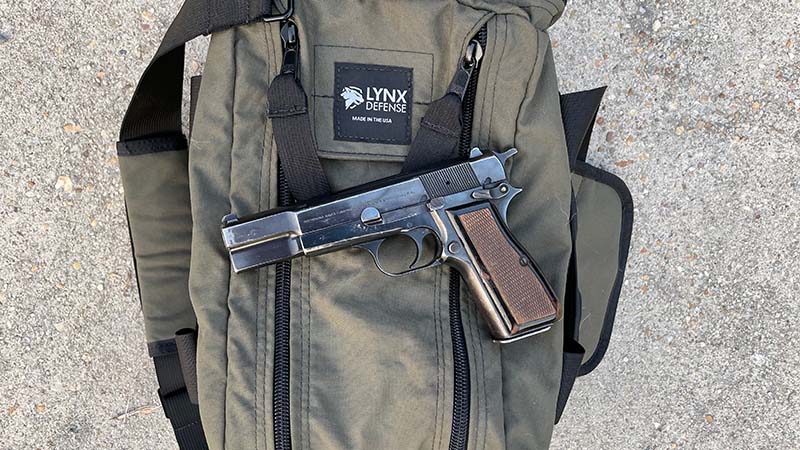 Now let's go over some of the browning Hi-Power's features. There are a bunch of different models of the Hi-Power. Seeing how this gun was made in 1935, you can imagine, there have been a lot of changes to it over that time.
Size and Design
The first thing is first the size of the Browning Hi-Power and it might surprise you since older guns tend to be larger.
When you first pick up the Hi-Power you'll notice it's actually quite small. Especially if you compare it to modern handguns like Glock, Sig, or Smith and Wesson.
The overall design of the gun is quite nice the lines are elegant and clean. It's definitely something that sets it apart from modern guns. This gun's look and design is iconic and there's no mistaking a hi-power for anything model.
When you compare this gun to something like a Gen 5 Glock you know you're holding some substantial and time-tested.
Keep in mind, the Browning Hi-Power was designed at a time body types and the size people were different.
Due to that fact, the grip is a little bit smaller. But, for a lot of people, that might not be good, but for me, it's great because I have smaller hands.
So if you have medium-sized hands like myself, it fits well. If you've got small hands, it's going to be great.
There are options for making the grip better for people with larger hands so don't let this section scare you off of the Browning Hi-power.
Hi-Power Action
The first thing you'll notice about the action is that it's a single-action pistol.
Because the gun has a hammer; it's not striker-fired.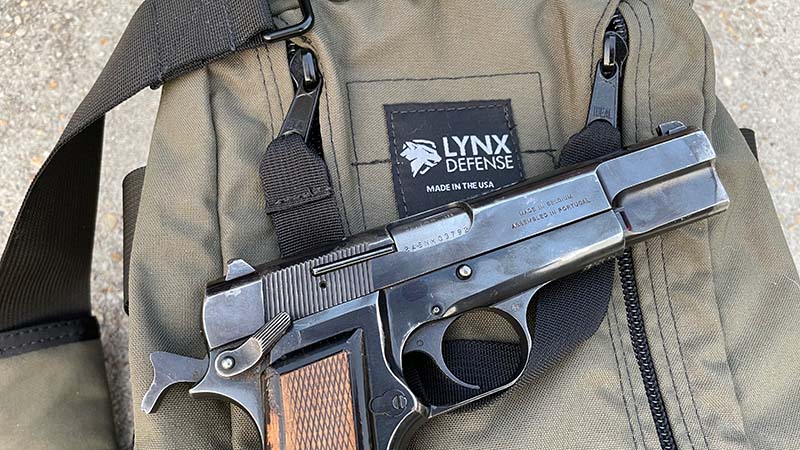 Some people, because there's no part blocking the hammer from hitting your hand, may get a little bit of hammer bite.
I haven't had that problem personally, but I know that some people have.
If you do get hammer bite from the Hi-Power, there are options for you to mitigate that issue.
If you aren't familiar with hammer bite, it's when you're firing the gun and the hammer comes back and hits the meat of your hand and starts gouging it.
Slide Stop
Moving over to the slide stop. On the Browning Hi-Power 9mm it's very easy to use.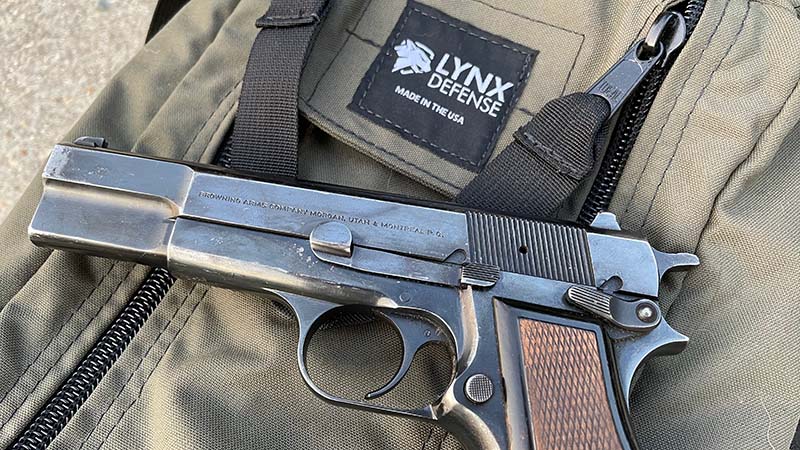 Reaching the slide stop is a breeze and so sending the slide forward is incredibly easy.
Take Down
When it comes to taking down, you have the safety that you pull on so you simply pull the gun back.
Then you engage on that notch and you can simply push up on the slide stop, pull it out, hold the gun when you release the safety, and you can take the gun down.
It's extremely simple like most modern pistols.
Grip
Moving down the gun from the slide stop, let's talk about the grip.
Much like H&K guns I really like the Browning Hi-Power grip angle, and I think one of the main reasons that the Hi-Power has been a favorite for so long.
It just feels good and natural in your hand.
Getting the gun on target is easier with this very ergonomic grip. It's great during multiple strings of fire and goes back on target quickly and easily.
If you compare the Hi-Power to a Glock it's more aggressive which is good for recoil control.
Now, when it comes to the grip itself it could be better. The Browning Hi-Power comes with standard wood grips, people that are more comfortable with a Glock or other polymer-framed gun won't like these grips.
There are tons of options for replacement grips. I know Uncle Mike's offer some rubber grips for the Hi-Power.
There are also many other grips that will pair well with this gun.
Magazine Release
The magazine release is small but easy to use.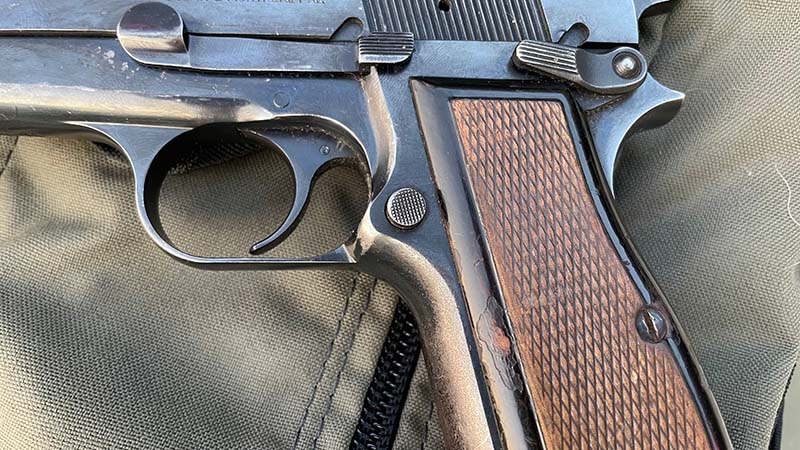 With some handguns, you have to shift your grip to press the magazine release. But on the Hi-Power, I don't seem to have that issue.
Trigger
Moving on to the trigger. One of the unfortunate things in the Browning Hi-Power is because of patents that were still active at the time the 1911 trigger design that John Browning had designed before could not be used in the Hi-Power. So you won't be getting a 1911 style trigger in the Hi-Power.
So the Hi-Power trigger is probably going to feel like a bit of a letdown when you compare it to what you think a single action handgun trigger should be.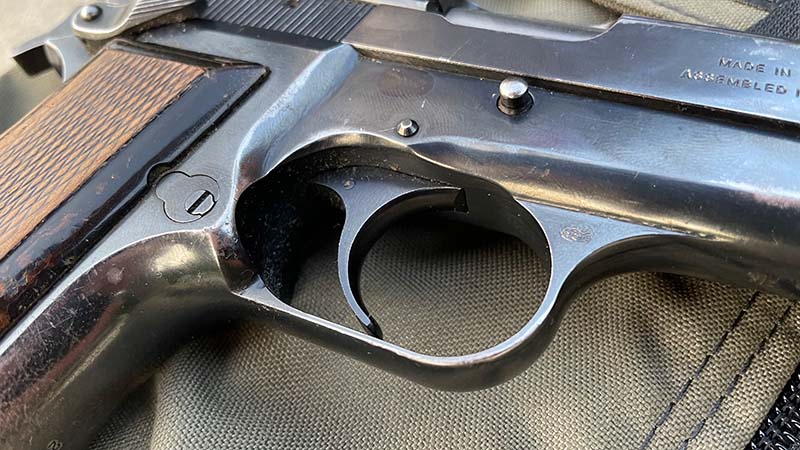 But the take-up on the gun is longer than a 1911. Feels a little bit shorter than a Glock.
The wall is very crisp but the issue with this trigger is the reset.
The reset isn't audible or tactile. So not only can you not hear the trigger reset but you can't feel it either. So the trigger ends up feeling somewhat squishy.
If you want to not slap the trigger during rapid-fire you may want to train with this gun a good bit.
Some argue that you need to release this trigger all the way. But I don't think that's a good idea and will like lead to slapping the trigger.
Feel free to disagree, but even with this guns trigger I would still not release the trigger all the way. I would rather learn where the reset is even though it lacks a good audible and tactile reset.
The lack of the audible and tactile reset on the Browning Hi-Power is a con for an otherwise really good handgun.
Sights
The sights on the Hi-Power are adequate. Like most handguns, you can of course change sights on some of the earlier Hi-Powers.
The military surplus Hi-Powers sights are very rudimentary and not great.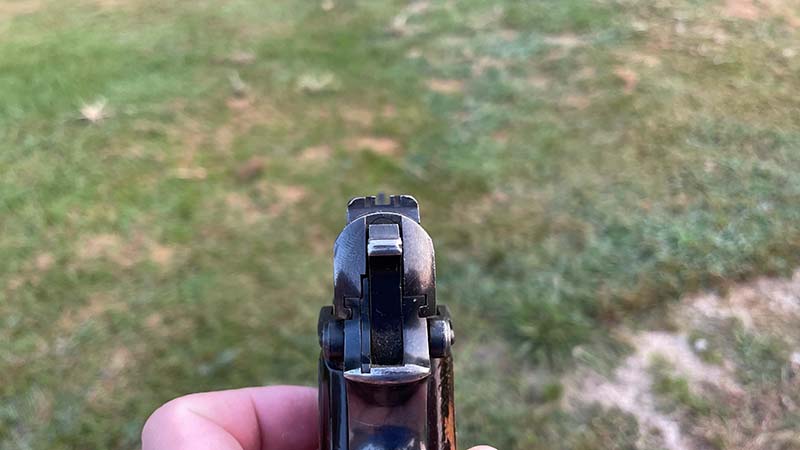 But fortunately, there are options when it comes to sights, so pick ones that work for you.
For many of these guns, the sights can be worn down but that will just depend on the gun.
Magazine
Originally, the Hi-Power magazine was 13 rounds.
There are 15 round and 17 round magazines that are available now.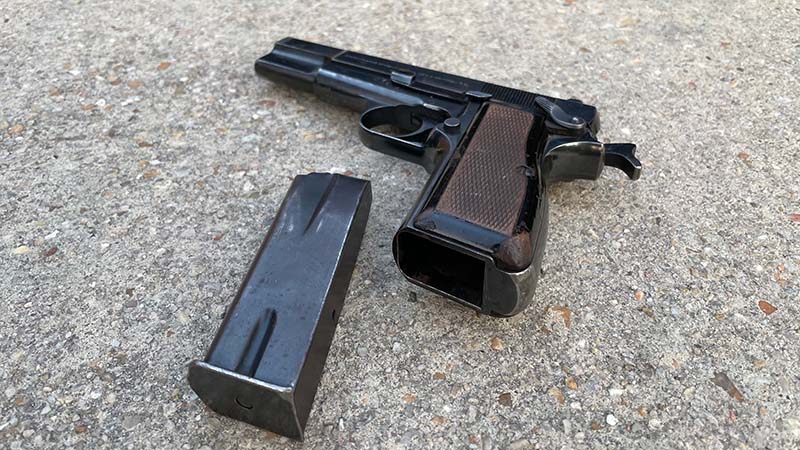 Mec-Gar makes a great 15 round magazine for the Hi-Power. They are very reliable and don't cost an arm and a leg.
Magazine Disconnect
If you know the Browning Hi-Power, you know all about the magazine disconnect in the Hi-Power.
If you aren't familiar with the Hi-Power what the magazine disconnect does is when there is no magazine in the gun, you can't pull the trigger. Many other pistols have this feature including some Ruger and Smith and Wesson handguns.
The magazine disconnect can be removed if you want to have a better trigger experence.
There is some debate on whether or not you should remove the disconnect.
What's best for you is for you to decide but many report that the trigger pull is improved when you remove the magazine disconnect.
Accuracy
Now, the Browning Hi-Power has been tested a great deal.
Many argue that the Browning Hi-Power is a more accurate handgun than a lot of current service pistols.
Many people argue that this gun is more accurate than something like a Glock.
I can't say too much about the accuracy because I'm not an expert shooter by any stretch but I do okay for myself.
I'm not going to get too deep into the accuracy of the Hi-Power, because like I said I'm no expert I just love guns and shooting!
Shooting
What does it feel like to shoot the Browning Hi-Power?
The Browning Hi-Power is a very smooth relatively lightweight gun which makes it an extremely pleasurable shooting weapon.
If you compare it to polymer guns you're might bulk at the lightweight comment. But that wouldn't be fair considering this is an all-metal-framed pistol.
So compared to an unloaded Glock 17, the Browning Hi-Power is about 2.2 pounds unloaded. And the Glock 17… I had to look at my notes there… is 1.5 approximately unloaded. So the Browning Hi-Power does way more than the Glock, but that being said, what that means is that when you're firing the gun, it does absorb that recoil very well. It's easy to keep on target.
The Browning Hi-Power does lack some of the latest advancements like an accessory rail so you won't be attaching any type of weapon-mounted light to this gun. This can be annoying but there is workarounds but none as convenient and easy to deeply as a weapon-mounted light.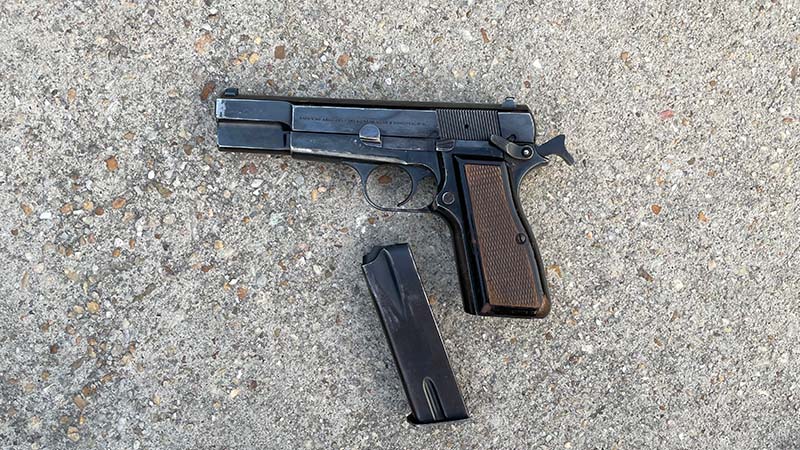 As you'd expect from a gun designed in 1935, it has some cons that newer guns don't have because of advancements in technology.
One thing we have all grown custom to having is flared magazine wells. This gun has no flare magazine well and so you'll have to ensure that you have perfectly lined up your magazine while reloading the pistol.
Don't expect to get extremely fast reloads with this gun like you would with a Glock with an aftermarket magazine well flare or even the 1911's.
Browning Hi-Power Final Thoughts
The Browning Hi-Power is a phenomenal pistol that has since been out-innovated, but it's still a pleasure to shoot.
It's expensive compared to a lot of handguns on the market today, but undoubtedly it has aesthetics and beauty often not found in modern handguns.
The trigger reset is really my biggest problem with the Browning Hi-Power. As I mentioned earlier, it just lacks the polish and feel you'd expect.
The only other issue is the possible hammer bite, but obviously, that depends on the person so it might not have any effect on you at all.
If you can I would suggest adding this pistol to your collection. You really can't go wrong with that.
You'll enjoy shooting it, there's no doubt.
Is it the best handgun now? Probably not.
Handguns like the Glock 19 and Glock 17 have proven themselves as workhorses.
But nothing can take away the fact this gun has been used around the world and involved in multiple conflicts and performed very well for nearly 86 years.
I have no doubt that if you get one of these, you're going to be happy.
Browning Hi-Power
Browning Hi-Power is a time tested pistol that has really shined even in it's old age. The Hi-Power is one for the history books.
Product SKU: 051004393
Product Brand: Browning
Product Currency: USD
Product Price: 1217.99
Product In-Stock: InStock