Para Ordnance first came to my attention in early 2009 as a high-quality 1911 manufacturer located in my home state of North Carolina, just a few hours to the west of where I lived.
So, naturally, my desire to own a North Carolina made 1911 grow from the day I learned about Para Ordnance.
While Para Ordnance is no longer an active brand, more on that later, I wanted to review my Para Pro Custom 18.9.
History of Para Ordnance
Para Ordnance was originally founded in Canada in 1985. Their first product was actually a paintball gun designed for military and police use.
The original Para factory was located in Ontario, Canada. In 2009 Para announced opening a United Stated-based Headquarters in North Carolina and would lately completely move the company to the United States.
Unfortunately, in 2012 Remington Outdoor Company purchased Para Ordnance and moved the company to Huntsville, Alabama. They would later kill off the Para brand and incorporate all of the Para designs into the Remington 1911 R1, by all accounts a subpar Para and one that never received the recognition that Para 1911's were known for.
Features
The Para 1911 Pro Custom is a really feature-packed 1911 9mm pistol. I'm really disappointed that Para no longer exists, and, unfortunately, nobody makes, in my opinion, something equivalent to the Para in its price range.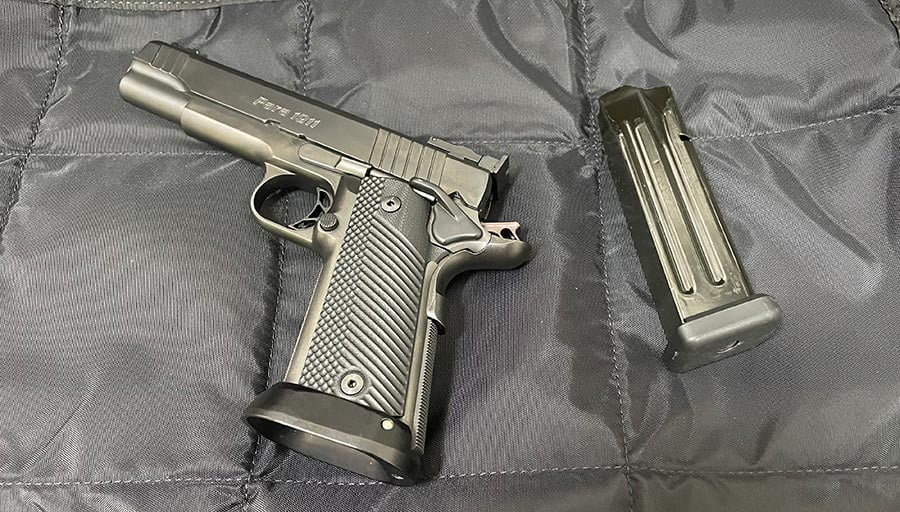 The closest thing nowadays to a Para Pro Custom will probably be something from the Staccato 2011 line. You're going to look at least a $600-to-$800 premium over what the Pro Customs were going for in their day.
So let's dive into some of the features of the Para Pro Custom 9. Starting with the grip because I feel it's the most important.
Grip/Ergonomics
The grip of the Para Pro Custom is stout. It is very much a double-stack 1911-sized frame. The width is close to two inches and it is extremely thick.
Like many 1911s, it has two panel-style grips that are fixed with two screws. On the front of the frame itself, it has a square-like texture, very different from something like a Glock. This pattern is a square checkerboard-style pattern.
The grip panels have a texturized diamond on the front and on the back have a downward-slanting texturized cut. The gun's grip texture feels good, but it's not extremely abrasive. With the world of stippling today that goes on, this is definitely not high on the extremely abrasive.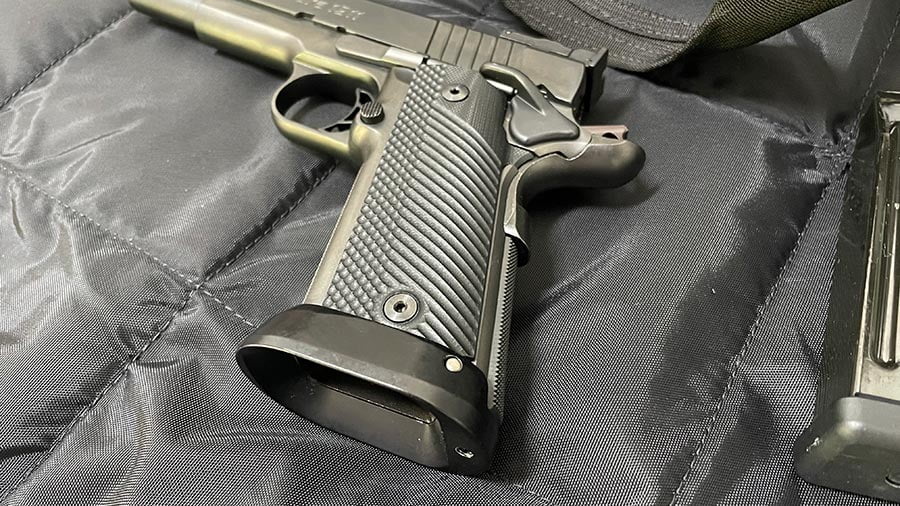 But we'll get to that in a little bit when it comes down to shooting the Pro Custom 9 because I don't think the abrasion will help you, especially with how this Para 1911 shoots gripping the gun.
Establishing a master grip on the Para is extremely easy. It does have the grip safety on the back grip you have to depress when establishing your master grip. Even for somebody with smaller hands like myself, I have an easy time grabbing and holding this gun, even though it has a very, very thick grip, and my fingers don't wrap all the way around it like they would on something thinner like a Glock 19.
Sights
Let's move up to the top of the gun and talk about the sights. The sights on the Para 1911 Pro Custom have a fiber optic front post sight and an adjustable rear sight.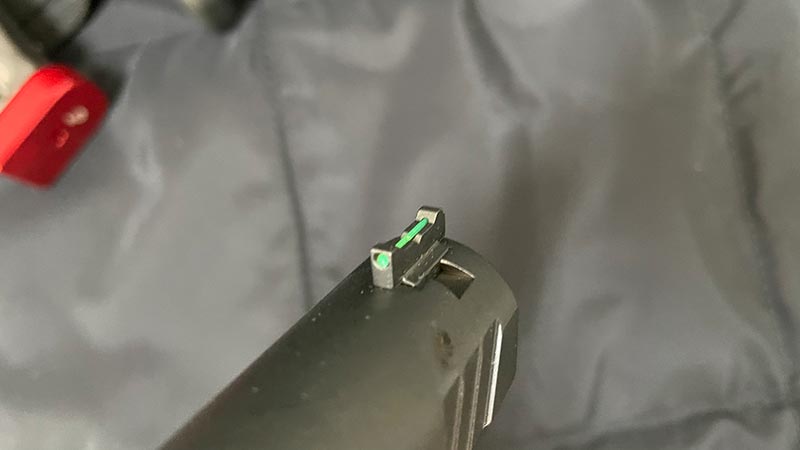 One thing I really like about the Para's sight is the rear sight doesn't have any markings and the front distracts you from seeing the front sight. The fiberglass optic makes it extremely nice and a easy to see.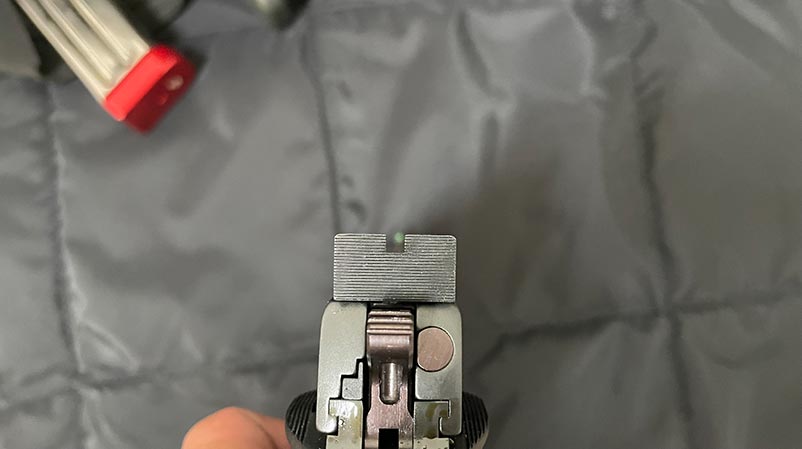 You can remove the sights and replace it with a sight that you prefer, but I don't think you're going to want to remove this sight that it comes from the factory with.
Granted, you're not going to really be getting one of these from the factory as they're no longer in production. But if you happen to snag one currently out there on the market from a secondary seller, they may have left it completely stocked, and it looks great.
Now let's talk about some controls.
Controls
Controls on the gun are very similar to what you'd expect.
Safety
The only ambidextrous thing on the Pro Custom 9 is the safety. The safety is at the rear of the gun and can be used by the flick of either thumb up for safe, down for fire. The safety does not engage when the hammer is not pulled back.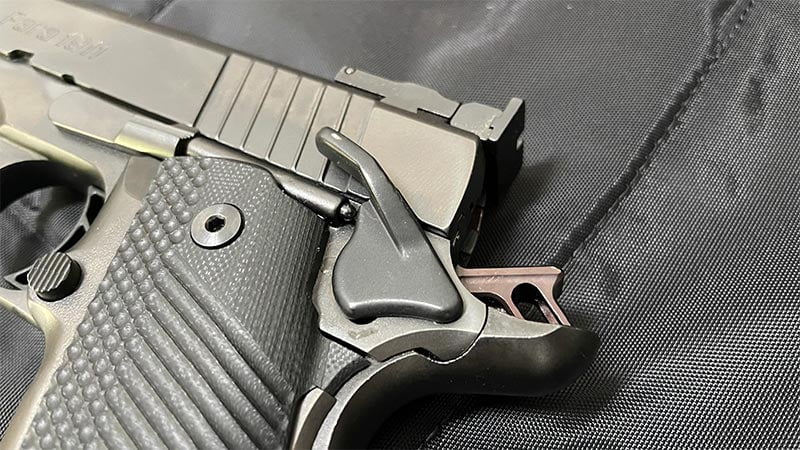 The wide design of the safety makes it easy to engage and disengage quickly. I don't have anything negative to say about the safety design at all.
Slide Stop
The next control is the slide lock. The slide lock is right smack-dab in the middle of the gun. It functions very smoothly. You can pull it down and send the slide home with ease.
Since I have smaller hands I have to move my hand around the gun to get my thumb on the slide release, but if you have larger hands and can reach it, you're going to find it very easy to pull and release the slide.
However, I don't usually release my slide that way. I would not recommend releasing your slide that way.
Magazine Release
The magazine release is a small circular dot, that obviously sits right at the base of the trigger frame. It's not bad, but it is relatively small, especially when it comes to 2021 guns magazine release buttons.
Hammer
Let's talk about the hammer real quick.
The hammer is protected by the grip safety. So if you need to release the hammer, you have to push that in and grab it. If you want to manually cock it, it comes down relatively easy, but it's still kind of hard to get to because of the beavertail.
I wouldn't change anything about this design just because the beaver tail really helps with the overall grip and feel of the gun. But that is just one thing to note. I wanted to include that since it is technically a control of the firearm.
Trigger
So let's talk about the Para Pro Custom 9 trigger. I am not a 1911 trigger expert. I don't know that much about 1911 triggers, only my experience with the ones that I've owned.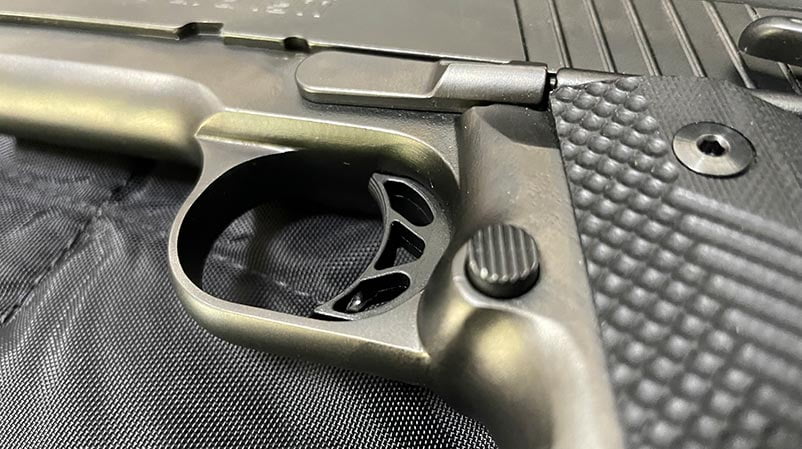 I'm only talking about this trigger in this particular gun. If you have a Para and yours isn't like this, by all means, comment below and let me know.
My trigger has a lot of upward and downward movement. It is just floating there. And from my experience, some triggers in the 1911s are like that, and some are not. This particular trigger has minimal take-up.
You're almost at the wall, and when you get there, and once you squeeze, squeeze, squeeze, the hammer is going to fall. It is very smooth, and your reset is very short. The reset's pretty much all the way back out, but once it resets, you are back at the strong wall.
I really do like this trigger, even with the amount of play it has. The upward and downward movement is kind of odd to me. I would love for somebody to clarify if that's a normal thing for Paras or if that's just a normal 1911 trigger.
But unless it's a smooth trigger, I wouldn't put it up against anything that's come out lately. Keep in mind that this design and this trigger are well over a decade old now, closer to two decades old. This trigger is a single-action, so the slide will have to be racked; the hammer will have to be back. So it does not fire in a double-action capacity, which is not a big deal. This is a competition pistol, so keep in mind, you really don't need double action.
Range Bag
Quick splurge about our range bags to pay some bills.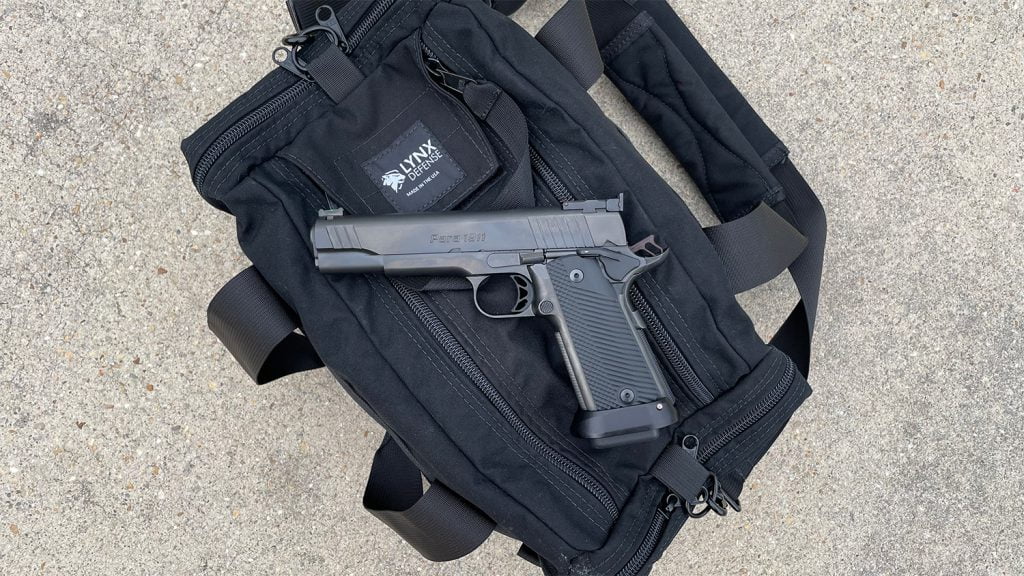 The Para 1911 fits great in our pistol range bag and our Concord. It sits deep down into the pockets, and many pictures are floating around from early in Lynx Defense's days of this Para Pro Custom 9 sitting in a pistol range back insert.
It is by far one of my favorite pictures, and it just aesthetically looks great in our bags. I personally think that the 1911 slimmer slide fits even better in our inserts than any of the polymer-framed, fatter-slide guns do.
Accessories
Now let's talk accessories for the Para 1911.
Grips/Magazine releases
The Para Pro Custom 9's grips can be changed out. However, I will say on the Pro Customs, there is a flared magazine well. The grips sit down in there top of the magazine well flare, so you're not going to be able to get certain depths of grips.
So if you have really thick panels, you're not going to be able to get those and the flared Para Pro Custom mag well on there. I personally would not give up the flared mag well of this gun. That would be crazy. It's great—just a huge flare.
It will take pretty much any 1911 patterned grips if you want to go that route.
Magazines/Bases
Magazines for the Para Pro Custom 9 are Mec-Gar type mags. However, with the flared mag well you need a special base on the magazine to get it to seat.
Even then when I bought what I thought was the correct special base plate, they would not seat properly without modification. Causing the rounds to not feed into the gun.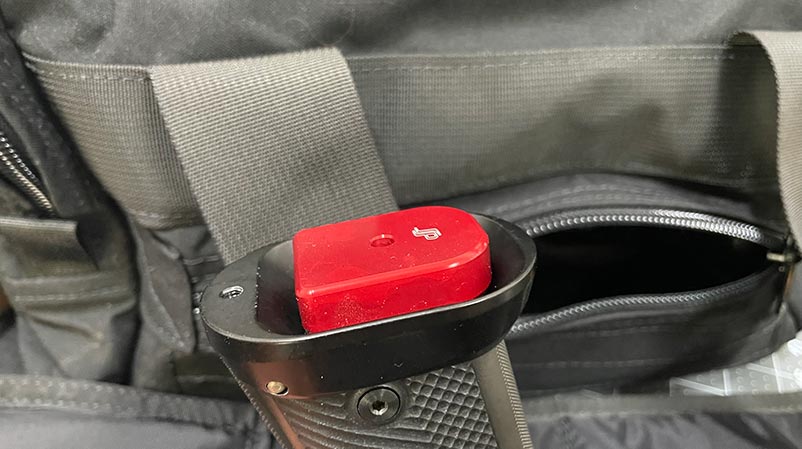 So it doesn't appear that any aftermarket magazines will work for the Para Pro Custom 9 and its magwell flare. If anybody knows of any that will work for the Pro Custom 9, maybe the Staccatos or something along that line with the same magazine pattern, I would love to know because I would love to pick some more up for this. I've only got two. It would always be good to have more magazines for this gun.
Aesthetics
Looking at this gun, it is absolutely beautiful in terms of cuts and smooth where it needs to be smooth, hard edges where they need to be hard.
This is just the perfect blend of machining and ingenuity on a 1911 firearm. The slide cuts are just absolutely gorgeous. The Pro Custom 9 that's cut into the slide looks great. Everything down to the pattern that they chose to cut into the grip frame just looks absolutely phenomenal.
You could not possibly design a better-looking gun in its day. The Staccatos these days will give this gun a run for its money in aesthetics, but man, remember this gun was made in 2009, you're really going to love the look of this. If you can get one, I would recommend it. The only downside about owning a Para is possibly finding replacement parts, but I think there are still some sites out there and some compatible other 1911 or 2011 parts that will work for this gun.
Shooting
Shooting the Pro Custom 9 is unlike any 1911 I've shot before, full disclaimer I have only ever shot .45 caliber 1911's prior to this Pro Custom 9. Those 1911s have a lot of recoil. They have a lot of muzzle rise and they, to me, just are not fun guns to shoot, but the Para 1911 is so soft-shooting that you almost wonder how the slide is coming all the way to the rear and chambering another round.
It's almost as if it's so soft and smooth that it's not functioning properly, but it absolutely is. I really like shooting this gun. I'm not very accurate with it, as I haven't practiced a lot with the gun, so the sight throws me off. But when I get on a roll with it, it is absolutely a blast and just shooting it and missing is still fun. So that should tell you something in and of itself.
Final Thoughts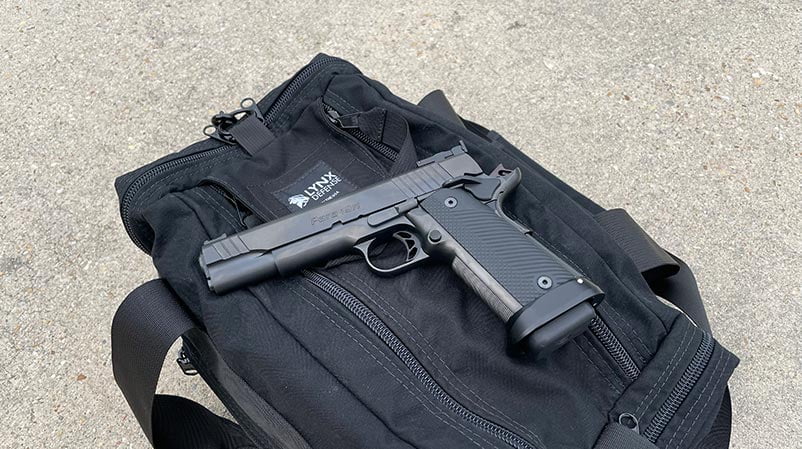 My final thought on the Para 1911 Pro Custom 9 is that this was the beginning of the 2011 Rage.
It may not have been the first, but for me, this thing really showed me that 2011s could be a real viable firearm for everyday carry. I wouldn't say I like the 1911's. I am not a 1911 fan, even though I've been reviewing them left and right and even ranked the best 1911s — see Sig P938, Sig 1911 Tacops, Kimber Micro 9, Springfield Armory EMP4, or the more unique Browning 1911 Black label Reviews. But the 2011s are fantastic.
Typically, in my final thoughts, I recommend whether you should buy something or not.
The only reason I would tell you not to buy a Para is the fact that there's no longer a company to support you.
There's no longer RMA.
There are no longer ways to fix your gun easily.
The company isn't actively making parts specifically for this firearm.
Now, if that doesn't deter you, then absolutely 110% buy this gun. I bought this gun because it was made in my home state way before they were scooped up by Remington.
I really like this gun. I like the fact that it's stamped with my home state, and quite frankly, I probably overpaid for it at the time, but I had to have it, and I don't regret it in the slightest. So maybe go for something like a Staccato or a more modern 2011, but don't sleep on a Para if you find a good deal or you're a collector.
This is a fantastic firearm.
FAQs
Here are a few of the most common Para questions.
Is para ordnance still in business?
No, Para was bought by Remington in 2012, and they took the Para design and worked it into their R1 line of 1911 pistols.
Are Para Ordnance guns any good?
Yes, Para Ordnance pistols are known to be high quality and extremely reliable.
How much does a para 1911 cost?
When they were still making pistols they sold between $800-$1,600. Para also made some 45 ACP pistol models that were in the $1,200 price range.
What is the difference between the Para 1911 and a Browning Hi-Power?
Para Ordnance 1911 | Para Pro Custom 18.9 Review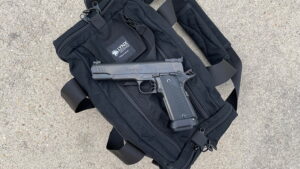 We review the once wonderful Para Ordnance 1911, specifically the Para Pro Custom 18.9. A great 9mm 1911 made prior to the Remington buyout.
Product SKU: 96770
Product Brand: Para Ordnance
Product Currency: USD
Product Price: 851
Product In-Stock: InStock