The CZ P-07 has gained quite a following in recent years and is one of the most affordable pistols in the CZ lineup. Coming in at less than $600 it's an extremely attractive pistol for the money.
CZ makes a number of really great pistols such as the CZ Shadow 2. I also really love the CZ Scorpion EVO for a pistol-caliber carbine.
So how does the CZ P07 compare to the quality and standards CZ has become known for? Time to dive in and find out!
Controls
The controls of a pistol will make or break the function, ease of ease, and overall feel. I'm going to go through each of the controls one by one and see how they stack up!
Safety/Decocker
The safety of this gun is essentially the hammer. There's no manual safety in the traditional sense, but if the hammer is down, you go to a double-action pistol, which essentially acts as the safety.
Personally, not a huge fan of hammers on pistols, but I'm not going to write it off just because it has a hammer.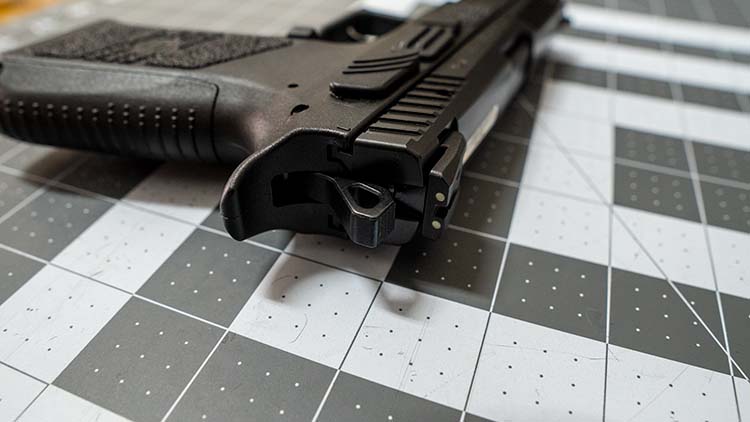 So, let's talk about how the decocker works on this gun. It is an ambidextrous decocker, which is one of the only controls that is ambidextrous on this gun.
It functions quite well when you have the hammer cocked to the rear. It's very easy to pull down and it's quite large
It is polymer, but it does have a good texture. Pulling it down is very easy and light.
It's worth noting that while it's easy to use you're not going to accidentally decock your gun and even if you did, it just goes into double action.
But you definitely have to depress this on purpose to decock the firearm.
So to wrap up this particular portion of the controls of the CZ P-07. The decocker works well and for a decocker overall fantastic part of the gun so far.
Slide Stop/Release
The slide release and slide stop sits in the middle of the gun.
For reference I have, I would say average size hands, they're not big, they're not super tiny.
The slide stop for me is a bit hard to get to I have to come off of my master grip to get to it.
The slide stop/release design features two good size ledges for you to easily grab with your thumb.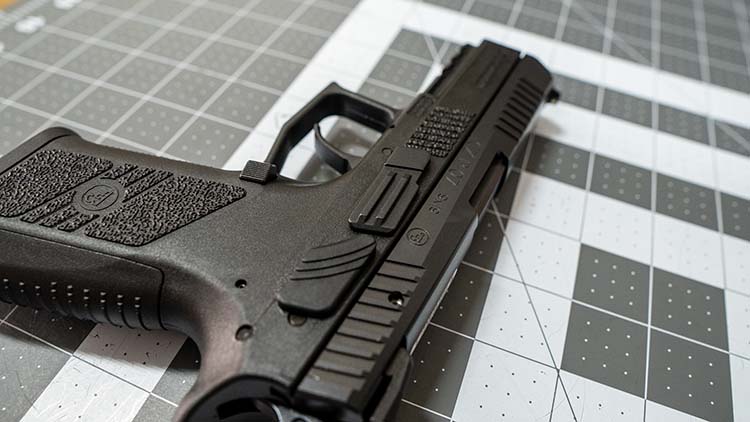 I have to come around to use it and it's not ambidextrous, so you can't pull down on it on both sides.
If you have a magazine in, it does tend to be a bit stiffer of a pull to release the slide.
If you don't have a magazine in, it's very easy to grab and pull down with your thumb.
Size wise it is very large and I really like the oversized slide stop.
It operates on a pivot system with a pin that goes through the receiver, you can see it on the other side of the gun.
Overall, the slide stop/release works. It's not awesome but it does work and works well.
So far my biggest beef with the gun is the slide itself and I'll talk about that in another section.
For now, we're batting a thousand on the controls.
Trigger
Time to take about the bang switch!
This is a double-action/single-action pistol and for those of you that don't know what that means, with the hammer in the cocked position, it becomes a single-action pistol, which means the trigger pull is much lighter, smoother, and crisper overall.
The double action portion of this is when the hammer is not cocked. It is a longer, harder, grittier trigger pull when it's in double action.
So if this gun were to fire normally, when it cycles and chambers the next round, it would obviously cock your hammer and you are back in single action.
This is where I found one of the few cons of the CZ P-07.
There are not many, but here's one, the trigger in the double-action on this particular gun.
I've talked to a friend of mine who also owns a CZ P-07 about his trigger and his was not nearly as bad as this particular trigger, but the trigger was so heavy that I was actually scared to pull it.
I called him to double-check that this was a double-action pistol because I was worried, I was going to break the trigger.
Granted, I don't think you're going to break this trigger no matter what but it was an insanely heavy pull.
So with that being said, the double-action pull on this was incredibly bad. Finally, I just had to yank it, and of course it worked flawlessly.
Needless to say, I don't care for the double action on this gun. I feel like the trigger pull is just way, way too hard.
I'm not going to harp on it too much, because it probably is just this gun, because my buddy didn't have this problem. I've shot his before and I didn't notice that prior to my CZ P-07.
With that said, let's talk about the single-action trigger a little bit, because I feel like this is where most people are going to shoot this gun from.
Some people may carry the CZ P-07 with the hammer down, which I don't recommend.
The single-action, there is quite a bit of take up. Quite a bit of take up, you do hit a wall, it's a little squishy, but not bad. And it's a clean break. It is definitely a clean break.
Slide
The slide is my one real contention, other than the double-action trigger issue.
The slide on this is small. It reminds me of the Shadow 2.
It looks great. I love the milling and what CZ did with the overall design, but when it comes down to the function of it I'm not a fan.
I'm sure this is something that you can get used to with enough practice and shooting with this gun, it's just really small.
The gripping area of the slide is small. I prefer something larger where it's easier to grab and rack.
You don't have to worry about anything on the gun getting in the way of racking your slide.
But like I said, with the right amount of time behind this gun, I could probably get used to it, but I'm not going to carry this gun on the daily.
The CZ P07 is a fun range gun for me.
To be clear, that does not mean I'm saying it cannot be a good carry gun because it absolutely can be.
Reliability, no problems whatsoever, it's just whatever you get used to. But the slide size is my biggest gripe because the slide grip area is relatively small.
Ergonomics
The ergonomics of the CZ P-07 is probably what draws most people to this gun.
Alongside the really solid MSRP of the CZ P-07, typically CZs have a much higher price tag.
This gun competes in that Glock price point range and of course, the ergonomics are great.
When you first establish your master grip the first thing you'll notice is the frame feels fantastic.
I really like what CZ has done with this polymer frame. I like the cuts above the grip texture. I call them cuts, but they're somewhat indented.
They make the gun feel really good in your hand and allow your thumb and trigger finger to ride down the side of the frame with ease.
If you have larger hands, I don't know what to tell you here. I can only give you my impression of it.
The grip texture isn't extremely abrasive. It's not bad, it's not great.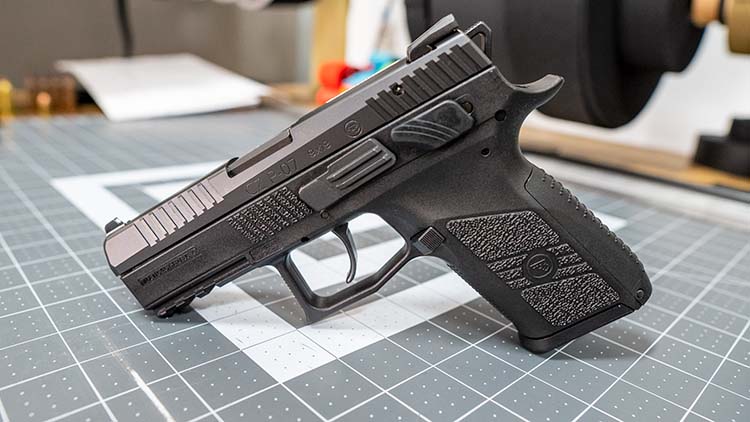 If you need to change the size of the grip there are three removable back straps.
It comes with three and you can switch those out if you like a larger grip or smaller grip or a medium size grip. Overall, the ergonomics are great.
Reliability, no problems whatsoever, it's just whatever you get used to. But the slide size is my biggest gripe because the slide grip area is relatively small.
Sights
So, let's talk about the sights on the CZ P-07.
Now, these particular sights are not night sights, it doesn't come standard with night sights on the run-of-the-mill CZ P-07 factory gun.
The stock sights are a three-dot configuration. Starting with a single dot on your front post and two dots on your rear sight.
These can obviously be removed and changed out for night sights or sights that you prefer.
For stock sights, I don't hate them and I'm sure I'll catch a lot of flack for saying this, but they are on par with stock Glock sights in my opinion. I am not a huge fan of Glock sights. I don't know many people that love the stock Glock sights.
Not their standard polymer sights, but their night sights. Of course, as I said, these are not night sights, but it has the same configuration as the three dots. I personally don't like any dots on my rear site, I feel like they distract me.
I just like the single front and the rear sights, I like to be completely blank with a taller sight on the rear.
Aesthetics
Overall, I think the looks of this gun and the price point are the two things that probably drive people to this gun the most.
It has that classic CZ look, but with the right price point. I think for the money, this gun probably couldn't look much better.
The gun looks so good. It's clean. It's got great serrations on the slide. The frame is well done and overall features wise, pretty good.
Looks wise, you can't beat it. I really think that they've taken a mixture of all different kinds of design theories and really applied them to this.
Overall, aesthetics get an A+.
Shooting the CZ P07
Shooting the P-07 was somewhat surprising as it had slightly more recoil than I was expecting.
Was the recoil unmanageable? Of course not but it was a little more than I initially expected.
Overall, it's a decent shooting gun with very few reasons not to like it.
FAQ
You might have some more questions about the CZ P-07, which is normal and they are probably questions that many people have been wondering.
If you have one that we didn't answer feel free to leave a comment below!
Is the CZ P-07 a good gun?
The CZ P-07 is a really solid gun for the money. It does lack some of the polish that you might be use to on a CZ but it is absolutely a good gun.
If you're looking for a solid affordable CZ don't overlook the CZ P07.
Did CZ discontinue the P07?
No, the CZ P07 is still in current production in 9mm.
However, the .40 S&W CZ P07 was discontinued in 2018.
How much is the CZ P07?
The CZ P07 has an MSRP of $585.00 and the used prices over around the $450-$480 and they can be found only in the $550-$580 range.
What is difference between CZ P07 and P07 duty?
The CZ P-07 has interchangeable backstraps where the CZ P-07 Duty does not have interchangeable backstraps.
The CZ P-07 has front serrations, a different trigger and hammer, rounded edges and metal sights.
The CZ P-07 Duty has plastic sights and no front side serrations.
Conclusion
In conclusion, I have a couple issues with the CZ P-07. None of them, in my opinion, are deal breakers.
I own several CZ firearms. I am not a CZ loyalist, but I'm also not a CZ hater.
I personally think that this gun is great for the money.
However, I don't want to carry this thing day in and day out. I think this is a great range gun.
I think anybody who buys it as a daily carry is going to be satisfied. The weight on it's pretty good.
The features are okay. If you're a lefty, you don't get a hundred percent ambidextrous controls, but just stop being wrong left handed people.
Overall, you get two magazines in the box, three back straps, and you get a really solid pistol at the end of the day.
You definitely could do a lot worse than the CZ P-07.
So, if you're in the market and this checks all your boxes, be sure to pick one up.