The Henry X Model, also known as the Henry Model X, is one of the newer offerings from Henry Lever Action Rifles. Many people hate "tactical" lever actions but this isn't exactly tactical and brings a number of great features to the Henry Lever Action line. The Model X is one of the best lever action rifles on the market today.
For a bit of clarity right off the bat, the Henry Model X is actually called the Henry X Model. This is a bit confusing because everyone refers to it as the Model X, sorry Tesla.
Henry X Model Overview
While I've always been an AR-15 guy in recent years, my love of guns has expanded and while the Henry Model X is a bit of a newer model lever gun it's still a lever gun.
I have to say upfront that I fell in love with the X Model at first sight and holding it just confirmed my feelings for this blend of synthetic and steel rifle.
Henry Model X Features
The Henry Model X is probably one of the most sought-after modern lever-action rifles. With a number of different caliber options and a solid list of features you really can't go wrong with the Model X.
Caliber Options
The caliber options for the Henry X Model are always subject to change but as of the writing of this article the lever-action rifle is available in the following calibers:
.45 Colt
.357/.38 Special
.44 Mag/.44 Special
.410
.30-30
In the current offering of calibers, Henry surely has given you a lever gun caliber you want or can work with.
My Henry X Model is the .45-70 Government version but the features are mostly the same across the caliber offerings.
Safety
There isn't one! Yay! Like any true lever-action, there isn't a manual safety. You might be thinking well why did you bother to put a section in this review article?!
Well, some companies think it's a good idea to put a safety on a lever gun, looking at you Rossi Rio Bravo.
Loading Gate
The loading gate is one of two ways you can load your Henry Model X. The side-loading gate is one of the mainstay features of this rifle and is definitely my preferred method of loading the rifle's magazine.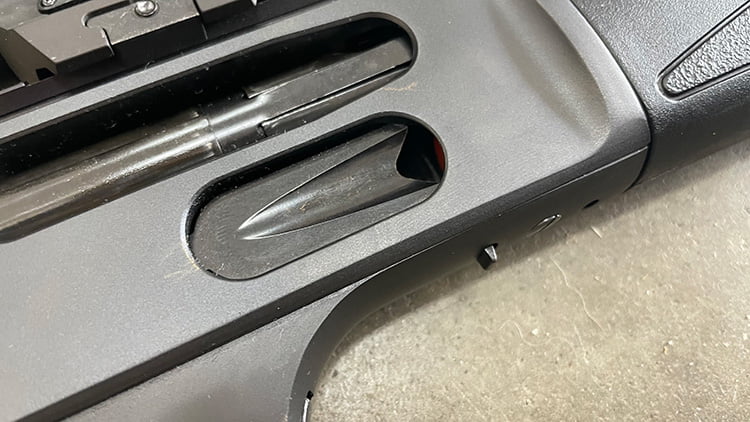 Functionally the side loading gate works great you can easily take the round you are loading and press the trap door down and funnel your round into the guns tubular magazine.
The side-loading gate makes for a fast reload and the experience of the side-loading gate makes this gun feel true to its cowboy roots.
The other option to load the rifle is to load it via the end of the tubular magazine by taking out the inside magazine tube.
Handguard
Moving on to the handguard and one of three features that makes this gun "tactical" or even remotely close to it.
The handguard is all black synthetic stock and while it mostly is just a standard black synthetic stock it does have two things that you rarely see on a factory lever-action rifle.
M-Lok and Picatinny but just a little bit! At the very top of the handguard, you have a single M-Lok slot on both sides of the rifle at the 3 and 9 o'clock positions.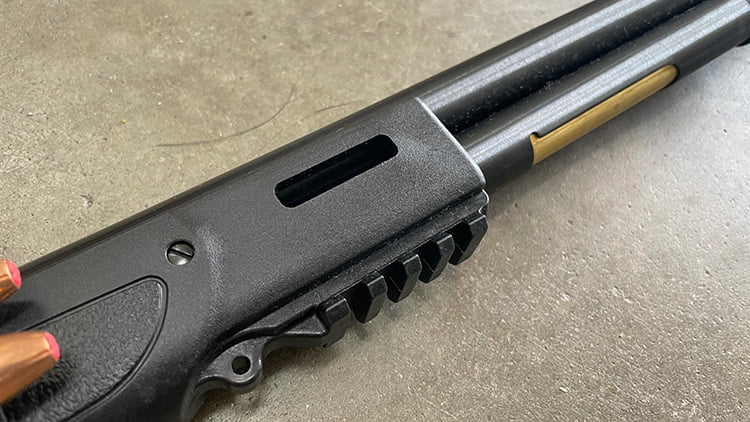 This M-Lok slot can be used for nearly anything and is wide enough for flashlight MLok mounts or lasers if you're into that kind of thing.
While it could but used for a QD mount attachment I personally wouldn't as the small standard rifle sling brace sits right below the MLok rail and would be completely wasted on this gun if you didn't use it for that purpose.
The Picatinny rail sits at the 6 o'clock position and has four catch sections. This pretty much options you up for any rail mount attachment, such as a flashlight or QD mount.
Trigger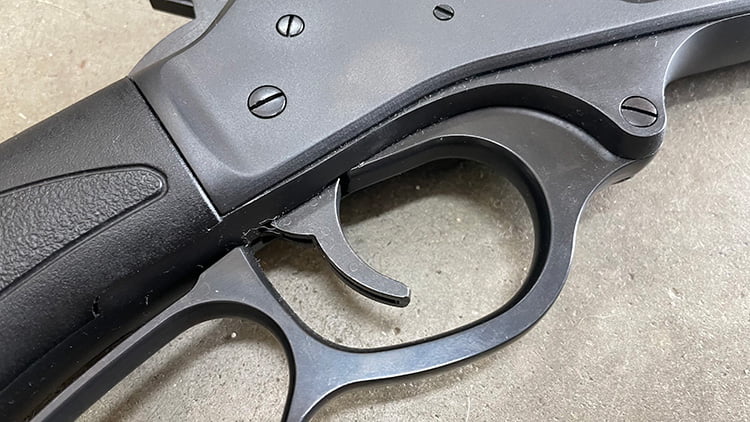 The trigger pull on the Walther is quite nice. There is no take up and you're already at the wall so the break should surprise you making this gun easier to shoot accurately.
If you aren't familiar with lever actions the trigger is not double action and will only fire with the hammer cocked. The lever re-cocks the gun and prepares it to fire again.
This all metal trigger is extremely pleasant to shoot and I it makes this gun feel high quality while shooting.
Stock
The stock is rather uneventful in terms of aesthetics and features. The length of pull is great but not adjustable, which I wouldn't expect from a lever-action rifle.
The one notable thing about the buttstock of the Model X is the extremely tacky rubber material Henry used on this buttstock.
The first time shooting it I wore a loose shirt and boy did it grab that shirt at just the slightest touch.
I could do with slightly less grip on the buttstock itself but that's an extremely minor issue and personal preference. The stock and buttstock overall are fantastic.
Lever
The star of the show! What you've all come to see! The main event! The big kahuna!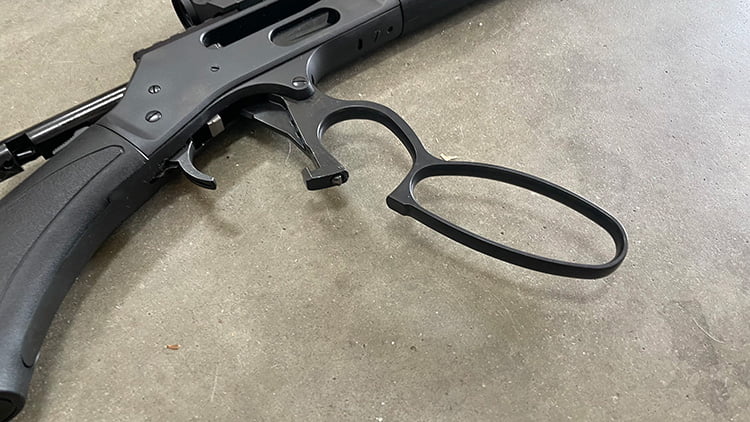 Okay, I'm done.
The lever action on this rifle is obviously the main focal point and biggest "feature" of the gun because it's the action.
You need it to cycle the gun and it's what sets this gun apart from any other rifle.
So how does it perform?
Fantastic. The lever itself is extremely solid and does not have any left-right wobble.
I have seen a good bit of left-right wobble in lever actions before, namely in my Winchester 1894. But the Model X is an extremely tight and solid feeling lever.
The release of the lever is smooth and the hinge point is in a perfect position to get a solid clean cycle of the lever.
The throw of the lever isn't overly exaggerated forward and it's extremely easy to cycle a spent cartridge and chamber a new one and stay on target.
Sights
Both the front and rear stock sights are fiber optic sights. Now I'm no big fan of fiber optic sights. That's a personal preference of mine that I've expressed in a number of my reviews.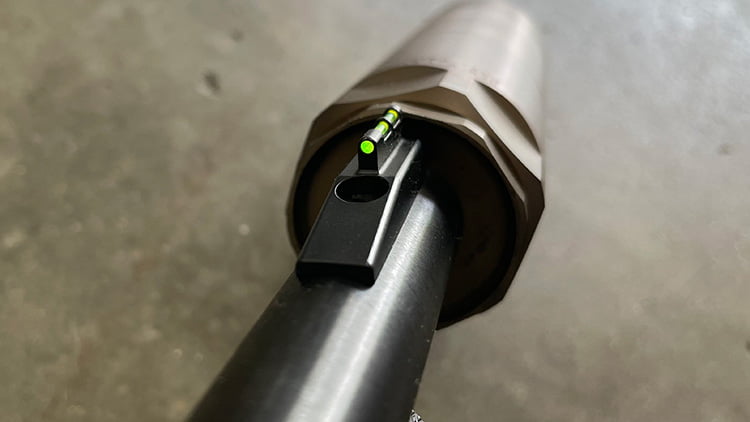 But I have conceded on several guns I actually don't mind the fiber optic sights and even on a small number of them even like the way the fiber optic sights were done.
Now, I have limited experience with the stock fiber optic sights other than looking through them a few times before I threw an optic on the Henry, after all, that's what it was built for, right?!
The rear fiber optic sight is completely adjustable while the front sight is fixed. The sights work and while it gives me a nostalgic feel of shooting some 22LR rifles growing up I knew this rifle deserved more.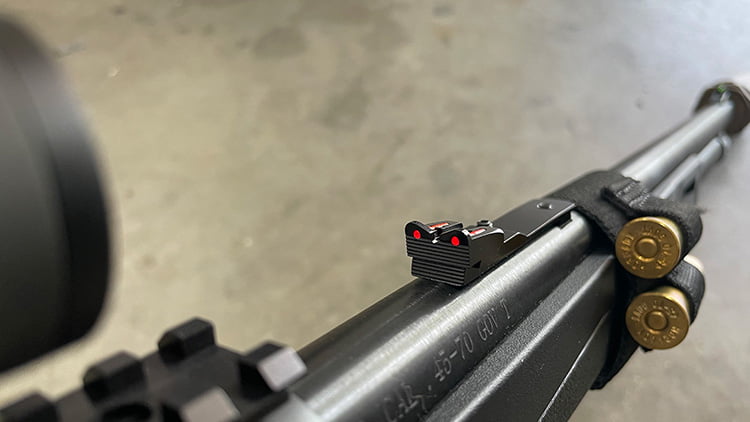 There's nothing wrong with the sights I just wanted more from this gun than the stock irons.
Threaded Muzzle
The threaded muzzle is the second of three features that add a "tactical" aspect to this gun.
The threaded muzzle can be used or you can use the included thread protector cap.
I purchased the Rex Silentiem MG7 silencer for mine and have loved it so far! I'll talk more about the experience in the section below.
The threaded muzzle is a fantastic addition to this gun and while I caught MASSIVE hate for saying that in my Browning BL-22 review this gun is fantastic with a threaded muzzle brake.
While a lot of classic lever-action rifle lovers will buck at the thought of a threaded barrel but suppressors just make sense.
There's no reason not to suppress your guns while shooting your ears will thank you and so will anyone within earshot!
Shooting the Henry Model X
The most important and exciting part of the Henry Model X is shooting it.
I'll be upfront. It's awesome.
Shooting the X Model in 45-70 Government is an absolute blast.
The recoil of the 45-70 Govt round is substantial but the Henry does a decent job of mitigating that recoil some to make the shooting more enjoyable.
I noticed that while I did come off target a good bit shooting supersonic 45-70 Government rounds it was easy to get back on target quickly and efficiently.
Shooting Suppressed
Shooting suppressed with the Rex Silentiem MG7 silencer was a game-changer. When you see a cartridge the size of the 45-70 you're expecting it to be loud and recoil like a mule.
The reality of the subsonic world is it's incredibly quiet and the recoil is negligible.
The supersonic rounds through the suppressor still have a crack but the MG7 does a great job at reducing the noise signature. I would still wear hearing protection for both super and subsonic loads just to be safe.
Henry X Model 45-70 Accessories
The accessories for the X Model Henry are where the fun doesn't stop! The possibilities are almost endless and we are gonna cover just a few of them!
Shot Cards/Round Holders
You can never have too many rounds specifically if you either like to shoot or enjoy missing, I kid, no one enjoys that!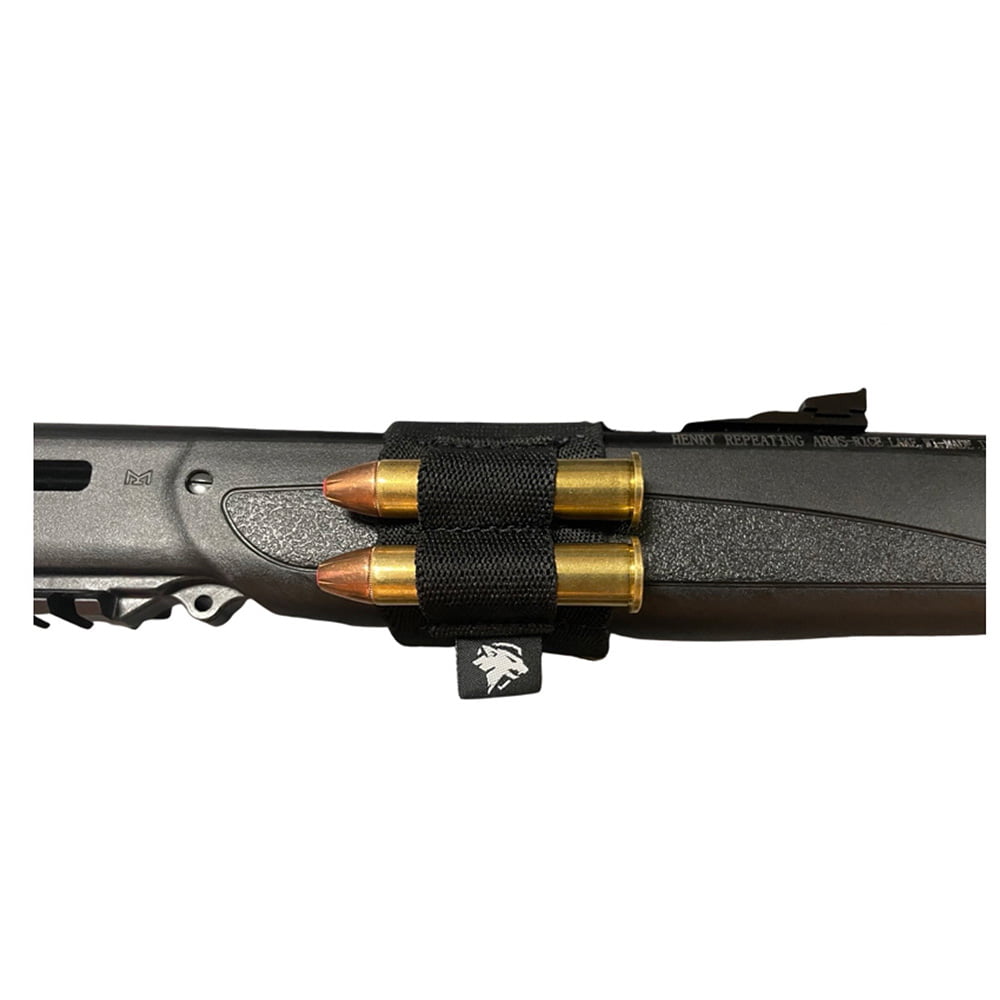 For that very reason, we made "The Redemption" which you can see pictured in the very first photo of this review.
It's purpose built to provide extremely secure but versatile bullet retention for your Henry X Model.
Suppressors
A number of different companies offer suppressors that will work for the 45-70 round.
Whatever suppressor you go with make sure you get one that's rated for the rounds you plan to shoot in your gun.
One popular option is the Silencer Co Hybrid 46 due to its price point and versatility in calibers offered.
If you are a fan of Dead Air Silencers you will likely want to grab the Dead Air Primal suppressor.
Picatinny Rail
This section should probably go under accessories but I think it's an important feature that's not included but likely to land on your Henry Model X should you decide to scoop one up.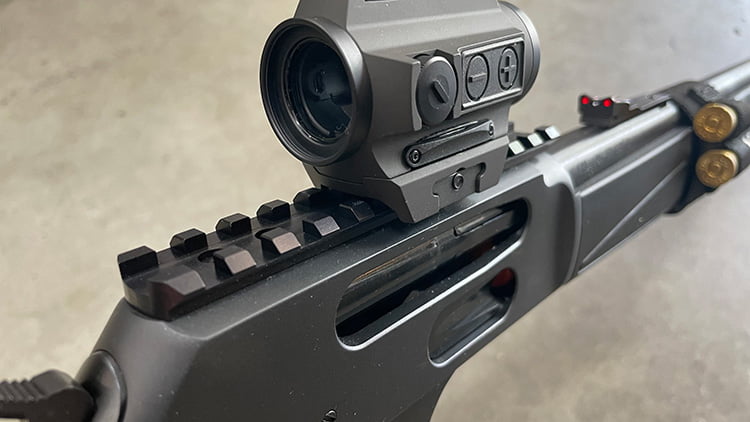 The Picatinny rail attachment is needed on the Model X to add an optic. It's an extremely easy install.
I personally use the Ranger Point Precision Rhino rail and highly recommend it.
Optics
The great thing about the Model X is the world is literally your oyster when it comes to optics.
You can go with an LPVO or a full-scale scope or even grab a red dot sight.
The fact that you could go any direction with this Henry rifle makes it an extremely attractive hunting, plinking, or just fun gun overall!
Personally, I decided to put a red dot directly mounted to the top of the Picatinny rail.
Slings
The Henry Model X has two built-in sling attachments one directly under the MLok slot and one on the buttstock.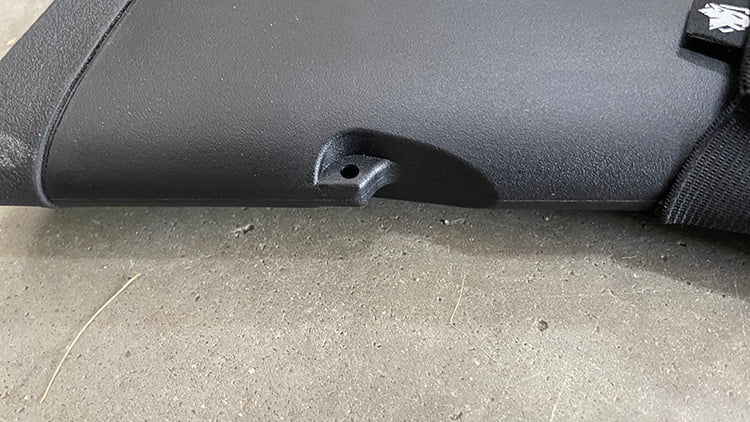 These attachment points can be used with Uncle Mike's QD sling swivel with tri lock.
This attachment system works and has been used on shotguns and hunting rifles for years.
The options for slings for this rifle are endless and by mid-summer, you should be able to add your very own Lynx Defense sling to your Henry Model X.
Range Bags
Lever Action Rifles are a mainstay firearm in the US. Since the early 2000s lever-action rifles have been swapped for the more tactical style rifles but in recent years they are making a come-back
We are seeing Marlin, Rossi, and Henry retrofit their 45-70, .357 Magnum, and other caliber lever action rifles with more modern features like side loading gates and threaded barrels for silencers.
Lynx Defense has been high-quality nylon gun cases and accessories since 2013. Recently we decided to make some lever-action rifle accessories for our customers.
Just like our bags we use durable long-lasting materials and high-quality components in all of our accessories.
Best of all it's Made in the USA.
Conclusion
So… what do I think about the Henry x Model?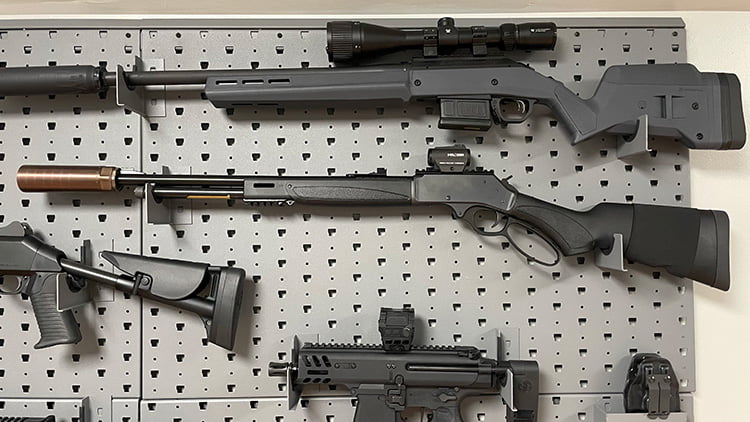 It's probably in the top 5 favorite guns I own. I think it's a modernized classic that has really filled a hole in the market that the Marlin 1895 SBL was filling prior to the bankruptcy issues.
Henry has a strong brand name in the lever-action rifle space and I think it will continue to be that way for some time.
I think Marlin when they bounce back under the Ruger umbrella of companies will add much-needed competition in this space of the lever-action rifle world.
As for the Model X, go buy one if you can find one in stock! These things are so much fun it's unreal.