Lately, I have been on the hunt for a lever action. Quite frankly, it wasn't an easy search because I was looking for one in the sub $1000 range. I wasn't looking for the Browning BL 22 specifically or even a .22LR lever action, for that matter. I didn't much care what the caliber was, given the current state of affairs in the gun world, but I did want it to have a threaded barrel. Those options are few and far between, unlike a lot of other guns I've been shooting lately.
I didn't want to settle for anything without a threaded barrel during my search because I wanted to make sure I could suppress it. So the Marlin 1894 CST kept popping up. They are currently nowhere to be found, and if you do find them, they are well over MSRP, which is somewhat understandable given the state of the Remington Bankruptcy.
So I talked to my dad about my lever gun desire and started taking a look at his collection. We stumbled across the Browning BL 22 that's been sitting in his safe for about 2 years. I'll admit, I'm not the biggest .22LR guy in the world, but I was really interested in the BL-22 because it was an absolutely gorgeous gun, and it felt really well built.
So let's take a look dive at the Browning BL 22 Lever Action Rifle chambered in .22LR (also supports 22 Long and 22 Short).
Browning BL-22
· Caliber: 22 S/L/LR
· Action: Lever Action
· Capacity: 15 Round
· Barrel Length: 20″

Browning BL 22 Ergonomics
Safety
Like a lot of lever-action rifles, the BL-22 rifle doesn't have a traditional safety. Since it is a hammer-based design the hammer is essentially a safety.
So to put the gun "on safe," you'd have to lower the hammer slowly and safely. The gun is not a double-action trigger, so you would have to cock the hammer back in order for the gun to fire. You can do that by using your thumb to pull it back or using the lever and chambering a new round.
Magazine Tube
Loading the Browning BL 22 is relatively easy. The bullet tube rod has a simple single button on the top, and you depress it, and the rod slides right out of the magazine tube.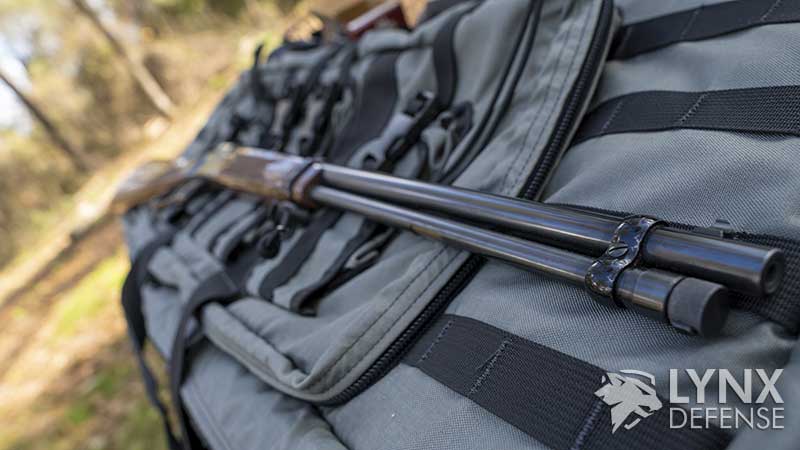 The magazine tube is actually one of the best features of this gun. You have a decent capacity of 15 rounds of .22 long rifle, but it also holds .22 short and .22 long. I may try those at a later date to see if the capacity is the same.
Lever
The BL-22 rifle's lever is a very short stroke downward pull, which makes for a very smooth ejection and chambering. This is extremely important since a long pull would cause the rifle to move more.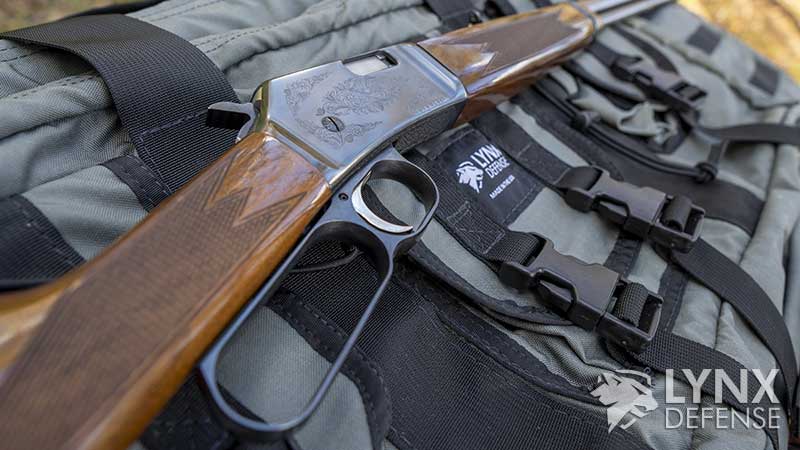 The short 30° pull allows the rifle to stay on target during reloading. I found this to be one of my favorite parts of the gun. It really made me feel like the cowboy I should have been!
The lever is also very crisp downward and upward pull. You don't fill a lot of grit in the lever-action, and you really shouldn't. But it's worth noting that you don't feel any grit in the BL 22 lever.
Browning BL 22 Configuration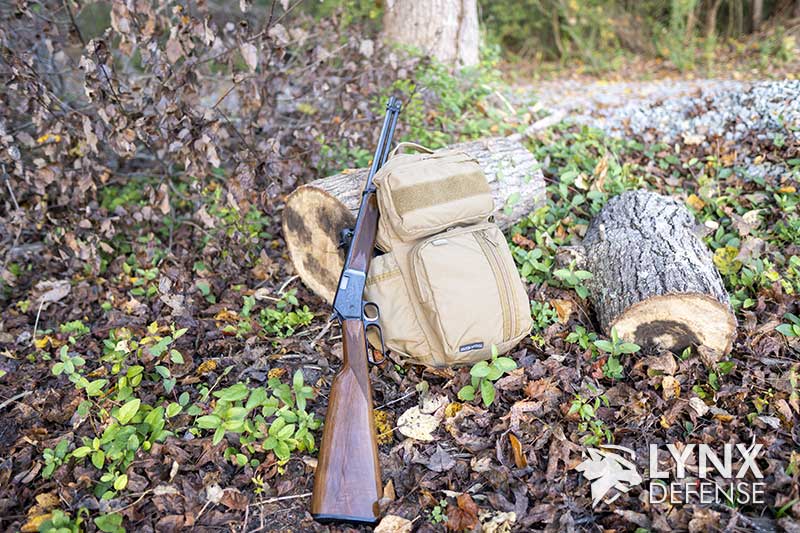 Stock
The Browning BL 22 that I have is a solid, finely finished walnut wood stock with a clear-coated polished finish. It feels great in your hand, but the stock's texture doesn't allow the rifle to slip or move on you.
Some of the other models of the BL-22 have no texture in the wood and could cause it to slip easier, but I can only speculate since the one I'm shooting has the textured grip.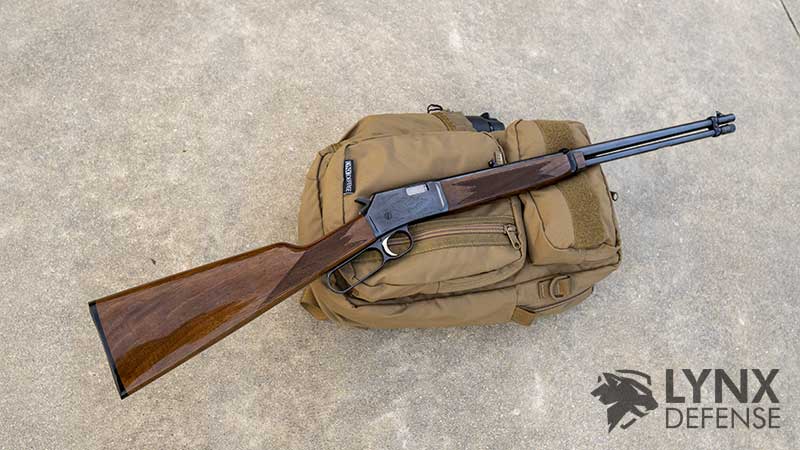 Iron Sights
The iron sights of the BL 22 are exceptional for a .22LR iron sights. I found that the rear sight has a clear deep open channel that allows you to put the tall front post sight directly in the middle.
What that being said, I noticed the sight was extremely forgiving and I could be on steel at 15-20 yards even if the front and rear sight weren't exact. The rear sight does fold down but I'm not sure the true use for this feature.
Optics mounting
On this model BL 22, there are no pre-drilled holes for optics mounting. So getting an optic mounted on this gun would be somewhat of a pain. Definitely possible, but probably not worth it in the long run.
I won't be worrying about optics since the iron sights on the BL 22 are more than adequate for the plinking I'll be doing with it.
Accessory mounting
One of the only drawbacks I can find for the gun is there are no threaded barrel options available from the factory. You could thread the barrel, but the magazine tube top is pretty close to the end of the barrel, so that might make it impossible to thread aftermarket.
The BL 22 is not incredibly loud anyway, but suppressors are just plain fun. As for any other accessories, you won't be mounting much to the BL 22.
Side note, I apparently really upset a group of boomers on YouTube for saying I wanted to suppress this lever gun. I didn't realize I wasn't allowed to have an opinion that wasn't thiers! Oh my!
But nonetheless, I would never thread this gun. It's perfect in its current form. But I would love it if Browning made a BL22 from the factory that was threaded. I'd scoop that gun up in a heartbeat.
Sling
I don't run a sling on my Browning 22LR lever action but the opportunity to run one is there. It's not built-in from the factory on this particular model but there are attachments you can buy to make a sling attach to the buttock and near the front of the rifle where the magazine tube and rifle barrel connect.
Trigger pull
The trigger has very little take-up. When you hit the trigger wall, there is no more movement before the break. The trigger break is very heavy, but it is crisp.
The trigger is extremely heavy and I believe I read it's about an 8lb trigger.
Conclusion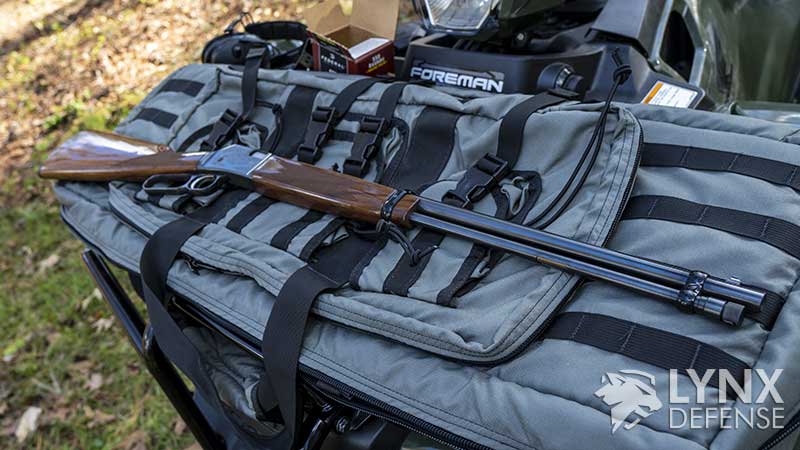 My opinion of the Browning BL22 lever-action rifle is that it is nearly a must-have if you enjoy shooting.
This gun will really let you feel like you are John Wayne, minus the horse. I really love the fact that there's almost no recoil, and it's inexpensive to shoot even during the current ammo situation.
The BL22 is high on my list of must-have range guns, right up there with the HK416 22LR, KelTec CP-33, and the Ruger SR22.
Browning BL-22
· Caliber: 22 S/L/LR
· Action: Lever Action
· Capacity: 15 Round
· Barrel Length: 20″

If you are looking for a really fun gun, definitely take a hard look at the Browning BL 22.
Where are Browning BL-22 rifles made?
The Browning BL-22 is made in Miroku, Japan and it is still in production today.
What years were the Browning BL-22 made?
The BL-22 was introduced in 1969 and is still in production today.
If you are looking for a more affordable .22 lever action rifle take a look at our review of the Rossi Rio Bravo.