The Kahr P380 is a tiny .380ACP polymer-framed compact pistol that Kahr started making in late 2009. The P380 was one of the first micro-compact pistols available before they became wildly popular in recent years.
I've owned mine for quite some time now and here's my full review after putting hundreds, if not thousands, of rounds through it over the years.
Kahr P380
• Caliber: .380ACP
• Capacity: 6+1
• Weight: 11.5 oz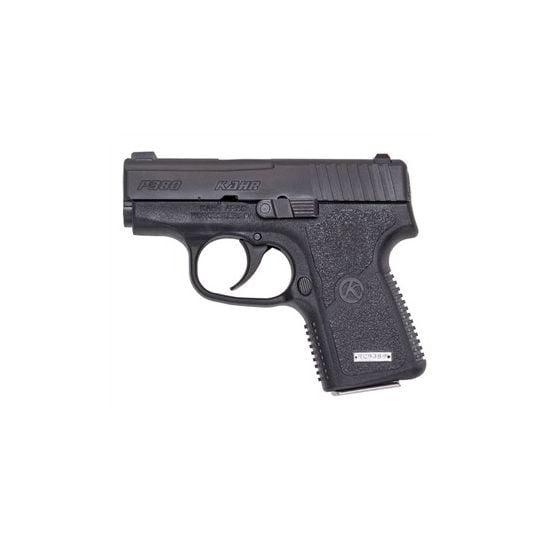 Price Check Kahr P380 at these retailers
PSA | Primary Arms | Sportsmans
Specs
| | |
| --- | --- |
| Caliber: | .380 ACP |
| Capacity: | 6+1 |
| Operation: | Trigger cocking DAO; lock breech; "Browning – type" recoil lug; passive striker block; no magazine disconnect |
| Barrel: | 2.53″, Premium Lothar Walther Match Grade Barrel |
| Length O/A: | 4.9″ |
| Height: | 3.9″ |
| Slide Width: | .75″ |
| Weight: | Pistol 9.97 ounces (w/o magazine) |
| Grips: | Textured polymer |
| Sights: | Drift adjustable, tritium night sights |
| Finish: | Black polymer frame, matte blackened stainless steel slide |
| Magazines: | 2-6 rd, Stainless, 1-7 rd, Stainless w/extended grip |
Brief History of Kahr
Kahr Arms was founded twenty-six years ago in 1995 by Justin Moon in New York. Unable to find a compact gun in a caliber that he was satisfied with, he decided to design and make his own.
"With the objective of excellence in workmanship and material, Kahr does not compromise either in the design or manufacture of handguns. The most advanced computer applications and precise manufacturing technologies have been implemented to provide the finest handgun available. Uniquely designed and finely tooled, Kahr pistols' unrivaled quality makes long-term Kahr owners out of shooters who try them."

-Kahr Arms
Kahr takes great pride in the CAD (computer-aided design) and CAM (computer-aided modeling) that they use to design and model each pistol that they manufacture.
They can look at every aspect of the design in these programs and address any issues that may arise.
Kahr P380 Features
The Kahr P380 is a pistol chambered in .380 Automatic Colt Pistol (ACP) which can be classified as a micro-compact pistol.
When I say micro, I mean tiny.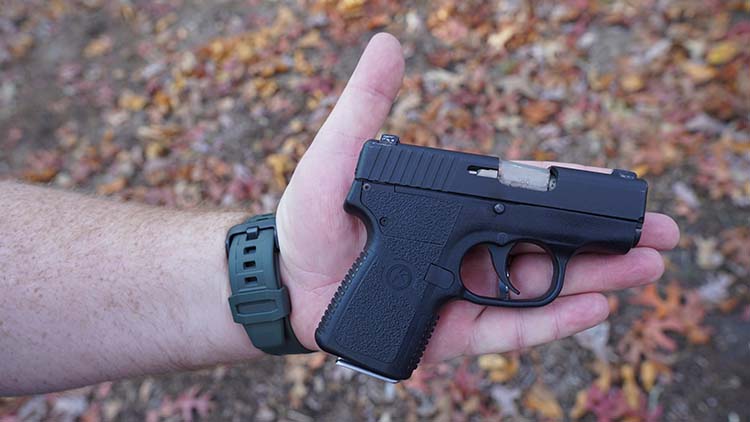 Like being able to hide behind my thumb, tiny. Or being able to fully fit in the palm of my average-sized hands, tiny.
I don't think I have ever held a smaller semiautomatic pistol in my 34 years of existence on this earth, much less one chambered in a somewhat self-respecting caliber.
Everyone has seen a .22 cal derringer, but this is a functional semiautomatic pistol we are talking about here.
The "P" in P380 much like its larger brother the PM9 stands for polymer. The 380 is the caliber.
This goes along with Kahr's established naming scheme. Being polymer and .380 means that even fully loaded, this little pistol is still lightweight.
The Kahr P380 also packs in features that some other compact pistol makers seem to leave out, especially on their smaller models.
Concealing the P380
The Kahr P380 is a dream to conceal. Its diminutive size and lightweight make it by far the easiest pistol to hide on your body that I've come across.
While I never advocate for pocket carry, this is the one pistol that I can see being successfully deployed in this manner in all types of pants.
The P380 is so small it is easy to forget you even have it on your body.
I'm a big guy so understandably it's easy for me to conceal most handguns, but even my wife who wears a size small can easily conceal this little gem all day without issue.
Grip/Ergonomics
The ergonomics of the grip on the Kahr P380 feels tiny but natural in the hand. When aiming the P380 the angle is noticeably different than that of a Glock.
If you are used to shooting Glocks, you will more than likely have to concentrate at first when shooting the Kahr P380.
That is not to say the Kahr is less comfortable to shoot, as I feel it keeps the shooter's wrist at a more normal angle.
If given a choice, I would choose the grip angle of the Kahr all day over that of the Glock.
The overall size of the P380 presents a somewhat unique obstacle when it comes to the overall ergonomics of the handgun.
Because it's so small, everything is crammed into a smaller space, and therefore can be more complicated to manipulate.
Kahr P380
• Caliber: .380ACP
• Capacity: 6+1
• Weight: 11.5 oz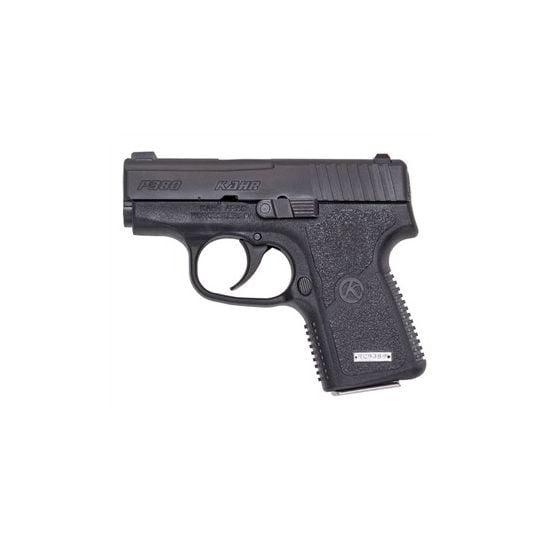 Price Check Kahr P380 at these retailers
PSA | Primary Arms | Sportsmans
Texturing
Kahr constantly hits it out of the park when it comes to the texture of their polymer handguns.
The angles and ridges they provide in the backstrap and below the trigger guard make for a very positive feel in the hand and lets you know that it won't go flying out of your hand when you pull that trigger.
Like with the PM9, the Kahr P380 also has a sandpaperish texture on the side panels of the grip.
Obviously, since the Kahr P380 is a much smaller handgun, there is less area for the grip to be textured.
This does not present much of an issue as the positive grip that they provide.
Sights
Kahr supplies the P380 with a set of high-quality, metal Trijicon Night Sights.
These are usually an aftermarket addition, and cost a decent amount to purchase and have installed.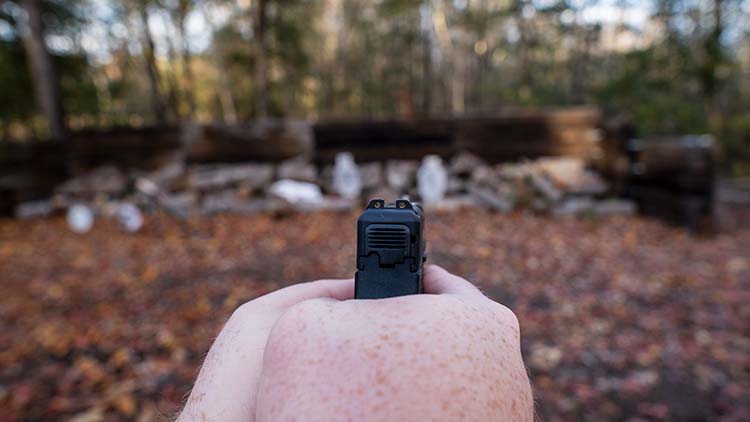 Kahr opted to cut the middle man and provide them from the factory, which is great in my book.
I dislike purchasing a new pistol and then having to turn around and buy new sights for the thing immediately.
With the growing popularity of the slide-mounted red dot, upgraded iron sights are seeing a decline in popularity.
However, with a pistol as slim as the Kahr P380, I doubt we will ever see an optic small enough to be able to mount to the slide of the P380.
Controls
The Kahr P380 is almost a complete clone of its larger brother the PM9 when it comes down to controls.
It's pretty bare-bones in this department.
You have a larger than necessary slide stop/slide release, a mag release and of course the trigger.
All these parts make for a simple, and very effective self-defense pistol.
There aren't a bunch of controls to get caught up on or mistakenly manipulate the wrong lever and wind up dumping your mag or putting your handgun on safe when you meant to do otherwise.
Kahr P380
• Caliber: .380ACP
• Capacity: 6+1
• Weight: 11.5 oz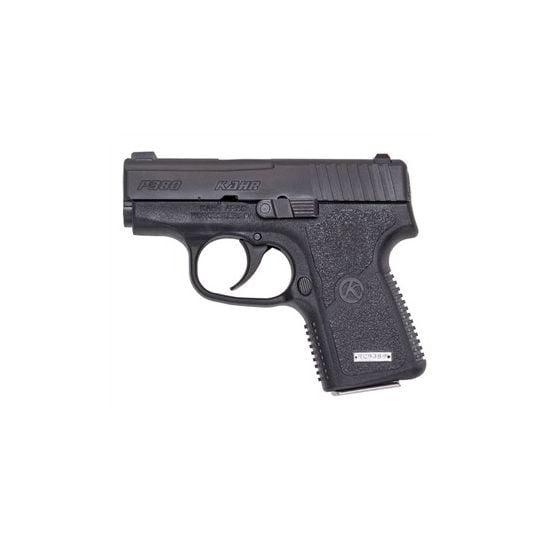 Price Check Kahr P380 at these retailers
PSA | Primary Arms | Sportsmans
Safety
The P380 has no external safety aside from a long, but smooth, double-action trigger.
Internally, the P380 has a "safe cam action" that prevents the gun from being fired unless there is a deliberate pull of the trigger.
This means that the P380 can not be fired by dropping the gun or hitting it with a hard object.
Slide Stop
On the Kahr P380 as with the PM9, one of the only controls you are given is a slide stop/slide release.
Some would argue that the use of the slide stop as a slide release is not proper pistol manipulation. I would normally agree, but in the case of Kahr's this is not the case.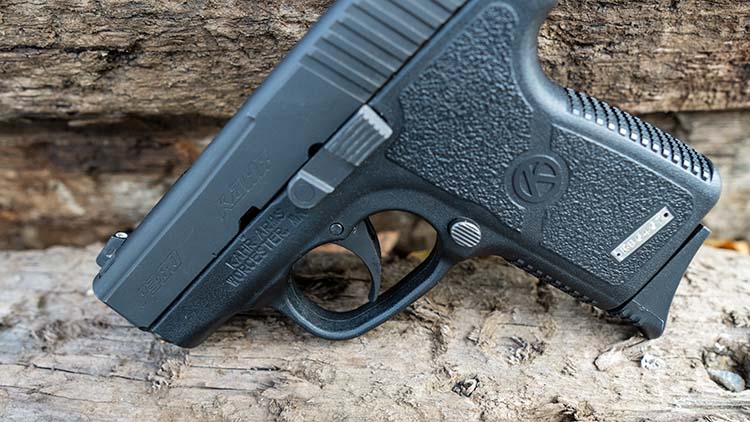 The slide stop is also intended, by design, to be the slide release. It is large enough to be easily actuated and has ridges cut to help with manipulation.
The slide stop is not ambidextrous, it is only located on the left side of the frame.
It is almost comically large when you consider it in context with the small size of the P380.
Magazine Release
The mag release is located on the left side of the frame where it is found on most modern firearms.
The only noteworthy thing about the mag release on the Kahr P380 is it is small, just like the firearm.
It is not reversible, but is positive and drops the mag free of the Kahr P380. This in itself is a feat when compared to other micro pistols in this category.
Trigger/Action
Kahr continues to use their double action only trigger in the P380. This trigger is one of the built-in safeties of the pistol.
It takes a deliberate pull to fully cock and fire the Kahr P380. Kahr has mastered making this trigger pull buttery smooth though.
By having to perform these two functions, the trigger pull is longer than that of a single action or a normal striker-fired gun.
Once you've pulled the trigger on a Kahr pistol you'll fully understand how smooth and clean of a trigger pull it really has.
It's hard to describe the feel of this trigger besides calling it amazing!
Kahr P380
• Caliber: .380ACP
• Capacity: 6+1
• Weight: 11.5 oz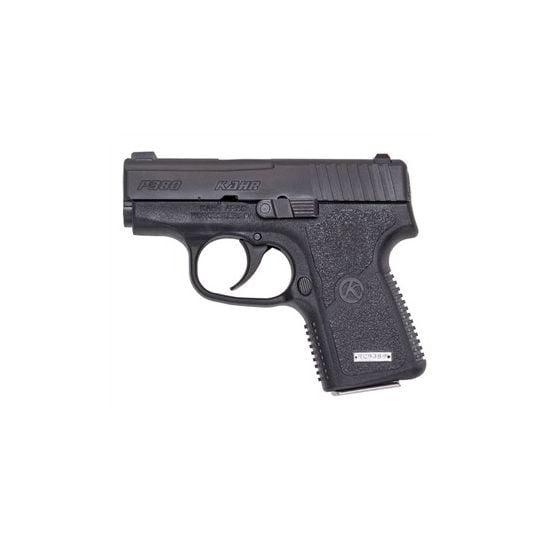 Price Check Kahr P380 at these retailers
PSA | Primary Arms | Sportsmans
Barrel
If you thought the Kahr PM9 barrel was small at 3.1" the 2.53" on the Kahr P380 makes it look huge.
This pistol is truly a micro-compact. The same quality premium Lothar Walther Match Grade Barrel.
Being the barrel is only a hair over 2.5" long the entire handgun quite literally fits in the palm of my hand.
Magazines
The Kahr P380 packs 6 rounds of 380 ACP into its flush-fitting single stack magazine.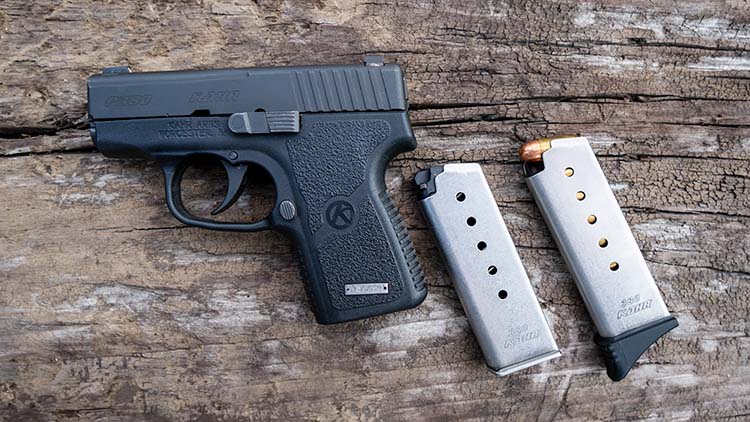 For the extended mag, you get one more round, plus the one in the pipe. The magazine is made from steel and is welded down the back.
The quality is on par with the rest of the pistol, which is to say high.
The flush-fitting magazine has a steel base plate that does extend out the bottom of the pistol.
The extended magazine has a polymer toe that covers the front and the sides of the magazine making it even with the grip of the pistol.
The polymer on the magazine lacks any of the fancy stippling and design work given to the rest of the pistol and cheapens the look of the gun in my opinion.
I have experienced a few hangups with heavier self-defensive rounds in the Kahr P380 magazines.
To have a heavier round, the overall length of the cartridge must be longer. When you are placing a longer round into an already tiny magazine it's not hard to see why this could cause an issue.
To remedy this, I advise sticking to the more mainstream weight bullets for this peashooter.
Accessories
While there are few accessories for the Kahr PM9, there are fewer for the P380.
Outside of holster options, and replacement sights there isn't much more to look at.
You can get some griptape if you don't like the factory texture of the grip, or some aftermarket pinky extensions for your magazines, but having a gun this small comes with the drawback of not having a lot of space to work with.
Aesthetics
They say good looks run in the family. This is true for the line of Kahr pistols.
The Kahr P380 that we have sports a blackened stainless steel slide which makes it look even more aggressive than the two toned version in my opinion.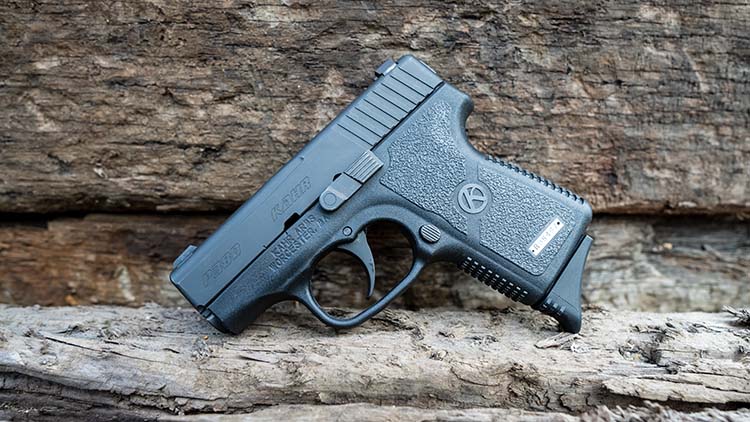 Kahr keeps their classic lines and angles on the P380 just miniaturized. The edges are all well-rounded and sleek.
The only spot where I find a sharp corner is the portion of the slide where the hood of the barrel makes its lock-up. This could potentially be a snagging point when presenting the Kahr P380 from deep cover.
Other than the one snag point, the Kahr P380 is well designed and looks professional.
Kahr P380
• Caliber: .380ACP
• Capacity: 6+1
• Weight: 11.5 oz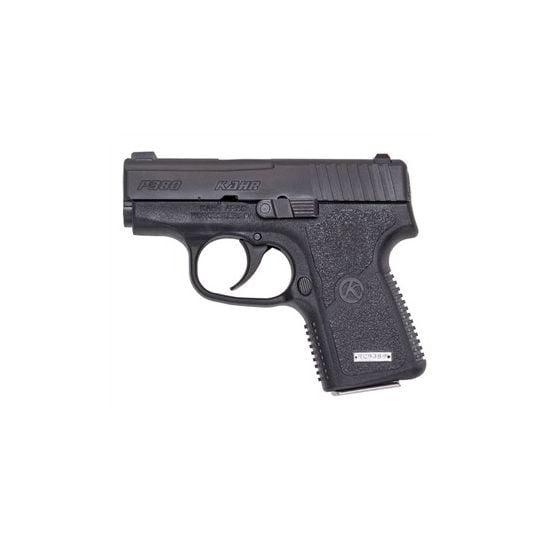 Price Check Kahr P380 at these retailers
PSA | Primary Arms | Sportsmans
Shooting the Kahr P380
When shooting the Kahr P380, you can't be a slouch. Since the operating system is so small and only has a finite range to operate in, you must not limp wrist this pistol or it will cause a malfunction.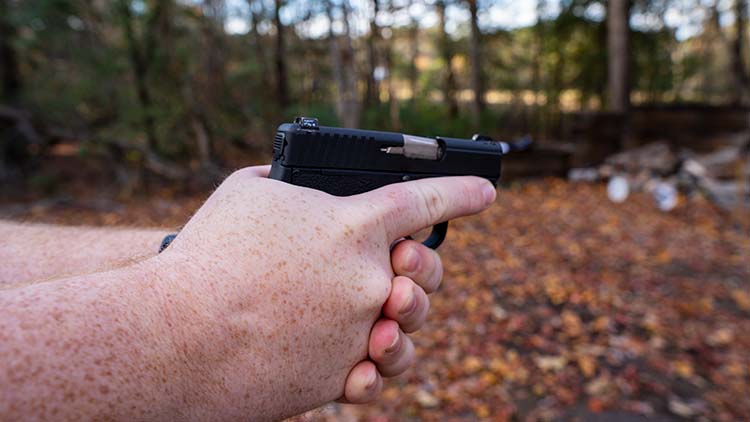 This is more common in smaller frame handguns, so to see it amplified in this tiny pistol is no surprise.
The 380 ACP, while less powerful than 9mm, still can cause some discomfort while shooting, especially in smaller pistols that don't benefit from a heavier frame.
I found that my hand often gets worn out from having to grip the pistol so tight to prevent it from malfunctioning as more of an issue than discomfort from shooting itself.
FAQ's
Is the Kahr P380 a good option for concealed carry?
The P380 is a good option for those who want an ultra-slim and/or light-quality concealable handgun.
Can you dry fire a Kahr P380?
Yes, you can. The use of snap caps may help ease your nerves if you worry about such things.
What is the capacity of the P380?
The standard capacity of the P380 is 6 plus one and the pistol comes with an extended magazine.
Does the P380 have a lifetime warranty?
The P and M series do have a lifetime warranty. The value-based C series has a one-year warranty.
Where can I purchase a Kahr Arms P380?
Any decent size gun shop or online at Guns.com will have options for you to buy a P380.
As of February 2022, the P380 is in short supply but I'm certain inventory numbers will increase soon.
Kahr P380 Final Thoughts
If you are looking for a truly tiny pocket-sized pistol, the Kahr P380 may just be the gun for you.
Able to hide nearly anywhere on your person, and holding a somewhat standard of 6 plus one in a single stack magazine make it a contender in any sub 9mm market.
While being so small it does take a conscious effort on grip to perform as intended it is hard to look elsewhere when looking to find the smallest modern respectable firearm.
The folks at Kahr have figured out a formula for making quality pistols and they seem to be growing their market presence.
Kahr P380
• Caliber: .380ACP
• Capacity: 6+1
• Weight: 11.5 oz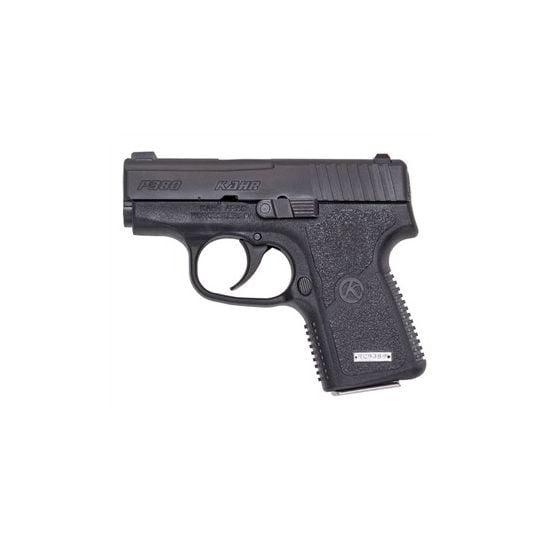 Price Check Kahr P380 at these retailers
PSA | Primary Arms | Sportsmans