The Monstrum Tactical scope is an interesting low power variable optic that is making its mark on the LPVO market. The Monstrum G Series has a significant number of options for magnification and even color options.
In this review, I'm going to dive into the G3 1-3×24 LVPO offered by Monstrum.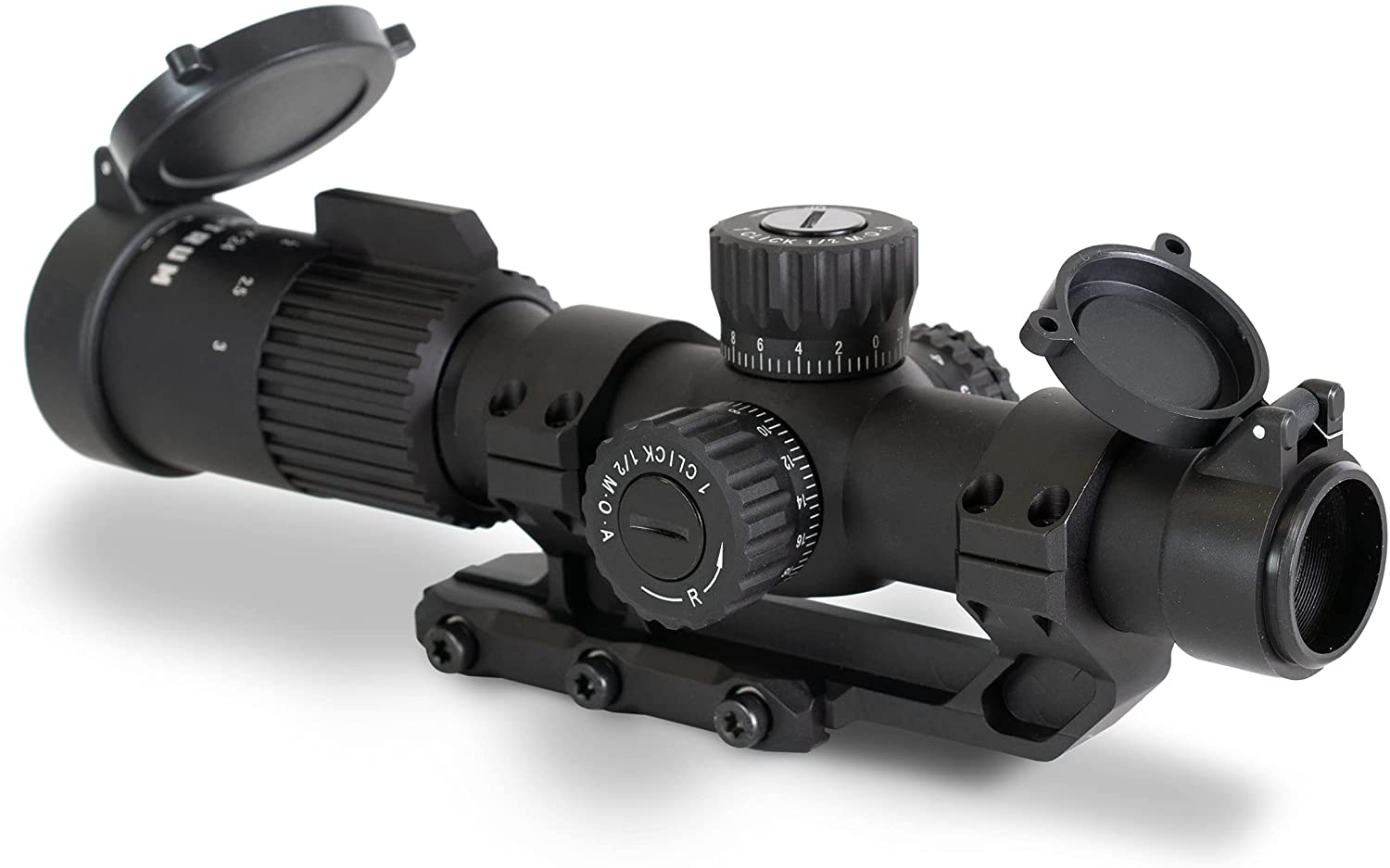 Monstrum Tactical Scope Specs
| | |
| --- | --- |
| Magnification: | 1-3x |
| Objective Diameter: | 24 mm |
| Materials: | 6061 Aircraft Grade Aluminum |
| Reticle: | MOA-X1 |
| Scope Range: | Close-Mid Range, 300+ Yards |
| FOV @ 100 Yards: | 93.9 – 38.3 ft |
| Tube Diameter: | 30 mm |
| | |
| --- | --- |
| Eye Relief: | 4.0 – 4.5 in |
| Weight: | 13 oz |
| Length: | 9.4 in |
| Finish: | Type-III Hard Anodization |
| Color: | Black, Flat Dark Earth |
| Fog & Water Resistance: | Yes, Nitrogen sealed |
| Warranty: | 2 Year |
First Impressions
To start out with, as a relatively unknown optic company, the packaging that the G3 1-3×24 LPVO comes in is spectacular
I have purchased several optics that cost several times more than the G3 1-3×24 and most if not all have come in packaging that doesn't stand up to that of this G3 LPVO from Monstrum.
After removing the outer packaging, opening the box, and removing the plastic the optic was wrapped in, the scope had a nice weight to it in hand and didn't feel cheap or low quality.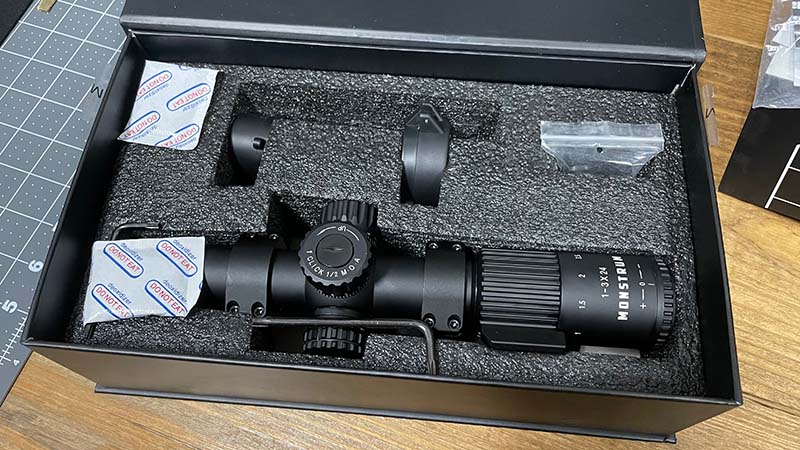 The finish of the optic appeared to be black anodizing that is standard on most optics these days.
Also in the box was the cantilever scope mount. This seemed to be of very high quality under initial viewing.
Materials
The Monstrum G3 1-3×24 LPVO is constructed from 6061 aircraft-grade aluminum. This is a quality material choice.
The G3 is finished in a MIL-STD hard coat anodizing according to their product page.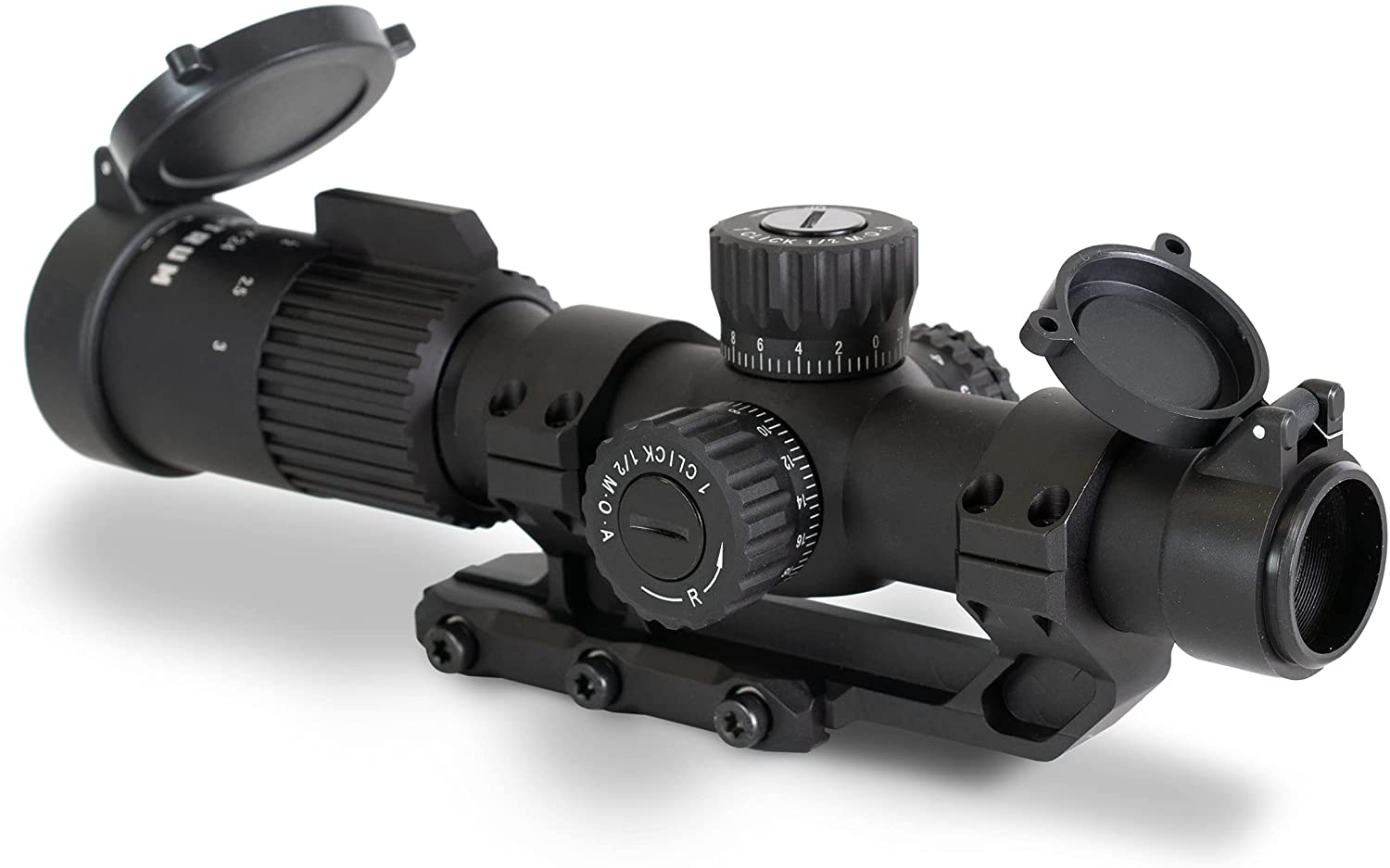 The finish is smooth to the touch and seems rugged enough to handle bumps and scratches that any optic may face while attached to a rifle.
Weight
The G3 1-3×24 LPVO weighs in at 13oz without the mount.
This is heavyweight when you consider the magnification range is only up to 3x the normal eye. Most 3x magnification is achieved by a combination of a red dot and a magnifier.
The overall weight of the optic and the mount provided is 16oz according to Monstrum Tactical.
This weight can change if you choose to use a different mount than the one supplied with the optic.
Reticle
This LPVO is a First Focal Plane optic or FFP. This means that the reticle changes size in proportion to the magnification level.
The other type is SFP or Second Focal Plane like what is offered on the Vortex 1-6×24 Strike Eagle LPVO that I reviewed earlier this year.
The reticle found in the G3 1-3×24 has some unique features. It has traditional crosshairs that are marked with stadia lines.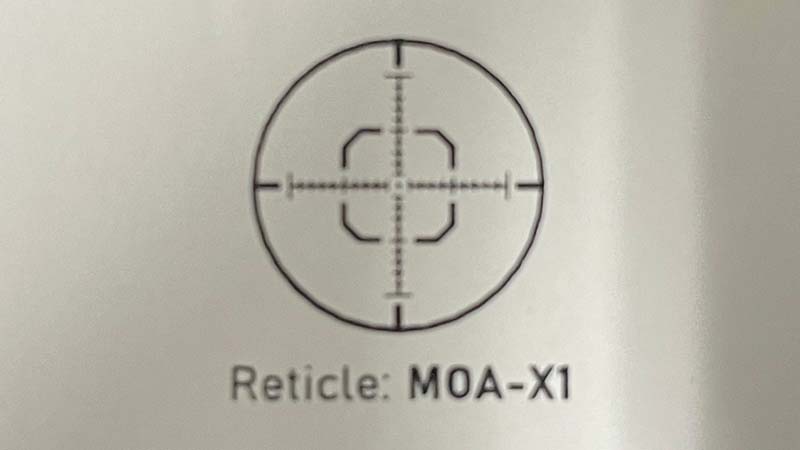 At 1x the lines are too small to be usable. Also at 1x, it appears that there is a segmented ring surrounding the intersection of the crosshairs. The thickness of the lines is very thin which can make it hard to pick up.
When you crank the magnification bell of the LPVO over to 3x, the "ring" grows and it then becomes apparent it is more of a square than a circle.
This is an interesting choice, to say the least. If used frequently one would become accustomed to it.
LVPO Adjustment
To adjust the LPVO there are turrets located in the usual spots. These turrets are lockable and you must pull up or out to adjust.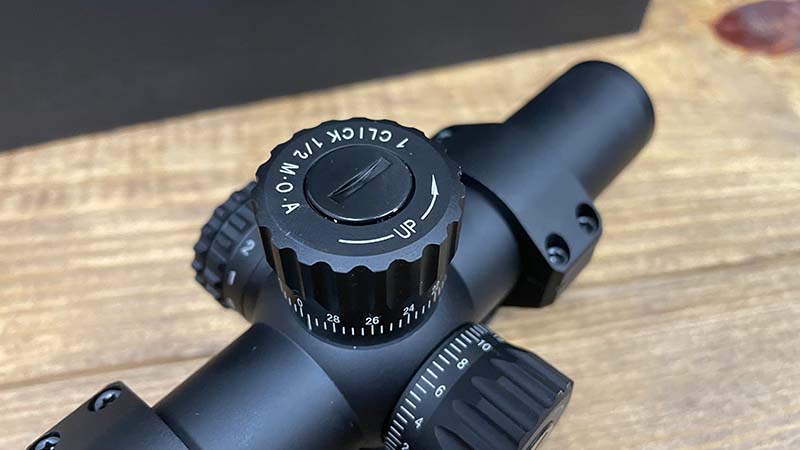 The adjustment of the LPVO is in MOA and ½ MOA of adjustment is achieved for each click. The adjustments are tactile but unless you are making large adjustments, they are not very audible.
Power source
The Monstrum G3 1-3×24 does have a lit reticle. It is powered by an industry-standard CR2023 battery.
The CR2023 is located under the cap of the brightness adjustment. It seems well constructed and contains an o-ring to keep moisture out.
Reticle Brightness
To be completely honest, I was a little disappointed in this department. After opening the Monstrum Tactical scope LPVO I leveled it to my eye before mounting it to any rifle.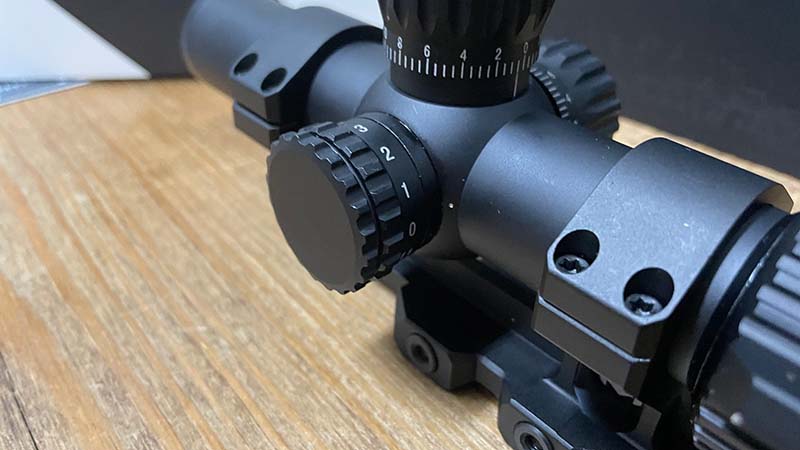 After looking through the glass and adjusting the diopter to my eye, I then reached up to turn the illuminated reticle on. I turned the dial up to 11 and leveled the scope back up to my eye.
It was immediately apparent that the brightness level was not what I had expected.
I then opened the battery compartment and removed the no-name battery and replaced it with a new energizer CR2023 in hopes that would elevate the brightness to the level I was expecting. I will note that the brightness level did increase a noticeable amount, but did not meet my expectations.
The time of day was 4-4:30 pm and the sky was overcast as there was no direct sun but soft shadows were still being cast by structures.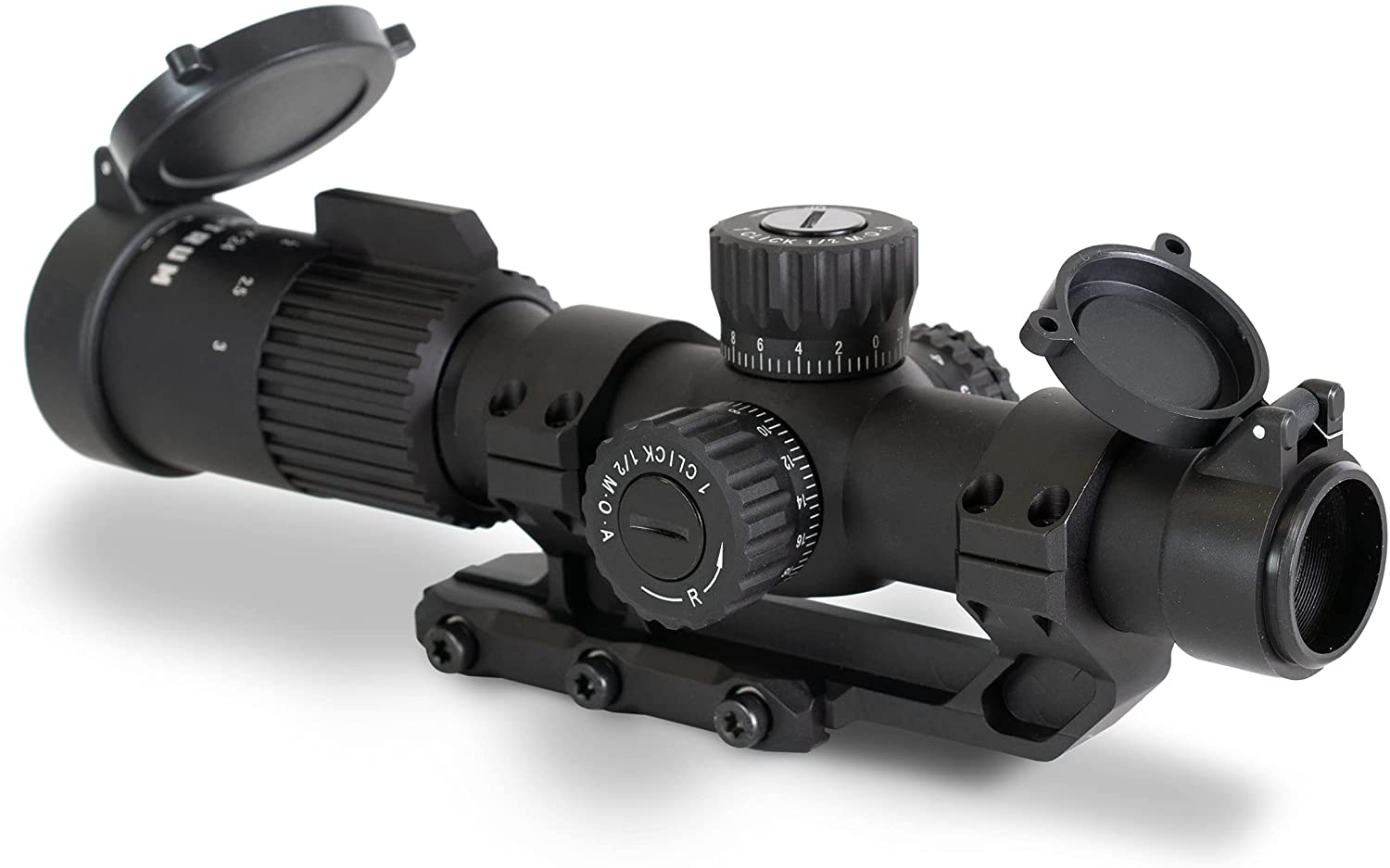 Durability
With the high-quality single block milled aluminum body and all brass internals, the Monstrum G3 1-3×24 LPVO should be able to withstand a lot of abuse.
Like we've stated in previous optic reviews, we don't have a standard established for durability yet so we don't grade the optics based on durability.
As stated in my first impression, the materials and construction seem to be high quality for an LVPO of the price point.
Sight picture
The sight picture on the Monstrum G3 1-3×24 is good. The lenses are made from optical quartz glass and are coated with Xeres fully multi-coated.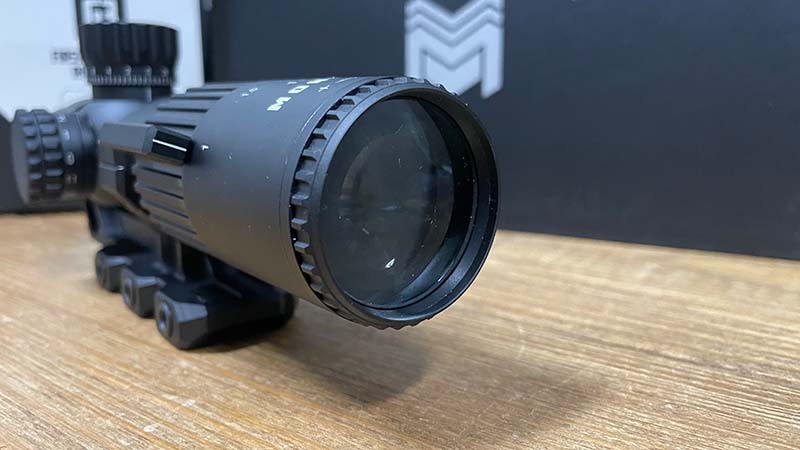 This is a "unique formulation of lens coating to reduce glare and increase light transmission. This allows for sharper contrast and increased color fidelity. The coating also helps to prevent scratches on the lens." according to Monstrum's website.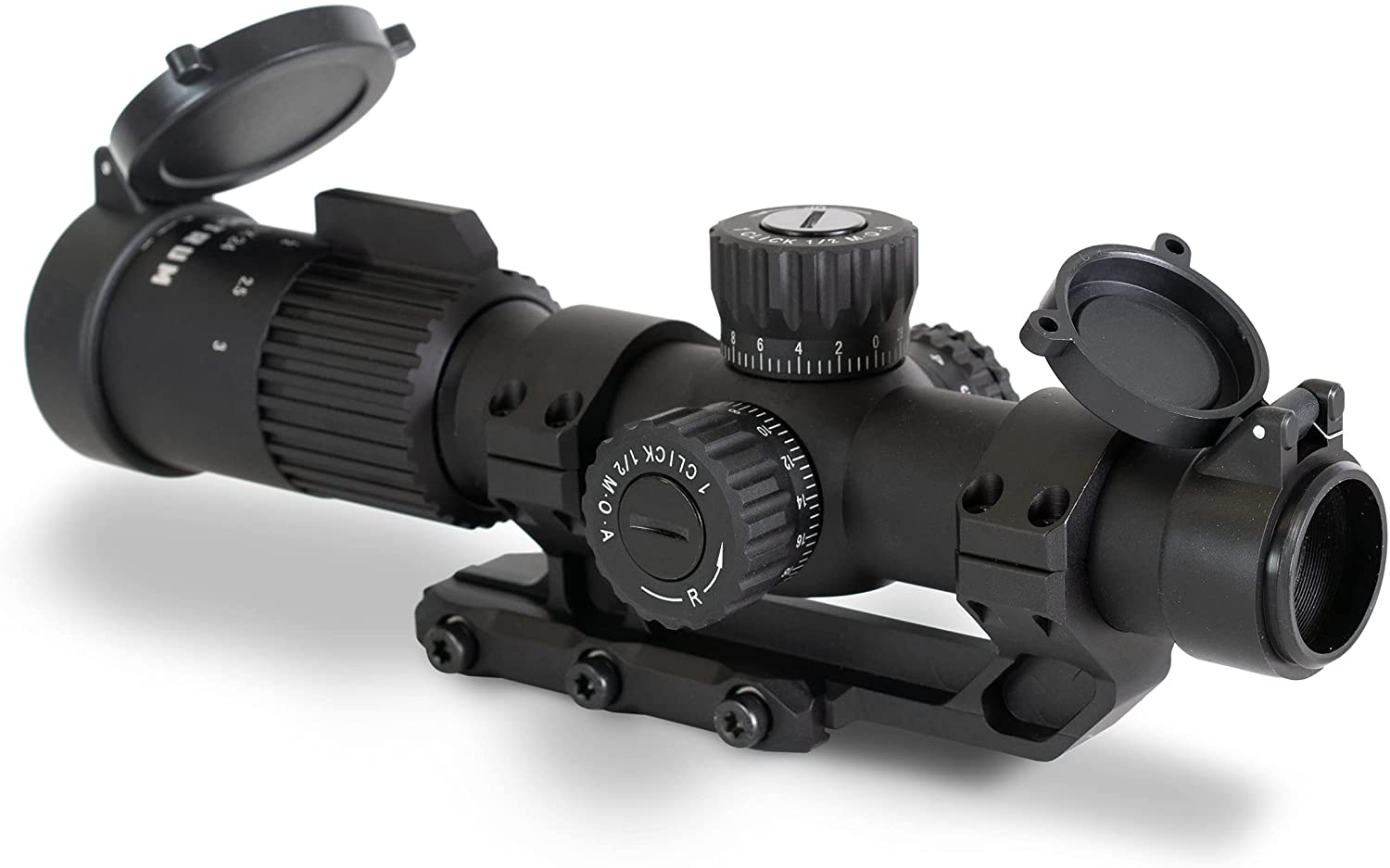 Also according to Monstrum the field of view at 1x magnification is 93.9ft at 100 yards. The field of view at 3x drops to 38.3ft also at 100 yards.
This decrease is somewhat expected and noticed across the board as magnification levels increase.
Mounts and Mounting Options
Monstrum offers several different mounts for LPVO's. These would include separate more traditional rings and even a heavy-duty cantilever mount which is included with this optic.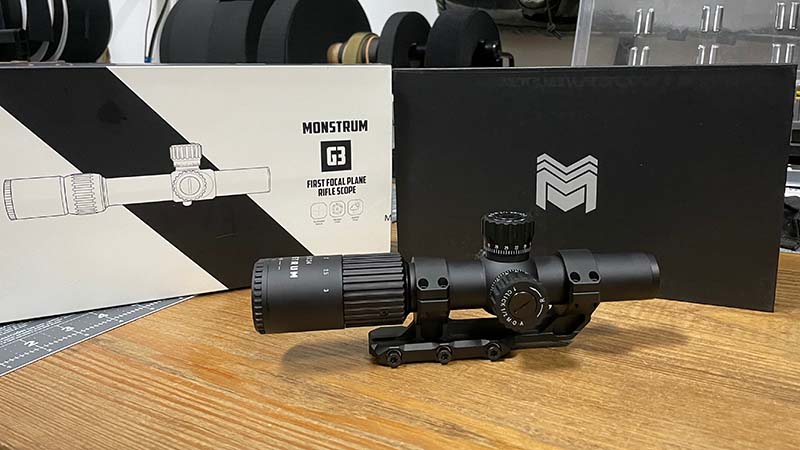 Final thoughts
The Monstrum 1-3×24 LPVO is a viable competitor at its current price point.
It offers high-quality construction and materials along with FFP for those who are not able or willing to drop major coin on other offerings.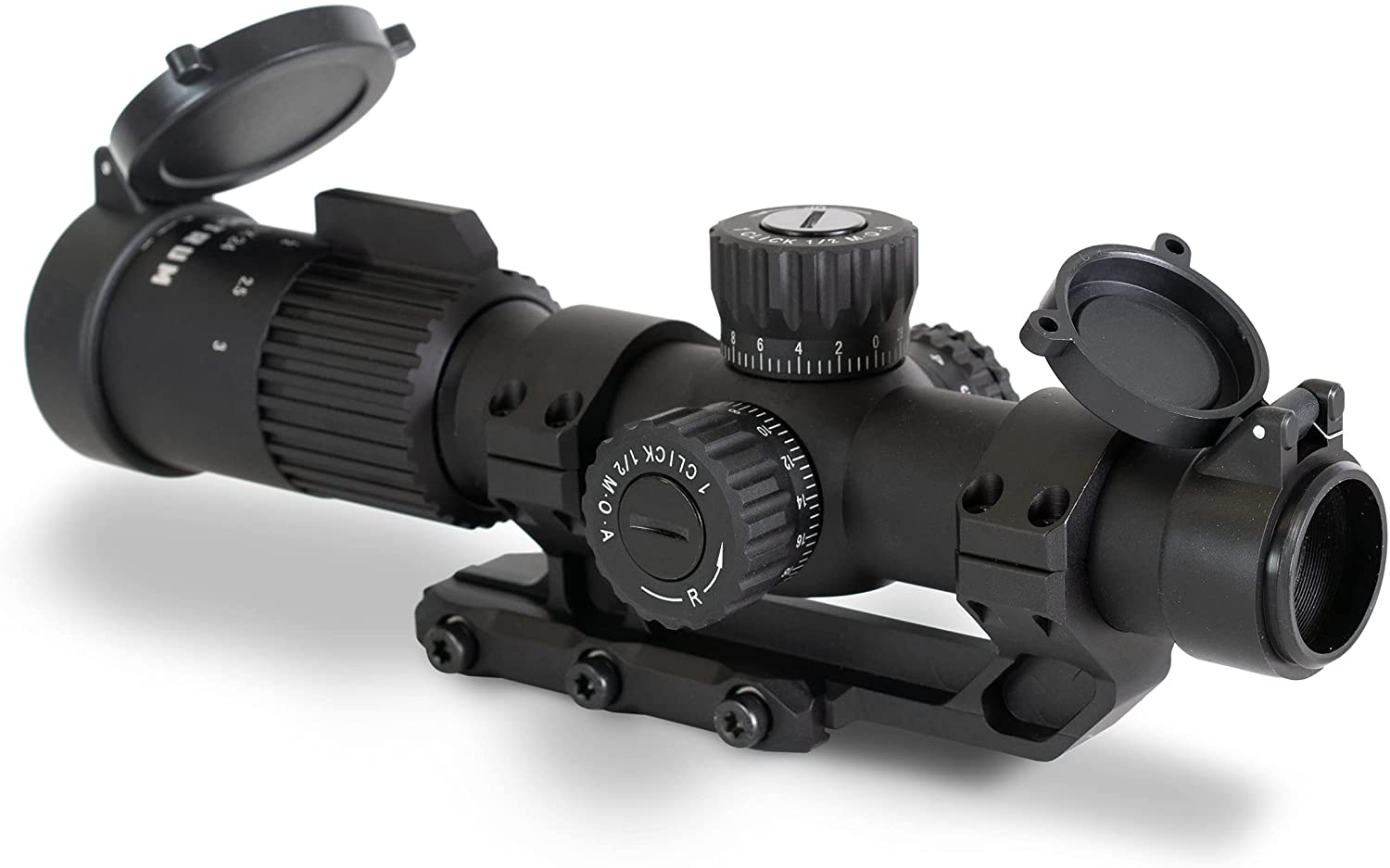 This is a unique place to occupy in the optics world, and I think the Monstrum Tactical scope has found its niche. If you are looking at other options take a look at our list of best LPVOs available.