The Vortex Strike Eagle 1-6×24 is an extremely popular low-powered variable optic or LVPO, due to its feature set, performance, and price. Vortex really set the bar for LPVO's with the Strike Eagle 1-6×24.
Before we begin, let's look back and see where Vortex has been.
The History of Vortex Optics
Vortex Optics, as most people know them, began in 2002. Vortex, based in Barneveld, Wisconsin, sells binoculars, monoculars, spotting scopes, riflescopes, red dot and holographic sights, and related accessories for tactical and sporting shooters alike. Most people don't realize that the original name was Eagle Optics, and they developed high-end binoculars for birdwatchers.
This Strike Eagle was ordered on Amazon for $299.00 at the time of purchase.
I have had this Strike Eagle on several rifles so far and it will be placed on at least one more before it finds its home on a RECCE inspired rifle setup where I feel it will fill that role quite well.
Strike Eagle 1-6×24 Facts
The Vortex Strike Eagle 1-6×24 being reviewed here is the second generation.
It takes the general form of its predecessor but with updates to the glass and reticle.
It is a typical-looking LPVO or Low Powered Variable Optic.
Low Power Variable Optics have recently seen a surge in popularity due to the United States Military starting to trend away from their fixed power Trijicon ACOG and flip to the side magnifiers used in conjunction with either red dots or holographic sights from various manufacturers to these types of optics.
| | |
| --- | --- |
| Magnification | 1-6x |
| Objective Lens Diameter | 24 mm |
| Eye Relief | 3.5 inches |
| Field of View | 116.5-19.2 ft/100 yds |
| Tube Size | 30 mm |
| Turret Style | Capped |
| Adjustment Graduation | 1/2 MOA |
| Travel Per Rotation | 44 MOA |
| Max Elevation Adjustment | 140 MOA |
| Max Windage Adjustment | 140 MOA |
| Parallax Setting | 100 yards |
| Length | 10.5 inches |
| Weight | 17.6 oz |
Magnification
The Strike Eagle 1-6×24 has a magnification of, you guessed it, 1 to 6 power with an objective lens of 24 mm.
This magnification flexibility is part of the main draw to the LPVO world.
At 1x, the LPVO works like a red dot or holographic sight in that it gives you a reticle to aim and acquire targets in close quarters with no magnification.
With a throw of a lever located on the bell of the LPVO, you can crank the magnification from 1x up to 6x what the naked eye sees to include everything in between.
This is an obvious step up from a fixed power magnifier you have to raise your head to look through a separate sight for 1x or flip to side magnifier that you have to manually move to use a red dot or holographic sight for those up close and personal encounters.
Eye Relief
You can expect to get around 3.5 inches of eye relief before you start to experience some scope shadow. This seems to be the average for the LPVO world.
Field of View
The field of view is neither amazing nor dismal for this type of optic. This isn't a negative, and you won't find yourself noticing it either way.
The exterior tube size is 30 mm vs. the less common 1 inch.
This means you will have more mounting options available for scope rings or even a cantilever mount if you want to go that route.
The scope's bell may not leave enough room for a folded back up sight, so you must pay attention as it depends on what mounting solution you end up using.
Adjustment, Turrets, and MOA
The turrets are capped, which helps keep dust and other debris away from the working parts of your LPVO.
Adjustment is ½ MOA per click of the turret, which isn't bad for a 1-6 power optic. You have available to you 44 MOA of travel per full rotation of a turret.
The maximum adjustment for both windage and elevation is 140 MOA.
This should be enough to get you on target with any platform you choose to mount the Strike Eagle on.
Parallax
Next up is parallax. Parallax is something that a lot of people don't seem to understand.
Simply put, parallax is a measurement of where the reticle appears to be located when you move your head and eye around behind an optic.
On something like a red dot or holographic sight like the EOTech XPS2, parallax is not that big of a deal.
Parallax on a scope such as this can not be compared to red dots or holographic sights, as your head has to be properly lined up in the eye box to use.
This is an unfortunate drawback for the LPVO when compared to those offerings.
Size and Weight
Concerning size and weight, the Strike Eagle measures 10.5 inches long and weighs in at 17.6 oz.
Here again, you are conceding overall size and weight compared to red dots and holographic sights for the versatility of having a range of magnification built into your optic.
What's in the box?
When you open the thoughtfully designed box, you find some impressive imagery printed on the box itself.
In the box, you'll get:
Strike Eagle LPVO
Set of protective flip caps
User manual
Lens cloth
Literature explaining the design
Two Battereies
The included literature also covers the use of the new BDC3 reticle specifically developed for the Gen II 1-6x Strike Eagle.
The two included batteries operate the illumination on the Strike Eagle.
My $.02 on the Strike Eagle
With the Low Power Variable Optic in hand, I noticed that it had decent weight.
It felt solid and sturdy without feeling heavy like a brick. However, it is important to keep in mind that the 17.6 oz weight does not include the mounting hardware you choose to go with.
When looking into those options, you will find that there are several lightweight options and heavier options that offer quick disconnects.
Mounting the Strike Eagle
Upon removal of the LPVO, you will notice that it does not come with any mounting hardware.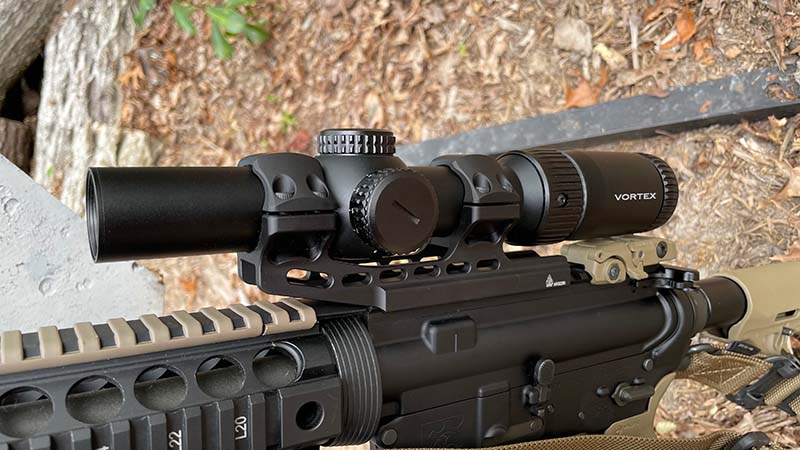 If you are used to red dot sights and included mounts, you might find this irritating, but I found that it leaves you with the option of finding the ideal mounting hardware for your specific application.
While it isn't a "plug and play" optic, it allows you to customize your specific application.
The lack of inclusion of mounting hardware also helps keep the price down, and that is always a good thing in my book, especially if you end up not using the included mount anyway.
Materials and Finish
The LPVO is constructed from a solid block of aircraft-grade aluminum for superior strength.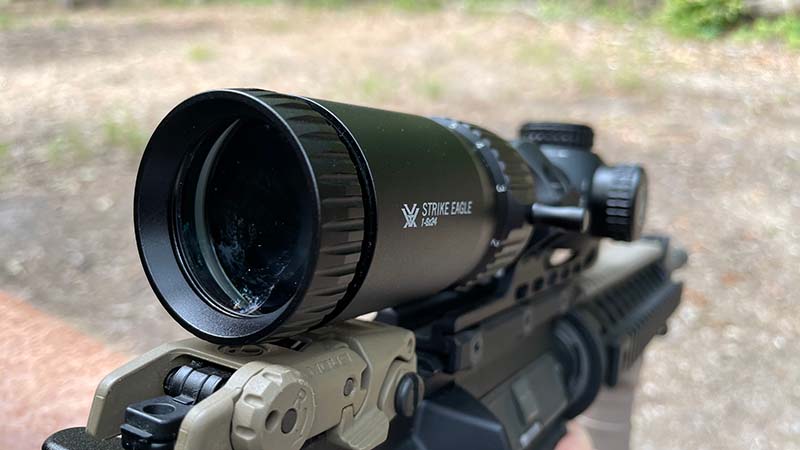 It is covered in a matte anodized finish that gives excellent corrosion resistance and impressive wear resistance.
The matte finish should match any quality AR finish well and not have too much glare to give away one's position in the field.
Water, Fog, and Lens
The tube is nitrogen gas purged which prevents the internals from fogging up.
This LPVO also meets IPX7 waterproofing standards.
The lenses are coated with ArmorTek ®, which is an "ultra-hard scratch-resistant coating that protects the exterior lenses from scratches, oil, and dirt."
While the glass contained in the Strike Eagle isn't made in the USA or Japan, it still is pretty impressive for an LPVO offering under $300.
I noticed a slight color distortion when looking through the scope at longer distances on the higher magnification settings.
This is to be expected and also seen on most budget-minded scopes from all manufacturers.
Along with the slight color distortion, I also noticed the edge of the glass seemed to distort the view if you focused your eye to the edge of the field of view.
Again this is completely expected with any optic in the sub $500 field.
Magnification
When on 1 power, you will find most lower budget LPVO's are not truly one power.
Some are 1.25x, or some others are even 9/10x power. In this section, the Strike Eagle greatly surprised me in appearing to be a true 1 power, or as close to it as I could perceive.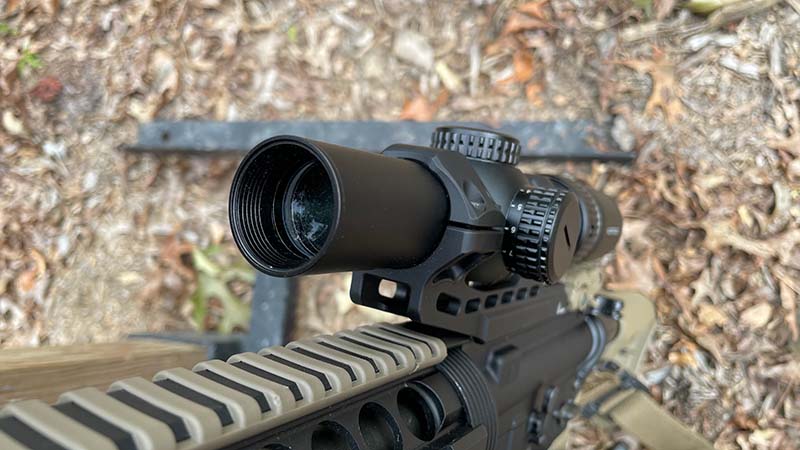 The field of view at 1x is wide enough to leave me with any dead spots when looking through the glass with both eyes open.
When you crank the throw lever over to the 6 power, the field of view tightens but not where one would notice.
Vortex Strike Eagle 1-6×24 Reticle
The reticle itself is etched into the glass, which is amazing for people like me with slight astigmatism.
This observation will be lost on those that do not have to deal with this eye ailment but to sum it up when looking through a red dot or holographic sight, those of us that have astigmatism may see a starburst, a smudge, or a half-moon shaped object instead of a crisp, clean dot or doughnut of death in the case of an EoTech.
Having an etched reticle also means that you don't have to rely on battery power to have your reticle visible.
Reticle Design
Moving over to reticle design, the Vortex Strike Eagle 1-6×24 has got an eye-catching design going on.
That's not to say it has too much (some reticles are covered in hashes, stadia, dots, and numbers throughout the glass), but the first thing I noticed when looking through the tube was the large "T" post coming in from the 3, 6 and 9 o'clock positions.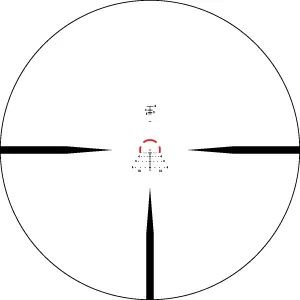 These marks instinctively draw your eye into the center of the tube and to the reticle itself, which was specifically designed for the Gen II Strike Eagle. Vortex calls it the AR BDC3.
The BDC3 reticle resembles an upside-down horseshoe split into three sections with a small dot in the very center.
The larger horseshoe lends itself very handily for quick target acquisition, much like an EoTech HWS while the dot at the very center is perfect for more accurate shots, especially when zoomed in to 6 power.
Illuminated Reticle
The illumination dial is located on the left side of the LPVO and has very positive tactile and audible clicks when turned.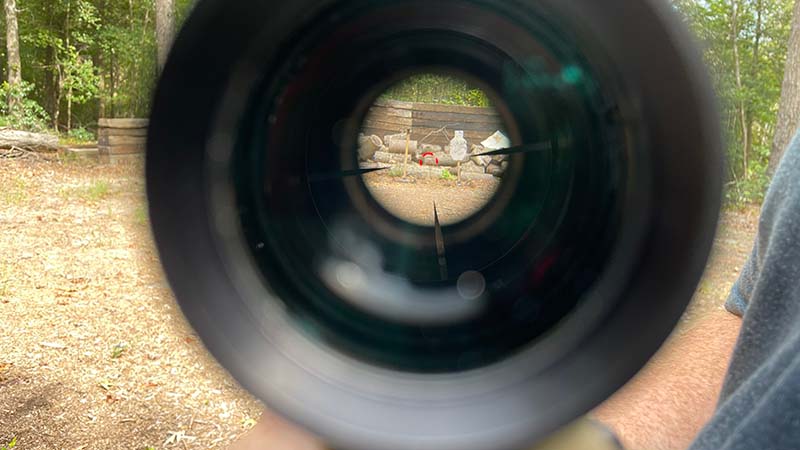 If for some reason, you do not change your battery on the Strike Eagle and it dies, you will still be left with the reticle just not illuminated instead of an empty tube like you would see on a red dot or holographic sight.
When illuminated, the horseshoe and dot are both lit. At the lowest brightness setting, the illumination is barely visible and not usable in daylight but would be perfect for low light/night use.
When you crank the dial all the way up, it is plenty bright for any outdoor shooting, including in direct sunlight.
When you look below the horseshoe, you will notice stadia lines and adjustment holds for windage.
Thankfully, these marks are not illuminated, as I believe it would draw the eye down and away from the center of the reticle.
Second Focal Plane
Without going down a log rabbit hole, second focal plane means that the reticle stays the same size when at 6x as it does at 1x as opposed to a first focal plane optic that at one power may have what appears to be a single dot but when zoomed in has a full reticle design with all the features we've mentioned here.
It depends on your intended application as to which you would prefer. For my short to medium home defense minded application, I found I like the second focal plane design just fine, with its full reticle size and detail being available to me at low power.
A first focal plane optic will shine if your intended target is at further ranges than you would typically find in a suburban or home defense situation.
Strike Eagle Use
While you may certainly place whatever optic you wish on whatever platform you may choose, I believe the Vortex Strike Eagle 1-6×24 feels right at home when used on short to medium range 5.56/.223 and 7.62/.308 rifles.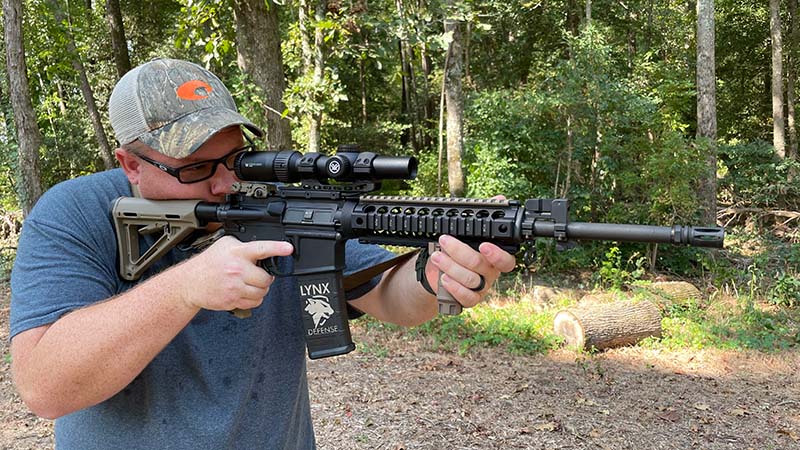 There are even instructions on how to go about zeroing the optic for each included in the box for this optic.
A second focal plane design and the AR-BDC3 reticle lends this LPVO to be easily mounted on a cantilever style mount and is very handy for use on an AR-style rifle.
To get the most use out of this Strike Eagle, I suggest placing it on at least a 16" rifle for 5.56/.223 or 18" for 7.62/.308.
When you start to get below these barrel lengths, the ballistic performance of these rounds starts to drop off.
You also need to balance the overall weight of your rifle and kit to the application at hand.
Most people don't mind a little more weight on a long gun where you need some magnification as opposed to a lightweight, fast setup for an SBR/pistol that you would be running and gunning with.
No matter how you choose to apply this optic, I don't think you can really go wrong.
Strike Eagle Conclusions
The Vortex Strike Eagle 1-6×24 Low Power Variable Optic is a strong entry into the budget end of the magnified optic world.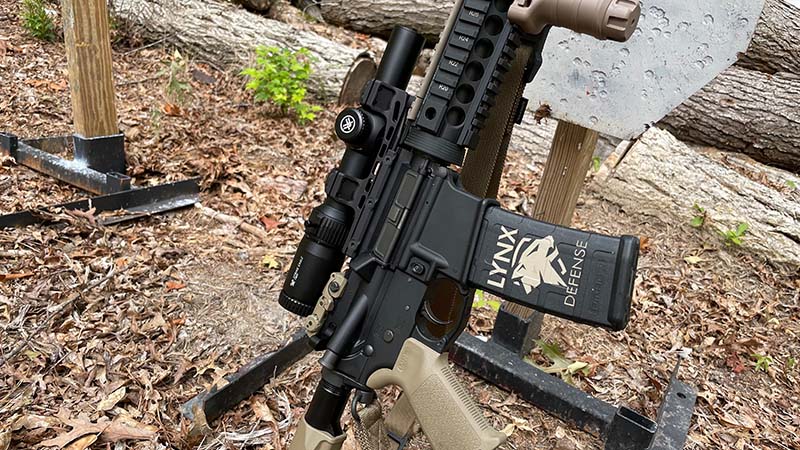 I would give it high marks all around for construction and durability. The design of the tube and bell are sold.
The threaded throw lever on the bell for ease of change of magnification needs a drop of Loctite to keep in place.
If you don't, you may wind up losing it along the way. The locations of the turrets for windage and elevation, along with the brightness control, are all low profile and work very well.
Glass quality is good for the price range that the Strike Eagle finds itself in.
It is definitely an improvement from the first generation, along with the design of the BDC3 reticle.
I really have enjoyed using this optic and plan on keeping it on a 16" RECCE inspired style rifle.
I feel that for my wants and needs, this will be a wonderful setup. Oh, don't forget about their fully transferable VIP warranty. Bottom line; for $299.00, it's hard to beat.
If the strike eagle isn't your cup of tea be sure to take a look at the Vortex Crossfire II.
Disclaimer– It should be noted that this Vortex Strike Eagle was privately purchased and this review is not endorsed or paid for by Vortex or any of its affiliates.
Vortex Strike Eagle 1-6x24 Review | Budget LPVO under $300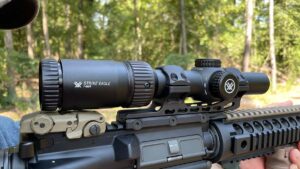 Our Vortex Strike Eagle 1-6x24 review of this budget friendly LVPO by Vortex that really wows in performance considering its price point.
Product SKU: SE-1624-2
Product Brand: Vortex
Product Currency: USD
Product Price: 399.99
Product In-Stock: InStock