Recently I was able to review the Primary Arms MD-25 and I was so impressed I had to pick up the Primary Arms Micro Prism optic to test out and see if Primary Arms was able to hit a home run or if they are the best value in optics on the market today.
Since Primary Arms has so many different configurations are options for their optics I want to give you the complete name of the optic I'm going to review today upfront and it's the Primary Arms SLx 1X MicroPrism with Red Illuminated ACSS Gemini 9mm Reticle.
First impression
When I first opened the box I was somewhat sure what to expect because of the MD-25 I own. But every box and optic is a new adventure so I cleared my table and popped open the box!
Opening the Box
When you open the box you are greeted with the following items:
Primary Arms SLx 1x Micro Prism Optic
Manual
Locktite
No Spacer/Mount Only
Cantilever Low Spacer
Cantilever Medium Spacer
Cantilever High Spacer
Straight Spacer
6 x Low- Profile Socket Head Screws
As you can see there's a lot in this box and most of it is individually wrapped in plastic and in then placed in its specifically cut spot in the box.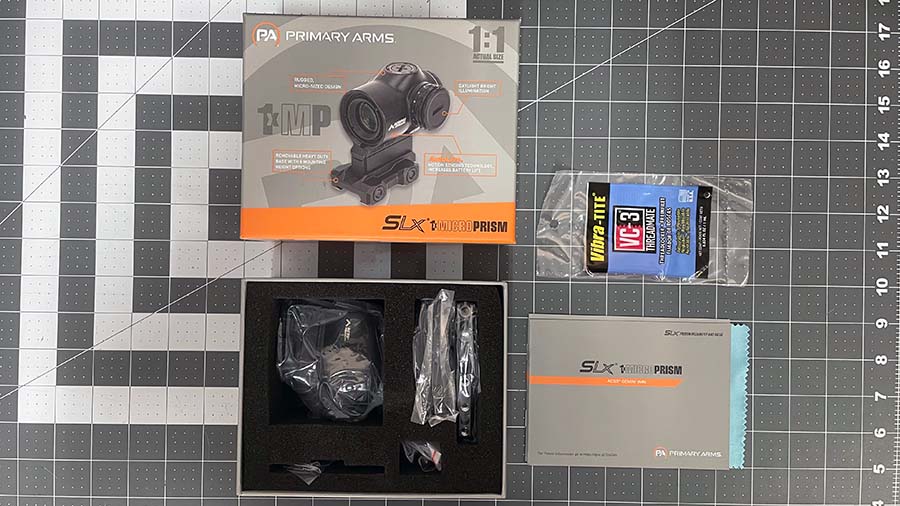 I couldn't wait so I quickly unwrapped everything in the box to get my hands on this awesome-looking optic.
The Optic
The optic really catches your eye because of its unique look. It's compact like a Trijicon MRO but is clearly different because the overall body of the optic is the same size whereas the MRO gets larger in the front than in the viewport.
Once you pull the optic from its nicely packaged box you can tell it's a high-quality optic. I have opened a ton of optics in my life and this MicroPrism optic is extremely well done.
There's nothing about this optic that feels cheap or budget right out of the box.
The side of the optic, like most PA optics, has the model of optic as well as the type of reticle the optic has.
Prism Scope vs Red Dot Sight
There are a ton of articles that will help you determine the difference between prism scopes and red dot sights but because this is a review of a prism scope and not a comparison article we are gonna just hit the pros and cons of the two optics and not do a deep scientific dive.
| Red Dot Pros | Prism Pros |
| --- | --- |
| Lighter | Etched Reticle |
| More Compact | No Battery required for reticle |
| Fast Target Acquisition | Better for Astigmtism |
| Larger Eye Relief | Magnified (Typically 1-3x) |
| | Diopter |
| Red Dot Cons | Prism Cons |
| --- | --- |
| No etched reticle | Shorter eye relief |
| Battery required for reticle | Weight and Size |
| No magnification | |
| No diopter | |
Primary Arms SLx 1x Micro Prism Features
The PA SLx 1x Micro Prism optics features an ACSS Gemini 9mm reticle, which will we cover in-depth later in this review.
13 separate illumination settings included 3-night vision settings and an astounding 8 mounting height options.
The AutoLive motion-sensing on/off technology helps extend your battery life if you've accidentally left your optic on. But even if you do leave it on it has an impressive 29,000-hour battery life on the medium setting.
The MicroPrism, like most PA optics, come with lens covers.
Lastly, the Primary Arms Micro Prism is backed by Primary Arms lifetime warranty, which I've never had to use but I'm sure their customer service is as solid as their products.
Materials
The one thing I really like about Primary Arms micro prism optics is the fact that they use really good materials and coatings. The micro prisms are fully multi-coated optics and are an all-metal construction.
Even the turrets and illumination wheel are made from quality aluminum.
Weight
The SLx 1x Micro prism is an extremely compact optic with a length of just 2.48″ and just 5.5 ounces without the riser. Even with the riser the Micro Prism comes it at just 7.6 ounces.
I decided to mount the SLx 1X ACC Gemini on my Stribog SP9A1, since the Gemini is a 9mm specific reticle.
The weight isn't even noticeable on the Stribog since the Stribog already has a decent bit of weight to it.
Reticle
The reticle is probably one of my favorite parts of the micro prism. Similar to the Primary Arms SLx MD-25 I wasn't sure if this reticle was going to be big enough for my liking but once I got the hang of it I'm in reticle heaven.
The prism optics feature an etched reticle so if you have an astigmatism this is gonna be your go to optic.
The other nice part about having an etched reticle is the illumination isn't required so if your battery dies your optic still is in business!
The eye relief range is 2-6″ with 3.6″ being the optimal field of view. The nice part about the field of view is it's 76.5ft at 100 yards.
Let me talk about reticles for just a minute.
This particular reticle is specifically for 9mm and it's called the Gemini. PA has other reticles notably the Cyclops which for for higher power rounds like 5.56 and 308 Winchester.
But what gives? Why have different reticles for calibers? It's actually really simple and it boils down to one thing. Bullet drop.
Each reticle has different hash marks to accommodate the normal yardages where each caliber starts to have bullet drop.
Obviously, 9mm and 5.56 have wildly different capabilities and thus have much different bullet drop profiles. So Primary Arms created their SLx 1x Microprism optics with that in mind, good call on their part!
Dot Adjustment
The dot adjustment on the prism is extremely easy. The only downside is you need to bring your own adjustment tool but that's an extremely minor thing.
If you don't have a dime for MOA adjustment you likely shouldn't be buying optics!
Each click is a 1 MOA click value so don't go cranking on your turret. The Primary Arms micro prisms have 120 MOA windage and elevation adjustments.
Out of the box the Primary Arms Micro Prism was about 5 inches low and 4 inches to the right. Which wasn't bad also full disclosure I was shooting subsonic 9mm 150 grain Sellier and Bellot ammo which has been hit or miss for me.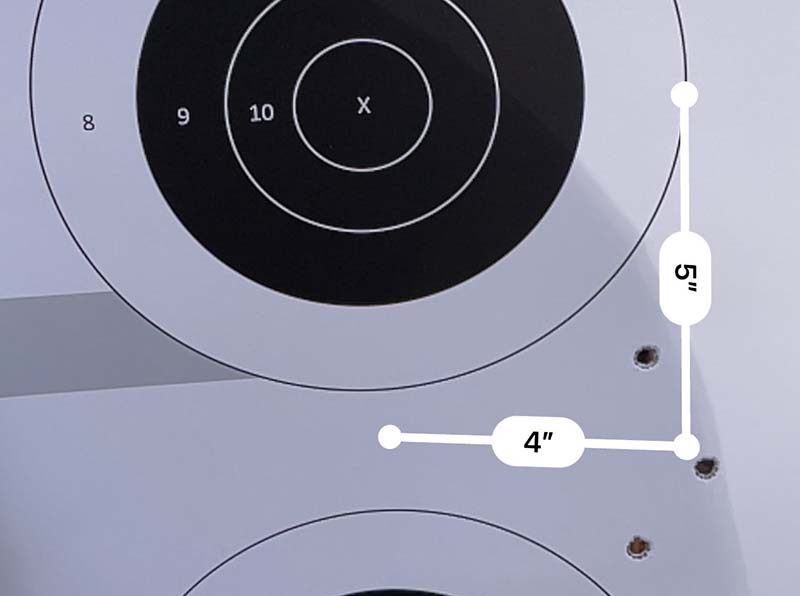 So I made a number of adjustments and finally got a pretty decent group.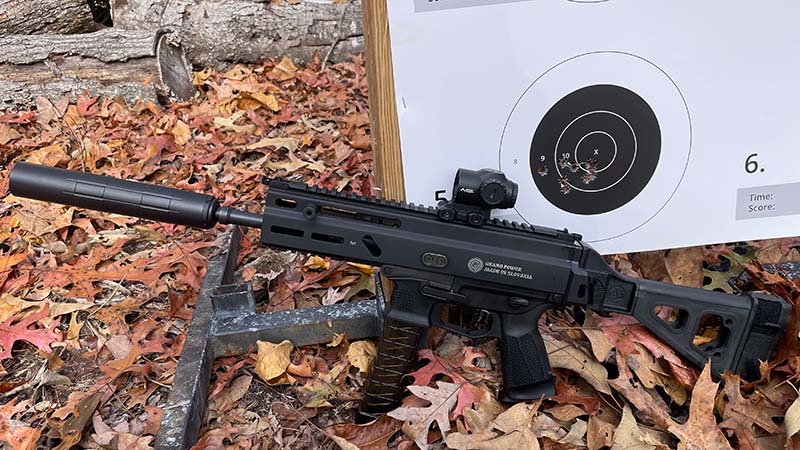 It's not perfect but for freestanding it's not bad. I had 3 rounds left so I took a shot to see how well I could could do and I was pleasantly surprised with the outcome.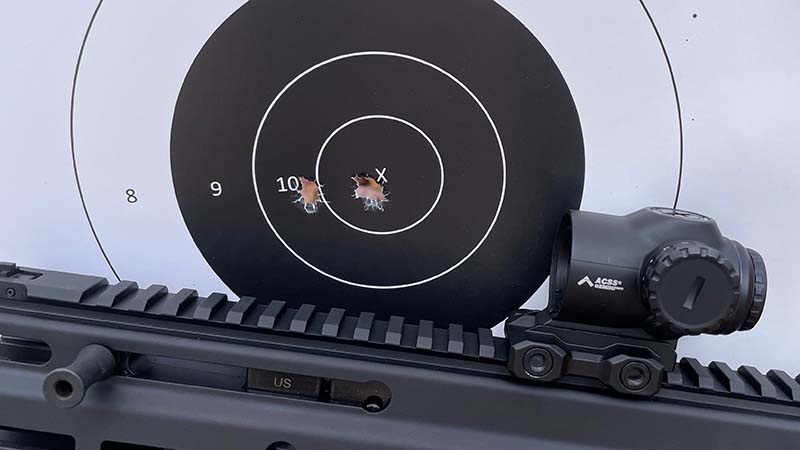 Needless to say, it was effortless to sight in this optic and for a process I usually dread it really wasn't bad at all!
Power source
The micro prism uses an the industry standard CR2032 battery for illumination. They also feature "AutoLive" which is motion detection on/off battery saving feature.
So your optic illumination will turn off if it doesn't sense any motion for an extended period of time.
The prism also has an approximate 29,000 hour battery life on the medium setting.
Durability
As stated in our previous reviews we don't have a true durability test in place for these optics so we can't specifically say how durable the optic is outside of our overall experience with the optic.
The materials are all very solid and the micro prism is extremely well built. The optic features a IP67 waterproof rating.
Like most optics it is nitrogen purged to help with fog resistance.
Primary Arms SLx 1X Micro Prism Sight Picture
The micro prism sight picture is a bit different than what you'd be use to with a non-magnified red dot.
Because of the 1x in the glass, it might take a little getting used to but it doesn't take much time. One range day and you'll be completely used to the micro prism.
I really like the sight picture on this optic because it's
Mounts and Mounting Options
The reticle is my favorite part of this optic but the included mounts are a solid second favorite part of the Primary Arms micro prism.
The SLx 1x Micro Prism comes with 5 different mounting options right out of the box.
The base includes 4 different mount heights and of course, you can flush mount the optic.
I really like the mounting options included with this optic. Since I was running it on my Stribog I didn't use any of the riser mounts but if you were running it on an AR-15 style platform you may want to run a riser mount.
Primary Arms Micro Prism Conclusion
The PA Micro Prism optics are top notch and for the price point of $269.99, you really can't beat it. If you want to save some money and great a really nice optic garb the SLx 1x Micro Prism.
It didn't take much to get this optic dialed in and it's held zero now with weeks of shooting. This is honestly one of the best red dot sights that I own.