Newer Model Available
Primary Arms has released a Gen 2 version of the MS-25. We have done a complete review on the latest model.
Primary Arms is a major retailer of firearms and firearms accessories, so it's no surprise they make their own optics. So when I got a chance to review the Primary Arms SLx MD-25, I jumped at the opportunity.
The SLx MD-25 is the perfect fit for my 16″ AR-15 that was just iron sights with a flat top 1913 rail until I got the Primary Arms optic.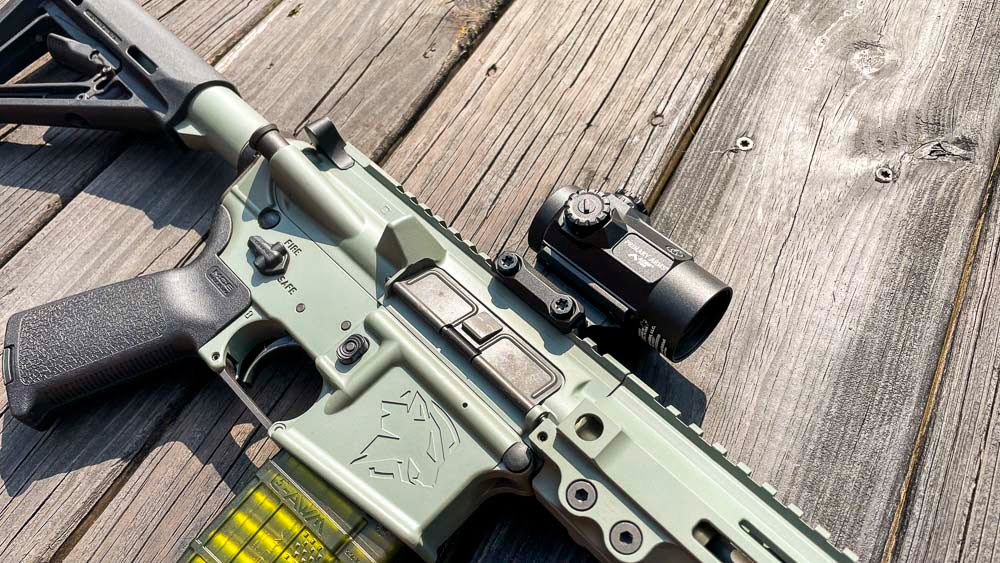 Primary Arms SLx MD-25
· 2 MOA Dot ACSS Reticle
· 50,000 Hours Battery Life Mid Setting
· 11 Brightness Setting
· Included riser block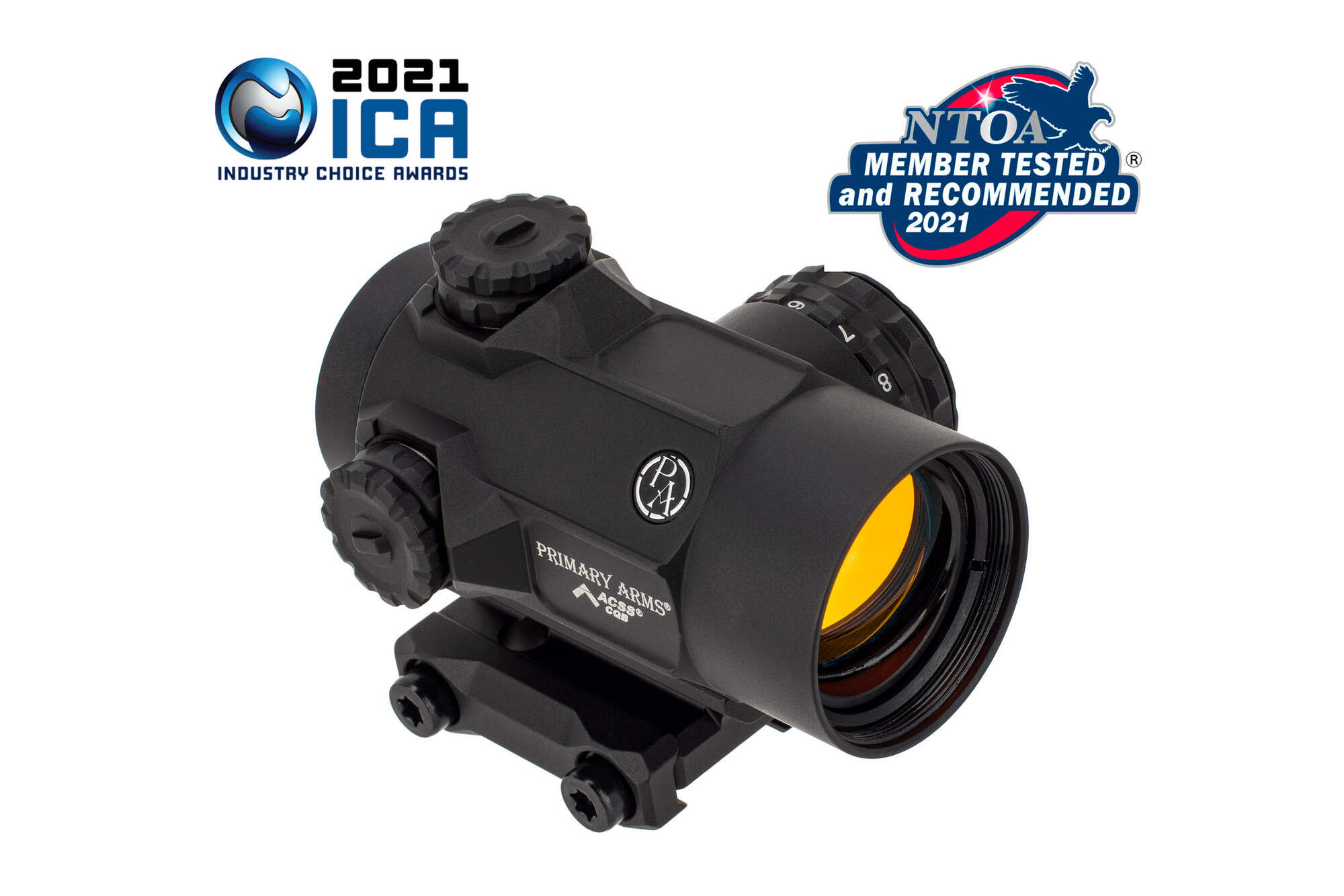 First impression
The Primary Arms SLx MD-25 is a 25mm objective lens, red dot sight by Primary Arms.
The unique part about the Primary Arms SLx MD-25 is the ACSS-CQB reticle. We'll talk more about that later, but I want to give my first impressions and initial thoughts when I first opened the box.
Opening the Box
Like most optics, when you open the box, you're presented with a manual, a small slip of foam, and in this case, there was some Loctite and a microfiber cloth.
Once you remove the small slip of foam, there are several compartments, one for the mount, two for the mount attachments, the adjustment Allen wrench, some screws, another Allen wrench, and the optic.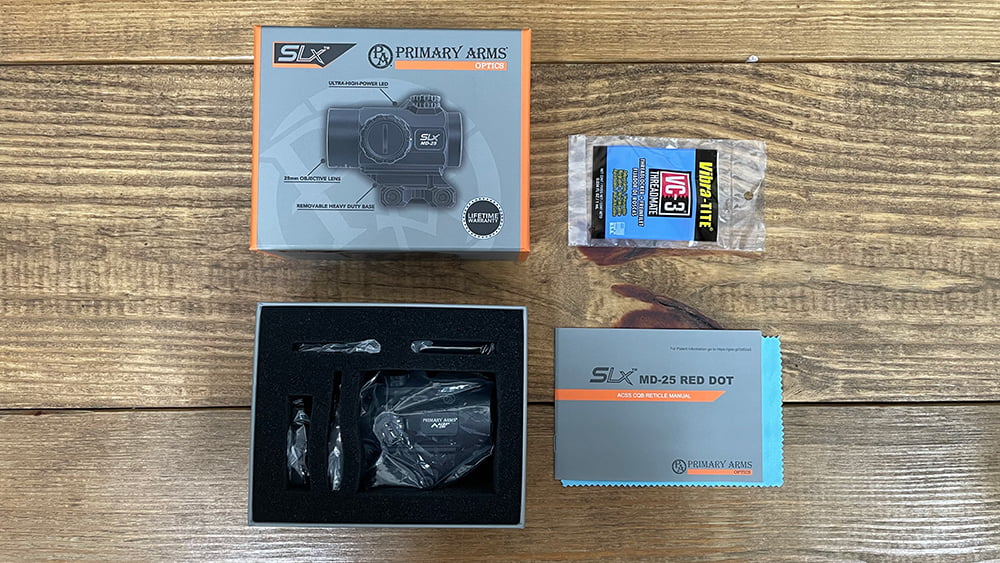 In the box, every item was wrapped in plastic. So I went ahead and unwrapped everything, took some pictures, and was able to get my first impression.
Upon picking up the optic, it's a heavier optic than some of the other optics like the Holosun and the Bushnell that I've recently reviewed. It's closer to the weight of the EOTech HWS.
However, even though it's double the weight, you're probably not going to notice it too terribly much. It feels pretty good in your hand as far as weight goes.
Depending on what gun you're putting it on, especially if it's not an extremely lightweight gun, I wouldn't be too concerned about 6.5 oz.
In this case, I'm putting it on a 16″ AR 15 with a Geissele rail. So quite frankly, it's not going to be the lightest gun in the world anyway.
A little over six ounces, I'm not going to notice, especially around the middle of the gun. If you were to throw it on the end of the gun, maybe, but I'm going to run it suppressed anyway so that the silencer will be more noticeable than the red dot sight.
Primary Arms SLx MD-25
· 2 MOA Dot ACSS Reticle
· 50,000 Hours Battery Life Mid Setting
· 11 Brightness Setting
· Included riser block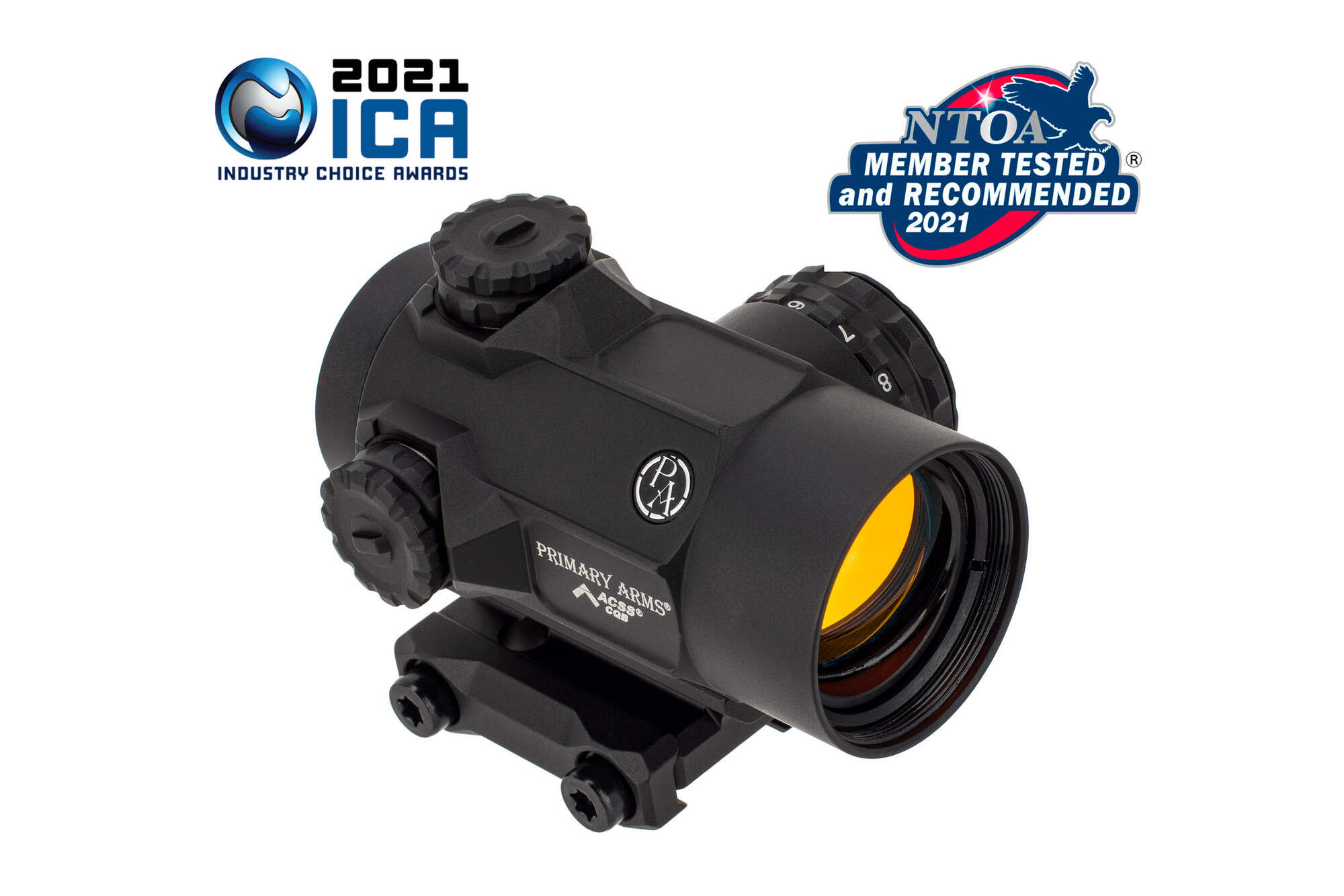 The Red Dot Sight
Upon picking up the optic, it's already pre-mounted to the riser. It's got a nice, durable feeling finish.
Scratching it with your nail leaves a little mark, but then you can wipe it off.
It's got the Primary Arms logo insignia on it, as well as the ACSS-CQB writing on the side letting you know what reticle this optic has. On the opposite side, it has the SLx MD-25 model number and the red dot on/off brightness setting switch.
Top and right, you have your standard turrets for adjustment, and we'll get into adjusting the zero on this red dot later in this review.
Looking through it, just holding it up not mounted on the gun, you get a good sight picture. On this optic, the knob is on the left side.
It's a rather large knob so that makes it easy to grab.
Hopefully, it doesn't distract much once on the range and acquiring targets.
It's not the lowest profile red dot on the planet, it sticks out a good bit, but it's effortless to grab and use.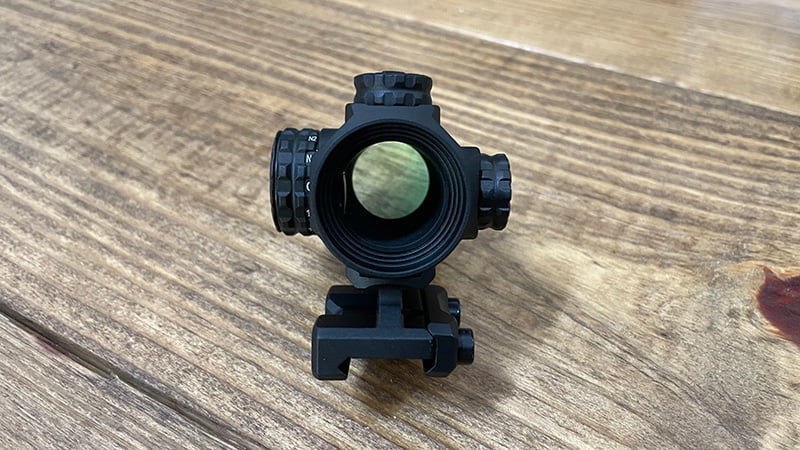 If I had to say anything negative about it, it would be the fact that it probably could be about a quarter-inch smaller on the brightness setting knob. Other than that, it's solid. That's my initial impression.
It came ready to go. Which is different, in a good way.
The battery was already in it and activated.
So when you turned it on, it illuminated the optic right away.
One of the nice things I did notice is there are two-night vision settings, and you can rotate this knob in either direction. So if you want to start at the 1 setting or want to start at 11, which is full power, you can turn the knob in either direction to get to the setting of your choice.
When I first powered it up, I looked at the reticle, which I'll talk about more later. But I wasn't sure I was going to like it. I don't want to spoil the reticle section so that I won't elaborate on it anymore.
My first impression: the reticle was going to be too small.
Primary Arms SLx MD-25 Features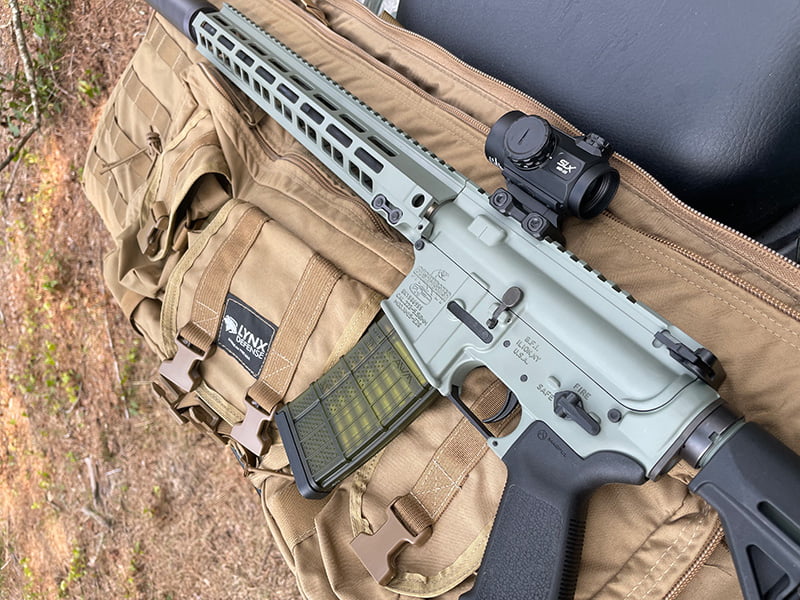 The SLx MB-25 features a wide field of view 2 MOA red dot that's pretty crisp. Also, 50,000-hour battery life at the medium setting.
It uses a CR2032 battery, which is included.
It has a rugged mounting system.
Includes four different riser heights. Has multi-coated anti-reflective lenses.
It's compact. It's lightweight. It seems pretty durable so far.
12 elimination settings and two-night vision-compatible settings. It's also fall-resistant material.
Materials
The material this Primary Arms optic is made out of is aluminum. It's also hard-coat anodized.
At first, when you pick it up, you'll notice the hefty feel at 6.5 ounces. But I think most of that weight comes from the mounting system.
The coating is really impressive. It's clean, and it will match any dark black cerakote or anodized-finished firearm.
So it is likely going to match your gun perfectly. Even the caps on the brightness setting and the adjustment turrets appear to be aluminum.
Weight
As I stated in my initial impression of the optic, the weight on paper a bit more than some of the other optics on the market. But once again, this is not a heavy optic by anyone's definition.
However, some optics like the EOTech come in at nearly 9 ounces. So in that sense, this is really middle-of-the-road when it comes to weight at 6.5 ounces.
Given that this isn't an overly lightweight or extremely heavy red dot sight, it really goes a long way because you can put other accessories on the gun without worrying about weight.
You can put this red dot on an AR-15, a shotgun, or any gun you choose. You can really run the gamut with this optic.
Heck, I could even put it on my Henry model X lever gun and have a blast with it.
Reticle
The reticle on the Primary Arms SLx MD-25 was a little iffy for me at first. The ACSS-CQB reticle is a little different than your standard red dot.
The ACSS reticle has a Chevron for your main dot and three dots below it representing bullet drop. This design makes it really easy for you to compensate for bullet drop.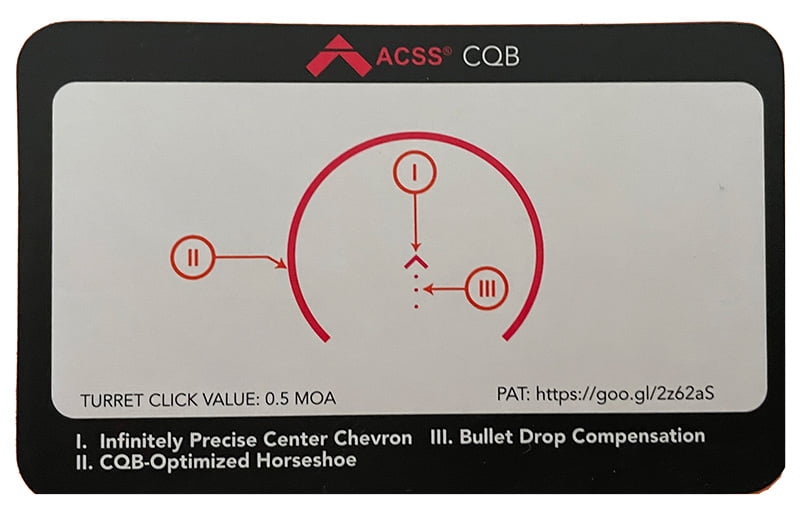 The manual even includes many different bullet drop compensation examples based on what caliber and type of weapon you're shooting.
The manual is impressive because it includes 9mm carbines and 12 gauge shotguns for people putting it on those weapons.
A horseshoe circle encompasses the Chevron and three-dots. It's open on the bottom and makes a semi-complete rounded circle around the Chevron and the three dots.
I found this to be really nice for target acquisition. Much like I enjoy EOTech's style of the reticle. I really think it helps with target acquisition, and it makes a cleaner sight picture.
But as I stated in the initial observation, when I first turned on the optic inside, I did not think that the Chevron and the three dots were large enough for my liking.
With that being said, once I actually got it out to the range to sight it in, I found that that didn't bother me anymore. Once I actually put it on a silhouette steel target or even the paper targets that I used to sight it in on, I had no issues whatsoever with the reticle's size.
It did not seem small at that point. It must have just been the fact that I pulled out the optic, pointed it at the wall, turned it on, and made an assumption based on that.
Rather than actually pointing it out 30 to 50 yards, like it's meant to be used.
After actually using it on the range, I really liked the Chevron reticle.
Now, I don't know how practical the three dots are for me. I don't really intend to stretch out a red dot sight to the point where it would be dropping that far.
For example, this is going on a 5.56mm/.223 caliber AR-15. If you sight it zeroed at a hundred yards, your first dot is a drop compensation for 400 yards.
Granted, can you make it? Yes. But I don't even have a range that allows me to shoot 400 yards.
I don't think I'll be making any 400-yard shots anytime soon.
So are the three dots practical? Not for me.
Maybe for someone else, and I'm not going to knock it because I really just like the look of it.
So when you use it, it's actually quite nice to look at, it gives you a frame of reference, and if you put your target on the Chevron and those three dots, you're going to be on target.
Keep in mind that you sight in this optics zero at the top of the Chevron.
Dot Adjustment
It's kind of hard to call this "dot adjustment." Really it's a Chevron adjustment.
But we'll stick to the standard red dot sight terminology.
To adjust the dot, it's pretty standard like most red dot sights on the market.
There are two adjustment turrets—one on top and one on the right of the optic. You can unscrew the turret caps with your fingers easily.
I unscrewed the top one when I made my first shots because they came in low.
To start I just took the optic out of the box, mounted it to the gun, and left and right zero was dead on center—primary Arms ships this optic in a centered position.
Since the Primary Arms SLx MD-25 ships in the centered position, you should only adjust the elevation.
In my case, that is exactly what happened. I was shooting low, so the only thing I had to adjust the elevation, so I took the top turret off.
The nice thing about the turret caps is they can also be used to turn your turrets. Take off the caps, and you flip the cap upside down and adjust your turret.
There's a little indention, you stick the cap in the indention, and you can make your adjustment clicks.
For every click, you're getting a 1/4 MOA. So if you're an inch low, you need to make it four clicks up. To adjust up, you need to rotate it counter-clockwise.
I made several adjustments, which you'll see in the pictures below. Once I was done, I shot it supported each time I was sighting it in to get the most accurate zero.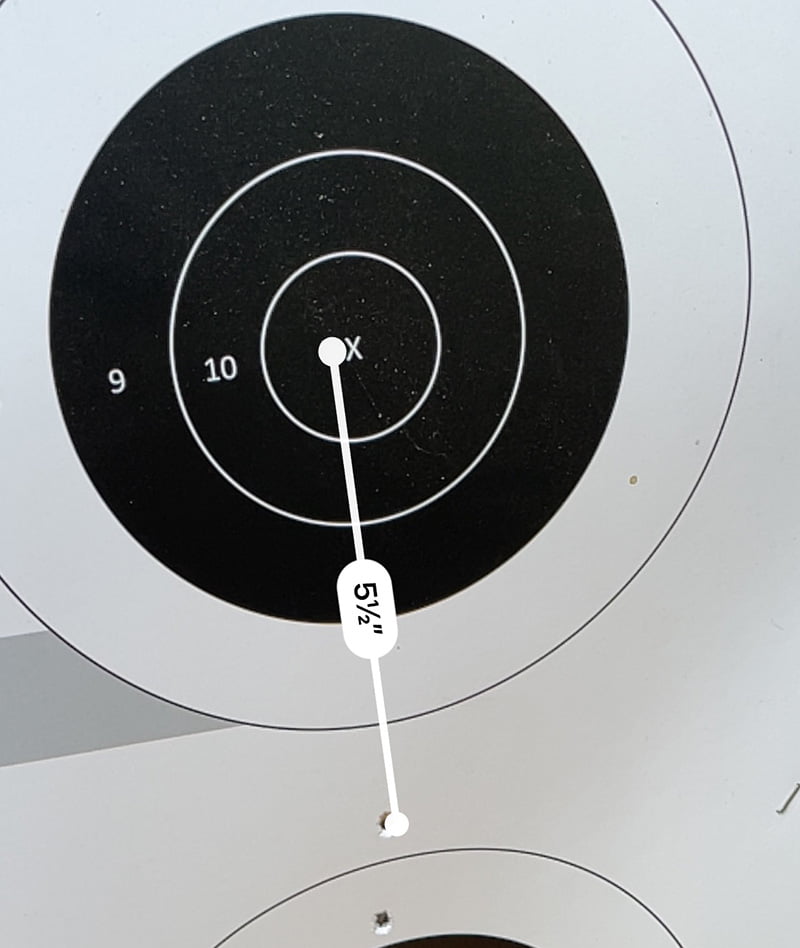 After making 20 click adjustments, my next result was: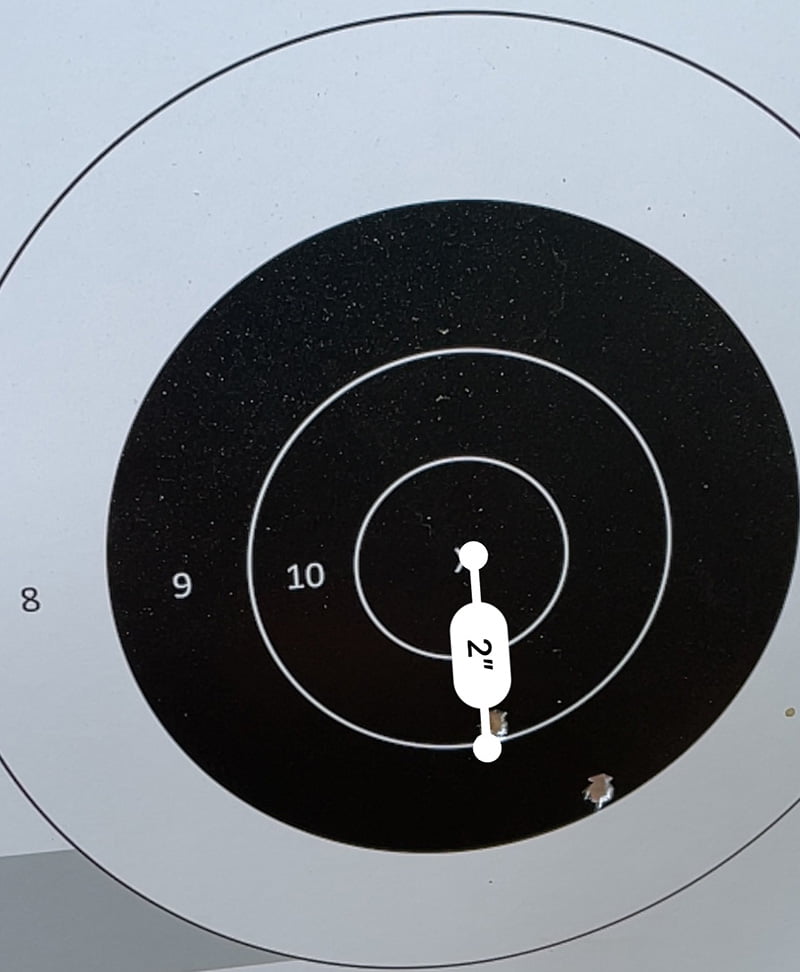 The third adjustment got within an inch of dead center.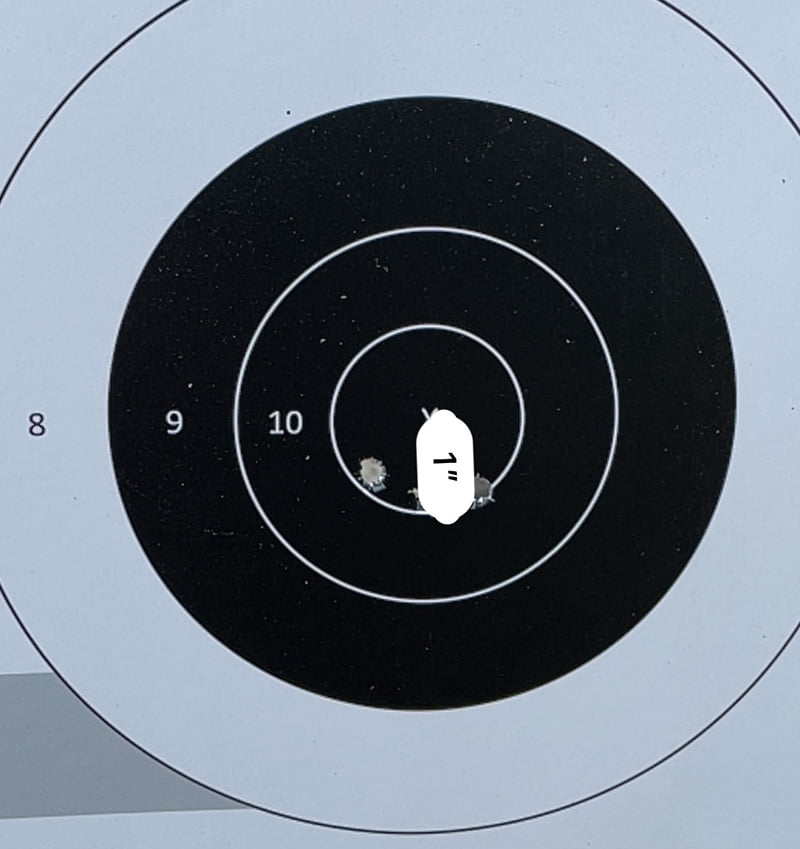 I ended up with an outstanding group, I felt, from about 50 yards.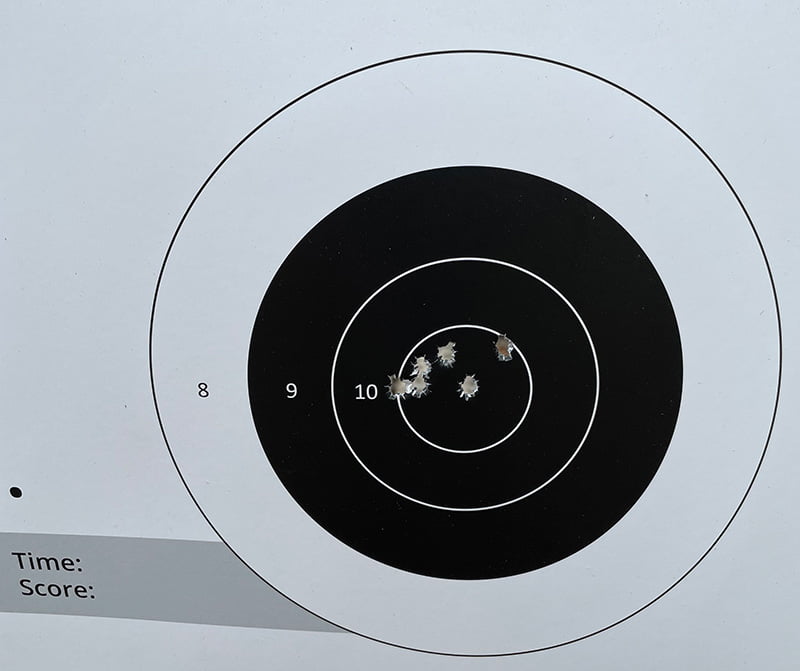 Power source
The power source is one CR2032 style battery. This is pretty standard in these types of red dots.
So keep a good number of them on hand, because you never know what can happen.
The Primary Arms SLx MD-25 has a battery life duration is between 12,000 and 50,000 hours.
Primary Arms says that you can get 50,000 hours of continuous use out of this optic on the medium setting. So either setting five, or six.
Durability
Durability on this optic seems really good. The caps are extremely protective and it has an all-aluminum construction.
I obviously haven't dropped this optic, beat it up, or put it through a torture test.
But aside from actually breaking the lenses, dropping it doesn't seem like it's going to destroy it. It seems like it will hold up very well.
I have not yet determined the criteria for durability testing, but I'll run all the optics that we've reviewed back through those criteria of testing as soon as I do.
Primary Arms SLx MD-25 Sight Picture
The sight picture on this optic is actually surprisingly good.
At first, I was a little iffy because the knob on the left-hand side for the brightness adjustment sticks out kind of far. So when you first pull up your firearm to shoot, you have this huge brightness knob sticking out there.
The turret knobs on the top and right are fine, but as soon as you look just to the left of the firearm, there's the brightness knob.
I was a little distracted at first. Now, when I made that assessment, I had not turned on the reticle yet, so I was looking through clear glass.
When you turn on the reticle, your eyes are no longer drawn to the brightness knob.
If I had one critique of this optic, it would reduce the size of the brightness knob.
It could be a quarter-inch or so smaller, making it more compact, so it wouldn't stick out quite as far.
That's the only critique I have so far.
Otherwise, sight picture's great, target identification is quick, staying on target is easy as can be, and overall sight picture is perfectly fine.
Mounts and Mounting Options
The factory mounting options on the SLx MB-25 are excellent for this price point.
Included in the box is a flush mount and two different levels of risers, and then, a one-third co-witness mount.
But the mounting options it comes with are actually one of the primary selling points of this optic. So you don't have to go around your elbow to find a good optic mount that works and solves your mounting needs.
Primary Arms SLx MD-25 Conclusion
In conclusion, the Primary Arms SLx MD-25 micro red dot sight with the ACSS CQB reticle is probably the best bang for your buck at $189.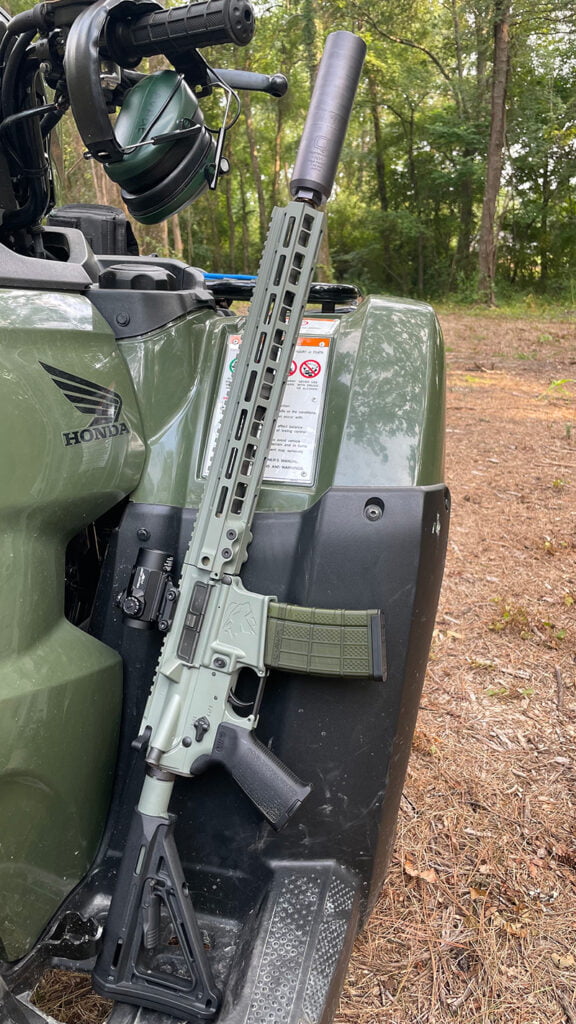 I can't think of another sight I'd recommend at that price point. We do keep our best red dot sight guide up to date so that's subject to change.
The weight, reticle, design, function, and ease of use are big pros for this optic.
I would highly recommend this red dot sight to anybody. Even if you were looking at the next tier into the $200 to $300 optics, this is probably a contender and could save you a little money.
Primary Arms SLx MD-25
· 2 MOA Dot ACSS Reticle
· 50,000 Hours Battery Life Mid Setting
· 11 Brightness Setting
· Included riser block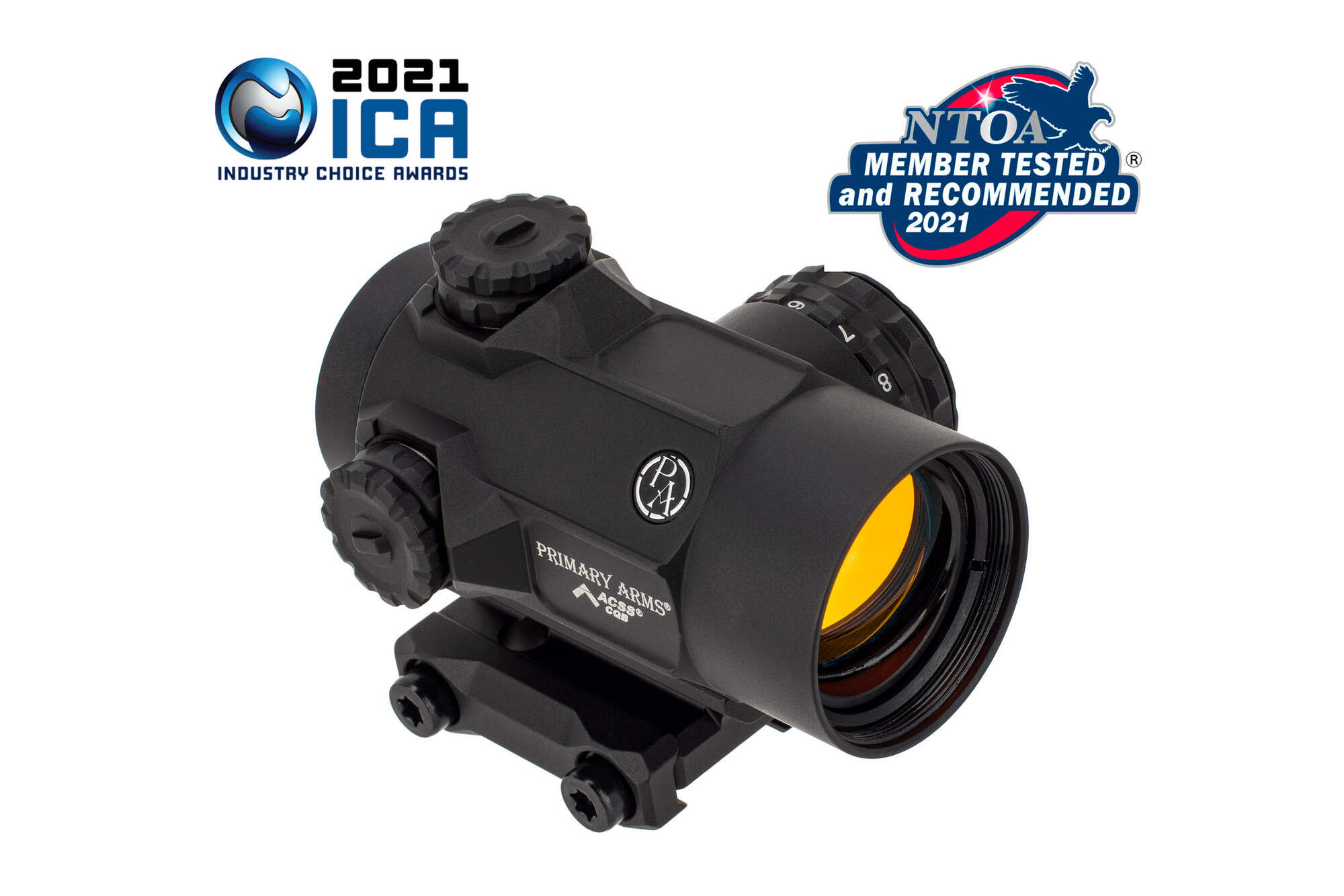 It doesn't have some of the shake awake style features that some of the other optics in this field have.
Still, with the 50,000-hour battery life on medium and as bright as the medium setting is, I have no issues recommending this optic over something with other features that would save your battery.
Top this optic off with its lifetime warranty, and I think this is potentially the best bang for your buck in the red dot optic market right now.
If you want to check out something else awesome from Primary Arms take a look at their SLx 1x MicroPrism optic. If you are looking for an optic with a bit more magnification we reviewed Primary Arms 3x Prism Scope.
Primary Arms SLx MD-25 Review | Primary Arms Red Dot Optic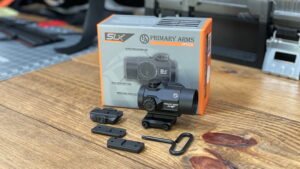 Our full review of the Primary Arms SLx MD-25 covers battery life, the reticle, and over all design of this red dot optic by Primary Arms.
Product Brand: Primary Arms
Product Currency: USD
Product Price: 189.99
Product In-Stock: InStock