Having armor, typically just referred to as "kit", is becoming ever more popular and is also becoming more and more practical. So it's no surprise that RTS Tactical has taken to making some awesome armor products.
Body armor has always been viewed as something that just military and law enforcement need but in a true SHTF situation there's no reason you also shouldn't have body armor.
There are two different kinds of armor: soft armor and hard armor, also known as plates.
This review is about the RTS Tactical active shooter kit, which is a plate carrier with plates combo made by RTS Tactical.
Features
Like any product, the Active Shooter Kit has a set of features and I'm going to talk about them each a little more in-depth here.
Each of these features is important and if we don't address one of your questions feel free to leave a comment below and we will do our best to give you a quick and straightforward answer.
Shoulder Straps
The shoulder support system on the Active Shooter Kit is where I want to start because it is what sets this plate carrier apart from others on the market.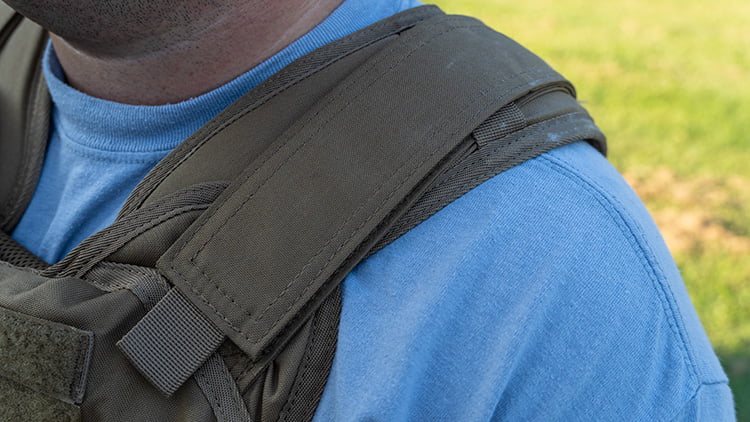 The shoulder straps on the Active Shooter Kit are more than what you'd find on most carriers at this price point.
They provide a decent amount of comfort while still bearing the weight of the steel plates. These straps are extremely well done and nicely padded.
MOLLE
This plate carrier has MOLLE platforms everywhere. So you can customize it to your liking with magazine holders, medical kits, or a holster.
MOLLE is still one of the most versatile platforms on the market today and with its universal configuration options, you can really do anything with this kit.
Mesh Internal Lining
The inside of the carrier has a solid 3D mesh liner that allows for the carrier to come off the body and allows airflow to get around the carrier to try to keep you cool and dry.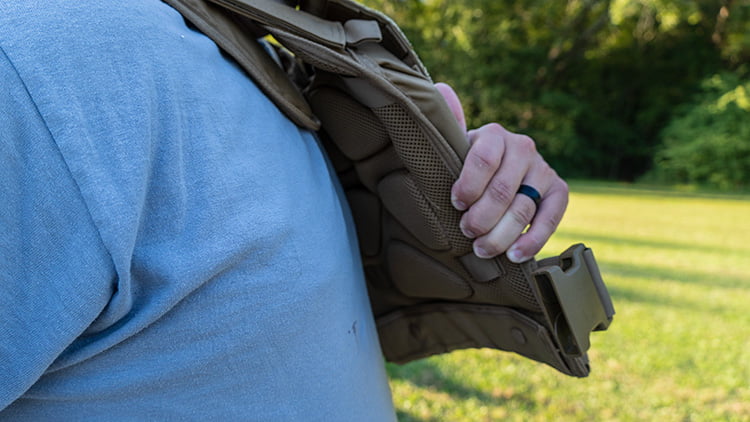 The 3D portion pushes out and the mesh allows air to flow freely. While it works well you'll likely still get hot, but anything that helps is welcomed!
Cummerbund
The cummerbund on the ASK is really easy to use and adjust and makes for an extremely secure fit.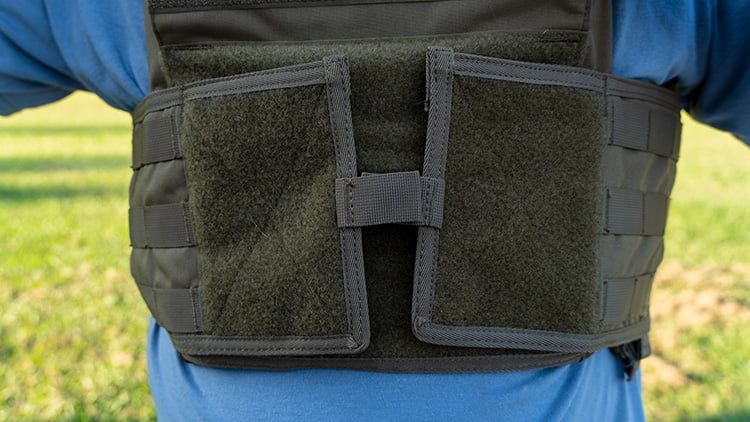 This cummerbund design has two side pouches attached with molle that are made for holding side plates. I don't currently have any side plates so I removed them to cut down on weight and unneeded bulk.
It's extremely easy to adjust and get a comfortable fit with this carrier.
Vest Quality
Being in the sewing industry we tend to look at and for things different than most people.
We know where a lot of failure points are and what the "industry standards", or norms are. So we likely will be more critical of quality than most people.
With that being said I was surprised at the quality of the RTS Tactical kit overall. While it, unfortunately, is not Made in the USA, like our products, it still is done well and doesn't have a ton of extra features that exist simply to exist or look tacticool.
So, credit where credit is due, this vest does seem to be of decent quality and packs some really solid features.
Wearing
Wearing the Active Shooter Kit is extremely comfortable upon first putting it on. The true test for any kit is wearing it in real-life situations such as long hours and running/moving.
Active Wearing
I have been wearing this active shooter kit while running and doing shooting drills for several months. I wanted to give it a solid amount of testing before reporting back so I could give honest and accurate feedback.
While I don't have a lot attached to my active shooter kit I do think I have a reasonable amount of use out of this kit while also being active.
I wanted to run, shoot, and use the kit in real-life situations before recommending it because that's the only right thing to do.
I would often wear this kit on while running which usually consisted of running/walking for 30 minutes. While I don't have a great running pace I did see how well this carrier held in place while running.
I never ran it with a rifle slung so I don't have any feedback on that but I did run some shooting drills with a pistol and the plate carrier and it did great.
Armor
The armor is one of probably the most controversial topics of this review. These are coated steel plates and there is a lot of controversy around coated steel plates vs ceramic. I'm going to dive into this a bit more.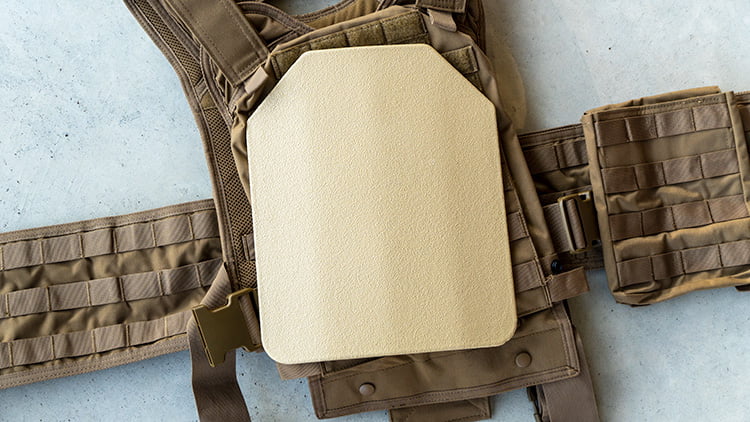 Steel vs Ceramic
The steel vs ceramic debate is as old as time and while ceramic plates clearly win in almost all categories steel is affordable and the coatings have come a really long way.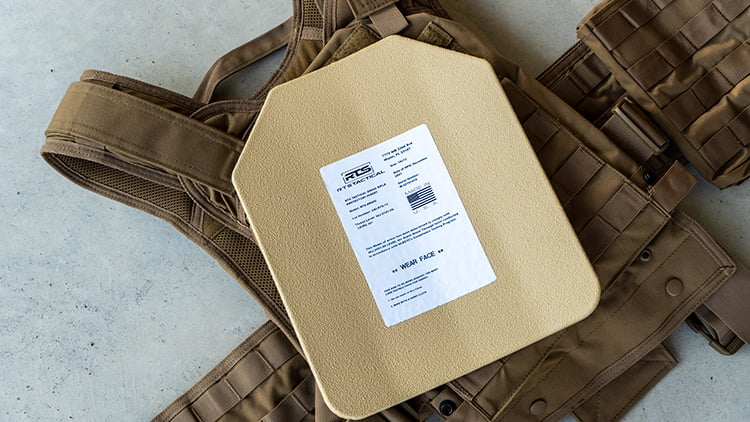 The biggest issue with steel isn't the increased weight it's the chance of spalling. Spall is the copper and lead portions of the bullet that break apart upon impact and become flying projectiles.
The obvious risk with this is lodging metal into the body of the person the armor is supposed to protect.
While some coatings at first didn't fair very well it has come a long way. While ceramic is still the lightest and most effective armor the testing done by RTS Tactical and a number of others shows how well it holds up.
With that being said all plates will fail at some point. There is no impervious plate on the market, it doesn't exist. Shoot something enough it will fail.
The best video of this that I have seen is Mike's (aka MrGunsandGear)
RTS does offer ceramic plates and they even have an Active Shooter Kit that has ceramic plates, which if your budget allows I highly recommend upgrading to ceramic for weight reduction and almost complete elimination of spalling.
Weight
The vest without the armor comes in at a lite 3.6 lbs. But vests aren't made to be worn without armor so the true weight of the vest and armor.
The overall weight of this vest is somewhat on the heavy side but it does provide a good amount of protection for the weight.
Again, if weight is a big issue go for the ceramic plates and you'll be good to go.
Conclusion of the RTS Tactical Armor Kit
Having kit isn't 100% necessary but it is something I would consider heavily once you have your guns set up and ready to work.
If you are in the market for armor you know there are a half million options for not only plate carriers but also armor panels. I personally would highly recommend RTS's tactical armor kit for nearly anyone's needs.
While this kit is steel they do have ceramic and if spalling and/or weight is a major concern grab the ceramic RTS Tactical Armor Kit over the steel version.