Smith & Wesson seems to have been avoiding releasing new metal frame guns for a few years now, I can't blame them since the striker fire polymer guns have been all the rage.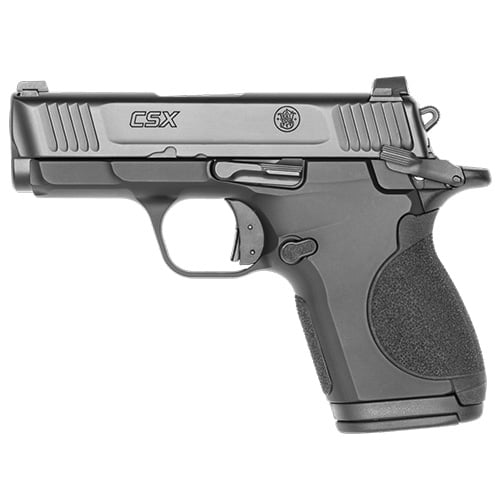 Features
Features are what make you tell all your friends about your latest purchase and the CSX seems to check a lot of boxes that other guns don't.
So I'll dive into some of the features of this gun and why you should or shouldn't pick up the S&W CSX.
Grip/Ergonomics
The grip on this gun is the first thing that catches my eye before I even pick the gun up.
A lot of guns these days don't have a lot of flat smooth surfaces on the grip frame itself, and that's because they want texturing to help control the gun.
That's somewhat of a misnomer, but I won't get into that right now.
I'm just going to talk about the grip and ergonomics of this gun.
When you first pick up this gun, it actually feels really good.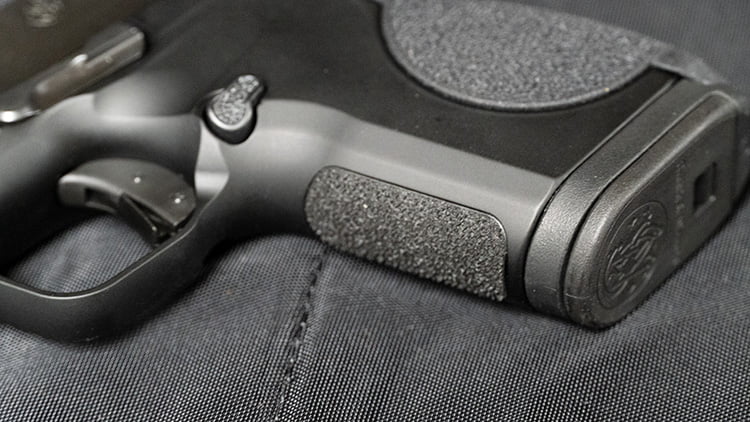 The weight itself is a little surprising if you're used to polymer framed pistols because at first, this gun looks like it's polymer-framed, but it's absolutely not.
It has a metal frame, and polymer back straps on the grip, which I'm going to talk about more in just a second.
The overall ergonomics of this gun are really good. To me, it feels fantastic in the hand. It's a really small, tight, compact package, that feels great. Smith and Wesson did a really fantastic job overall with this gun when it comes to the grips.
Grips & Texturing
The grip itself, as I said before, is a bit different because 70%-75% of the grip face has no texturing on it at all.
The parts that don't have texturing are parts your hand does interact with on the pistol. So not having texturing is extremely rare on a subcompact pistol.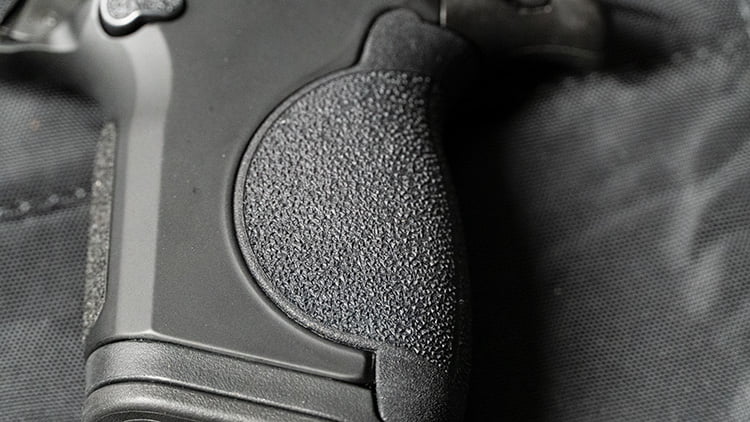 Most companies try to get the most abrasive texturing possible on pistols this size. This only has texturing on the front of the grip, and then you have a back strap that you can actually change out.
The stock back strap is the midsize, and the one that you can change it out to that's included in the box is the large.
If you have larger hands, that may feel better in your hand. Overall, the grip is pretty solid.
Sights
The sights on the CSX are nothing really to write home about. They're your standard three dot configuration, two white dots in the back, and one white dot on the front.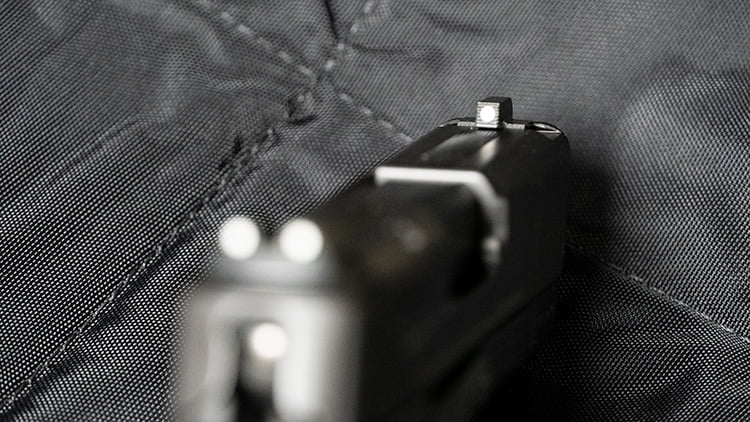 They aren't night sights, which is not a big deal to me. They are relatively low profile, but they do go well with the gun.
As of this writing, there's not much aftermarket support for sights yet for the CSX.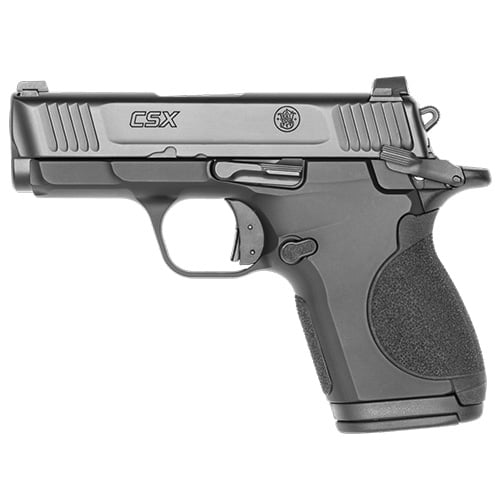 Controls
Controls will quite literally determine your relationship with any firearm you purchase.
If the controls are sub-par you'll likely not love your new purchase. Here are my thoughts on each of the Smith & Wesson CSX controls.
Safety
The safety on this gun is at the rear of the gun just below the hammer. I like the way Smith & Wesson designed and implemented the safety.
I am not a thumb safety person, but this safety works really well. Either way you're going, whether you're putting it on safe or you're putting it on fire, it just works.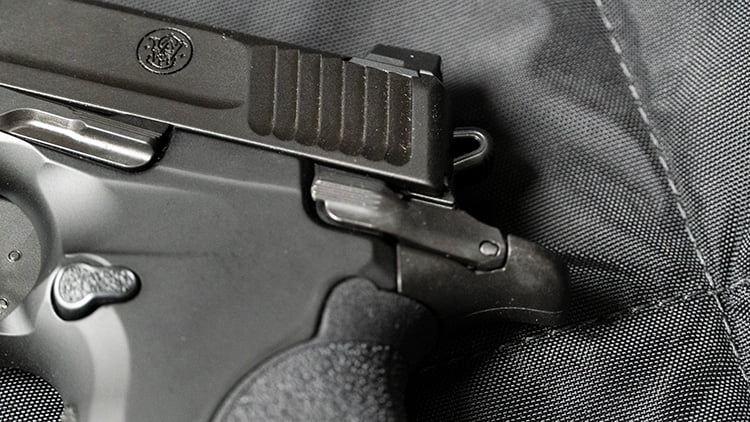 It's very fluid. I like how they designed the actual safety selector.It is smooth and easy to use it is.
Overall, I don't like safeties, but the S&W CSX safety, if you're going to have a safety, this is probably as good as you can ask for.
Magazine Release
The magazine release on this gun is relatively small. The overall package of the gun is small, so you can't expect these controls to really stick out and be really large.
However, this gun does lack a lot of texturing. The magazine release does have texturing on the face of it.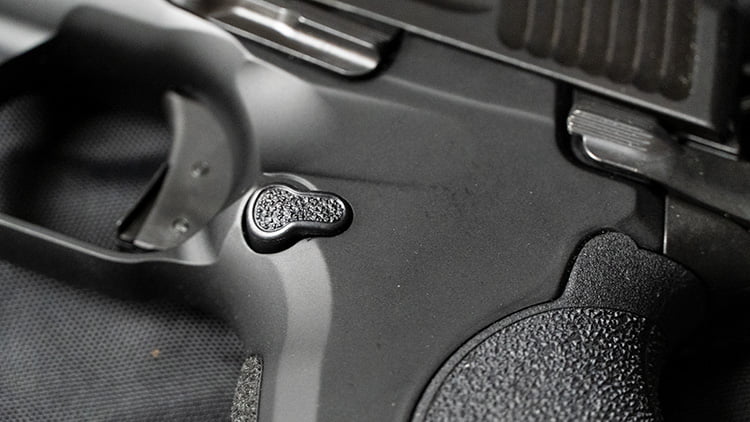 While it is small, it works well. It's just a small push button design and it's kind of a odd shaped circle oblong type setup.
When you press it, the magazine does come out relatively easily.
The CSX comes with metal magazines but I don't quite understand what Smith was thinking. You get a 12 and 11 round magazine with this gun.
I don't understand why they just didn't give you two 12 round magazines, but nonetheless, that's what you get with the Smith and Wesson CSX.
Slide Stop
The slide stop on this gun is ambidextrous, which I like.
Personally, when I have an ambidextrous slide stop, I almost always default to pulling down on both sides.
I don't know why, just a habit. I don't know if it's "proper", but either way you go, whether you do one side or both, the slide stop is easy to use, very easy to pull down, send the slide forward, very easy to push up.
This gun is so small and compact that even for my, medium-sized hands, I can reach all of these controls with no adjustment whatsoever.
That is one really, really nice function of this gun in my opinion, is the fact that you don't have to adjust your hands to work every function of this gun from the trigger to the slide stop to the safety, to the mag release.
I can reach them all. Granted, this is a tiny pistol, probably like a noisy cricket, but I really like that functionality.
Hammer
It is no shock that I'm not a huge fan of exterior hammered pistols.
That being said, I'm not going to allow my bias to take away anything from this gun because of a hammer.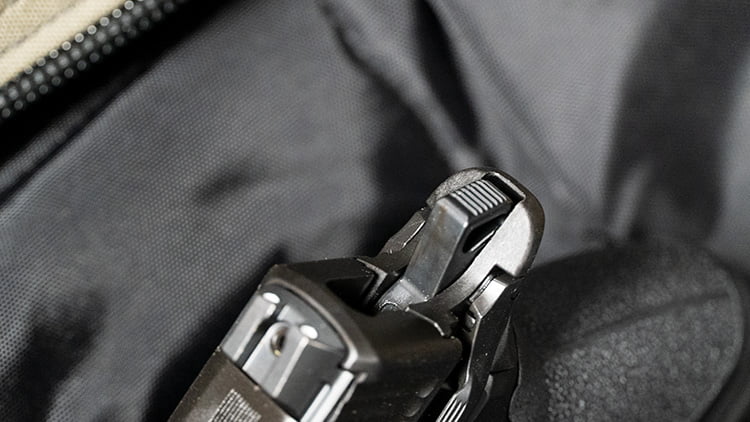 When I first put my hands on this gun, it didn't immediately register to me that it was a hammer-fired gun.
"What?!", you may be asking, "the hammer's right there", I know… I know.
It was just the feeling I got when I picked it up and didn't scream I'm a 1911 or this is a hammer gun.
But it is and it works fantastic. It's a single-action pistol but since the hammer is so tastefully done I just treat it like any other striker fire semi-auto pistol.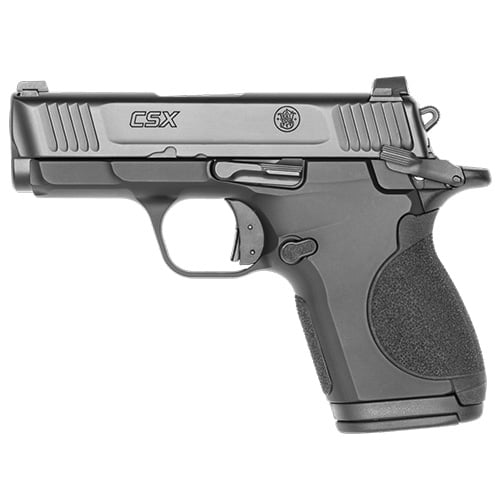 Trigger
Moving on to the trigger, which is interesting. I want to like this trigger.
I don't know why. I don't know if it's designed, the almost 1911 style looking trigger, but on a pivot, I want to like it, but it's just, it's okay at best.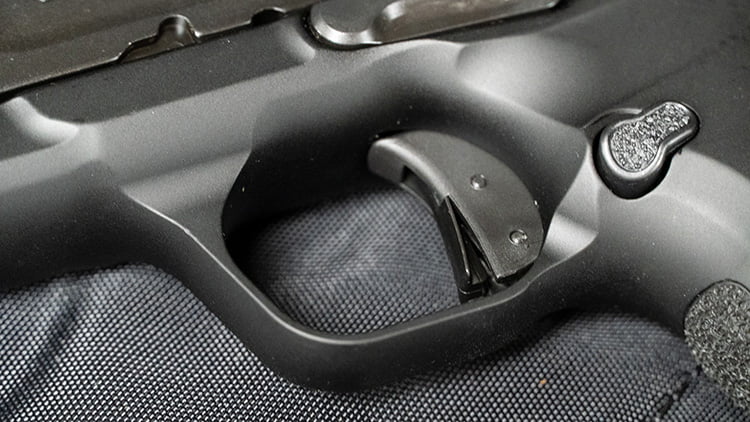 The reset is awful. There's a wall, but the break is just so, I don't even know what to tell you, it's just in between.
I don't like this trigger even though I want to. I want to like it, just the trigger snob in me won't allow it.
But please, by no means take that as you shouldn't buy this gun. The trigger functions well.
It's just if you are somewhat of a trigger snob, which I'll call myself out on and call spade a spade, you won't love this trigger.
It'll shoot. It shoots fine, but it's just, if you like clean, crisp, if triggers are your thing, this won't be your thing.
Range Bag
Gonna take your CSX to the range, you're going to need to shoot the CSX.
You're going to need to go to the range.
What you need to do is once you get your CSX, you need to go over to our pistol bag section and check out the pistol range bag and the Concord.
We've even got some really cool stuff coming up that we're going to release before Christmas.
Can't spill the beans yet, but it's cool. It'd be the perfect CSX range bag.
Go check out our range bags and, as always, our bags are 100% made in the USA and you get what you pay for.
Accessories
The accessories for the CSX are a bit slim pickings right now. Since this gun is so new to the market you'll be hard-pressed to find lots of accessories.
Sights are almost nonexistent and the only thing you can really find for the CSX right now are holsters.
If you are looking for a S&W CSX holster, check out Harry's Holsters Singleton.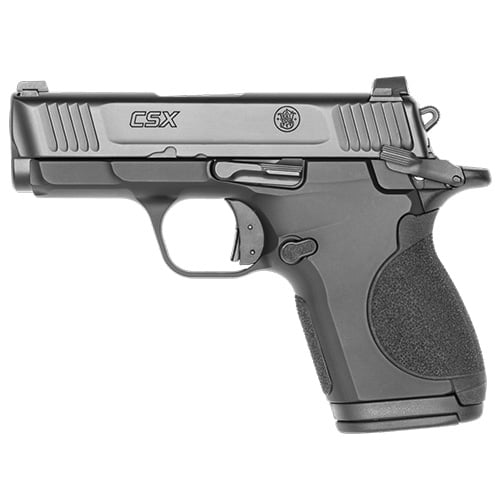 Aesthetics
I think the Smith and Wesson CSX aesthetics are really what drives people to want this gun.
Smith and Wesson made this gun look good. I mean, I think they took the M&P series, said, "Hey, we're going to make a really compact hammer fired gun with a metal frame," and this is what they came up with.
I've got to say, good job. I mean, for these massive conglomerate companies like Smith and Wesson, Remington and other big companies, innovation isn't always their thing.
The smaller companies are usually the ones that are testing the waters on things and Smith & Co tends to do the tried and true methods of guns.
They dropped some cool stuff here and there, but overall they don't really innovate much.
The CSX is a really good looking gun with clean lines and the cuts with an attention to detail.
I like the effort that they put into the CSX. I like what Smith's has done with the appearance of this gun and I hope this is where they continue to go and I hope they refine this and make more of this.
Final Thoughts
My final thoughts on the CSX are this is the black version of the noisy cricket that was in the Men in Black movie.
No doubt. It's tiny and has an extremely short barrel. It's a great get-off-me gun.
It's got a little oomph to it so if you want a gun that feels like it's still a gun, it's not a bunch of polymers.
I'm a Glock fan boy for anybody who has polymer guns that's going to rip me in the comments. I own them. I love them. They're my bread and butter.
But you should definitely grab a CSX and try one for yourself and then go buy one if you end up liking it.
Overall, I think it's a great gun. Can't really go wrong with the CSX.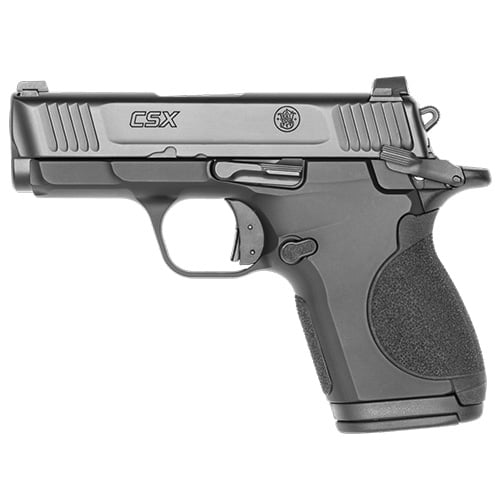 FAQs
Since this is such a new pistol I'm sure you have lots of questions here are the questions to some of the most common questions asked about the new CSX.
If you want a second opinion on the S&W CSX take a look at this Smith and Wesson CSX review.
When did Smith and Wesson CSX come out?
The Smith & Wesson CSX was released in January 2022.
What caliber is CSX?
The Smith and Wesson CSX is a 9mm Luger pistol.
Is the S&W CSX a 1911?
No, the CSX is similar in design to a 1911 but is not a 1911 pistol.
Is Smith and Wesson CSX California legal?
No, the S&W CSX is not on the unconstitutional California gun registry.