The Walther PDP is one of the newest Walther pistols to be released. It is a pistol that has received some really strong praise and in this Walther PDP review, I'm going to see if the hype is worth it!
Walther PDP Features
One of the key things that set the Walther PDP apart from other polymer-framed pistols in the market today is its feature set.
From the get-go, this gun does come with some really, really nice features and at its price point of $650, it does come feature-packed.
So let's go ahead and jump in and start with the grip and the grip ergonomics.
Grip/Ergonomics
The grip is one of the things that really stands out, not only from a texture point of view but actually from an actual grip point of view.
Let's address the texture overall first. Walther has created what's called the performance duty texture.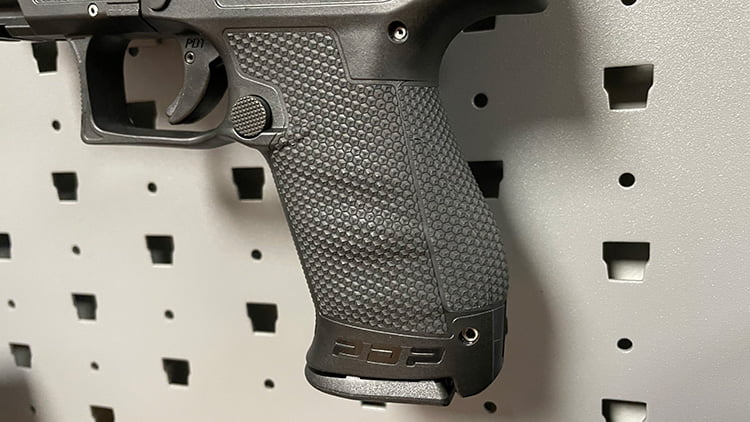 I can't quite explain what it looks like, but they're little hexagons with almost like a triangle in the middle and it's probably one of the better grip textures from the factory.
I'm quite used to the Glock texture, but this one is abrasive. Not overly bearing, but extremely grippy. I do like that. I like it a lot.
The other thing to mention is there are almost like finger grip grooves on the side of this pistol, built into the grip itself.
Some may like that, some may not. I personally like it. I think it contours to how you grip the pistol.
It also adds a little bit of a nice aesthetic to it as well, this gun in your hand feels right. That's the only way I can explain it. To me, Walter just absolutely 100% nails it.
The PDP has removable backstraps, much like the Glock does, the backstrap that comes on it is the medium-sized backstrap.
The PDP comes in three sizes and the small and the large are included in the box.
Personally, the medium for once is the perfect size for my hand.
I have the Walther PDP compact, and with the medium grip, it will be perfect for a person with an average size hand.
Now, if you have large hands, you might want the larger backstrap and if you have smaller hands, or are a female shooter, you might want the smaller backstrap on there.
The one con I will say about the Walter PDP is strictly aesthetics. It doesn't have anything to do with performance or the overall feel of the gun.
But the roll pins in my particular PDP are stainless steel and silver. Nobody bothered to touch them or coat them or do anything to them, they're clearly just rolled roll pins and they stick out like a sore thumb.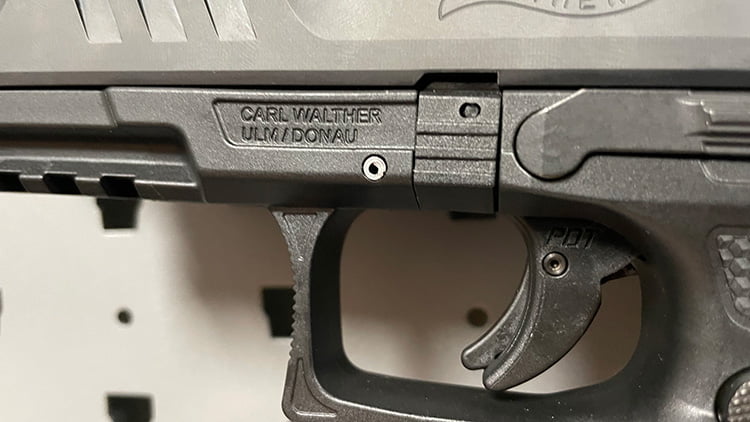 I'm not sure why Walther wouldn't just dab those maybe with even some kind of marking tool, but they do stick out.
So they are going to get gigged in the aesthetics section for just that in particular.
But overall, the grip, the feel of it, is great.
Sights
The sights that come on the PDP are okay. They don't impress me very much.
The one thing I guess I'm going to have to gig them on is, that this is an optics-ready pistol and if you put optics on this, any kind, RMR, an acro, it doesn't matter, these sights are useless after that.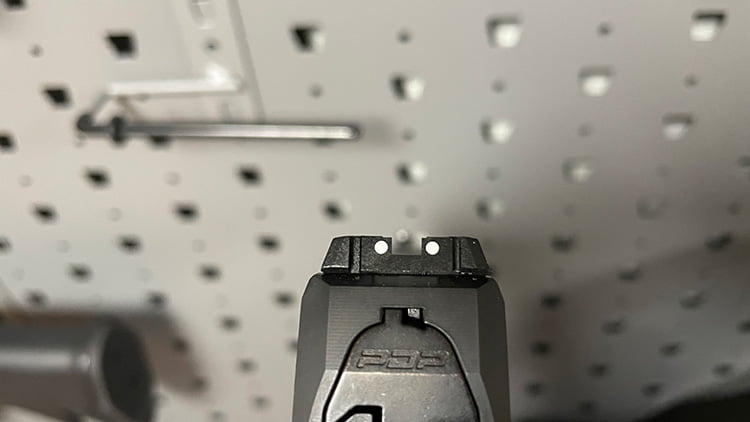 They are not suppressor height sights and you're not going to be able to co-witness them at all.
You're not going to be able to do anything with the stock sights once a red dot sight is mounted.
But let me talk about using them without a red dot. The rear sight is adjustable and comes with a small tool to adjust it.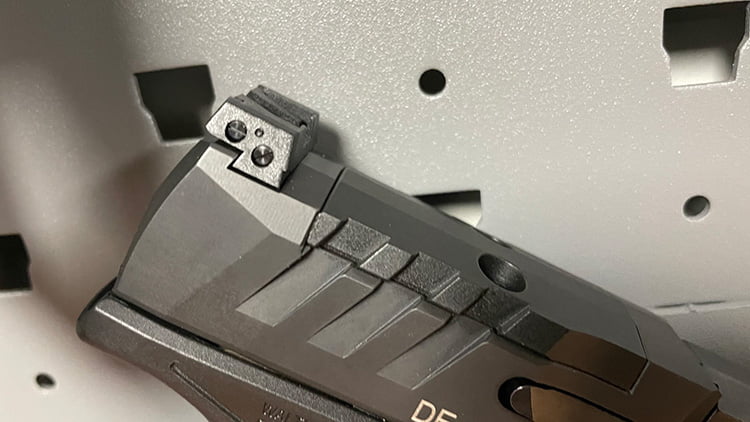 As far as how the sight looks in the sight picture, they're not bad.
They do fit this extremely blocky frame well. They're not my favorite sights, I'm more of a no rear dot guy, single dot in front, but they don't suck either.
So keep that in mind that they aren't night sights and if you're going to throw an RDS on this gun, the sights are irrelevant.
I plan to throw an RDS on here, so I don't really care about the stock sights. But it's only fair to mention it for people that are going to run this as a regular pistol.
Magazines
The gun comes with two steel magazines.
They're not bad in terms of construction and quality.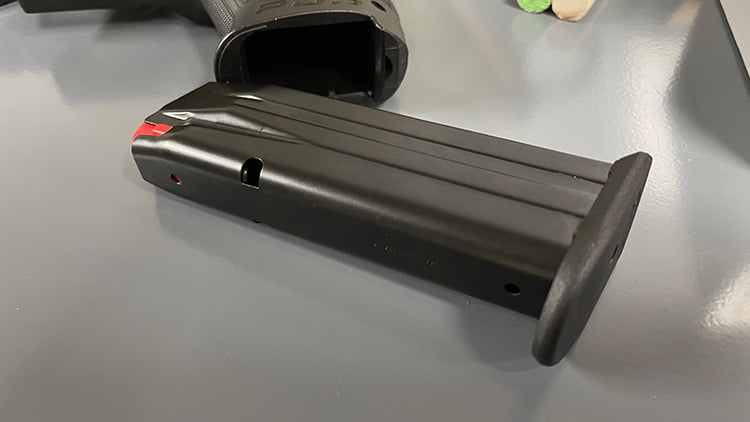 The PDP Compact comes with 15 rounder magazines and I believe the full-size PDP comes with 17 round magazines.
You can buy adapters for the PDP magazine that fill the gap if you put a 17-round magazine in your compact.
The magazines are steel but the base plate is a polymer.
Overall, when you place it in the gun, it does sit flush, it looks really good, and it doesn't have any snag points.
I have no complaints. As I said, it does come with two. They seem to be high-quality magazines.
Controls
Now I'm going to talk about the actual controls of the pistol.
Walther didn't reinvent any wheels when it comes to the controls, there are no wild rear triggers or anything crazy.
But to have a comprehensive Walther PDP review we need to go over the same controls, magazine release, slide stop, and the trigger.
Magazine Release
First and foremost, the magazine release is in the same spot as nearly every magazine release, with the exception of HK, because they have to be different.
It is located where the trigger guard meets the grip frame. It's a big, fat, giant circle and I have to say, it's pretty awesome.
If you're right-handed your thumb literally just falls into place. It's very easy to depress. It sticks out far enough to where it's very easy to hit and release your magazine.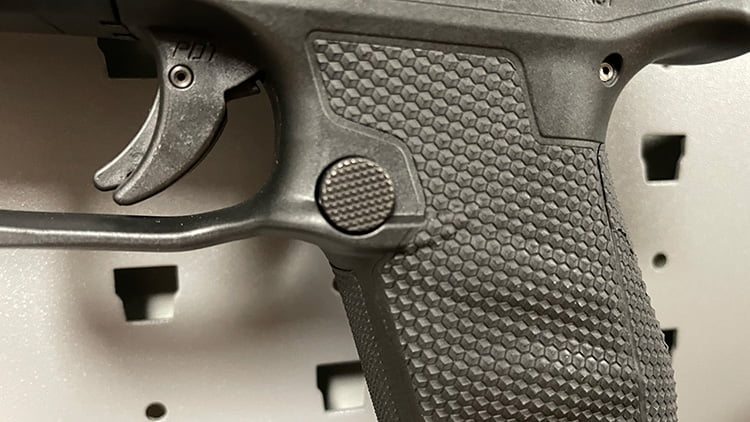 The magazine drops free immediately. There's no snagging. There's no jarring. I really like the magazine release.
Fantastic execution on that. It does have a nice little texture to it so your finger can get a grip on it.
There is a slight ledge underneath it and I think that's part of the reason I like this magazine release so much, is because when you press down, you can almost just press downward towards the ground because your finger is going to catch that ledge.
It's almost like the ledge pushes your finger back into the magazine release, dropping your mag.
So you can't really accidentally slide off of it or miss it. That ledge really helps. I'd like to see more companies do this. So spot on, Walther. Good job.
Slide Stop
Moving up to the slide stop/slide release. This thing is massive!
With that being said, I love it. You can't miss it. No matter how big or small your hands are, this thing, you're going to have a spot where your thumb can easily push or pull on it.
It's probably two inches long and it's ambidextrous. So you can push up, and pull down on both sides, it's very fluid, with very little resistance when you go to pull it down or push it up to lock the slide into place or to release the slide.
Overall, this thing is great. The controls so far are really what has sold me on this gun. I love the slide-stop lever on this gun. That's a massive slide release, and you can't go wrong with a big old fat slide release.
Trigger
So let's jump into the trigger. They call it the PDT, which stands for performance duty trigger.
Apparently, this is a huge improvement over anything they've done before, according to Walther.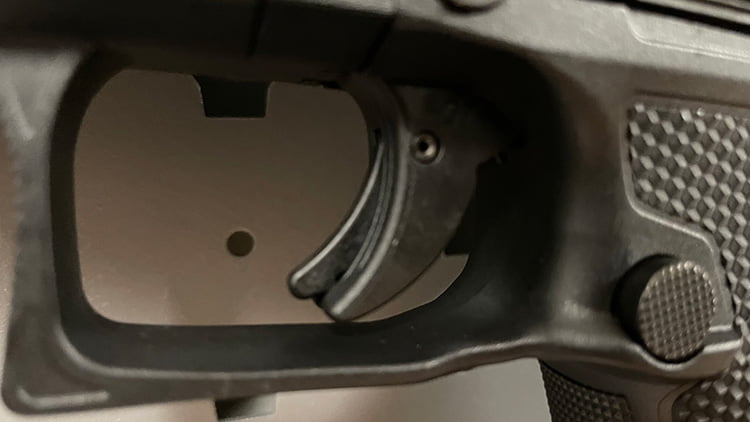 The trigger looks very similar to the Glock safe action trigger. The middle has a ledge where you clearly need to depress to activate the trigger safety.
There is no external safety other than that.
The take-up is interesting. So the take-up is smooth. It takes you all the way back to the wall. This trigger's a little different than most because there's no resistance once you start the take-up to the wall.
You go straight to the wall, it is a crisp, clean break. The reset is just to the wall. You're going to have a little bit of take-up back to it, but no resistance.
There's literally no resistance whatsoever. It's actually a pretty nice trigger.
It's different, you definitely have to put your hands on it. It's one of those triggers you need to pull to understand it because I don't think there's anything quite like this out there.
This thing, literally, you can take it all the way to the wall with no resistance whatsoever.
This is a very interesting trigger.
Range Bag
Of course, you need to go grab your favorite Lynx Defense Pistol Range Bag for your Walther PDP.
It will fit. It works great. You'll love it.
Go check out the black multi-cam, go check out the regular multi-cam, and grab yourself a splatter if you're feeling like you're from the '80s.
Nonetheless, go grab yourself a Lynx Defense range bag!
Aesthetics
So Walther is well-known because of James Bond. We can talk about the PPK or more closely the PPQ about whatever Walther comes to mind, but how do they look?
Well, it's blocky, it's a Walther.
They didn't stray from the typical blocked Walther look, there is some very nice touches that Walther did on this to make this more aesthetically pleasing. I think this gun looks fantastic.
You don't see it very often, but there are a lot of straight lines on this gun. And that's something that Walther has really stayed true to. I personally really like the look of this gun.
I think the serrations are great. I think the grip texture looks fantastic.
The front of the gun where the barrel and front of the guide rod are is incredibly flat, and they clearly did that on purpose.
Overall, Walther did a great job on the look and feel of this gun.
Accessories for the Walther PDP
So let's talk about some of the possible accessories. First and foremost, you're going to need a holster.
Holster
Walther PDP holsters are pretty common nowadays. You can get them from any of your favorite holsters.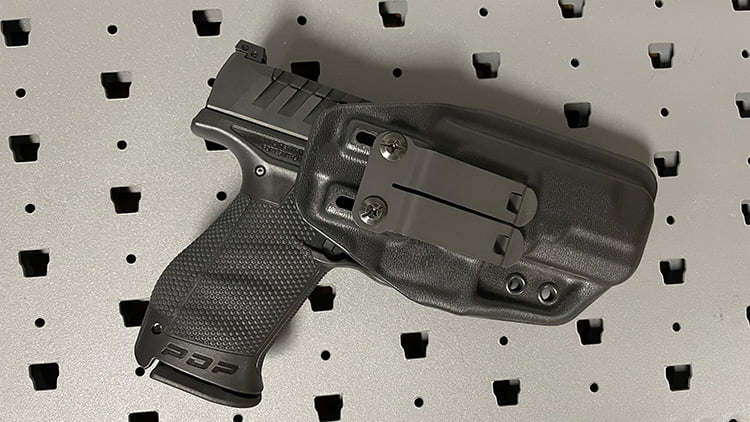 If you're looking for inside the waistband, I highly recommend the Harry's Holster Singleton.
If you're looking for outside the waistband, you might take a look at something like Alien Gear, or the millions of other options out there.
Pick your flavor, they're probably going to have the Walther PDP. This gun has been a hot seller across the board and I can understand why, because it's no slouch.
Optics and Optic Mounts
First things first, you're going to need a mounting plate for this.
That's one of the biggest cons I'm going to tell you about the Walther PDP. It does not come with any of the mounting plates.
You will have to jump on Walther's website and fill out a form and they will have to mail you a plate for your optic.
So be sure whatever optic you want to go with, you know you are going to be happy with, because as far as I know, they'll only give you one plate.
Now I've not tried to get two, but because I didn't want to find out I got the RMR plate because it's the most common mounting pattern. It'll fit most red dot sights out there, so that's what I got.
Now, I will give them a little bit of credit. While they don't include it, it does come very quickly.
But again, this is not a gun you can buy and throw an optic on it literally the same day, unless, for some magical reason, you already have the plate.
So that being said, you are going to have to contact them. You will have to give them your serial number. This means you are registering your gun with Walther to get a plate.
No big deal to me, but that's just something to keep in mind with this gun.
Now, almost any red dot sight is going to fit this once you get your plate.
Overall, no big deal. I haven't mounted an optic to it yet, but I do have my plate and I will be mounting it for this review.
Flashlights
Walther has a Picatinny mount on the front of this gun and any pistol flashlight is going to do, no matter if you want your SureFire X300 or a Streamlight, or your Modlite.
Pick your poison, it's going to fit on this gun. The only caveat to that is finding a holster with compatibility for the Walther PDP and the flashlight of your choice. That's going to be really your drawback there.
Ammo for Walther PDP
Looking for the perfect ammo for your Walther PDP? I've found that nearly any 9mm round will run great in the PDP. I personally should round nose 115 GR rounds at the range and hollow points for my defense ammo.
Here are some other great options for in-stock ammo for your Walther PDP.
Final Thoughts
My final thoughts on the PDP are this…
I think this gun is fantastic. I think it feels great in your hand. I think it shoots great. I think the feature set is fantastic. It comes red dot ready. The serrations are fantastic. The look is fantastic. The overall feel is fantastic, and the features are great.
I don't think you can go wrong.
I think the price point is borderline high, but at the same time, when you include this many features, you can expect to be charged more and command a higher price point.
So I don't think that the MSRP of $699 is high. I think it's right on point, plus you can easily find them in the real work for $650.
Anybody out there looking for a different gun, not necessarily just a Glock, or if you're a Walther fan, you already know that they're not going to steer you wrong.
So I would recommend Walther. I would have no problem carrying this gun on me as an everyday carry pistol or my concealed carry pistol.
I would have no issues with that whatsoever. I have no concerns for safety and/or function. I highly would recommend the Walther PDP.
Walther PDP FAQs
Is the Walther PDP a good concealed carry gun?
Yes, the Walther PDP Compact is a great size for concealed carry for IWB or OWB concealed carry this gun will work great.
Is the Walther PDP accurate?
Yes, the Walther PDP is an extremely accurate pistol.
What is the difference between Walther PDP and PPQ?
The Walther PDP is said to have a better grip than the PPQ.
The Walther PDP comes optics ready and the PPQ does not.
The guns have two different sized frames and the PDP has backward-compatible magazines from the 17 round to the 15 round.
Is the Walther PDP +P rated?
Yes, per the Walther PDP manual running +P ammo is perfectly fine.
Glock 19 vs Walther PDP
If you are considering these two pistols be sure to checkout this comprehensive video of the Walther PDP vs the Glock 19.