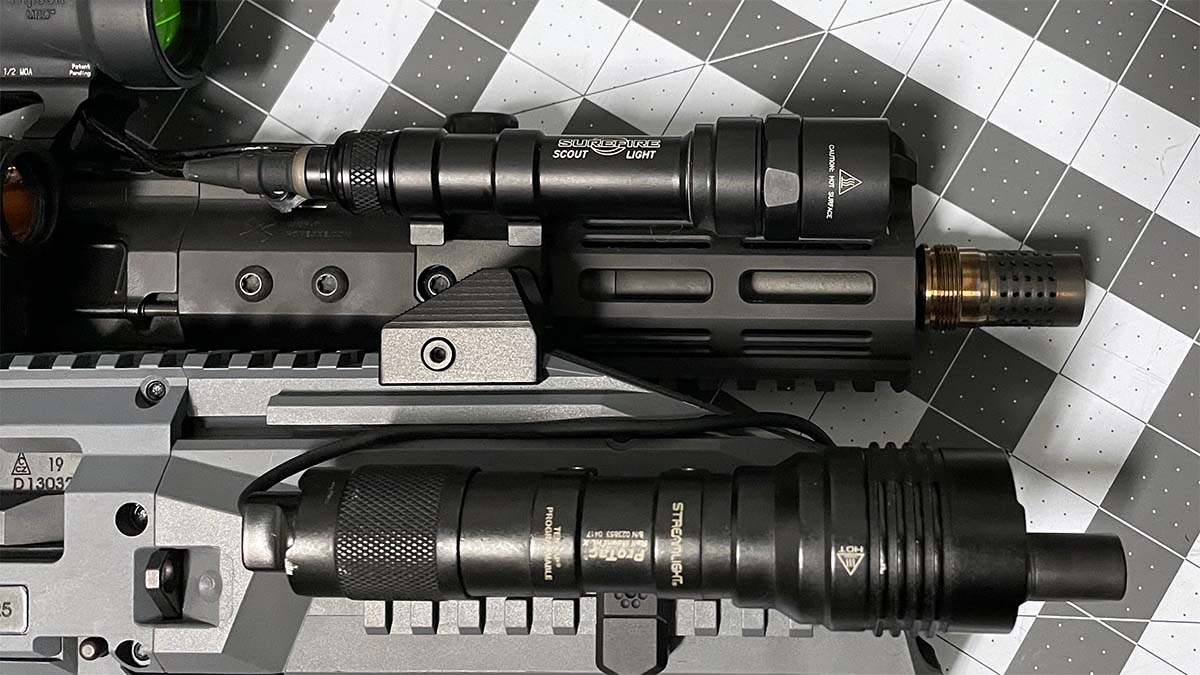 Recently we set out to find the best AR-15 flashlights on the market today and the two names still stick out as the most popular are Streamlight and Surefire. So I decided it was time to put these flashlights head-to-head in this Streamlight vs Surefire comparison.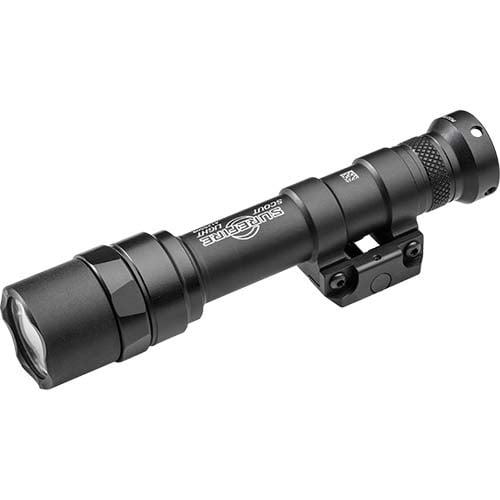 Surefire M600 Ultra
1000 Lumens
75-minute Runtime
11,300 Candela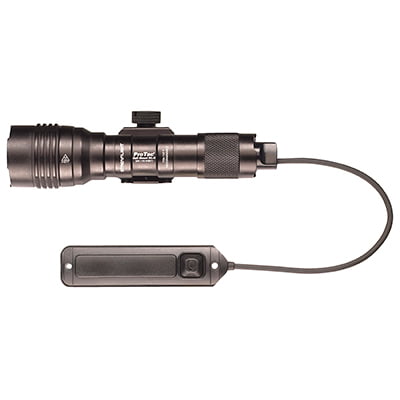 Streamlight Protac
1000 Lumens
75-minute Runtime
27,600 Candela
Overview
Two of the most popular AR-15 weapon-mounted flashlights from the Streamlight and Surefire offering are the Streamlight ProTac HL-X and the Surefire X600U.
So for this comparison, we will be comparing these two lights since they are no contest the favorites in the two companies' product lineup for AR-15 weapon-mounted flashlights.
Stats Comparison
For this Streamlight vs Surefire comparison, we are going to take the manufacturers' specifications from their respected websites and place them side-by-side and run down each section.
| | Streamlight ProTac HL-X | Surefire X600U |
| --- | --- | --- |
| Lumens | 1,000 | 1,000 |
| High Runtime | 75 minutes | 75 minutes |
| Battery Type | 123A lithium x 2 | 123A lithium x 2 |
| Candela | 27,600 | 11,300 |
| Beam Distance | 332 meters | 213 meters |
| Length | 5.43″ | 5.5″ |
| Weight | 6.4 oz | 4.8 oz |
Lumens
Both the Surefire X600U and the Streamlight ProTac HL clock in at 1,000 lumens. While lumens are important there is more to light than just lumen count.
Up until recently, Lumens were seen as the gold standard of determining flashlight brightness and people would tout their lumens to determine the best light.
But lumens leave out candela as well as beam throw and shape so we won't get caught up on the lumens, which are the exact same anyway.
High Runtime
If you are new to AR-15's or weapon-mounted flashlights this term might not make sense to you.
But for the newbies to the game, high runtime is how long the flashlight will run at its highest available output before starting to dim.
Common sense will tell you that a battery-powered item can't run for an indefinite amount of time. So when the battery output starts to weaken so will the lights output.
But the nice part about these two flashlights is they have the exact amount of high output runtime of 75 minutes.
Battery Type
Both, the X600U and the ProTac HL-X use 2 of the same 123A lithium batteries for power.
However, both Surefire and Streamlight have created their own rechargeable battery options.
Surefire offers their Streamlight SL-B26 Li-Ion USB Rechargeable Battery Pack for the ProTac HL-X.
Surefire offers a 123A Rechargeable Batteries set with a charger as well. Surefire does make an M600DF, the DF standing for dual fuel, offers a single rechargeable battery called the SF18650B. But keep in mind these do not work for the standard M600U.
Candela
Candela, also known as candlepower, is used to determine the value of light that is concentrated into a single point. That is the light projected from a high-intensity beam in a single direction.
The candela can have a lot to do with the spill of your flashlight. The spill is typically what you call the light around the center of your flashlight beam.
The candela numbers are really where these two lights difference themselves in overall stats.
When it comes to the Streamlight vs Surefire competition the Streamlight clocks in at 27,600 candela whereas the Surefire comes in at 11,300 candela.
Beam Distance
The beam distance can vary greatly depending on conditions and battery levels. Once again this is where the stats on these two lights are different.
Surefire comes in a little lower at 213 meters, or almost 700 feet or 232 yards, and the Streamlight comes in at 332 meters, or right at 1,089 feet or 363 yards.
As you can see the ProTac HL-X's beam edges out the M600U's beam distance by 119 meters.
But let's take a look at them both with brand new batteries at several different distances.
Length
The length of the flashlights typically doesn't matter a whole lot unless you're trying to build an extremely compact setup.
Both lights come in right at 5.5″ so there is no clear winner on length.
Weight
The weight difference of the Streamlight vs Surefire is about 2 ounces, with the Surefire taking the win on the lightest weapon-mounted light of the two.
Weight can be a big deal when it comes to your weapon-mounted light because they often add to front-end weight on your gun.
This can affect accuracy as well as the ability to hold the weapon on target for long periods of time.
However, 2 ounces may not make or break most people or have a noticeable difference for many.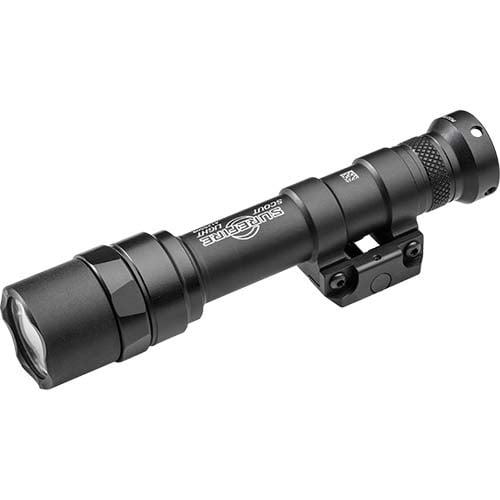 Surefire M600 Ultra
1000 Lumens
75-minute Runtime
11,300 Candela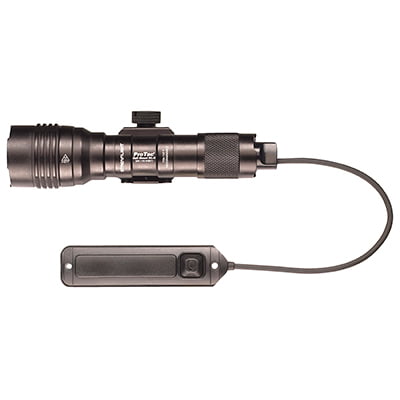 Streamlight Protac
1000 Lumens
75-minute Runtime
27,600 Candela
Features Comparison
Mounting
Both Surefire and Streamlight options come with 1913 rail mount adaptors. Both of these are sufficient if you are running a 1913 mount.
The nice thing about these two lights is their mount screw patterns are the exact same. So if you have a favorite mount, for me the Arisaka offset scout mount, you can use it for either of these options.
Most people don't run a 1913 rail on their gun anymore so the M-Lok mounting solutions available are pretty extensive at this point.
Activation Switches
The Surefire vs Streamlight activation switch debate has been going on for years and years.
Personal preference for me is neither of the including tape switches. I usually upgrade my Surefire M600 tape switch to the SR07, yes it's expensive but it's worth it to me.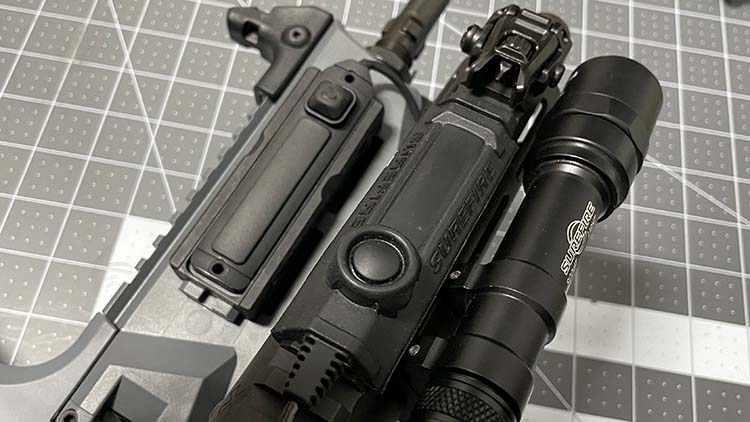 The included Streamlight tape switch is decent but it's not a home run. The attachment system for the activation switch to the 1913 rail is horrible. These two plastic pieces are probably the worst design imaginable.
If you are going to run a Streamlight I highly recommend grabbing a Cloud Defensive LCS to mount your Streamlight activation switch in.
Modes
The one thing that stands out about these two flashlights is the fact that the Surefire, the "higher-end" flashlight, has no modes.
The Streamlight comes with 3 modes: high, low, and strobe. If modes are an essential function for you then you probably already know your winner.
For me, the modes are nice but not required.
Useage Comparison
I took several photos and a video using these flashlights side-by-side so you can decide for yourself which you'd rather have.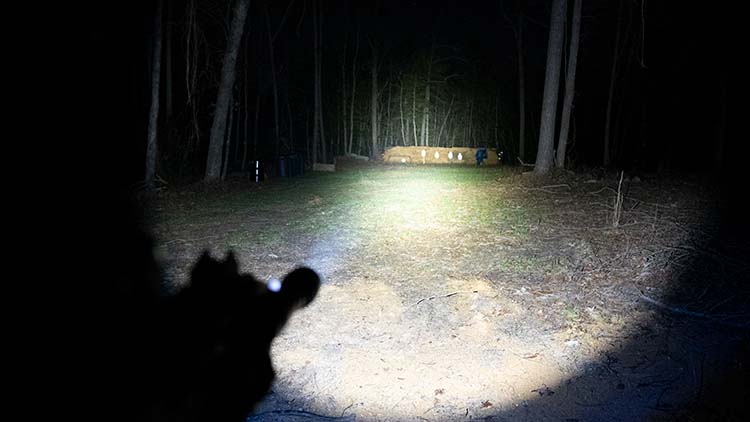 But in a nutshell, the Surefire has less spill and a more direct beam whereas the Streamlight has more light spill and a less focused beam.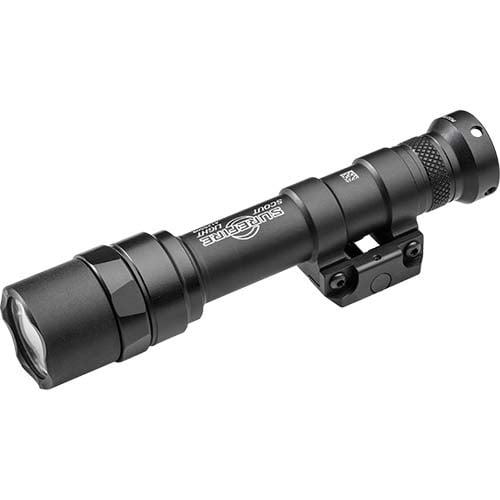 Surefire M600 Ultra
1000 Lumens
75-minute Runtime
11,300 Candela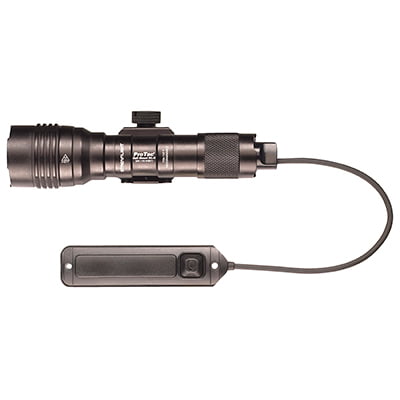 Streamlight Protac
1000 Lumens
75-minute Runtime
27,600 Candela
Cost Comparison
Cost is always a factor when comparing two different products. For some, it's the biggest factor but for others features, value, and durability are the key.
| Surefire M600U | Streamlight ProTac HL-X |
| --- | --- |
| $299.95 | $119.45 |
That's a whopping $180 difference between the two AR-15 mounted flashlight systems.
So, if you've read through this whole article and you've seen the numbers you're probably wondering, how can this be?
It would appear the cheaper of the two lights is clearly edging out the Surefire on most categories.
One does have to ask are you simply paying for the brand name "Surefire" when it comes to these two lights?
Streamlight vs Surefire Winner
Choosing a clear "winner" is difficult and it wouldn't seem that way up to this point because the Streamlight ProTac HL-X clearly wins more of the stat categories than the Surefire M600 Ultra does.
But the one thing we really haven't covered is durability.
Durability and Application
While it's hard to say what's more durable what is undisputed is the fact that the Surefire M600U has been battle-tested in some of the harshest environments known to man.
The Streamlight ProTac HL-X is a favorite among domestic law enforcement agencies and sees a fair amount of users worldwide.
But I have a feeling if you were to ask any US Military personnel what flashlight they want to take into combat with them they are going to say Surefire M600U and that's likely not because of the price, because when your life is on the line you rarely care about the cost of your gear.
But you do just want it to work and work correctly.
That doesn't mean the Streamlight won't meet your needs but I think the Surefire M600U is a more tested and durable flashlight system.
Product Origin
Last but not least the Surefire M600U is a product that is designed and Made in the USA. The Streamlight ProTac HL-X is a product that is Made in China.
As the owner of Made in the USA company, this fact is extremely important to me. I will pay more to support a company that is manufacturing here in the USA simply because they are supporting families here at home.
If this isn't important to you or doesn't help you justify that $180 price difference I completely understand and you should still buy whatever light you feel meets your needs at your price point.
Features Winner: Streamlight ProTac HL-X
Price/Value Winner: Streamlight ProTac HL-X
Downrange Time Winner: Surefire M600U
Overall Quality Winner: Surefire M600U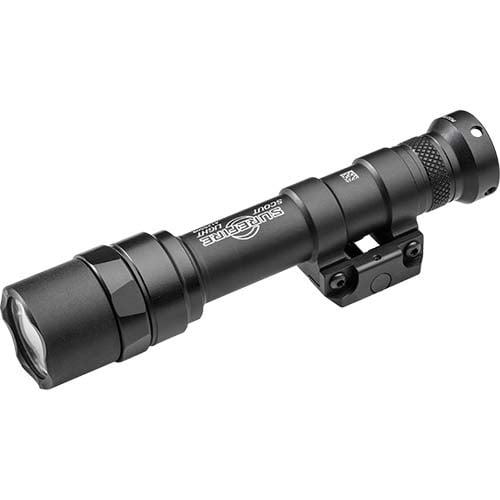 Surefire M600 Ultra
1000 Lumens
75-minute Runtime
11,300 Candela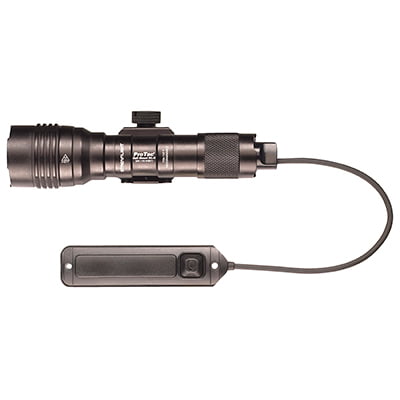 Streamlight Protac
1000 Lumens
75-minute Runtime
27,600 Candela
Is Streamlight or SureFire better?
This isn't an easy question to answer and since nearly $200 separates these two products it's best to really drill down and see which weapon-mounted flashlight meets your needs.