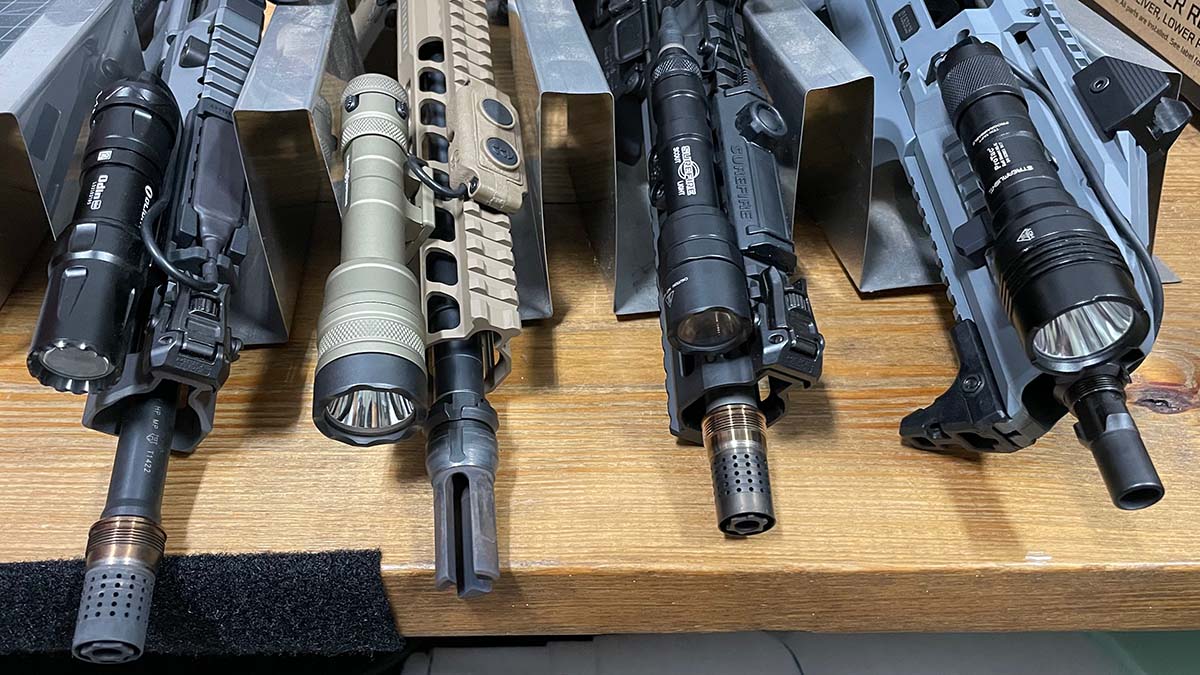 After picking up or building your AR-15, a flashlight is one of the first accessories you should consider. But what is the best AR-15 Flashlight for your new rifle? There are tons of weapon-mounted flashlight options so let us dive in.
Even if you don't plan on shooting at night often or even at all, you never know when you'll need your rifle in a low-light setting.
We will take a look at some of the top lights on the market today. We are going to review and evaluate each light using the following five categories:
Construction
Stats
Mounting
Light
Overall
AR-15 Flashlight Comparison Chart
| AR-15 Flashlights | Candela | Lumens | Run Time | Weight |
| --- | --- | --- | --- | --- |
| Cloud Defensive REIN | 60,000 | 1,400 | 85-90 Min | 6.91 oz |
| Surefire X-300 | 11,300 | 1,000 | 75 min | 4.0 oz |
| Surefire M600 Scout | 16,000 | 1,500 | 90 min | 5.15 oz |
| Modlite | 54,000 | 1,350 | 75 min | 5.3 oz |
| Streamlight ProTac HL-X | 27,600 | 1,000 | 90 min | 6.4 oz |
| Olight Odin | 22,500 | 2,000 | 2 min | 7.62 oz |
| Inforce WMLx | 10,000 | 800 | 120 min | 4.0 oz |
Cloud Defensive REIN
The Cloud Defensive REIN is a relatively new AR-15 flashlight. It's a fantastic weapon-mounted light. I'm currently running the FDE REIN on my Stag Arms AR-15.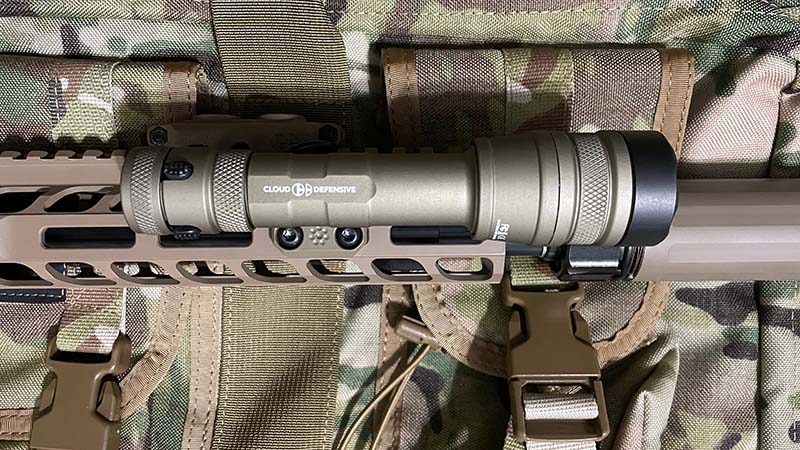 The rein comes in two different sizes the REIN and the REIN Micro. The Micro does take a slight performance and output hit to get a smaller package.
The REIN is perfect for any AR-15 but the Micro is well suited for short barrel rifles or AR-15 pistols.
Construction
The Cloud Defense Rein, both REIN and REIN Micro, are built from 6061-T6 aluminum and are then anodized in type III hard coat anodizing.
The overall feel of the construction on these lights is really solid.
Stats
The REIN Weapon light stacks up pretty stout in the stats department. The REIN and the REIN Micro are neck and neck in terms of candela and lumen output but the run time is what really takes a hit on the smaller Micro battery.
| | REIN | REIN Micro |
| --- | --- | --- |
| Candela | 60,000 | 55,000 |
| Lumens | 1,400 | 1,300 |
| Run Time | 85-90 Minutes | 35 Minutes |
| Weight | 6.91 oz | 5.86 oz |
We will address throw of the light section of this guide but from a sheer performance standpoint, both of these AR-15 weapon lights are good to go.
Mounting
Both sizes of the REIN come with a Picatinny mounting solution. You don't have to use this mount, and likely you'll want to get a mount that is M-Lok or Keymod.
Personally, I always use Arisaka mounts and you can use any Surefire M300 pattern mounting solution for this REIN.
On my most recent AR-15, my Stag AR-15, I used the Arisaka Defense Side Scout light mount.
Light
Numbers are great but it all boils down to how does the light performs when in use.
Well, it's better to show you in than it is to try to explain it.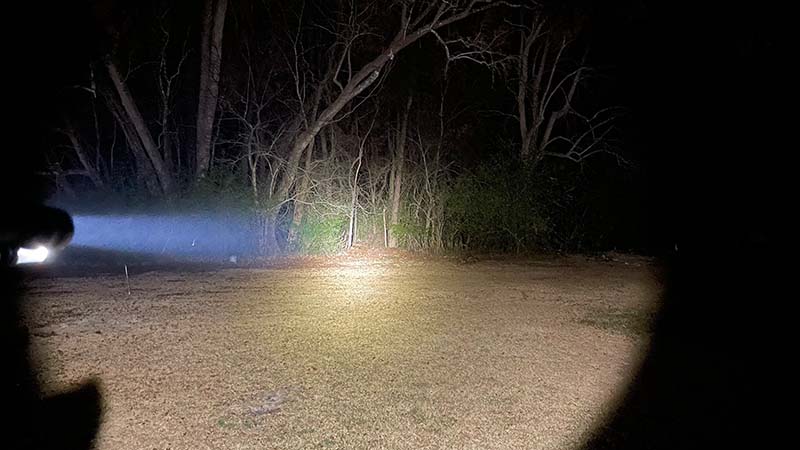 Also took a quick video off/on so you could see how the light activates and how well it works.
This light has an incredible throw and an impressively wide splash.
Overall
The REIN is an exceptional light and while it does come in a little pricey the included features are more than worth it.
If you factor in the fact that the REIN comes with a pressure switch that has built-in cable management like the Cloud Defensive LCS and an adjustable rear cap this really is a great value.
The included battery is specific for the REIN and use must use it but the nice thing is its rechargeable.
The REIN is absolutely a great AR-15 flashlight and if it's in your budget I highly recommend it.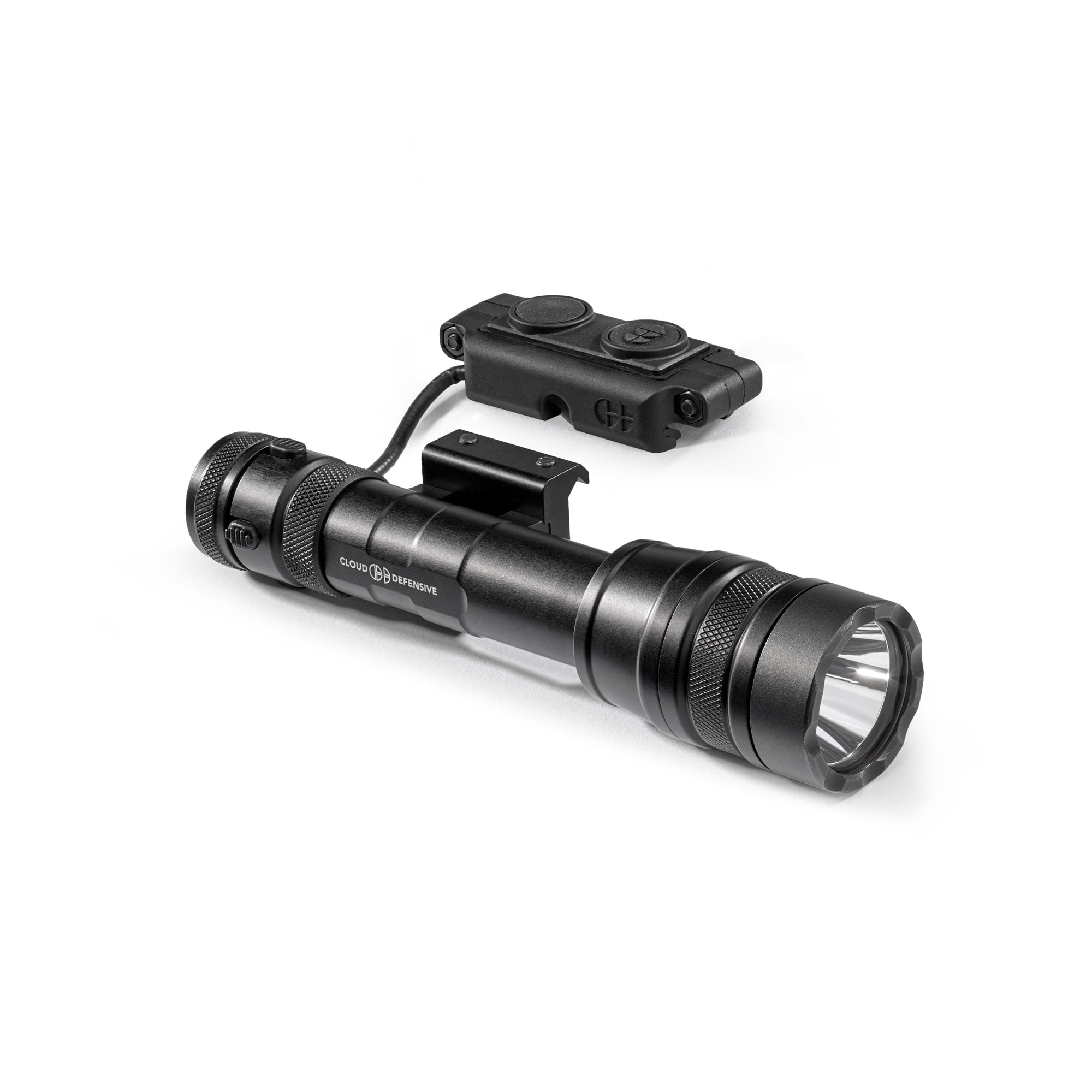 • 1,300 – 1,400 Lumens
• 55,000 – 60,000 Candela
• Weight 5.86 – 6.91 oz
• Run Time 35 – 90 Minutes
Surefire X-300
While the Surefire X-300 Ultra is meant for a pistol weapon light many use it on their rifle and it's a valid option.
If the X-300U can take the beating that comes from being mounted on the front of a pistol it's got to be able to withstand living on an AR-15 rail. The INFORCE Wild 2 is similar to the X-300 design and could also be used in this way.
Construction
The metal construction of the Surefire X300U makes it extremely durable. The switches, however, are plastic but I've never had any issues with mine and I've had it for nearly 5 years.
Stats
The numbers on the X300U clearly show that it wasn't created for really reaching out and touching with light and was made for pistols.
| | X300U |
| --- | --- |
| Candela | 11,300 |
| Lumens | 1,000 |
| Run Time | 75 minutes |
| Weight | 4.0 oz |
Where I think the X300U wins on rifles is for AR-15 pistols. The Streamlight X300U gives you plenty of light on an AR setup for CQB and closer shooting.
Mounting
Mounting is one of the only downsides of using the Surefire X300 Ultra as a rifle-mounted light.
It has to be mounted on a Picatinny rail which means you won't be able to use any kind of M-Lok mounts to roll the light into the rail.
Many people mount it to the top of the rail if they don't run a fixed front post. You can also mount it on the 3 or 9 o'clock position on the rifle, which is where a normal AR-15 weapon-mounted light would be.
Light
The Surefire X300 Ultra has a really decent throw. For a light that's normally a pistol light, it truly holds its own as an AR-15 tactical flashlight.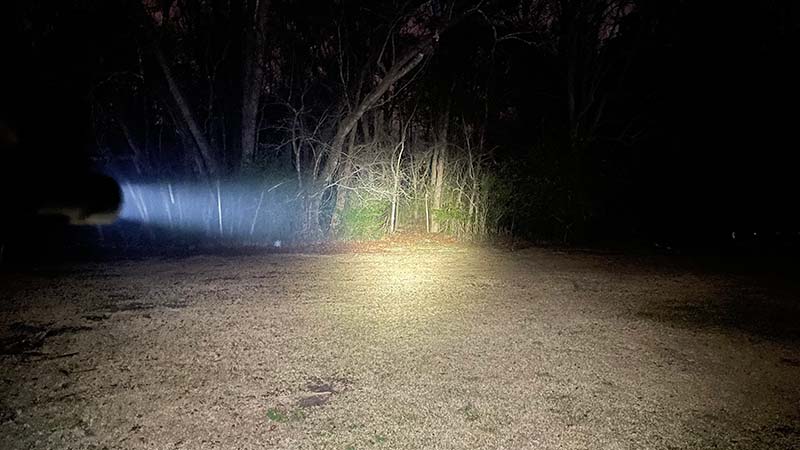 I really think this is a solid option for a rifle light and really can't be overlooked as an extremely viable option for your rifle.
Overall
Overall the Surefire X300U has a place on a rifle but it may not be the best option for your 16″ AR-15 setup.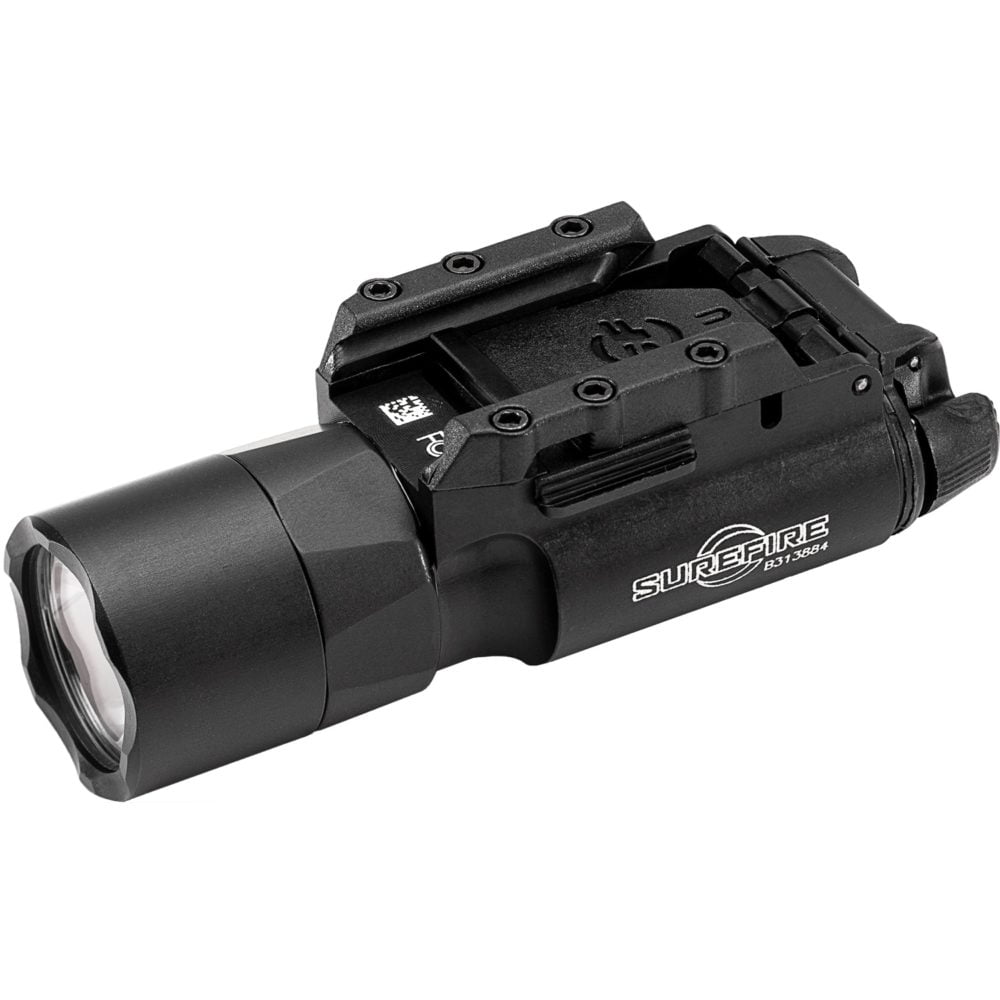 • 1,000 Lumens
• 11,300 Candela
• Weight 4 oz
• Run Time 75 Minutes
Run your numbers and given the price there might be other options in that price range that better fit your needs.
Surefire M600 Scout
The Surefire M600 Scout has been my high-end go-to weapon-mounted light for some time. I have two of them and love them both! I currently use the Surefire M600 on my Noveske N4 PDW.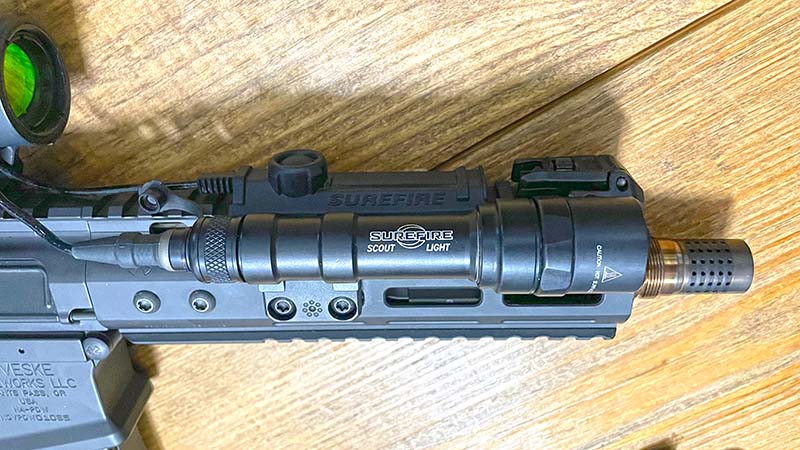 The Scout lights have been the industry standard of weapon-mounted lights for some time.
However, they have been given a run for the money by Cloud Defensive and even Streamlight offerings are fantastic.
Construction
Surefire uses aluminum in nearly every part of the M600 Scout flashlight and then hard anodizes the aluminum in a number of colors including the most popular black and tan.
Stats
The M600DF (Dual Fuel) has two different battery options which have two different outputs which lead to two different stat numbers.
| | M600UDF w/ SF18650B | M600UDF w/ CR123A |
| --- | --- | --- |
| Candela | 16,000 | 12,800 |
| Lumens | 1,500 | 1,200 |
| Run Time | 1.5 hours | 1.25 hours |
| Weight | 5.15 oz | 5.15 oz |
Both battery options have their pros and cons. Namely, the CR123A's are easy to throw away and swap out. The SF18650B is rechargeable so unless you buy multiple you have to keep them charged.
But the SF18650B has a clear performance enhancement and is worth weighing the pros and cons of both batteries for your AR-15 flashlight.
Mounting
Like the Cloud Defensive REIN, the surefire comes with a Picatinny mount that can be removed for your M-Lok and Keymod attachment systems.
I think it's worth giving Surefire a nod here because the Picatinny and mount pattern was designed by Surefire and others have adopted it so it's compatible with existing mounts.
Light
The throw of the Surefire Scout has a decent beam and not a ton of light splash. The light is extremely focused and is perfect for longer-range shots.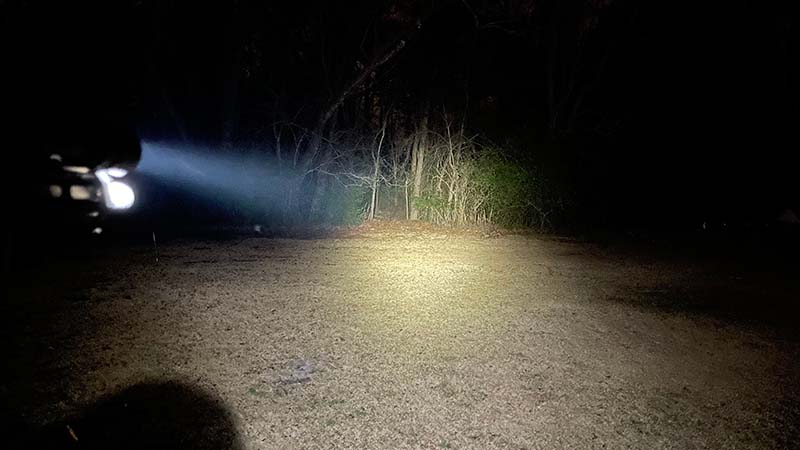 If you get the duel fuel M600 Scout it can be powered by either an SF18650B rechargeable battery or 2 x CR123A batteries.
Overall
The Surefire M600U is a fantastic flashlight, probably one of the top three in terms of performance and reliability.
Surefire has always been known to be the most durable weapon mounted light on the market. It's a favorite among military branches and series shooters everywhere.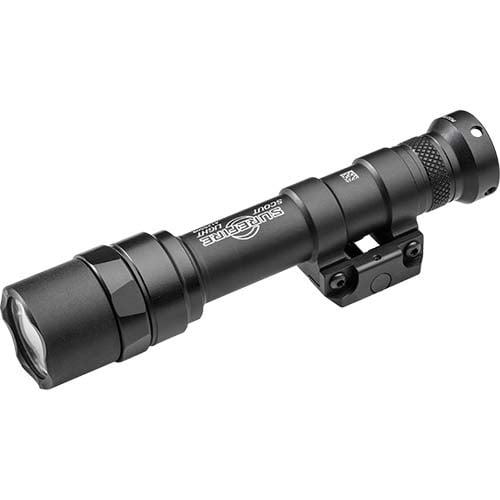 • 1,200 – 1,500 Lumens
• 12,800 – 16,000 Candela
• Weight 5.15 oz
• Run Time 75 – 90 Minutes
We put the Surefire M600U head-to-head vs the Streamlight ProTac HL-X.
Modlite
Modlite is one of the coolest AR-15 flashlights available, in my opinion. The Modlite is Modular Light abbreviated and you guessed it, it's modular aka customizable.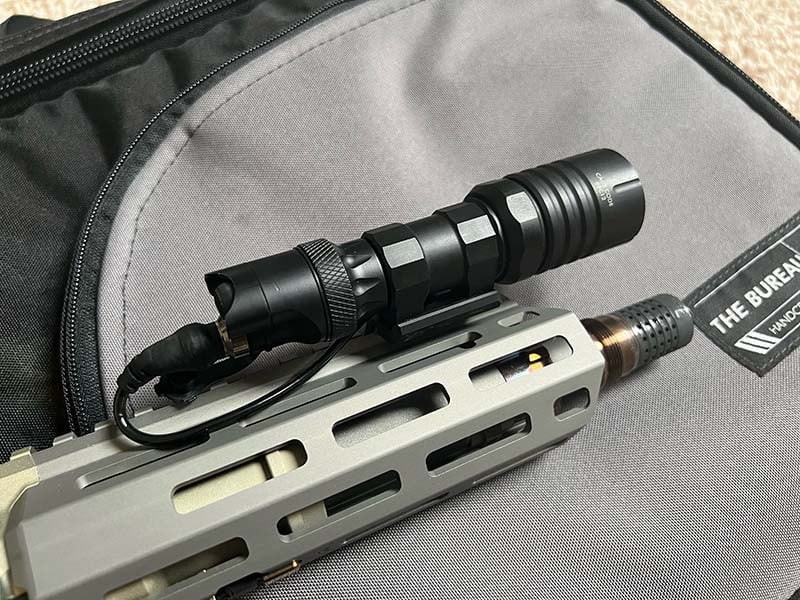 You can change the battery tube, end cap, and head to create the perfect light setup for your needs.
The really cool part of the Modlight is the fact you can change the heads to have more or less light spill or more throw all by just unscrewing the cap and replacing it.
Construction
The construction of the Modlight isn't the revolutionary part of the light even though one might think it is. It's still three basic components. Light, tube, and end cap.
The Modlite is made of 6061 aluminum and you guessed it, it's hard anodized both of these are pretty much industry standard for high-end weapon-mounted lights.
The Modlite series features a lifetime guarantee and is Made in the USA, which is a huge plus for us!
Stats
| | Modlite PLHv2-18650 | Modlite OKW-18650 |
| --- | --- | --- |
| Candela | 54,000 | 69,000 |
| Lumens | 1,350 | 680 |
| Run Time | 75 mins | 75 mins |
| Weight | 5.3 oz | 5.3 oz |
Mounting
Modlite is one of the few AR-15 flashlights on this list that requires you to bring your own mounting solution. While I don't have an issue with this because I would never mount with Picitanny it's worth noting for the people who would normally want a Picatinny mount.
Like the REIN it uses the Surefire mounting pattern, which again is great because it allows you to use my favorite Arisaka mounts.
Light
The two types of Modlite light heads offer two different light patterns so you will need to pick which one best meets your needs.
One will give you much more light spill (light around of the main beam) and the other will give you much more throw (light distance).
Overall
The Modlite brings a lot to the table in terms of light output. The candela numbers are off the charts.
The price point of the Modlite puts it in the high-end category of lights and the overall construction and performance of the light also justify the high-end price tag.
The Modlite is definitely one of the top three in the high-end category of lights.
Streamlight Pro Tac Rail Mount HL-X
The Streamlight ProTac Rail Mount HL-X is a shower for the price. It's impressive for the price. Because the other offerings on the list are nearly 3x the Streamlight Pro Tac Rail mount HL-X price.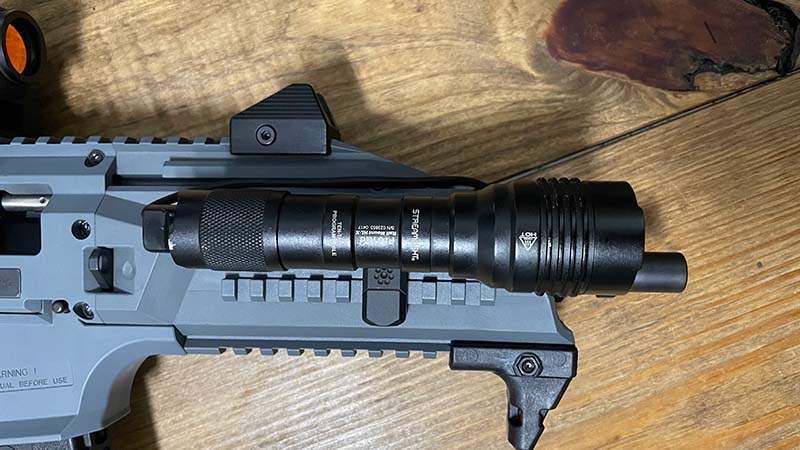 Construction
The Streamlight ProTax lights are quality lights, however, they are made in China.
The light body does have an aluminum construction but no specific type is mentioned. Other lights made by Streamlight state "6000 Series Aluminum" but nothing hammered down.
I've been running one for several years now with no issues.
Stats
The stats on the Streamlight come in a bit lower than its high end counterparts. But that is expected considering the nearly 3x price difference.
| | Streamlight Pro Tac Rail Mount HL-X |
| --- | --- |
| Candela | 27,600 |
| Lumens | 1,000 |
| Run Time | 90 mins |
| Weight | 6.4 oz |
The run time is about the same as the rest of the lineup on 2 x CR123A batteries.
Mounting
The ProTac HL-X has a Picatinny 1913 rail attachment built-in. It too can be removed if you have other mounting needs.
The scout mount is nearly the industry standard so it makes sense that Streamlight followed suit.
Light
The light profile for the Streamlight HL-X has a decent throw but a good bit of spill.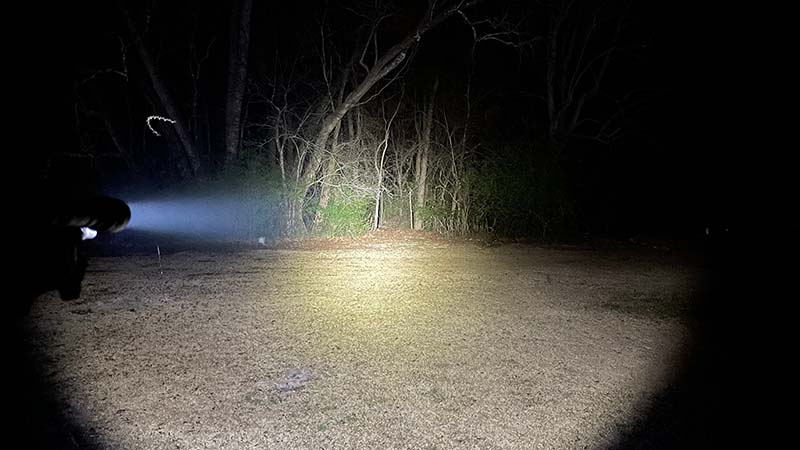 For a 1,000 lumen flashlight, it's a really solid option. For just over $100 and just under $100 when on sale if you're on a budget you really can't beat this weapon-mounted flashlight.
Overall
Considering this flashlight comes with a remote switch, tail switch, remote retaining clips, mounting hardware, and two CR123A lithium batteries the pricepoint is fantastic.
I think a lot of the savings you find in the Streamlight is the fact that it's manufactured in China. The high-end light options are all typically made in the USA.
There's no disputing the numbers on this light over the high-end option. But it's not very far off from the Srreamlights high-end competitors.
Olight Odin
Before I catch hate in the comments, this wouldn't be a comprehensive AR-15 flashlight guide without including Olight.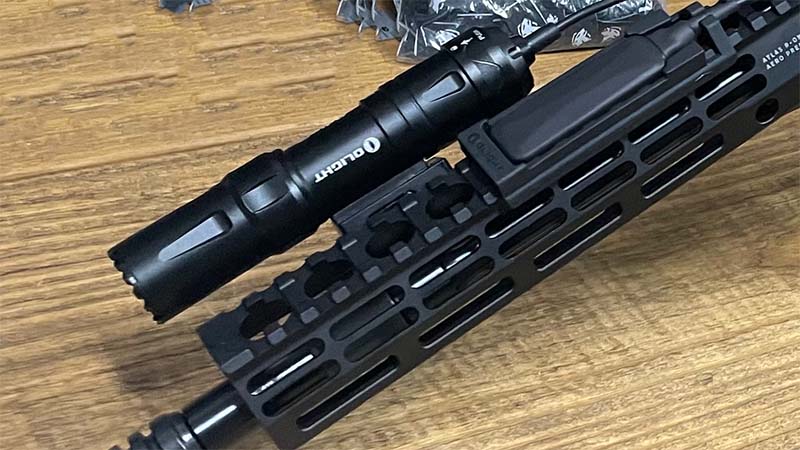 The Olight Odin and Odin Mini are probably the two most popular AR-15 flashlights offered by Olight.
If you aren't familiar with Olight they aggressively market on YouTube and other social channels and they catch a lot of flack.
I won't go into that much because I want you to be able to choose whatever light you determine best meets your needs rather than the internet public opinion.
Construction
The body of the Olight Odin's made of aluminum alloy but like most Chinese-made flashlights, I don't know the series of aluminum they are using in these lights.
I will tell you in the hand, it feels solid.
Stats
The stats on the Odin series are a little better than the Streamlight HL-X and these two lights are the most comparable to each other.
| | Odin | Odin Mini |
| --- | --- | --- |
| Candela | 22,500 | 14,400 |
| Lumens | 2,000 | 1,250 |
| Run Time | 2 mins (Max Output)* | 6 mins (Max Output)* |
| Weight | 7.62 oz | 6.21 oz |
*See more detailed run-time information below.
The run times are a bit different but here's why. The Odin has different outputs available and thus depending on the output depends on how long your light will last.
The highest lumen is a bit misleading because the run time is so low it's almost not worth mentioning.
I'll break it down really quick.
Odin Run Time
2000 Lumen output runs for approximately 2 minutes.
1000 Lumen output runs for approximately 9 minutes.
760 Lumen output runs for approximately 136 minutes.
300 Lumen output runs for approximately 160 minutes.
Odin Mini Run Time
1,250 Lumen output runs for approximately 6 minutes.
900 Lumen output runs for approximately 17 minutes.
700 Lumen output runs for approximately 56 minutes.
200 Lumen output runs for approximately 100 minutes.
As you can see, how you run your flashlight will depend on how long your Odin Mini will last.
Mounting
The mounting system on the Odin is a standard 1913 Picatinny rail mount. The Odin Mini surprisingly has an M-Lok attachment system. Both have a proprietary locking system to tighten down the optic to the rail or M-Lok rail.
The mounting is relatively easy but if you don't like what Olight sends on the flashlight you can very easily use the Scout Mount to attach whatever mount you prefer.
Light
The Olight Odin Mini beam (seen below) has a great throw and a fair bit of splash outside of the core beam.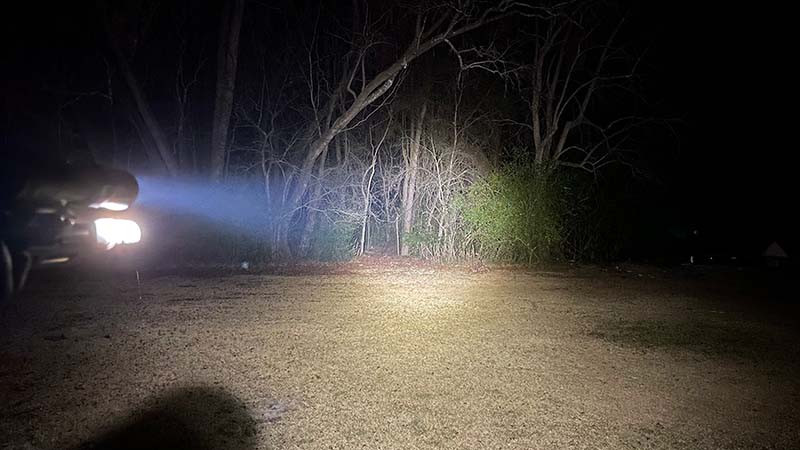 Again, at first look, this is a great light but you have to take into account the run time at this peak brightness level.
Overall
If you are looking for a budget light I think the Olight is a decent option. However, I have to say that the runtime on the max output numbers makes their Candela and Lumen claims seem rather disingenuous.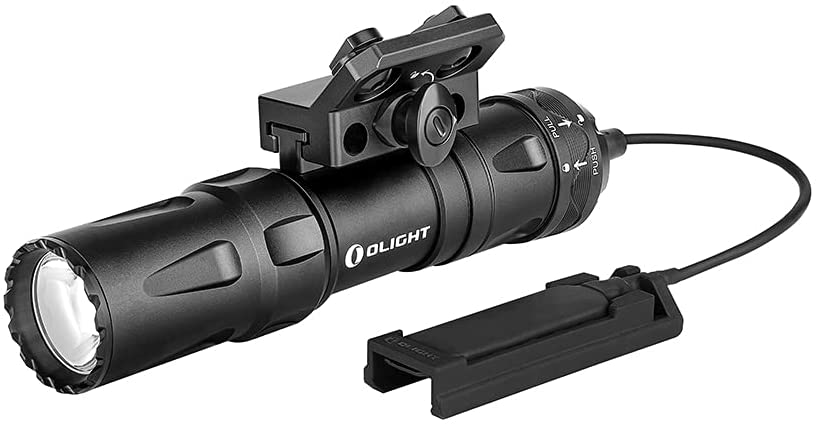 • 1,250 – 2,000 Lumens
• 14,400 – 22,500 Candela
• Weight 6.21 – 7.62 oz
• Run Time 2 -160 Minutes
If you can only run at max output for 3 minutes, then it's almost not worth mentioning but since there's no established standard of length, they get a pass.
Overall it's a solid light; the charging is done through a magnetic proprietary charger which can be a pro or a con.
Inforce WMLx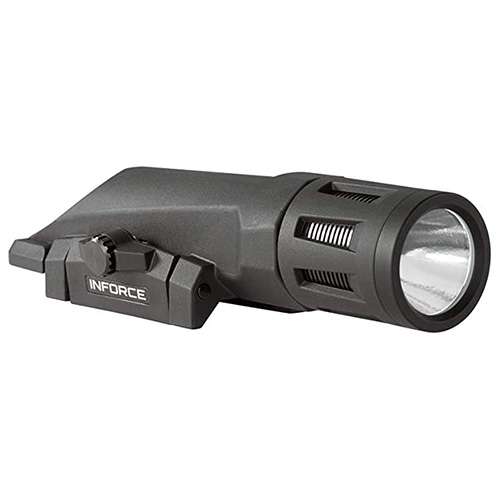 The Inforce WMLx was a wildly popular light when it was first released but has since been eclipsed in performance and functionality.
Construction
The Inforce WMLx is made of 100% Nylon so it does have an all-plastic construction. There are a number of examples of these lights not holding up to tough use on occasion.
The one major positive of the WMLx is it is Made in the USA which is always a plus when buying products for your guns.
Stats
The stats on the Inforce WMLx are slightly underwhelming but still packs a solid punch.
| | Inforce WMLx |
| --- | --- |
| Candela | 10,000 |
| Lumens | 800 |
| Run Time | 120 mins |
| Weight | 1.0 oz |
Mounting
The built-in mount is an integrated clamp is used with MIL-STD-1913 rails. This can be attached to any top rail or 1913 side rail of your choosing.
It is extremely easy to take on and off and doesn't require any tools.
Light
The light profile throughs a solid beam and does a decent job out to about 600 feet.
The throw has some spill but does have a concentrated beam.
Overall
Sadly, this is one of the lower-end models of lights and the Streamlight Pro-Tac XL would probably be a better option for the price.
However, if the look and 100% nylon construction are over value to your use application then this may be a good option for you.
Best AR-15 Flashlight Overall
The best flashlight is subjective, but I think it's essential to buy the best AR-15 flashlight in your budget range that meets your needs.
If an Olight is the only light in your budget then by all means, buy the Olight.
If you can spend a little more the Cloud Defensive lineup of weapon-mounted lights really give you a great product for your dollar and have an impeccable warranty and quality.
The Streamlight ProTac series is a great budget option that allows you to get a solid light for a lower price.
The Surefire is a battle-tested light but it seems to be getting outpaced by Modlight and Cloud Defensive.
Best Budget AR-15 Flashlight
The best of the budget AR-15 Flashlights on this list is hands down the Streamlight ProTac HL-X.
The features, performance, warranty, and price make it the best bang for your buck.
It will get you the most performance for the dollar, but it won't get you internet famous for the most expensive light setup.
Best High End AR-15 Flashlight
This is really a toss-up and a much harder choice than the budget AR-15 flashlight.
With their continuing innovation, both the Cloud Defensive REIN and the Modlites have outpaced Surefire.
So now it's down to the REIN or the Modlite.
While one doesn't clearly win over the other in head-to-head testing, I think it boils down to what you want from your weapon-mounted light.
Modlite gives you modularity that the REIN doesn't. But the REIN gives you cable management tail cap features that the Modlite doesn't offer.
If you are looking for a non-weapon-mounted flashlight take a look at our article on the best tactical flashlights.